12 Best Low-Calorie Wines You Should Buy Right Now
Indulging in wine doesn't mean you have to break your calorie goals.
The product recommendations in this post are recommendations by the writer and/or expert(s) interviewed and do not contain affiliate links. Meaning: If you use these links to buy something, we will not earn a commission.
Did you know that drinking wine in moderation may help you live longer and even protect your brain? It's true! But despite all the benefits of drinking wine, promoting weight loss isn't one of them. However, while it is possible that drinking alcohol can cause weight gain, that doesn't mean you need to give up wine to lose weight. In fact, there are plenty of low-calorie wine options on the market that still taste delicious and can help you reach your weight loss goals.
Can you drink wine and still lose weight?
Weight loss is a numbers game, so if you can reduce calories in your diet outside of your regular (or infrequent) glass of wine, you can still lose weight. Alcohol is the top contributor of calories from beverages in the American diet, according to a BMC Public Health analysis, and contributes, on average, 150 calories to your diet per day. But you can cut that number down by over 45% by opting for a low-calorie wine!
Plus, alcohol may not actually make you gain weight if you drink it in moderation. In general, studies show that light-to-moderate alcohol intake is not associated with fat gain (but heavy drinking is), according to a review published in Current Obesity Reports.
With that in mind, a regular glass of wine is safe to drink on a diet, but if you want to indulge while also being mindful of your weight loss goals, why not opt for a low-calorie wine?
How is low-calorie wine made?
How does the magic of low-calorie wine happen? It's not as complicated—or as mad-sciency—as you'd imagine. While vintners can use a few different processes, they all share a commonality: low-calorie wine is left to ferment out most of the residual sugar. This results in a wine that has as much sugar in an entire bottle as there is in just one serving of regular wine! Sugar equals calories, so less sugar means fewer calories.
Be mindful that these low-calorie wines aren't a free pass to drink the entire bottle. Safe levels of wine intake are still less than one glass a day for women and less than two a day for men.
The best low-calorie wines to buy.
Read on to learn about 12 delicious low-calorie wines that can help you maintain your health goals while still being able to indulge, and for more, don't miss What Drinking Wine Every Day Does To Your Body.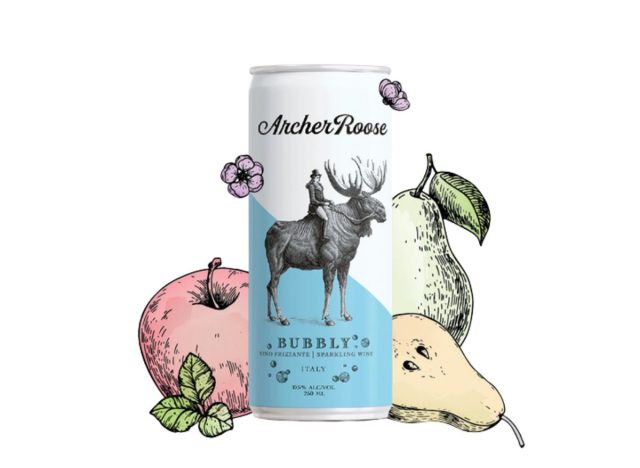 95 calories, 2g sugar, 10.5% ABV
Canned wines are the perfect summer drink because you can throw some in your bag and head to the beach, your friend's BBQ, or a picnic at the park. Archer Rose makes delicious, low-calorie canned wines and their Bubbly Wine is exceptionally tasty.
"The Archer Rose Bubbly provides under 100 calories per can, and the portion control aspect makes it easy to not overindulge," says Lauren Manaker, MS, RDN. "And, this low-calorie wine is made with organically grown grapes and is totally vegan-friendly."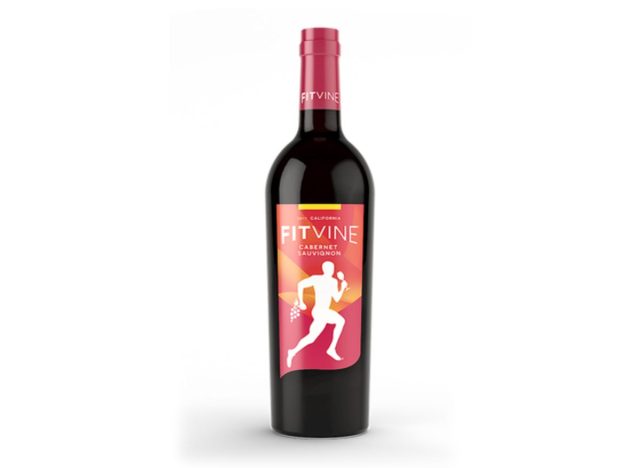 117 calories, 3.9g carbs, 0.06g sugar, 14.1% ABV
If you're looking for a red wine that you can pair with your favorite steak while not breaking the calorie or sugar bank, you may want to try the FitVit Cabrnet Sauvingnon.
"FitVine Wines are made with zero flavor additives, are California-made, and are incredibly low in sugar," says Manaker. "In fact, each bottle contains less than 1 gram of sugar," and Manaker adds that this is less than what you'd find in one 5-ounce glass of most typical wines on the market. 
Sunny with a Chance of Flowers Pinot Grigio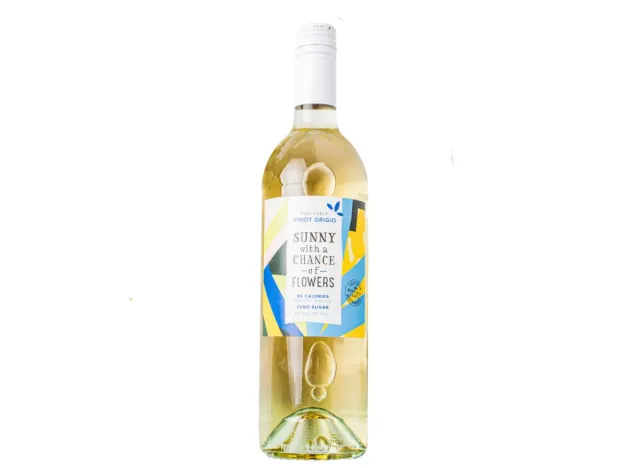 85 calories, 3.3g carbs, 0g sugar, 9% ABV
Did you ever think you could have a sweet white wine that has zero grams of sugar? Sunny Wines allows you the crisp sweetness of your favorite pinot Grigio but without the calories and added sugar.
"Only 85 calories, 0 grams of sugar, and a delightful flavor, the Sunny with a Chance of Flowers Pinot Grigio allows you to enjoy a glass of wine without overdoing it in the calorie and sugar department, and it is sustainably grown and vegan-friendly," says Manaker. 
95 calories, 2.5g carbs, 12.5% ABV
When looking for a low-calorie wine that still actually tastes good, Manaker is a fan of the Liquid Light Rosé, which "is a bright and fruity rosé from Washington State" that has only "95 calories per serving." She also adds that it contains very clean notes of "strawberry, peach, and pink grapefruit for a fresh new expression of rosé to enjoy."
Sunny with a Chance of Flowers Sauvignon Blanc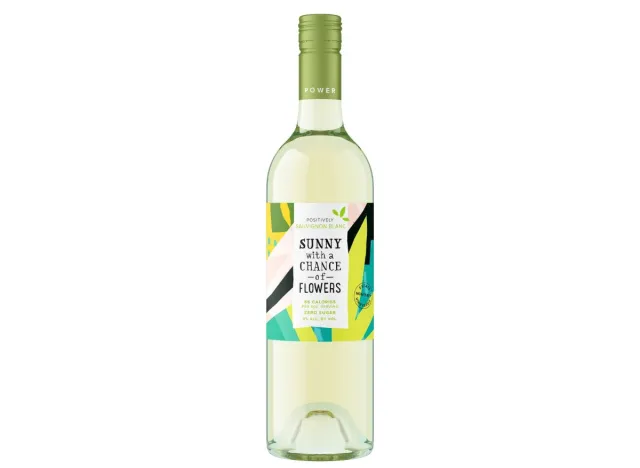 107 calories, 2.7g carbs, 0g sugar, 12.8% ABV
If you're wanting to pair something like bruschetta, herby bread, fish, or ceviche with a crisp sauvignon blanc but don't want to consume too many calories or grams of added sugar, the Sunny Wines version is your best choice.
"The Sunny with a Chance of Flowers Sauvignon Blanc is one of the few low-calorie wines that is completely zero sugar, and this brand is the only low-calorie wine that is Certified Sustainable," says Manaker. "In fact, it is produced in a winery that is 100% powered by renewable wind energy."
Cupcake LightHearted Pinot Noir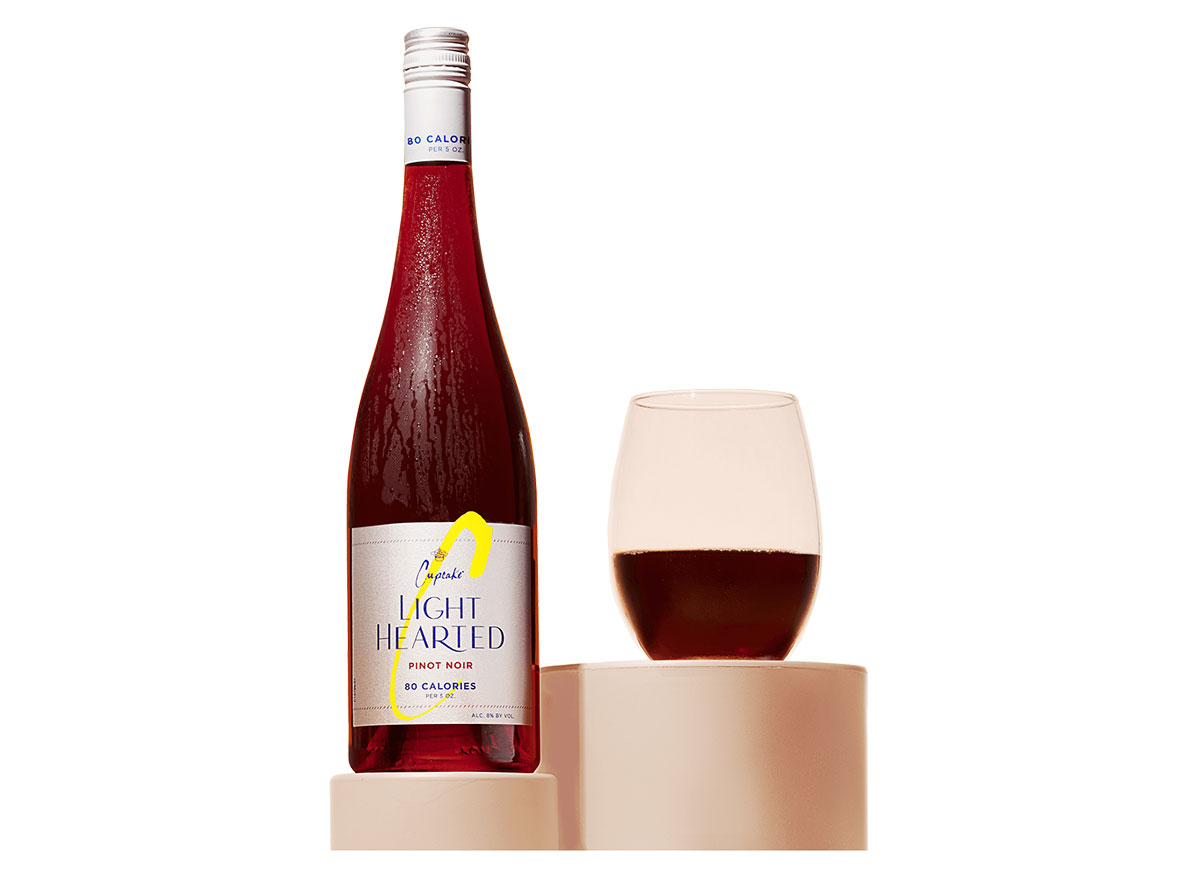 80 calories, 4.5g carbs, 0.5g sugar, 8% ABV6254a4d1642c605c54bf1cab17d50f1e
A pinot with a purpose: a purpose of supporting your weight loss goals while allowing you to indulge! Cupcake LightHearted makes the lowest calorie wines we could find, and they offer a Chardonnay, Rosé, and Pinot Grigio in addition to this Pinot Noir, which has sumptuous notes of strawberry, plum, nutmeg, and vanilla.
To get such a low-sugar wine, Jessica Tomei, Winemaker for Cupcake, explains that it's all about the harvesting process: "The lower sugar (<1g per 5-ounce serving) and 8% alcohol is achieved by harvesting the grapes early in the growing season to minimize BRIX levels (a measure of the amount of sugar that is naturally found in grapes – the longer the grapes ripen on the vine, the higher the BRIX levels become)."
110 calories, 2g carbs, 1g sugar, 12.5% ABV
The name of this wine is a reminder that yes, you can have a glass of wine and lose weight! Make it tastier with a low-carb, low-sugar wine that's still full of flavor. Yes Way Rosé is a classic Provençal-style rosé from the south of France.
99 calories, 2.4g carbs, 0g sugar, 11.5% ABV
Avaline, a new wine from Cameron Diaz and entrepreneur Katherine Power, is made with organic grapes and without unnecessary additives like sugars, colors, and concentrates. This crispy White is dry with a touch of citrus. For more low-calorie options, the Avaline lineup also features a Rosé, Red, and a Sparkling wine. As a bonus, Avaline wines contain a third of the sulfites as your average white.
BABE 100 Rosé With Bubbles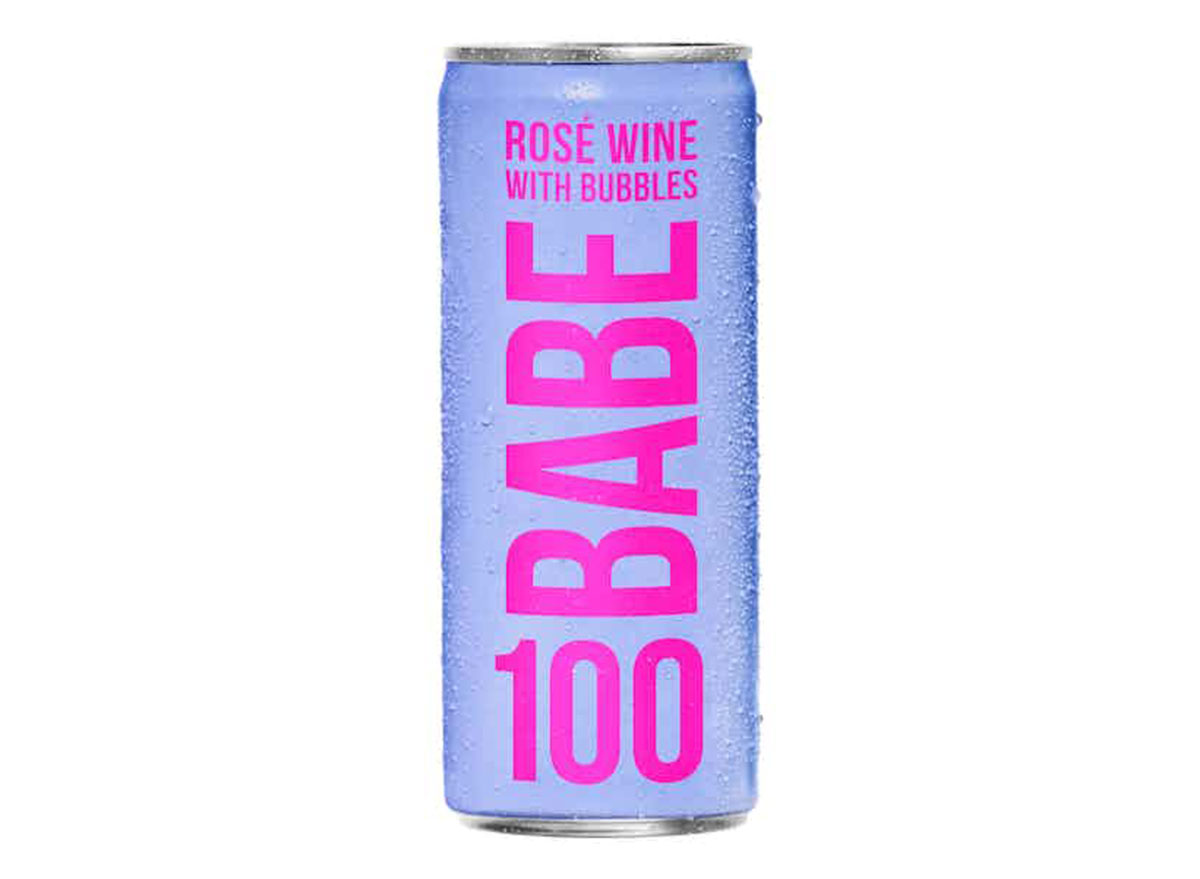 100 calories, 2g carbs, 0g sugar, 6.9% ABV
After noticing that people loved the low-cal, low-carb stats of hard seltzers, BABE Wine thought—why not deliver the same benefits to people who love the taste of wine and hate the taste of fake lime? Thus, BABE 100 was born. The Rosé will be launching nationally now, so be on the lookout!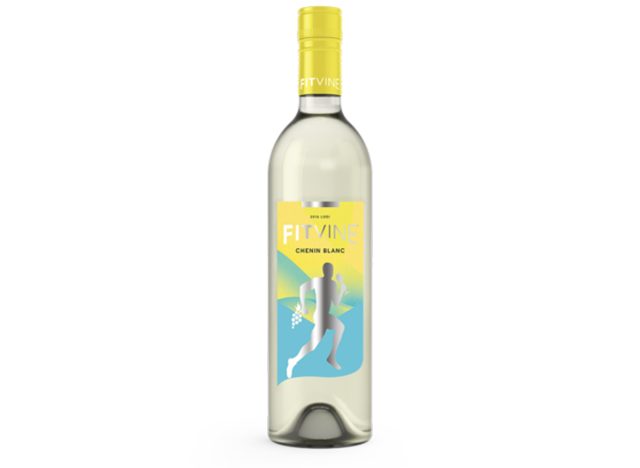 104 calories, 3.6g carbs, 0g sugar, 12% ABV
FitVine is wine made for people who want to live a healthier lifestyle. The winemakers let the wine ferment to dry, meaning lower levels of sugar, plus they use a proprietary process that removes more tannins and sugars than traditional brewing methods. This light-bodied varietal smells of honeydew melon and has bright citrus notes.
Mind & Body Cabernet Sauvignon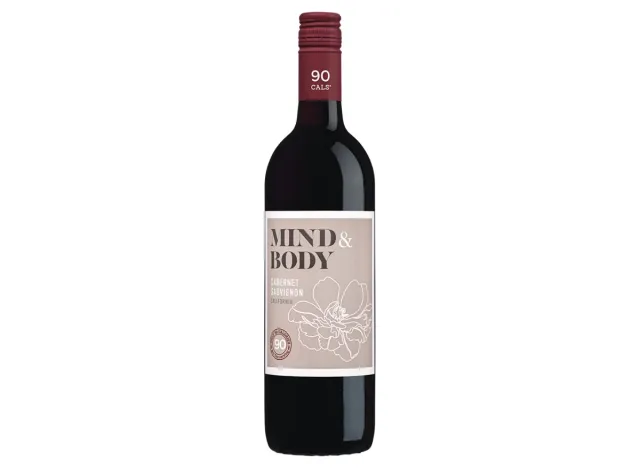 90 calories, 0g sugar, 9.9% ABV
It may be a low-calorie wine, but Mind & Body wines get high marks. This Cabernet Sauvignon is a 90-point wine (coincidentally the same number of calories it has per serving!) according to The Tasting Panel. Using traditional winemaking methods, this red wine is aged in French and American oak to achieve bright cherry aromas with blackberry and raspberries.
To reach that impressive calorie count, some of the finished wine goes through spinning cone technology to remove alcohol while safeguarding the fragile wine aromas and flavors. Then, the dealcoholized wine is blended with the traditional wine to produce a bottle with bolder flavors than other low-calorie wines.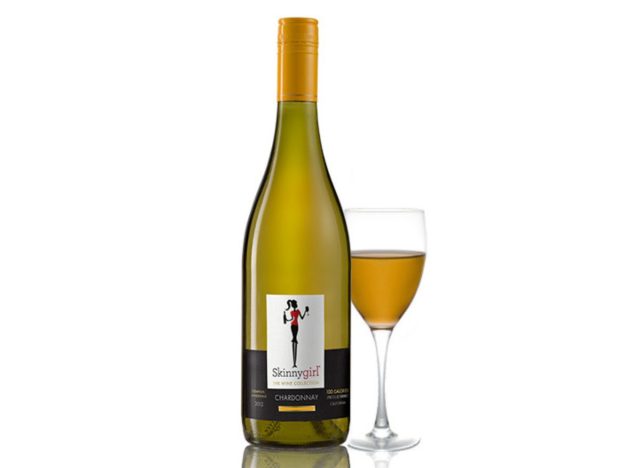 100 calories, 4g carbs, 0g sugar, 8.5% ABV
A low-calorie classic: Skinnygirl! This white is aged in French oak with notes of citrus and vanilla, and has won awards for its full-bodied tastes, including the Los Angeles International Wine & Spirits Competition Silver Medal.