This Major Fast-Food Burger Chain Is Planning to Go 50% Meatless
After a successful experiment abroad, the American burger slinger has a new goal.
We've seen our fair share of meatless menu items (both successful and short-lived) from our favorite fast-food restaurants. KFC recently debuted plant-based "chicken" nuggets, Taco Bell tested plant-based meat made from peas and chickpeas, and McDonald's unveiled the McPlant to a lukewarm reception.
But the fast-food brand that has seemingly had the most success going plant-based is Burger King. The chain was one of the earlier adopters of vegan meat. It launched the Impossible Whopper in 2019 and saw same-store sales jump 6% in the quarter that followed. This veggie success inspired "The King" to launch Impossible nuggets last fall, but only in select U.S. cities without plans for a nationwide rollout.
While there may be growing critiques of BK's vegan burger from U.S. customers, the chain saw "stunning success" with their most daring foray into veganism to date—a month-long 100% vegan menu at one of their high-traffic storefronts in London. The success has spurned Burger King to set a new goal for itself: a 50% meat-free menu by 2030.
And don't miss Burger King Says These Changes Are Helping Improve Customer Satisfaction.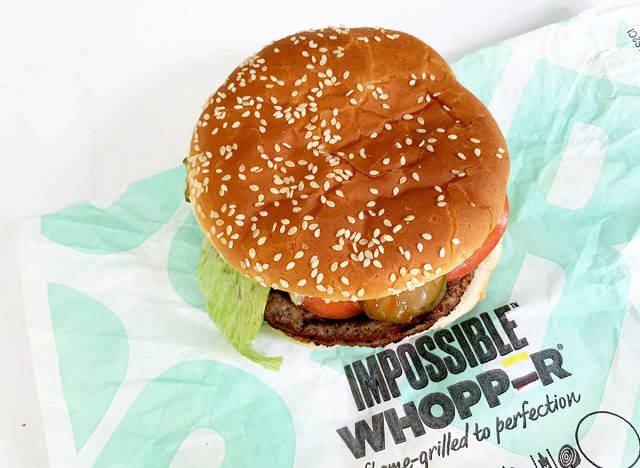 "We've been pleased with the results, including a doubling of plant-based product incidents in Europe in the quarter and we are looking for new market opportunities in Europe and around the world to expand the platform," said José Cil, CEO of Restaurant Brands International (which owns Burger King) in a recent earnings call.6254a4d1642c605c54bf1cab17d50f1e
A spokesperson for Burger King UK told Insider that the most popular items from the 100% vegan menu will likely make it onto other Burger King menus soon. They included things like a crispy vegan chicken sandwich, onion rings, and vegan nuggets.
But while BK is calling its month-long London trial a success, not everyone is happy. One commentator for right-wing broadcaster GB News accused BK of skewing its results with its choice of location.
"It's right where all of the clubs are and hungry drunk people, for example, won't have many options," said Dominique Samuels. "Burger King has been there for as long as I can remember. So it's basically trying to force people into consuming chemically enhanced fake meat."
Considering that Burger King painted the store green for the duration of this experiment with large signs that say "100% plant-based," we're not sure how valid this assessment is, but we can certainly see Americans having the same negative reaction to BK going meat-free.
In addition to potential naysaying from American meat-eaters, there's also the lobbying that's already been happening from big meat brands, notes Lillian Stone for The Takeout.
Watchdog agency Open Secrets disclosed that Tyson (the world's second-largest processor of chicken, beef, and pork) spent $1,954,176 on lobbying in 2021, while Koch Foods (a poultry company) spent $12,178,000—all in the hopes of holding on to their big fast-food business.
We've also seen Big Dairy put lots of money where your mouth is, as their lobbying efforts caused the FDA to crack down on plant-based brands using the word "milk."
While we admire Burger King's meat-free aspirations, we're not sure we see BK launching a 50% meat-free menu in the U.S. without a fight.
Ashley Uzer
Ashley Uzer is a Los Angeles-based freelance writer that focuses on food, relationships, and wellness.
Read more about Ashley