5 Healthiest Menu Items at America's Largest Chicken Chain, Say Dietitians
Experts weigh in on how to make your KFC order healthy.
Kentucky Fried Chicken promises finger-lickin' good chicken but it never said anything about nutrition. In an establishment that boasts fried chicken options, is it even possible to order something healthy off KFC's menu?
KFC is as American as fast food gets and for decades, it's upheld its reputation as perhaps the most popular fried chicken chain in the fast-food space. It's likely that even some of the most health-conscious people have ended up at KFC's drive-thru at some point. No matter how anti-fast-food you are, there's always the possibility you could end up making a pit stop at one location, especially while on a long road trip.
If you're even remotely considering choosing a healthy option when stepping foot into one of the chain's myriad locations, you're bound to wonder—do healthy KFC menu items even exist? We consulted a few of our favorite dietitians and asked if there are any healthy KFC menu items.
"KFC meal options have high levels of sodium, saturated fat, and calories, which is obviously not good for your health," Clara Lawson, RDN, tells Eat This, Not That!
She continues, "you've got a lot of options at KFC, and you can opt for some meals that are comparatively less in calories and sodium than other options."
Below, three registered dietitians chime in on what they think could constitute as a healthy meal order from the beloved fried chicken chain.
Original Recipe Chicken: Whole Wings
Per whole wing
: 130 calories, 8 g fat (2 g saturated fat, 0 g trans fat), 380 mg sodium, 3 g carbs (0 g fiber, 0 g sugar), 10 g protein
KFC discontinued its grilled chicken wing option. However, the Original Chicken Wings are relatively nutritious, especially when you compare them to the other main menu options.6254a4d1642c605c54bf1cab17d50f1e
"[The] original recipe chicken wing is a healthy KFC option that can be enjoyed based on its nutritional value," says Lawson.
However, keep in mind that just one chicken wing packs 380 milligrams of sodium, so limiting your intake to just one or two is likely best. Continue reading to see what other dietitians have to say about more health-conscious sides that may pair well with it!
Side of Whole Kernel Corn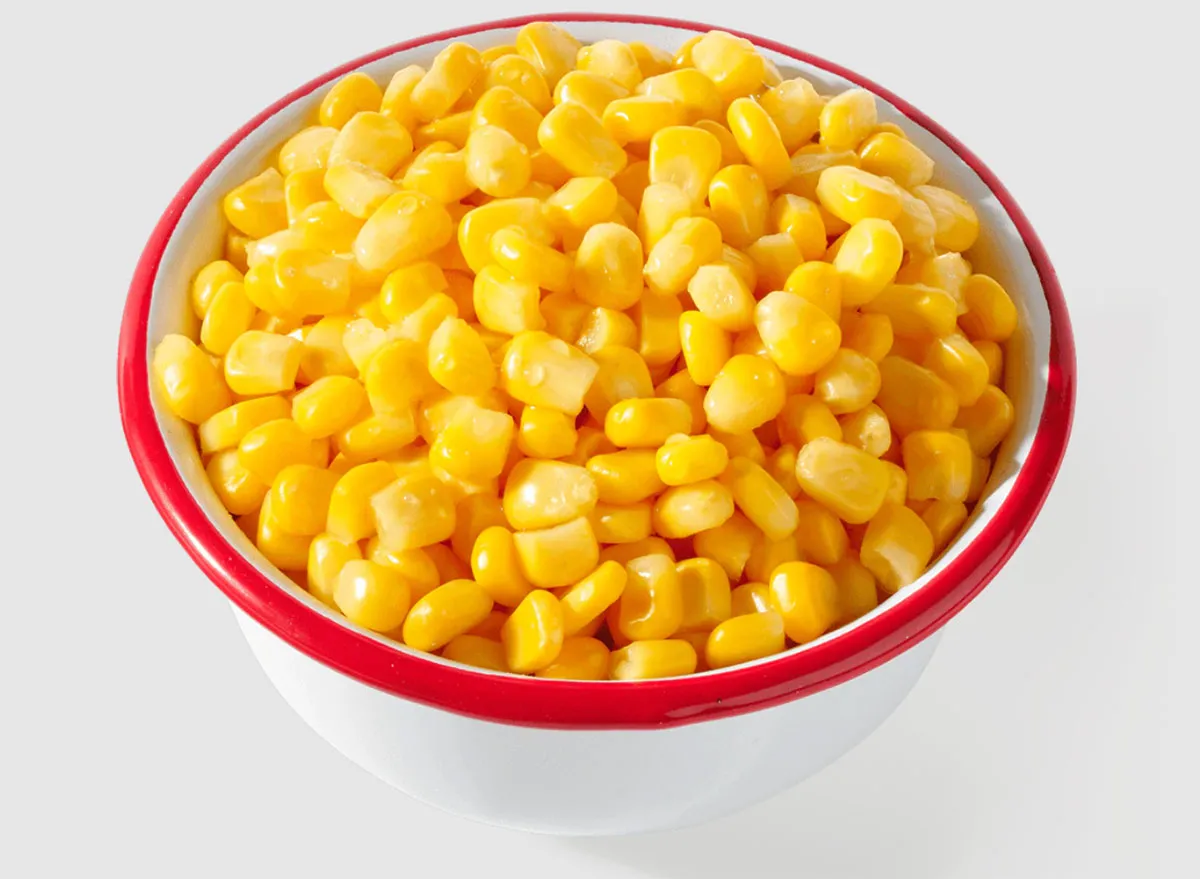 Per individual homestyle side
: 70 calories, 0.5 g fat (0 g saturated fat, 0 g trans fat), 0 mg sodium, 16 g carbs (2 g fiber, 2 g sugar), 2 g protein
This may be obvious, but as one of two, plain vegetable sides available on KFC's menu (the green beans were discontinued!) the individual side of corn is without question one of the healthiest items you can order at KFC. Zoë Schroeder, MS, RDN, CSCS puts this side at the top of her list.
Mashed Potatoes (without Gravy)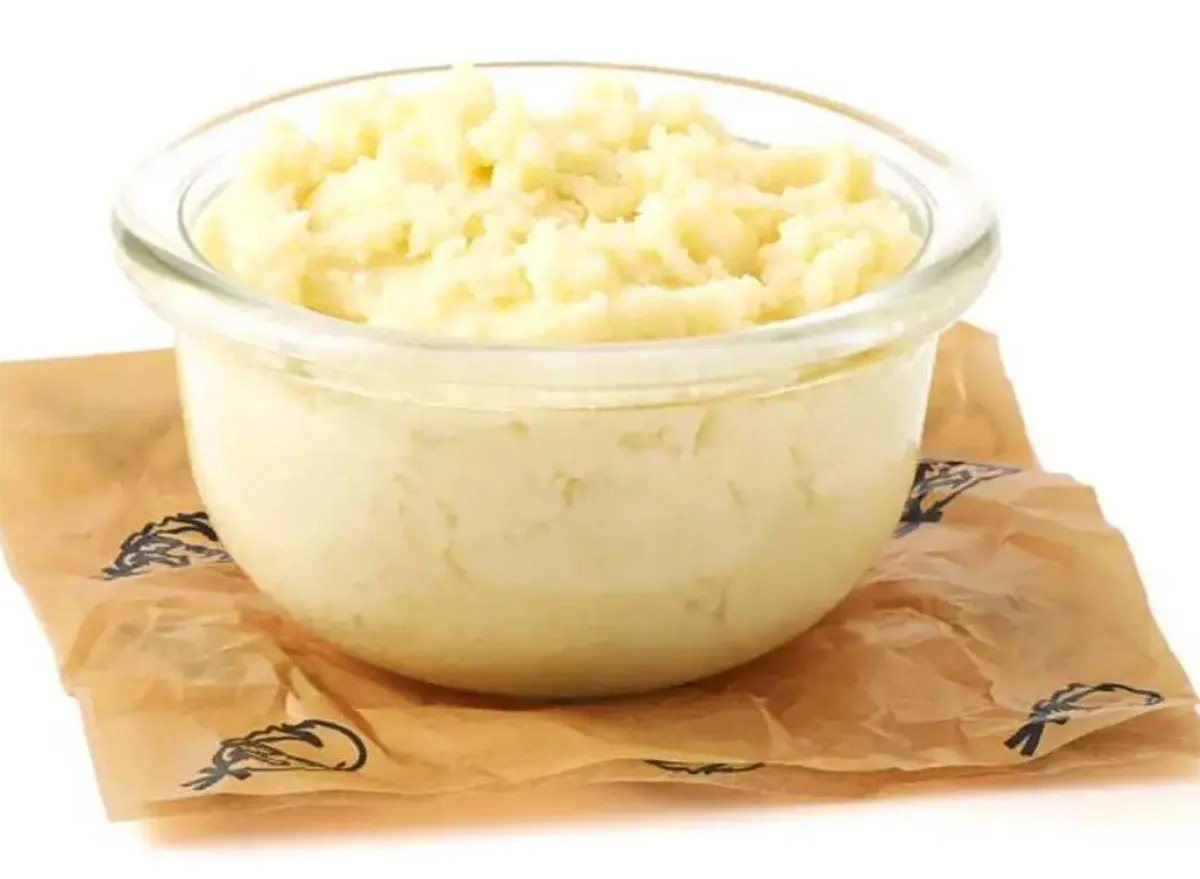 Per individual homestyle side
: 110 calories, 3.5 g fat (0.5 g saturated fat, 0 g trans fat), 330 mg sodium, 17 g carbs (1 g fiber, 0 g sugar), 2 g protein
This is another option that Schroeder puts at the top of her list of semi-healthy KFC orders. Without gravy, the smallest size of mashed potatoes clocks in at 110 calories and contain very few ingredients. Much like corn, potatoes are considered a starchy vegetable, but even when the skin is removed, mashed potatoes still contain a few vitamins and minerals, such as vitamin C and potassium.
Check out these Popular Foods With More Potassium Than a Banana!
Trio of sides
Per individual homestyle side of coleslaw
: 170 calories, 12 g fat (2 g saturated fat, 0 g trans fat), 180 mg sodium, 14 g carbs (4 g fiber, 10 g sugar), 1 g protein
Similar to Schroeder, Trista Best, RD, suggests focusing on the sides at KFC when it comes to constructing a healthy meal. She recommends getting creative by ordering your own assortment of veggie-packed side dishes and calling that a meal.
"The corn, coleslaw, and mashed potatoes can make up a moderately healthy meal without excess fat, refined carbohydrates, and sugar," she explained, before adding, "Corn and coleslaw, in particular, can boost your fiber intake as well."
Don't miss 5 Major Side Effects Of Not Getting Enough Fiber, Says Science.
Chicken Pot Pie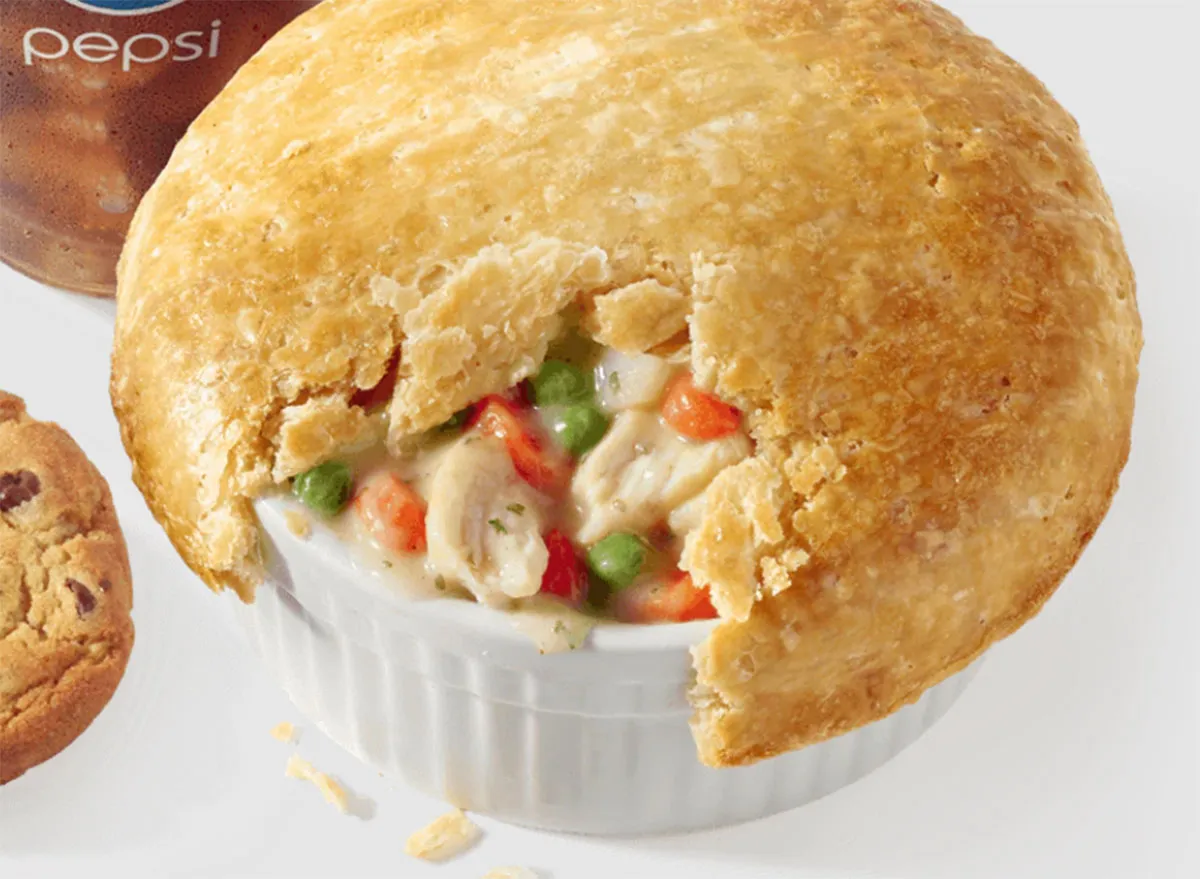 Per one serving
: 720 calories, 41 g fat (25 g saturated fat, 0 g trans fat), 1,750 mg sodium, 60 g carbs (7 g fiber, 5 g sugar), 26 g protein
Best emphasizes that the majority of KFC options are not healthy and that it's fairly difficult to find nutritious options on the menu, especially in the wake of the grilled chicken and green bean discontinuations.
While her go-to order would be the plate of sides, she adds, "if you must eat a full meal, it is recommended to go for the Pot Pie as it's just 720 calories and relatively lower in fat than the fried chicken options."
Bottom Line
Again, as all of our experts reminded us, KFC isn't the place to go for healthy options. However, if it's all you have access to, we hope this guide reassures you that there are a few health-conscious options you can order.
For more advice from experts, be sure to check out One Major Effect of Eating McDonald's, Says Dietitian. Then, don't forget to sign up for our newsletter.