Kaley Cuoco Reveals Her Post-Golden Globes Food Indulgences
The star drowned her sorrows after her Golden Globe loss with a seriously epic cheat meal.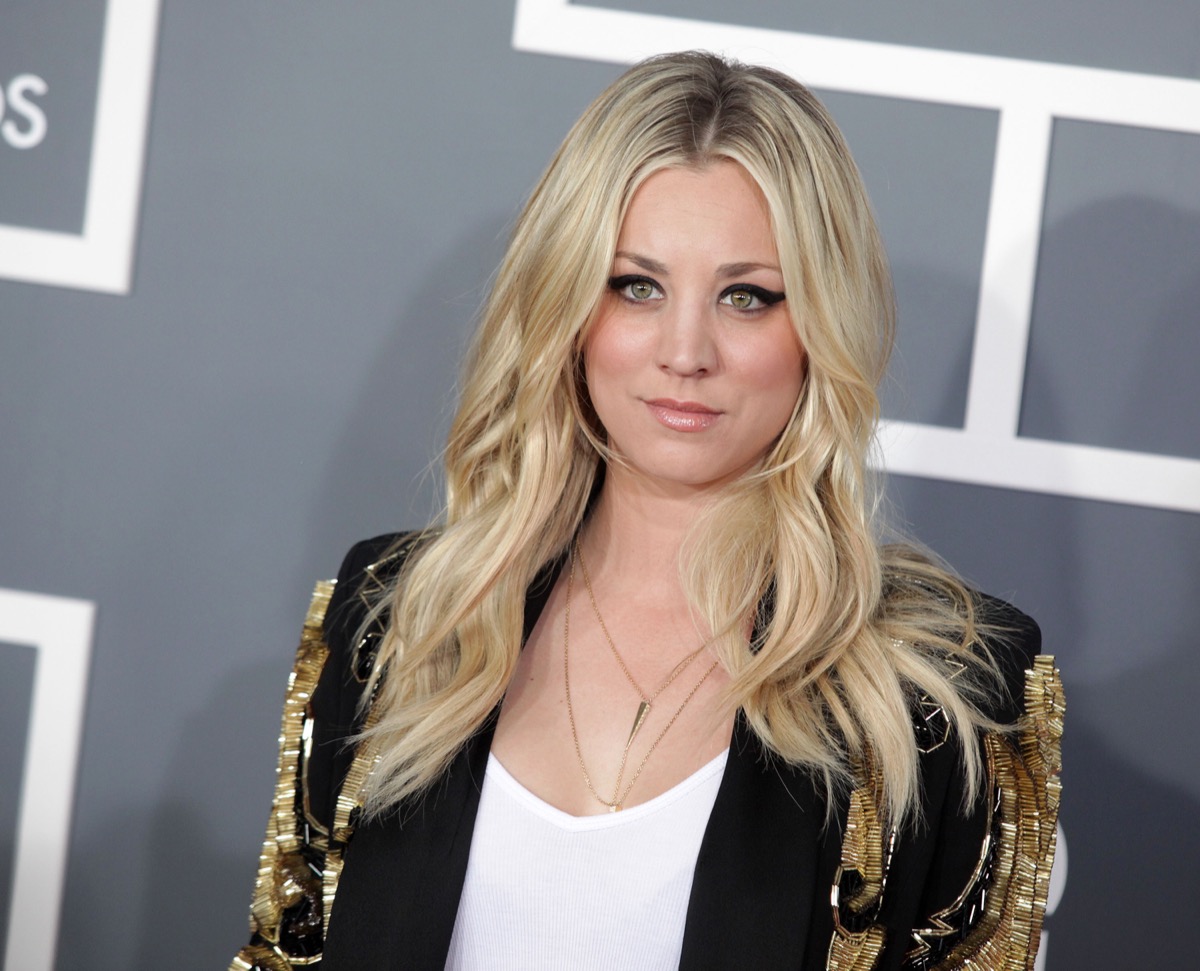 After a long night in formalwear—and losing out on the Golden Globe for Best Actress in a TV Series, Musical or Comedy to Schitt's Creek star Catherine O'Hara—The Flight Attendant actor Kaley Cuoco drowned her sorrows in the most relatable way: with a ton of junk food.
Following her loss, Cuoco posted a photo of herself to Instagram in which she's surrounded by more than her fair share of treats. Holding a slice of pizza in one hand and a bottle of Veuve Clicquot in the other, Cuoco balances a chocolate cake—and some hair extensions—on her Oscar de la Renta gown. In front of her sits a partially-eaten pizza, a tray of mac and cheese, a box of cupcakes with one missing, and a cake with her face on it, from which a not-insignificant chunk has been eaten.
"I would like to thank…never mind !!??? ? ?," Cuoco captioned the hilarious pic.
While Cuoco may have majorly indulged after the awards show, the Big Bang Theory star has never been shy about admitting how much work it takes to stay in shape. Read on to discover how she stays fit—and how she fits in the occasional indulgence, too. And if you want to shed a few pounds, try these 15 Underrated Weight Loss Tips That Actually Work.
Cuoco credits her killer shape to her workout routine.
You won't hear Cuoco claiming that her toned body is the result of good genes and luck. "Doing yoga five times a week has transformed my body," Cuoco told Shape. "I love being toned and having muscle; it's so sexy and beautiful. And I owe it 100 percent to yoga."
Cuoco says she likes to mix things up in the gym to keep from getting bored.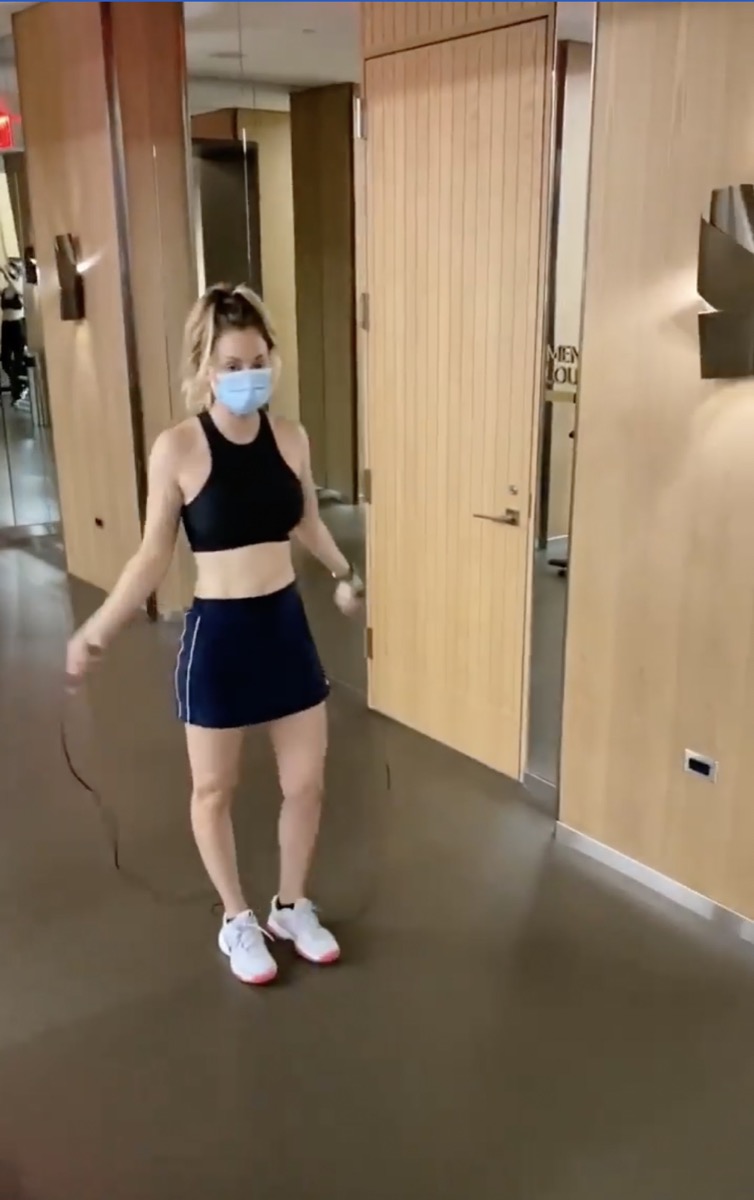 While yoga may be Cuoco's go-to workout, she admits that she likes to switch up her routine to avoid getting bored. "If I'm doing yoga, we're doing it every day this week….Then I'm like, 'Oh my god, I have to switch.' Then I'm going crazy on SoulCycle….'Okay, I have to switch,'" she explained to Women's Health.
During the pandemic, Cuoco revealed that she had found yet another workout she loved: jumping rope. "My newest obsession during COVID/quarantine! All you need is 20 mins, a jump rope, and good music!" And if you want to maximize your workouts, ditch the 8 Worst Workout Habits If You're Trying to Lose Weight.
She says that she's "completely changed" her eating habits to be healthier.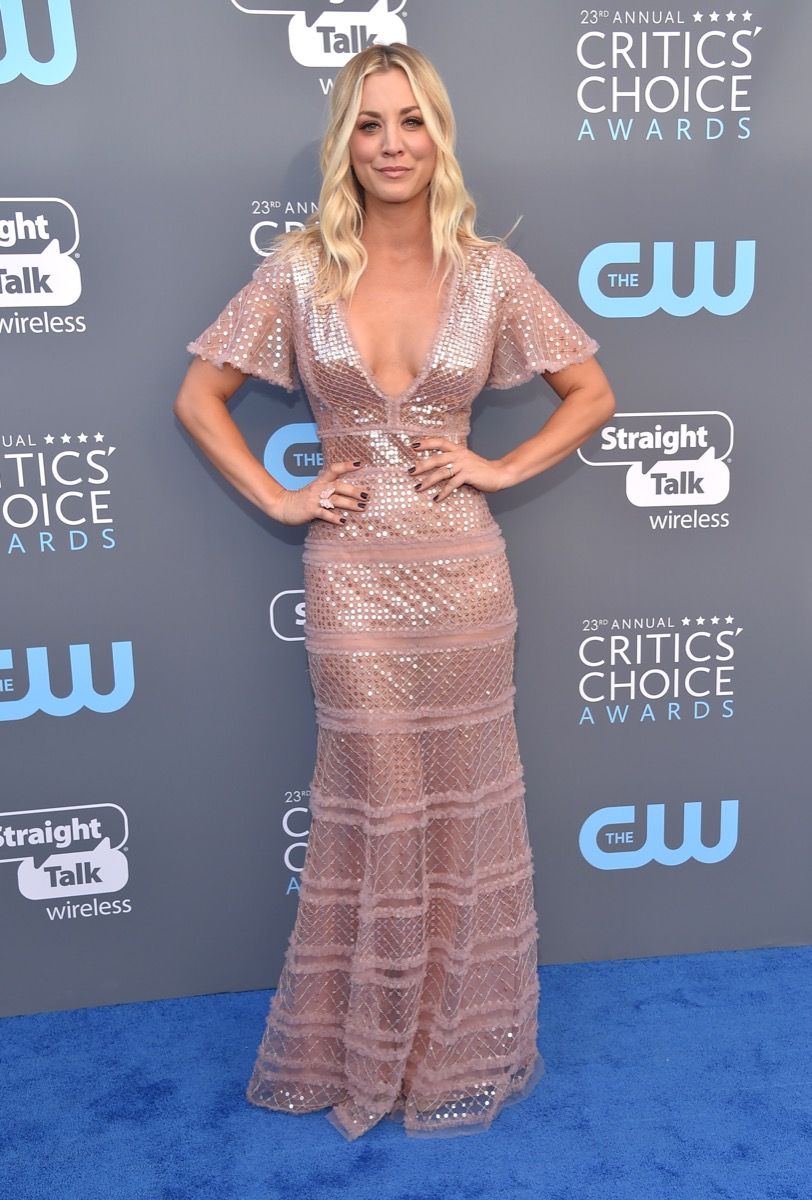 Even with the benefit of personal chefs and nutritionists available to them, stars can find themselves having a hard time making healthy eating a priority—something Cuoco's admitted to struggling with in the past.
After falling into a habit of "mindless eating." Cuoco told Shape, "Our refrigerator and pantry have completely changed…No more soda, chips, cereal; we had boxes of stuff that only a 4-year-old would eat."
But, she says that cheat days have always been an essential part of her balance.
However, that doesn't mean she sticks to a Spartan diet, either. Even when she's not lamenting losing out on a major award, Cuoco makes regular cheat meals part of her eating plans.6254a4d1642c605c54bf1cab17d50f1e
"I have to have a cheat day," Cuoco told Shape. "I know when I'm being good all week long that come Sunday, I'm going to lie by the pool, have a drink, and eat some pizza. Then I wake up on Monday morning and I'm all ready to start the week again."
If you want to fit some cheat meals into your routine, check out these 20 Cheat Meal Tips for Weight Loss Success.
Sarah Crow
Sarah Crow is a senior editor at Eat This, Not That!, where she focuses on celebrity news and health coverage.
Read more about Sarah