The Best Mac & Cheese in Every State, According to Yelp
The struggle to find the best version of this comfort food staple comes to a close.
Everyone loves a good plate of macaroni and cheese, but finding the perfect balance between pasta and cheese sauce can prove challenging. Sadly, not every restaurant is up to the task of delivering that perfect pairing. No matter if you need to pick up an order to bring home to the family or just want to enjoy a plate of this comfort food classic for yourself, the search for the best mac and cheese can finally come to a close. Thanks to the help of the team over at Yelp, Eat This, Not That! has now gathered together the perfect bucket list for anyone craving a plate of gooey goodness.
Methodology: This is a list of the best places for mac and cheese in every state, according to Yelp. We identified businesses in the restaurants and food categories with a large concentration of reviews mentioning "macaroni and cheese," then ranked those spots using several factors including the total volume and ratings of reviews mentioning "macaroni and cheese."
No matter the occasion, the best mac and cheese options from these fine establishments can please any crowd—read on to discover if you need to head down the road or make a full road trip across the state! And if you want to make this dish at home, here are 18 Healthy Mac & Cheese Recipes.
ALABAMA: Mrs B's Home Cooking in Montgomery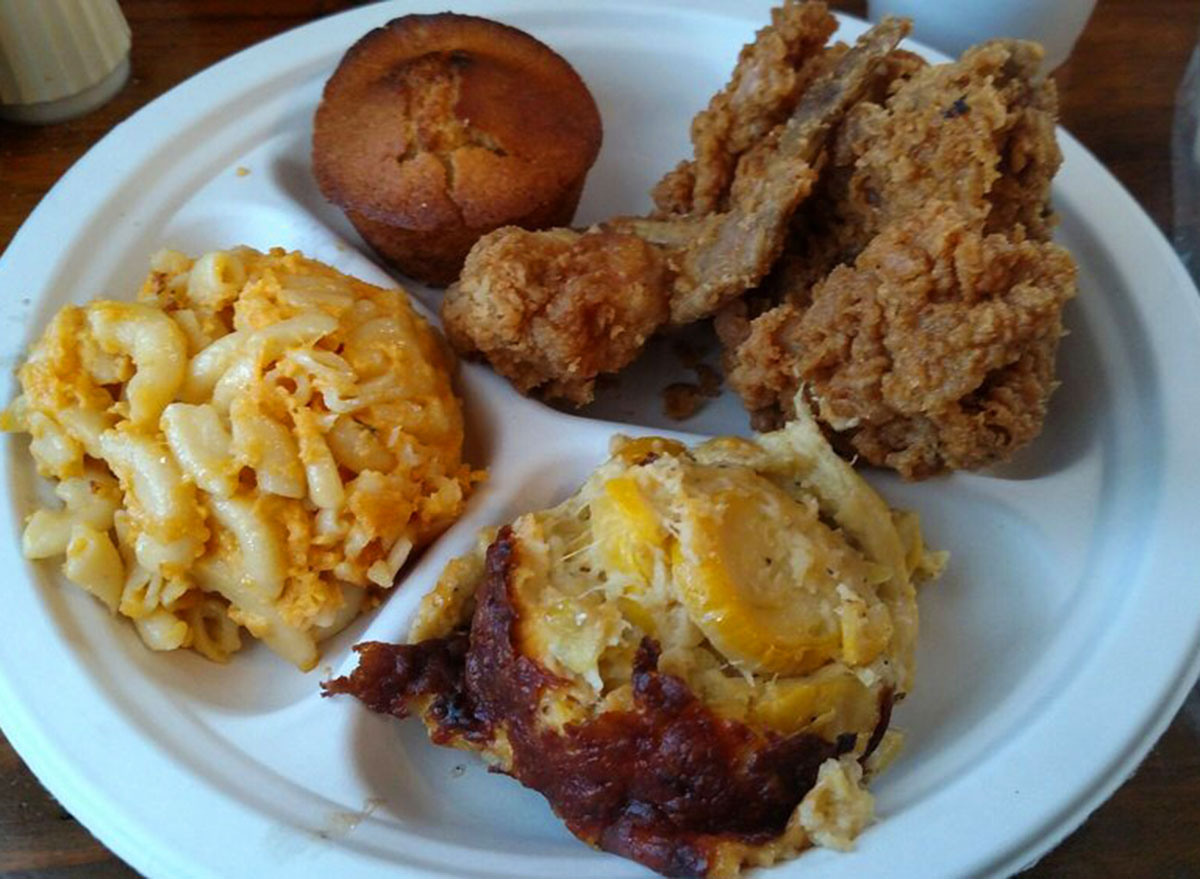 If the mood strikes and you just have to hunt down the best mac and cheese in Alabama, your options appear limitless—with so many soul food restaurants and barbecue joints that offer up this gooey staple, picking the best restaurant for the task at hand seems perilous. Luckily, Mrs. B's Home Cooking rises above with their classic take on the side. Their easy-to love classic mac and cheese pairs excellently with their fried green tomatoes and catfish. For a no-frills macaroni experience, make sure to stop in Montgomery the next time a craving strikes.
Mac and cheese is truly a classic, and here are 15 Classic Comfort Food Dishes You Haven't Had in Years.
ALASKA: Ginger in Anchorage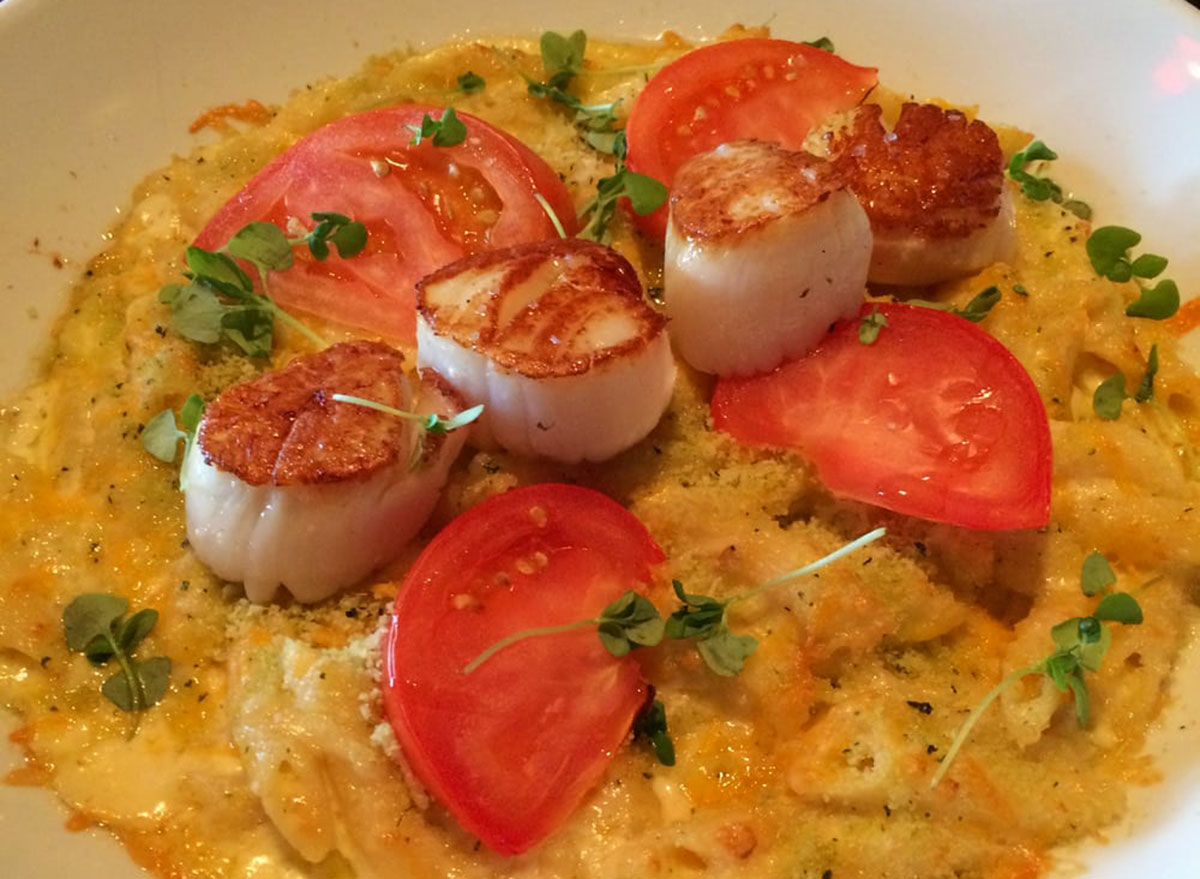 When you want a bowl of down-home goodness to make you forget about the cold, no restaurant can compete with Ginger. They have won the masses over with their unique scallop mac and cheese, which combines seared diver scallops atop a bed of basil-pine nut-crusted three-cheese macaroni, finished with truffle oil and fresh basil. With such a refined take on this classic dish, Ginger should make your itinerary next time you crave a plate of mac and cheese.
And for the cheese fans out there, check out The Best Grilled Cheese in Every State.
ARIZONA: Bobby Q in Phoenix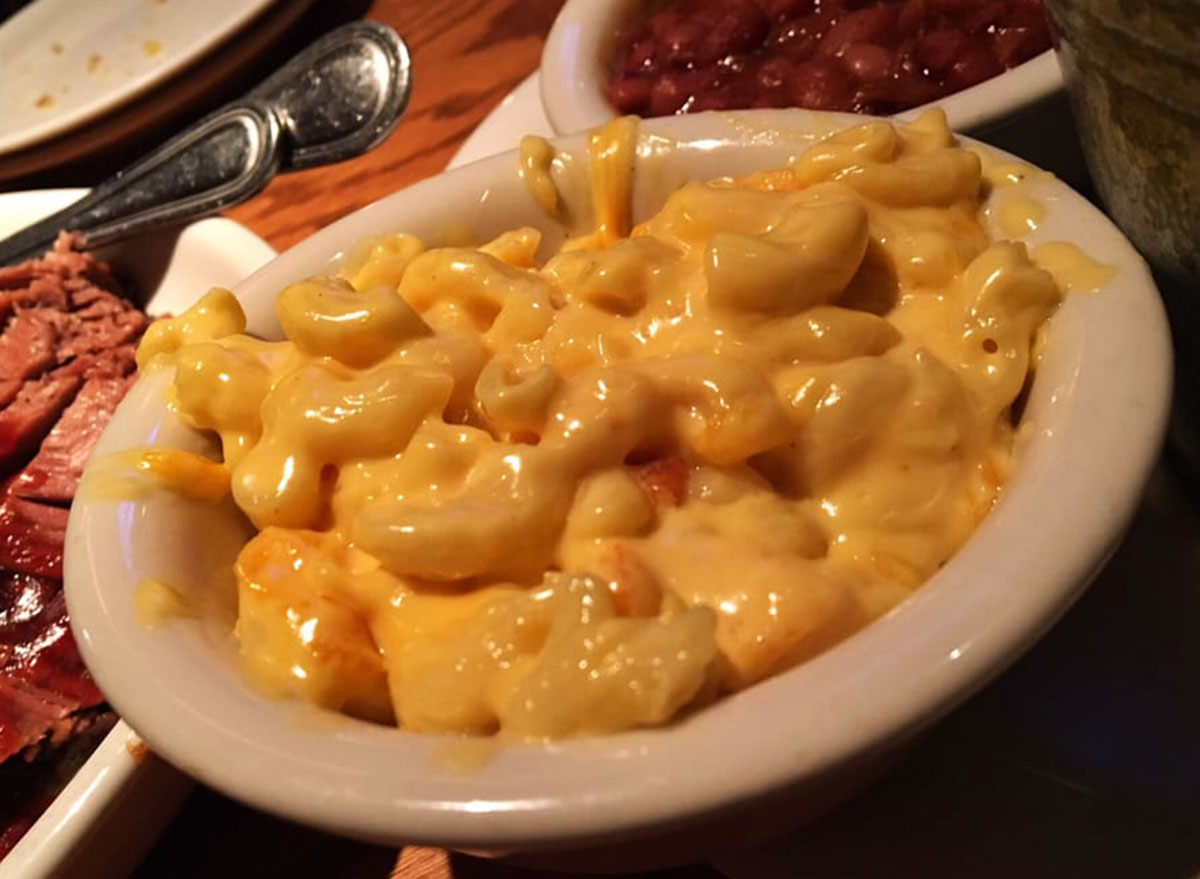 If you like your mac and cheese without any fancy touches and want a country favorite that brings you straight back to childhood, Bobby Q dishes out the mac and cheese you need. Their take on the staple won't disappoint and compliments the variety of traditional barbecue smoked over Tennessee hickory. The next time you feel your mouth watering over the thought of some gooey goodness, make sure to stop on in.
ARKANSAS: Wright's Barbecue in Johnson
Mac and cheese has a great ability to complement rich-tasting barbecue, so seeing Wright's Barbecue serve up the best cheesy noodles in the state of Arkansas should come as no surprise. Even after you polish off a rack of ribs or a brisket sandwich, make sure to come back for seconds of their mac and cheese. Don't forget to order an extra pint to take home, too!
CALIFORNIA: Sweet Blessings by Cyler LLC in Los Angeles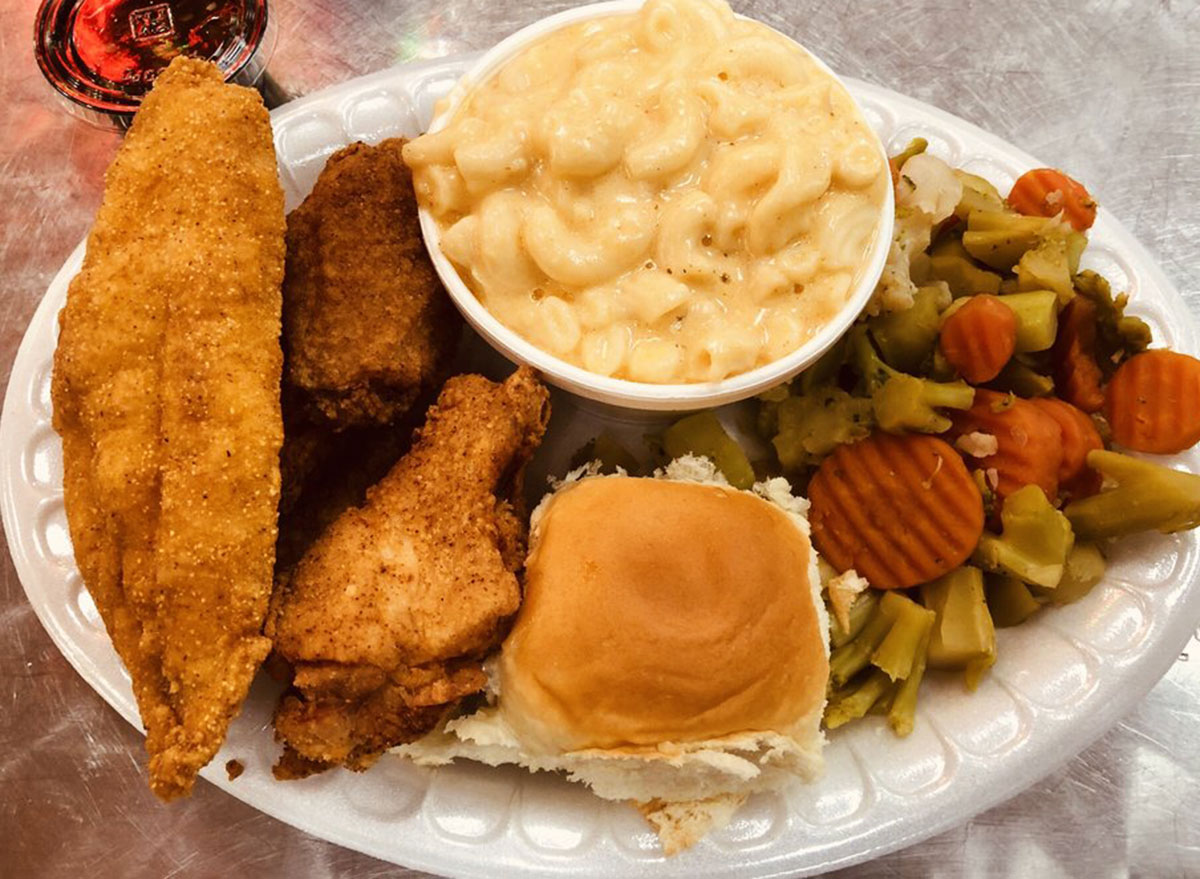 Los Angeles offers up every kind of mac and cheese you can imagine, but nothing tops the classic soul food standard. Sweet Blessings serves up that creamy and delicious mac and cheese that keeps you coming back for more. With so many standards to pair the cheesy pasta with, definitely make sure to make a few expeditions to take in everything this winning restaurant has to offer.
COLORADO: Mac Nation Cafe in Indian Hills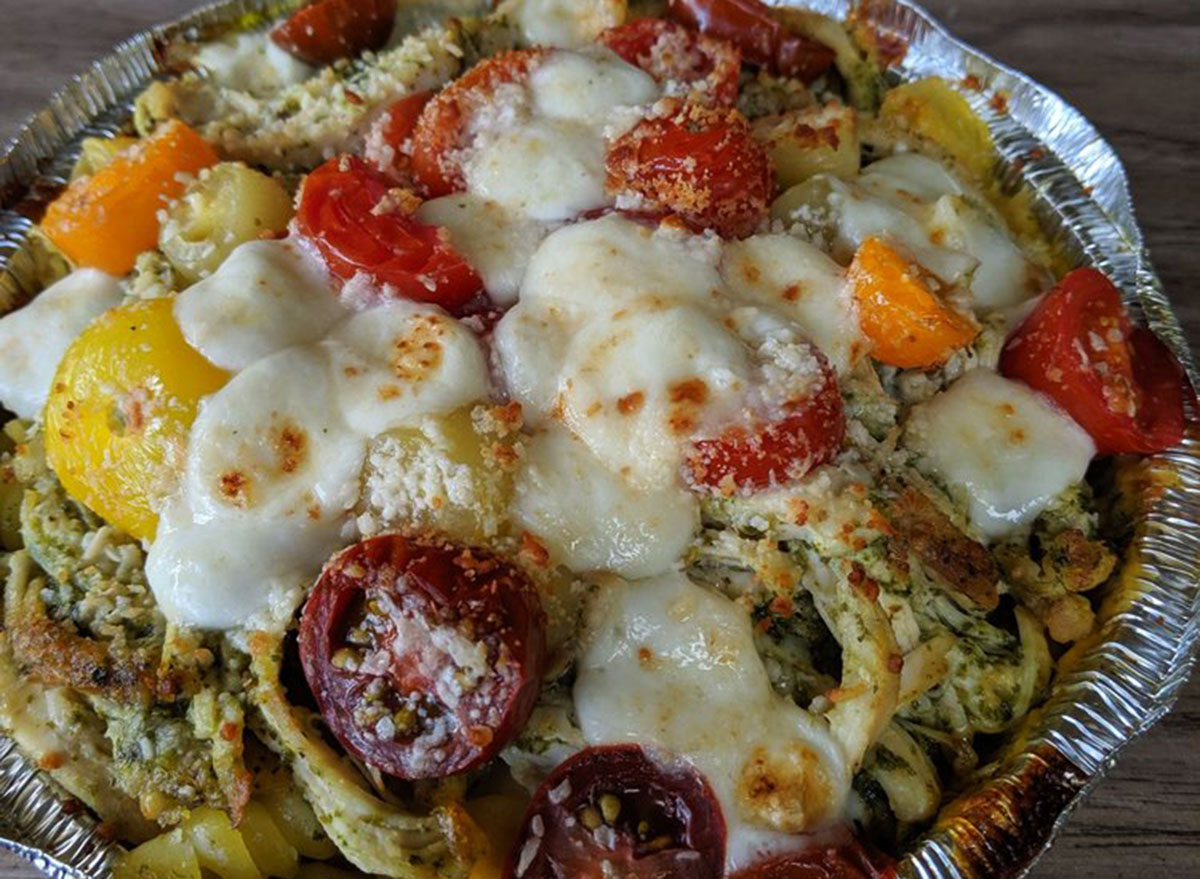 For a restaurant called Mac Nation Cafe, you would hope that they live up to their name and serve out the best mac and cheese you had in your life. This cafe truly earns its name, as the menu brings out every twist on mac and cheese you could desire. Don't settle for just one—opt for the mac and cheese flight to experience three life-changing takes on the classic.
CONNECTICUT: Sandra's Next Generation in New Haven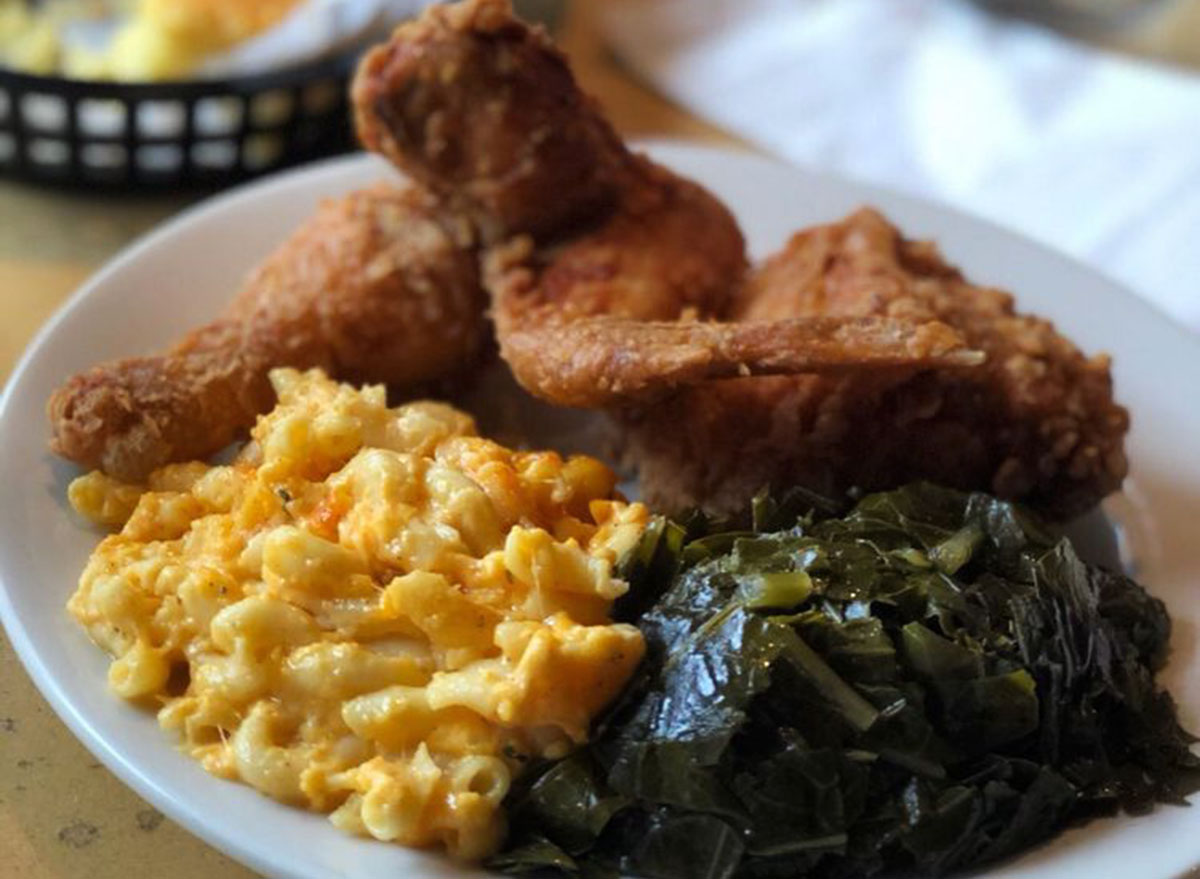 Many soul food restaurants have perfected the art of mac and cheese, but Sandra's Next Generation takes this favorite side to the next level. After baking their gooey pasta to perfection, you can eat it alongside fried chicken, catfish, and more. With a taste of home like this, Sandra's serves up a good time every visit.
Want to try making this classic dish right at home? Here's The Single Tastiest Boxed Mac-and-Cheese at the Store.
DELAWARE: Henlopen City Oyster House in Rehoboth Beach
While barbecue and soul food restaurants dominate the national mac and cheese scene, sometimes a worthy contender beats out all others to serve up the best-loved cheesy pasta in the area. Henlopen City Oyster House rises and takes the crown when it comes to offering up the number one mac and cheese in Delaware. Even better, each side goes great with their locally sourced seafood! Make sure to partake the next time you pass through.
FLORIDA: Sweet Dogs in Miami
When you get tired of eating mac and cheese the traditional way, why not try it on top of a hot dog? Miami's Sweet Dogs tackles this question to astounding success and doles out Florida's top mac and cheese on a hot dog. If you crave a more traditional option, feel free to order this favorite as a side, but just know what you're missing out on!
If you like more unique twists on classic meals, here are 17 Delicious Out-Of-The-Box Pizza Toppings You Need to Try.
GEORGIA: The Ordinary Pub in Savannah
This pub offers all the American classics you could want, including delicious mac and cheese. Try it with one of the pub's signature cocktails!
HAWAII: Kula Bistro in Kula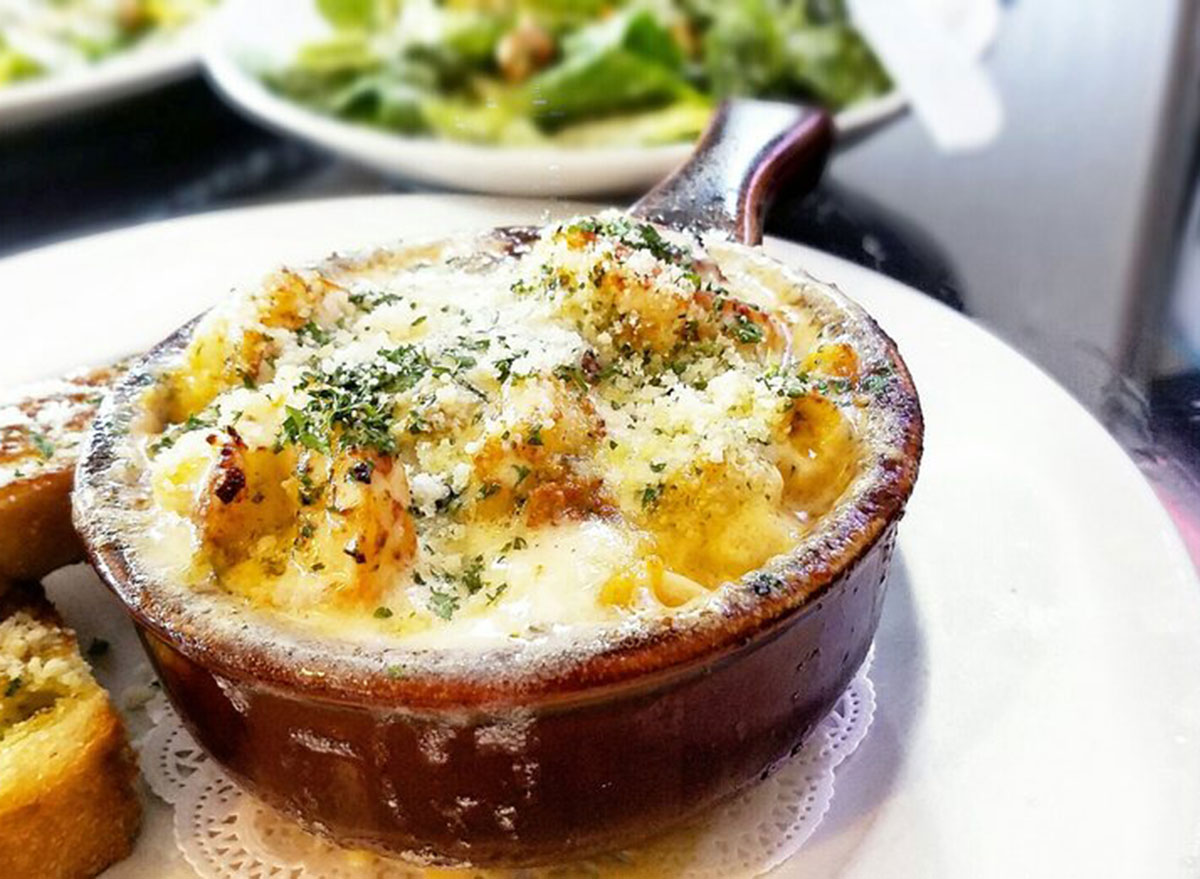 When you have access to some of the freshest seafood in the country, not baking some lobster into your homemade mac and cheese should be a crime! Luckily, Kula Bistro knows how to please a crowd and serves up a succulent lobster macaroni and cheese appetizer that starts any meal right. Make sure to go out of your way to indulge in this ultimate appetizer.
IDAHO: Meltz Extreme Grilled Cheese in Coeur d'Alene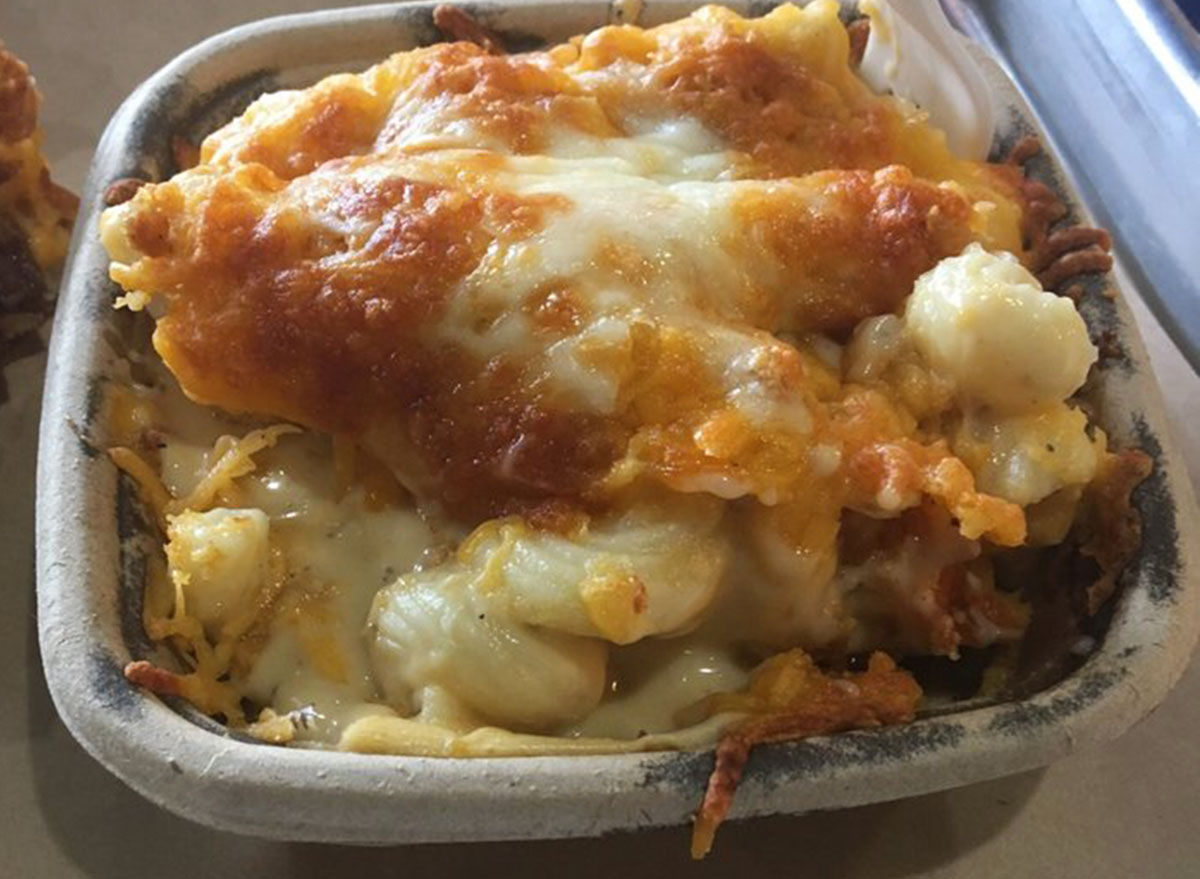 Meltz offers up a mean grilled cheese, but if you want to take advantage of their unsung staple, you need to indulge in their take on the mac and cheese side, made with the same intense love poured into their sandwiches. Their massive portions leave you stuffed and this joint will become your new favorite stop for all your best mac and cheese moments.
ILLINOIS: Bavette's Bar and Boeuf in Chicago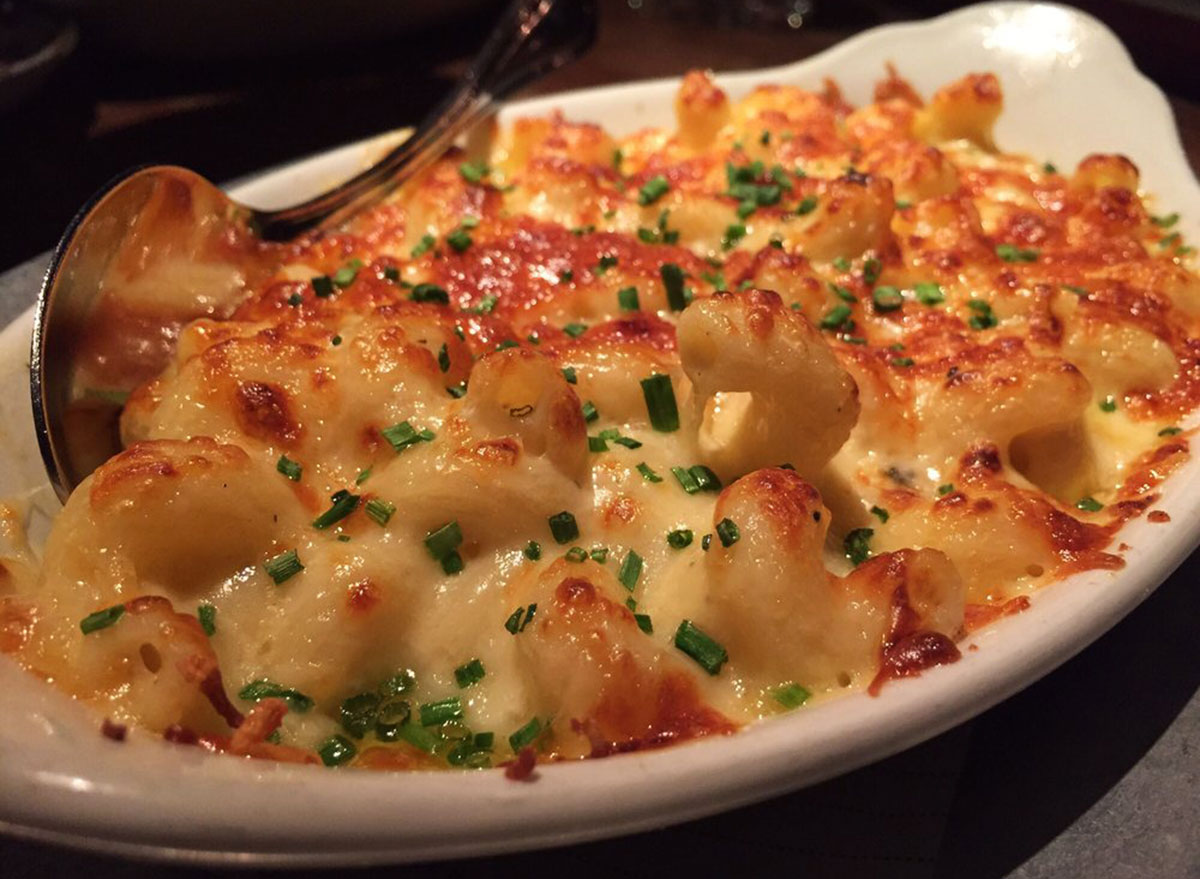 For an upscale mac and cheese experience, look no further than Chicago steakhouse Bavette's Bar and Boeuf. This classy establishment spruces up the traditional formula by baking white cheddar into their velvety mac and finishing the dish with truffle oil. When you want the perfect complement to a superb steak, make sure to choose this side option to experience the best Illinois has to offer.
INDIANA: The Eagle in Indianapolis
For a true taste of some of the best mac and cheese, tap into the southern culture that The Eagle serves up in Indianapolis. Their take on this baked favorite gets broiled to perfection and topped with crispy breadcrumbs that leaves you begging for more.
IOWA: Cheese Bar in Des Moines
If your restaurant takes so much pride in its cheeses that it declares itself the Cheese Bar, making sure your mac and cheese delivers should be a top priority. This Des Moines hotspot not only serves up top grilled cheeses and fondues but also offers up the crispiest cast-iron mac and cheese in the whole state of Iowa. After one bite, this three-cheese favorite makes sure you come back for more.
KANSAS: Gus's World Famous Fried Chicken in Kansas City
Kansas offers some of the best soul food in the country, so picking the best mac and cheese proves difficult. Gus's World Famous Fried Chicken knocks it out of the park with their chicken and dishes out the best gooey pasta around. Grab some collards and the namesake chicken for an experience you won't forget anytime soon.
KENTUCKY: Hammerheads in Louisville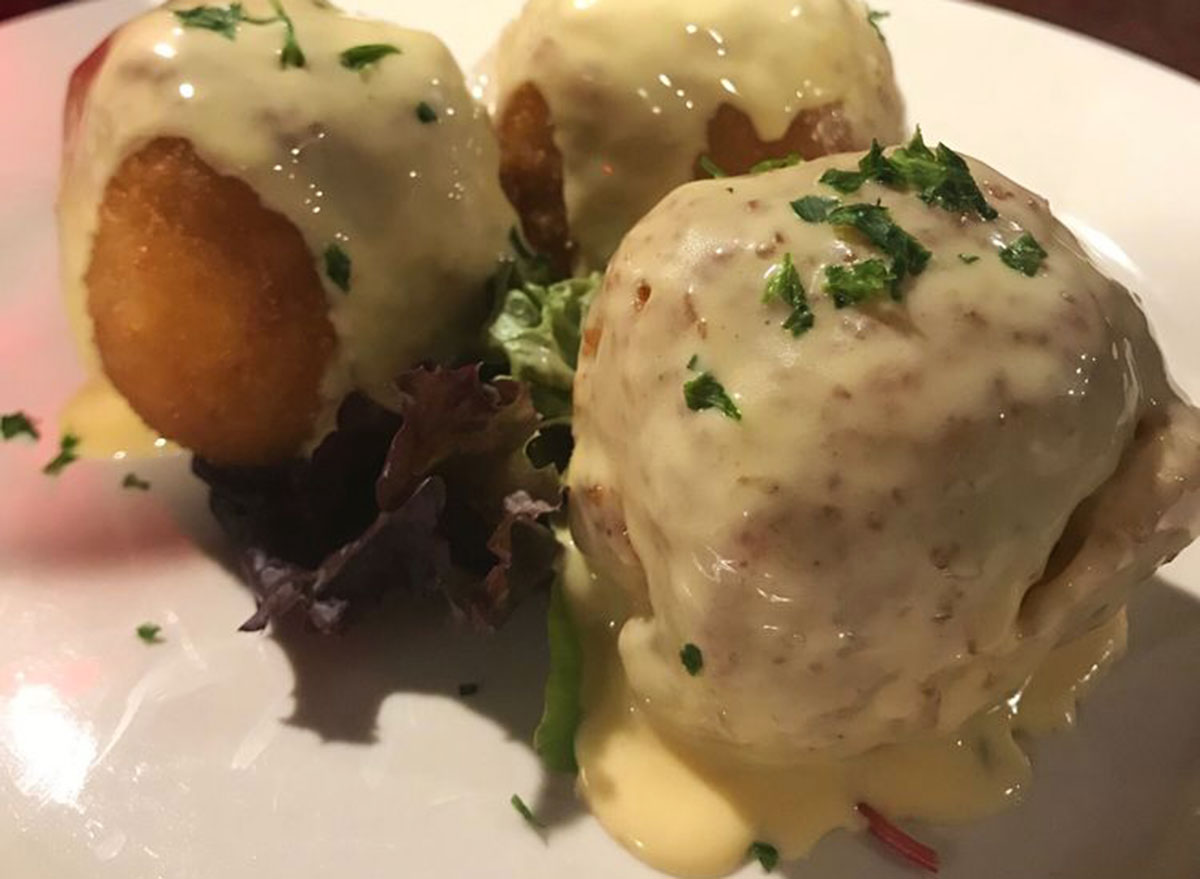 If you hate splitting your mac and cheese, Hammerheads knows just how you feel. They bring their A-game with massive mac and cheese balls, coated in breadcrumbs and baked to perfection. Each serving is so big, you don't have to worry about going hungry. When you want to go big, no other restaurant can compare.
LOUISIANA: Sweet Soulfood in New Orleans
New Orleans has some of the best food in the country, and if you find yourself in the area, you can also order up some of the best mac and cheese Louisiana has to offer. Sweet Soulfood not only knows how to make excellent collards, red beans with rice, and gumbo, but you can top it all off with a hearty scoop of cheesy noodles everyone loves. Don't forget to visit next time you are in town for Mardi Gras.
MAINE: Side Street Cafe in Bar Harbor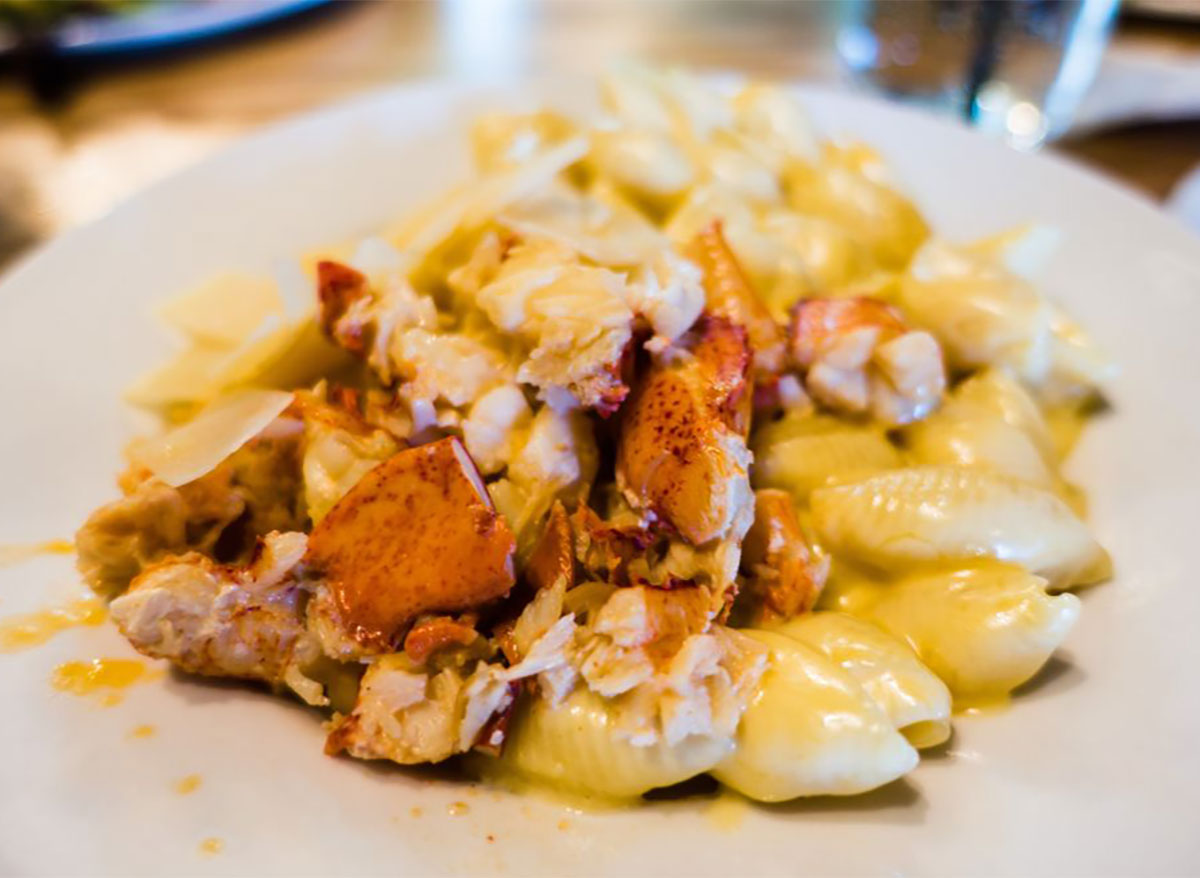 If you want lobster mac and cheese, Side Street Cafe is the place to go. Craving a more Southern-inspired dish? You can also order mac and cheese that's loaded with pulled pork.
MARYLAND: Thames Street Oyster House in Baltimore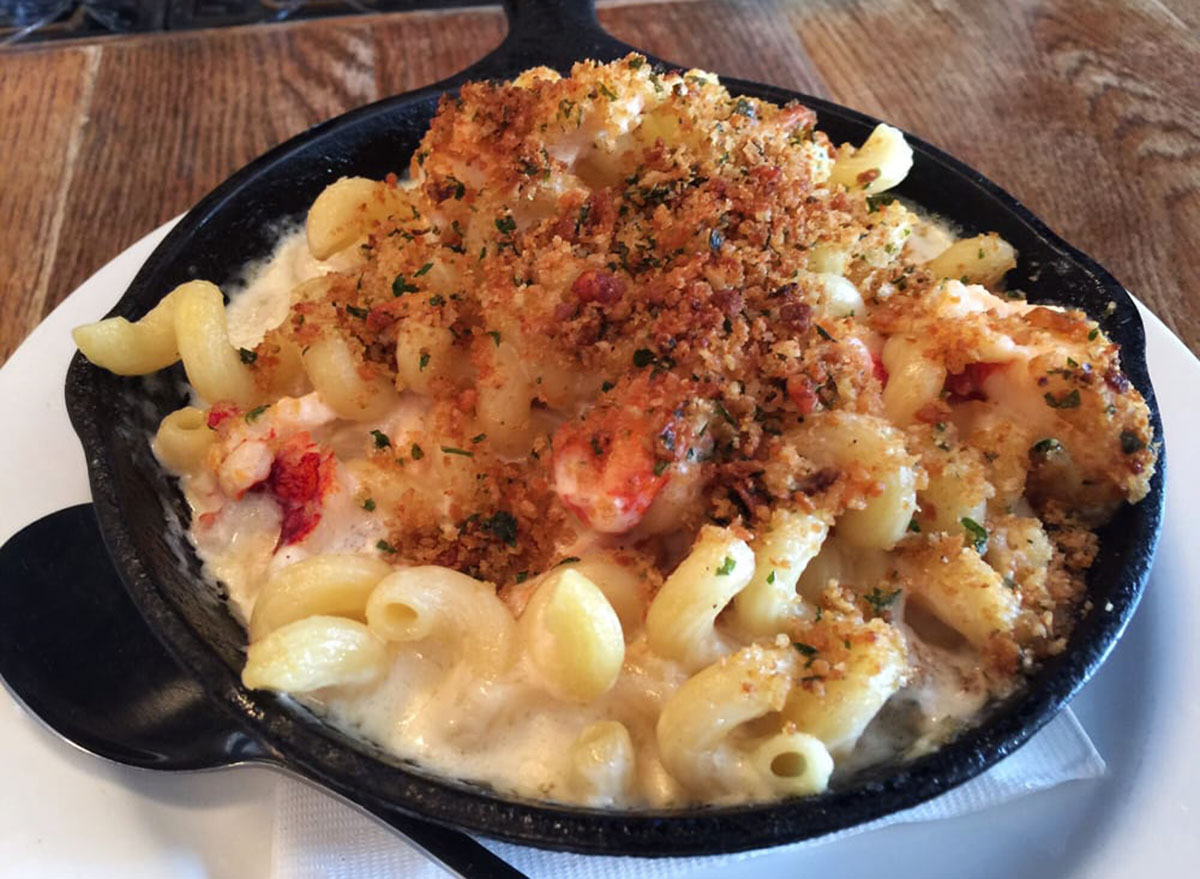 When you want some fresh seafood with the hearty flavor of Maryland's best mac and cheese, look no further than Thames Street Oyster House. Their lobster mac and cheese appetizer combines the winning combo of a gouda bechamel sauce, Cavatappi pasta, and Maine lobster to create a dish even shellfish haters could love. If you haven't tasted this classic, don't forget to add it to your Baltimore bucket list.
Want some chicken to pair with this dish? Stop at any of the 20 Best Fried Chicken Restaurants in America.
MASSACHUSETTS: Belmont Vegetarian Restaurant in Worcester
For non-meat eaters, mac and cheese can become a standard go-to at meat-centric restaurants, but this reliable side becomes a star at Belmont Vegetarian Restaurant. This vegetarian version joins a rotating selection of new menu items daily at this established eatery to round out the plates of anyone looking to eschew meat for the day (or at least the meal). Let this side be the star—your mouth won't regret it.
MICHIGAN: Union Woodshop in Clarkston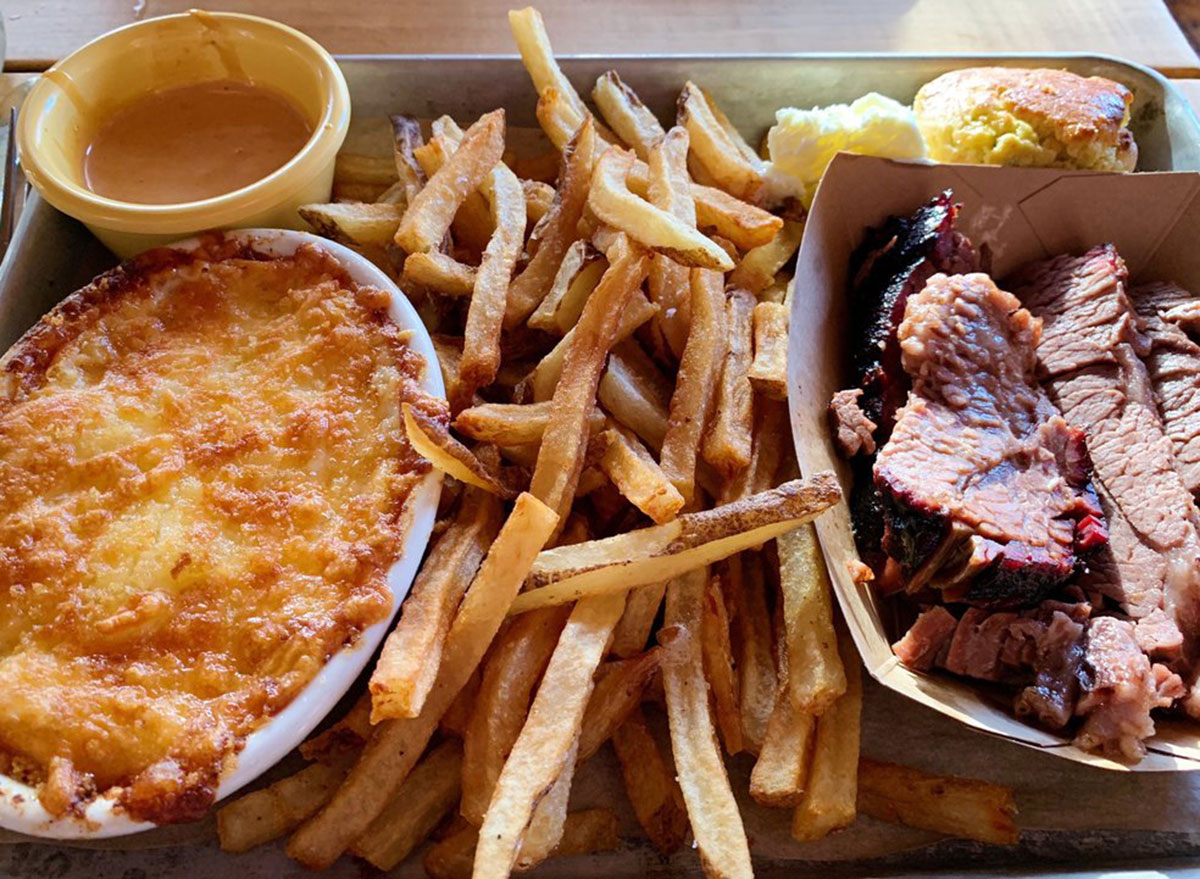 Sometimes you want country-style favorites that don't add pretentious touches to tried-and-true recipes. If the mood strikes for some classic barbecue, Union Woodshop offers up sumptuous chicken, ribs, and the best mac and cheese in all of Michigan. Even though their take on mac and cheese only comes as a side dish, it may still be one of the best you've ever had.
MINNESOTA: Revival in Minneapolis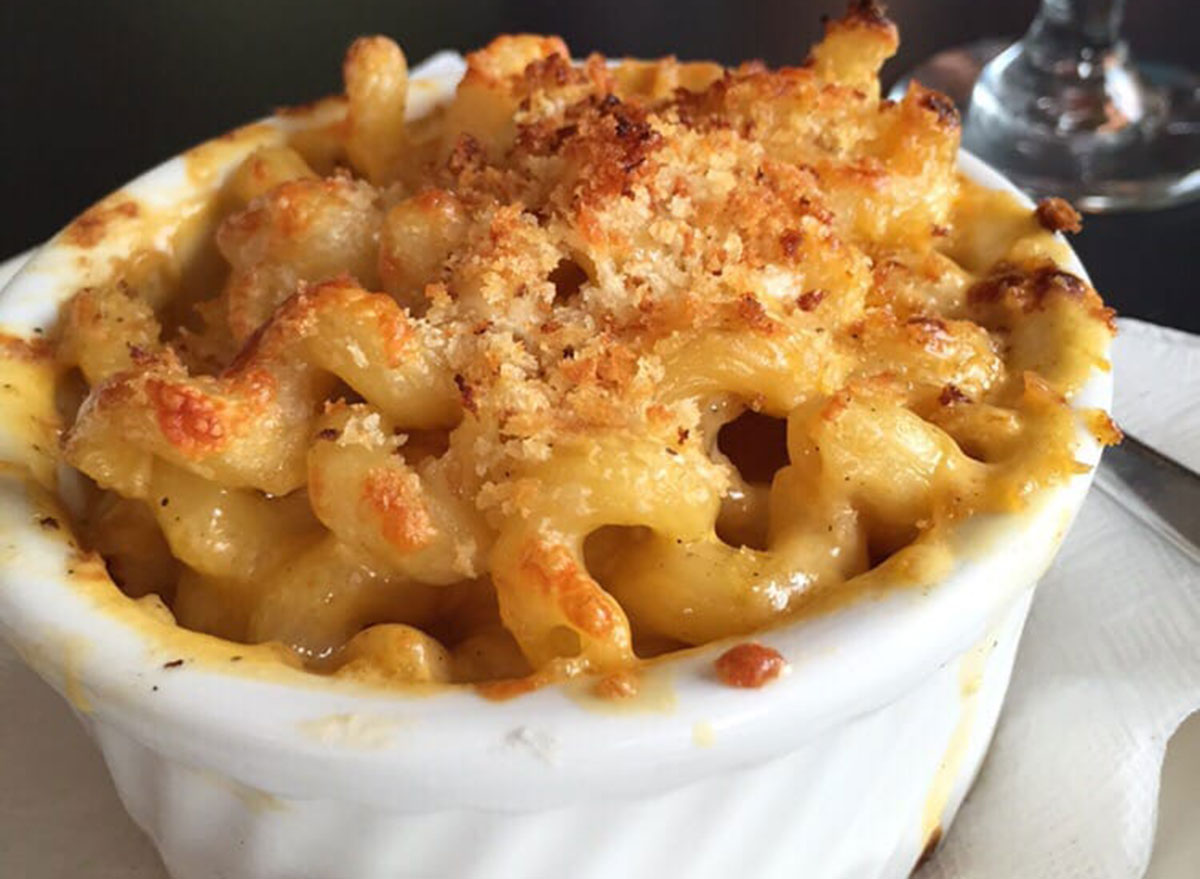 Many places offer mac and cheese as a menu option, but only Minneapolis' Revival offers the end-all of mac and cheese, aptly named "Mac & Cheese Heaven." This ultimate cheese and pasta experience comes served broiled to a crisp with a gooey underbelly lurking underneath toasted bread crumbs. If you live in Minnesota and love all things cheese, you have to stop in.
MISSISSIPPI: Bully's Restaurant in Jackson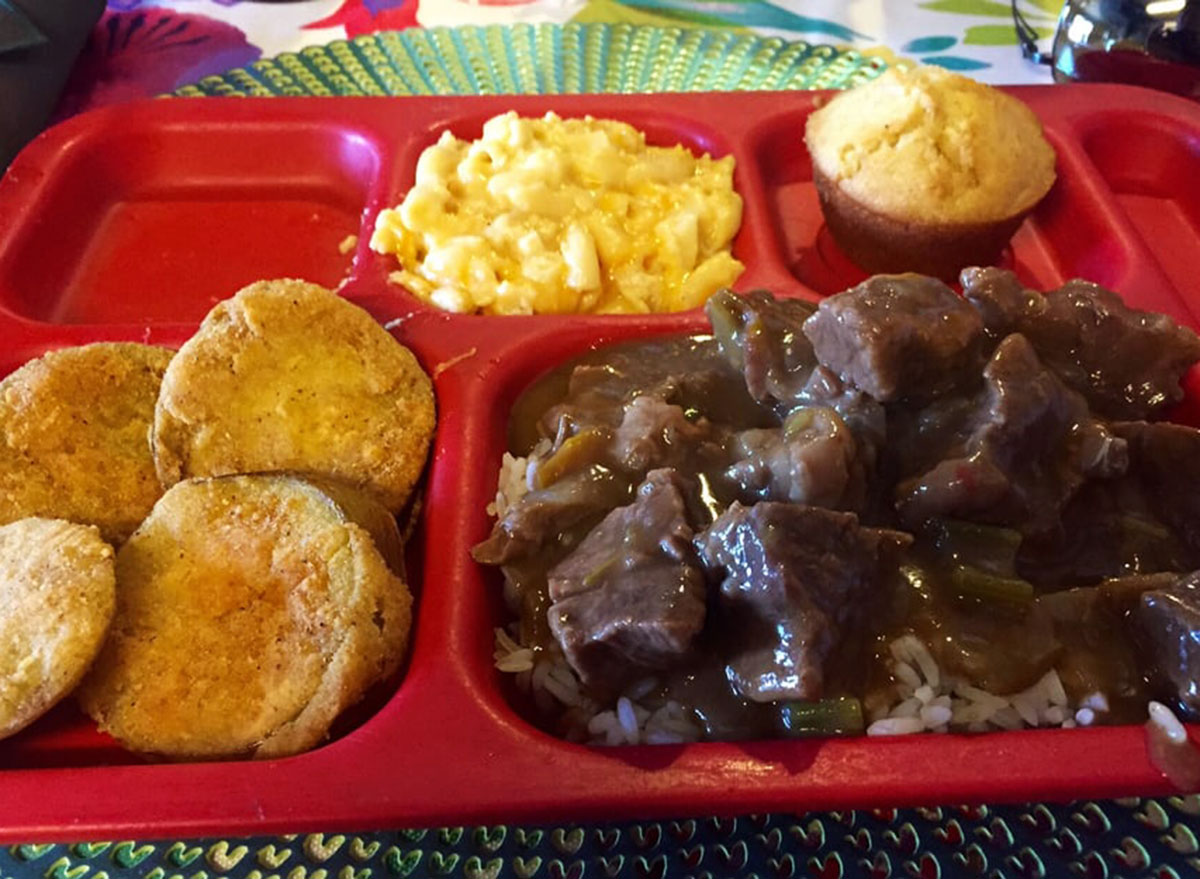 When a soul food restaurant serves up some homey classics like oxtail, you know you can expect a good time and some made-from-scratch mac and cheese that takes you to another world. Bully's perfects a classic and serves it up straight, just the way you like it alongside, collards, catfish, and more. Next time you need some true comfort food with a side order of the best mac and cheese in Mississippi, come on down.
MISSOURI: Q39—Midtown in Kansas City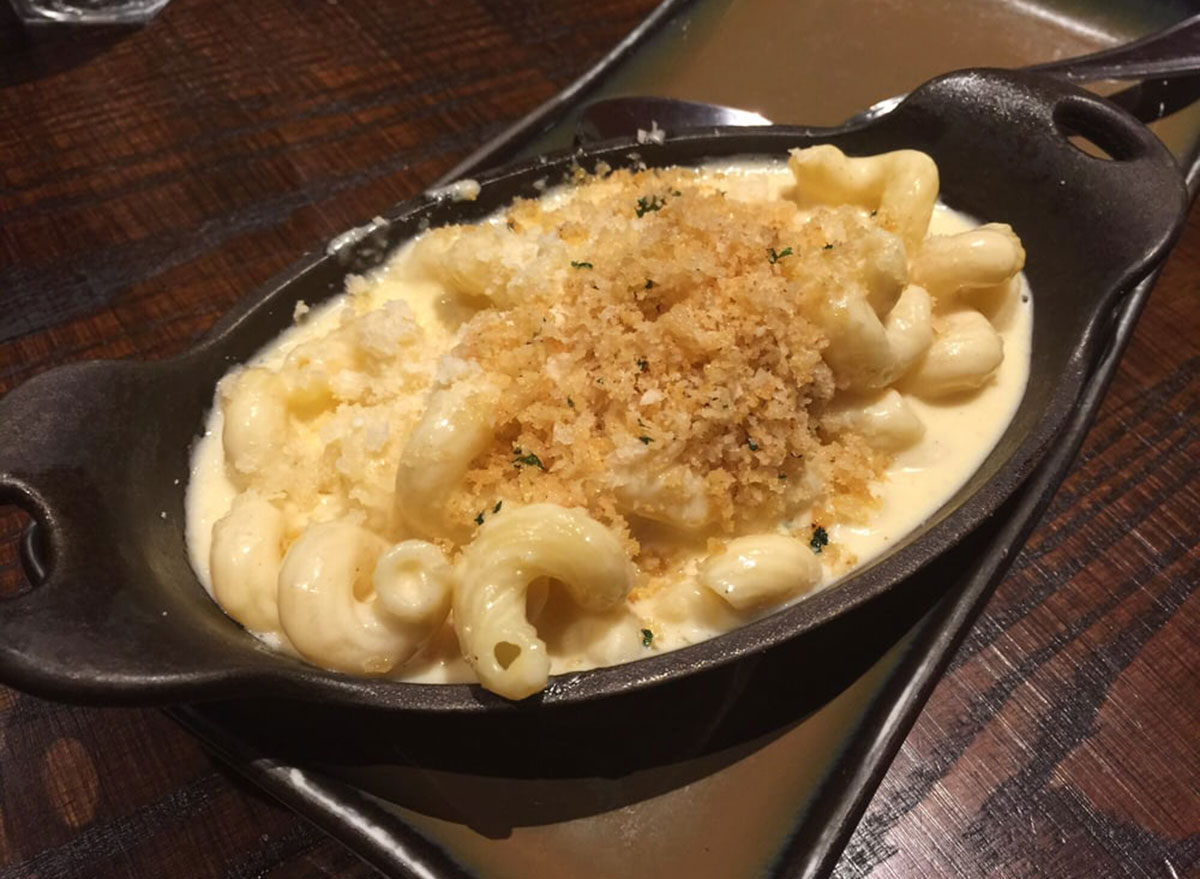 If you feel like a platter of ribs or barbecued chicken at Q39's midtown location, the trip wouldn't be complete without a side order of their number one mac and cheese. While they how to pile on the meat, you'll want to save room for this crowd-pleasing straightforward mac and cheese that anyone can get behind.6254a4d1642c605c54bf1cab17d50f1e
There are plenty of delicious places to dine at in the South, too. Here are the 20 Best Southern Restaurants You've Got to Visit at Least Once.
MONTANA: The Desoto Grill in Kalispell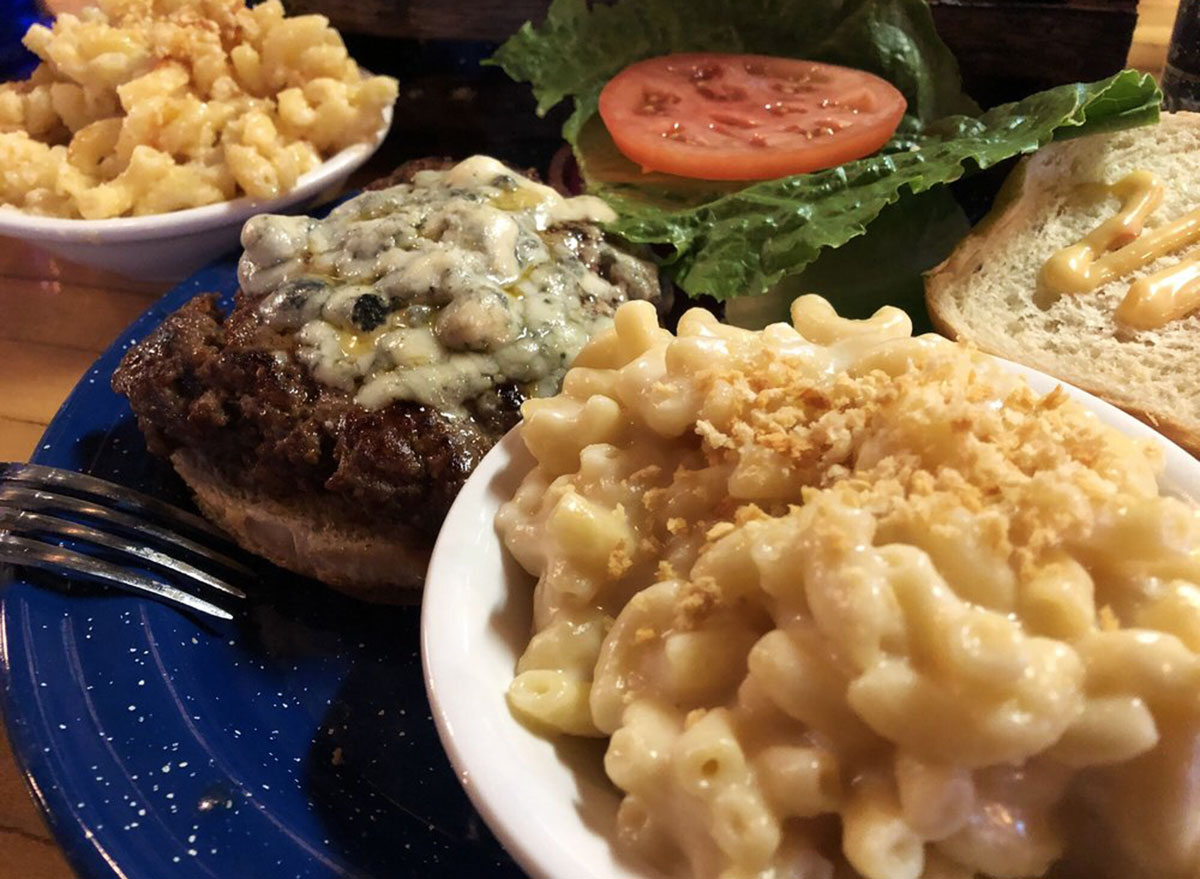 You can't go wrong with bacon in mac and cheese, but so few places put them together as well as The Desoto Grill. If you have never tried this crowd-pleaser, buckle up and get ready for a whole new way to experience this side like never before. The richness of the dairy goes great with an order of elk sausages and pork belly that could keep anyone coming back for seconds.
NEBRASKA: Modern Love in Omaha
Not all mac and cheese needs to be coated in dairy to become a favorite, and Omaha's Modern Love proves that point. They transform this humble side into a full-on entree by offering up noodles tossed and baked in a creamy red pepper cashew cheese and pecan-cornmeal crusted tofu, with roasted cauliflower, garlicky kale, and spiced pecans mixed in. With so much flavorful goodness in each bite, you won't even remember this is a vegan offering!
NEVADA: Fox Smokehouse BBQ in Boulder City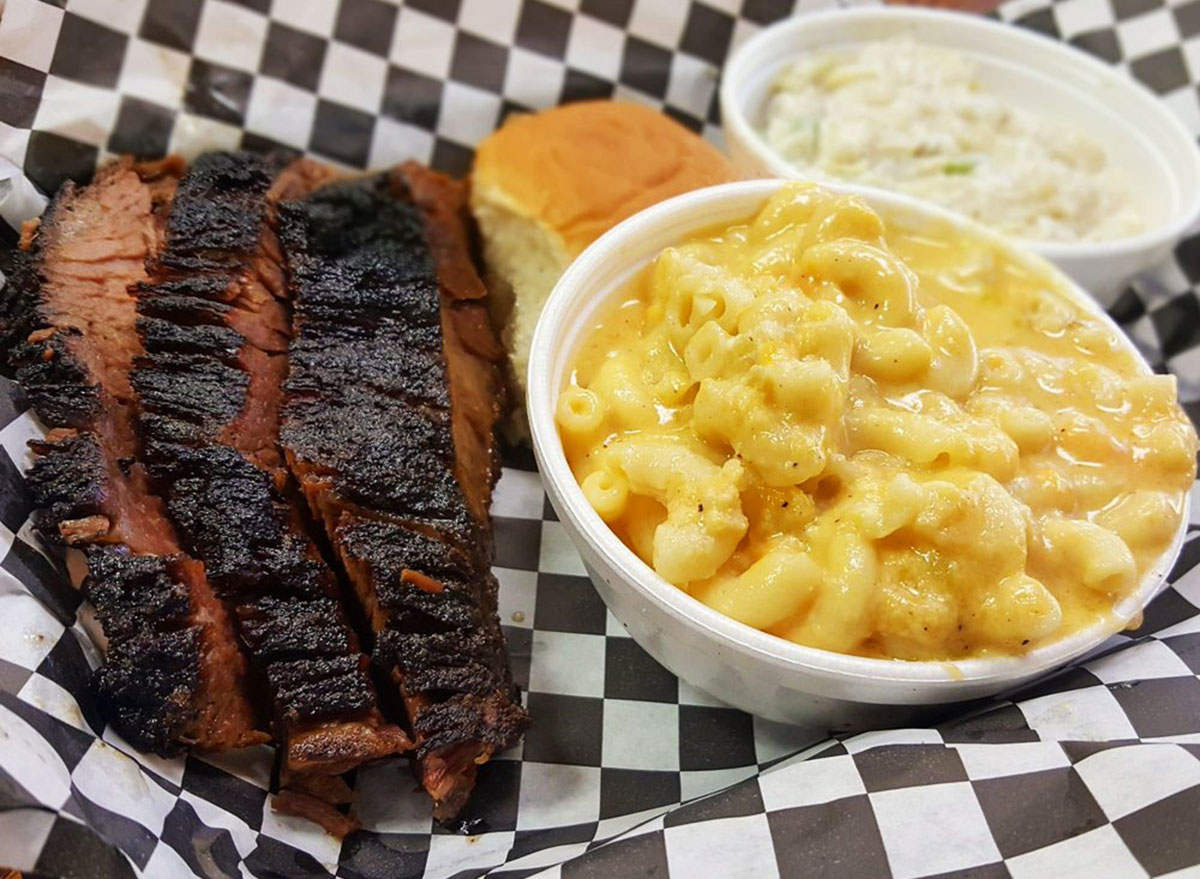 No smokehouse can call themself complete without offering a classic mac and cheese on the side, and Boulder City's Fox Smokehouse BBQ delivers. Don't expect this classic barbecue establishment to skimp on the portions—you can guarantee that you won't leave hungry when you scarf down their beloved classic take on this all-around favorite.
NEW HAMPSHIRE: Mr. Mac's in Manchester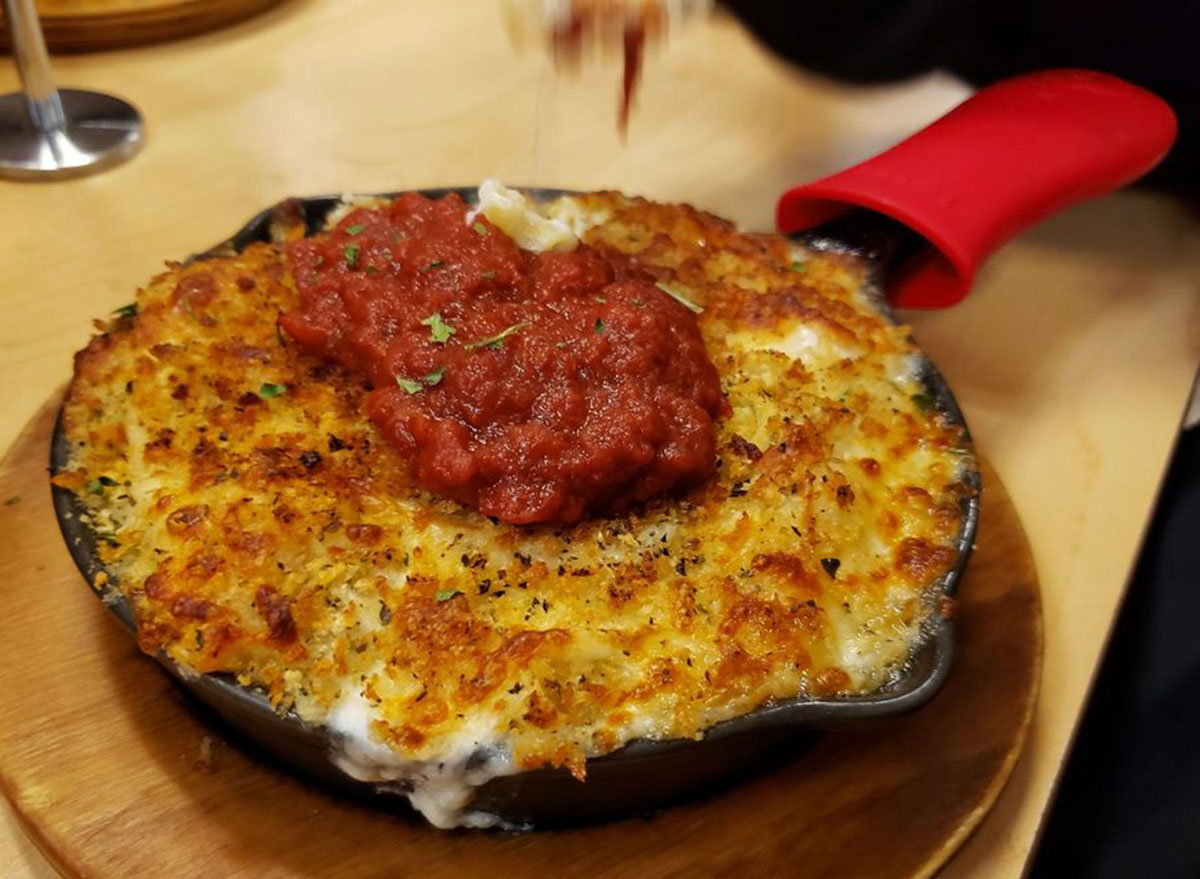 If you step into Mr. Mac's and expect to order anything besides mac and cheese, prepare to change your mind quickly. This establishment has almost twenty different flavors of mac to choose from, and you can even build your own if you don't see one to your liking! Each choice gets baked and seared in an individual cast iron pan and with so much food, it will be hard not to share.
NEW JERSEY: Tops Diner in East Newark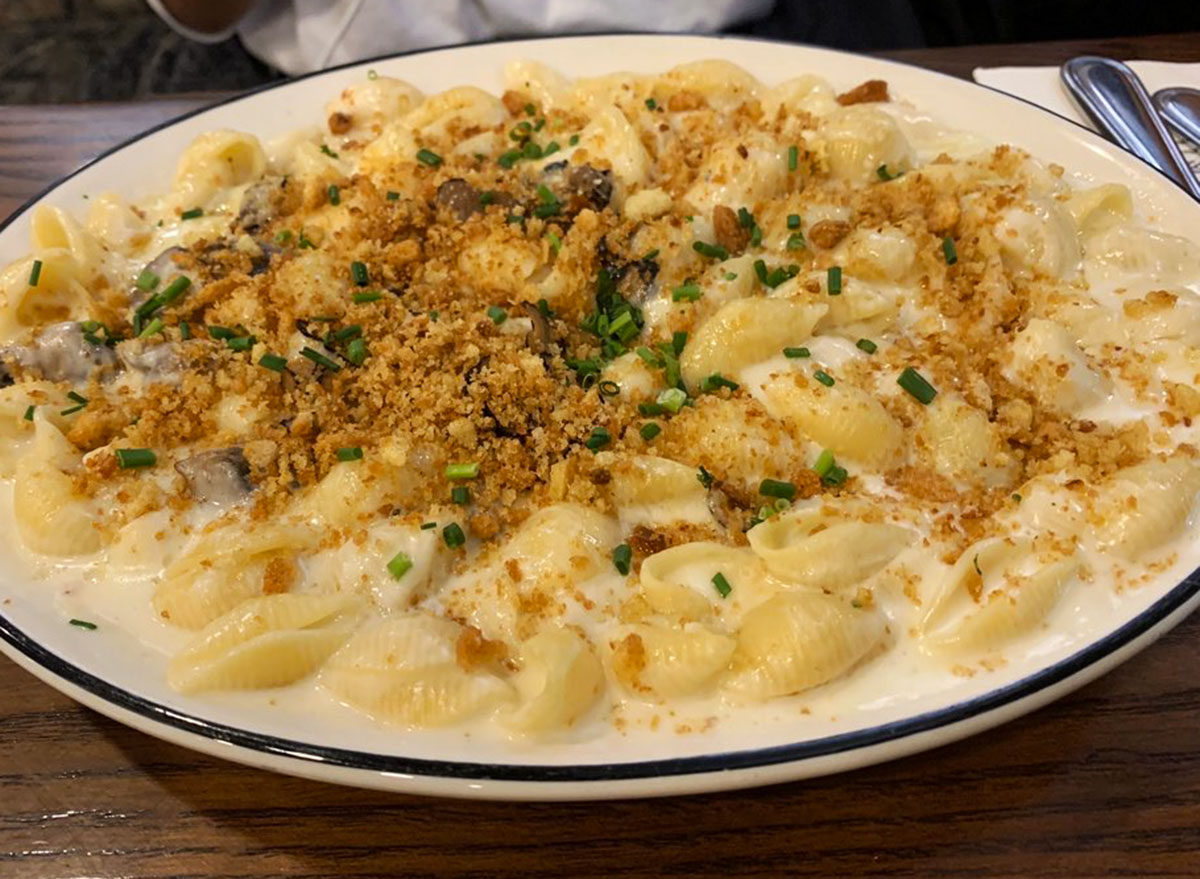 Everyone loves a good diner—their familiar take on American classics sit close to our hearts, and they truly nail the formula of serving up the best mac and cheese in New Jersey. Their mac adds in some extra lobster that is sure to knock your socks off and keep you coming back for more. With enough to hold you over all day, you'll be glad you stopped in.
You can even make a version of this dish right at home. Here is our recipe for Crispy Crumb-Topped Mac and Cheese Cups.
NEW MEXICO: Mad Jack's Mountaintop Barbecue in Cloudcroft
Nothing says "barbecue joint" like an extra-large order of pulled brisket and a side of mac and cheese. You can guarantee you won't get let down by Mad Jack's next time you find yourself in New Mexico and get a hankering for the best cheesy noodles in the state. Make sure to grab a full pint, as you want to bring this specialty home.
NEW YORK: Pepe's Place in New Rochelle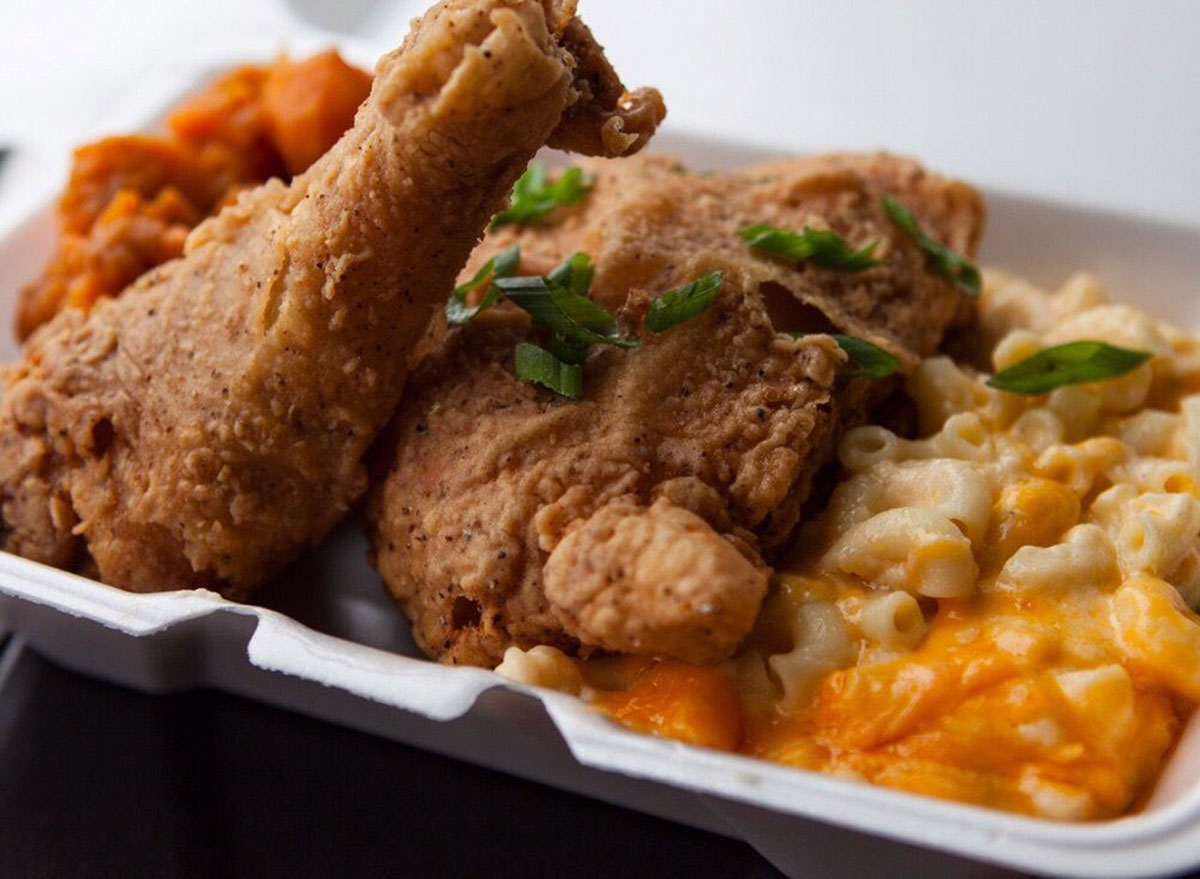 When you want a bold mac and cheese, no restaurant beats Pepe's Place. Their aged reserved cheddar mac and cheese will please the pickiest aficionado and rounds out any gyro or seafood platter you can pair it with. Just make sure to grab a doggy bag on the way out, as these portions won't let you down.
NORTH CAROLINA: The Fork 'N' Cork in Wilmington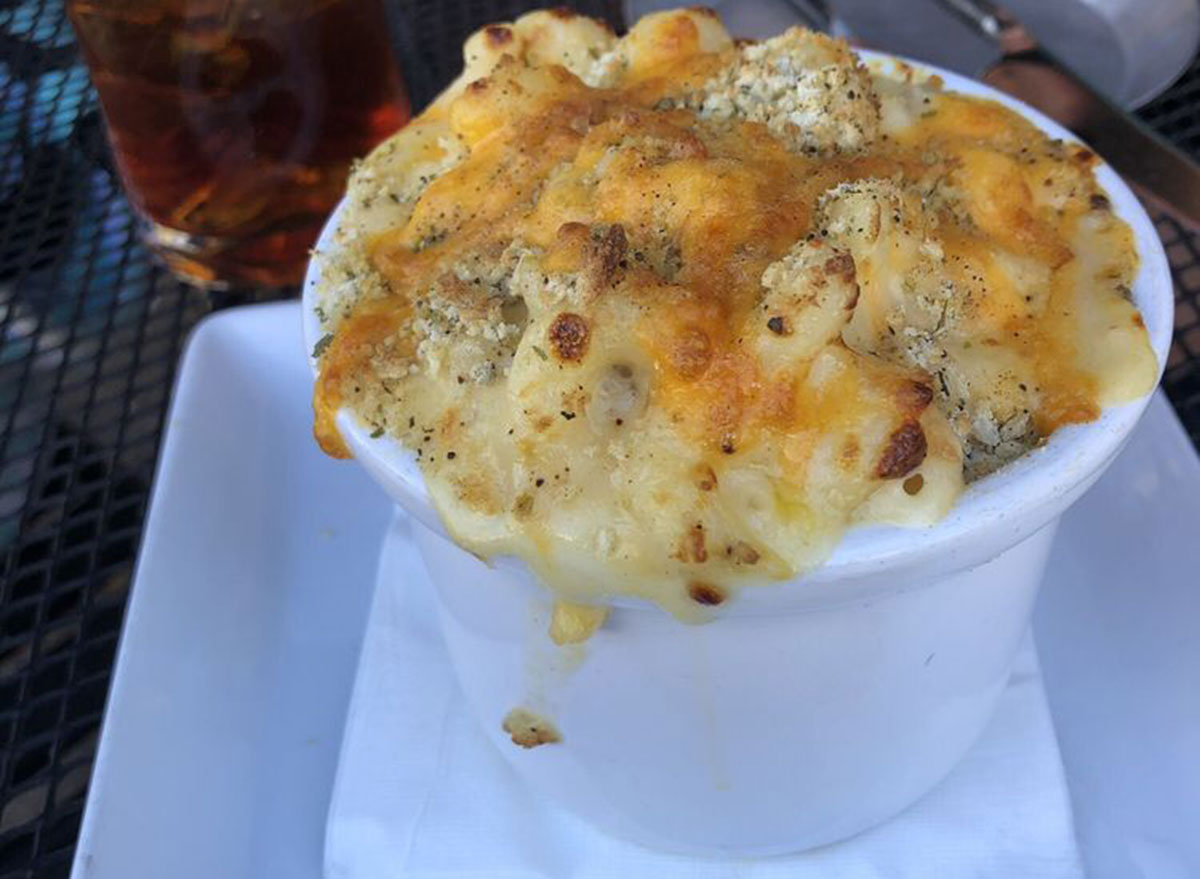 For a bowl of mac and cheese that anyone could declare a must-order, look no further than The Fork N Cork. This Wilmington institution has wowed customers from day one with its signature cheese and pasta creation. Layers of lava-like mac and cheese bubble underneath a perfectly broiled, crunchy top. If you want to redefine the definition of this classic dish, you need to experience this creation for yourself.
NORTH DAKOTA: Würst Bier Hall in Fargo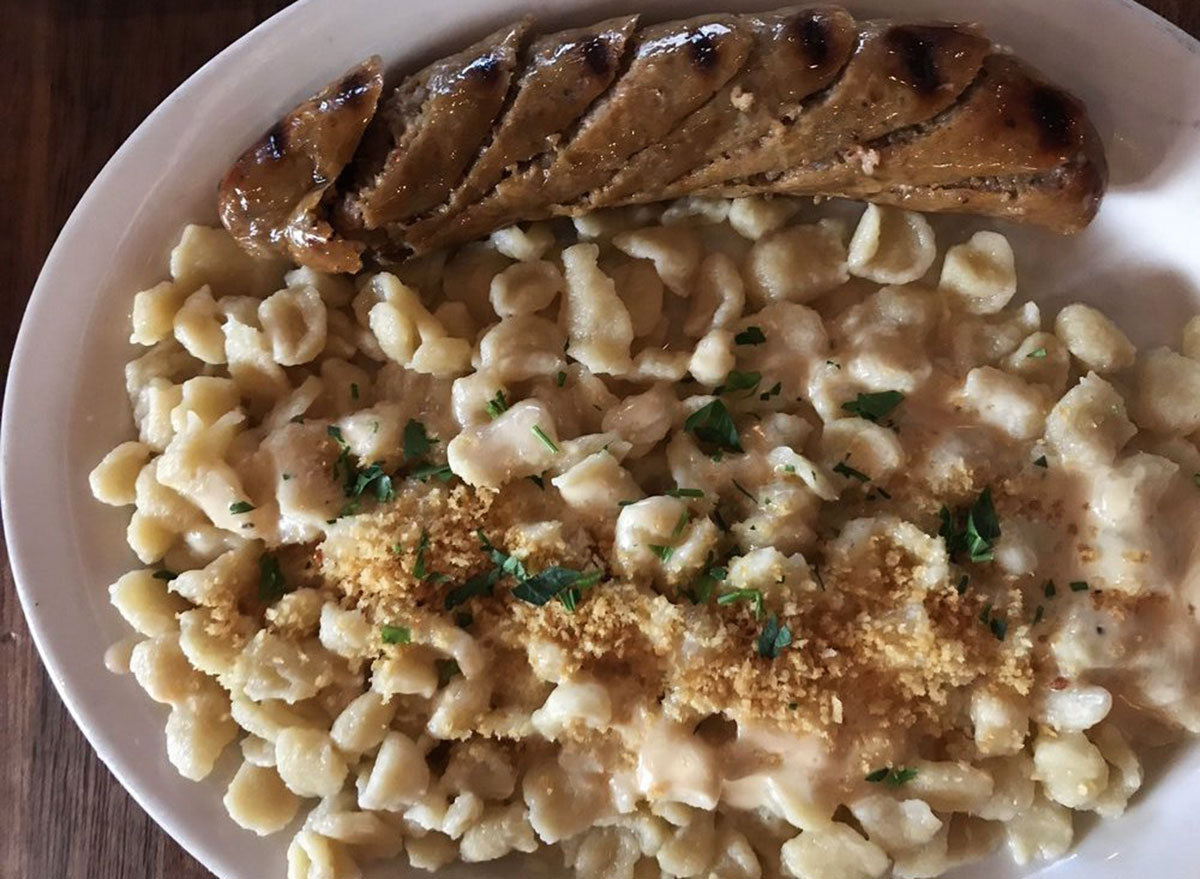 When you think of mac and cheese innovation, your mind probably doesn't immediately conjure up images of Germany. Würst Bier Hall has taken the North Dakota mac and cheese community by storm with their spaetzle mac, a German twist on this very American favorite. Short, stocky spaetzle dumplings swim in a Beurre Blanc cheese sauce, sending your mouth on an international trip you never knew you always wanted.
OHIO: The Eagle in Cincinnati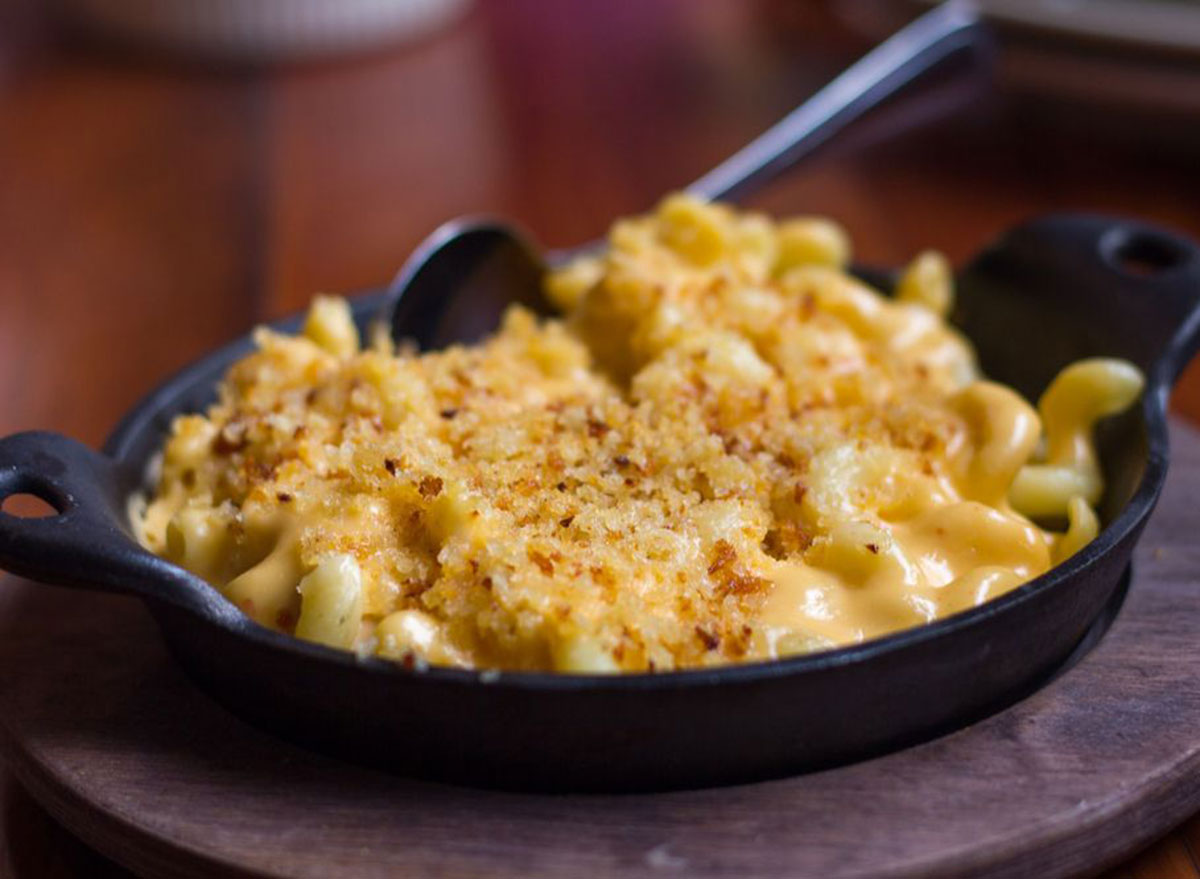 Some could argue that the South serves up the best mac and cheese, and The Eagle takes that opinion to heart. This local favorite places an emphasis on southern cooking and their mac and cheese is second to none. Each order features a blend of five kinds of cheese and gets topped with a crispy layer of garlic breadcrumbs that can put a smile on anyone's face. If you feel daring, order two and make it a whole meal.
If you're in the mood for some dessert afterward, check out any of the spots listed in The Most Magical Chocolate Shop in Every State.
OKLAHOMA: The Loaded Bowl in Oklahoma City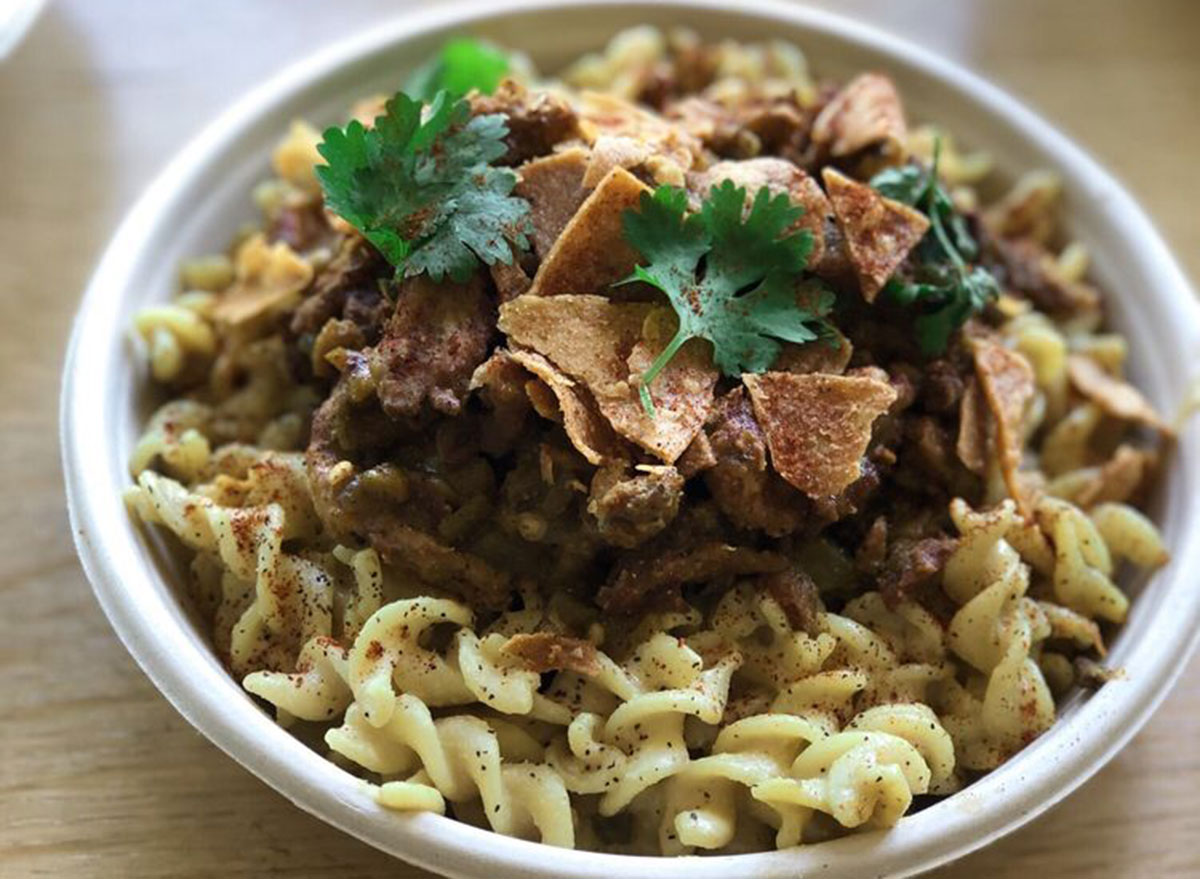 If you feel like trying the greatest creation in all of Oklahoma, look no further than The Loaded Bowl's Mac n Cheez bowl. This environmentally conscious comfort food establishment offers up not only a selection of the best mac and cheese options, but makes everything vegan in the process! Selections range from a classic option of cashew cheese with noodles to "The Down Home Bowl," a cashew mac and cheese bowl topped with vegan bbq and grilled veggies. For a mac experience that leaves you feeling good after, look no further.
OREGON: Screen Door in Portland
When you crave a classic bowl of good old-fashioned southern mac and cheese, Screen Door hits the spot like no other. Served among favorites like crispy fried oysters and praline bacon, this mac is composed of a blend of five kinds of cheese and topped with broiled cheddar. For an all-time favorite that makes you swear you are back in the South again, no place can bring you closer.
PENNSYLVANIA: Barclay Prime in Philadelphia
When you want a spruced-up mac and cheese that can fit any palate but also mixes things up, Barclay Prime finds the winning combination by infusing their mac and cheese with truffles and serving up hearty portions. For a refined mac and cheese moment, make sure to partake in what Barclay Prime has to offer.
RHODE ISLAND: Winner Winner in Newport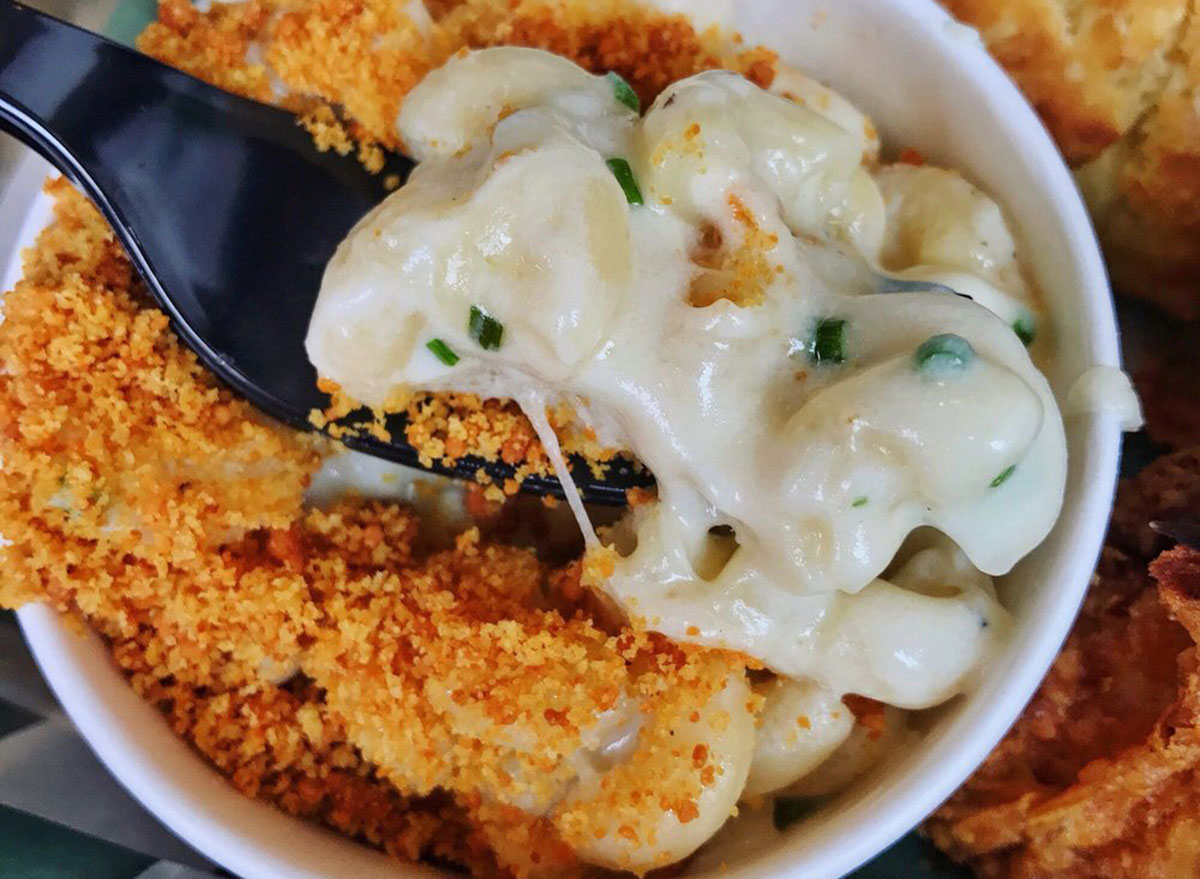 One of the best pleasures in life comes when you pair a fantastic fried chicken with the best mac and cheese in your state. When it comes to realizing this dream, Winner Winner dominates. Their straightforward mac and cheese keeps things simple and keeps diners coming back for more. When you perfect a classic, what else could you want?
NOTE: Winner Winner is temporarily closed.
SOUTH CAROLINA: Halls Chophouse in Charleston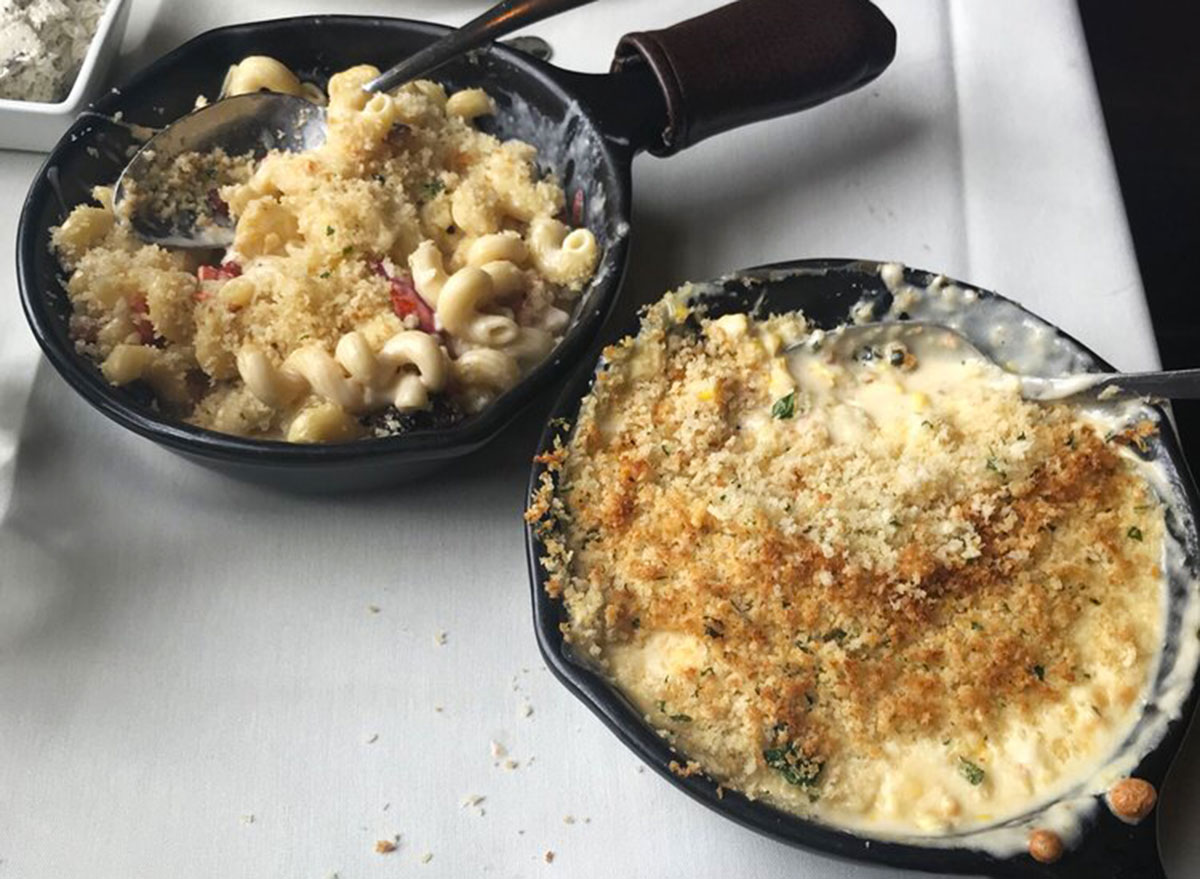 For a classy time, a visit to Charleston's Halls Chophouse should be in order. What better way to enjoy such a fine establishment than to try their homemade lobster mac and cheese, featuring luscious, fluffy lobster delicately balanced against a selection of fine cheeses. This side goes well with any fine steak or seafood entrée you feel enticed to order while feeling delightfully indulgent.
SOUTH DAKOTA: Murphy's Pub and Grill in Rapid City
If you like your mac and cheese packed with flavor and no added gimmicks, Murphy's Pub and Grill has you covered. This local favorite pairs corkscrew pasta with a blend of cheddar, jack, bleu, and parmesan cheeses that any dairy lover can appreciate. This item is a full meal, meaning you won't be hungry for a while after you chow down here.
TENNESSEE: Hattie B's Hot Chicken—Melrose in Nashville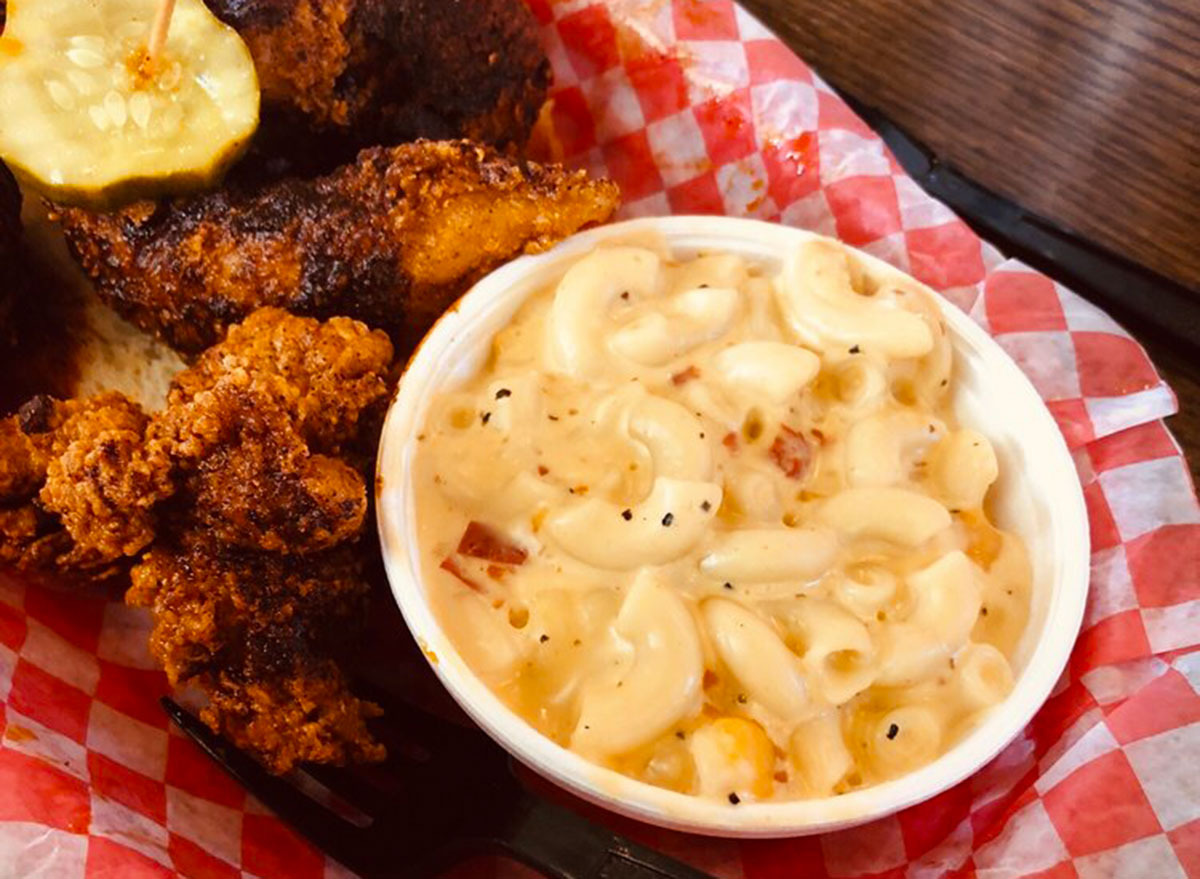 When you want some classic Nashville hot chicken but need to cool it off with some dairy, mac and cheese is a no-brainer. Hattie B's Melrose location aims to please, serving up a surefire favorite take on the classic by using pimento as the cheese base. By infusing this classic side with some southern flavor, Hattie B's whips up a mac and cheese staple everyone would want to copy at home.
TEXAS: Kenny's Wood Fired Grill in Dallas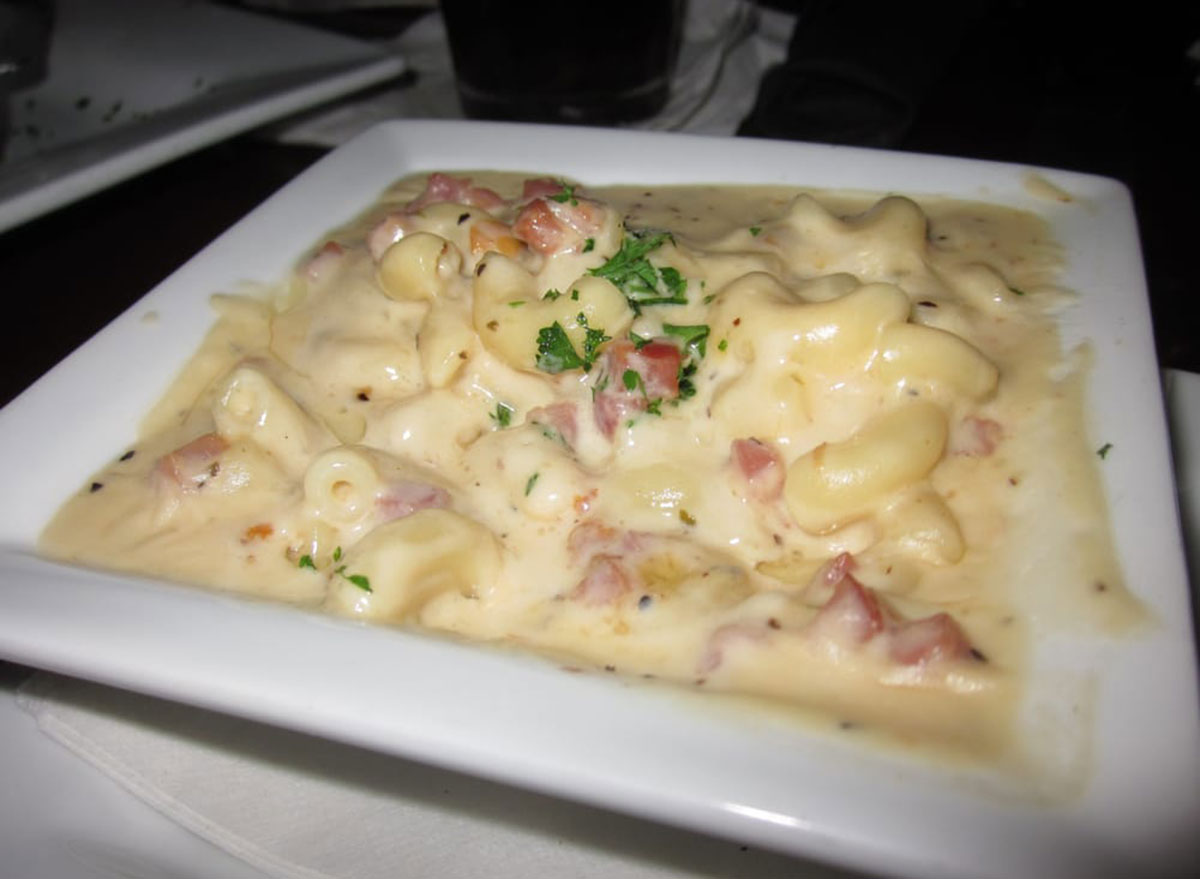 Kenny's Wood Fired Grill knocks it out of the park with their take on everyone's favorite gooey cheese and pasta dish. Their upscale mac and cheese includes smoked gouda, cure 81 ham, and a splash of truffle oil, ensuring that you get a full blast of flavor with every mouthful. This rich and lustrous side can soon be called your favorite once you stop in to try it.
UTAH: Sauce Boss Southern Kitchen in Draper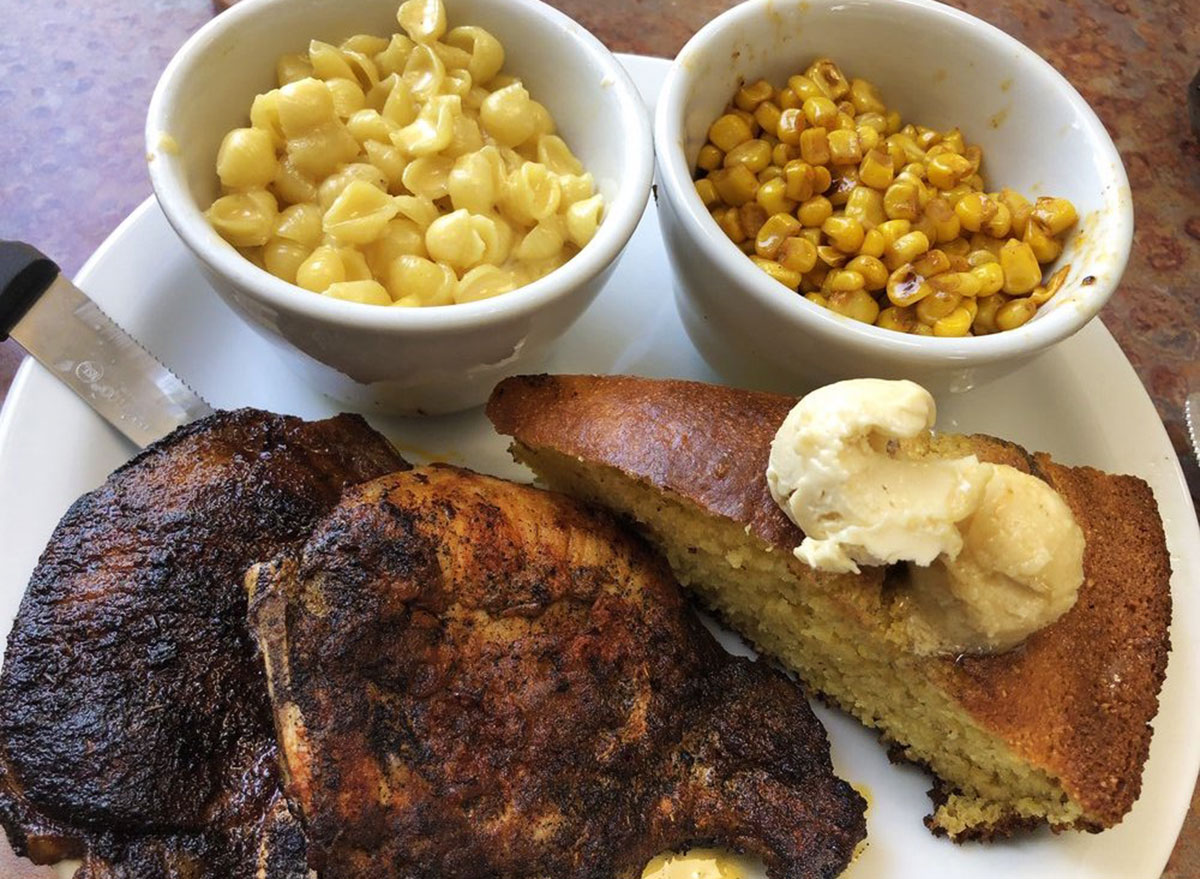 Barbecue joints get it right when it comes to mac and cheese, and Utah's Sauce Boss Southern Kitchen aims to please. The menu runs the gamut of southern fried catfish and grits, but their take on macaroni leaves you feeling stuffed. They offer up "The Big Cheddar," a mac and cheese platter loaded with shrimp and bacon that you know you want to order the moment you step foot in the door. Next time you take a road trip through Draper, make sure to stop in for the ultimate Utah mac and cheese experience.
VERMONT: The Vermont Country Deli in Brattleboro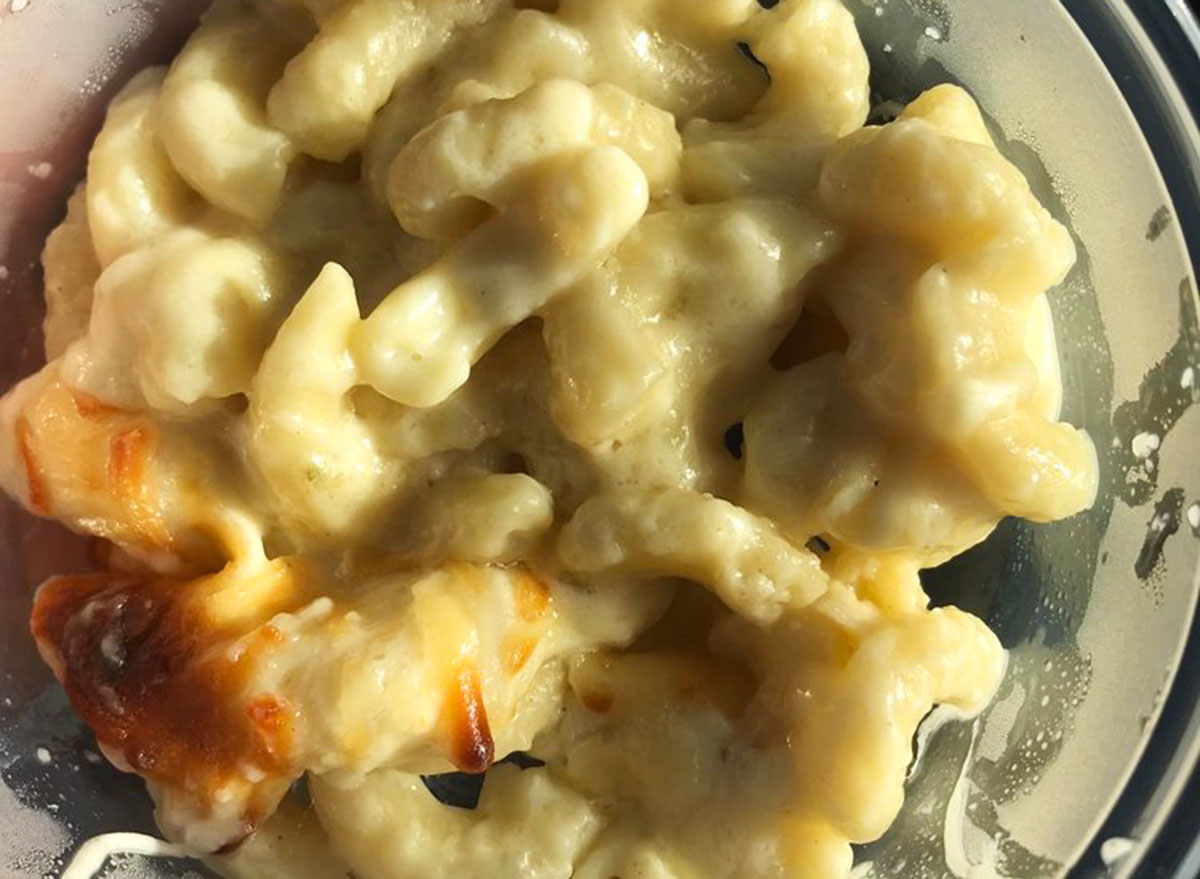 For some straightforward cheesy goodness, Brattleboro's The Vermont Country Deli lives up to the hype. Their macaroni wins over every crowd with a creamy cheddar sauce and topped with a crispy golden crust. For everyone who loves a simple favorite, this mac and cheese dish is the gold standard.
VIRGINIA: Repeal Bourbons and Burgers in Virginia Beach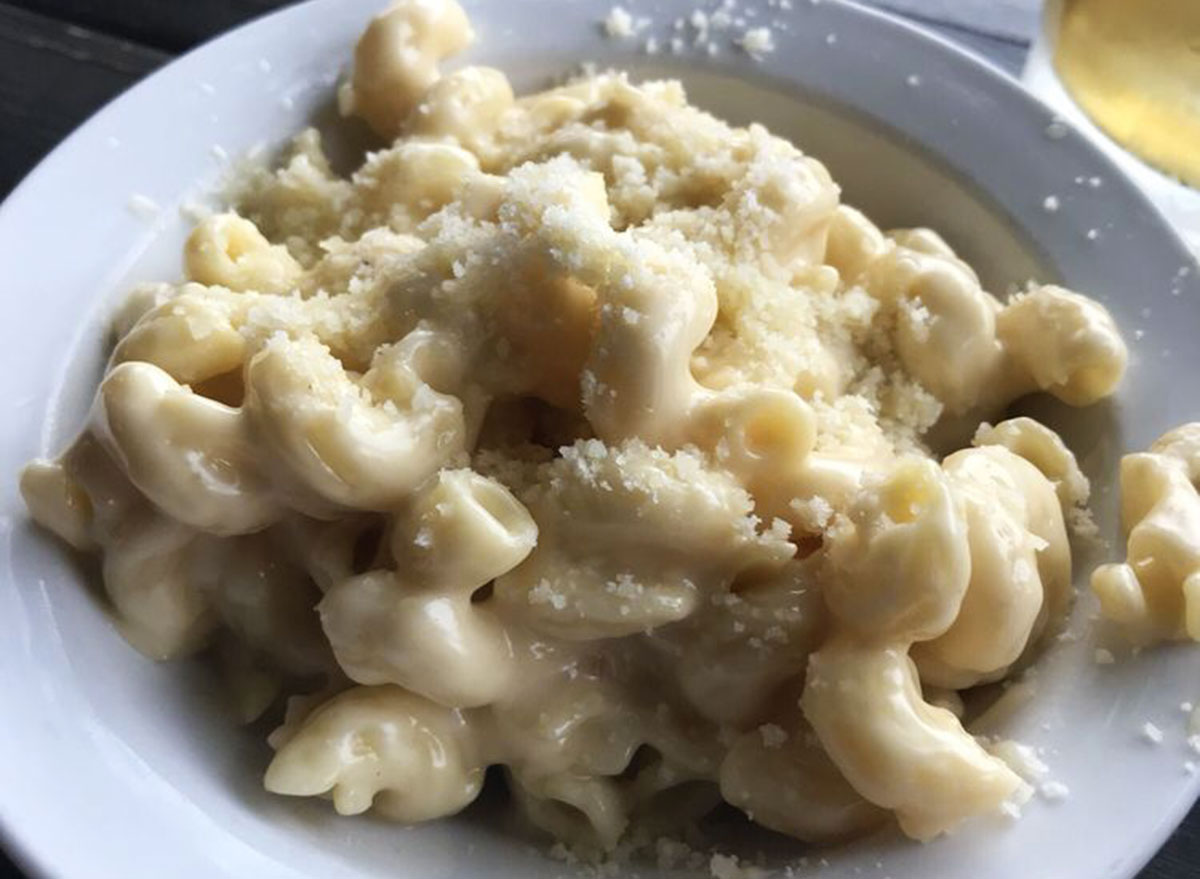 Next time you head down to the beach, make a pit stop and try Repeal Bourbon's garlic-infused mac and cheese. Cooked to perfection, this gooey, bubbly favorite goes great with any of their signature burgers and rounds out any meal. Just make sure to leave some room, as you'll want to grab a second helping on your way back home.
WASHINGTON: Wood Shop BBQ in Seattle
Known for their pulled pork and brisket sandwiches, this local eatery comes in with the hands-down best macaroni in all of Washington. Whether you want some plain mac and cheese or the mac and cheese balls, everything that comes out of the kitchen at the Wood Shop BBQ will be so good, you know you need to make another stop in. Make sure to come hungry, as these portions can floor you in no time.
WEST VIRGINIA: Dem 2 Brothers and a Grill in Charleston
West Virginia can serve up some good macaroni, but Charleston's very own Dem 2 Brothers and a Grill figures out what the people want: a no-frills mac and cheese that breaks things down to the essentials. Baked with a crunchy top that leaves everyone drooling, you can't go wrong when you order up here.
WISCONSIN: MACS – Macaroni and Cheese Shop in Wisconsin Dells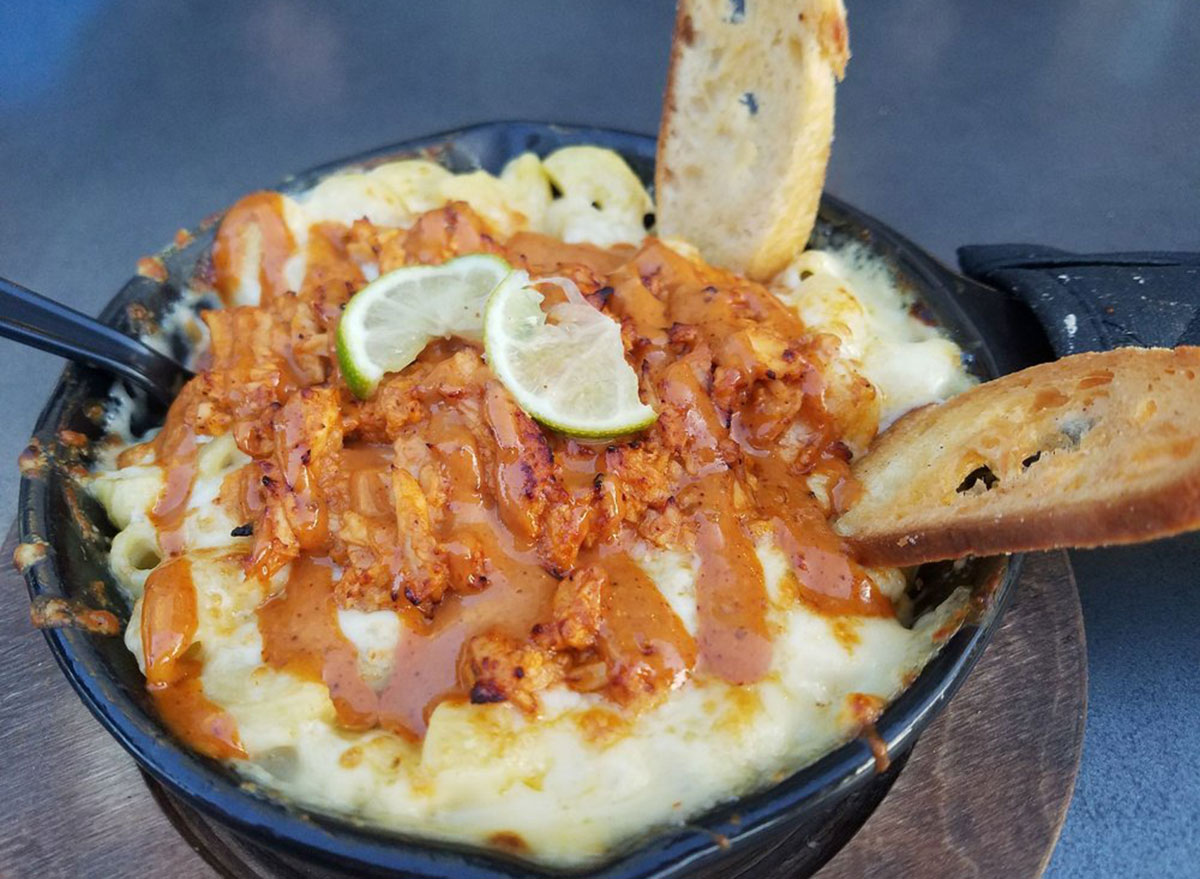 In a state defined by its cheese culture, trying to find the ultimate mac and cheese proved challenging. After careful calculations, MACS came out strong by showcasing an entire menu of almost 20 different macaroni creations that range from the plain to some true showstoppers, like the Chipotle Mac or Three Little Piggies Mac. No matter the craving, MACS has the perfect combo for you.
WYOMING: Sweet Melissa's in Laramie
Sweet Melissa's doles out the best macaroni in Wyoming and offers up a vegan mac and cheese that is so good, it tops any traditional recipe in the whole state. With multiple varieties ranging from the tried-and-true standard to a three-pepper spicy mac and cheese that finds the perfect balance between heat and creaminess, you'll need more than one trip here before you get your fill of their macaroni creations.
And when you're making food at home, don't miss these 52 Life-Changing Kitchen Hacks That'll Make You Enjoy Cooking Again.