Kate Hudson Shares Her Intense Butt and Leg Workout in New Video
The star is sharing the exact lower body workout that gives her "happy legs" with her social media followers.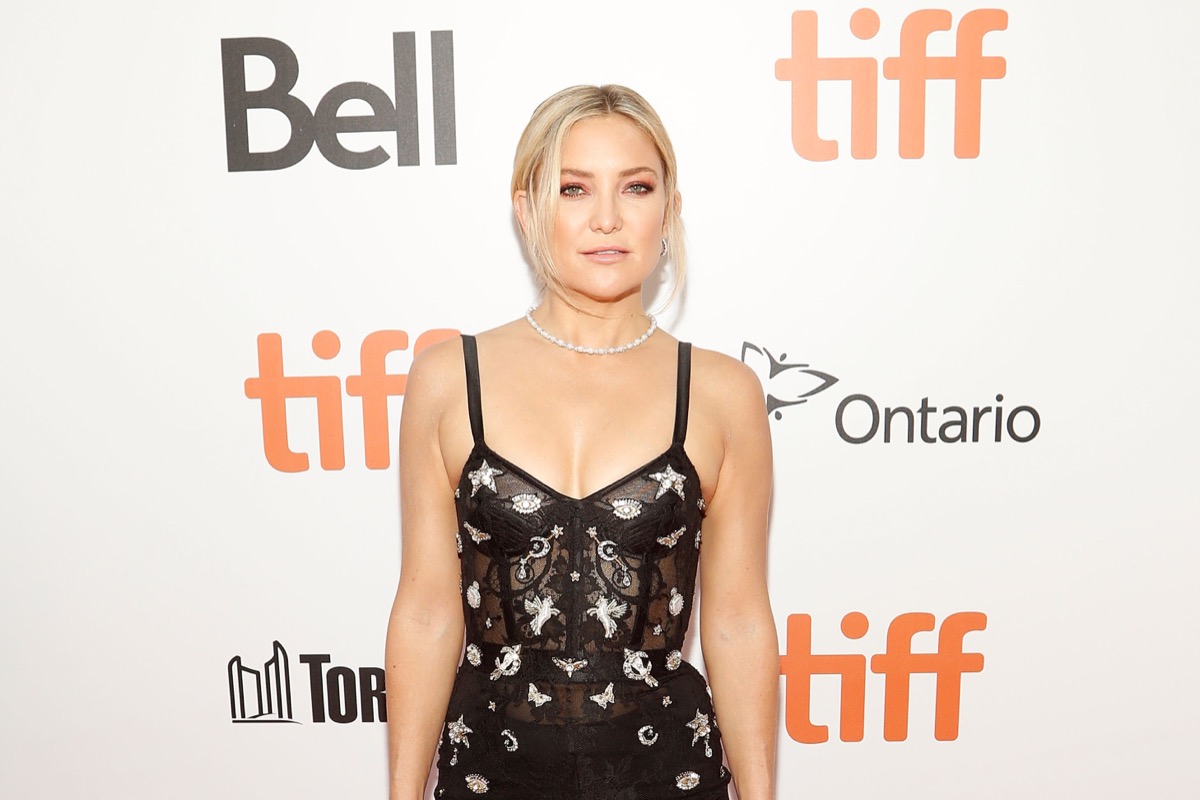 After losing 30 pounds by sticking to the WW (formerly Weight Watchers) plan, Kate Hudson is on a mission to tone up, detailing every grueling minute of her workouts with her followers on Instagram. On July 14, the actor, entrepreneur, and mom of three revealed the exact exercises she's been using to tone up her butt and legs on Instagram, showing off the results of her hard work.
In the video, Hudson can be seen on the floor, posing on one knee in front of a folding chair with weights strapped to her ankles. Hudson first does a side lunge, then extends the same leg behind her into a kneeling arabesque, using the chair for support. She then repeats the side lunge, following it with a deeper arabesque, lowering her head close to the ground and bringing her leg above her head, using the chair to maintain her balance.
In the second part of her video, Hudson balances on one knee and first extends her leg behind her, then brings it down halfway to the floor. She follows this by rising from her knee to her foot, bringing the opposite leg over her head, then coming back down into a kneeling arabesque, before extending her leg out to one side so that her legs form a 90-degree angle.
"Happy legs ? #keepgoing #repeatrepeatrepeat," she captioned the video, in which she tagged celebrity trainer Tracy Anderson.
RELATED: Eva Longoria Shares Her Challenging Butt Workout In New Video
Hudson has been incorporating a wide variety of workouts into her routine in a bid to get healthier and stronger post-weight loss. Just a few days prior, Hudson posted a video of herself doing a floor-based upper body and ab workout under the tutelage of trainer Brian Nguyen, propping herself up on her hands and feet on a floor mat while doing a series of kicks and abdominal twists.
"I love when it's over! Getting stronger and tighter with movements but it never gets EASIER ??! We keep going! ?️‍♀️," she said of the tough routine.
While Hudson may make her exercise routine look effortless, she's admitted in the past that these workouts don't always come easily to her. On July 2, the star posted a video of herself doing a plank-based workout to her Instagram account, telling fans that completing the routine was no easy feat.
"Push ups ? Always challenging for me. Sway back, get in my shoulders, hard to activate core for me. I love seeing bodies pop off push ups like it's nothing. One motion and so purty! And takes a lot of prep and effort. Hats off to you out there who work so hard to get there. So amazing! SO HARD!!!! ??," she captioned the video.
While Hudson may say she finds her workouts challenging, she's making them look downright easy—and looking stronger with every one! For more insight into how your favorite stars shape up, check out Heidi Klum Shares Her Leg and Butt Workout in New Video, and for the latest celebrity health and fitness news delivered to your inbox, sign up for our newsletter!
Sarah Crow
Sarah Crow is a senior editor at Eat This, Not That!, where she focuses on celebrity news and health coverage.
Read more about Sarah