This Popular Dessert Chain Is Seeing Soaring Sales Thanks to an Upgrade In Quality
Its iconic donuts will now always be fresh.
One of America's largest dessert chains is seeing its sales soar thanks to a major upgrade in the quality, or, more specifically, freshness, of its signature product.
Krispy Kreme, which went public this year for the first time in five years, has seen a second-quarter 30% increase in sales everywhere where their donuts are sold, according to Restaurant Business. The reason behind it? A new operational model which assures all of their donuts are still fresh when they reach customers, something the company hasn't been able to achieve before.
The best part is that Krispy Kreme's prices have stayed the same. Here's how they were able to achieve this major upgrade that's making the chain more popular than ever. And for more, check out America's Second-Biggest Burger Chain Plans to Open 700 New Locations.
Say goodbye to stale Krispy Kreme donuts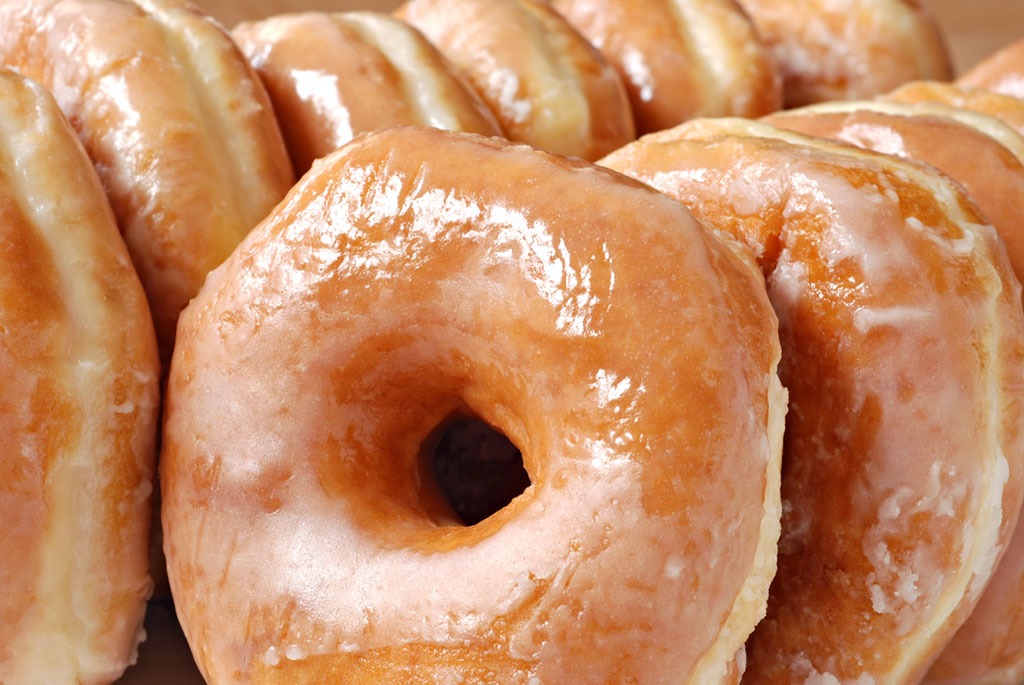 In recent months, Krispy Kreme had upgraded its business model so that 100% of their donuts served in the U.S. and Canada are sold fresh. And as fans probably know, this wasn't always the case. Some of the grocery stores and other retailers carrying the chain's donuts weren't able to offer the same fresh product you could get at a Krispy Kreme location.
In fact, the amount of stale donuts sold was quite large.
"A year ago, 38% of our doughnuts were not fresh daily," Joshua Charlesworth, Krispy Kreme's CFO, told investors on Tuesday, according to Restaurant Business.
Currently, there are over 300 Krispy Kreme locations in the United States and some 5,000 additional retail locations where you can buy the product. And they'll be hot and freshly made wherever you go.
Better donuts, same price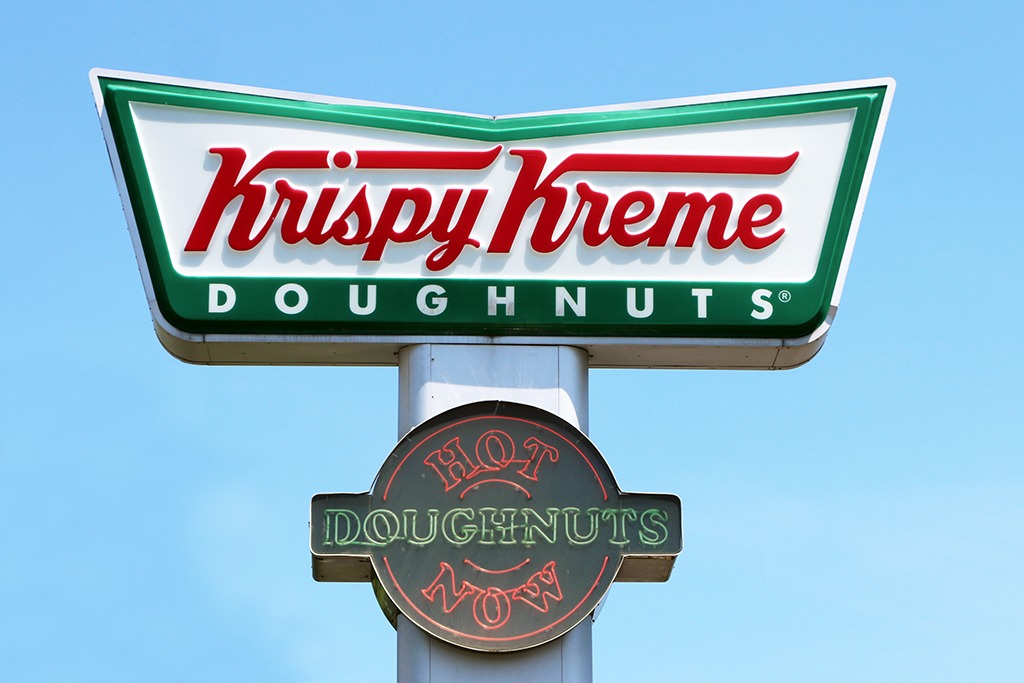 The chain will be rejigging its old wholesale program but pricing won't be affected, according to QSR Magazine. So if you're purchasing a Krispy Kreme donut in retail, you'll be getting the same fresh product at the same price you'd be paying at a local Krispy Kreme store.
"Quality really matters. And you'll be able to get the right pricing structure, where customers will now say, 'It's Krispy Kreme. If I want a hot donut, I get it at a theater. If not, I get it where I want it,'" said CEO Mike Tattersfield.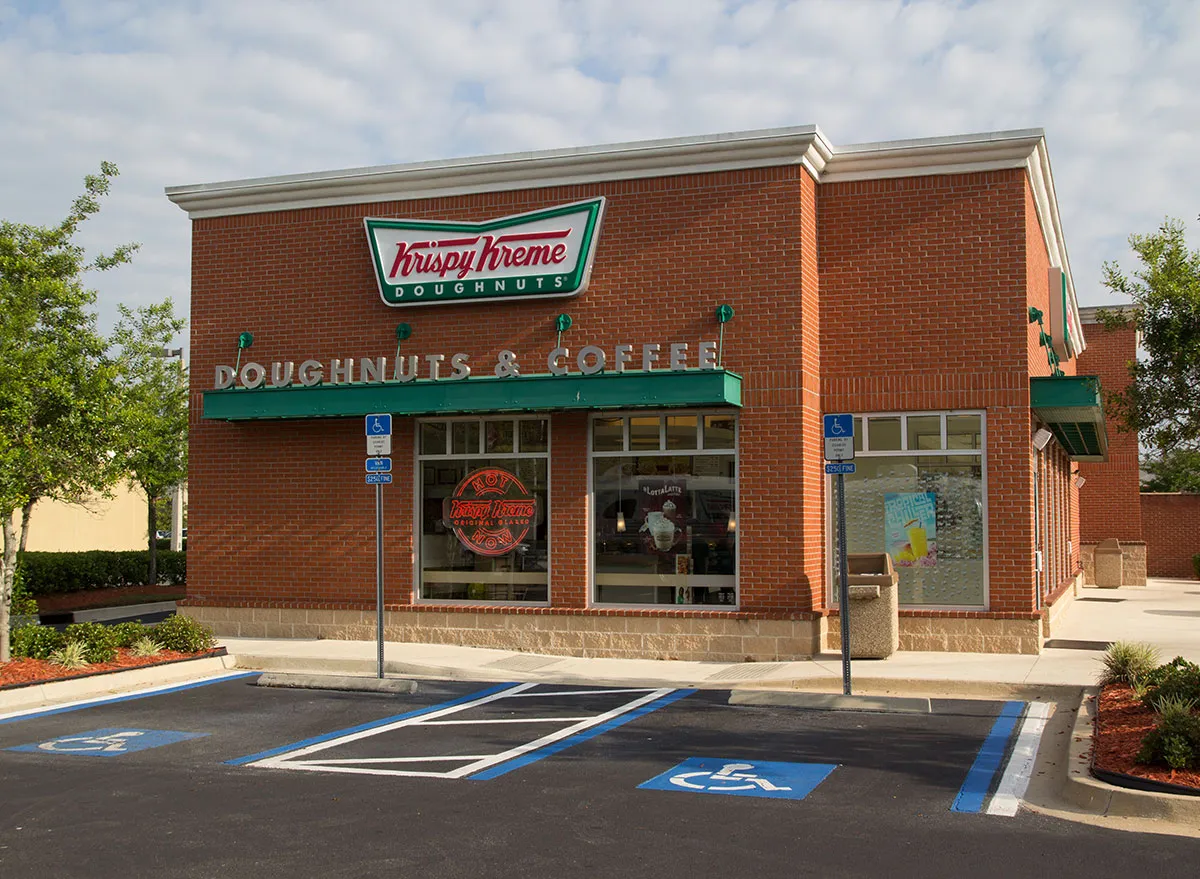 The brand operates on a network of hubs—large donut factories where products are made fresh—and spokes, which are all the additional places those donuts are sold. Now, Krispy Kreme will be delivering their donuts fresh daily to all of their spokes, marking a shift in strategy.
They'll be able to do that by investing in more of these manufacturing hubs and their capacities, which will, in turn, be able to deliver more donuts to more point-of-access locations for customers. In fact, the company plans to sell their donuts at an additional 2,900 locations within the U.S and Canada, some 1,700 of which are planned for urban areas like New York, Los Angeles, Chicago, Philadelphia, Dallas, San Francisco, Houston, Washington, DC, Atlanta, and Boston.
Customers are already responding positively
While the all-fresh-all-the-time model is rather new, customers have already noticed the difference, and the chain is seeing a major jump in sales. According to QSR Magazine, the chain's weekly sales jumped by more than 30% in Q2 at all locations where their donuts are sold.6254a4d1642c605c54bf1cab17d50f1e
For more, check out the 108 Most Popular Sodas Ranked By How Toxic They Are.
Mura Dominko
Mura is ETNT's Executive Editor, leading the coverage of America's favorite restaurant chains, grocery stores, and viral food moments.
Read more about Mura