These Are Olivia Rodrigo's Favorite Chain Restaurant Orders
The pop music star isn't shy about her lack of cooking skills.
Taking home three Grammys at this year's Awards Night and looking absolutely stunning doing so, Olivia Rodrigo is becoming a queen of pop music. With her model-like figure, you might assume that she eats super healthy. And while she does try to stick to foods that are good 4 u, the 19-year-old star isn't afraid to treat herself to some of her chain restaurant cravings.
Yes, that's right, the "Driver's License" singer eats Taco Bell just like us. Olivia actually eats out pretty often because, as she recently confessed on The Late Late Show with James Corden, she is no chef. "Last night, I just had peanut M&Ms because I don't cook," she said. So what does the Grammy-winner eat when she orders out?
She may sing about strawberry ice cream and coffee, but the "Deja Vu" celeb is secretly obsessed with very specific meals at chains. So the next time that you grab food at one of these restaurants, try out Olivia's go-to orders for yourself.
Read on to find out exactly what Olivia Rodrigo likes at chain restaurants, and next, check out The 5 Eating Habits Tom Brady Swears By.
McDonald's: Oatmeal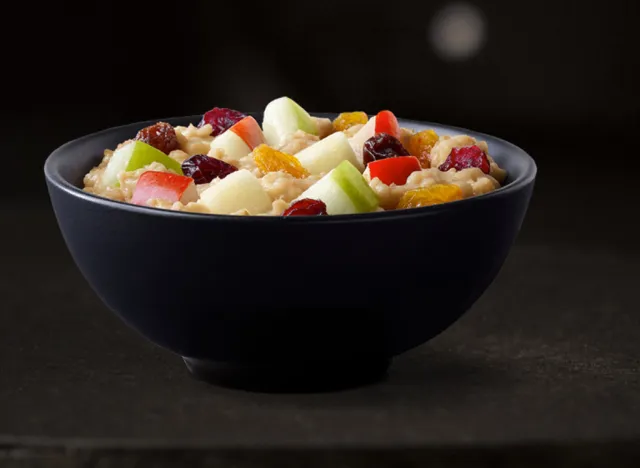 McNuggets, cheeseburgers, fries, and maybe apple pie (if we're being generous) are the things that come to mind when you think of McDonald's. Oatmeal? Not so much. But the "Traitor" singer swears by the fast food chain's morning oats.6254a4d1642c605c54bf1cab17d50f1e
"My favorite thing in the whole world is McDonald's oatmeal," she told Seventeen. "I know it sounds so lame, but it is literally the most delicious oatmeal I've ever had in my life. And they put little apples in it, and the apples are so crunchy and delicious." We found the item on McDonald's menu, and it turns out the "Fruit and Maple Oatmeal" not only has red and green apples, but cranberries, two varieties of raisins, and brown sugar.
Only Olivia Rodrigo could make us curious about McDonald's oatmeal. The Gen-Z celeb cannot get enough of it: "I always get that every time I go to McDonald's." Let's hope she finally gets her chance to go on her McDonald's date with Cardi B.
Macaroni Grill: Mac and Cheese, Bread, and Coke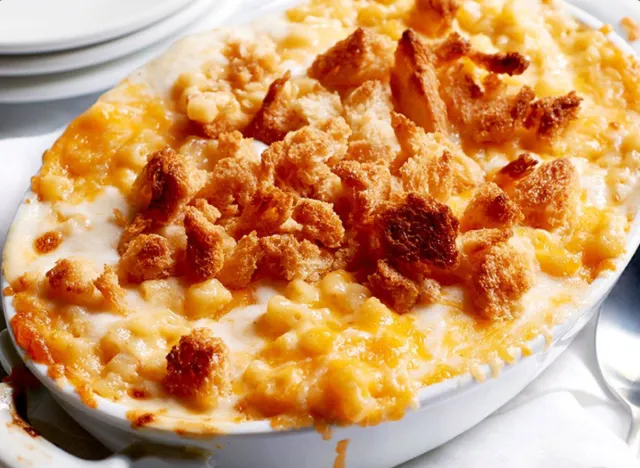 Olivia loves mac and cheese, but she doesn't reach for Kraft, Velvetta, or Annie's when she gets the craving. Her go-to? Macaroni Grill.
"My favorite meal ever is Macaroni Grill mac and cheese, bread, and Coke," she told Seventeen. "I have it every year on my birthday. It is my absolute favorite meal, and anytime I'm feeling sad, I ask my mom if we can go to Macaroni Grill and get that."
We did some digging on the Macaroni Grill menu, and found out exactly what's inside Olivia's pasta of choice, "Signature Truffle Mac & Cheese." The dish features a blend of cheeses—asiago, fontina, smoked mozzarella, cheddar, and pecorino–with truffle oil and breadcrumbs.
Taco Bell: Crunchwrap with Refried Beans and Baja Blast Freeze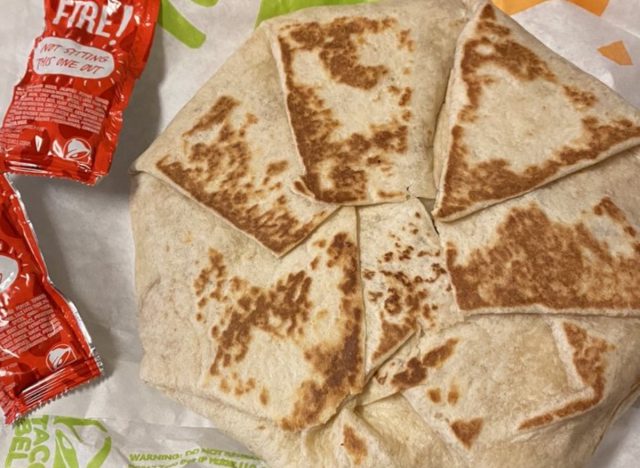 When it comes to fast food, the "Traitor" singer almost always chooses Taco Bell. "My favorite fast food is Taco Bell," she told Robby Cruz on the He Said, She Said segment of 107.9 FM radio. "I get a crunchwrap with refried beans instead of meat, no cheese, and no sour cream, and a Baja Blast Freeze."
Taco Bell's "Crunchwrap Supreme" has a crispy, tostada shell wrapped inside of a flour tortilla. Olivia's Baja Blast Freeze is likely the Taco-Bell exclusive frozen soft drink, Mountain Dew Baja Blast Freeze.
Want to know more about what celebs order at chains? Check out 10 Celebs' Go-To Starbucks Orders.
Mia Salas
Mia is a freelance writer for several publications and a soon-to-be graduate from Princeton University with a degree in English.
Read more about Mia