The Most Popular Fast-Food Chain in Every State
We tapped our friends at Yelp to find out which fast-food chains take the cake in the 50 states.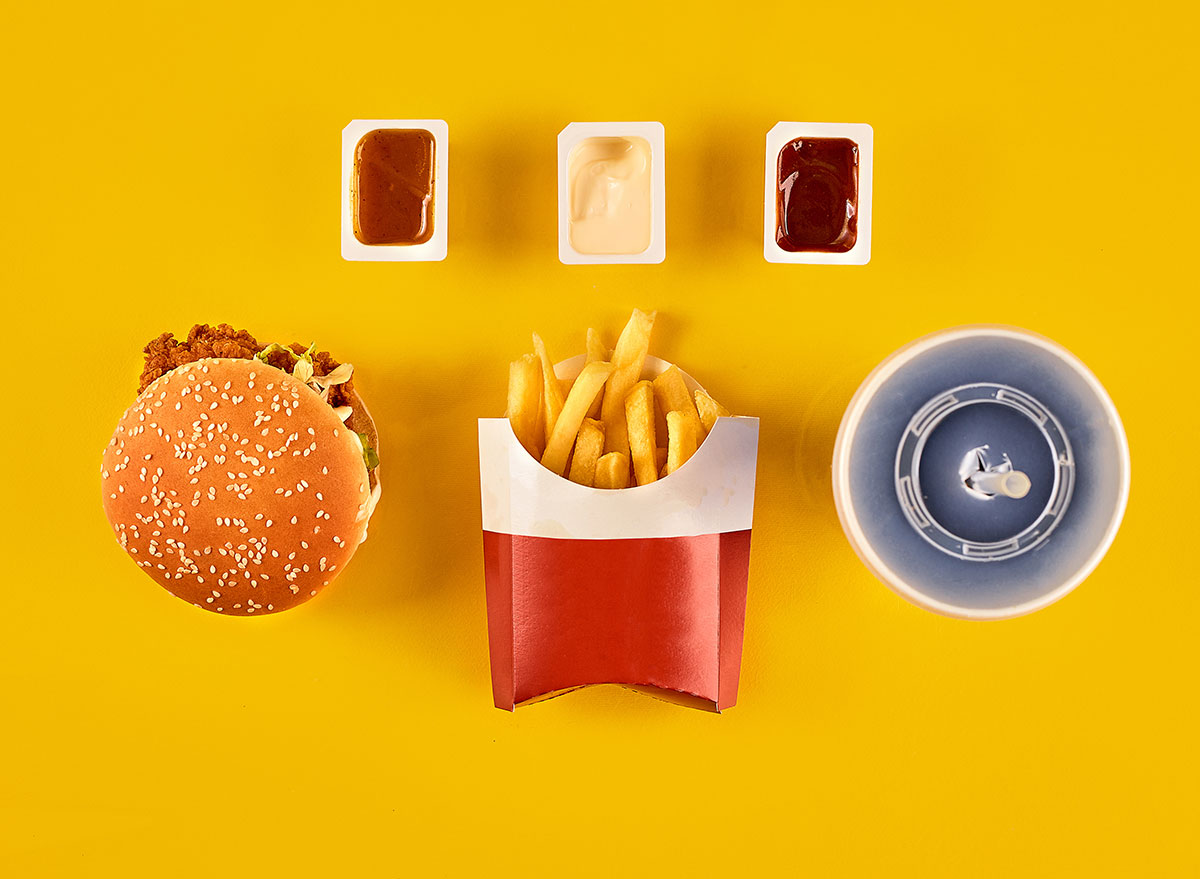 Fast food has become a staple in American culture, but what truly tops in your state? We reached out to our friends at Yelp to find out what the most popular fast-food chain in every state is.
Methodology: This is a list of the best fast-food spots in every state in the U.S., according to Yelp. All the businesses on this list are in the "Fast Food" category on Yelp. "Best" is measured using an algorithm that looks at the number of reviews and star ratings for a business. Only businesses with more than one location were considered.
You'll notice some chains, like Blaze Fast-Fire'd Pizza and Chick-fil-A, ranked highly in a number of states. Some things transcend state lines, and Americans' love for these pizza and chicken chains is one of them.
And for more, don't miss these 15 Classic American Desserts That Deserve a Comeback.
ALABAMA: Blaze Fast Fire'd Pizza in Mobile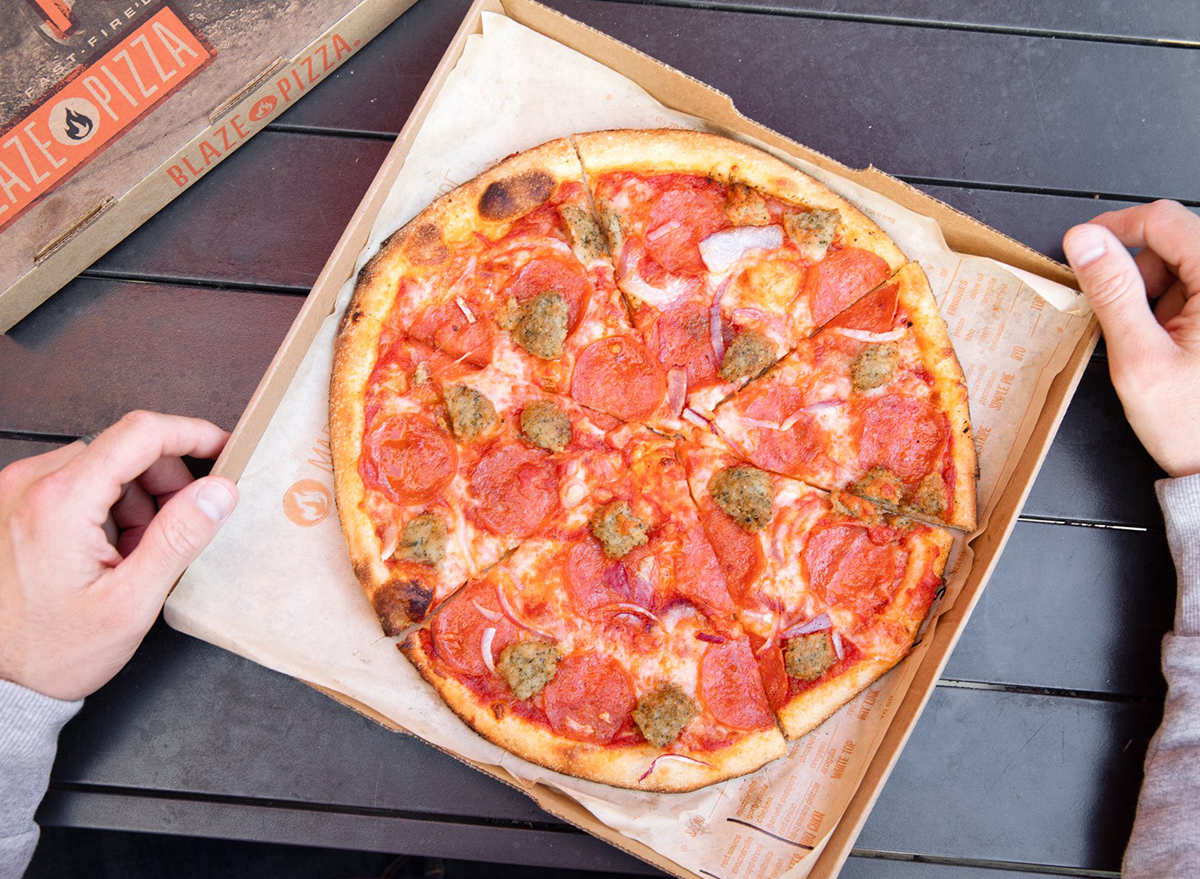 Blaze will make your pizza exactly how you like it, and in no time at all. It's no wonder it fell on multiple states' top-rated lists on Yelp!
And if you love food, sign up for our newsletter to get daily recipes and food news in your inbox!
ALASKA: Pita Pit in Anchorage
This nationwide sandwich chain is like Subway, but for pitas. Customize your pocket however you like, with plenty of fresh veggies to choose from.
ARIZONA: Detroit Coney Grill in Tempe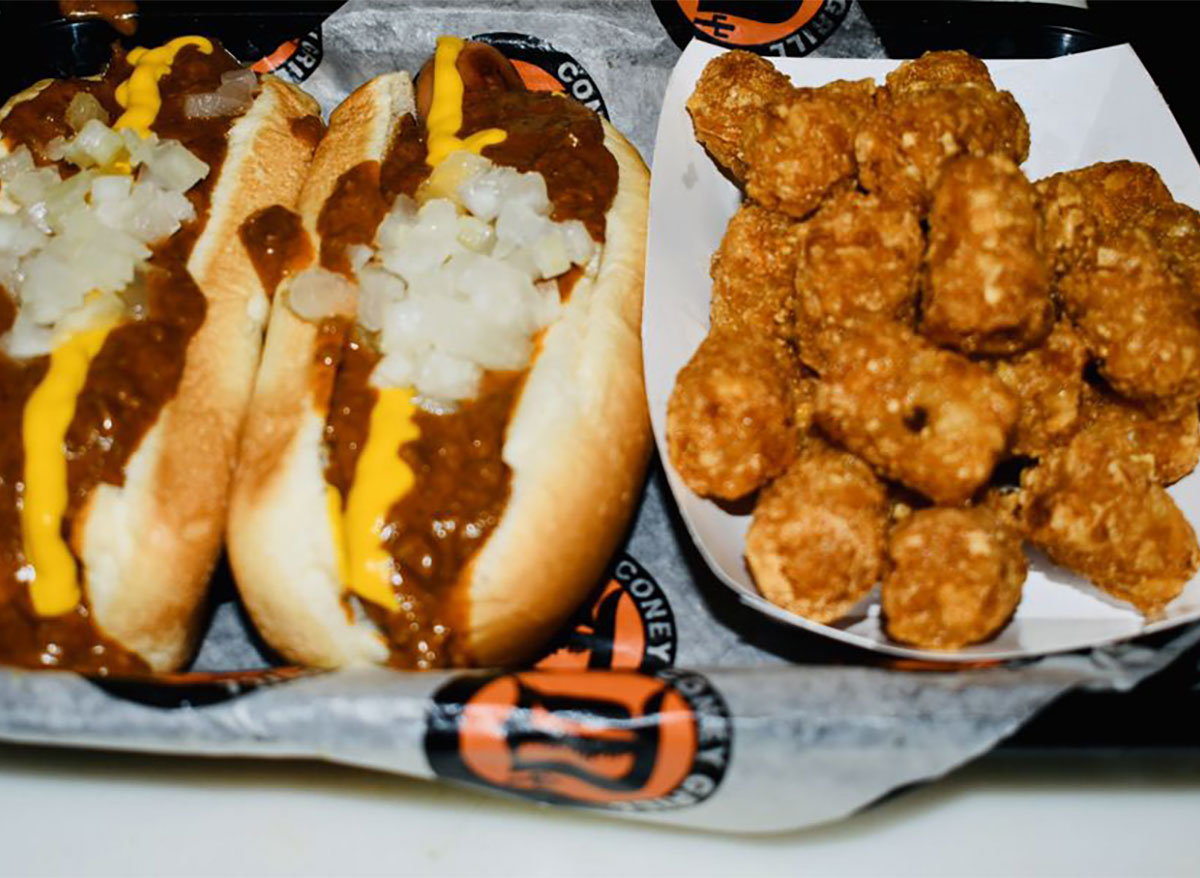 With multiple locations across Arizona, Detroit Coney Grill is a must-visit for their legendary hot dogs. You'll feel like you're on the Coney Island boardwalk when you're eating these loaded dogs.
ARKANSAS: David's Burgers in Conway
With multiple locations in Arkansas, David's Burgers is the perfect place to stop for a burger and fries. "The burgers are first-rate," Yelper John M. raves. "The menu is small and focused and all of the choices are appealing … For under ten bucks you get a big generous burger made to order, a drink, and fries … This is a Lourdes of Fries. They are skin-on, real-deal, freshly made fries. Failure to overindulge is an act of willful negligence. If you are in central Arkansas and see one of these, zip in for a real treat."
CALIFORNIA: Dairy Queen in San Diego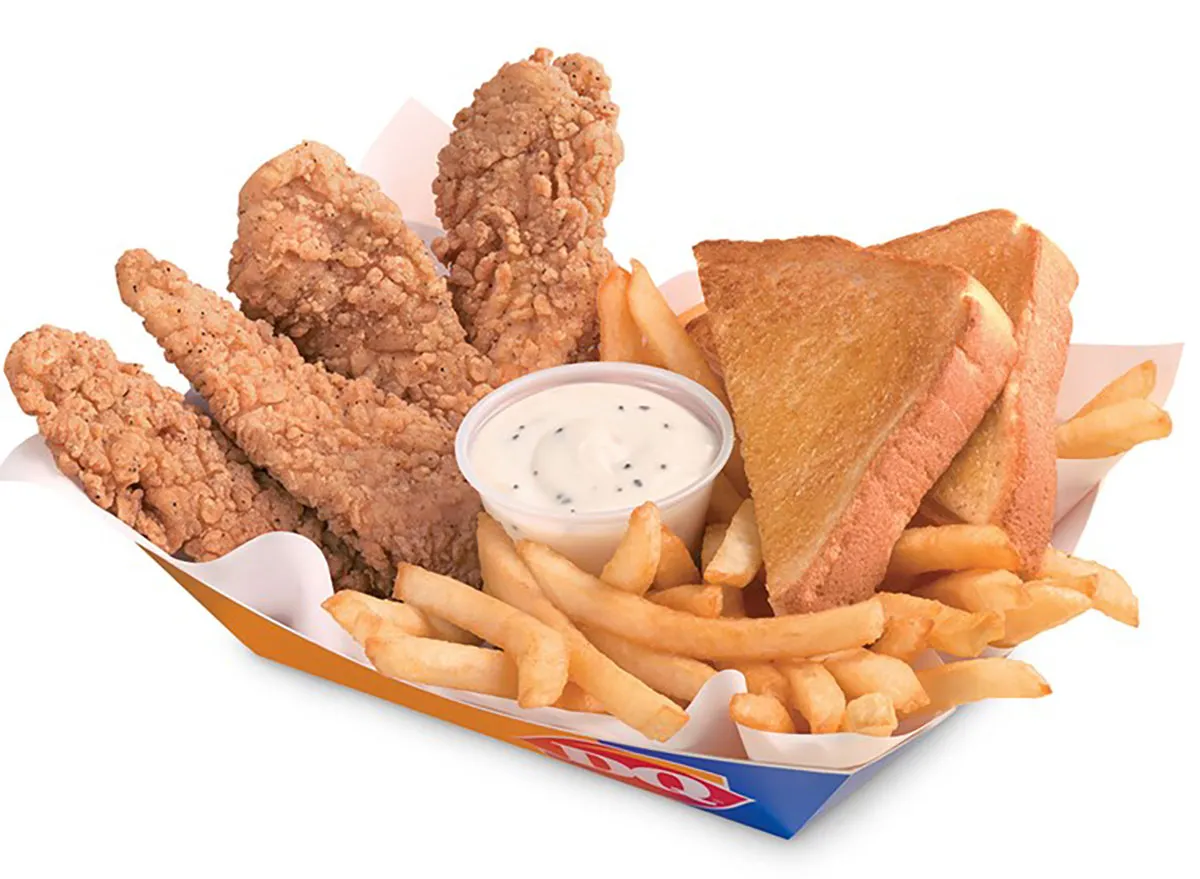 Dairy Queen's fan food is a serious favorite in San Diego. But despite the served-upside-down Blizzards being a big winner, SoCal residents rave over the friendly staff, accommodating customer service—a fast-food enigma—and the Creamsicle-like Orange Julius.
COLORADO: MOD Pizza in Centennial
If you're paying a visit to the 880-acre reservoir in Cherry Creek State Park or taking a stroll through the ecological park, don't miss out on MOD in Centennial. You can pile your pie high with artichokes, a handful of different cheeses, pineapple, red onions, and even balsamic vinaigrette.
CONNECTICUT: Frankie's Hot Dogs in Waterbury
With multiple locations across the state, Frankie's should be your go-to spot for loaded hot dogs. Just look how they spill out of the bun!
DELAWARE: Chick-fil-A in Bear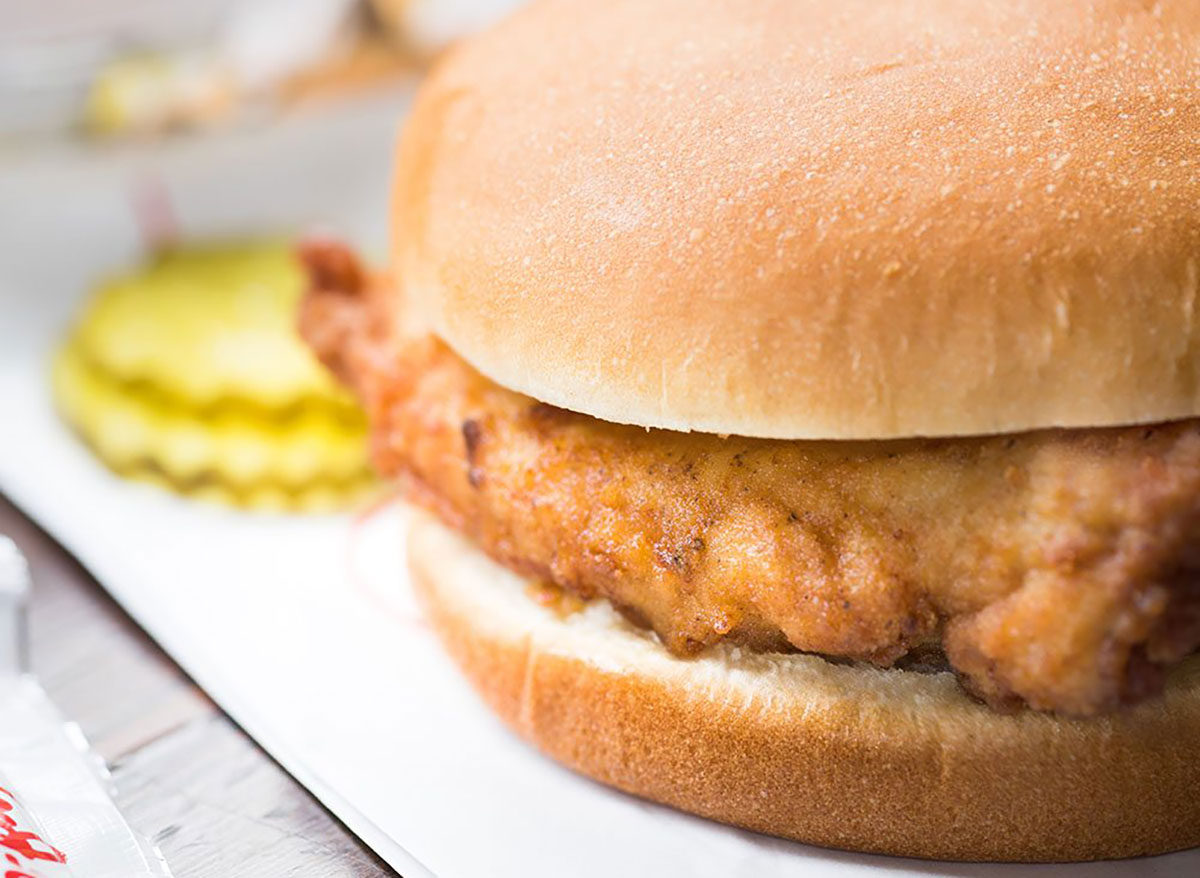 It's true: Delaware loves a good chicken sandwich.
FLORIDA: Blaze Fast-Fire'd Pizza in Orlando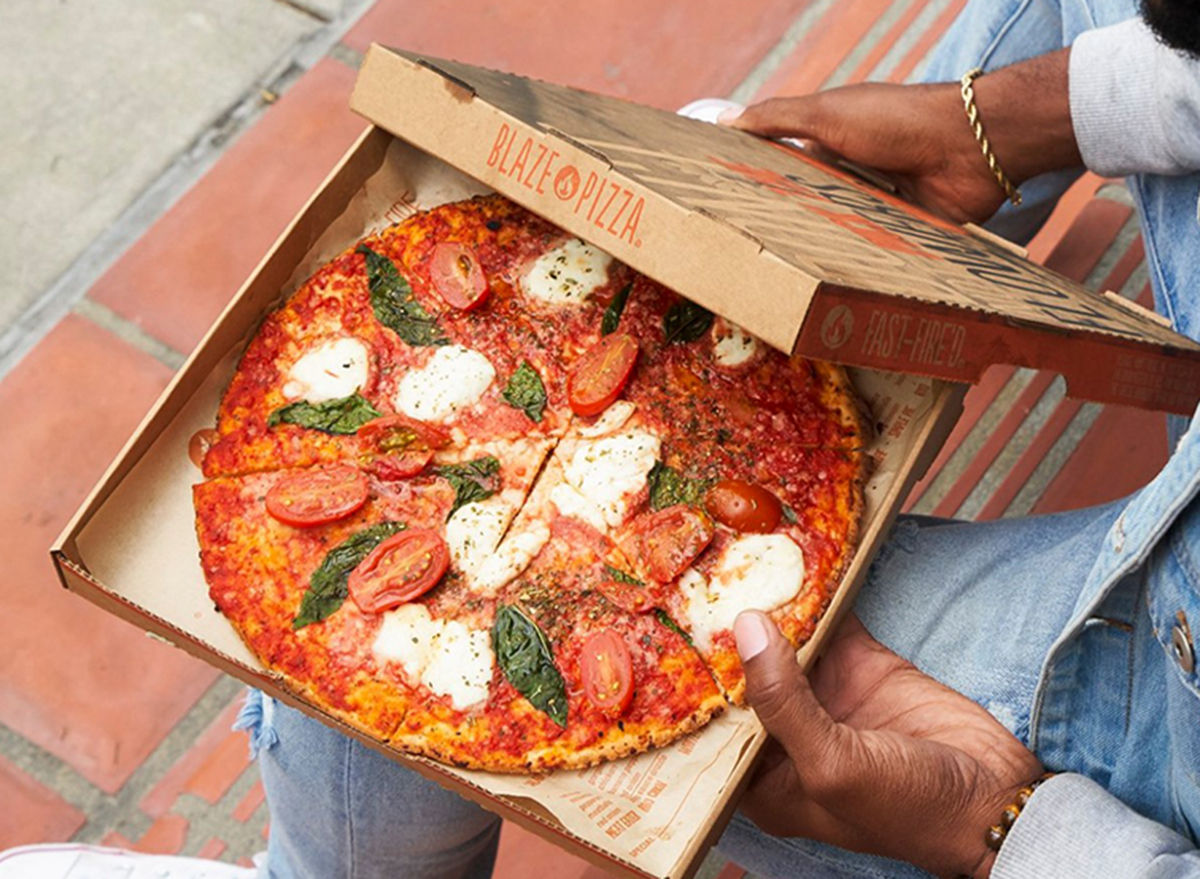 On your way to visit Walt Disney World or Universal Studios? Fuel up at Blaze before you go, and add all the pizza toppings your heart desires.
GEORGIA: gusto! in Atlanta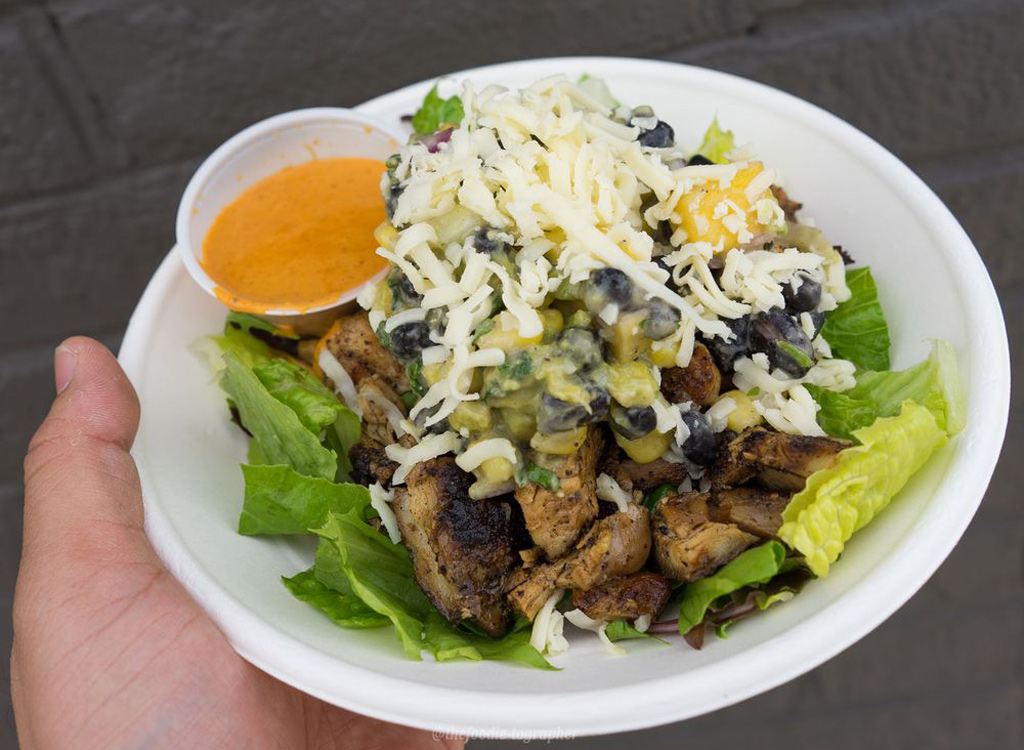 If you're short on time and need a quick and healthy meal, gusto! is your go-to. The global-cuisine-inspired fast-casual offers simple yet flavorful menu options including grilled proteins and spiced veggies so you can build a bowl, salad, or flatbread wrap.
HAWAII: Musubi Cafe Iyasume in Honolulu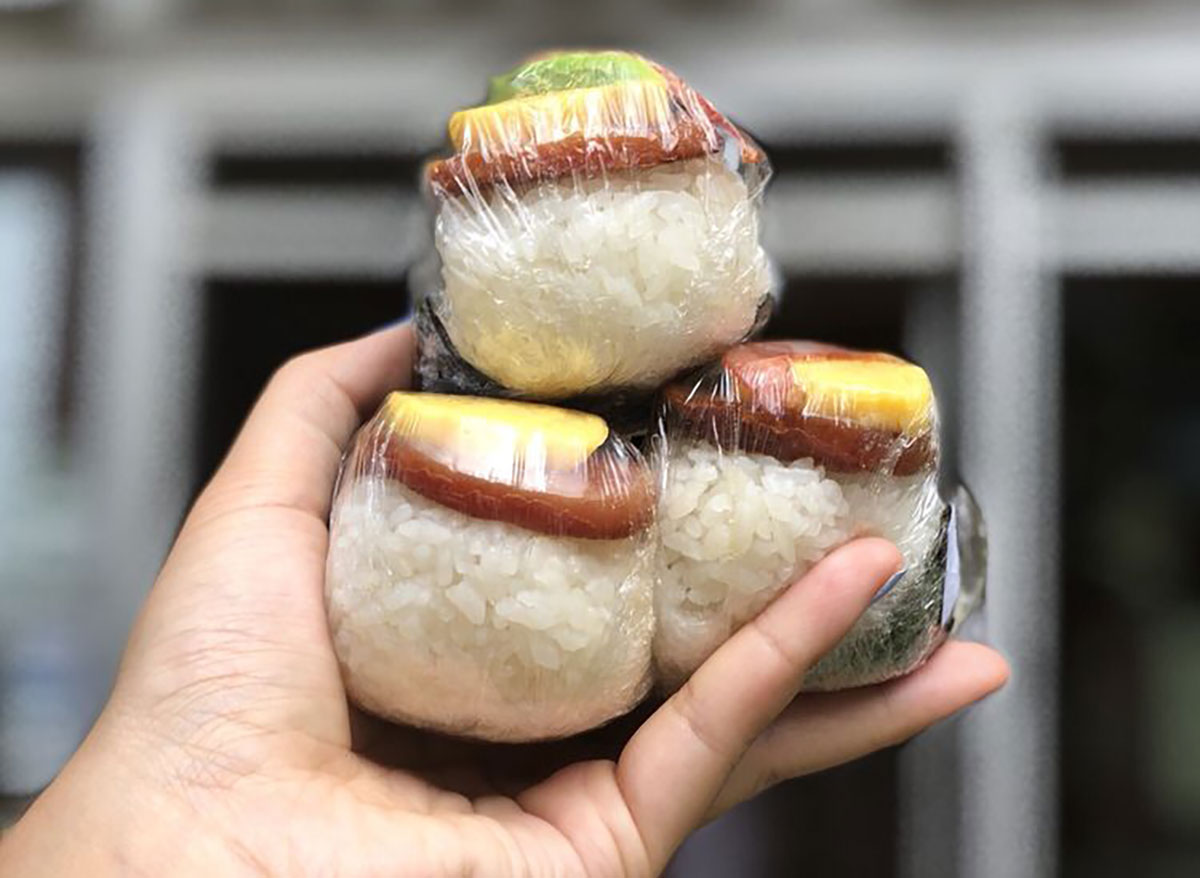 This Japanese-Hawaiian restaurant has locations across Honolulu. For something really unique, try the spam musubi, which features the meat on top of sushi-style rice.
IDAHO: Chick-fil-A in Meridian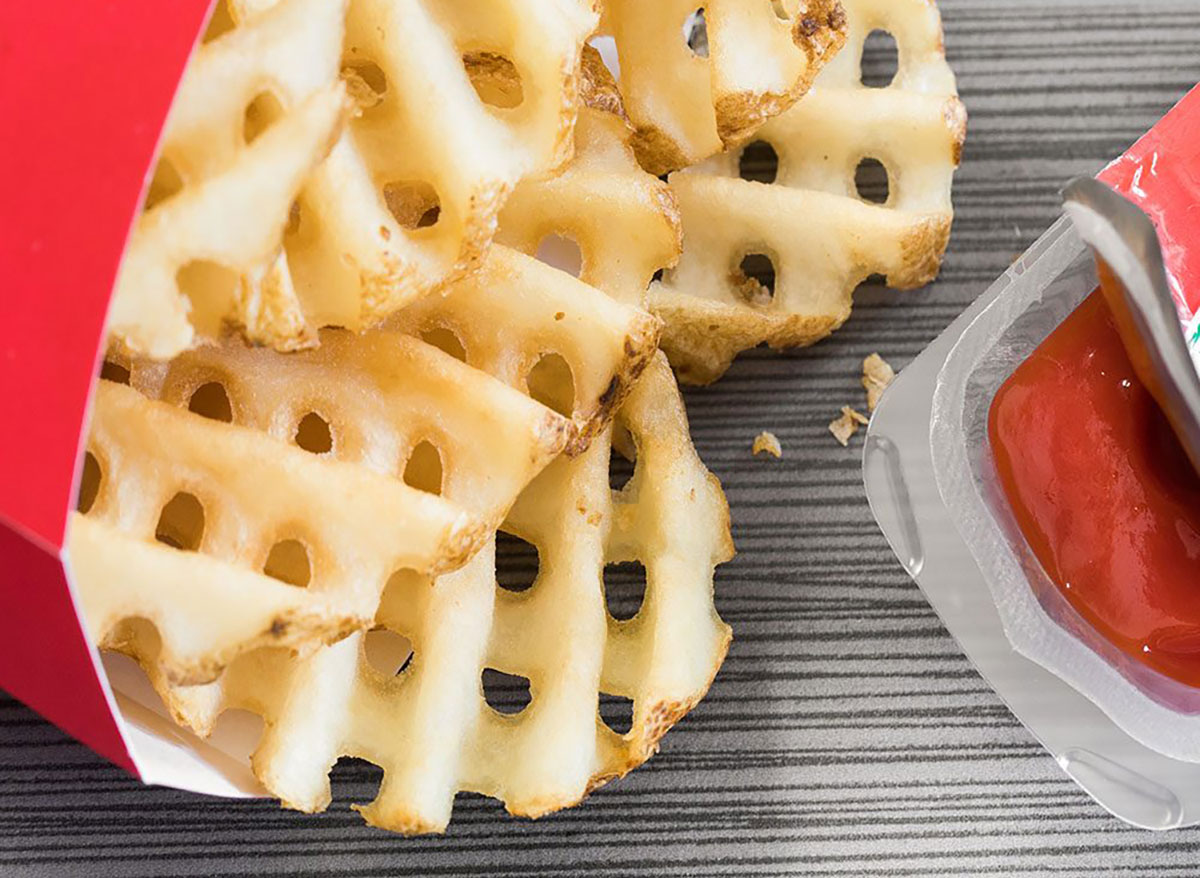 The home state of potatoes can't get enough of Chick-fil-A's waffle fries.
ILLINOIS: Chick-fil-A in Fairview Heights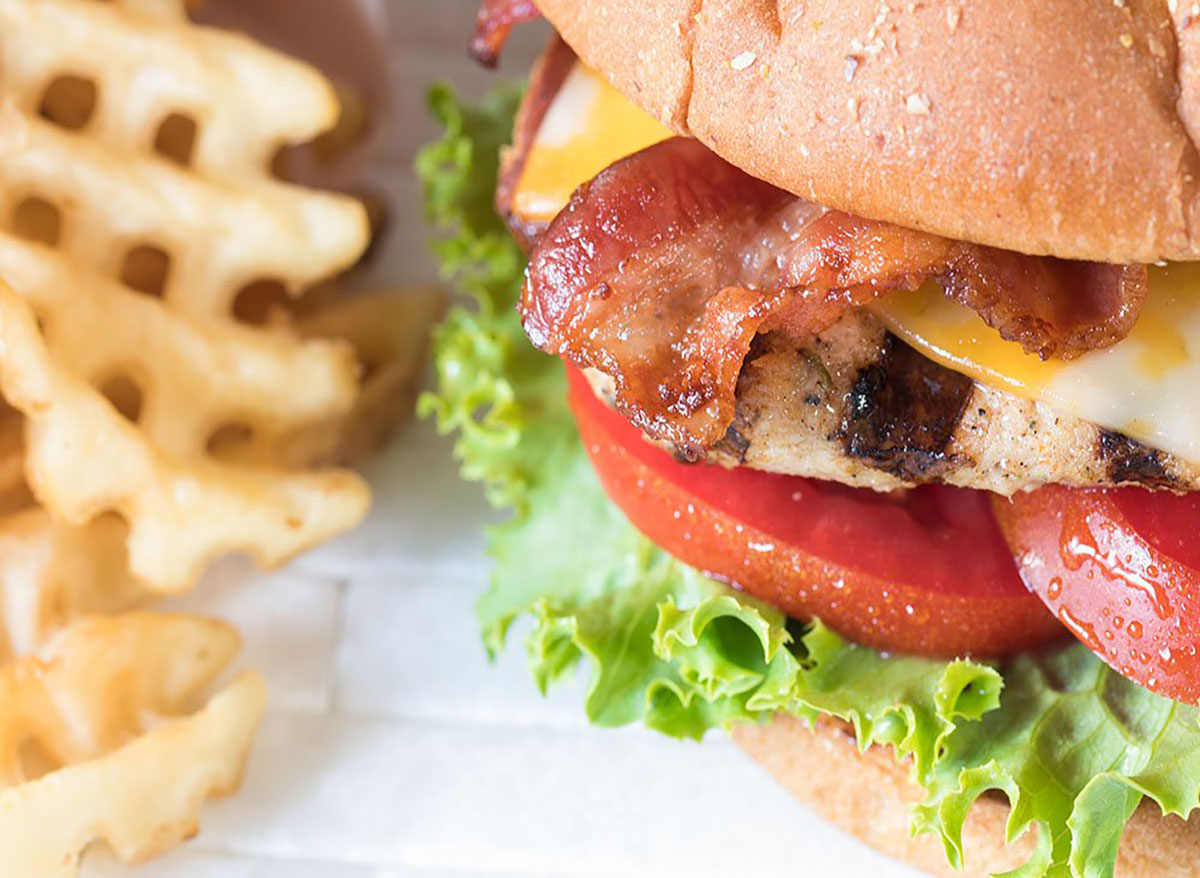 The Home of the Original Chicken Sandwich is a serious fan favorite in the Prairie State, and this Fairview Heights location's exceptional customer service sets itself apart. But let's not kid ourselves: people keep coming back because the joint does poultry perfectly.
INDIANA: MOD Pizza in Indianapolis
Indianapolis Yelper and veggie lover April A. raves about MOD Pizza's unlimited toppings and special attention to food sensitivities. "I ordered the MOD crust build-your-own with BBQ base, dairy-free cheese (score!), artichokes, fresh basil, pineapple, olives, roasted red peppers, with a dash of dried oregano. The woman helping build my pizza was very accommodating to the dairy sensitivity I have and used tongs as she put the cheese on my pizza. Thank you MOD for understanding how much this means to someone with a sensitivity!" she says.
IOWA: Blaze Fast Fire'd Pizza in West Des Moines
"I really love that they don't charge you more for extra cheese or doing things the way you'd like them," Rob P. states. "The staff is always friendly and fast-paced … If salad is your choice, they have great ones here. They also feature seasonal changes that can make your choices even richer."
KANSAS: MOD Pizza in Olathe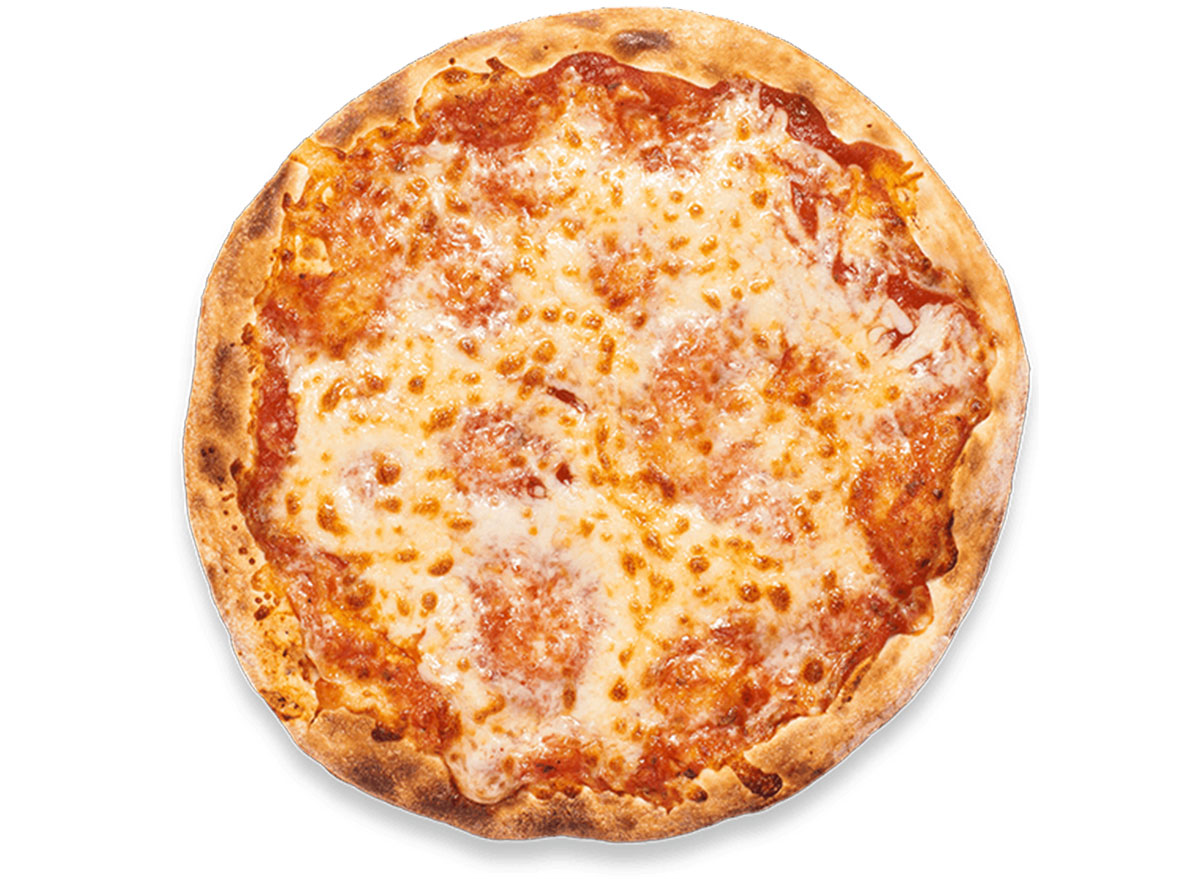 Christyn C. swears that this Olathe-based MOD's fare is as pleasing as its staff. "The pizza is delicious, fresh, and hot! Cooked in a wood fire oven it is cooked to your likeness after it is made before your eyes with the freshest delicious ingredients! The service was TOP notch. We will return… over and over. We had the Issac and the Madog (two types of pizzas) and Tuesday is tap beer for $2! Such a great experience."
KENTUCKY: Blaze Fast-Fire'd Pizza in Louisville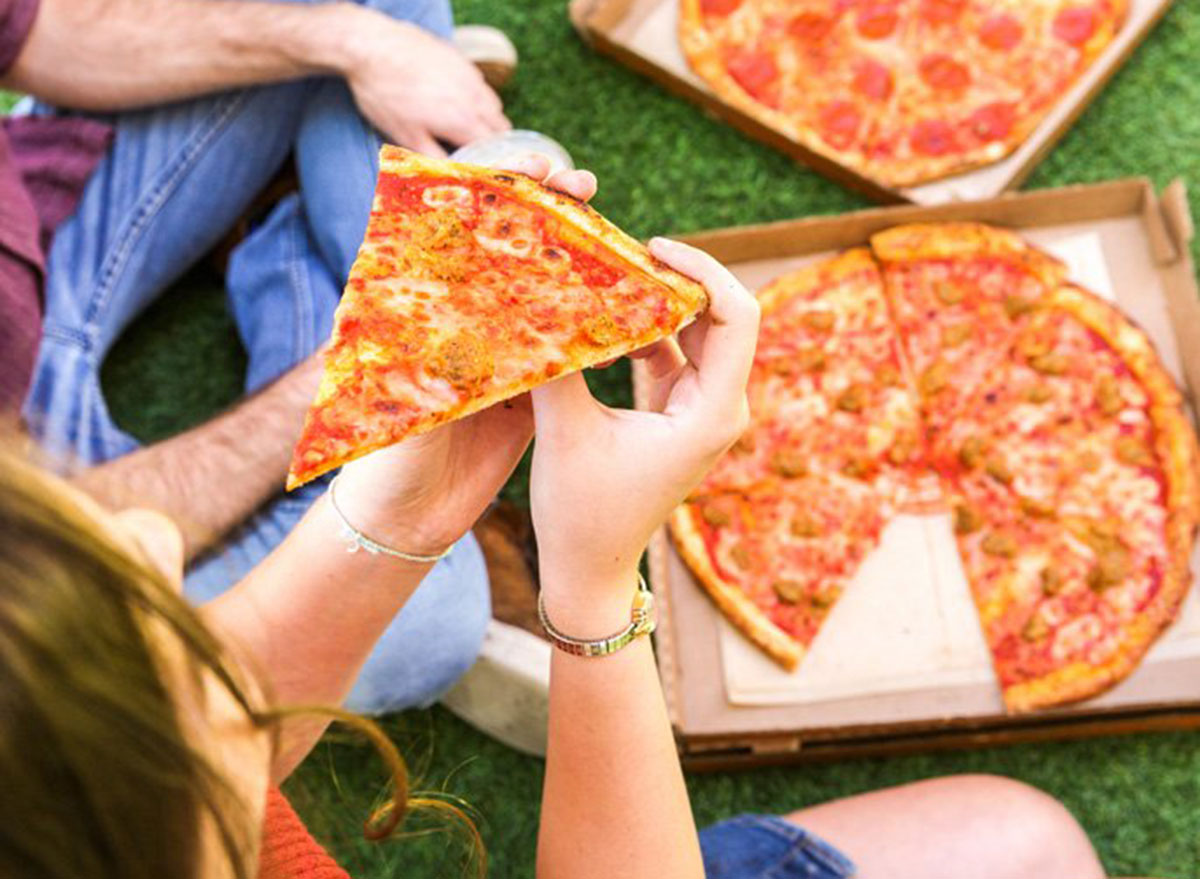 Like Alabama, Iowa, and Florida, Kentucky prefers pizza over fried chicken. You can find this hotspot in Kentucky's largest city.
LOUISIANA: Chicken Shack in Baton Rouge
You bet that Louisiana does traditional soul food best. In fact, Chicken Shack is so overwhelmingly good that one Yelper created a praiseful poem about the joint: "Chicken Shack is far from whack; They batter their chicken to crisp it up jack; Its juicy and bursting with flavor galore; After 4 tasty pieces I still wanted more; Its reddish complexion is oh so alluring; The crack of the skin has this yelper straight purring," Austin F. writes, finishing it off with "I'm pumped that I found you and yes I'll be back; To sample more treats from the famed Chicken Shack."
MAINE: Chick-fil-A in Bangor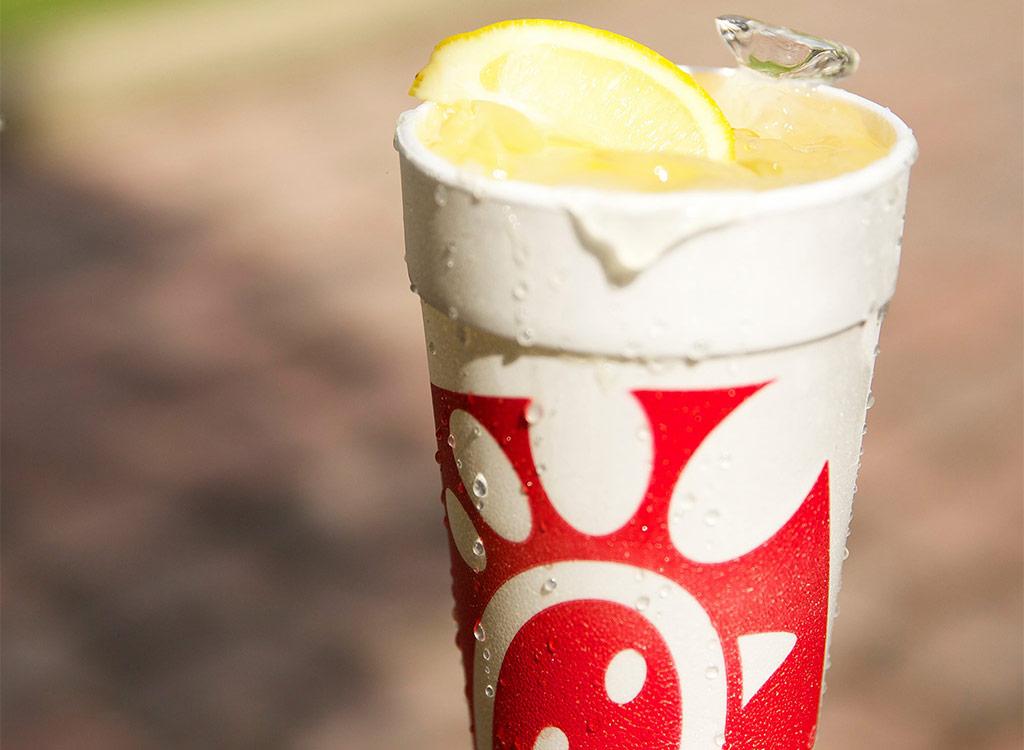 If you're paying a visit to Stephen King's birthplace or driving through Bangor en route to Acadia, you'll want to grab a chicken sandwich for the road. No matter where you stop, you can always count on Chick-fil-A to deliver perfectly seasoned and crisp poultry, whether it's on a buttered bun, a biscuit, or a bed of greens.
MARYLAND: Chick-fil-A in Abingdon
Another state with a passion for Chick-fil-A, Maryland seems to enjoy the Abingdon location in particular.
MASSACHUSETTS: Chick-fil-A in Chicopee
Chick-fil-A isn't just popular in the South. Massachusetts residents love the fast-food chicken joint, too.
MICHIGAN: MOD Pizza in Livonia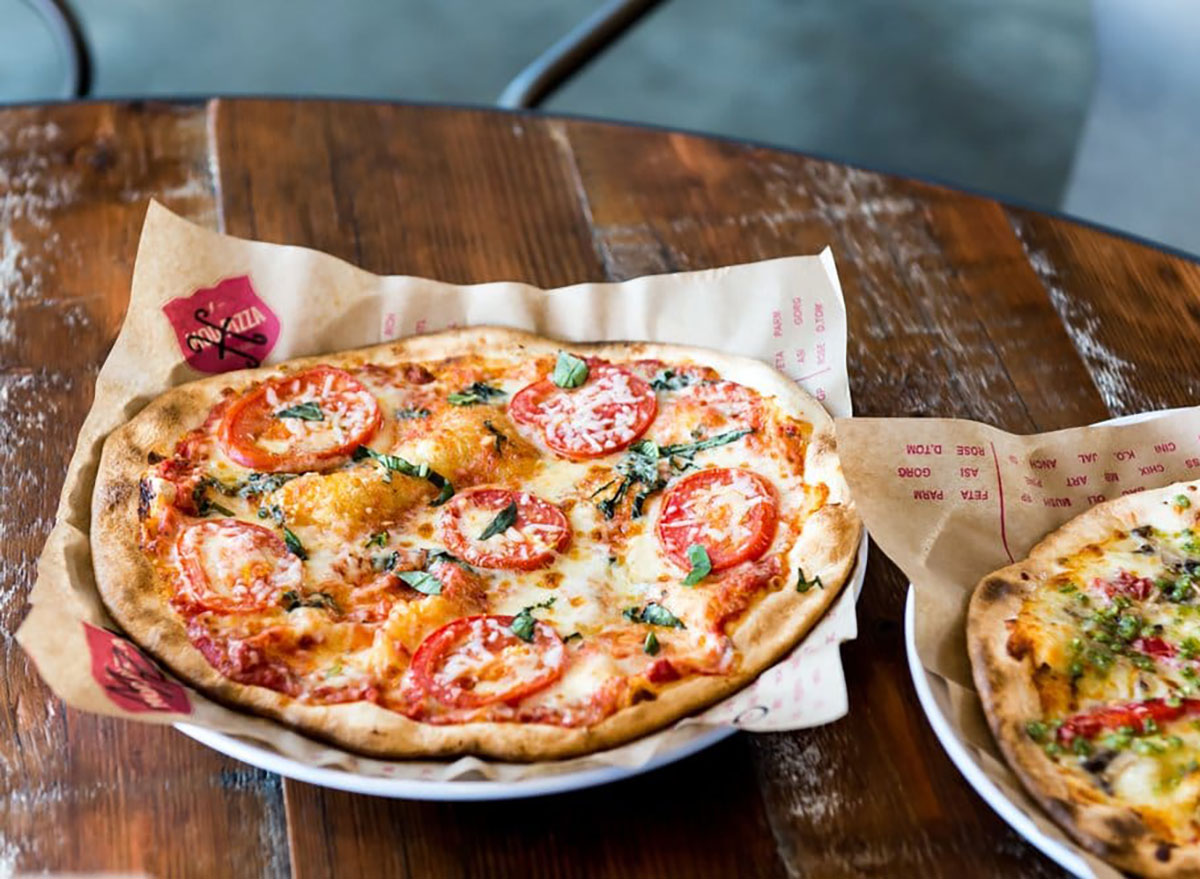 MOD Pizza's build-your-own pie format makes it a popular choice across the country, including in Michigan.
MINNESOTA: Blaze Fast-Fire'd Pizza in Minneapolis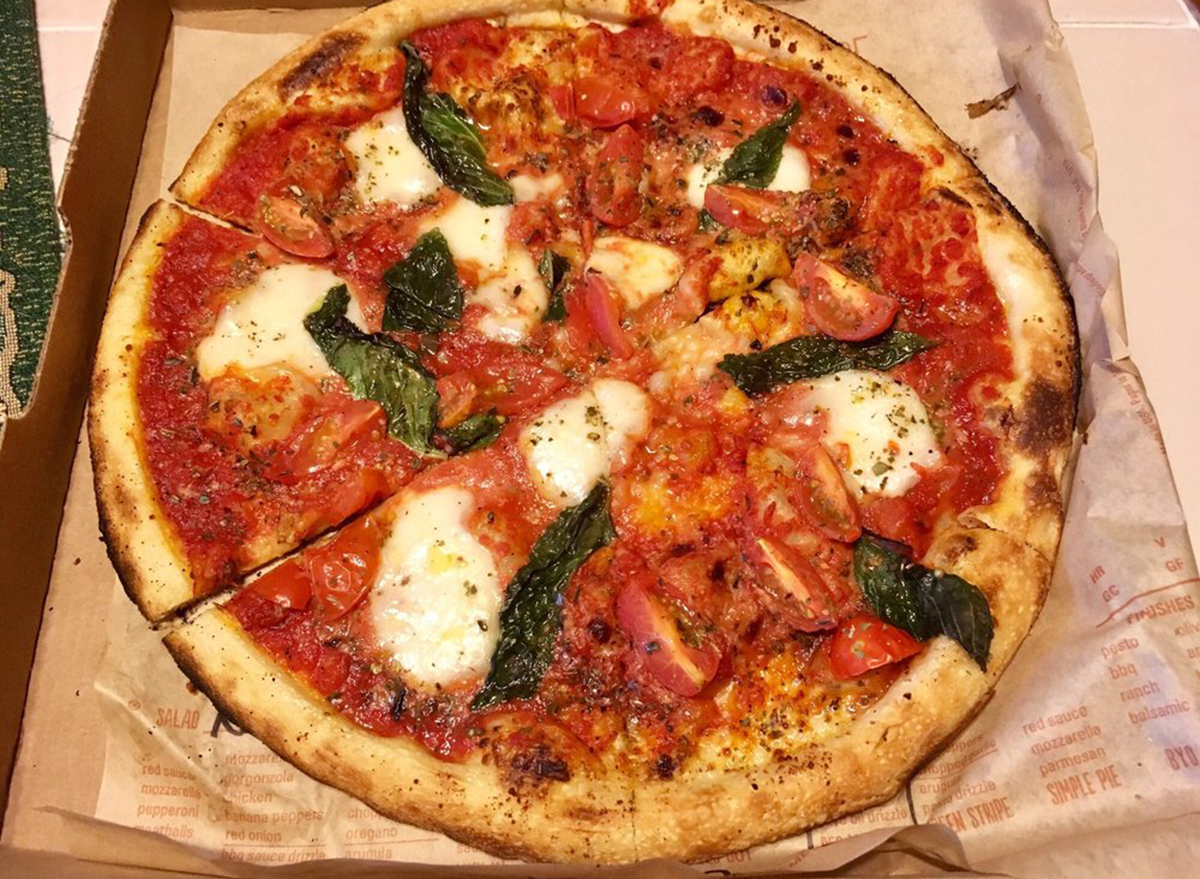 One Yelper chose to highlight another aspect we love about the chain: "What is the finishing touch for me (and ultimately pushing Blaze up to five stars) is their commitment to sustainability and low-waste production. Their silverware, cups, lids, and straws are all made out of plant products. I feel that these initiatives often go unnoticed or overlooked, but I really appreciate the effort that goes into keeping products as sustainable as possible and I will be returning," Katie Z. wrote.6254a4d1642c605c54bf1cab17d50f1e
MISSISSIPPI: Burrito Zone & Tamales in Diberville
Instead of hitting up your local Chipotle, visit Burrito Zone for build-your-own burritos, tamales, nachos, and quesadillas with proteins such as chicken, steak, and pork, as well as homemade tres leches cake for dessert. The only downside? The guac costs extra.
MISSOURI: Chick-fil-A in Joplin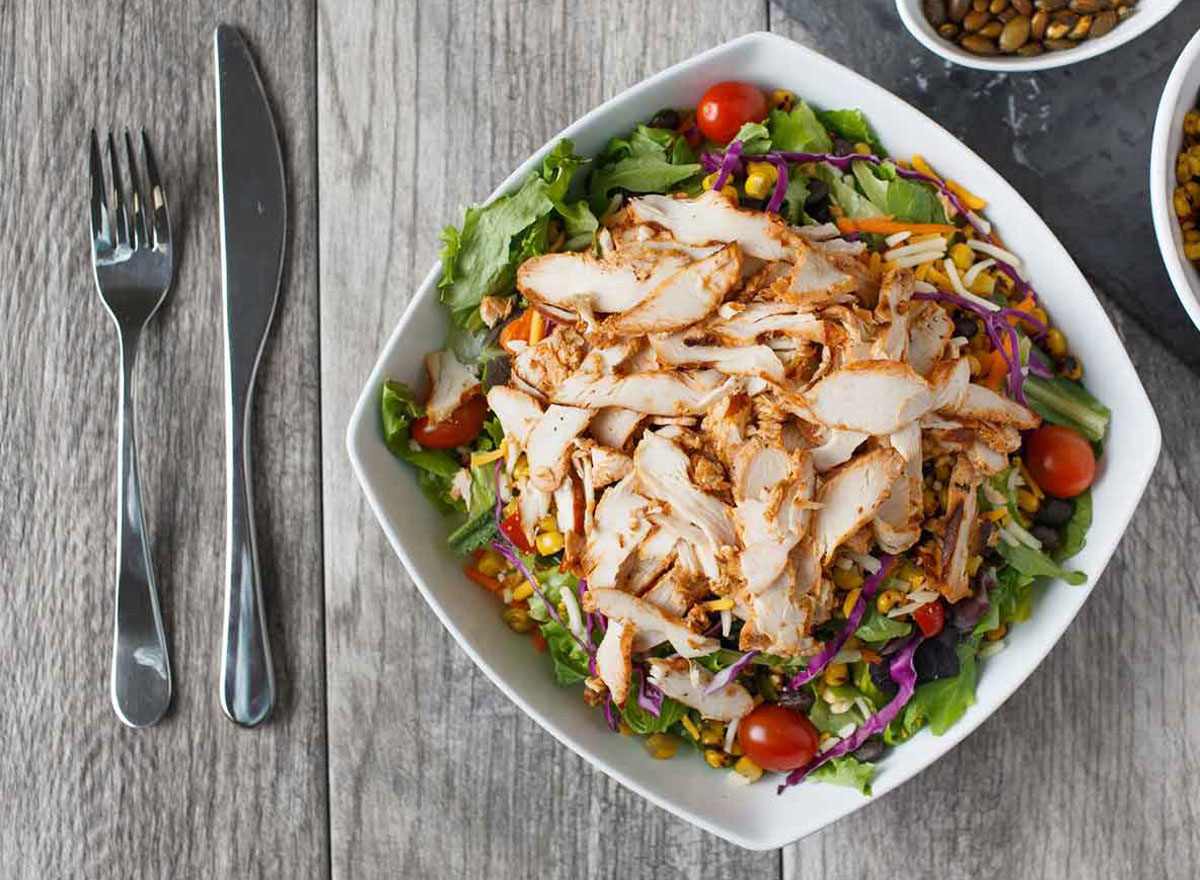 Need to grab a bite on the go? Rose B. raves about how this Joplin Chick-fil-A's service is A+. "I want to take a minute to remark on the drive-thru. This Chick-fil-A has the fastest drive-thru of any drive-thru I have ever been in. At this location, they have two lanes in which you may order your food and they come together to form one line … From the time we ordered our food to the time we received our food was less than six minutes."
MONTANA: Five on Black in Bozeman
Five on Black proves that fast food can also be healthy with its clean, Brazilian-inspired bowls. Choose from bases like brown rice and greens, top it with protein-rich rotisserie chicken or opt for Brazil's national stew, and then drizzle it with spicy chimichurri or go the traditional route with smoky farofa.
NEBRASKA: Raising Cane's in Lincoln
The Lincoln location of this chicken tender joint is a hit among Yelp reviewers. "The golden standard of what is arguably Louisiana's finest fast-food product is alive and well in Lincoln," Yelp reviewer Jando S. wrote.
NEVADA: HUMMUS in Henderson
The Henderson and Las Vegas HUMMUS locations made their way to the top of Yelp's rankings. The chain offers healthy, colorful Mediterranean bowls that are too pretty not to photograph.
NEW HAMPSHIRE: Blaze Fast-Fire'd Pizza in Nashua
Folks in Nashua go crazy over the custom-built pies at Blaze. We recommend ordering the Art Lover, which screams Sicily in every bite.
NEW JERSEY: Blaze Fast Fire'd Pizza in Wayne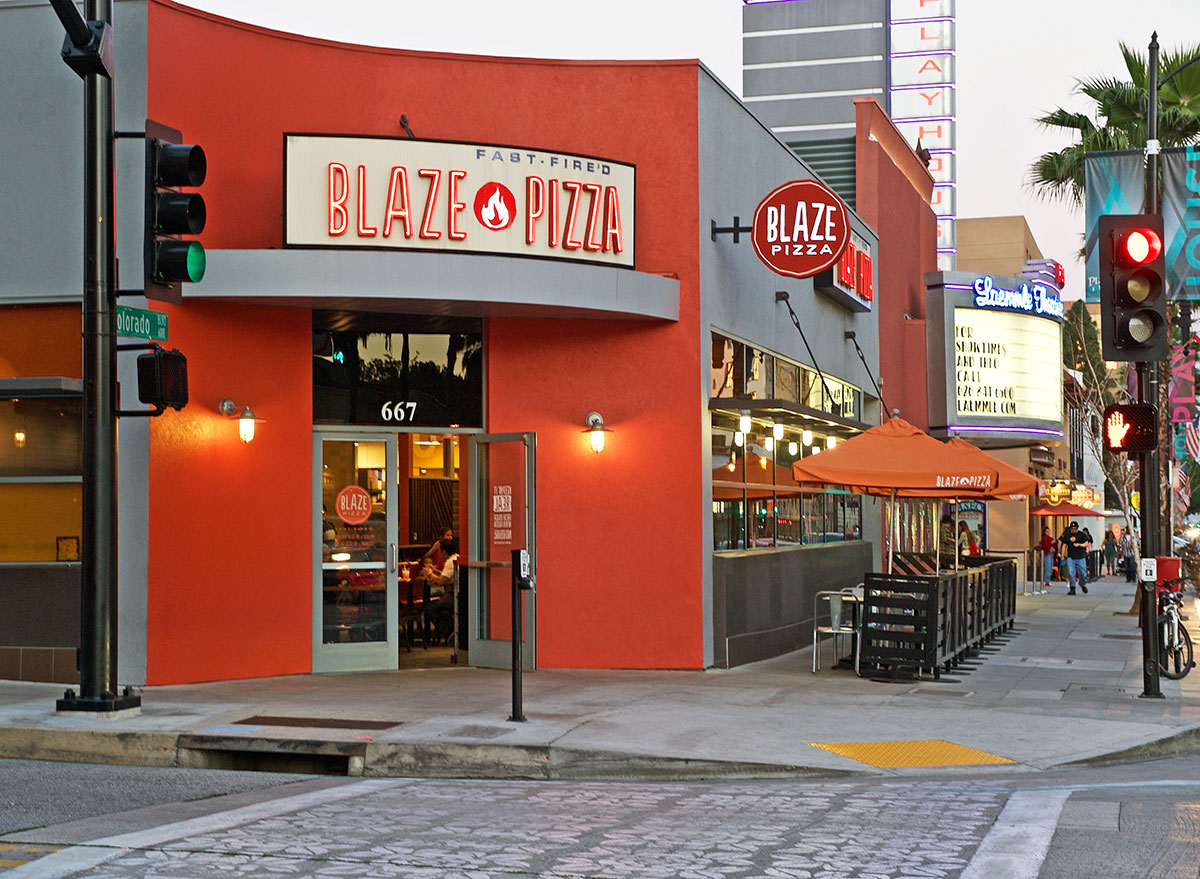 Another Blaze pizza takes the cake—er, pie—as the top spot in Jersey. Ever since this location opened its doors, it's served customizable pizzas that will please all sorts of taste buds.
NEW MEXICO: Chick-fil-A in Albuquerque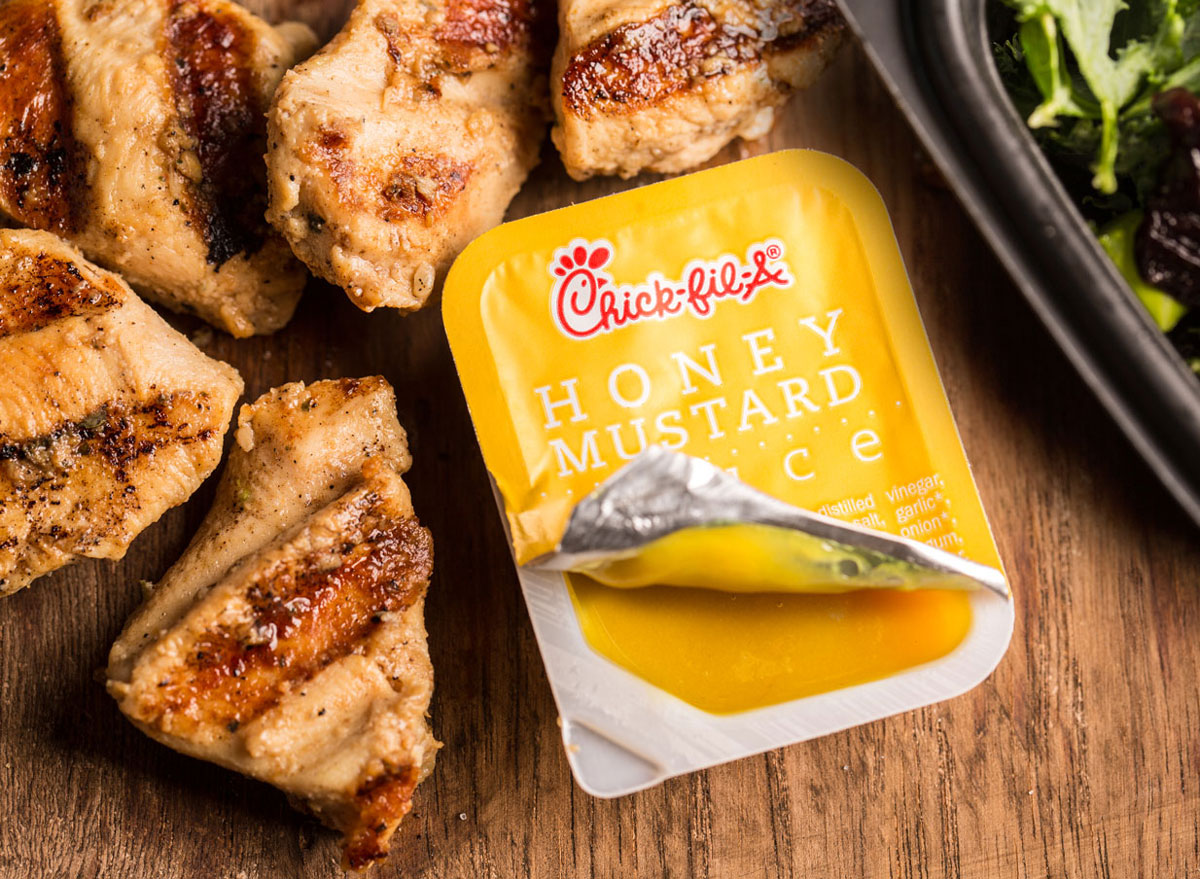 Chick-fil-A is the reigning fast-food chain in New Mexico. And while the chain is best known for its chicken and fries, you can also get some greens there, like the kale crunch side.
NEW YORK: Chick-fil-A in Cicero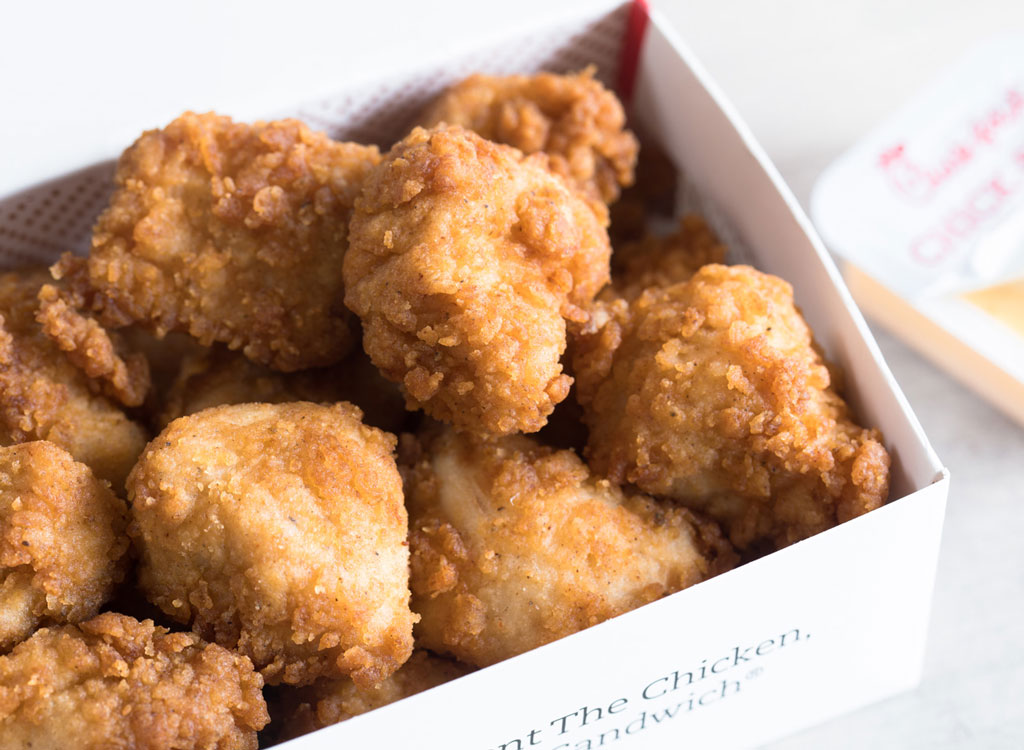 Another northern state with a soft spot for Chick-fil-A! "Thankful that Cicero was chosen for the first upstate chick-fil-a location," Spencer W. wrote on Yelp. "Dining experience is superb and the staff and management go above and beyond to cater to the customer's needs."
NORTH CAROLINA: The Döner – Kebabs & Falafels in Asheville
This kebab restaurant is taking the state by storm. Try a pita pocket with sweet potato falafel for a plant-based meal.
NORTH DAKOTA: Jersey Mike's Subs in West Fargo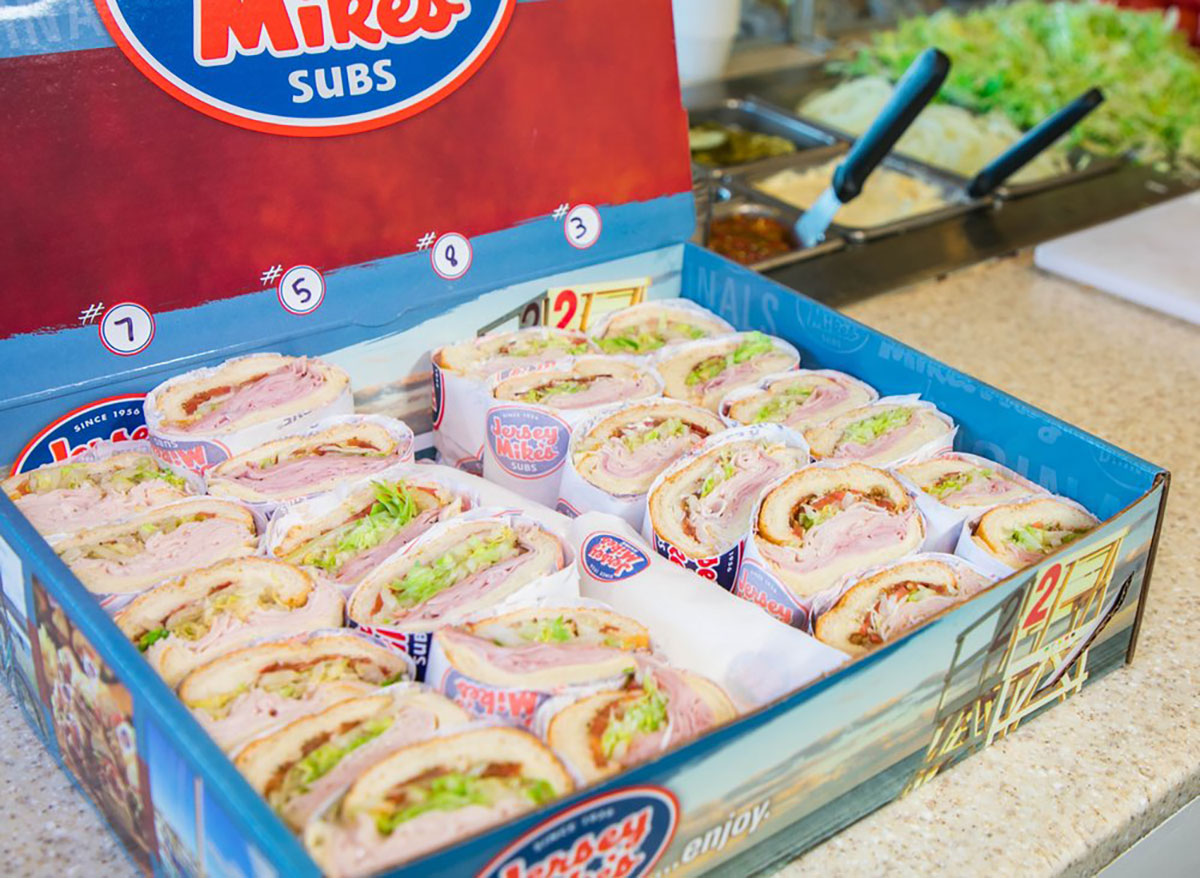 The Dakotas are known for loving hearty fare, so it's only natural that their favorite quick bite is a sub layered with deli meats, cheese, tomatoes, lettuce, and other tasty toppings.
OHIO: Swenson's Drive-In in Seven Hills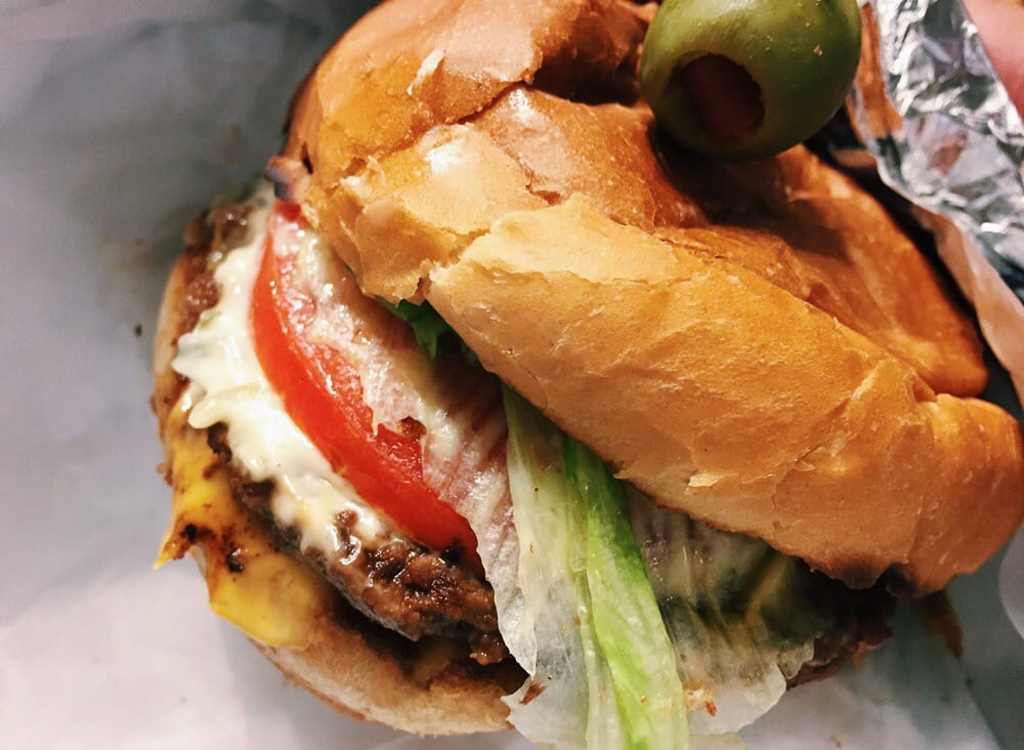 When Ohioans crave a burger, they're not stopping by a McDonald's drive-thru. Famous for their award-winning burgers, Swenson's has doubles, triples, and quarter- and half-pounders to satisfy your cheeseburger needs. And if you don't want a bun, they also have sandwiches, salads, and soups.
OKLAHOMA: The Flame Broiler in Tulsa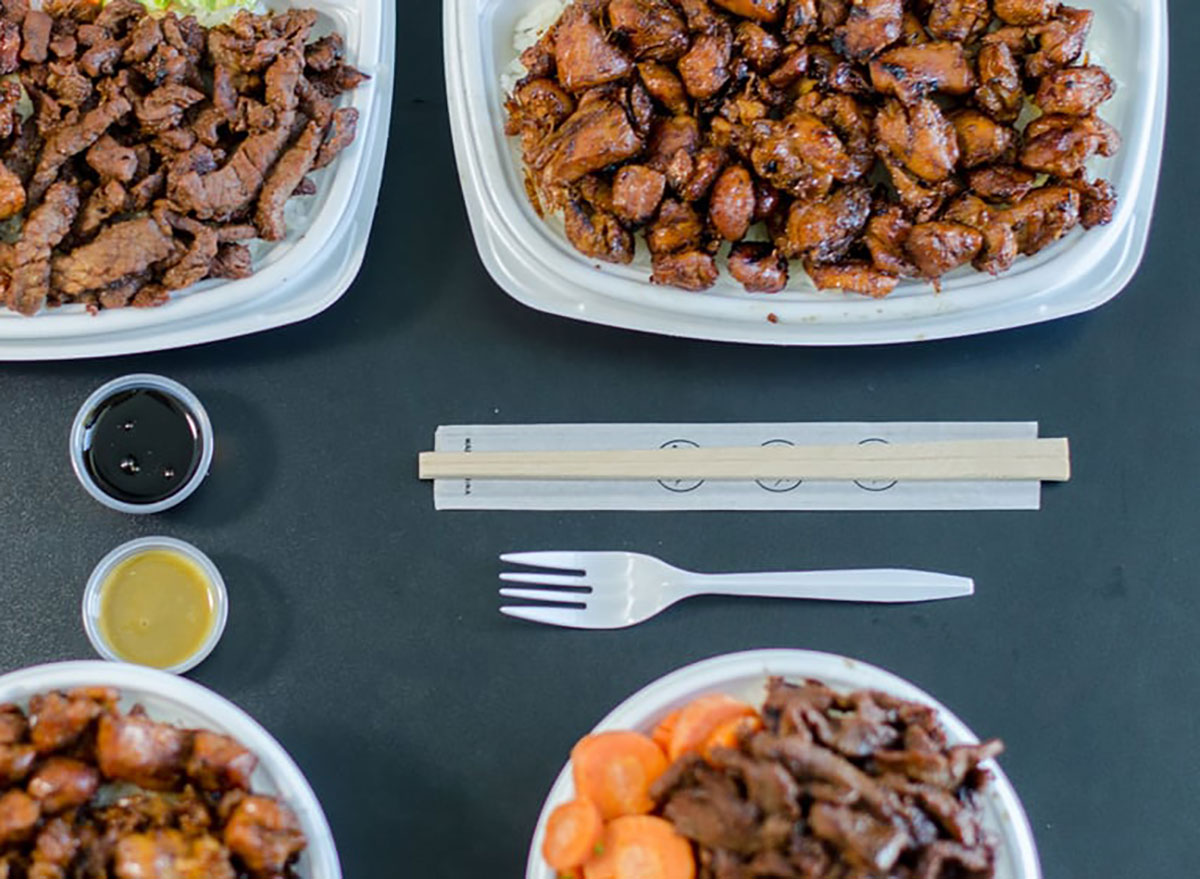 "If you want Asian flavors and something that won't make you feel heavy, The Flame Broiler will hit the spot," Casey V. wrote on Yelp. Sounds like a solid lunch option to us!
OREGON: New York City Sub Shop in Hood River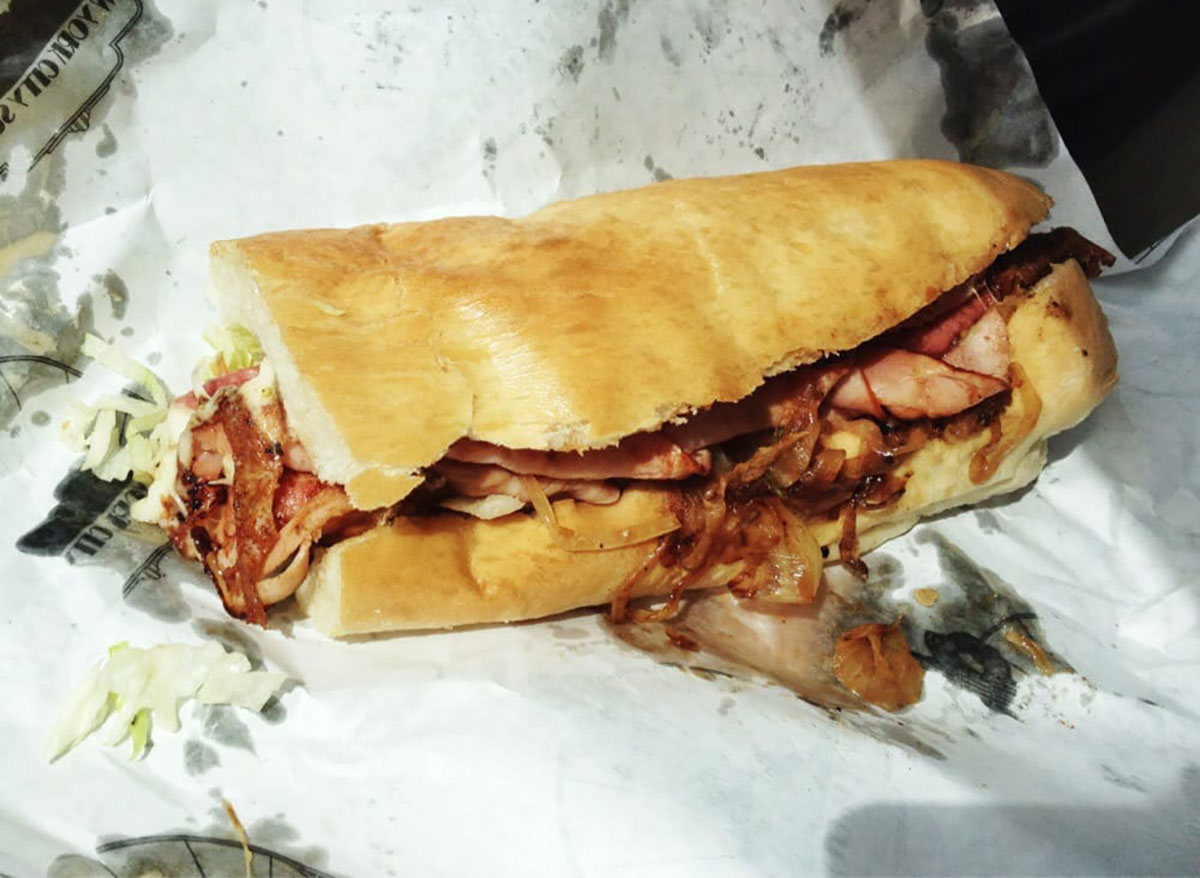 With subs named after New York's various boroughs, New York City sub shop will take you on a mini-vacation without ever leaving your hometown.
PENNSYLVANIA: Chick-fil-A in Erie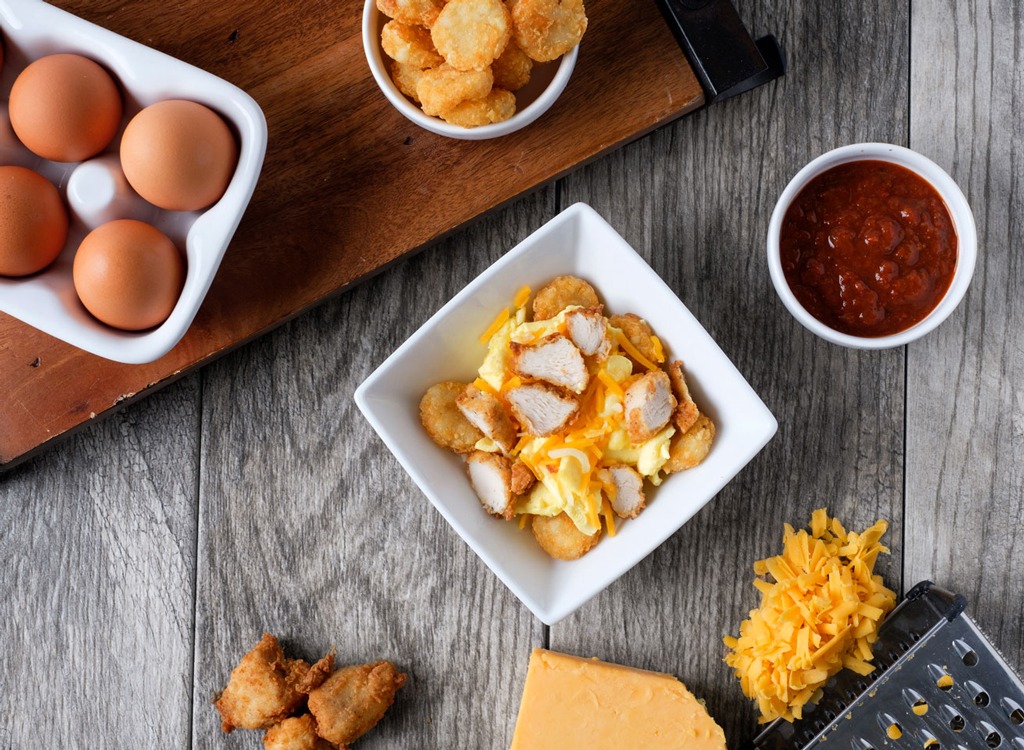 From breakfast to dinner, Chick-fil-A's food is a favorite among Pennsylvania residents.
RHODE ISLAND: Friskie Fries in Providence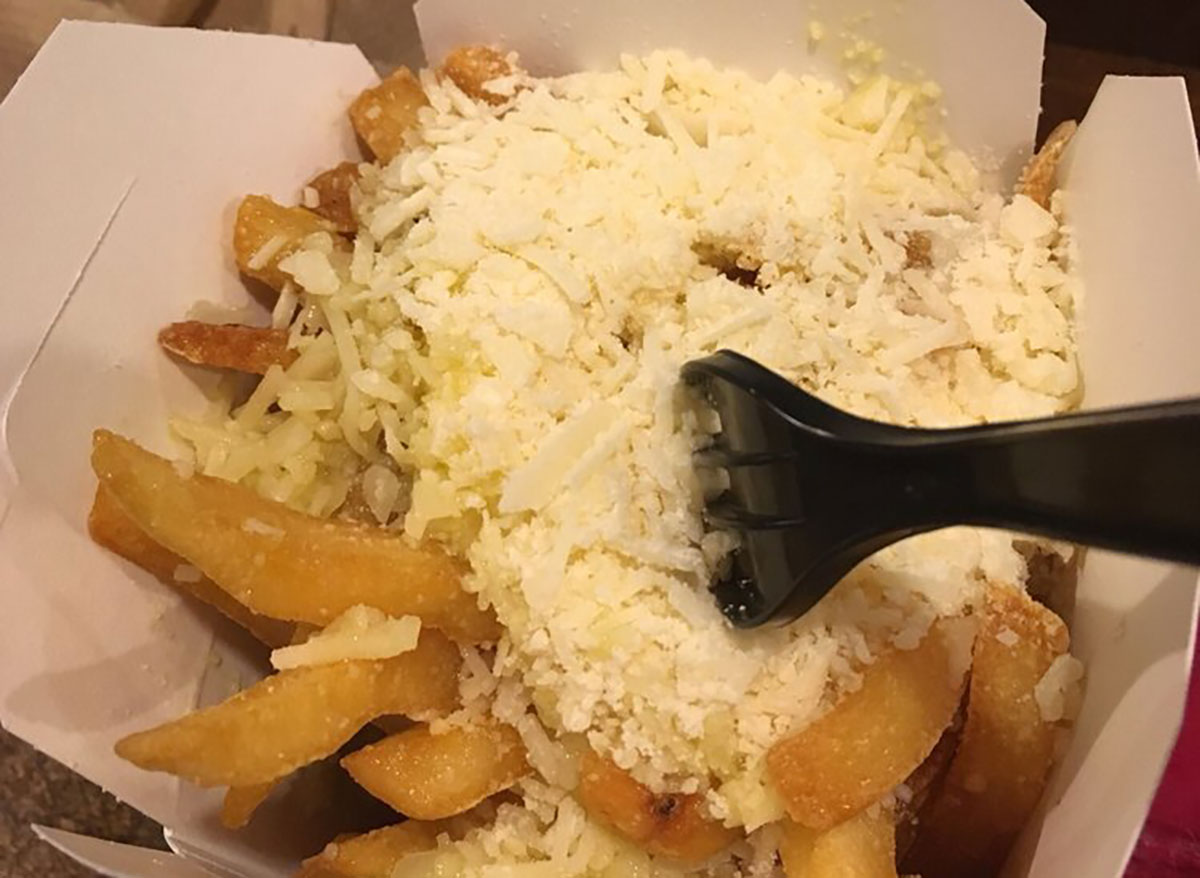 This local chain serves loaded fries that look insanely delicious. Try the Disco Dottie, which features brown gravy and Vermont cheddar.
SOUTH CAROLINA: MOD Pizza in Columbia
Another vote for MOD comes from South Carolina, where residents rave about the chain's thin crust.
SOUTH DAKOTA: Culver's in Sioux Falls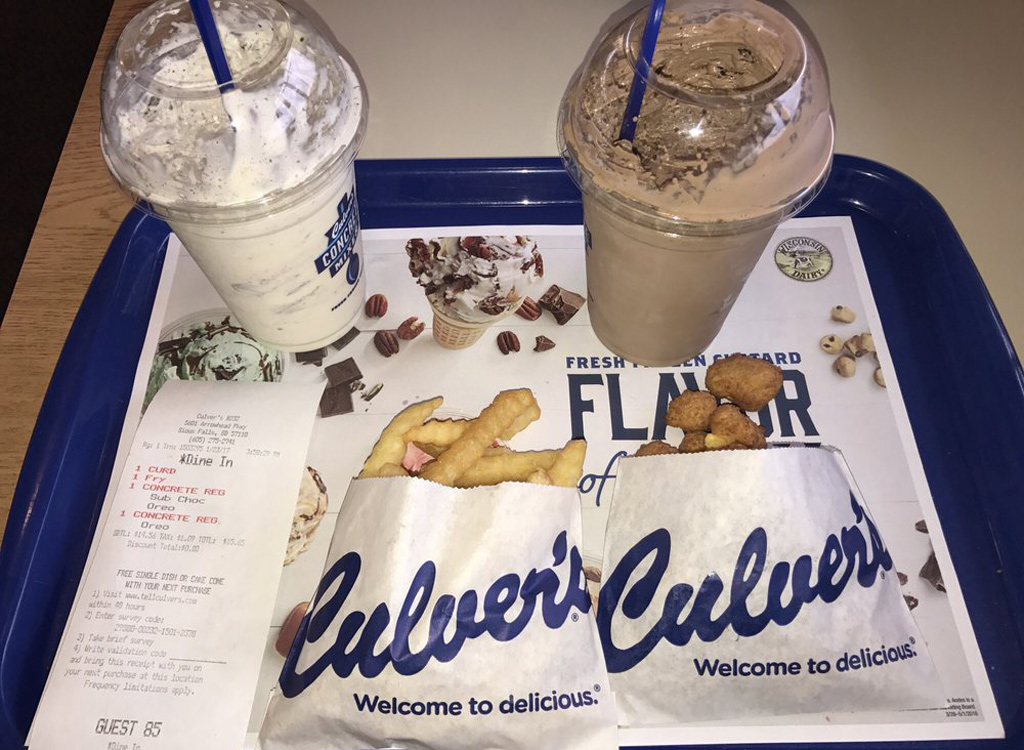 From chicken sandwiches to burgers to fried shrimp, a pit stop at Culver's will satisfy all of your fast food cravings—and your ice cream one, too. Its "Flavor of the Day" ice cream franchise is what makes people come back for more, especially in South Dakota.
TENNESSEE: Blaze Fast Fire'd Pizza in Knoxville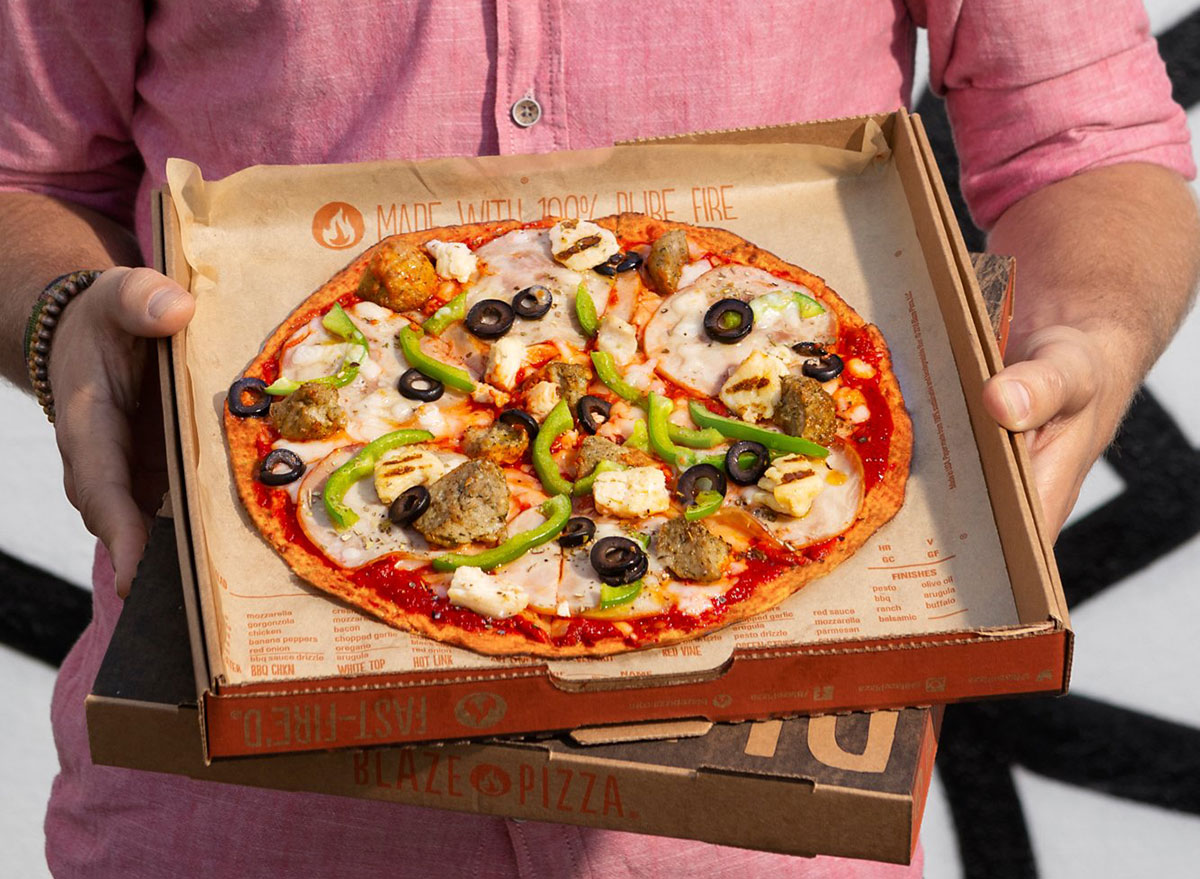 After a night of listening to great country music, people in Tennessee want a personal pizza that they can customize to their liking.
TEXAS: MOD Pizza in San Antonio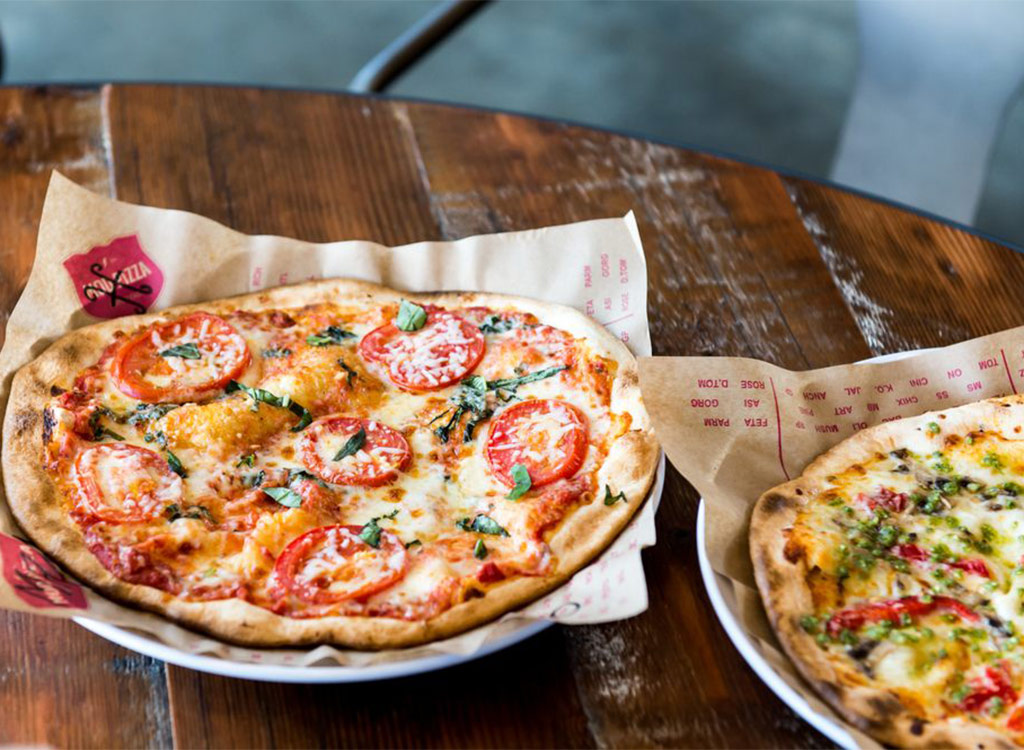 Add as many toppings as your heart desires at MOD Pizza's many locations across the country.
UTAH: Chick-fil-A in Saint George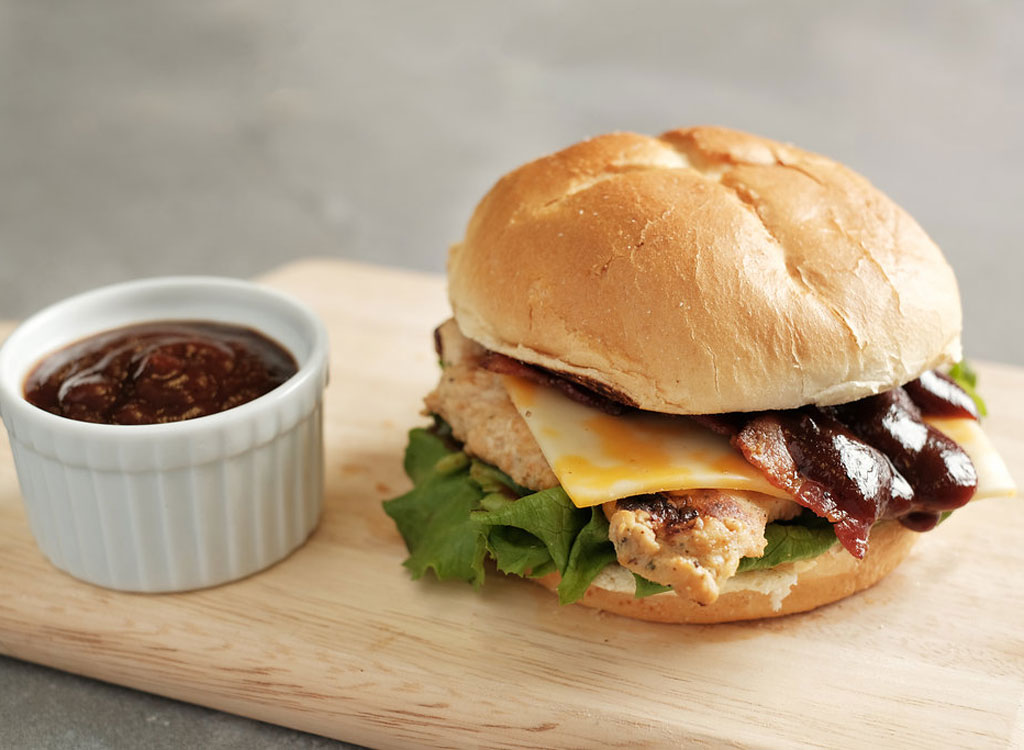 With its stunning mountain views, there's more to Utah than its apres-ski fare. If people in the Beehive state want something quick and easy before they hit the slopes, they'll pop over to Chick-fil-A to get a hearty meal.
VERMONT: Archie's Grill in Shelburne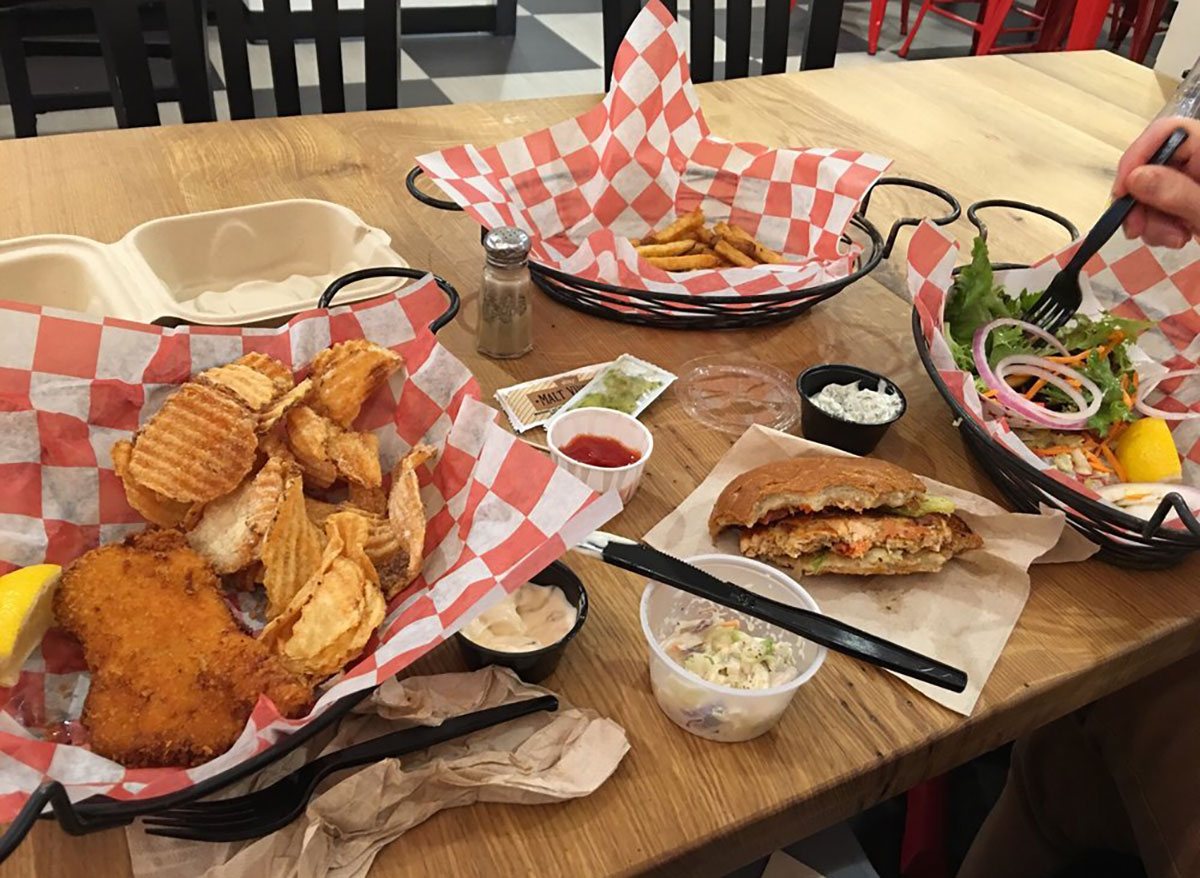 In the land of maple syrup and cheddar, you'd think that a pizza parlor would top their list. But when they want fast food, people in Vermont stop at Archie's Grill, where you'll find a variety of American dishes, like chili, New England clam chowder, chicken wings, hot dogs, and burgers.
VIRGINIA: Lamia's Crepes in Norfolk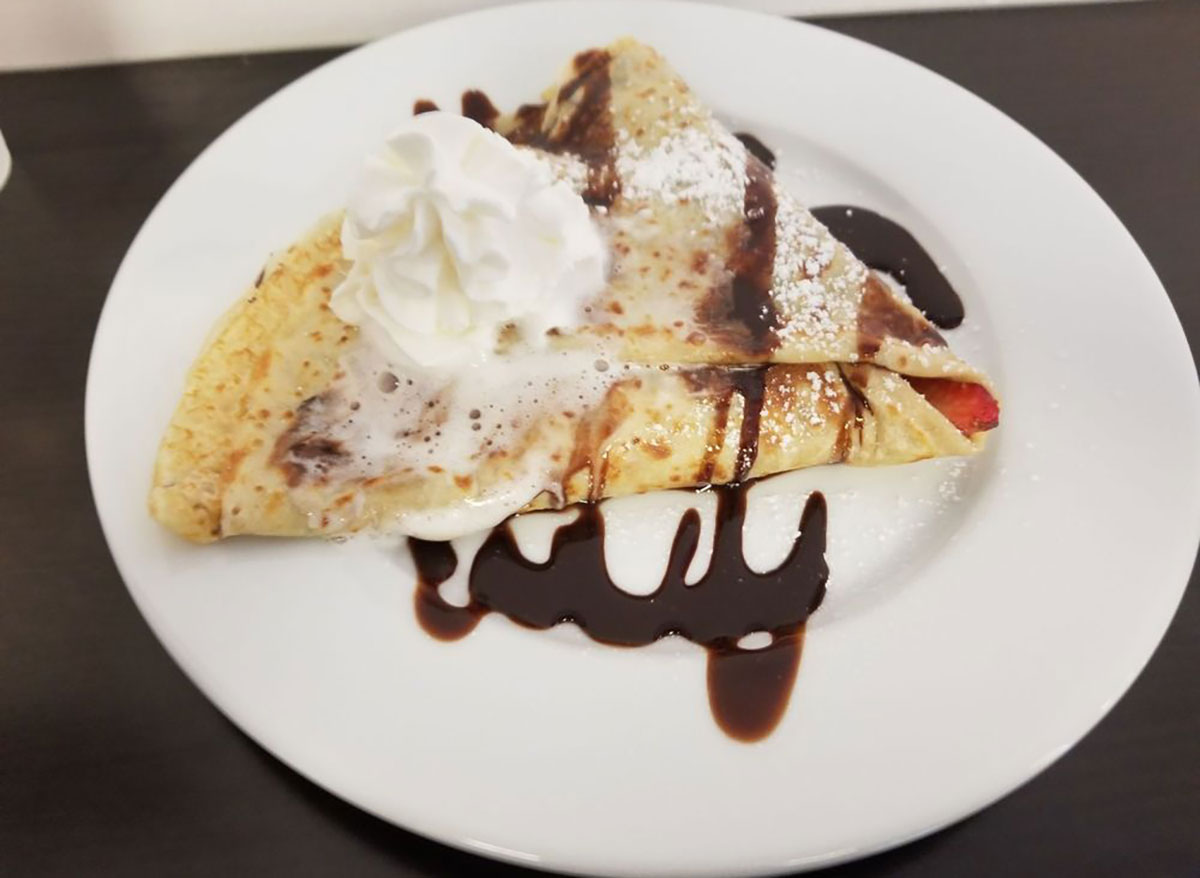 "Perfectly made crepes every time, and always friendly service," Sam A. wrote on Yelp. "Great variety of both sweet and savory crepes."
WASHINGTON: MiSo in Lacey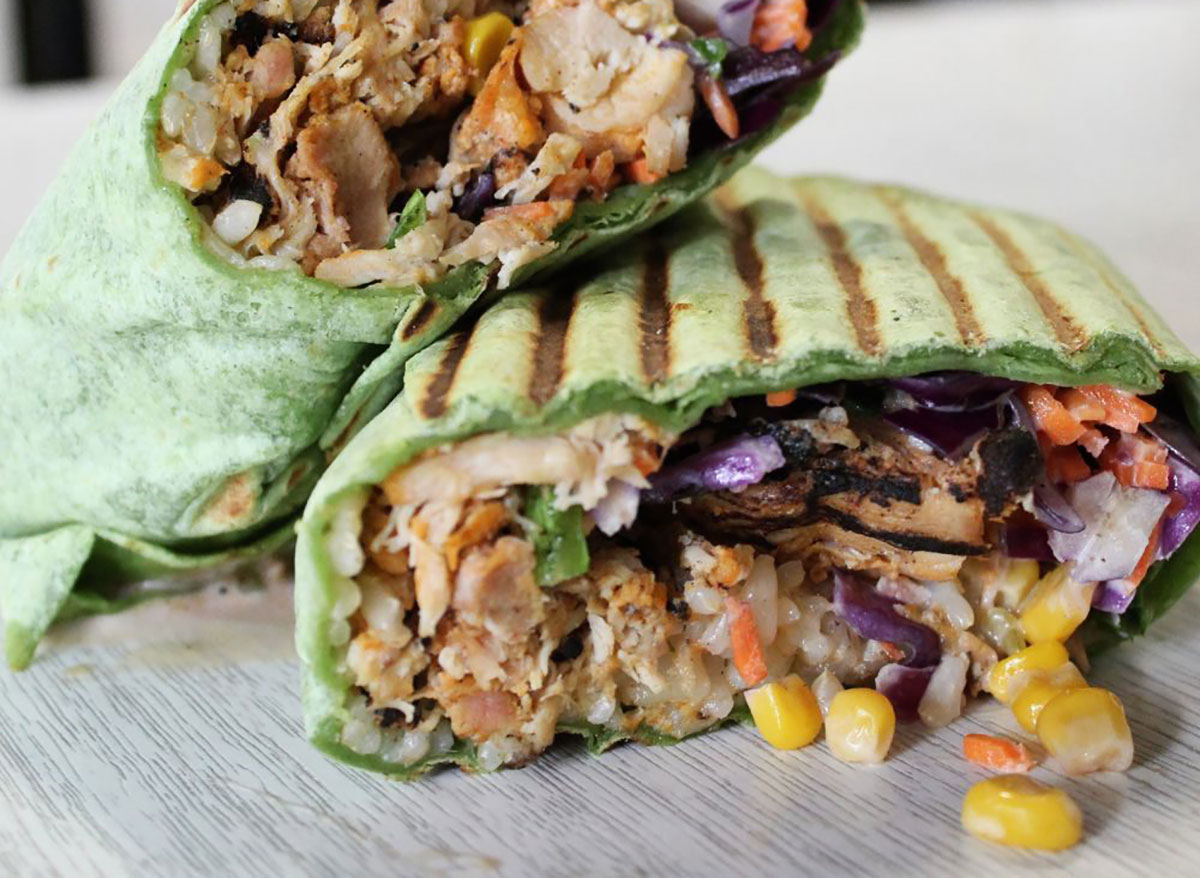 This Asian-inspired eatery offers wraps, bowls, and salads. They're picture-perfect, colorful, and healthy, too.
WEST VIRGINIA: Jersey Mike's Subs in Hurricane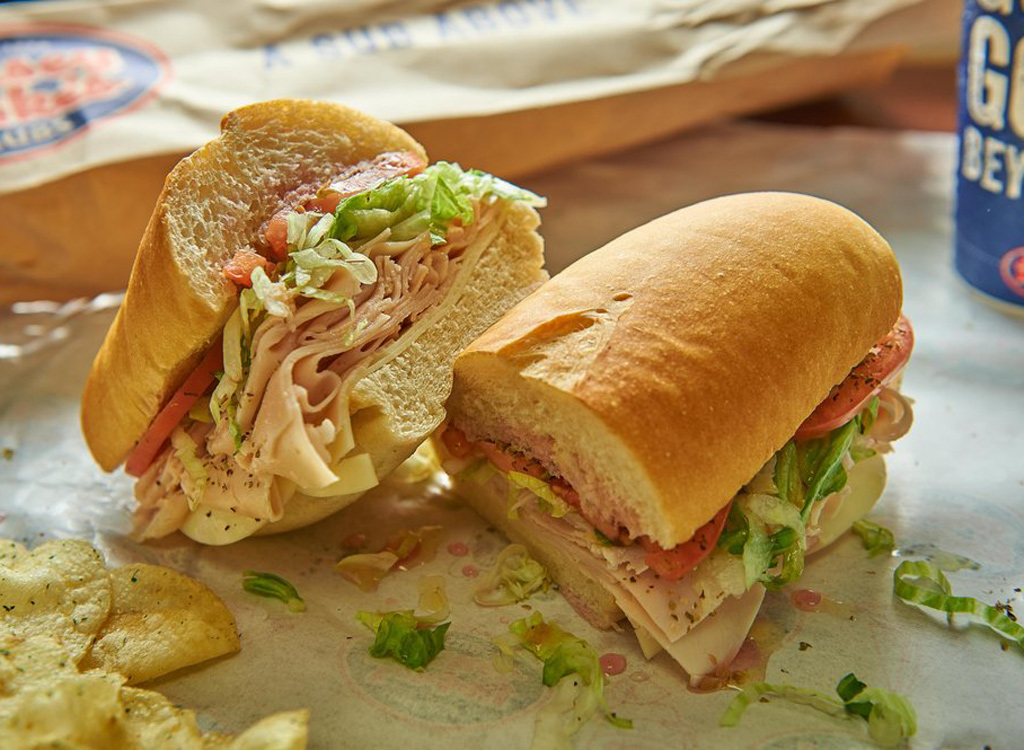 People in West Virginia like to keep things simple when it comes to fast food. So if they want a meal to go, Jersey Mike's Subs is an easy roadside stop that allows them to customize their sandwiches.
WISCONSIN: MOD Pizza in Fitchburg
No surprise here that the country's top dairy producer likes cheese with their pizza, and they can get it at MOD.
WYOMING: Chick-fil-A in Cheyenne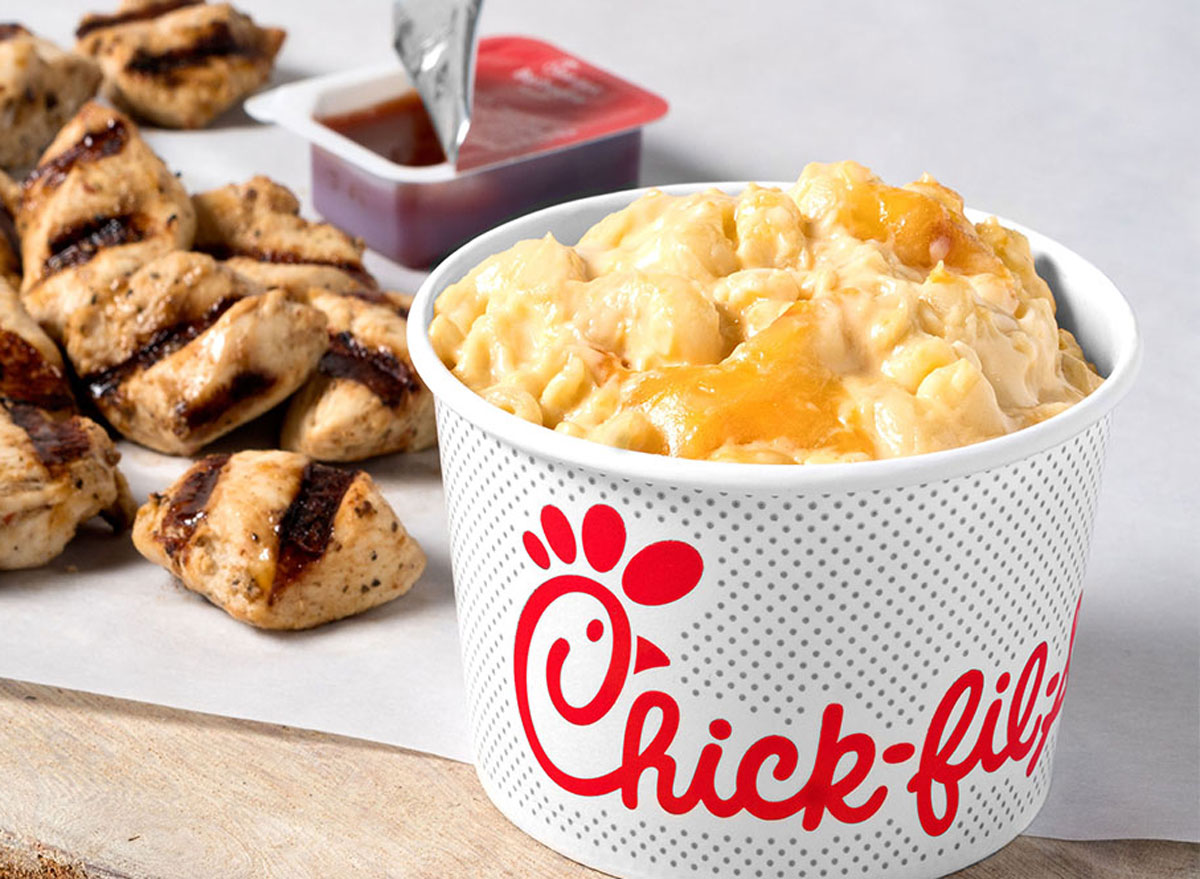 Even in the Cowboy state, they prefer Chick-fil-A over their ubiquitous game meats and stream-caught trout.
Now that you know more about the most popular fast-food chains in the United States, you'll be in good company next time you dine at one of these restaurants.
April Benshosan
April is a born-and-raised Brooklynite who has a passion for all things health, wellness, and tastebud-related.
Read more about April