10 Celebs' Go-To Starbucks Orders
Maybe try one of these the next time you're on a Starbucks run!
Everyone has their own go-to drink at Starbucks—even A-list celebrities. Whip or no whip? Hot or iced? Frappuccino or Refresher? Many celebrities have one or two favorite menu items at Starbucks, many of which you can easily order yourself to get a taste of this opulent lifestyle.
Of course, there are some celebrities notorious for complex, complicated drink orders that you can also try, if you don't mind irritating your barista.
Regardless of your taste preferences, you are sure to find a celebrity Starbucks order that you should try during your next visit. Here are some of the most famous Starbucks drink orders preferred by celebs. And if you want to get crafty at home, here are the 100 Easiest Recipes You Can Make.
Kim Kardashian: White Chocolate Mocha or Soy Chai Latte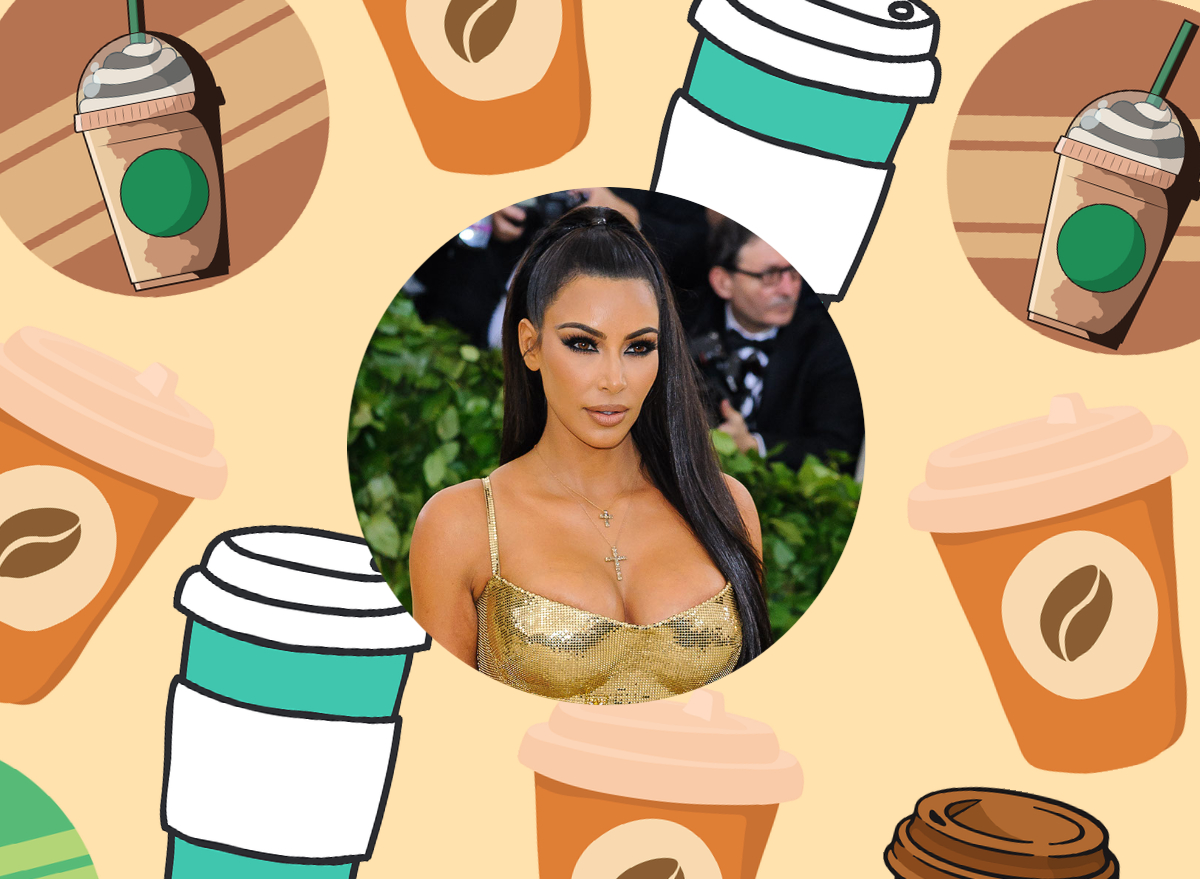 Many of the Kardashian-Jenner family have go-to orders at Starbucks. Kim Kardashian has a few drinks she prefers: a soy chai latte or a white chocolate mocha with whipped cream.
On Twitter, one fan asked the star's favorite drink, to which she replied, "Small size soy chai latte or smallest size white chocolate mocha with whipped cream. They have to be the smallest size or they don't taste the same to me."
Some of Starbucks' drinks can be high in sugar, so ordering the smallest size, called a "short," is actually a great idea if you are looking for a treat without the crash later in the day.
In a 2017 Ellen's Burning Questions video though, Ellen DeGeneres asked the Skims founder for her go-to Starbucks order. Kim replied, "I don't really drink coffee, but if I have to have one just to wake up I'll have the smallest size white chocolate mocha with whipped cream and take, like, three sips."
Three sips?! The willpower!
Kylie Jenner: Caramel Frappuccino or Passion Tea Lemonade
Like her sister Kim K, Kylie Jenner also has multiple favorites at Starbucks depending on her mood. On Twitter, she said the "caramel frap," or Caramel Frappuccino, is her favorite. On Instagram, she has also posted a photo holding the Passion Tea Lemonade with raspberry sweetener—in a cup much larger than the short version big sister Kim swears by.
The Passion Tea Lemonade option sounds like a refreshing, non-dairy option for warmer months, a welcome switch from the typical hot lattes. Plus it is a lower calorie, lower sugar drink.
Khloe Kardashian: Very Strong Chai Latte
Looking for Khloe Kardashian's exact order? In an online Q&A with her younger sister Kylie Jenner, Khloe said her usual order is a "venti, seven pump, no water chai latte," and that the seven pumps give the drink "just a little extra fabulousness."
You're not alone in feeling confused about this order. First, seven pumps?! That's a lot of sugar, so this certainly seems like more of an occasional treat than a daily pick-me-up. According to Today, a venti chai latte typically has five pumps of the chai tea concentrate, so it doesn't seem too far off to add a few extra. Until you realize that the unaltered 20-ounce chai tea latte has 52 grams of sugar! Then, nixing the water makes this drink extra-spicy and strong. What a drink, truly.
If you're looking to try and cut back on your sugar consumption, check out the science-backed way to curb your sweet tooth in 14 days.
Oprah Winfrey: Teavana Cinnamon Chai Latte
Oprah Winfrey's beloved Cinnamon Chai Latte is a far cry from the ultra-concentrated version Khloe Kardashian prefers, but it certainly sounds delicious. This latte includes black tea and rooibos, plus spices like cinnamon, cloves, cardamom, and ginger, all topped with steamed milk.
Starbucks worked with Winfrey in 2015 to donate funds from the Oprah Teavana Cinnamon Chai Latte purchases to the Oprah Winfrey Leadership Academy Foundation. While the specific Oprah/Teavana version is no longer available, but you can settle for the standard chai latte for a little taste of Oprah's favorite Starbucks drink.
Ariana Grande: Soy Cloud Macchiato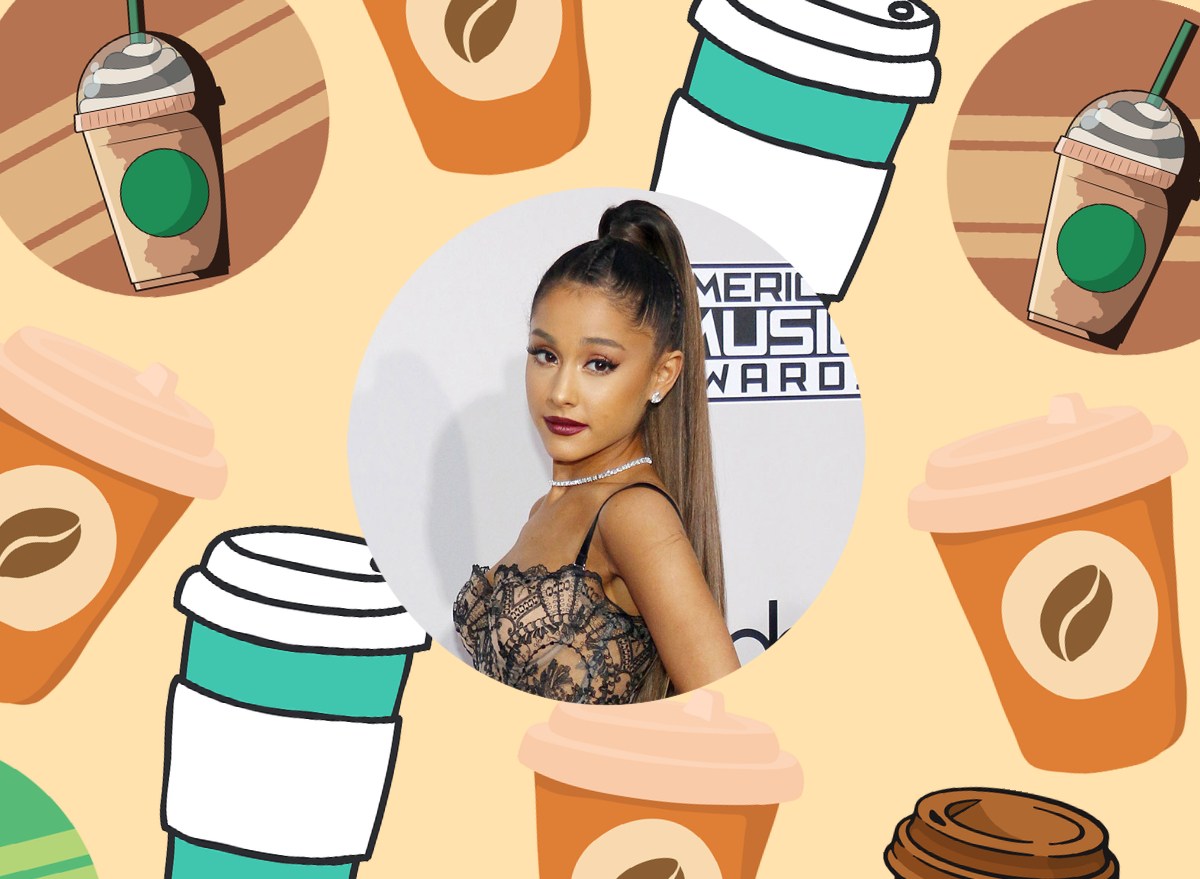 Before anything else, first, let's clear the air—no, Ariana Grande does not always order the grande-sized drink at Starbucks.6254a4d1642c605c54bf1cab17d50f1e
"No, sometimes I get that venti, you know? Some days that's what you need in your life," she said.
In 2019, the pop singer collaborated with Starbucks to launch the Soy Cloud Macchiato, really the Cloud Macchiato but she recommends, via hashtag, to "#trythesoyversion."
But the collaboration was controversial. See, the Cloud Macchiato cannot be made vegan, as the foam can't be made without egg white powder. Grande is vegan, causing a wave of confusion. It's been said that her actual preferred drink is a soy latte, which she ordered during her Carpool Karaoke segment on The Late Late Show with James Corden.
Lady Gaga: Matcha Lemonade
Back in 2017, Starbucks launched a Cups of Kindness collection with the one and only Lady Gaga. This lineup included four colorful, non-dairy drinks: matcha lemonade, violet drink, ombre pink drink, and pink drink, most of which have probably dominated your Instagram feed since they launched.
The Mother Monster, as she is sometimes known, said, "I adore the entire collection and I instantly fell in love with the Matcha Lemonade."
No twists or special orders here, Little Monsters. The drink is made with just matcha green tea shaken with lemonade and ice.
Britney Spears: Passion Tango Tea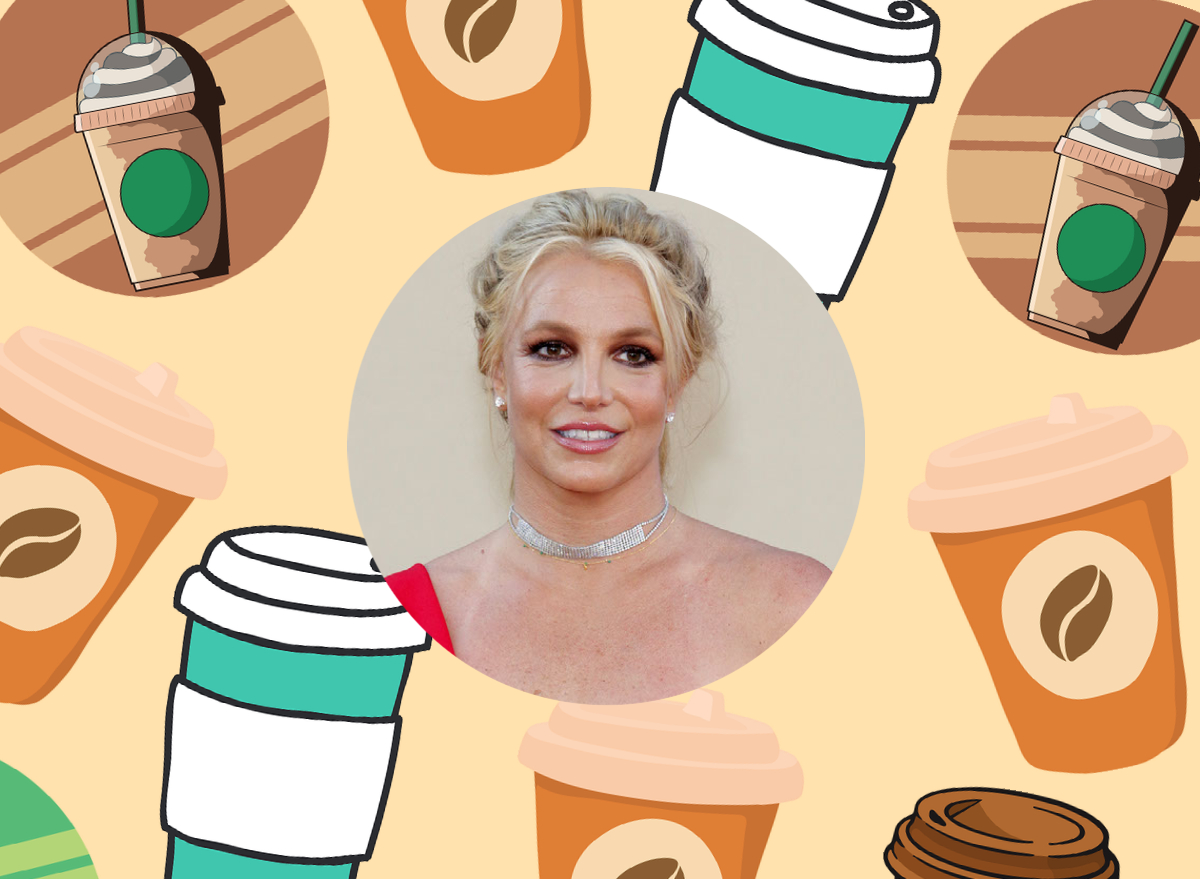 Remember Britney Spears' iPhone app? The game involved a journey to becoming a superstar, and it all starts in a "Starbeans," based on Spears' love of Starbucks.
Following the app's launch, Cosmopolitan reached out to Spears and asked her favorite drink, to which the star responded, "Passion Tango Herbal Tea is my drink of choice."
This bright pink tea has flavor notes of hibiscus, lemongrass, and apple. It doesn't come with sweetener or milk, either, making it a zero-calorie, zero-sugar drink that is seriously refreshing.
Katy Perry: Tall Soy Vanilla Latte
It's no surprise that celebrities want to keep a low profile when running their errands. One stellar Starbucks employee, Jason King, kept from blowing Katy Perry's cover while she ordered her favorite tall Soy Vanilla Latte from a store in Chicago.
As a gesture of her gratitude, Perry tweeted, "Dear Jason @Starbucks on Ohio & N State in Chicago, you make a mean soy latte."
King's manager saw the tweet and showed the barista, who kindly responded, "Every customer is special and deserves the best beverage I can make. I do have to say it's amazing to say I've made a latte for Katy Perry. I'm still smiling about it."
Can we request King to make our Soy Vanilla Lattes, too, please?
And we have to wonder—are the baristas spelling names incorrectly just in case we are famous and trying to keep it on the down-low?
Taylor Swift: Iced Caramel Latte or Iced Americano with Sweet'n Low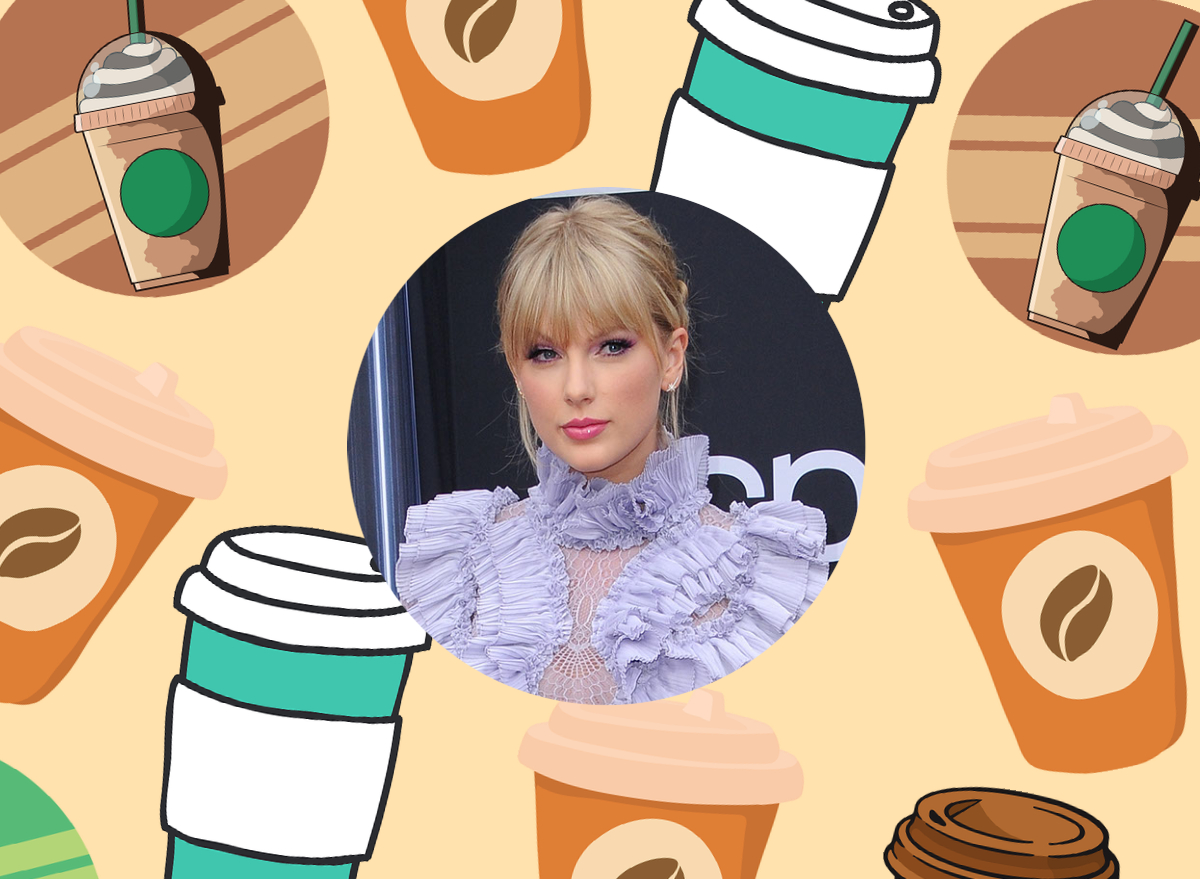 According to an old tour rider, Taylor Swift prefers a grande Iced Caramel Latte with two packets of Sweet'n Low or a grande Iced Americano with, again, two Sweet'n Lows.
While it might seem smart to swap sugar for an artificial sweetener, like Sweet'n Low, these sugar substitutes can be risky to health.
As always, everything in moderation. So if you are a major Swiftie looking to try her favorite drinks, enjoy these beverages on occasion!
Mary-Kate Olsen: Chai and Skim Lattes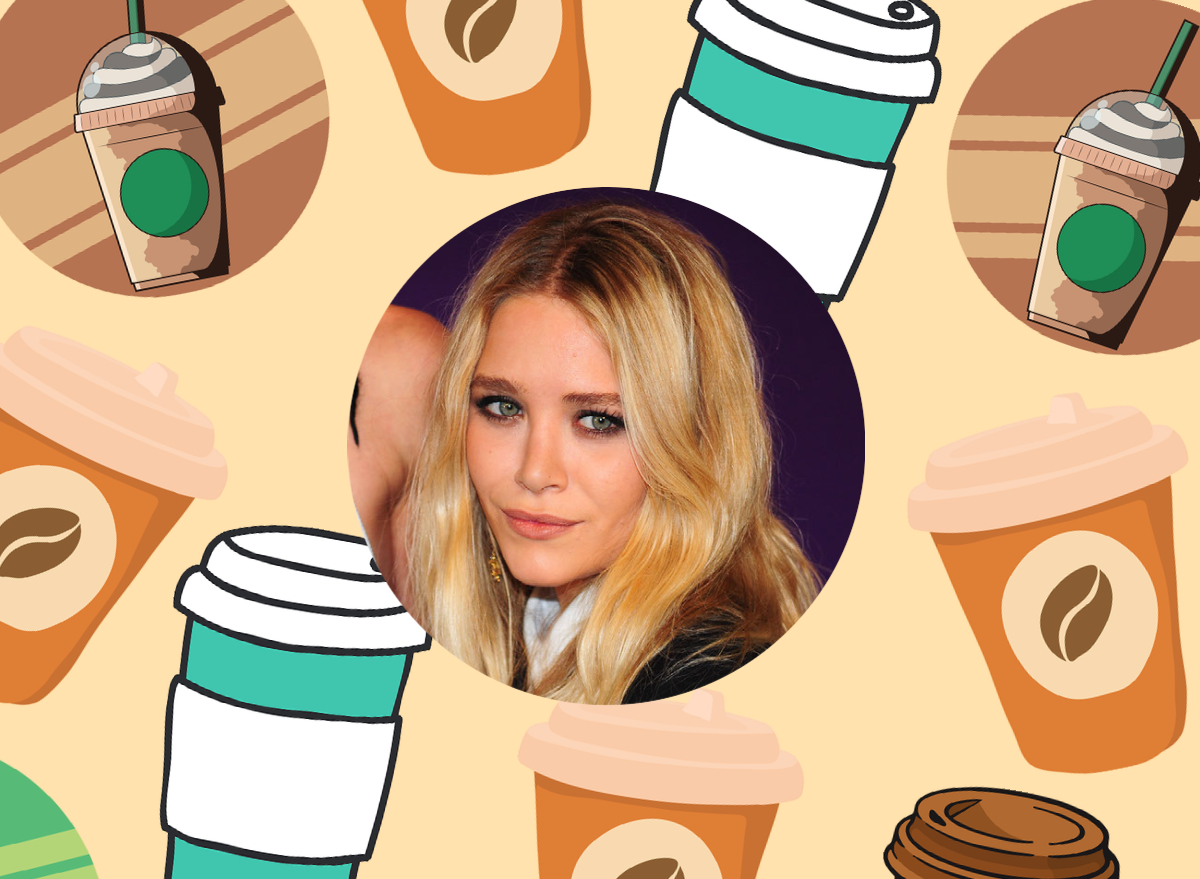 The Olsen twins have been spotted time and time again with Starbucks in hand.
So what are they drinking?
In an interview with W Magazine, reporter Marshall Heyman unveiled that Mary-Kate drinks up to four ventis a day, two of which are either a chai latte—which seems to be very popular among the stars—or a skim latte.
And when she really wants a jolt of energy, MK said she goes for a red eye, which is a shot of espresso in a regular coffee.
Paige Bennett
Paige is a Los Angeles-based editor and freelance writer. In addition to writing for Eat This, Not That!, she works as the content editor for Inhabitat.
Read more about Paige