I Tried Patrick Schwarzenegger's 'Brain Boost' Protein Bars—Here's What I Thought
Brain foods protect from chronic illnesses like Alzheimer's and other dementias.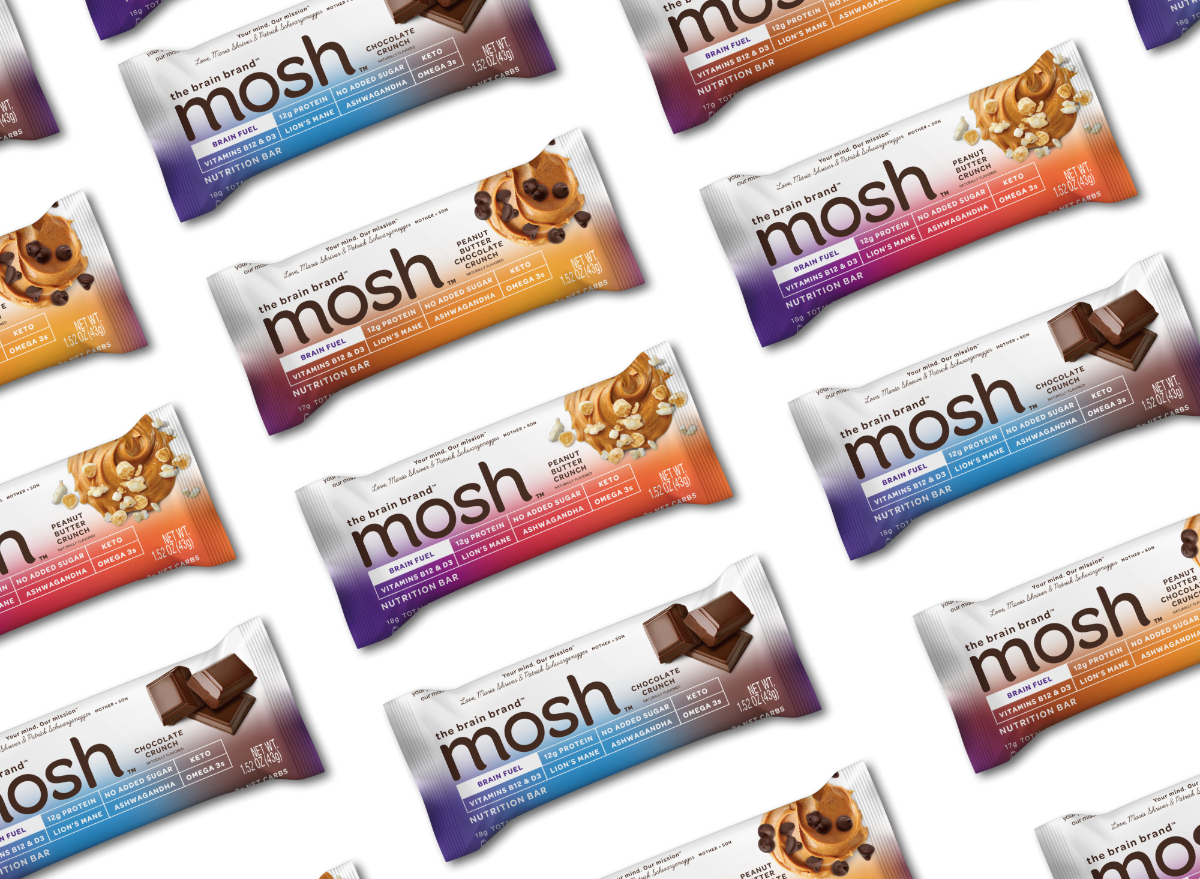 There are a lot of protein bars on the shelves these days, so it's not easy figuring out which brand is best for you. Some are secretly loaded with sugar, others contain artificial ingredients that our bodies certainly don't need, and some have barely enough protein to qualify as a "protein bar." So when I heard about MOSH, a protein bar "made for your brain," I knew I had to try it.
But what does brain health even mean and how could a protein bar impact it? Eat This, Not That! reporting shows that the best brain foods are the ones that protect from chronic illnesses like Alzheimer's and other dementias, while also keeping our heart and blood vessels healthy. Certain nutrients are known to improve brain health, and MOSH bars are packed with them.
After sampling the MOSH bars for myself, I chatted with co-founders Maria and Patrick Schwarzenegger to get the full scoop. Read on for my full review of these bars and what the Schwarzeneggers have to say about their creation.
Next, check out Eating Habits Kate Moss Follows To Feel Great.
The mother-son duo works well together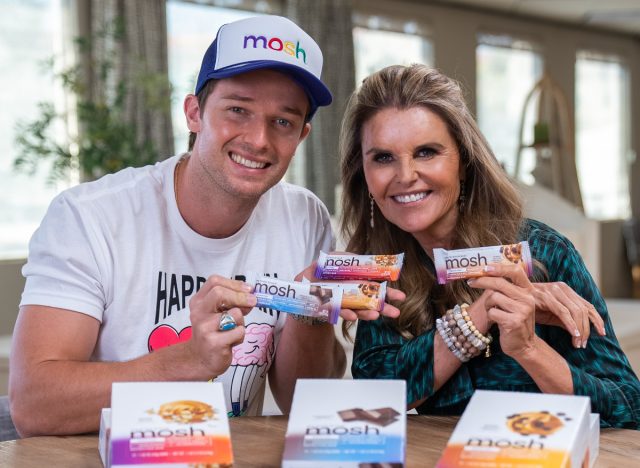 Although it was Maria who kickstarted the idea for a brain-healthy protein bar, she couldn't have executed it without her son. "When Patrick said to me, 'well if you keep getting no for an answer and people keep turning you down, accept that is an opportunity to step into your own power—and bet on you.' So, I did just that and we've been off to the races ever since," shares Maria.
The 28-year-old actor built the brand up alongside his mother. "[Patrick's] been able to engage people his own age along with people my age who are interested in this space," explains Maria. "Ironically a lot of the young people are answering the call for better brain health having experienced a parent, or grandparent with Alzheimer's—or having struggled with their own mental health challenges so now they want to get involved." We love a family company!
They're healthy for your body & brain
Each MOSH bar contains seven brain nutrients and superfoods: lion's mane, ashwagandha, MCT oil, omega 3s, collagen, vitamin B12, and vitamin D3. "We worked alongside a team of world-class brain health experts and functional nutritionists for over a year-and-a-half tweaking and perfecting the recipe," explains Patrick. "MOSH was intentionally developed to not only fill a void in the market– a protein bar with this blend of vital brain nutrients did not exist—but to include many of the vitamins and supplements Maria had been prescribed by the best brain experts."
While many other bars I've tried focused on body fitness or muscle recovery, these bars draw attention to a somewhat overlooked body part to take care of: our mind. With Mental Health Awareness Month just behind us, MOSH bars made me feel great about providing my brain with the nutrients it needs. "We want people to think about their brains the same way they think about their abs, biceps, and thighs. Through MOSH, we will inspire and empower every generation to proactively care for and nourish the health of their brain. After all, it's your #1 asset," says Maria.
But just because MOSH bars promote brain health doesn't mean they can't also support other areas of your body. With no added sugar, clean ingredients, and 12 grams of protein in each bar, MOSH provides you with the energy you need in a healthy way.
They weren't an instant success
It's hard to imagine that these popular bars were once turned down by a ton of companies. But it all comes back to brain health and recognizing its importance. "I'm on the road, in my car, on an airplane, and I need a source of protein and a source of brain fuel," says Maria. "I pitched my vision to bigger companies for several years and they passed. Nobody I spoke to understood the importance of eating for brain + body health—they felt the consumer wouldn't be interested in brain health—but boy were they so wrong."
Since moving forward with MOSH, the Schwarzeneggers have promoted conversations around brain-body health. Eat This, Not That! reporting shows that cognitive decline doesn't appear much until our late sixties and early seventies, but taking care of our brains now should be a top priority. Other brain-healthy foods include blueberries, eggs, whole grains, nuts, and fish.
They taste delicious
Besides brain health, the Schwarzenegger's also wanted to make sure MOSH bars taste great. I've had my fair share of protein bars, and MOSH is definitely top-ranked when it comes to flavor. I tried three flavors: Chocolate Crunch, Peanut Butter Chocolate Crunch, and Peanut Butter Crunch. Key word here: crunch. The crunchy outside texture with the soft inside chew is, quite simply, delicious. As I'm a chocolate fanatic, my favorite was naturally Chocolate Crunch. But it seems Maria and Patrick have a different go-to bar…
Patrick says his favorite is "Peanut Butter Chocolate Crunch because it's the best of both worlds!" and Maria agrees—"Peanut Butter Chocolate Crunch! Take a bite, and you'll see why."
The verdict
Taking into account brain health advocacy, expert-decided nutrients, and flavor, MOSH bars will definitely be in my pantry. I'll also be on the lookout for upcoming MOSH products, as Patrick hints at new things in store: "Our larger goal for MOSH is to build a company that over time will make products and everyday essentials that are good for your brain and that will also fund brain health research to help find a cure for Alzheimer's."6254a4d1642c605c54bf1cab17d50f1e
My overall rating? 10/10—I'm on board with brain health, and you should be too. "Our company is born out of a mission, and we want to always stick to that mission," says Patrick. "We are attracting a community of brain health warriors and empowering people of all ages to be proactive and care for their brains."
Check out the nutritional info for each bar below:
Peanut Butter Chocolate Crunch
PER SERVING
: 170 calories, 9 g fat (2.5 g saturated fat, 0 g trans fat), <5 mg cholesterol, 15 mg sodium, 18 g carbs (4 g fiber, 1 g sugar), 12 g protein
Peanut Butter Crunch
PER SERVING
: 180 calories, 10 g fat (3 g saturated fat, 0 g trans fat), <5 mg cholesterol, 95 mg sodium, 17 g carbs (4 g fiber, <1 g sugar), 12 g protein
Chocolate Crunch
PER SERVING
: 160 calories, 8 g fat (3.5 g saturated fat, 0 g trans fat), <5 mg cholesterol, 50 mg sodium, 17 g carbs (4 g fiber, 1 g sugar), 12 g protein
Mia Salas
Mia is a freelance writer for several publications and a soon-to-be graduate from Princeton University with a degree in English.
Read more about Mia