8 Fast-Food Chains With the Most Toxic Food Packaging
New research identified food wrappers and burger boxes with highest levels of PFAS.
When you chomp into a savory hamburger or nosh on crispy french fries purchased at your favorite fast-food restaurant, more than likely the last thought on your mind is whether or not you're ingesting toxic chemicals with each delicious bite. But, perhaps you should be thinking about it, especially in light of a recent Consumer Reports (CR) investigation.
In a detailed report, CR revealed their experts tested multiple food packaging samples of 118 products sold by 24 different restaurant and grocery chains between August and November 2021. Why? They were looking for perfluoroalkyl and polyfluoroalkyl substances, more commonly known as PFAS. PFAS are considered "forever chemicals" because they stick around long after they're created and contaminate our soil, water, and even the air. The issue is, research has shown that some PFAS, which can collect in our bodies over time, can be harmful to human and animal health.
And don't miss 12 Fast-Food Chains That Use the Lowest Quality Beef.
"Studies have shown that PFAS exposure in mothers is associated with lower birth weight in their babies and a shorter period of breastfeeding. PFAS are also associated with decreased thyroid and kidney function," says Susan Pinney, Ph.D. of the Department of Environmental and Public Health Sciences at the University of Cincinnati College of Medicine. "There is some scientific evidence that suggests that PFAS are associated with some cancers such as kidney, testicular, breast, and prostate."
According to CR's investigation, eight national fast-food and fast-casual restaurants made the "naughty list" for having at least one food packaging item (i.e., a sandwich wrapper, a paper bag for sides, or a kids' meal fiber tray) that tested positive for high levels of PFAS (anything over 100 parts per million). The eight "Bad-Wrap" list-makers include names like Arby's and Burger King, and there are specific packaging items that were found to be most toxic at each restaurant.
How did we get here?
The first PFAS chemical, which later became known as Teflon, was accidentally discovered by a chemist named Roy Plunkett in 1938 at a DuPont Company factory. Teflon and other PFAS—there are now more than 9,000 known PFAS in existence—make our lives a tad more convenient because they have properties that resist corrosion, withstand high heat (i.e., non-stick pans), and repel water (i.e., water-proof clothing). They can also be used to make paper food packaging materials less likely to absorb grease or salad dressing so consumers don't have to deal with soggy wrappers or plates. The problem is, studies now show PFAS can migrate into our food, especially foods that are salty, fatty, or acidic.
"Avoiding greasy fingers is not worth the risk of getting cancer," said Emily Rogers, Zero Out Toxics Advocate for PIRG (Public Interest Research Group). "They [PFAS chemicals] shouldn't be anywhere near our food or our bodies given the fact that they are toxic and linked to cancer, fertility issues, and a wide swath of health issues. The convenience that these chemicals have provided over the past 50-plus years aren't worth the health risk."
The most toxic eight
Consumer Reports tested its collection of food packaging samples for "total organic fluorine content" because "all PFAS contain organic fluorine," the report stated. The eight restaurants on this list had at least one—some had more; one had five—food packaging items with over 100 parts per million (ppm) total organic fluorine, effectively a measure of PFAS levels. Anything containing more than 100 ppm organic fluorine will be banned in California starting in January 2023.
Below is the list of the most toxic food packaging items, ranked by increasing levels of PFAS.
Taco Bell's chip bag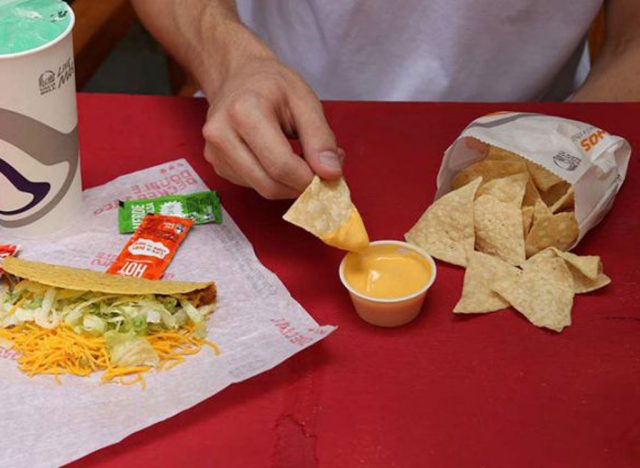 Taco Bell's bag for tortilla chips was found to contain 145 ppm organic fluorine.6254a4d1642c605c54bf1cab17d50f1e
In 2020, the chain made a pledge to remove PFAS, Phthalates, and BPA from all consumer-facing packaging materials by 2025.
McDonald's fry bag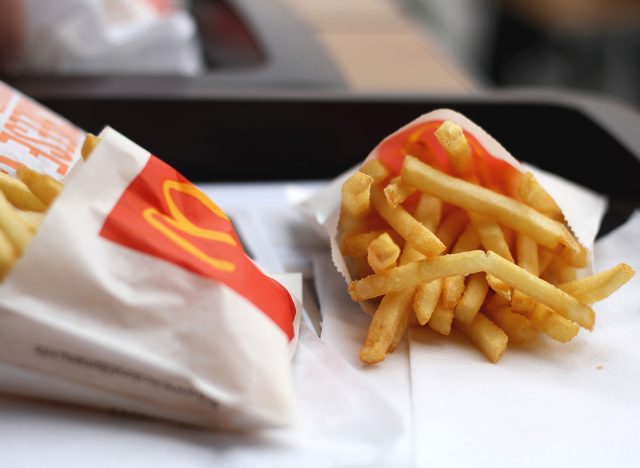 McDonald's had several packaging items containing levels of organic fluorine above 100 ppm levels. Its paper bag for French fries was the worst at 250.3 ppm, followed by the bag for cookies at 250 ppm, the bag for chicken McNuggets at 219 ppm, and the Big Mac container at 195.3 ppm.
Looks like Mickey D's has a lot of work to do to stay in compliance with California's new regulation next year. The chain has previously pledged to ban PFAS until 2025.
Sweetgreen's bread bag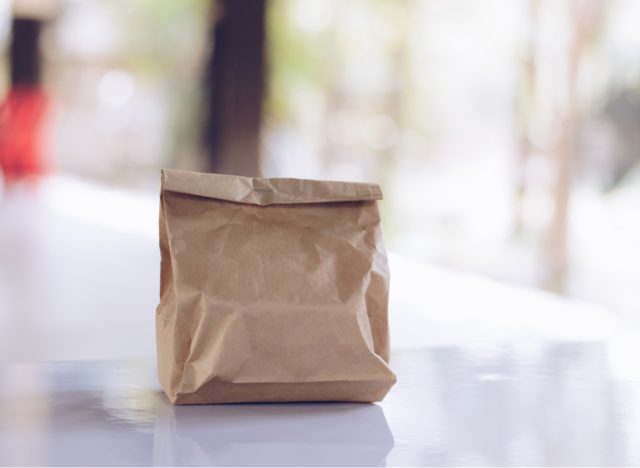 The salad chain's paper bag for focaccia was found to contain 288 ppm organic fluorine.
Sweetgreen did not respond to our requests for comment. However, the chain did tell Consumer Reports: "We may have trace amounts of fluorine in our bowls. Unfortunately, PFAS are a widespread problem and are present in everyday life from tap water to air to soil."
Burger King's bag for sweet treats
Burger King's paper bag for cookies and French toast sticks was a high offender with 345.7 ppm organic fluorine. The chain's Whopper Wrapper and bag for chicken nuggets also contained levels higher than 100 ppm, which will be banned in California starting next year.
Restaurant Brands International, the chain's parent company, published an official statement for Burger King, Tim Hortons, and Popeyes brands the same day CR's investigation was published, stating they plan to eliminate PFAS from all consumer packaging globally by the end of 2025 or sooner.
Arby's cookie bag
Arby's paper bag for cookies was at 457.5 ppm organic fluorine.
Inspire Brands, the parent company for Arby's, did not respond to our requests for comment.
Chick-fil-A's sandwich wrapper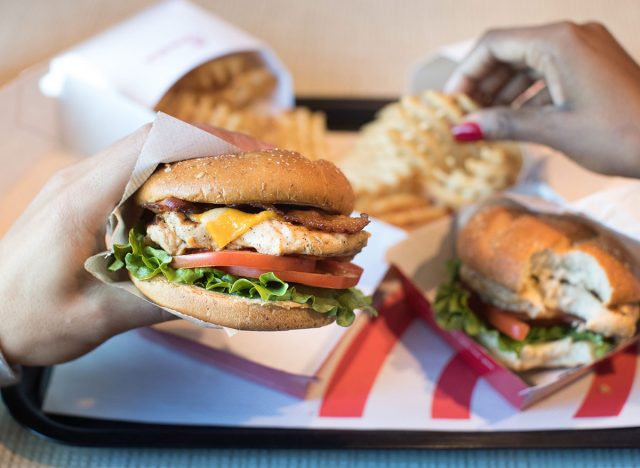 The chicken chain's sandwich wrapper was found to have 553.5 ppm organic fluorine—a high offender on the list.
A spokesperson from Chick-fil-A responded to our request for comment with the following statement: "Chick-fil-A has eliminated intentionally added PFAS from all newly produced packaging going forward in our supply chain. While some legacy packaging may still be in restaurants, it is expected to be phased out by the end of this summer."
CAVA's kids meal tray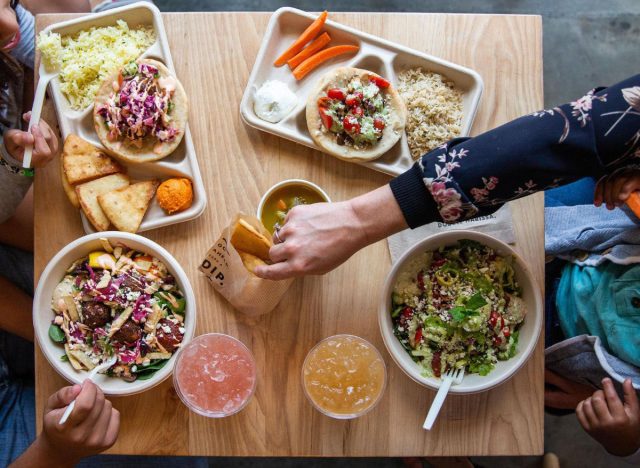 CAVA's fiber tray for kids meals was found to have 548 ppm organic fluorine, while its fiber bowl for grains was at 508.3 ppm. In fact, the chain had five items over 100 ppm, including a wrapper for pitas and a bag for pita chips.
"We remain committed to eliminating added PFAs from all food packaging and have partnered with like-minded new suppliers that are equipped to meet CAVA's commitment to responsibly sourced packaging with no added PFAs," the chain told Eat This, Not That!. "Due to a multitude of factors related to the pandemic, and especially global supply chain shortages, the transition to eliminating added PFAs, which began in August of 2021, is taking longer than planned. Our teams are working with our suppliers to complete the transition within the year."
Nathan's Famous bag for sides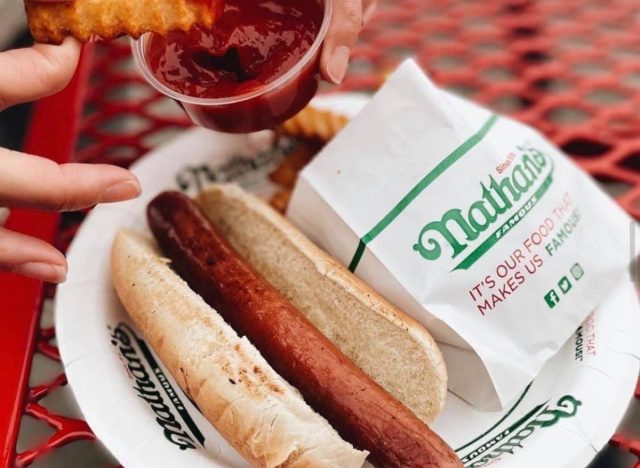 Nathan's paper bag for sides with a green stripe was found to have the highest level of PFAS out of all the items tested, with 876 ppm organic fluorine. The chain's paper bag with a red stripe fared only slightly better at 618 ppm. Its sandwich wrappers were at 104 ppm.
Nathan's Famous told Consumer Reports it was redoing its packaging and that it is eliminating the aforementioned packaging items that top this list.
These restaurant chains have safer food packaging
Short of avoiding dining out at fast-food and fast-casual restaurants completely, you can take steps to protect yourself from ingesting high levels of PFAS. Rogers suggested choosing restaurants that have already taken a stand on banning PFAS. Conversely, the CR investigation showed that Smashburger, Shake Shack, Popeyes (only 2 items tested), Wendy's, Freshii (only 2 items tested), and Five Guys had packaging that tested below 20 ppm PFAS or had none detected at all.
There are also petitions you can sign:
PIRG's petition that focuses on getting legislative action to ban PFAS in food packaging can be found here.
Mind the Store's petition that focuses on getting retailers (including the fast-food chains) to phase out PFAS can be found here.
Consumer Reports listed a petition in its report as well, specifically targeting Arby's and Nathan's Famous. It can be found here.
"People shouldn't have to be investigators trying to figure out which packaging has these chemicals. The system should be set up so that we are able to purchase things confidently and know that they don't contain toxic chemicals," Rogers concluded.
With organizations and consumer advocacy groups like PIRG, Mind the Store, and Consumer Reports continuing the fight, we just may get there one day.
LaRue V. Gillespie
LaRue V. Gillespie is a journalist, freelance writer, and content creator who has written about health/wellness, mental health, fitness, nutrition, beauty, and lifestyle for the last two decades.
Read more about LaRue