Severe COVID-19 Cases Linked to This Other Health Issue, Experts Say
New research reveals a possible link between the infectious disease and eye health.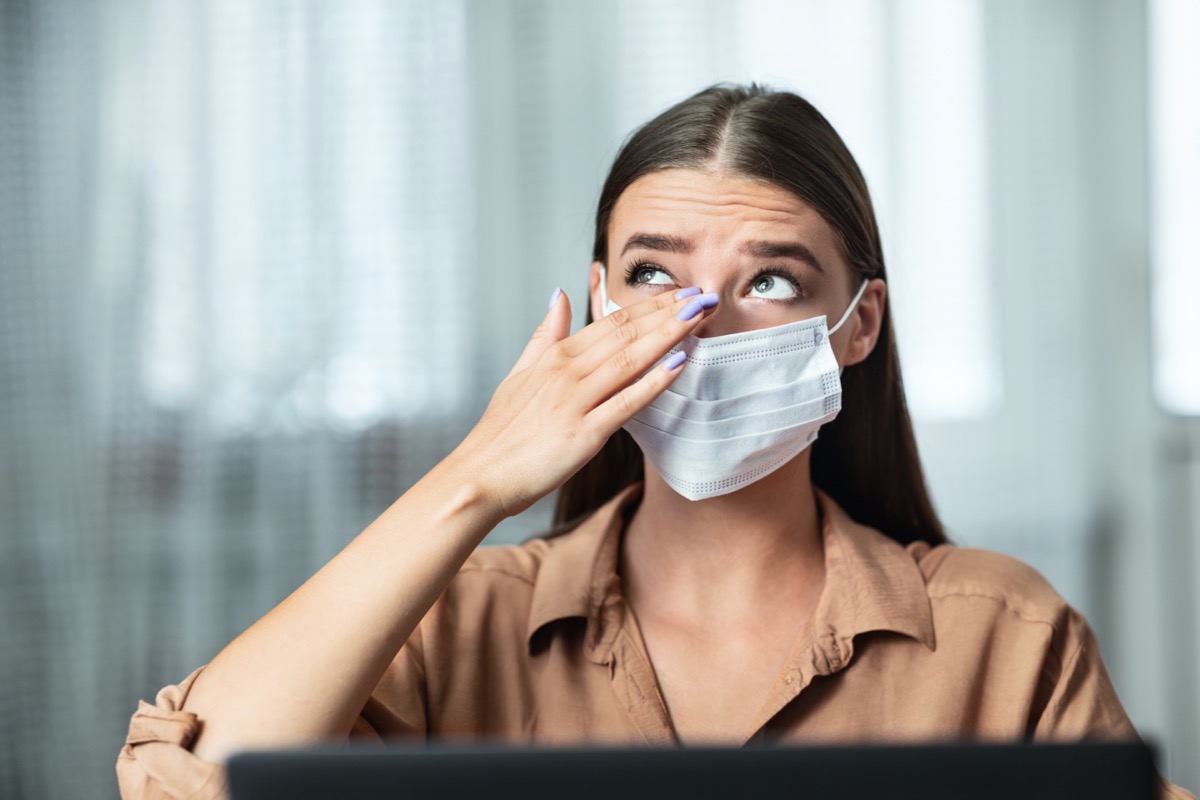 The COVID-19 pandemic is far from over and scientists and researchers alike continue to aggressively study the infectious disease caused by the SARS-CoV-2 virus. Lately, you've likely read more about which symptoms are known to linger as well as the various health conditions that can arise post-recovery.
A new study published in Radiology suggests that those who suffered from extreme COVID-19 cases may be at higher risk of eye health abnormalities. The study, which was conducted from March-May 2020 on 129 subjects through the French Society of Neuroradiology, found that nine of them had abnormal MRI findings in the eyeball. It's important to note that eight of the nine had spent time in the ICU with a severe case of COVID-19. (Related: The One Vitamin Doctors Are Urging Everyone to Take Right Now).
The abnormalities? One or more nodules were found on the back of the eye that could eventually lead to blindness if not treated. The research notes, however, that there were other factors at play in the study. For example, seven of the nine people were in the prone position (lying on their stomachs) while in the ICU for an extended period of time. Researchers believe this position could have caused the nodules to appear due to inadequate drainage of the veins around their eyes.6254a4d1642c605c54bf1cab17d50f1e
Additionally, two people had diabetes, two people had hypertension, and six were obese, all of which can hinder eye health. Still, Benjamin Bert, MD, ophthalmologist at MemorialCare Orange Coast Medical Center in Fountain Valley, CA, says there is still much to be studied with regard to how COVID-19 can affect the eyes.
He notes that recent research, "showed changes to the inner tissues of the eyes, including the retina, which appear to be most consistent with inflammation occurring in the blood vessels." This is consistent with the findings of this study as well, with experts saying viral infection can affect blood vessels, which could then lead to the development of nodules. He adds that earlier research revealed a link between COVID-19 and conjunctivitis (pink eye).
However, neuro-ophthalmologist Howard R. Krauss, MD, who is a clinical professor of ophthalmology and neurosurgery at Saint John's Cancer Institute at Providence Saint John's Health Center in Santa Monica, pointed out a few flaws in the study. The biggest of which is that MRIs are not designed to examine the eyes and that the inflammation could be caused by a number of things.
"As to the abnormalities noted in this study, they are localized to the optic nerve head or retina, but are non-specific; they may represent areas of swelling in reaction to infection, immune system reaction, bleeding or circulatory insufficiency and they could be secondary to the treatment of the disease rather than the disease itself," he says.
While this study has provided preliminary research on a possible link between severe COVID-19 cases and deteriorating eye health, both doctors said that the key takeaway is that it's not a guaranteed association. In addition, routine eye exams (even during the pandemic) are vital. It is also worth noting that researchers who conducted the study pointed out that caring for the patients in the ICU in regard to COVID-19 was prioritized over doing a deeper dive on how the eyes were affected.
"What we definitely know, is that during the pandemic, patients have been concerned about coming in for their routine eye care," Bert says. This winter, sure to schedule an eye exam and up your intake of foods that help improve your vision.
For more COVID-19 news, make sure to sign up for our newsletter.
Hedy Phillips
Hedy is a freelance writer with years of experience covering buzzy food trends, wellness, and weight loss.
Read more about Hedy