Workers Reveal the Reasons Behind Rampant Food Safety Issues at This Chain
The chain has had numerous foodborne illness outbreaks in recent years.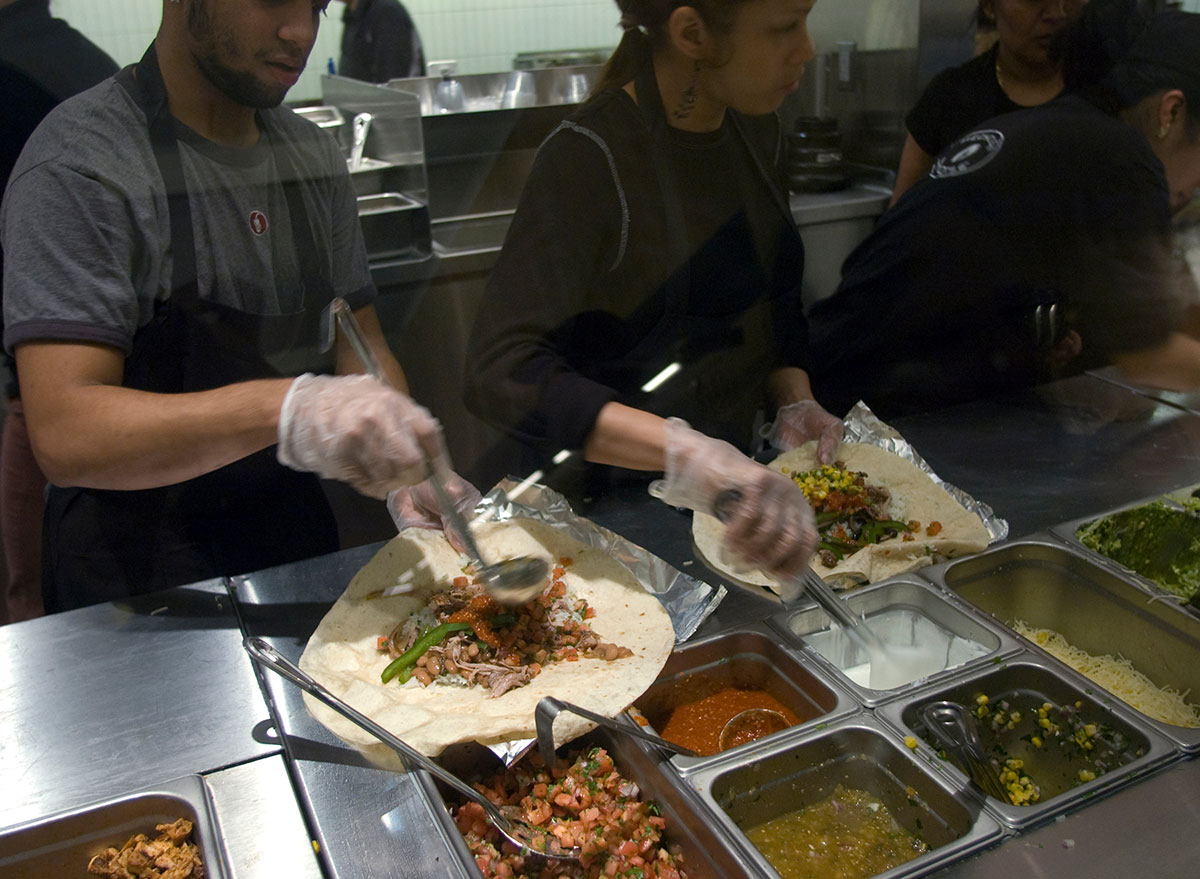 No fast-food brand is immune to occasional slips in food safety standards, especially when operating thousands of locations across the country. But when it comes to major cases of food poisoning, no other national fast-food chain has been in the spotlight quite as often as Chipotle. And a recent behind-the-scenes look provided by anonymous employees may help explain why the fast-casual Mexican brand continues to drop the ball on preventing foodborne illness.
According to Jacobin magazine, Chipotle's restaurants are understaffed and its staff overworked, which leads to frequent violations of food safety codes. According to the publication, workers allege that cross-contamination is frequent, and that food isn't always kept at mandated temperatures. One worker said the only time the staff at their location observes handwashing requirements is during a health inspection.
RELATED: This Once-Popular Sandwich Chain Is on a Steep Decline6254a4d1642c605c54bf1cab17d50f1e
Additionally, Chipotle has been accused of forcing employees to work even when they're sick, which is in violation of their company policy. One such case of an apprentice manager, who had been required to work while sick for several days, was identified as the cause of a 2015 norovirus outbreak at a Chipotle location in Boston, which led to 141 cases of illness. The chain is currently being sued by the city of New York for violating workers' rights, including not providing the mandated minimum of 40 hours of sick leave per year.
One of Chipotle's main points of differentiation among the competition seems to be at odds with its operational model—the chain prepares all of its food on-site by hand which is labor-intensive, but at the same time incentivizes managers to keep labor costs down, according to Jacobin.
"When a restaurant is short-staffed and the employees are overworked, they have no choice but to cut corners to meet corporate's expectations," an anonymous corporate employee told the magazine. "That can lead to food safety issues."
And food safety issues have been rampant at the chain. Chipotle's wholesome, health-forward reputation took a major downturn when a series of foodborne illness outbreaks caused by Norovirus, Salmonella, and E. coli sickened more than 1,100 people between 2015 and 2018. The chain's negligent attitude toward maintaining health standards was serious enough to warrant criminal charges—the Justice Department charged Chipotle with violating federal law by adulterating food. The chain agreed to improve its food safety program as well as pay a $25 million criminal fee to avoid conviction, the largest-ever fine of its kind, according to Food Safety News. Currently, a Chipotle location in Denver is being investigated for a new norovirus outbreak.
Chipotle didn't immediately respond to our request for comment.
For more on Chipotle, check out:
And don't forget to sign up for our newsletter to get the latest restaurant news delivered straight to your inbox.
Mura Dominko
Mura is ETNT's Executive Editor, leading the coverage of America's favorite restaurant chains, grocery stores, and viral food moments.
Read more about Mura