How a Nutritionist Spends $100 on Groceries
Take an inside look at what happens when a nutritionist hits the supermarket.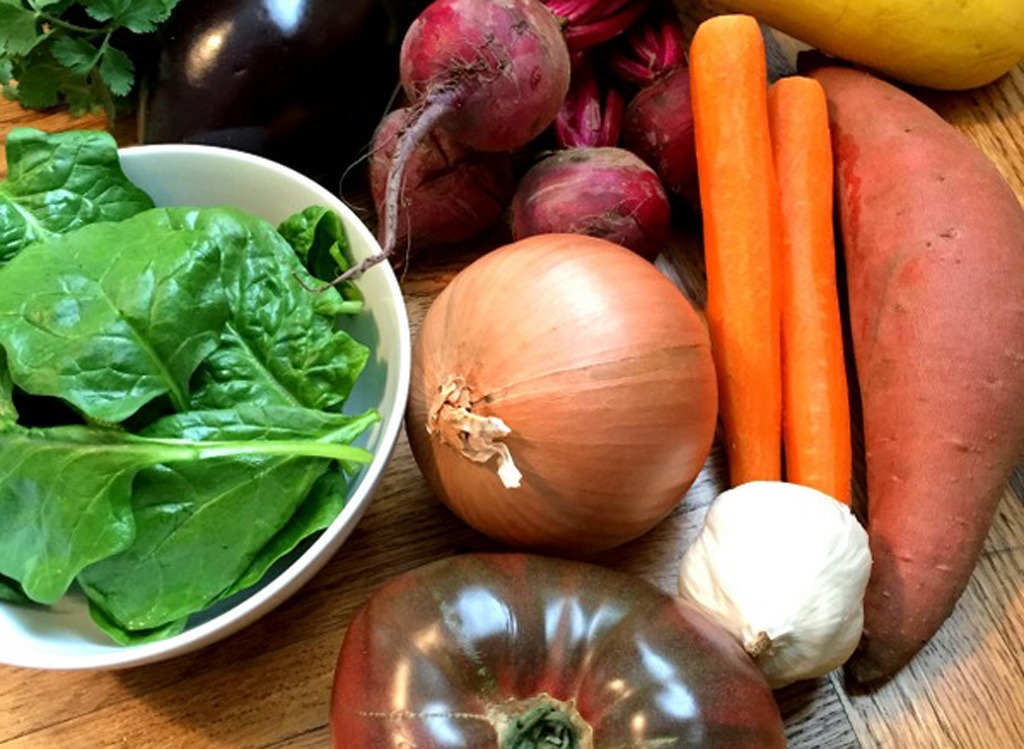 It may just be because I work in media, but I'm fascinated by the private lives of celebrities and experts—especially those with vast talents and knowledge. (Sorry Kim K., you don't make the cut.) I'm the type of person who doesn't just want to buy the Insanity DVD, I want a copy of Shaun T's personal workout so I can follow it to, well, a T (pun intended)! And I don't just want to take advice from weight loss gurus; I want to step into their kitchens and see what's actually in their cabinets. Are they really eating the foods they suggest to our readers? Are their freezers all secretly stashed with magical weight loss popsicles?! I had to find out! So, I approached Sarah Koszyk, RDN, a weight management specialist, sports dietitian, and founder of Family. Food. Fiesta., and asked her to chronicle her next trip to the grocery store. And to keep things interesting, we only gave her $100 bucks to spend on her bounty.
Here, Sarah tells us in her own words exactly how she used the cash—and why she decided to purchase each item. Read on to find out what she had to say! And for more ways to save money on your groceries—without sacrificing taste or nutrition—check out these 17 Simple Ways to Save $255 a Month on Groceries!
Take it away, Sarah…
Almonds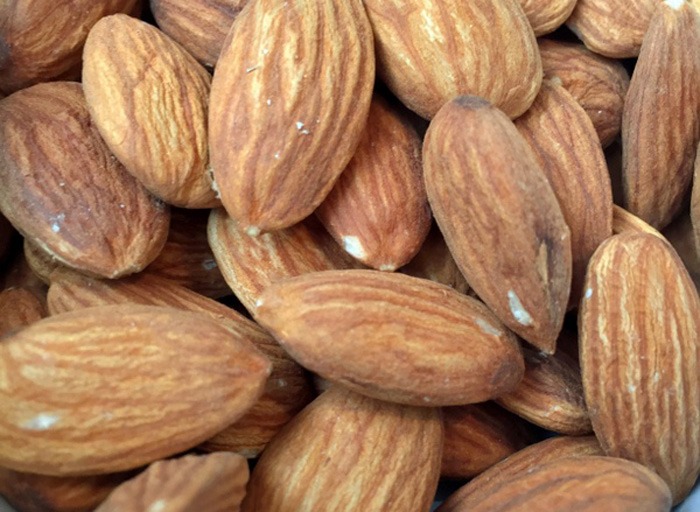 Cost: $2.39 from the bulk bin
Almonds are one of my favorite nuts because they are packed with vitamins, minerals, satiating fiber, and muscle-repairing protein. Almonds have also been shown to help lower cholesterol levels, reduce the risk of cancer, and aid weight management. I love keeping them on hand for a quick grab-n-go snack.
Walnuts
Cost: $2.40/0.30 lbs. from the bulk bin
Walnuts contain omega-3 fatty acids which can enhance mood by boosting levels of the "happy" hormone, serotonin. Walnuts are also a source of heart-healthy fat and fiber, a nutrient that boosts satiety. I like to make my own trail mix by combining walnuts, almonds, sunflower seeds, no-sugar-added dried fruit, and some dark chocolate chips.
Ground Flaxseed Meal
Cost: $4.19
Ground flaxseed meal is not only jam-packed with omega-3 fatty acids and protein, it also contains lignans, phytonutrients that regulate hormone levels and help alleviate premenstrual symptoms. Lignans also contain antioxidants that support the immune system and reduce stress hormones. But that's not all this superfood can do. Thanks to its high fiber content, flax can also help control blood sugar levels. Once you open the package, store it in your fridge to extend its shelf life. (It reduces the oxidation.) I add flax to my yogurt, oatmeal, and smoothies.
Hass Avocado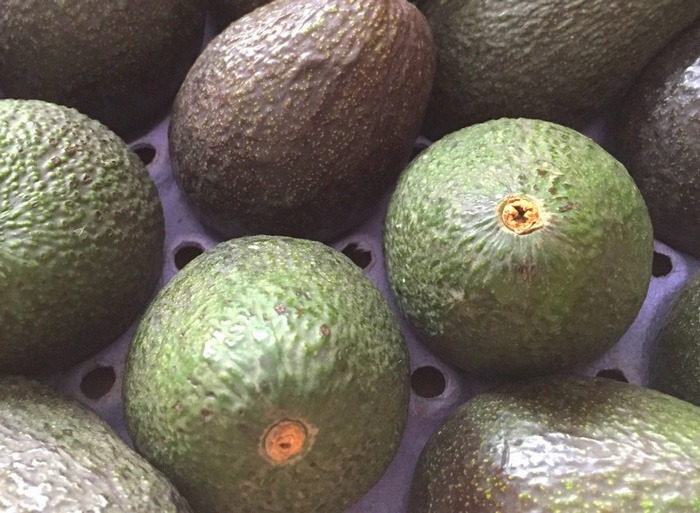 Cost: $2.00/0.31 lbs.
Avocados are wonderful sources of vitamin C, potassium, fiber, and heart-healthy monounsaturated fats. While vitamin C helps bolster immunity and keeps our skin young and vibrant, potassium wards off bloat and high blood pressure. I'm a huge fan of avocado toast for a mini-meal or snack. For more flat belly avocado inspo, check out these delicious avocado recipes for weight loss.
Coconut Oil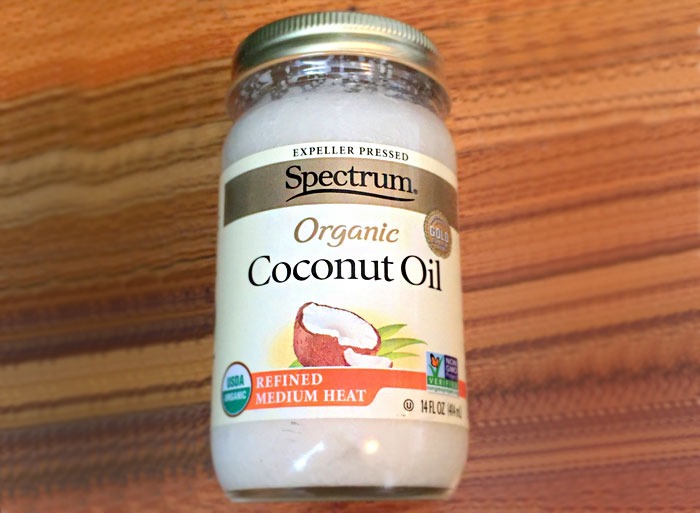 Cost: $6.49
Coconut oil is a wonderful oil to cook with because it can tolerate high temperatures. (Just don't deep fry your food with the stuff.) The tropical oil is also beneficial for heart health and weight loss, as it converts into energy more easily than other types of fat. Bonus: Coconut oil can also be used as a lotion or hair conditioner. I love dual-purpose foods!
Dave's Killer Bread
Cost: $5.99
When shopping for bread, I look for loaves that contain at least 5 grams of fiber per slice. Dave's Killer Bread 21 Whole Grains and Seeds contains both fiber and protein for an extra filling and satisfying food. At my house, we often use bread to make toast topped with either smashed avocado or sardines. For more carbs that will help you get a flat belly, check out ETNT's exclusive report, 25 Best Carbs for Weight Loss.
Oatmeal
Cost: $3.00
Packed with fiber, calcium, and potassium, oatmeal has been found to improve blood sugar levels, reduce the risk of heart disease, and assist with bone health. In my home, we enjoy eating oatmeal with ground flaxseed meal, blueberries, strawberries, and a little bit of coconut oil. I purchased a container by Quaker.
Black Rice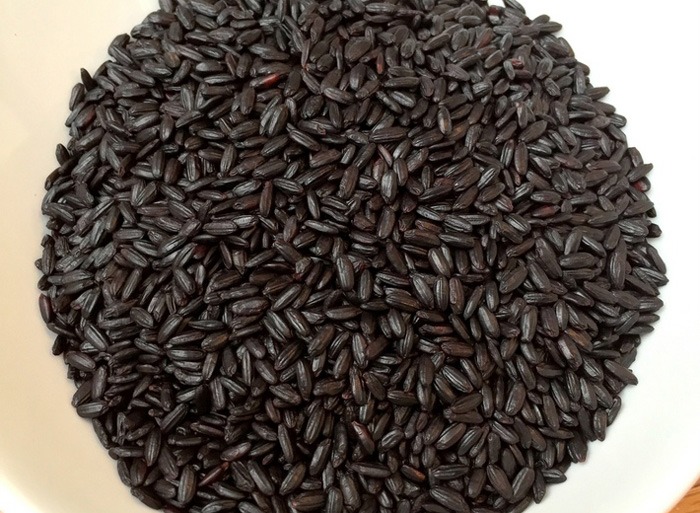 Cost: $3.86/1.29 lbs. from the bulk bin
Plain ol' rice can get boring. So sometimes, I jazz things up with some exotic black rice, which gets it's dark hue from a class of antioxidants called anthocyanins. According to researchers, consuming anthocyanins may prevent cardiovascular disease, protect against cancer, and improve brain function. Black rice also contains 5 grams of protein per half cup serving. Not too shabby! Pair it with some veggies and one of these healthy chicken recipes for a well-rounded meal.
Adzuki Beans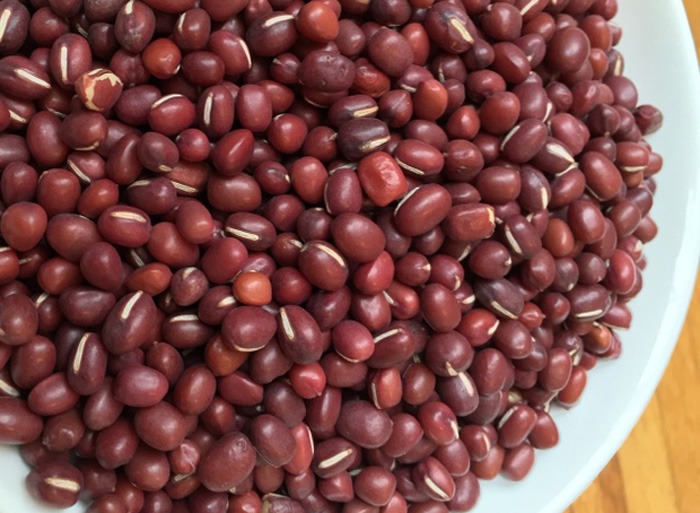 Cost: $1.43/0.72 lbs. from the bulk bin
This Asian-native serves up 9 grams of protein per half-cup. The beans are loaded with fiber, a nutrient that improves digestive health and regulates blood sugar levels. Worried you're not getting enough of it in your diet? Add some adzuki beans to your plate and read up on these 10 Easy Ways to Eat More Fiber.
Black Beans
Cost: $1.00
Black beans contain fiber, potassium, folate, and vitamin B6, which can help lower cholesterol, improve blood sugar regulation, and even reduce the risk of some cancers. When buying beans from a can, I always look for reduced salt or no added sodium. In addition, I rinse the beans in a colander to remove additional excess salt.
Garbanzo Beans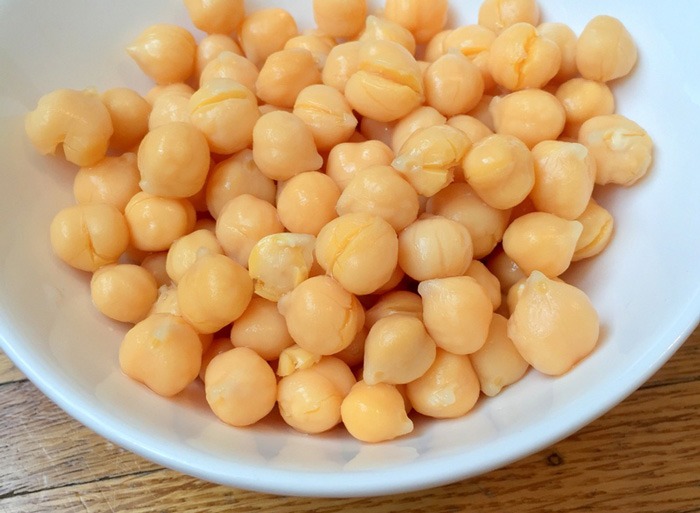 Cost: $1.00
Garbanzo beans, or chickpeas, are an another bean staple in our home. I'm a big fan because they're inexpensive yet still provide a solid hit of fiber, protein, and folate, a vitamin that wards off osteoporosis and helps combat heart disease. Chickpeas can be used to make hummus, or they can be tossed into salads, stir-fries and soups. The options are truly endless. For more creative ways to use the mighty pulse, check out these 20 Amazing, Surprising Ways to Eat Chickpeas.
Sardines in Olive Oil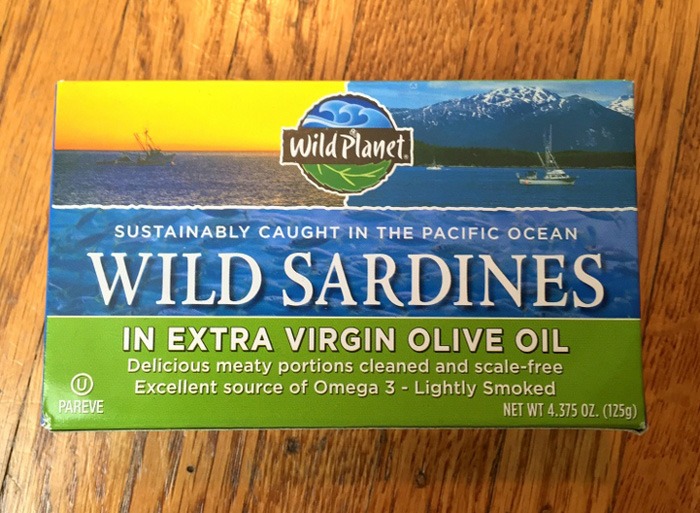 Cost: $2.49
Sardines are a great source of protein, omega-3 fatty acids, and vitamin B12, a nutrient important for maintaining healthy red blood cells and preventing Alzheimer's disease. Plus, the olive oil the fish is packed in, is rich in heart-healthy monounsaturated fats. Enjoy your sardines over some toast as a snack or pair the duo with a veggie-packed salad as a light meal. For even more healthy meal ideas, check out these 20 Make-Ahead Meals to Keep in Your Freezer.
Wild Salmon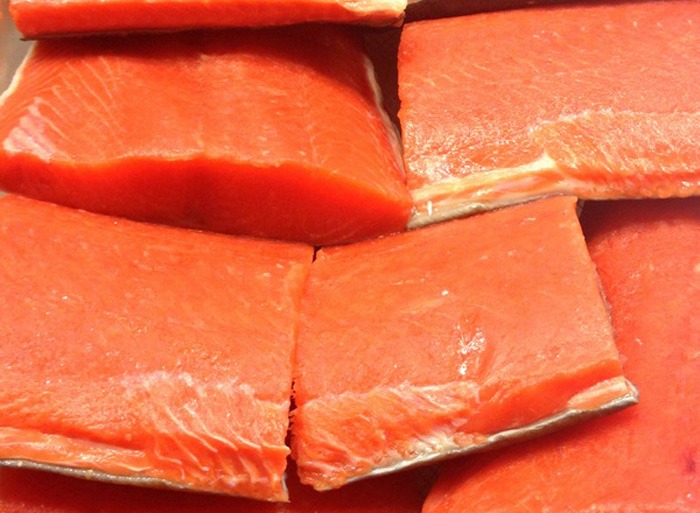 Cost: $7.59/1.15 lbs.
If you haven't already guessed, I love seafood! Wild salmon is another great source of protein and omega-3 fatty acids. Omega-3s have been found to improve mood and reduce the risk of heart disease and diabetes. This fatty fish is a weekly staple in our home. Check out these 10 Salmon Recipes for Weight Loss to incorporate this protein-packed superfood into your weekly lineup, too.
Azumaya Tofu
Cost: $1.50
Not only is tofu a great source of protein, it's very affordable and easy to use in many dishes. Firm tofu is best used in stir-fries and stews while soft tofu adds a great consistency to smoothies and sauces.
Cage-Free Eggs
Cost: $4.99
If you constantly find that your tummy is rumbling soon after you finish your breakfast, consider cracking open an egg or two next time. The protein and fats found in the egg shell work together to boost satiety. Eggs are also full of B-vitamins and choline which are important for brain development, muscle health, and energy levels. For a quick snack, I like to eat a hard-boiled egg with some avocado slices or a piece of fruit. I purchased Barnstar free-range eggs. For more ways to add eggs into your diet plan, check out these 25 Healthy Egg Recipes to Stay Skinny.
Greek Yogurt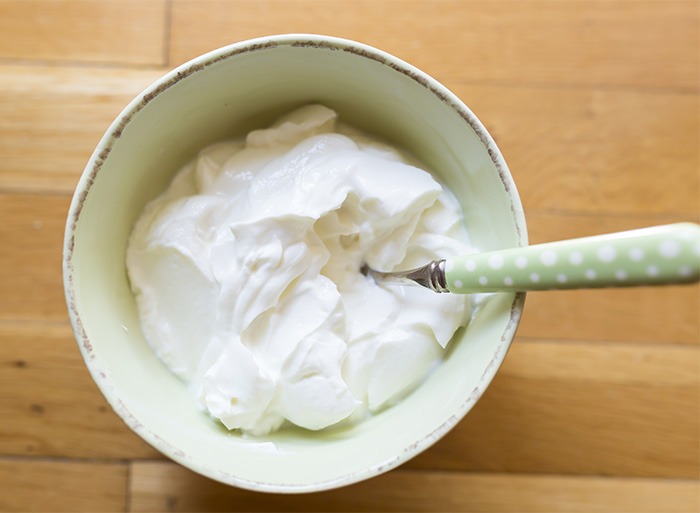 Cost: $1.34/container
Not only does Greek yogurt contain a ton of protein, it also serves up vitamin D and gut-repairing probiotics. When buying Greek yogurt, stick to the plain flavor and add fruit to naturally sweeten it up. Nature's candy will provide additional vitamins and fiber, two things that syrupy "fruit on the bottom" stuff cannot claim.
Sweet Potatoes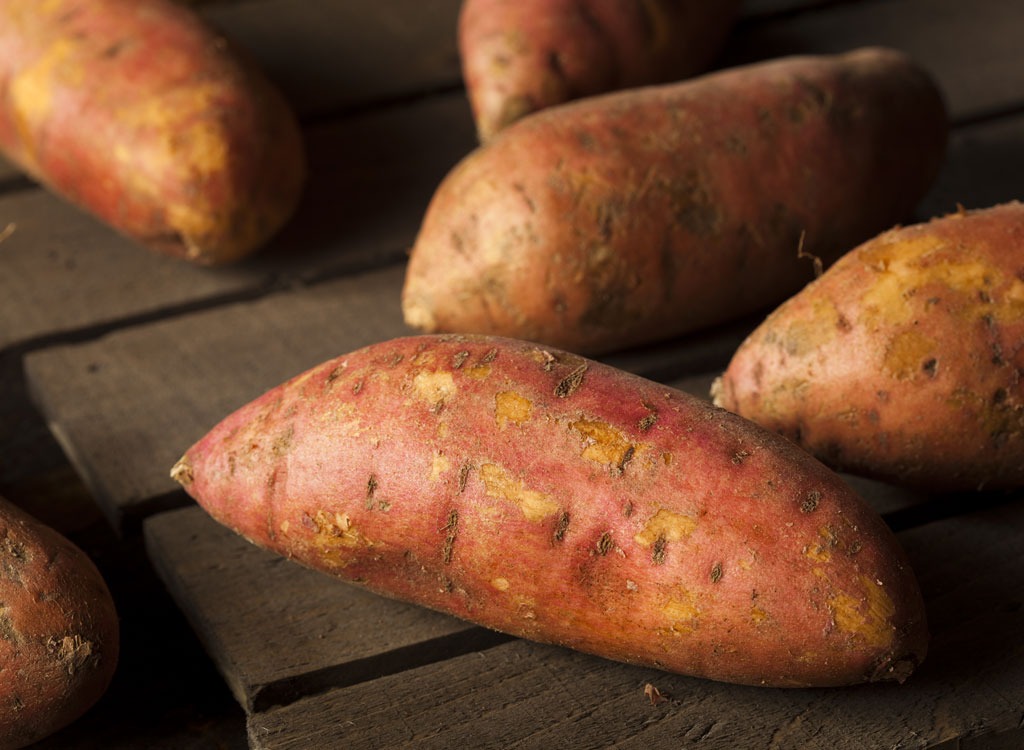 Cost: $1.57/0.79 lbs.
Sweet potatoes and yams are filled with fiber, potassium, and carotenoids, a nutrient that benefits skin, eyes, and teeth.I love roasting a batch of sweet potatoes over the weekend so I have a quick snack or side dish to nosh on during the week.
Onions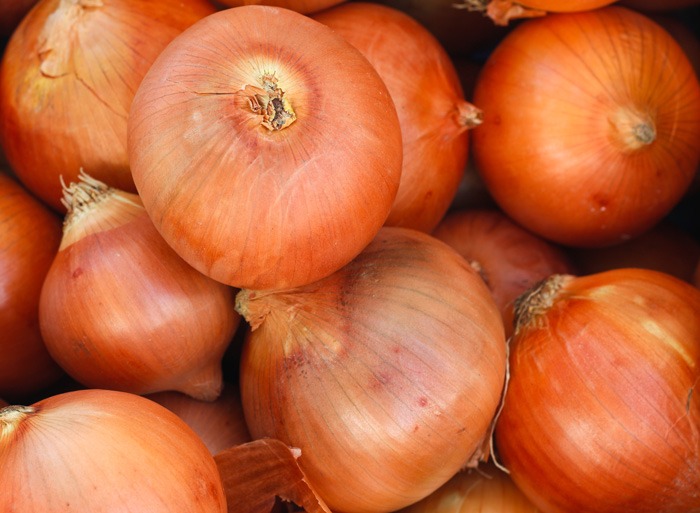 Cost: $1.71
When buying fruits and vegetables, I make sure I grab something of every color—even white! That's because each hue provides a different health and nutritional benefit. Onions, for example, increases blood flow and improve immunity. Not to mention, they add a ton of low-calorie flavor to a wide variety of dishes.
Garlic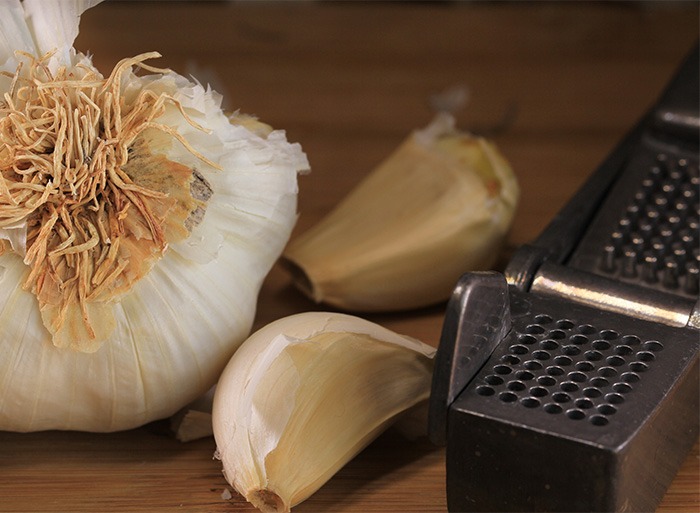 Cost: $0.50
Not only are onions and garlic great flavoring agents, they improve bone health and protect the body from tissue damage.
Heirloom Tomatoes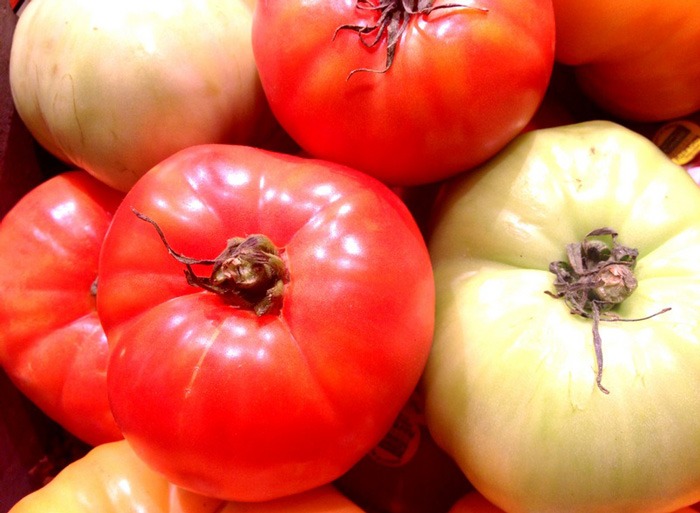 Cost: $5.74/1.15 pounds
I love a juicy, flavorful tomato, and heirloom tomatoes are just that. I'm obsessed! Tomatoes contain lycopene, a cancer-fighting antioxidant which gives the tomato its red coloring. They're also known for having anti-inflammatory benefits, rejuvenating skin, and reducing the risk of heart disease.
Frozen Mixed Vegetables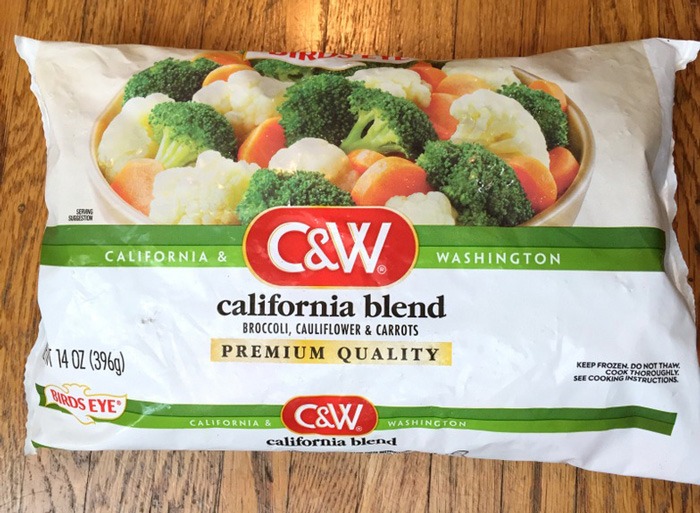 Cost: $2.00
Despite conventional wisdom, frozen vegetables are very healthy—if you pick up the right bag, at least. Look for a bag that's filled with veggies, maybe some spices, and nothing else. Frozen vegetables are great to keep on hand so you're able to include veggies in your meals—even if you can't make it to the store. I always have a bag or two in my freezer. This medley comes with cauliflower, broccoli, carrots, which could easily be used to make a quick and healthy pasta or stir-fry dish.
Organic Beets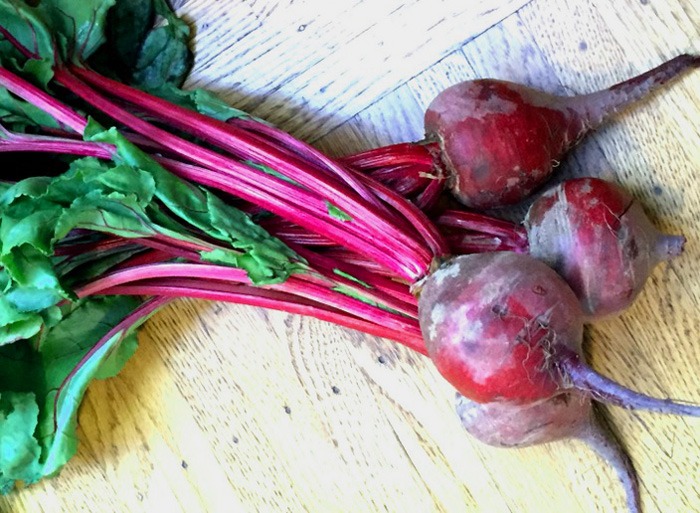 Cost: $2.99
Beets are an amazing, versatile vegetable, that has two edible parts: the root and the greens. The root portion tastes wonderful roasted while the leafy portion fairs well sautéd or as part of a smoothie. Why should you eat 'em? Beets (one of The 40 Best-Ever Weight-Loss Superfoods) are rich in anti-inflammatory properties and blood vessel-dilating nitrates, which may aid athletic performance by increasing oxygen flow during exercise. The better your workout, the better your body will look and feel!
Carrots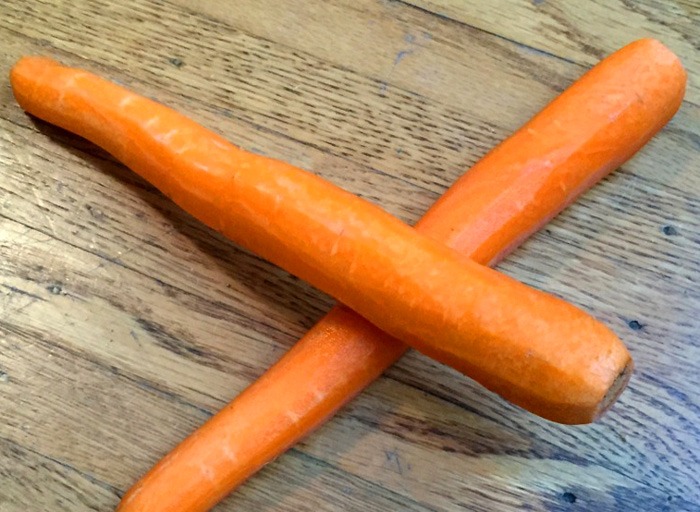 Cost: $0.31/0.31 lbs
Carotenoids, the nutrient that gives carrots their orange hue, is great for eye health and chock-full of anti-aging properties. I love using carrots in salads, soups, and stews. I also enjoy eating them raw with hummus and others dips.
Yellow Squash
Cost: $1.58/0.53 lbs.
Not only does yellow squash contribute to my yellow vegetable goal for the week, it also provides extra texture when added to smoothies, without having an overpowering, intense flavor.
Spinach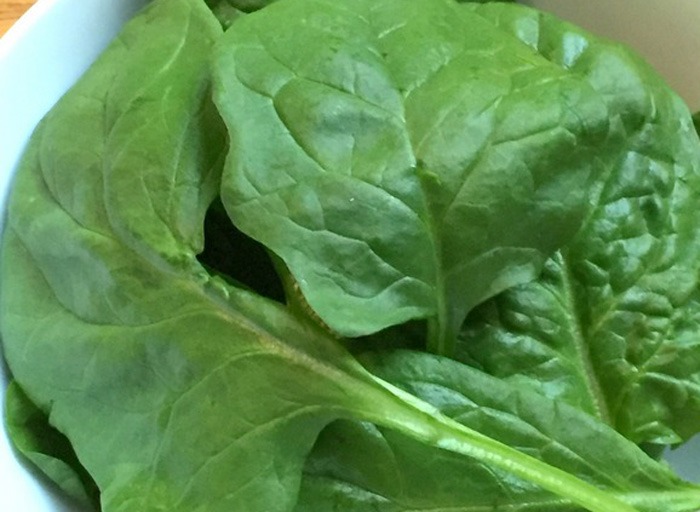 Cost: $2.99
Popeye ate his spinach to keep his muscles and bones strong and healthy—and he knew what he was doing. It really works! But aside from its muscle-boosting qualities, spinach provides vitamin K, vitamin C, and vitamin A, a nutrient that may help ward off lung and prostate cancer. I like to add it to smoothies to boost my vegetable intake.
Eggplant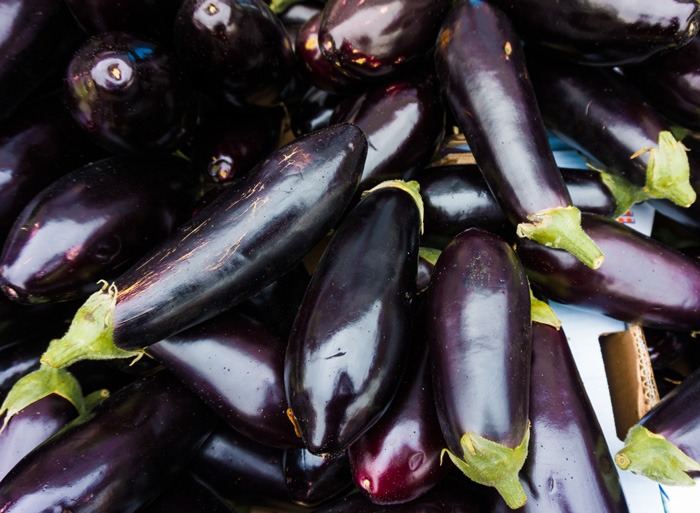 6254a4d1642c605c54bf1cab17d50f1e
Cost: $1.99
For my weekly purple vegetable, I'll often grab an eggplant. It's a wonderful source of fiber, bloat-banishing potassium, and vitamin C, which can help to reduce cholesterol levels.
Cilantro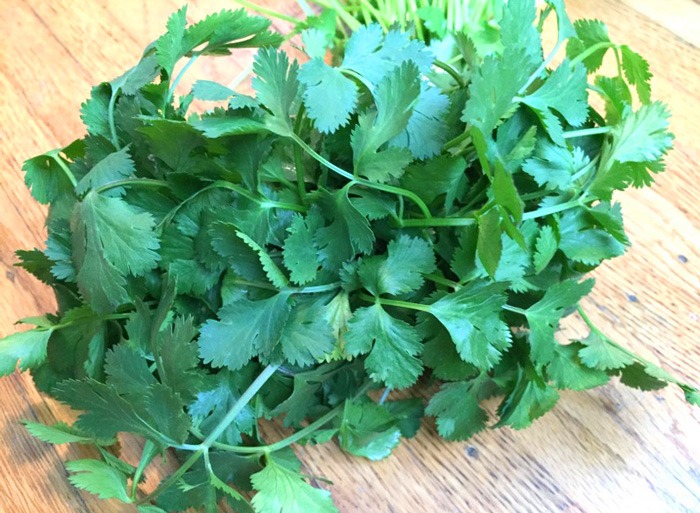 Cost: $1.99
Cilantro is my favorite herb. Sure, it adds a ton of taste with minimal calories, but cilantro also has antioxidants and has been suggested to promote healthier skin and hair.
Frozen Mixed Berries
Cost: $4.99
Having frozen fruit in the freezer ensures I'll hit the 5-a-day mark—even when I can't get to the store. Frozen fruit is also a great addition to smoothies since it's already cold. It's also great as a sweet, low-sugar addition to oatmeal. And speaking of cutting back on the sweet stuff, check out these 30 Easy Ways to Stop Eating So Much Sugar!
Organic Strawberries & Bananas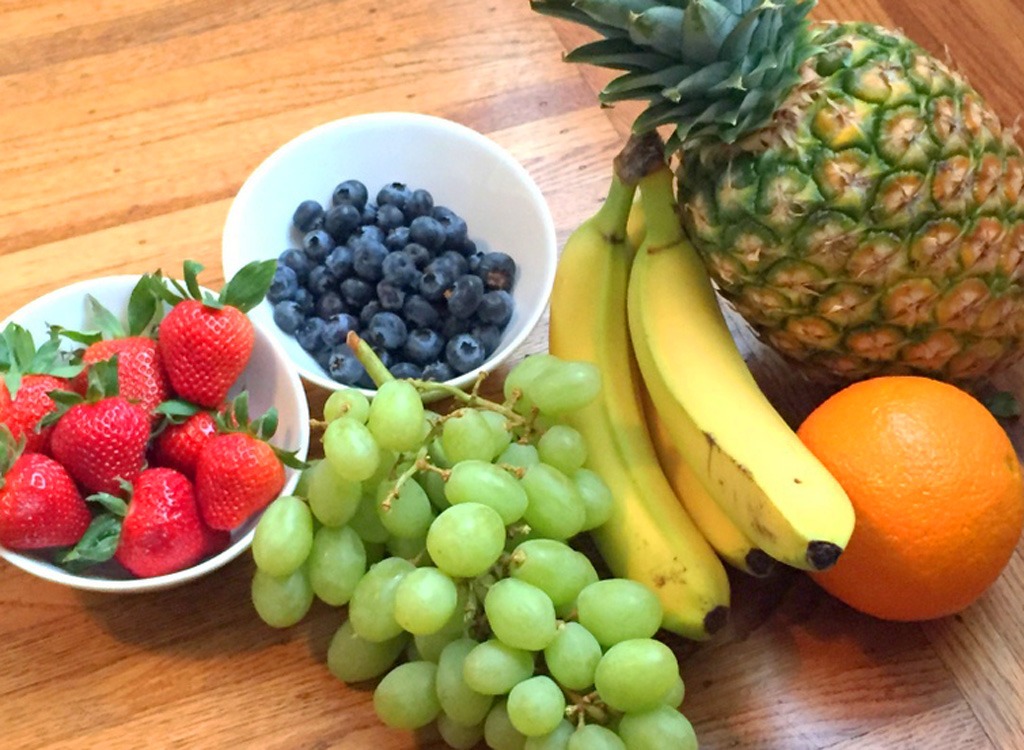 Cost: $3.99/container, $1.00/1.26 lb
Strawberries are loaded with vitamin C and are fabulous for skin health. You can add strawberries to salads, yogurt, oatmeal, or use as a dessert. Bananas, on the other hand, are a great fruit when it comes to sports nutrition. Eating one of the sweet yellow fruits before a tough workout can provide you with the carbohydrates your body needs to stay energized and cramp-free. They are also a great fruit to have on hand as an on-the-go snack. If you're enjoying your banana at home, smear it with some almond butter for a complete snack.
Oranges
Cost: $1.13/0.76 lbs.
I love a good fresh orange that bursts with juice when you bite into. It's the perfect, immune-boosting, thirst-quenching snack on a warm day. The fruit also makes a flavorful addition to a pitcher of detox water.
Pineapple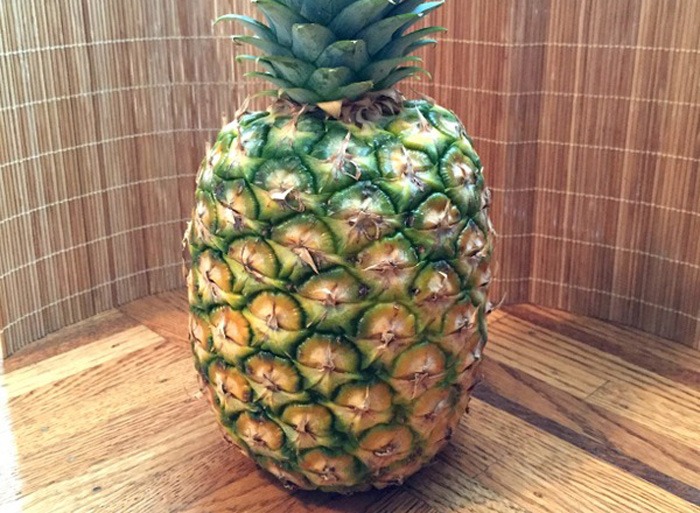 Cost: $3.99
When I'm stuck at home in the snow or rain, I love eating fresh or canned pineapples because it reminds me of being somewhere tropical like Hawaii. Aside from their mental vacation appeal, pineapples are chock full anti-inflammatory and digestive benefits. They can also protect the body against free radicals damage that can lead to cancer and joint pain.
Grapes
Cost: $3.46/1.39 lb
Instead of that glass of wine, why not enjoy some grapes after work? Green, purple, and red grapes all contain antioxidants that can relax blood vessels and promote relaxation. In the summer months, pop them into the freezer for a refreshing frozen treat.
Fresh Blueberries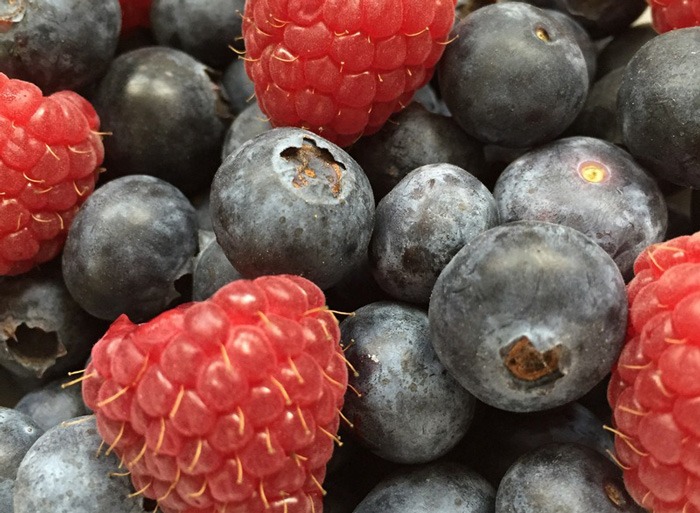 Cost: $4.99/pint
Blueberries contain a group of antioxidants called anthocyanins that can help improve mood and prevent cardiovascular disease. Plus, blueberries contain a lot of belly-filling fiber and are low in sugar. You'll always find them in my shopping cart.
Editor's note: Sarah used her Safeway customer savings card that scored her savings of $15.55. Her grand total? $98.58!
Images courtesy of Sarah Koszyk, MA, RDN & Shutterstock