21+ Best Healthy Salmon Recipes for Weight Loss
When it comes to weight loss, wild salmon is pretty much the true star of the seafood aisle, so learn some creative ways to make it!
Though the farm-raised salmon falls terribly short in the health department, wild salmon is a nutritional star. Not only is it rich in omega-3s, a healthy fat that fights off metabolism-slowing inflammation, but it's also a great source of protein, a nutrient that increases post-meal calorie burn by as much as 35 percent! Luckily, there's no shortage of ways to prepare the delicious fish. Whether you follow a gluten-free, Paleo, or low-calorie diet—or just want to shake up dinnertime without falling off track—we've got you covered with these easy, healthy salmon recipes! If you're looking for recipes for other types of fish, we've got you covered: 61+ Best Healthy Fish Recipes for Weight Loss.
Grilled Salmon With Ginger Soy Butter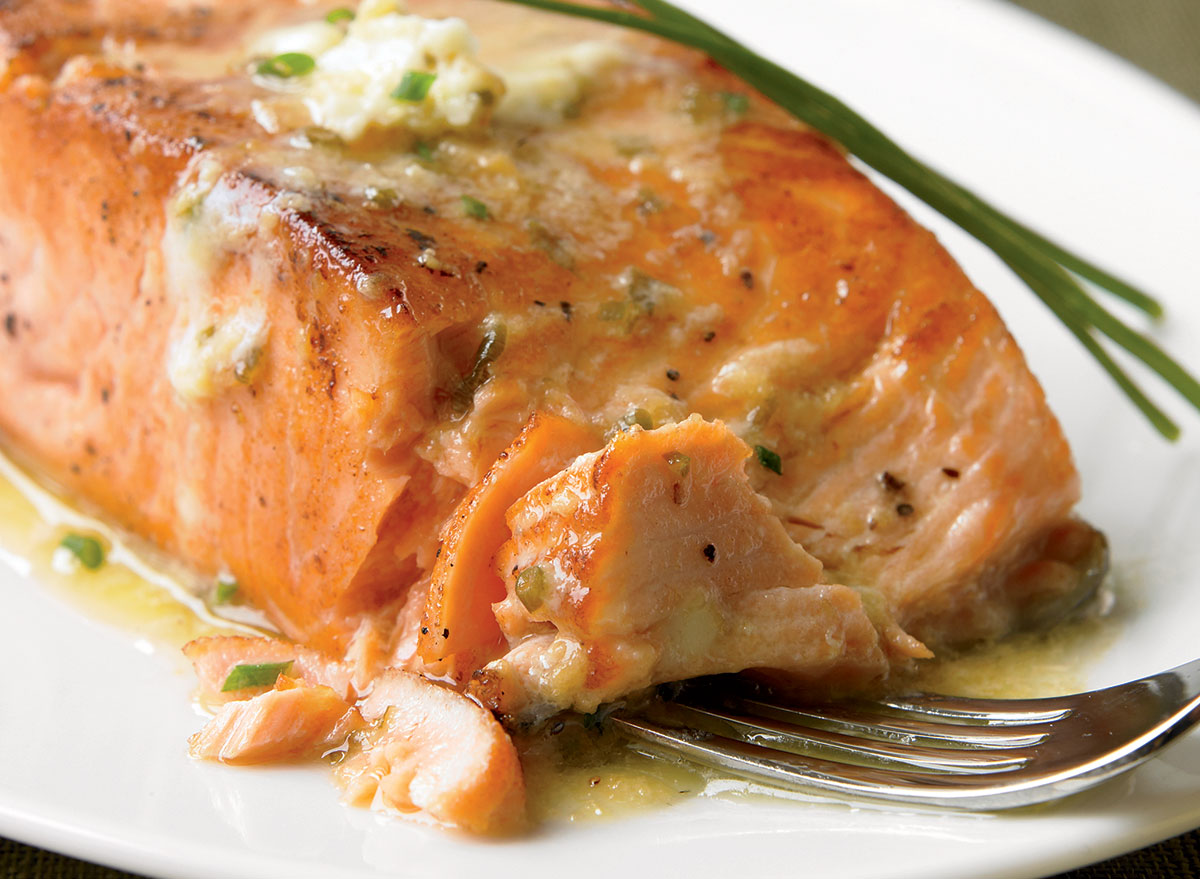 Time to fire up the grill for this dish! Thanks to the ginger and soy butter, this grilled salmon gets kicked up a notch for a tangy kick to your tastebuds. It simply adds a whole new level of flavor to the fish.
Get our recipe for Grilled Salmon With Ginger Soy Butter.
Sweet Chili-Glazed Salmon
If you're not a huge fish fan, this is the recipe that will change your mind. The salmon pairs perfectly with the spicy and sweet combo of the glaze. Plus, when it's served with some roasted broccoli (that you can easily make in the same oven at the same time as the salmon on a sheet pan) and a side of couscous, you have a dish that's flavorful, delicious, and healthy.
Get our recipe for Sweet Chili-Glazed Salmon.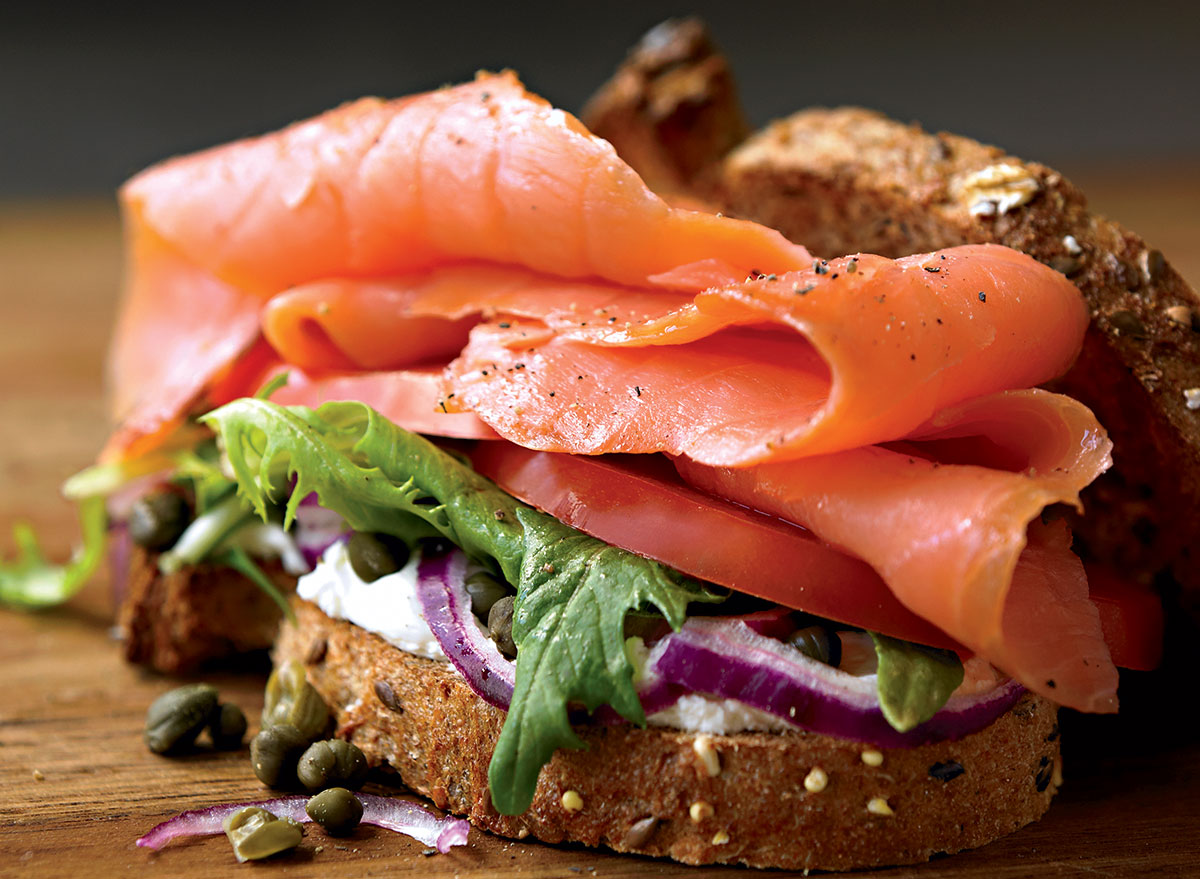 We ditch the typical bagel you see smoked salmon usually paired with—which saves you tons of calories—and instead, we add a boost of fiber to this recipe, courtesy of the whole wheat toast. This recipe still features the classic add-ons of the New York City favorite, though: onion, capers, and tomato, along with the salmon. It's one of our all-time favorite healthy salmon recipes!
Get our recipe for a Smoked Salmon Sandwich.
Scrambled Eggs With Salmon, Asparagus, and Goat Cheese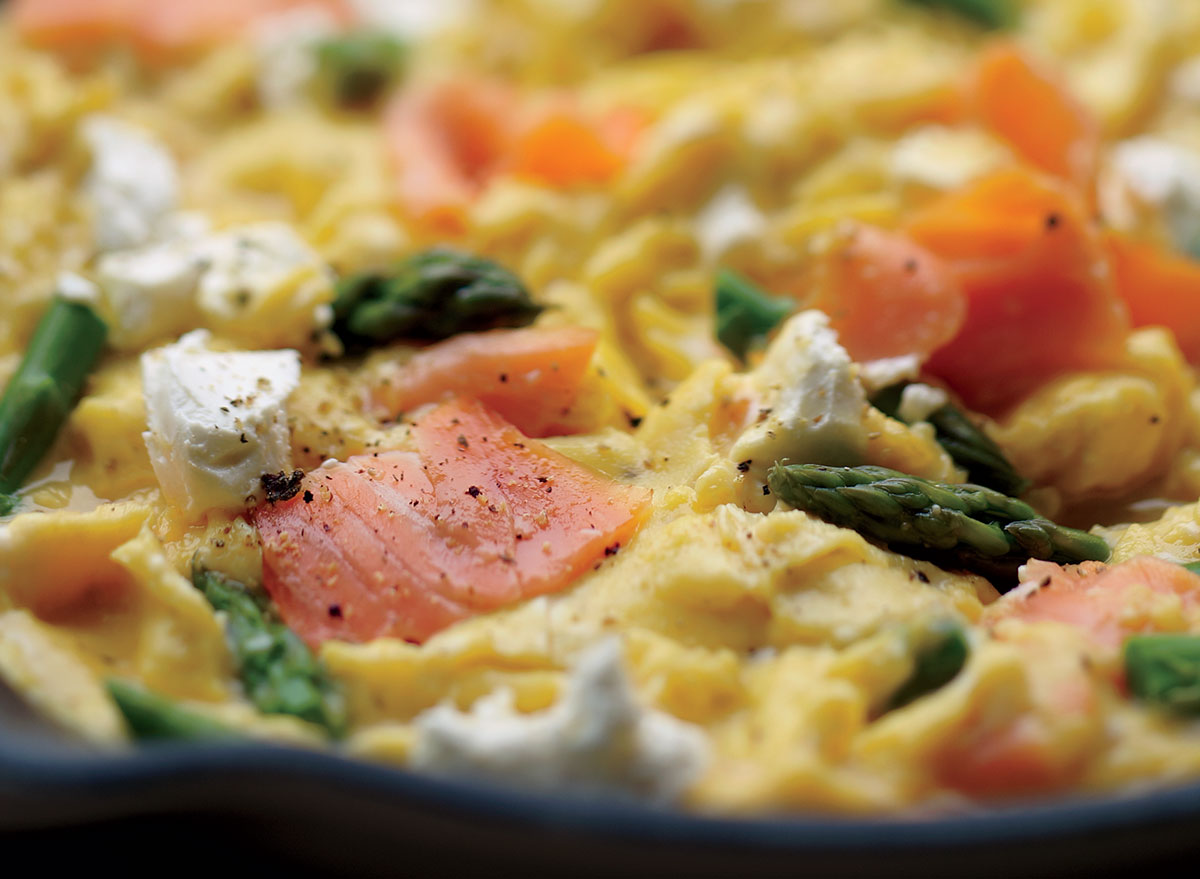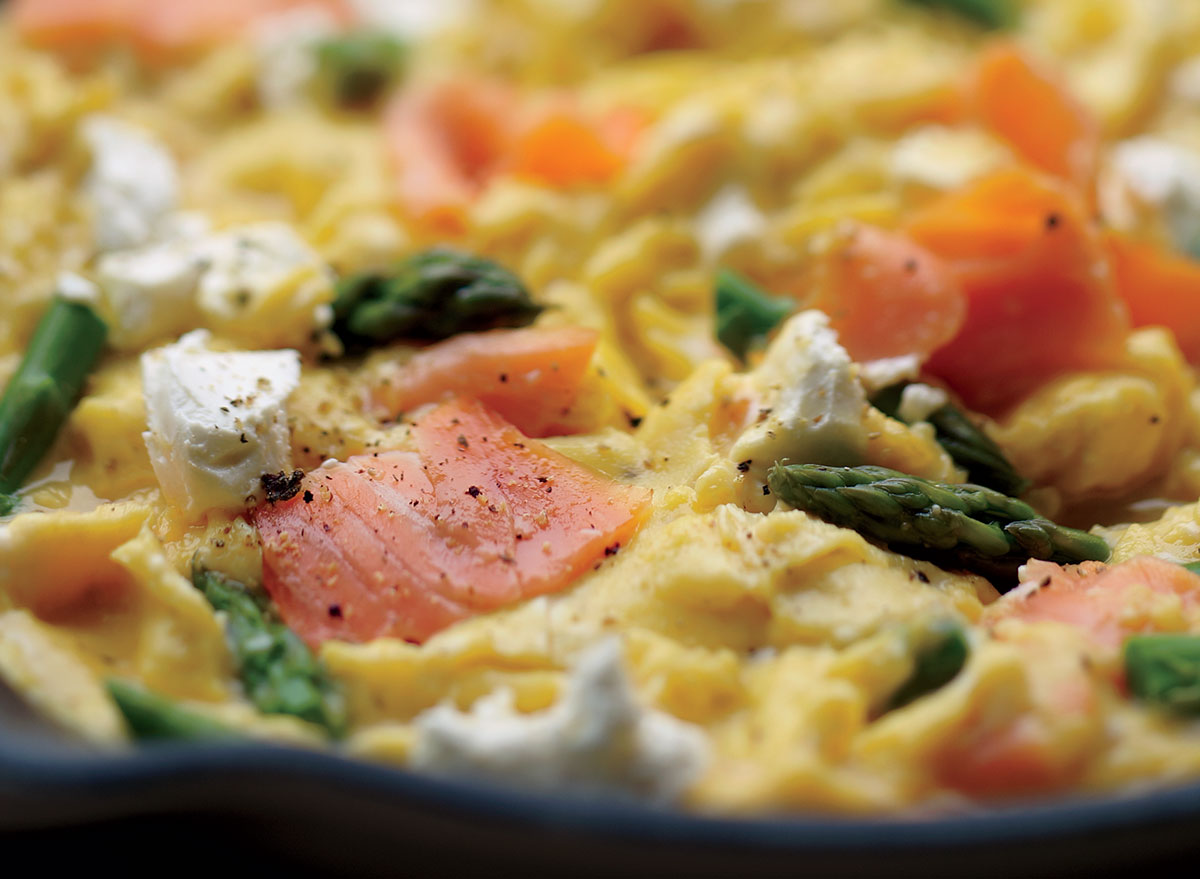 This good-for-you scrambled eggs recipe is a great way to kickstart your day. It's a hearty breakfast option filled with healthy fats, fresh vegetables, and a light caloric toll.
Get our recipe for Scrambled Eggs With Salmon, Asparagus, and Goat Cheese.
Roast Salmon With Lentils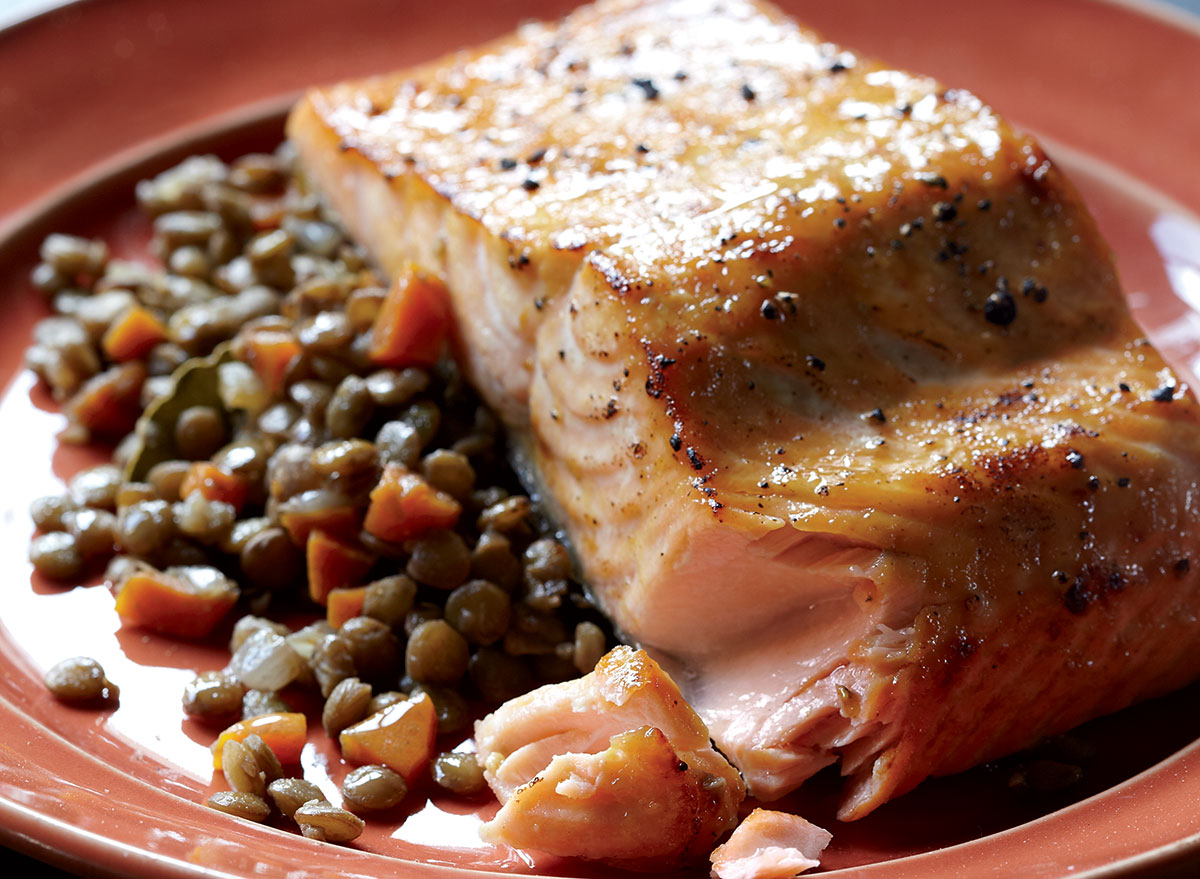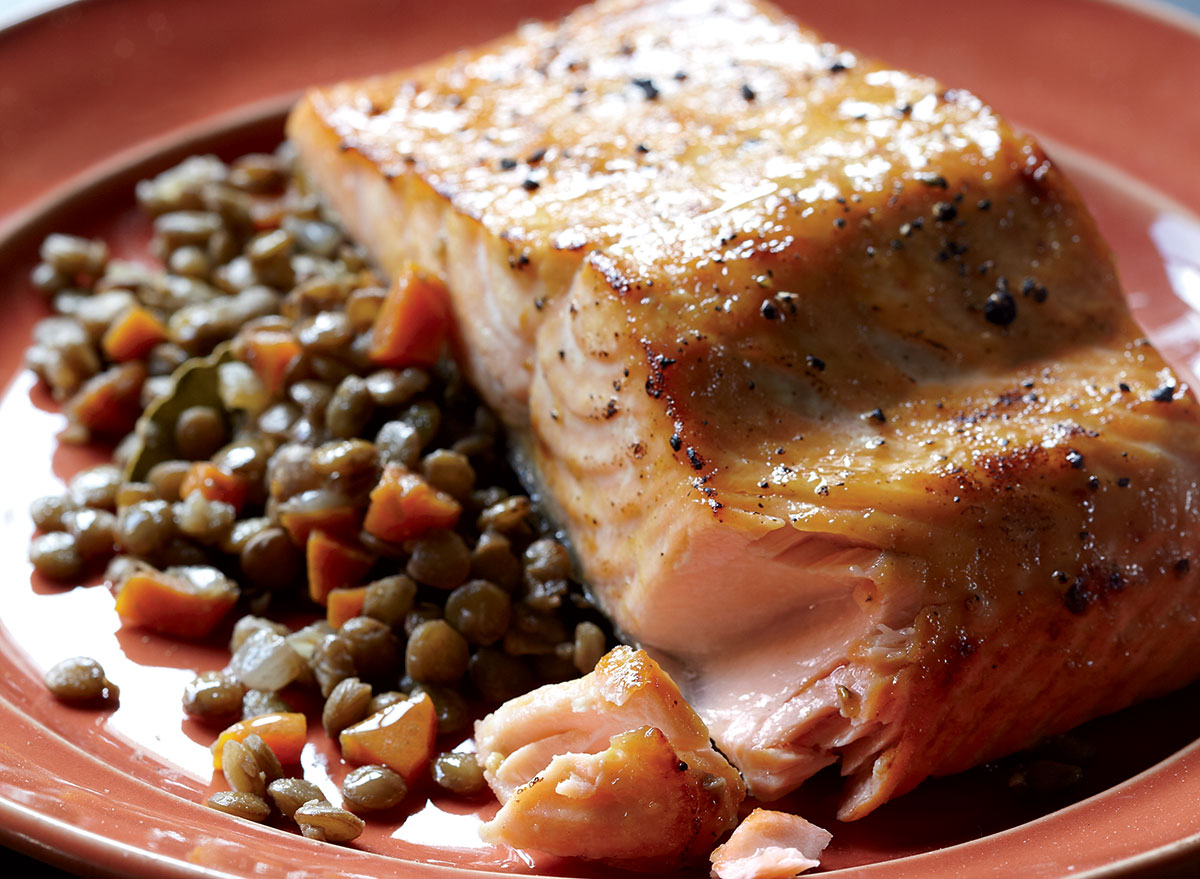 Few ingredients fuse nutrition, ease, and taste quite like the lentil, and combine that with salmon, and you have a truly satisfying meal that isn't hard to make. While the salmon roasts in the oven, the lentils are simmered. Together, both aspects of this dish merge into something truly special.
Get our recipe for Roast Salmon With Lentils.
Honey Mustard Glazed Salmon With Roasted Asparagus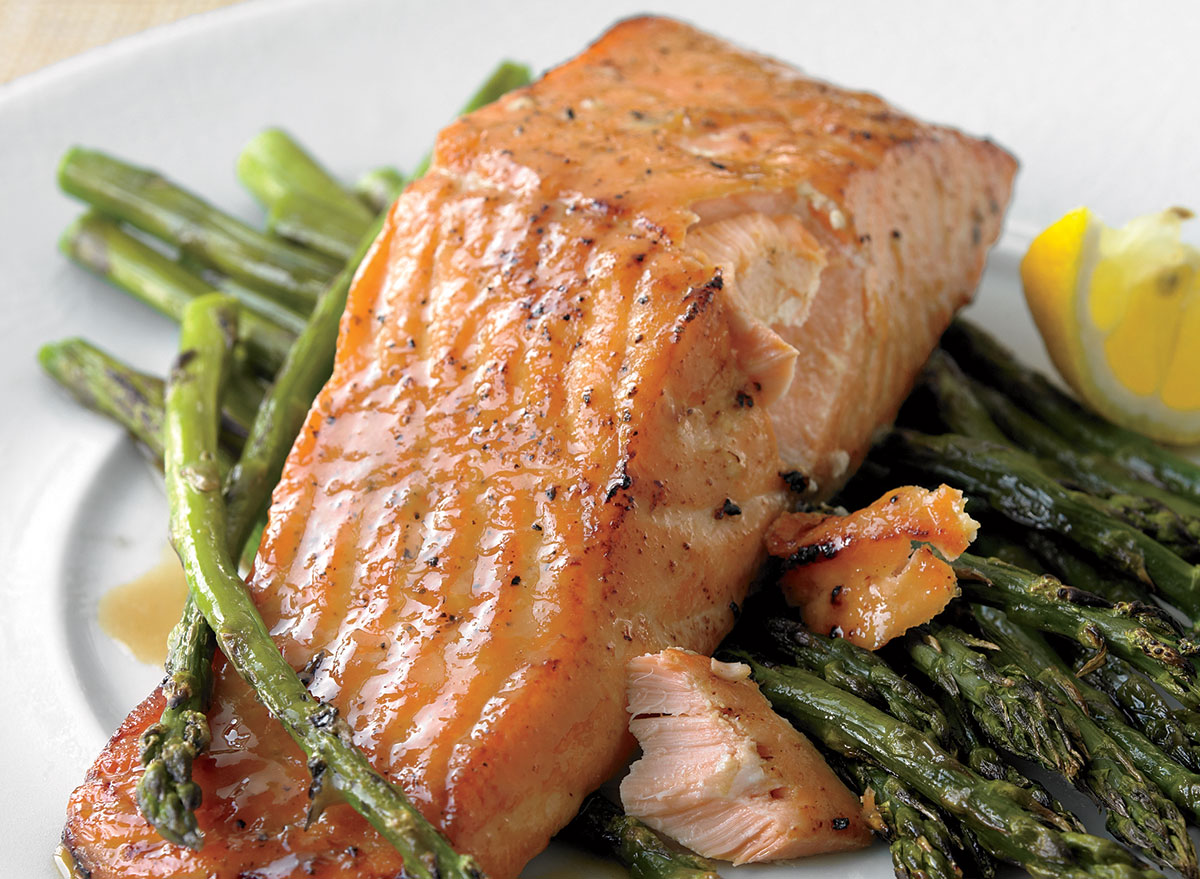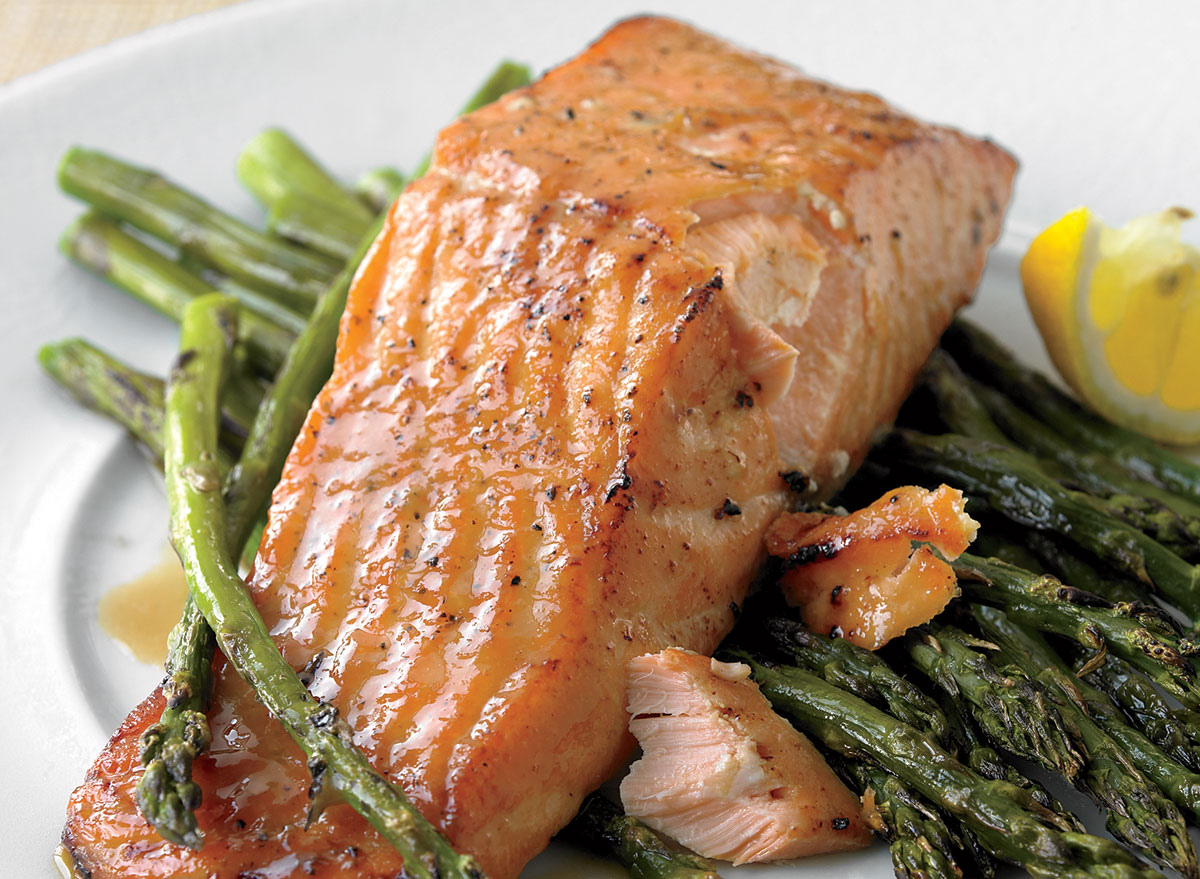 You seriously won't need to order salmon whenever you dine out again once you master this recipe. It's that good. The basic salmon gets an upgrade thanks to the sweet honey mustard glaze that is ready in under five minutes, and it's set atop a bed of roasted parmesan asparagus, bringing vitamins A, C, and E, plus potassium, protein, and fiber to the already nutritious meal. What's not to love?
Get our recipe for Honey Mustard Glazed Salmon With Roasted Asparagus.
Moroccan-Inspired Quinoa Pilaf With Salmon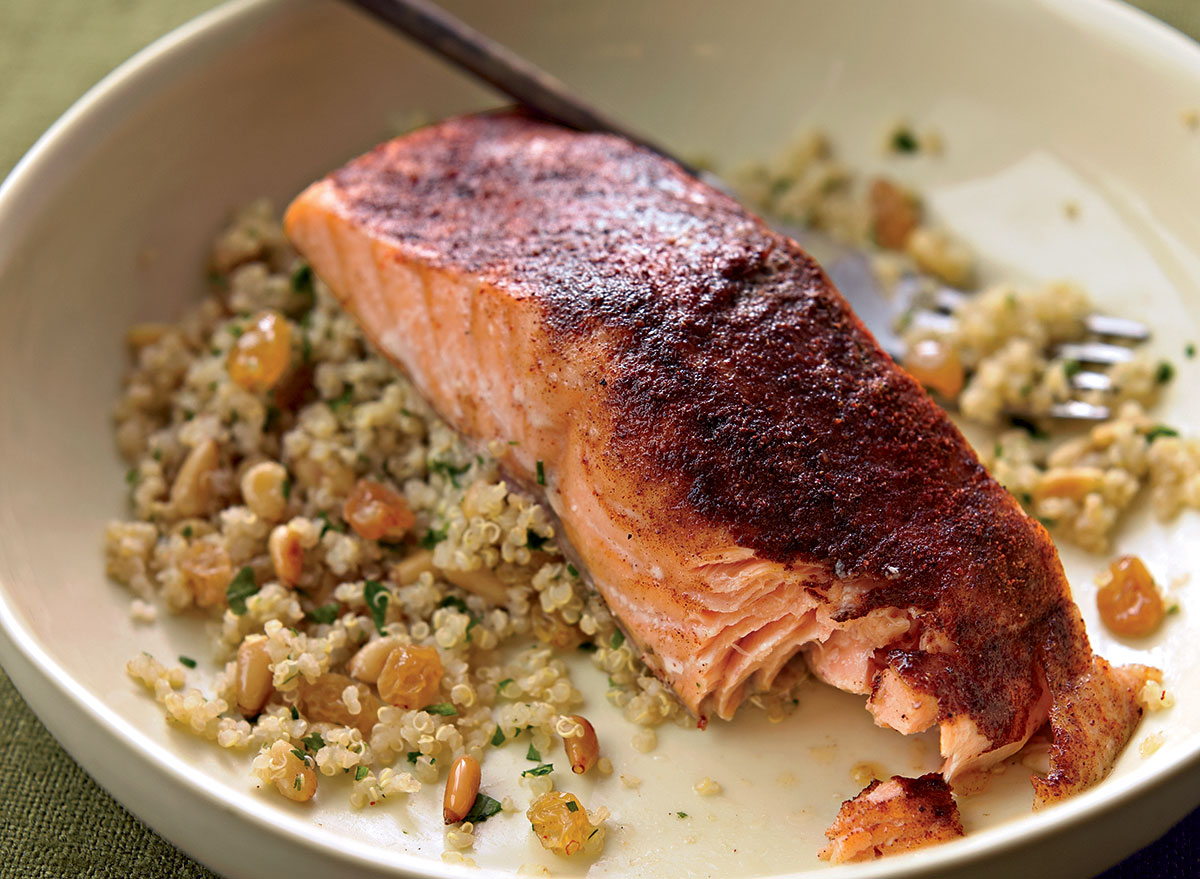 The Moroccan pantry is overflowing with powerful spices and healthy whole grains, so it was a no-brainer to turn to these flavors for some inspiration to bring a sweet and savory combo to salmon. The quinoa pilaf is a complex and textured grain that makes this recipe truly filling. It might become your new favorite salmon pairing! This is one of the healthy salmon recipes you're going to want to make over and over again.
Get our recipe for Moroccan-Inspired Quinoa Pilaf With Salmon.
Air Fryer Lemon-Pepper Salmon Jerky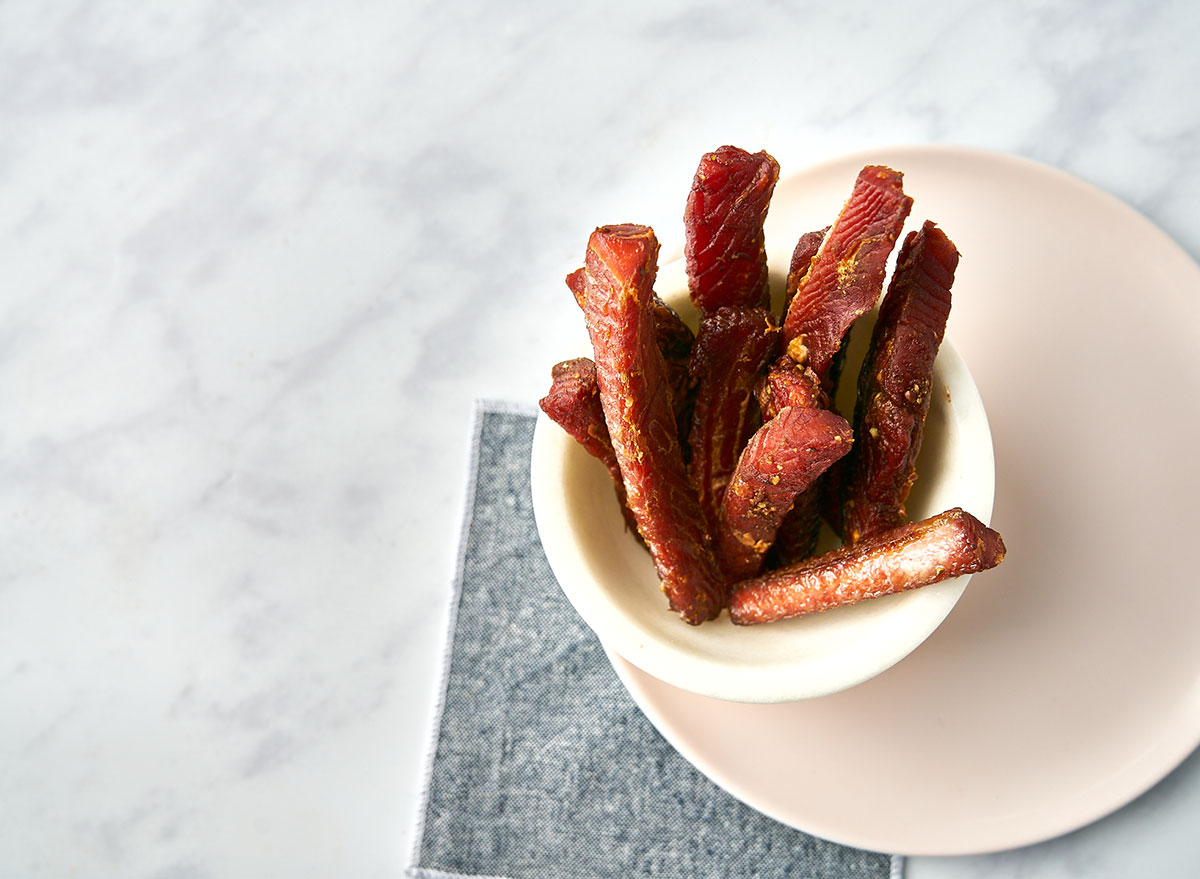 Having convenient, good-for-you snacks on hand is a healthy-eating must. One such snack is salmon jerky—a crispy, crunchy, dehydrated version of salmon meat that's high in fat and protein. The trick to making dry fish taste amazing is, of course, spicing it up. We're using things like soy sauce, lemon juice, sugar, and spices to make this the most craveable version of jerky you've ever tried.
Get our recipe for Air Fryer Lemon-Pepper Salmon Jerky.
Butter-Baked Salmon and Asparagus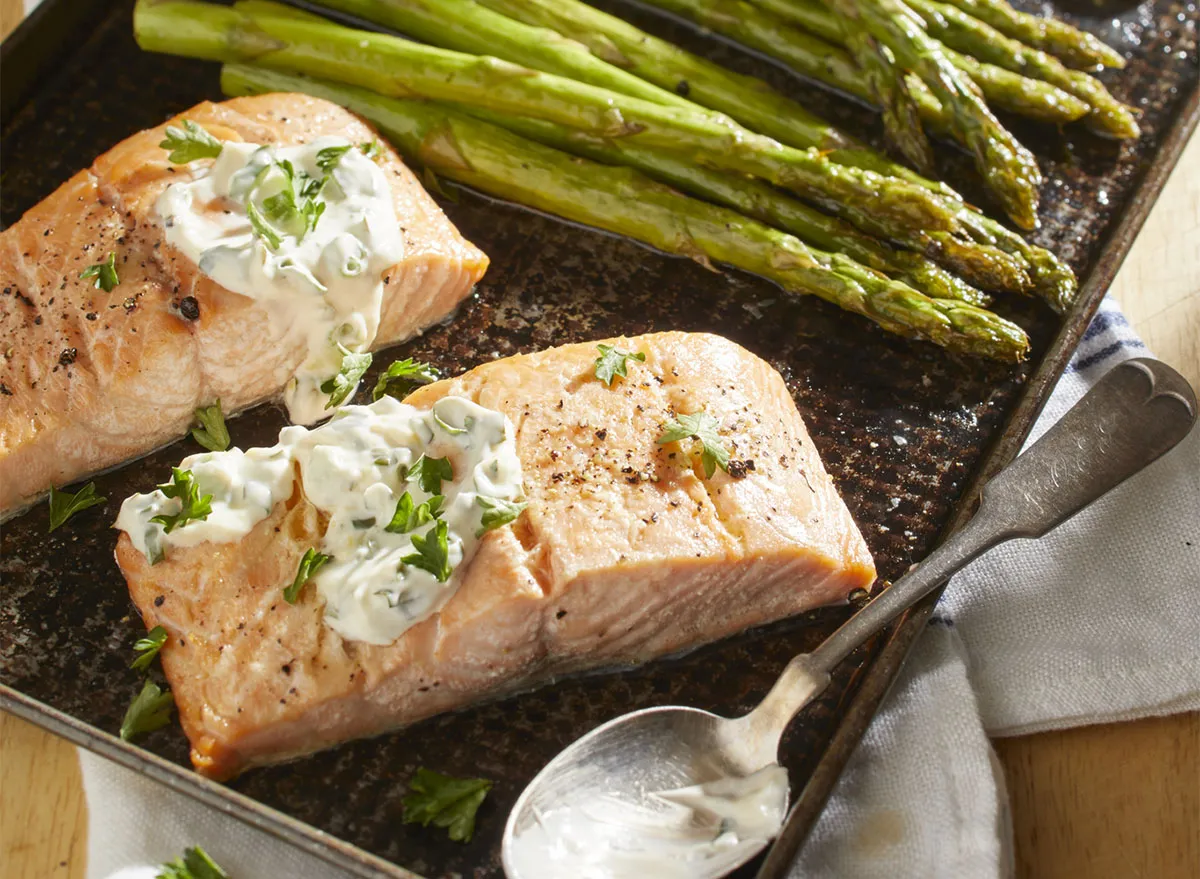 Healthy salmon recipes are great for anyone attempting the keto diet! Salmon and asparagus are always great together grilled, but this baked salmon recipe is even more appropriate for keto diet followers because it adds more delicious fat to the omega-3 fatty acids found naturally in salmon. The hint of lemon in the mayo-based topping is delicious on the asparagus, too.
Get our recipe for Butter-Baked Salmon and Asparagus.
Meal Prep-Friendly Bean, Salmon, and Kale Salad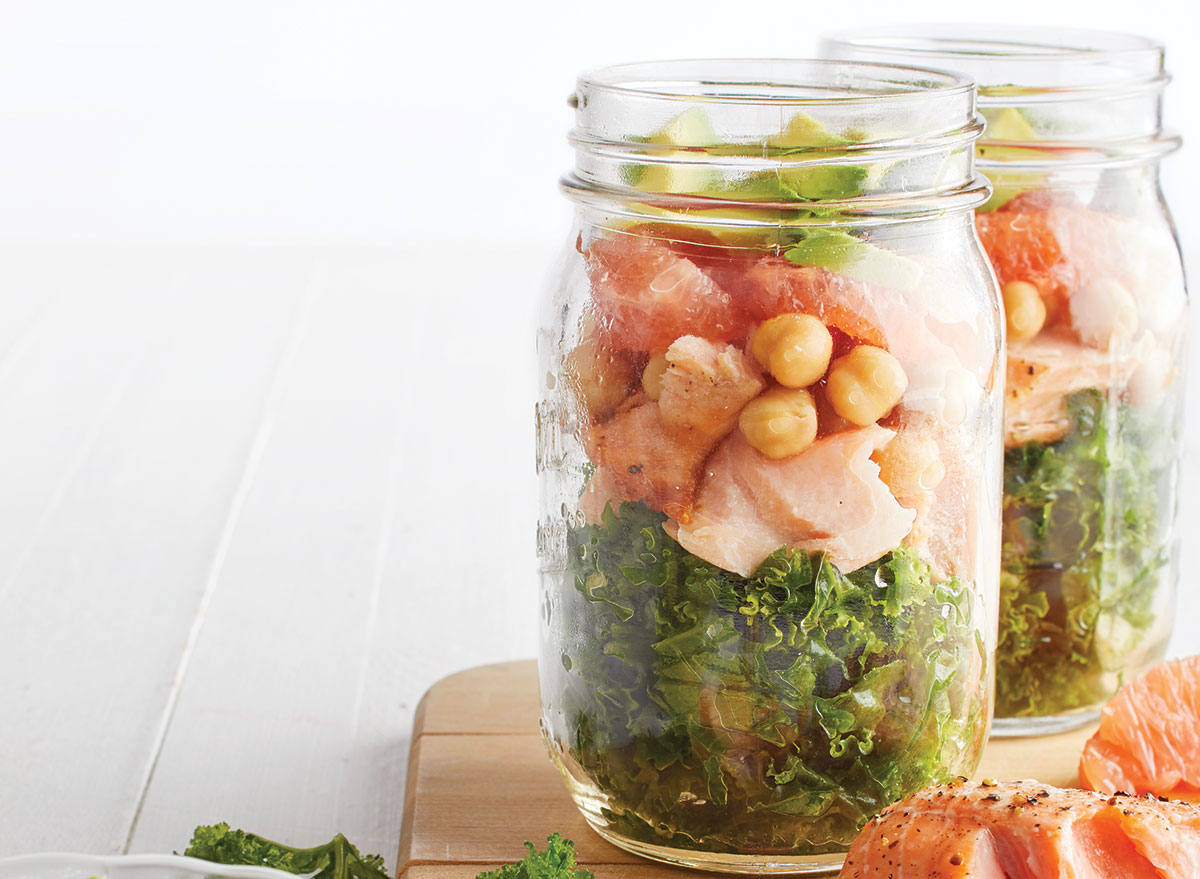 Pink and green aren't just a winning combination for preppy clothing. They make a great pair in this healthy Mason jar salad recipe, too. With garbanzo beans, salmon, and grapefruit, along with a kale base, this pink and green salad is a nutritional powerhouse.
Get our recipe for Meal Prep-Friendly Bean, Salmon, and Kale Salad.

Smoked Salmon and Boursin Frittata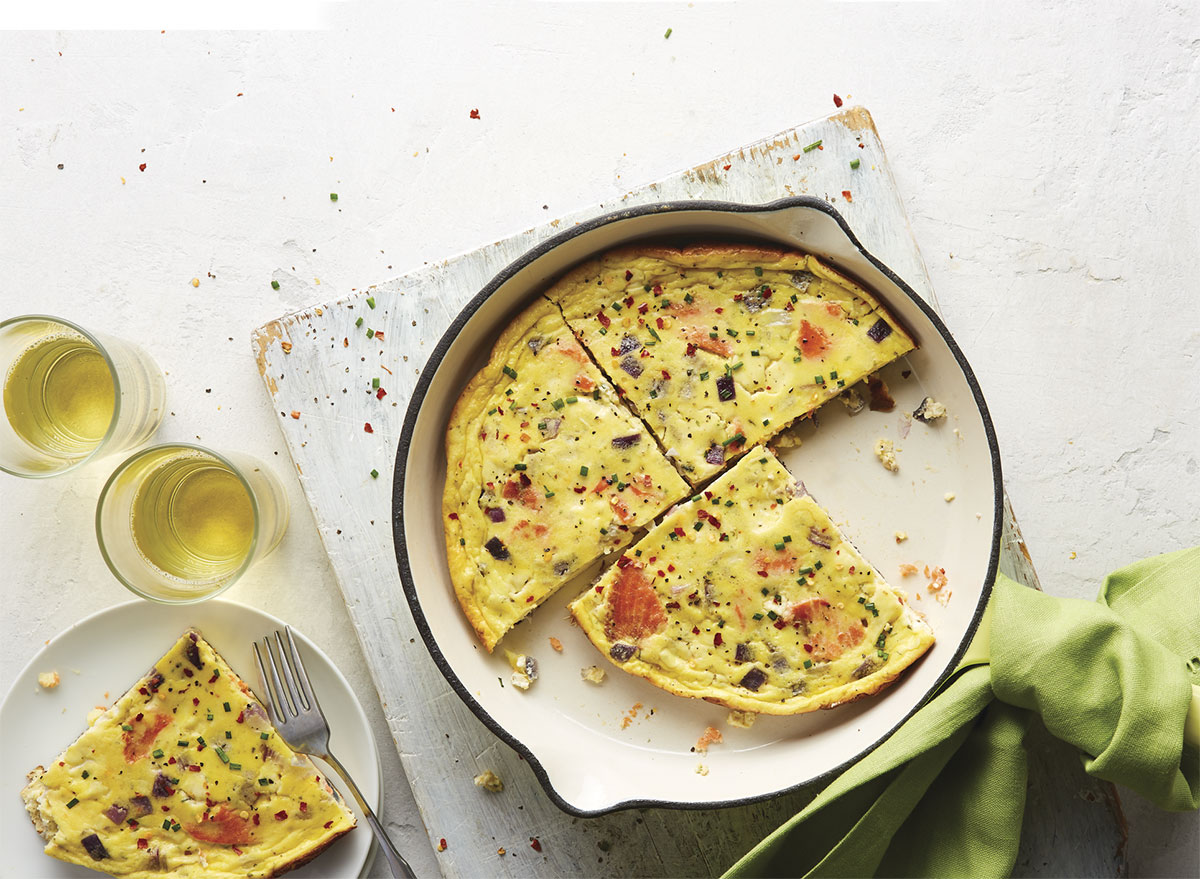 This recipe is not only easy to make and ready in just a few minutes, but it really is a way to not only change up how you cook eggs, but also allow you to step outside a basic frittata dish, too, with the creative addition of the salmon and Boursin cheese.
Get our recipe for Smoked Salmon and Boursin Frittata.
Smoked Salmon and Avocado Tartine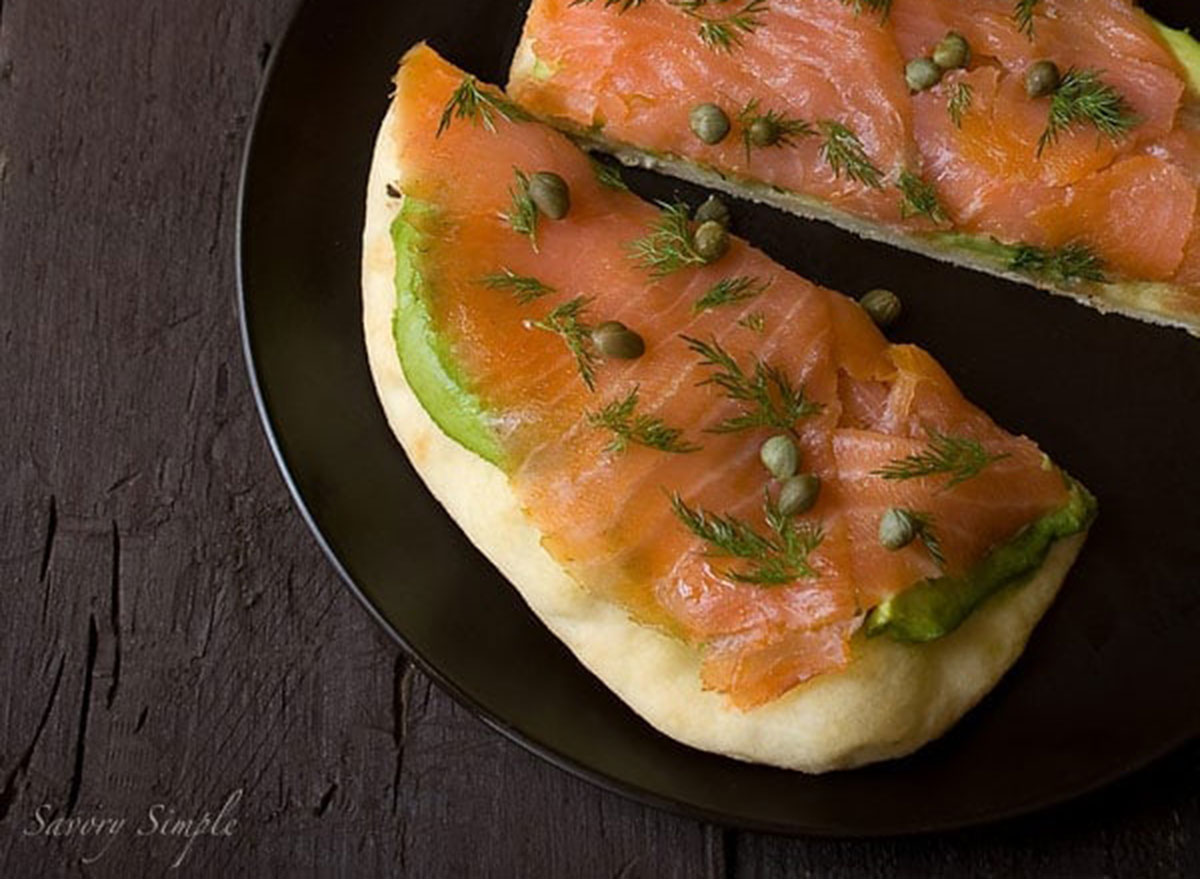 Too hot outside to turn on the oven? Whip up this light and simple recipe. It calls for little more than naan, Chilean olive oil, avocado, smoked salmon, capers, and fresh dill, making it the perfect dish for the cooking challenged and health-conscious alike. Because smoked salmon can be a bit high in sodium, avoid sprinkling any additional pieces on if you have high blood pressure.
Get the recipe from Savory Simple.
Simple Hoisin Glazed Salmon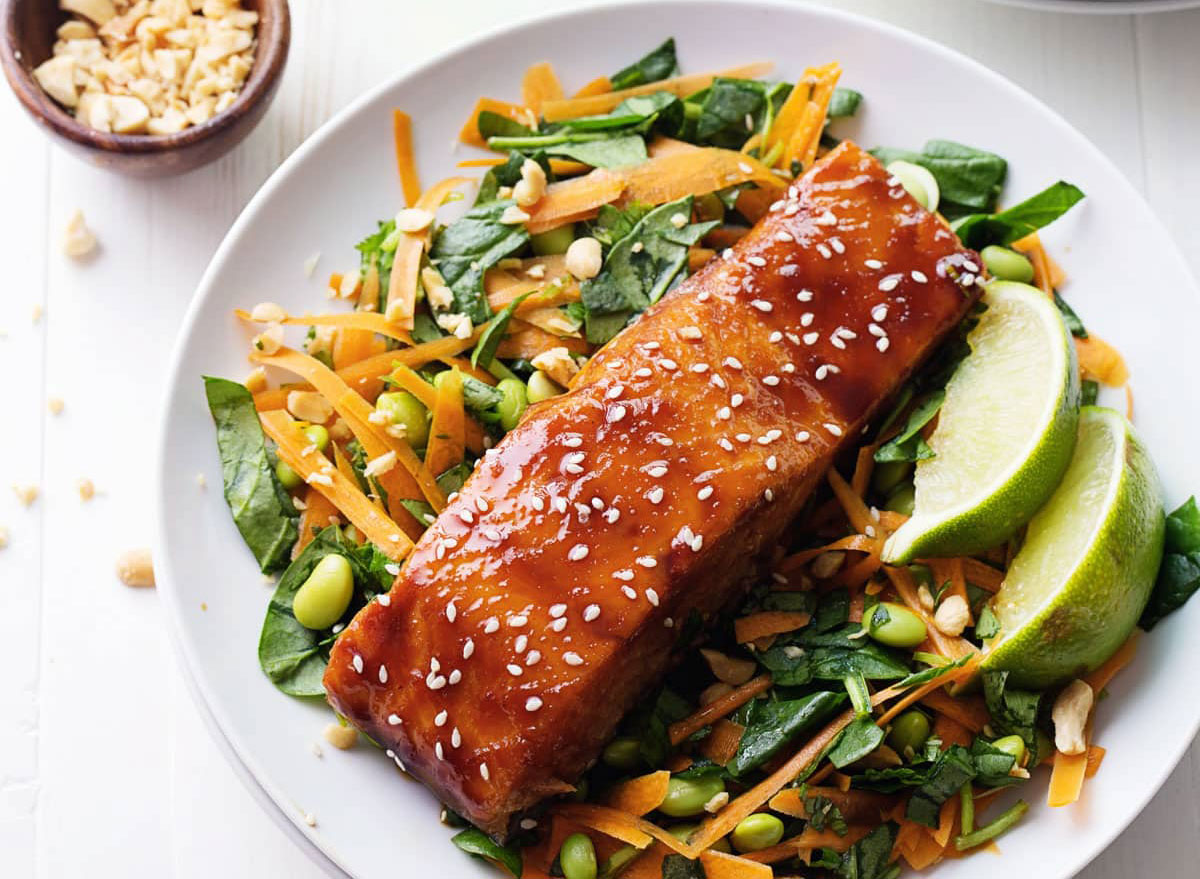 With just 283 calories, this dish is likely far healthier than anything your local Chinese restaurant is serving up. Pair it with a spinach, carrot, edamame, and cilantro salad to pack some extra fiber and nutrients into your meal. Finish it off with a light drizzle of sesame oil, lime juice, salt, and honey.
Get the recipe from Pinch of Yum.
Salmon Salad With Fennel & Pistachio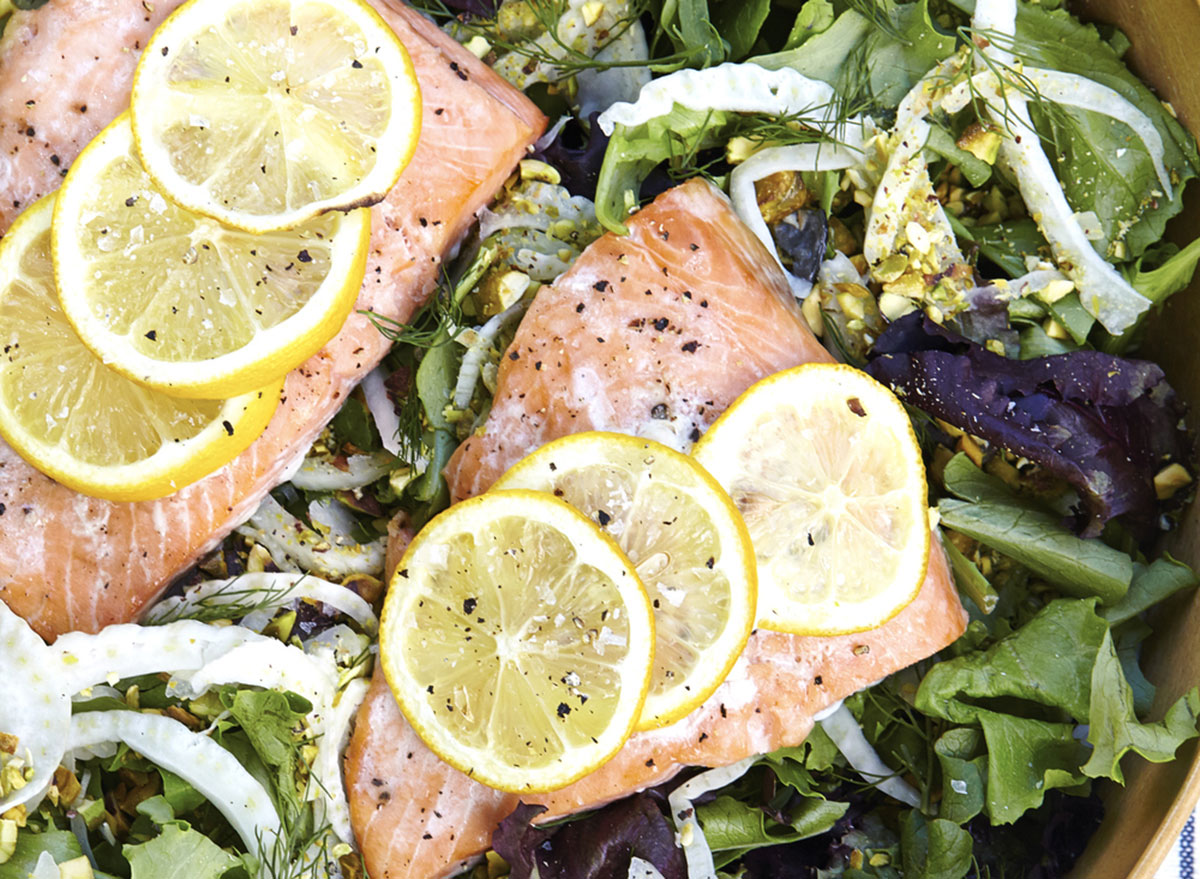 6254a4d1642c605c54bf1cab17d50f1e
Though it may seem as though this dish is overflowing with fat, don't be alarmed. Because it's all coming from the fish and the olive oil used to make the dressing, we can assure you it's all the heart-healthy variety. Plus, you can always use less than two tablespoons of dressing if you want to cut back. This simply seasoned baked salmon is elevated to a new level of delicious when paired with the spring greens, fennel, dill, and crushed pistachios. It's a must-try!
Get the recipe from Sassy Kitchen.
Baked Eggs With Smoked Salmon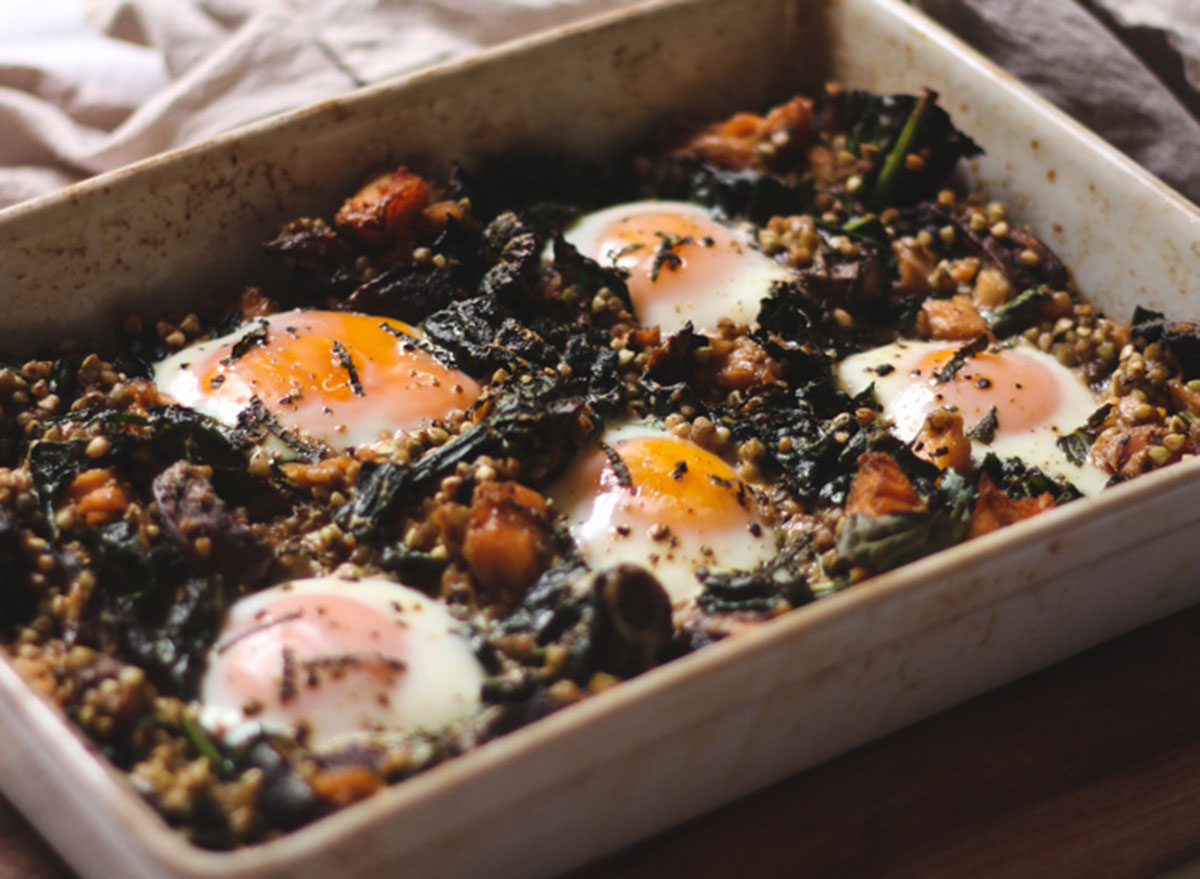 Filled with smoked salmon, mushrooms, kale, buckwheat, and a plethora of spices, this veggie-centric recipe packs a ton of protein and flavor into your morning eggs. This dish fairs well as a main dish at a festive brunch, but it can also be made ahead of time and reheated as a meal-prepped breakfast during your busy work week.
Get the recipe from To Her Core.
Buying canned salmon is another easy way to whip up some healthy salmon recipes! These crispy, panko-crusted bites make a great dinner party appetizer, or they can be plated atop a bed of greens and veggies as a main dish. Because they're made with canned salmon, they're easy to whip up in a matter of minutes.
Get the recipe from Running to the Kitchen.
Asian Salmon Spinach Rice Bowl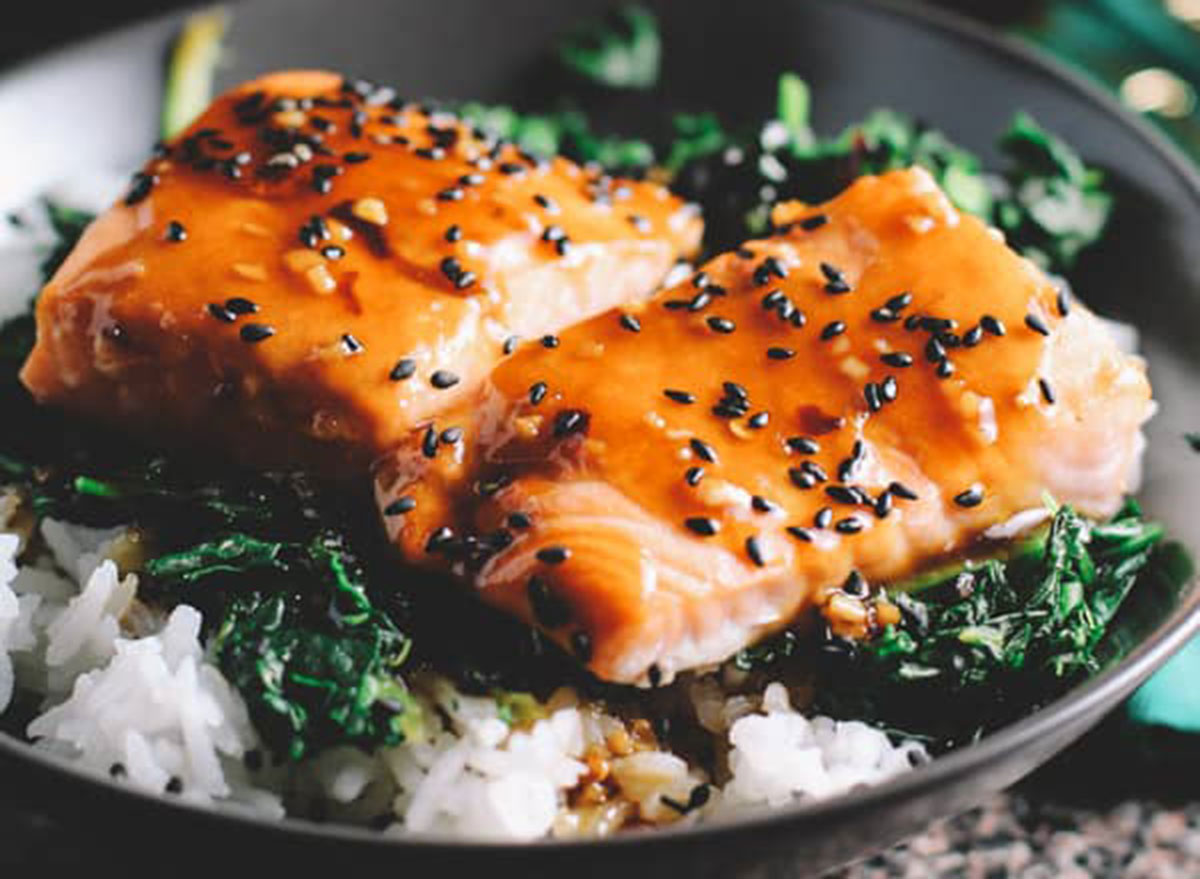 This beautiful one-bowl-wonder is one of our 30 favorite healthy bowl recipes for weight loss. Bowls are not only mesmerizingly eye-catching, but they also serve as an easy-to-make platform to get all the nutrients and energy you need in just one meal. Plus, it's one of the healthy salmon recipes you're going to want to take lots of Instagram pictures of.
Get the recipe from For the Love of Basil.
One-Tray Honey Chili Lime Salmon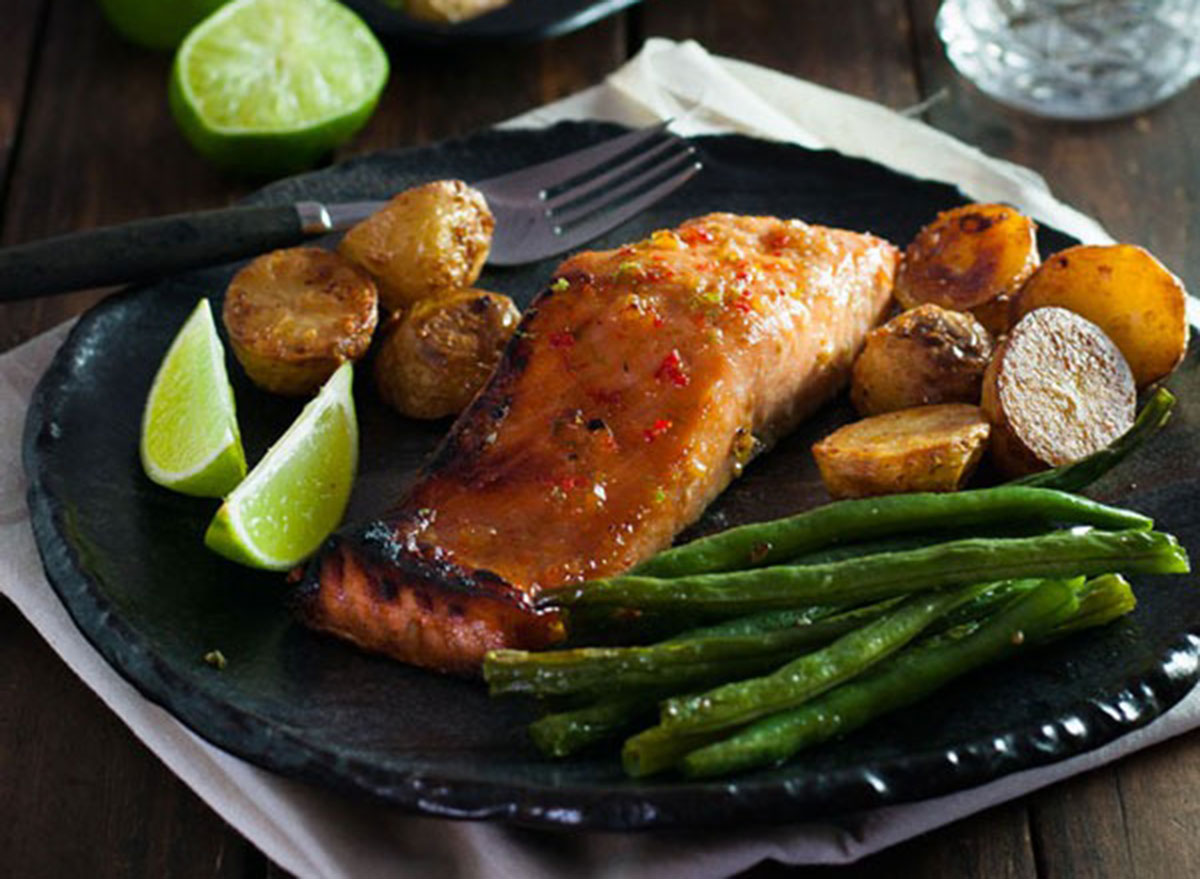 Easy to make and an easy way to get a nutritious meal, this sheet pan dinner will help you get your next dinner on the table and cleaned up in no time. Green beans and roasted potatoes are served alongside salmon that has been marinated in a lime, honey, and soy dressing. It's all topped off with a finely chopped Thai chili pepper, also known as a bird's eye chili, to give the dish a little extra pizazz.
Get the recipe from Recipe Tin Eats.
Roasted Kale and Salmon Detox Salad
This salad couldn't be simpler, as it comes together on just a single sheet tray. Lay a base of bone-building kale, throw on some tart cherry tomatoes, and then place on your salmon fillets. Two slices of blood oranges top the salmon to really brighten up the plate and add a burst of sweet, acidic flavor.
Get the recipe from Sweet Phi.
Chile Lime Salmon Fajita Salad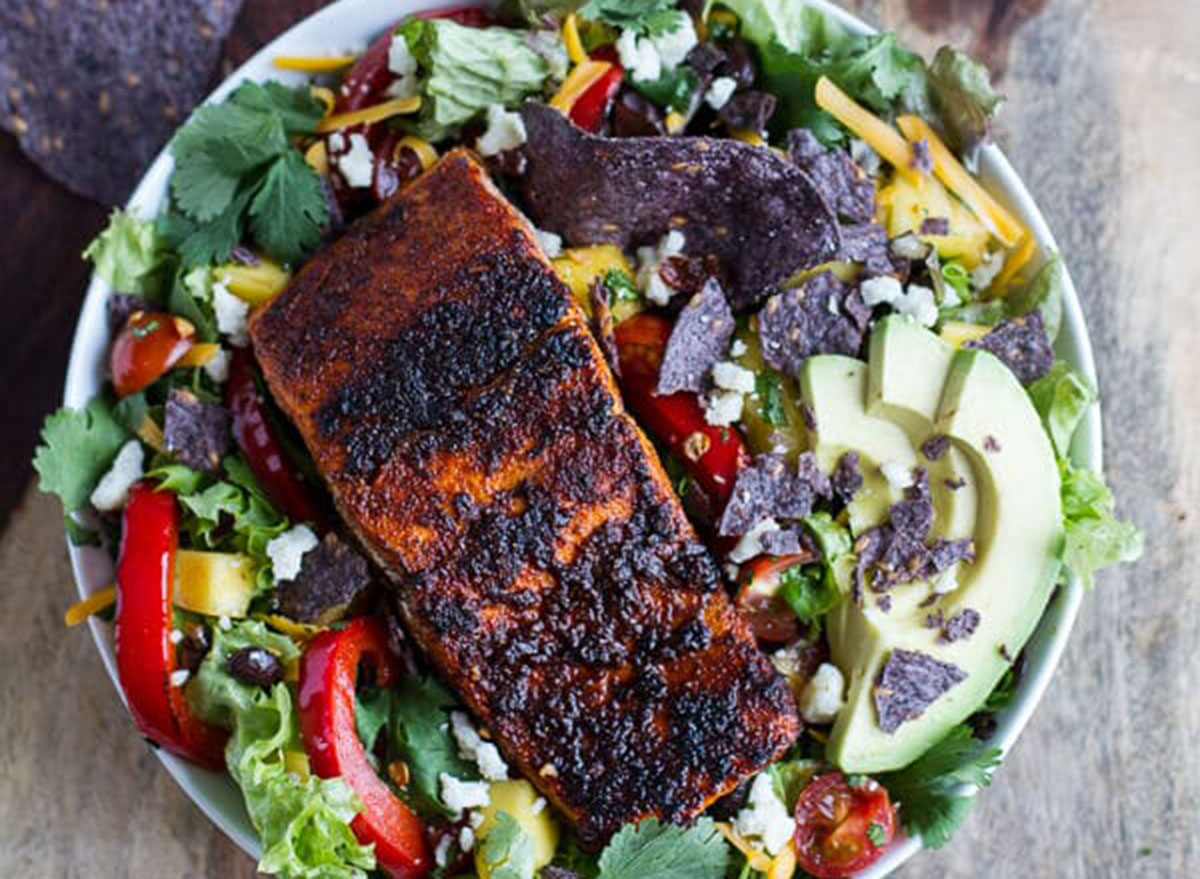 While the 5-spiced salmon is certainly the star of this dish, the salad medley it rests on top of is not far behind. The higher calorie count is due to healthy items like nutrient-dense avocado, black beans, and the salmon. These healthy fats and lean proteins are complemented by spicy jalapeno, juicy mango, and light butter lettuce. If you're worried about calories, you can cut back on the fats, but leave the shredded cheddar!
Get the recipe from Half Baked Harvest.
Pan Seared Salmon With Basil Vinaigrette
Don't worry about the higher fat content in this dish. Those fats are full of heart-healthy omega-3 polyunsaturated and appetite-suppressing oleic acid monounsaturated fats from the salmon and olive oil vinaigrette. The journal Nutrients found that omega-3s can both enhance fat-burning and decrease hunger levels, while another study found that at a sufficiently high intake, omega-3s improve our ability to metabolize fat by altering the way certain "fat genes" function.
Get the recipe from What's Gaby Cooking.
Grilled Salmon With Dill Butter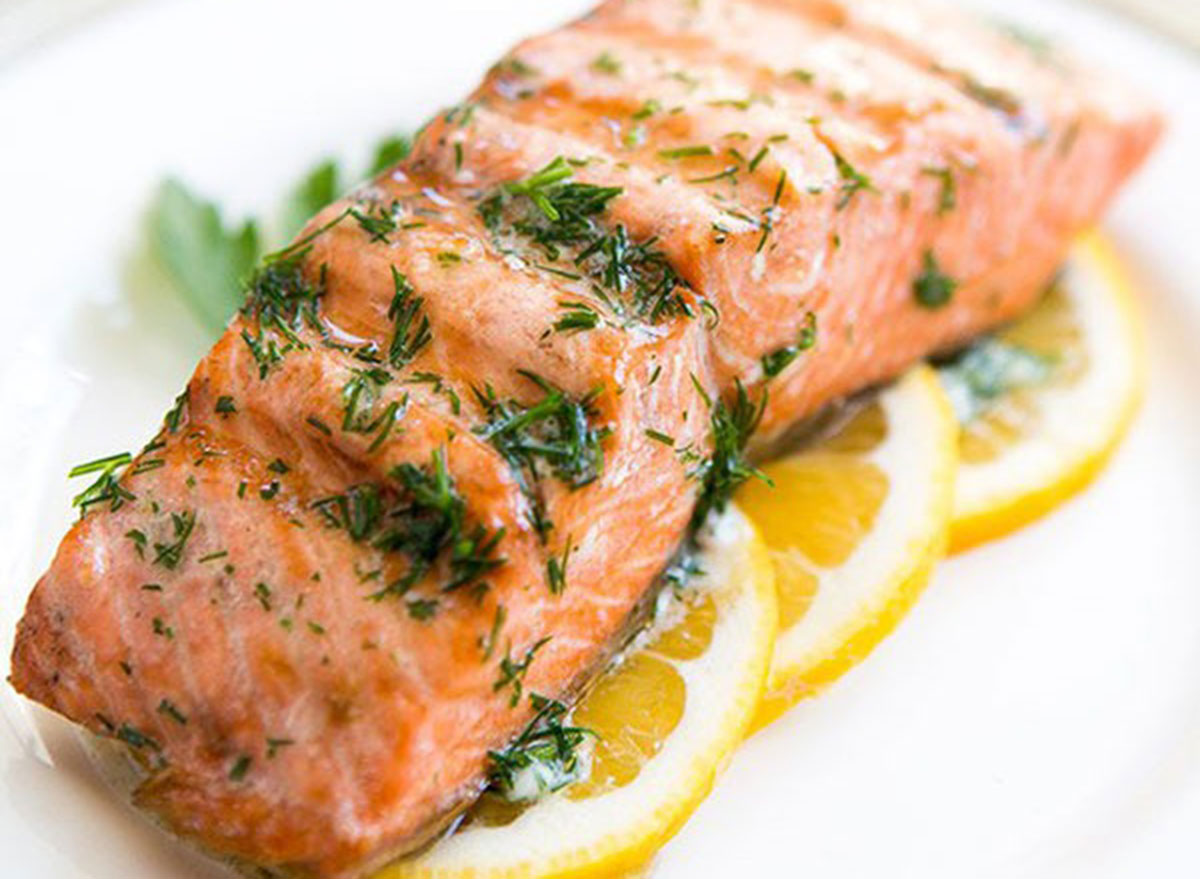 A great way to enjoy salmon is with a simple herb compound butter, and this recipe keeps it easy by just using dill. Grass-fed butter is full of healthy fats, vitamins, and minerals. Cassie Bjork, RD, LD, tells us grass-fed butter "helps slow down the absorption of sugar and carbohydrates, leading to consistent energy levels and improved brain function. You can consume butter daily with confidence [because studies have shown] the saturated fat in it is not linked to heart disease." Pair this salmon with a side of herb-roasted potatoes and grilled asparagus topped with lemon zest.
Get the recipe from Simply Recipes.
Get more easy, healthy recipes:
20 Pork Chop Recipes for Weight Loss
30 Healthy Stuffed Chicken Recipes to Make Tonight
Olivia Tarantino
Olivia Tarantino is the Managing Editor of Eat This, Not That!, specializing in nutrition, health, and food product coverage.
Read more about Olivia