Gluten-Free Oven-Fried Chicken with Baby Spinach Salad
This oven "fried" chicken can easily be made gluten-free! Here's how.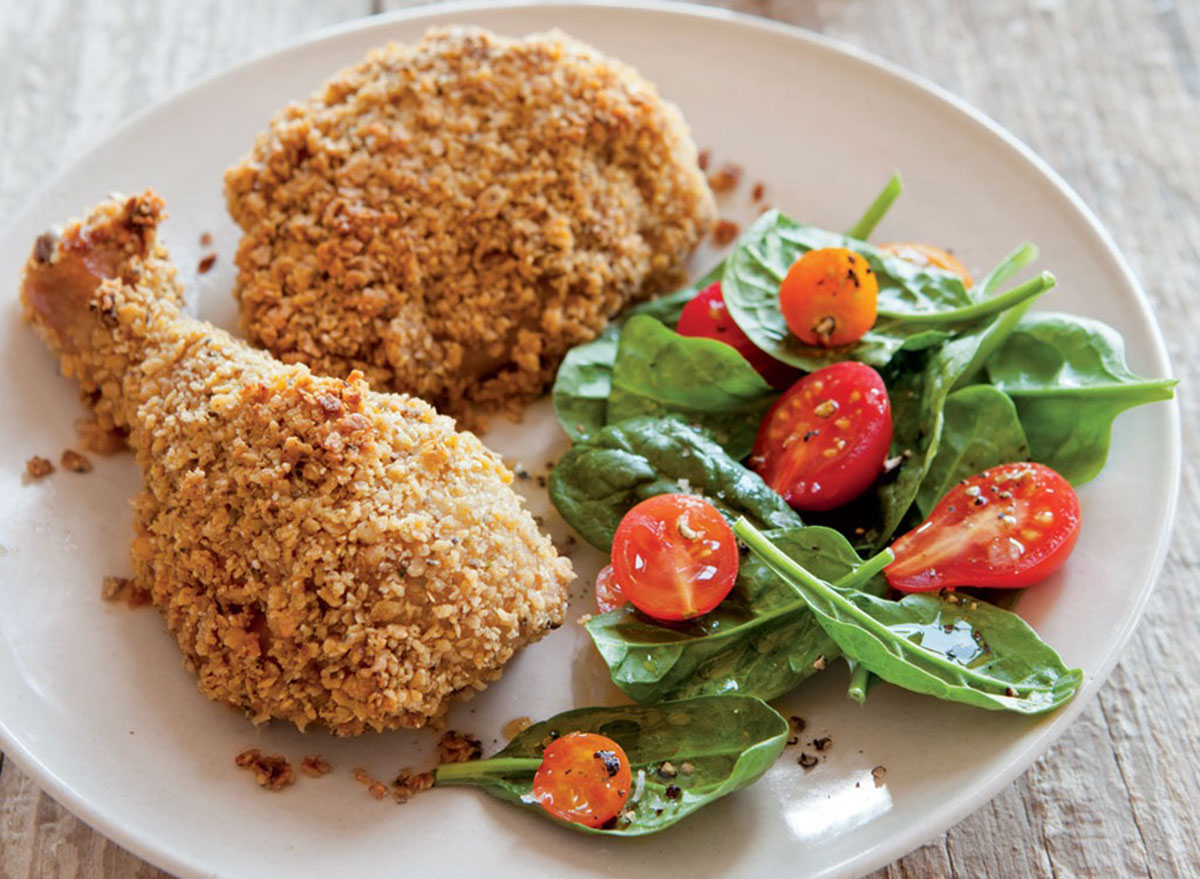 A quality gluten-free breadcrumb mix really can go a long way! This chicken is oven "fried", which essentially means you roast it in the oven until the chicken is crispy. Served with a fresh spinach salad, this oven-fried chicken is the perfect gluten-free alternative to the beloved fried chicken.
This recipe was provided by Kristine Kidd, author of Weeknight Gluten-Free.
Makes 4-6 servings
Ingredients
Olive oil, 1⁄4 cup (2 fl oz/60 ml), plus more as needed
Gluten-free tortilla chips, 1 bag (5 1/2 oz /170 g) (I like Food Should Taste Good Multigrain chips)
Dried marjoram, 1 teaspoon, crumbled
Ground cumin, 1 teaspoon
Cayenne pepper, 1 1/4 teaspoon
Chicken pieces, 3 1/2 lb (1.75 kg)
Kosher salt and freshly ground pepper
Fresh lime juice, 2 tablespoons
Baby spinach, 4–6 oz (125–185 g)
Cherry tomatoes, 1 pint (12 oz/375 g), halved
How To Make It
Preheat the oven to 450 degrees F (230 degrees C). Brush a large rimmed baking sheet with oil. Meanwhile, in a food processor, grind the tortilla chips finely and transfer to a pie plate. Mix in the marjoram, cumin, and cayenne pepper. Brush the chicken on all sides generously with oil, and then sprinkle with salt and pepper. Add the chicken to the crumb mixture, 2 pieces at a time, and turn to coat on all sides, pressing into the crumbs to help them adhere. Arrange the pieces skin side up on the baking sheet.
Place in the oven and roast until the crust is brown and the chicken is cooked through—about 35 minutes. Let stand for 5 minutes to crisp.
In a small bowl, place the lime juice. Gradually whisk in the 1⁄4 cup olive oil to make a vinaigrette. Season to taste with salt and pepper. In a salad bowl, combine the spinach and tomatoes. Add the vinaigrette and toss to coat. Divide the chicken and salad among plates and serve.
Eat This, Not That!
Inspired by The New York Times best-selling book series, Eat This, Not That! is a brand that's comprised of an award-winning team of journalists and board-certified experts, doctors, nutritionists, chefs, personal trainers, and dietitians who work together to bring you accurate, timely, informative, and actionable content on food, nutrition, dieting, weight loss, health, wellness, and more.
Read more about Eat This