A Homemade Paleo Banana Bread Recipe
It's better than the one your grandma used to make, and you won't believe there's no added sugar in this treat.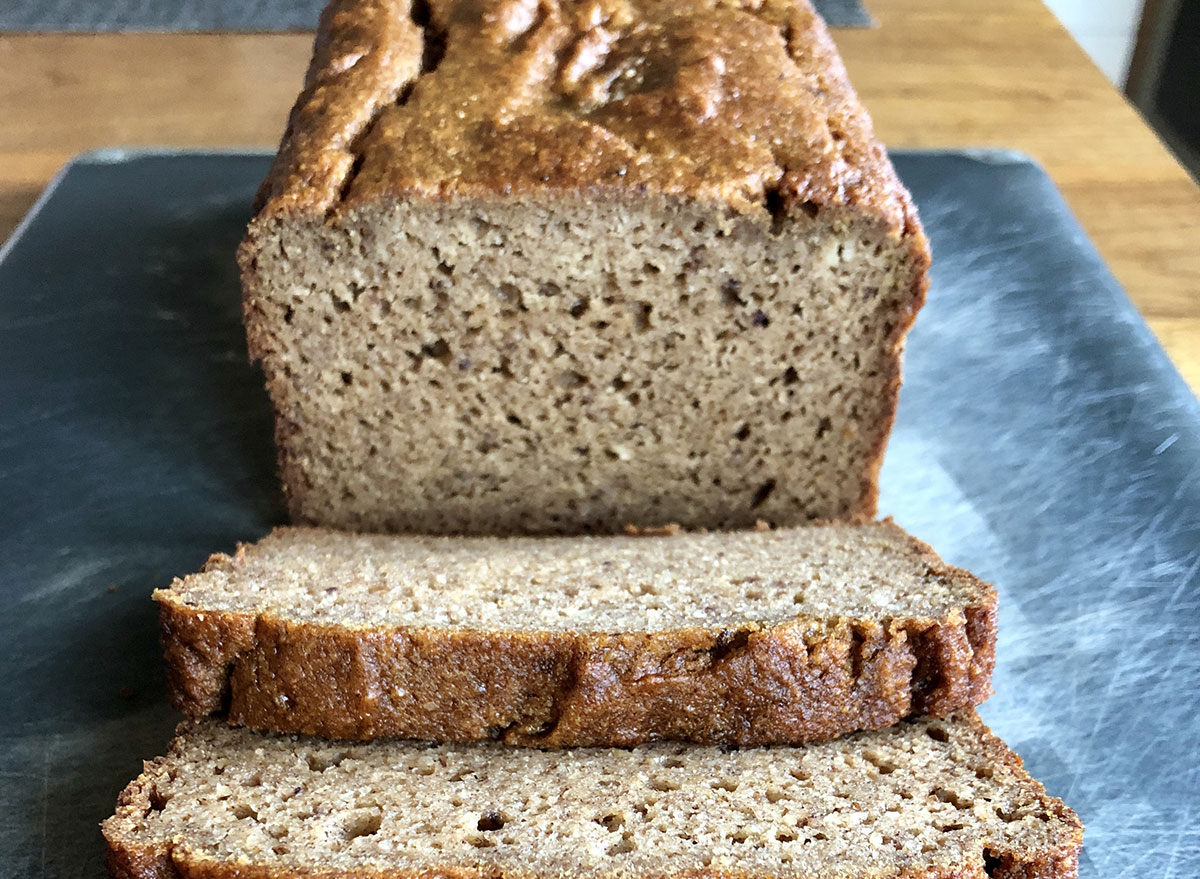 Going paleo didn't feel like a sacrifice to me. Yeah, I had to give up grains, legumes, most sugar, and some other foods—but in the process of becoming paleo, I also cured myself after years and years of stomach problems and boosted my energy like crazy.
But there are some foods I love that I needed workarounds for once I made this change, and banana bread was one of them. I can't imagine life without banana bread—it's comforting, it's a treat, it's a snack…it's just so good.
These days, there are so many alternatives to traditional baking ingredients like flour and sugar, so taking on a challenge like making a paleo banana bread is truly hassle-free.
This bread recipe utilizes almond flour and arrowroot starch instead of traditional wheat flour. In my experience, mixing up flours gives paleo baked goods the best texture. And there's zero added sugar, though you won't miss it. I always liked brown sugar in my banana bread in my pre-paleo days, so to mimic that rich, caramel-y taste, I blended some dates into the batter. Along with that flavor depth, dates also add minerals and fiber. Paleo cooking isn't just about cutting foods out of your diet—it's also about getting the most nutrients into your food, and dates are a great secret weapon to add sweetness and also some nutrition.
This is a paleo banana bread recipe with just a touch of cinnamon (it adds more natural sweetness, and did you know cinnamon also adds fiber, minerals like manganese and calcium, and antioxidants, and is heart-healthy, great for fighting inflammation, and good for your brain?).
Try it yourself, and you'll see just how delicious going paleo can be!
Paleo Banana Bread Recipe
Prep: 10 minutes
Cook: 1 hour
Yield: 1 9-inch loaf
Ingredients
2 cups (224g) blanched almond flour (I like Bob's Red Mill Super-Fine Almond Flour)
½ cup (72g) arrowroot (I like Bob's Red Mill Arrowroot Starch/Flour)
1 tsp baking soda
1 tsp cinnamon (I like Simply Organic)
¼ tsp fine sea salt
3 medium-sized ripe bananas
3 tbsp avocado oil or extra virgin olive oil
5 pitted Medjool dates
2 tsp vanilla extract (always buy pure, not imitation vanilla extract)
2 large eggs, beaten
How to Make It
Preheat oven to 350ºF. Make sure there's a rack in the center of the oven before you preheat.
Mist a 9-by-5-inch loaf pan with a little cooking spray or add a few dabs of coconut oil, then line it with parchment. This is the best way to prevent sticking. The oil just helps keep the parchment in place. Leave an inch of overhang on both sides, and be sure to grease any part of the pan that isn't lined.
Mix the dry ingredients (almond flour, arrowroot, baking soda, cinnamon, and salt) in a large bowl and mix well. Use a whisk to make sure you get all the lumps out.
Blend the wet ingredients. In a high-speed blender or food processor, combine bananas, oil, dates, and vanilla; blend until well combined and smooth. Use a high-speed blender (like a Vitamix) or a food processor to pulverize the dates and mix them in with the other wet ingredients.
Beat the eggs separately, and stir them into the flour mixture with the wet ingredients. (Keep the eggs out of the blender. You don't want to beat too much air into the eggs; that can affect the texture.)
Stir until fully incorporated.
Spread the batter evenly in the pan and bake. The bread is done when a toothpick or cake tester inserted in the center comes out clean, about 50 to 60 minutes. Check the bread after 40 minutes—if the top is getting too brown, cover it loosely with foil for the rest of the baking time.
Let the bread cool in the pan on a wire rack for 10 minutes, then use the parchment to help lift the bread out of the pan and place it on the rack to cool completely.
How to customize this recipe
You can customize this recipe in about a zillion ways. Some of my favorites include:
Add chocolate chips. I mean, duh, right? To keep it paleo, use a paleo-friendly chocolate (I like to chop up a bar by Hu Kitchen or Eating Evolved).
Swirl a paleo-friendly chocolate spread into the batter, like 4th & Heart Chocti.
Along with the cinnamon, add some turmeric and ground ginger for a "golden milk" banana bread.
Add more cinnamon and some raisins, or stir in orange zest and dried cranberries.
Go nuts—chopped toasted walnuts or pecans work well. Toasted coconut is also really nice. I've even done chocolate and coconut for kind of an Almond Joy spin.
How to store leftovers
If you have leftovers, wrap them tightly and store in the fridge for up to 5 days (it won't last that long…). It's great cold, or you can toast slices in the toaster oven. Pro tip: It makes awesome French toast, too.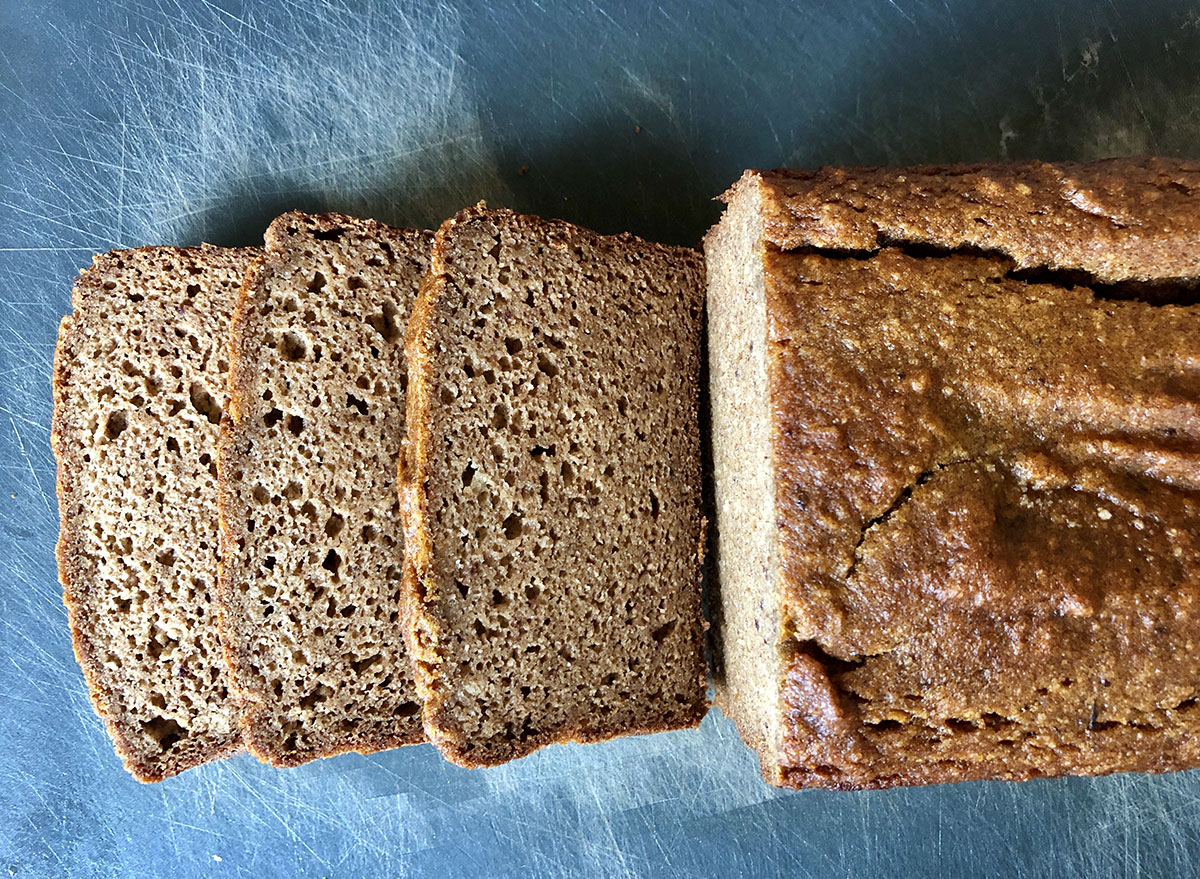 6254a4d1642c605c54bf1cab17d50f1e