17 Finger Food Recipes That'll Feed the Hungriest Of Crowds
Game day? Girls' night? B-day bash? Have your party be the talk of the town with these no-fret snacks!
This one goes out to everyone who knows that your hands are just as good (if not better) than a fork and knife. Any food can be eaten with your hands if you try hard enough, but we're talking tried-and-true finger food recipes fit for a party. When you want to keep it simple but go beyond just opening a bag of chips, these 17 finger foods are perfect for your get-together—whether it's game day, girls' night, or game night.
Garam Masala Chicken Skewers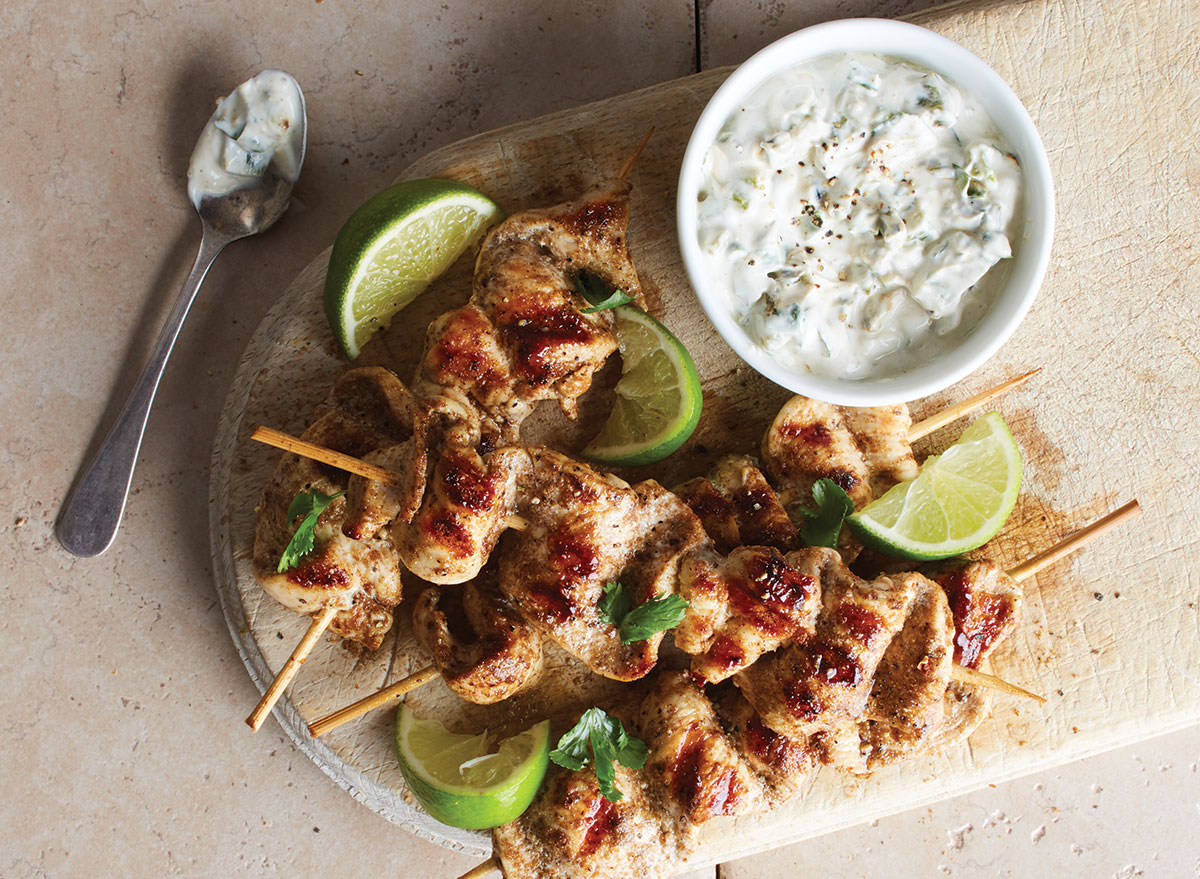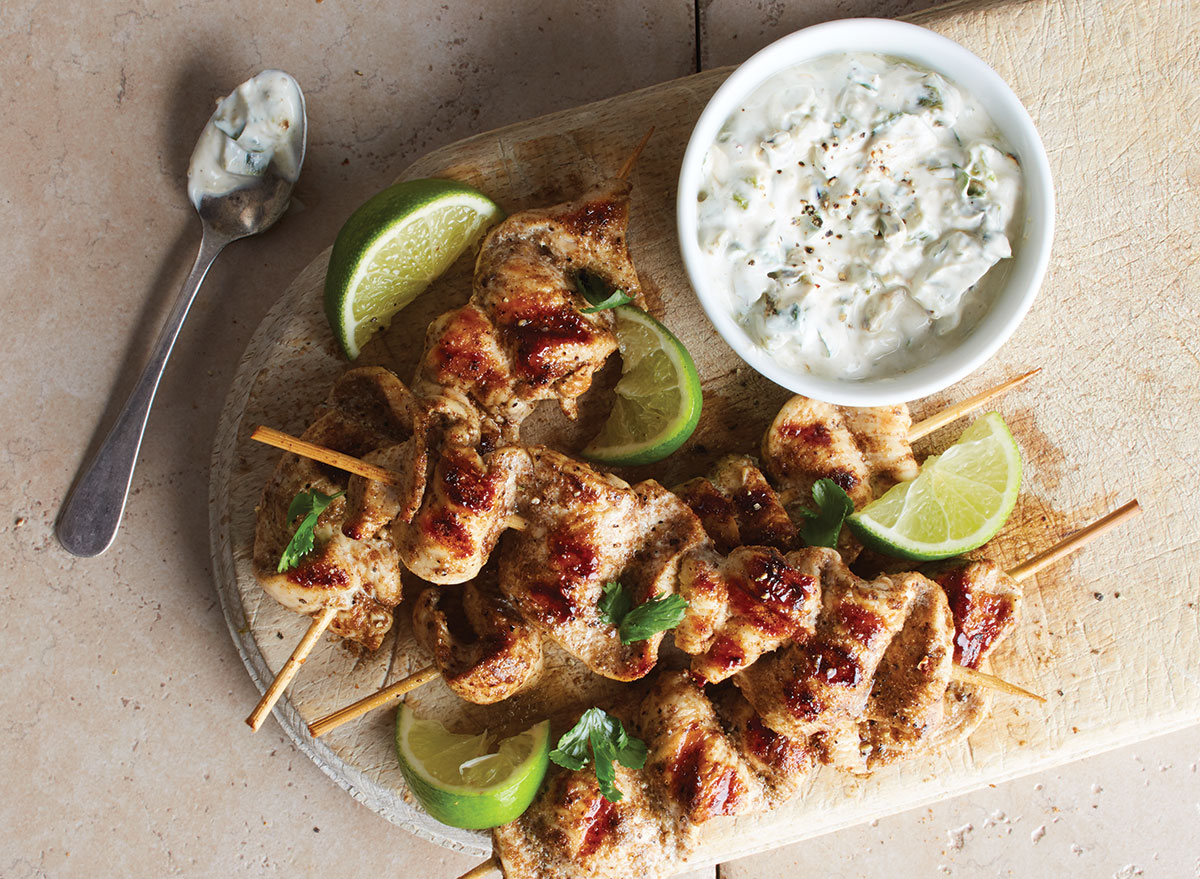 When you don't want to deal with utensils, follow the golden rule of party food: Put it on a stick. That motto works particularly well with these spiced chicken skewers that take only 5 minutes to cook, and are even better once paired with a spicy jalapeño dip.
Get our recipe for Garam Masala Chicken Skewers.
Trail Mix Popcorn
Game day? Take the stress of a close 4th quarter out on a bowl of sweet and salty popcorn. Making your own version beats the bagged version for multiple reasons (health, customization, fun, etc.) and we don't think anyone will complain if you toss a few extra dark chocolate chips into the mix.
Get our recipe for Trail Mix Popcorn.
7-Layer Dip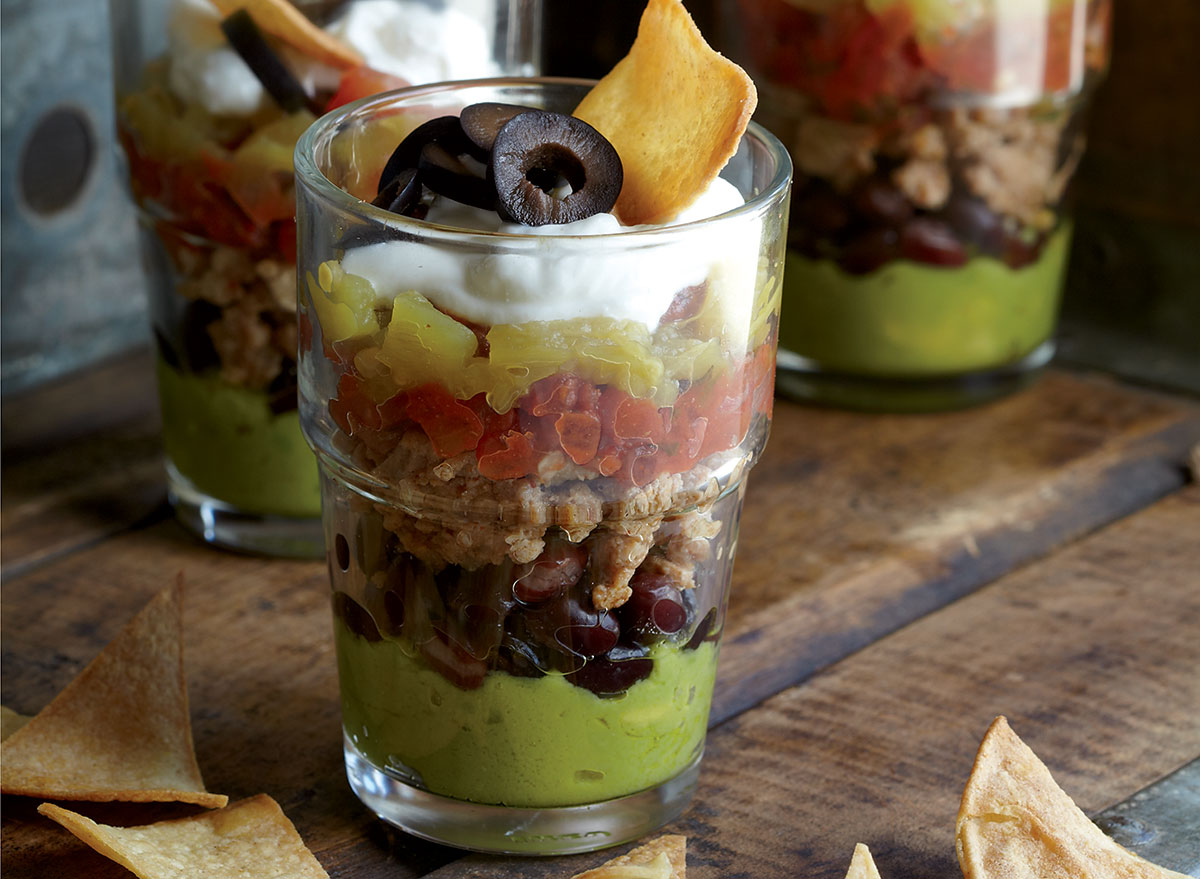 Dips are their own food group in the world of finger foods. This recipe lightens up the classic layers by calling for lean ground turkey, whole black beans, and yogurt instead of sour cream. Also, building the dip in individual servings allows for as much double dipping as one desires. Don't forget the tortilla chips—the only acceptable vessels for scooping through the layers of this party stratosphere.
Get our recipe for Healthy 7-Layer Dip.
Spinach Artichoke Dip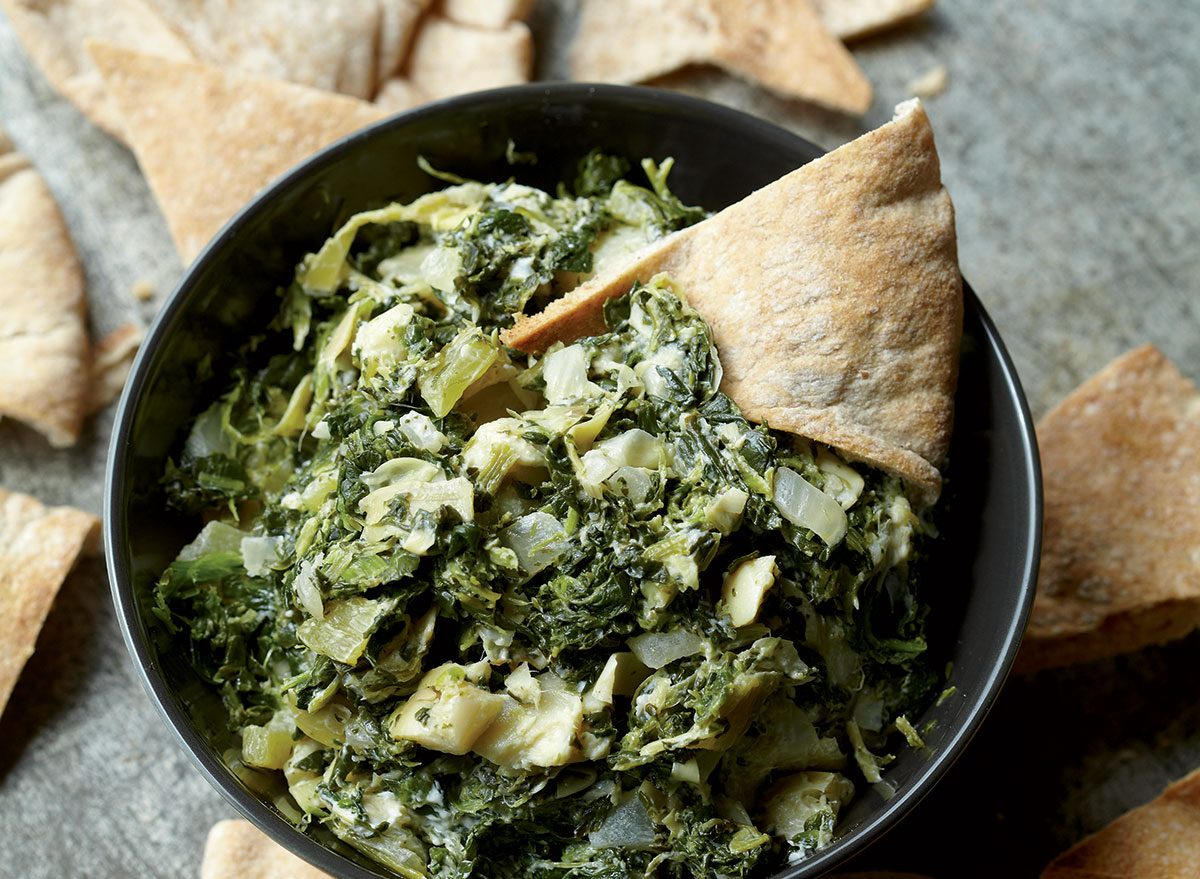 For a less layered affair, artichokes and spinach join forces for a crowd pleaser that's healthier than you'd expect, and roasted green chiles add a welcome hint of spice. Tip: Use frozen spinach to cut the cost in half; it's an affordable shortcut and nobody would taste the difference if you used fresh.
Get our recipe for Spinach Artichoke Dip.
Pistachio and Cranberry Cheese Ball
If you're not one to get into the fanfare of sports games, this is one type of ball we think you can get behind. While some guests are glued to the game on the screen, the smart ones will be busy dipping crackers into this edible sculpture of goat cheese.
Get our recipe for Pistachio and Cranberry Cheese Ball.
Shrimp and Mango Summer Rolls
Switch up the typical finger food spread with refreshing summer rolls. Not a fan of shrimp? Try tofu or sliced chicken instead. These are easily customizable, not to mention fun to make.
Get our recipe for Shrimp and Mango Summer Rolls.
Fudgy Brownies
Even if you're not sitting down to a three-course meal, you still want to make sure you cater to the sweet tooth (or teeth) in the room. You might even have all the ingredients on hand, meaning it will essentially cost you nothing to whip up a pan of these fudge brownies.6254a4d1642c605c54bf1cab17d50f1e
Get our recipe for Fudgy Brownies.
Roasted Chicken Wings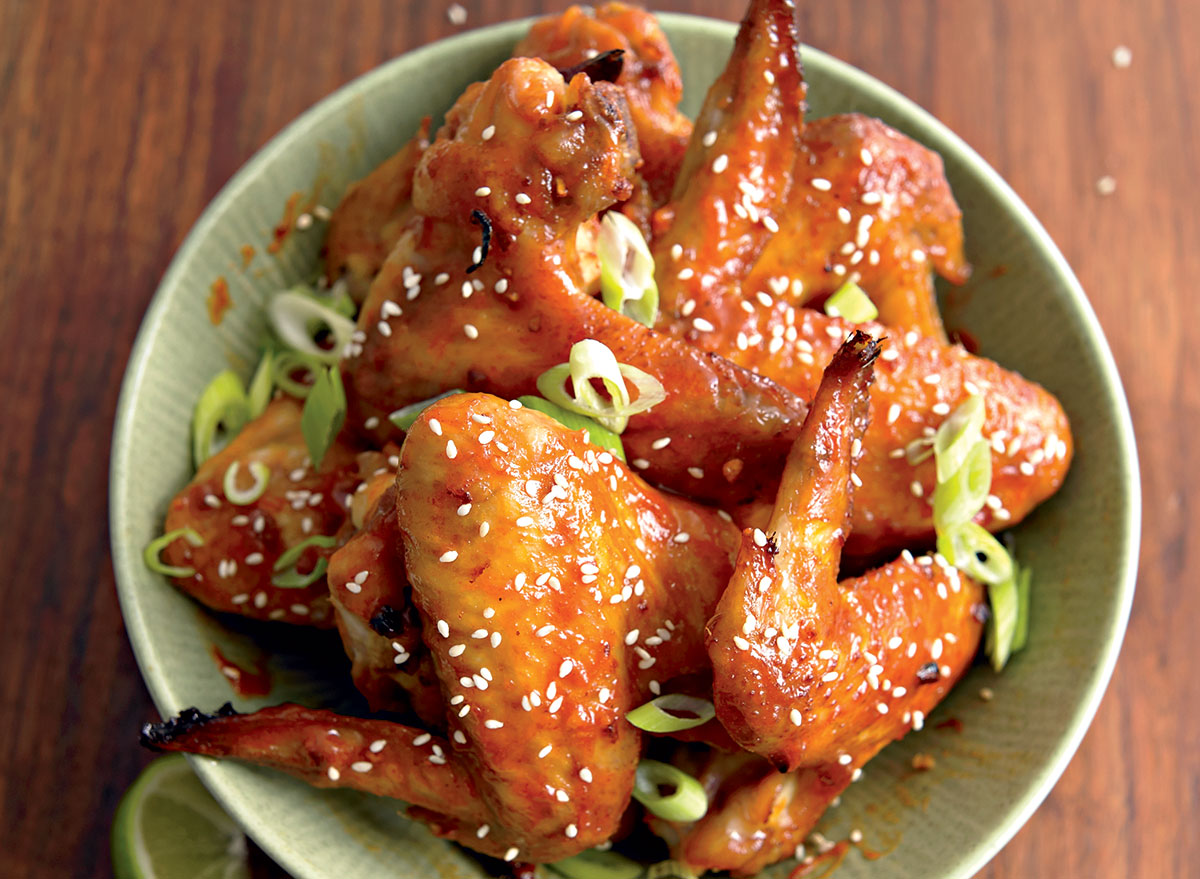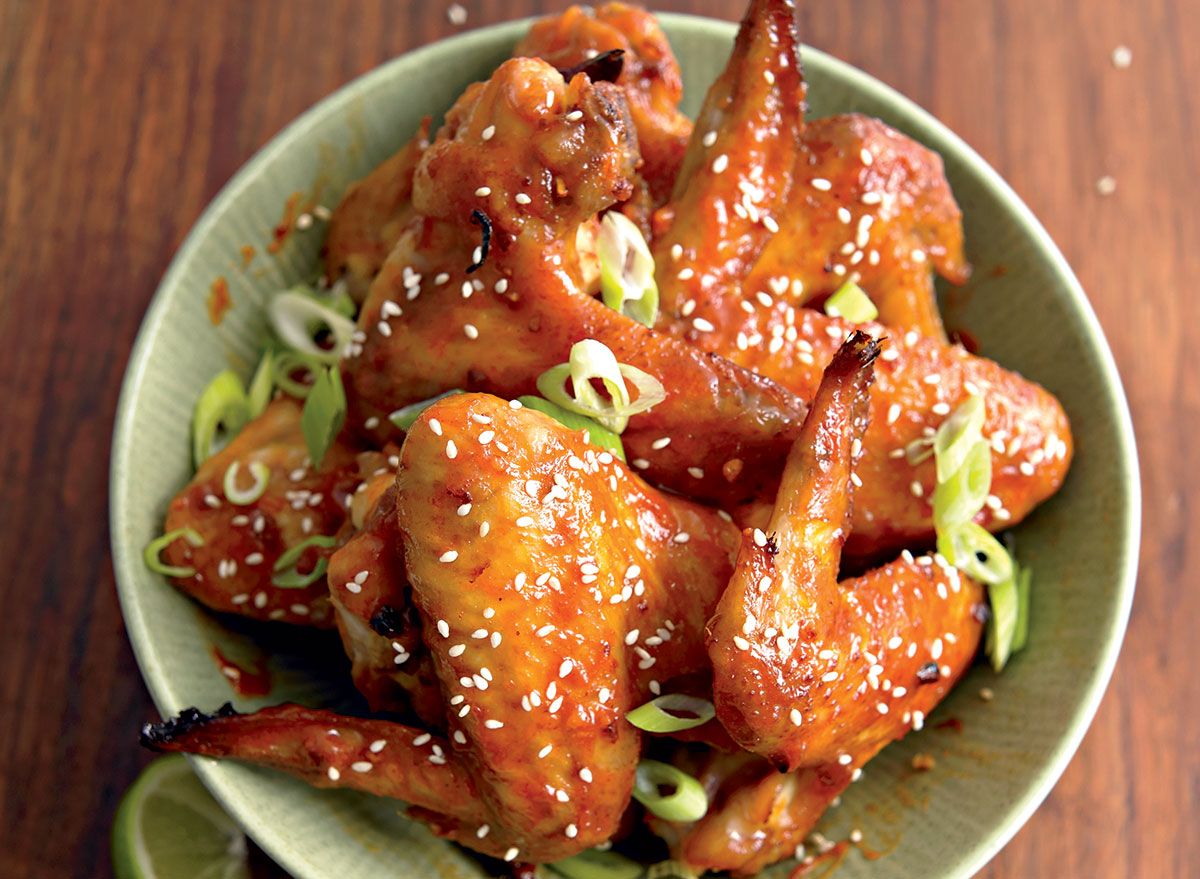 It's not a football party without a plate of wings—and why not make your wings the talk of the town? Our version gets marinated in soy sauce, garlic, brown sugar, and ginger before getting baked (not fried!) and finished off in a sriracha-lime juice coating that'll make you thankful you didn't use a fork and knife.
Get our recipe for Roasted Chicken Wings.
Cauliflower Buffalo Wings
No matter how many vegetarians are in the room, this recipe ensures that no one is left wingless. You'll douse cauliflower florets in beloved Buffalo flavor, and when paired with cooling blue cheese avocado dip and a side of celery, you might even trick someone into thinking these are boneless chicken wings.
Get the recipe from Well Plated.
Sausage Crescent Bites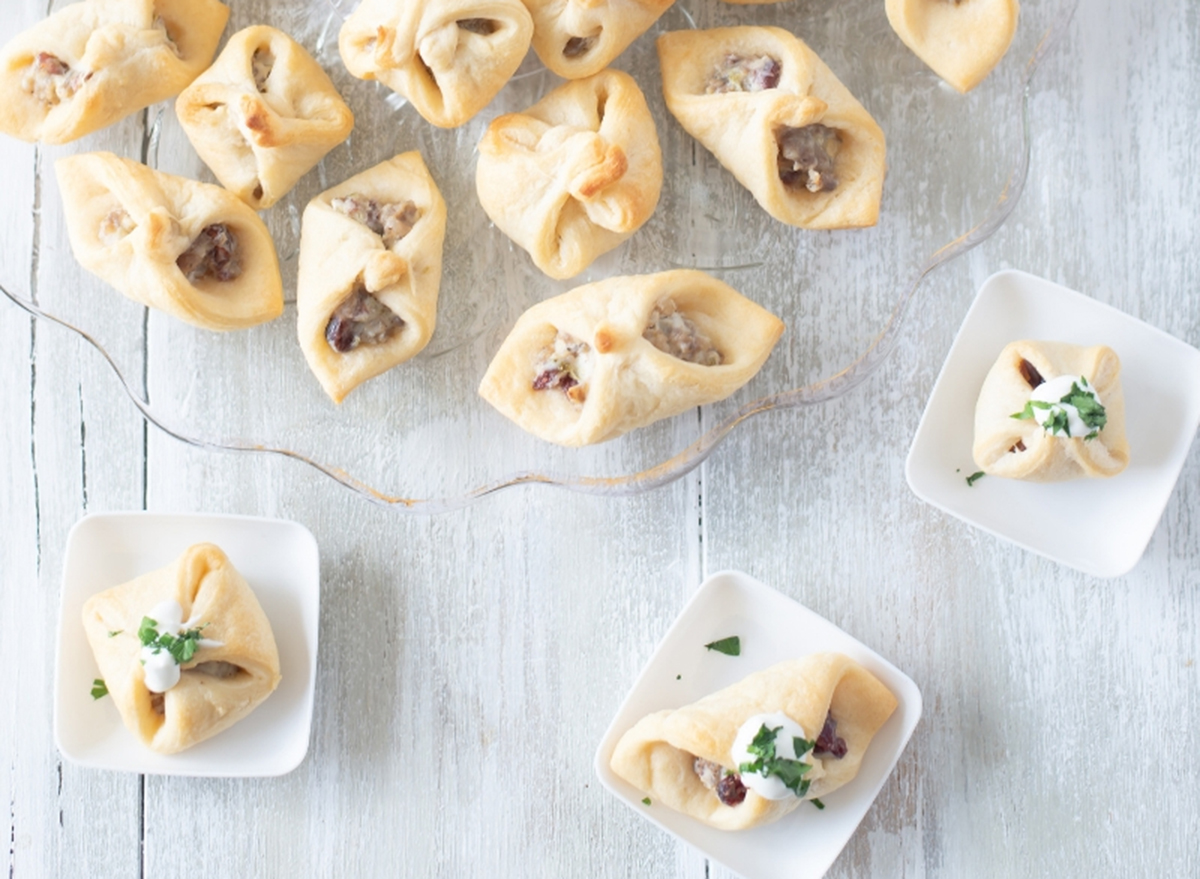 Crescent rolls are the little black dress of finger foods. You can style them in nearly endless ways, from churros to chicken dumplings, but we're partial to these sausage-stuffed snacks, which get a hint of sweetness from dried cranberries.
Get the recipe from Flour On My Face.
Cheesesteak Pinwheels
If you truly love something, you can figure out a way to eat it with one hand. At least that's the case with these mini Philly cheesesteaks, in which you'll wrap the usual suspects inside pizza dough, slice it into spiral bite-size pieces, and bake until crispy.
Get the recipe from Real Food by Dad.
Ranch Potato Poppers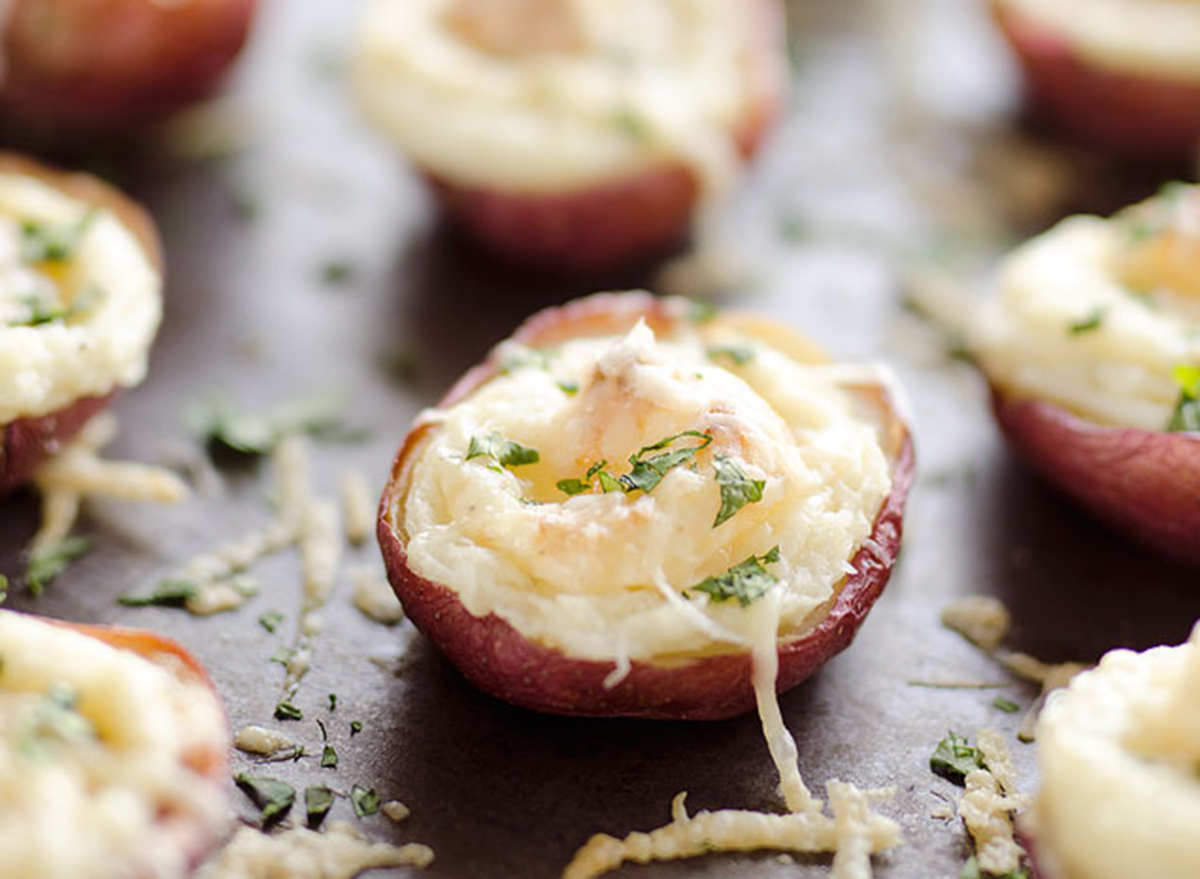 The ability to consume cheese, mashed potato, sour cream, and ranch seasoning all at once without involving a fork is what makes finger foods truly magical. In addition to being adorable, these twice-baked bites only call for four (budget-friendly!) ingredients.
Get the recipe from The Creative Bite.
Kale Guacamole
Salad is decidedly a difficult finger food, but sometimes you're still in the mood for greens. The solution presents itself beautifully in this kale guacamole, an even greener way to get your fill of the always-welcome dip.
Get the recipe from Cookie + Kate.
Chicken Nuggets
It's both more delicious and affordable to make your own version of the fast food staple. These ones are soaked in a pickle juice marinade for maximum flavor, coated in almond flour for extra crunch, and baked instead of fried.
Get the recipe from Eating Bird Food.
Gougeres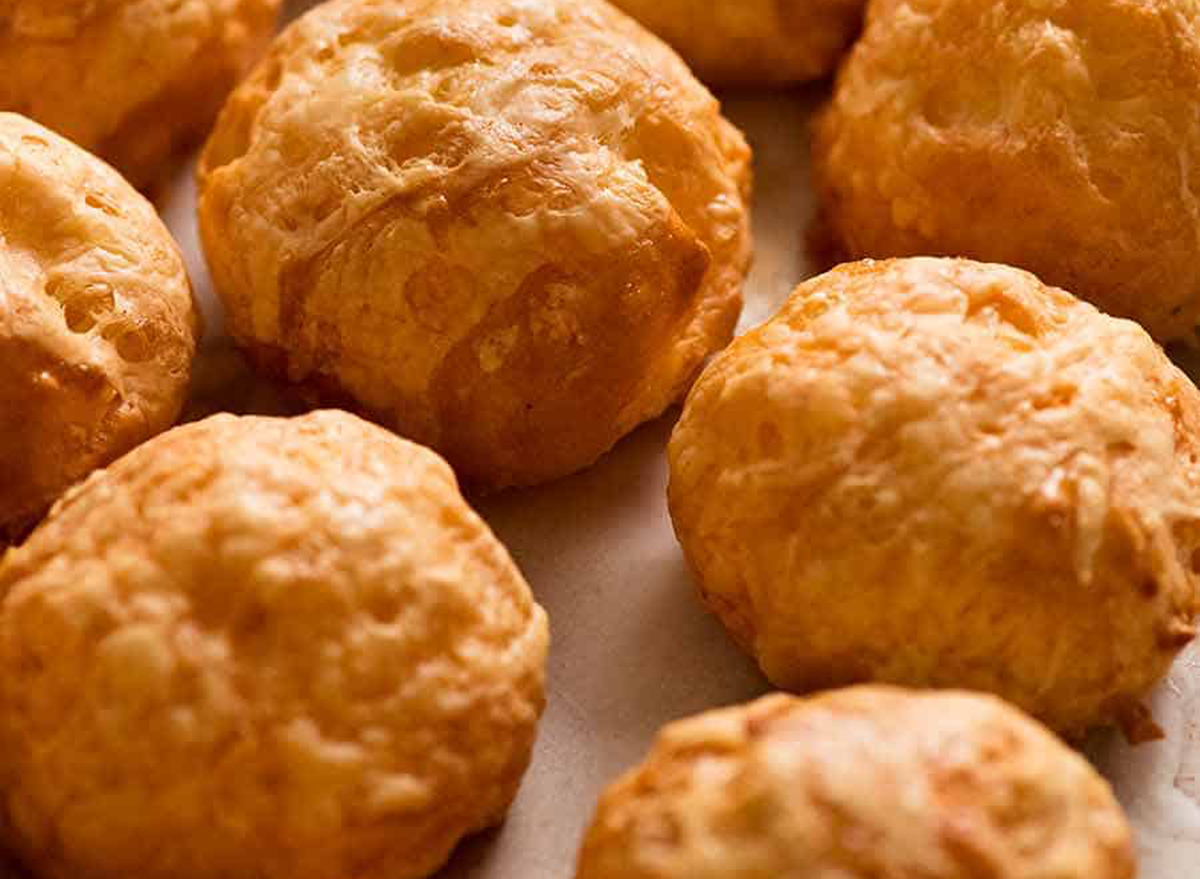 Turn any get-together into a classy affair with this French finger food recipe. No matter how fancy they may sound, they're just cheese puffs at heart.
Get the recipe from RecipeTin Eats.
Baked Parsnip Fries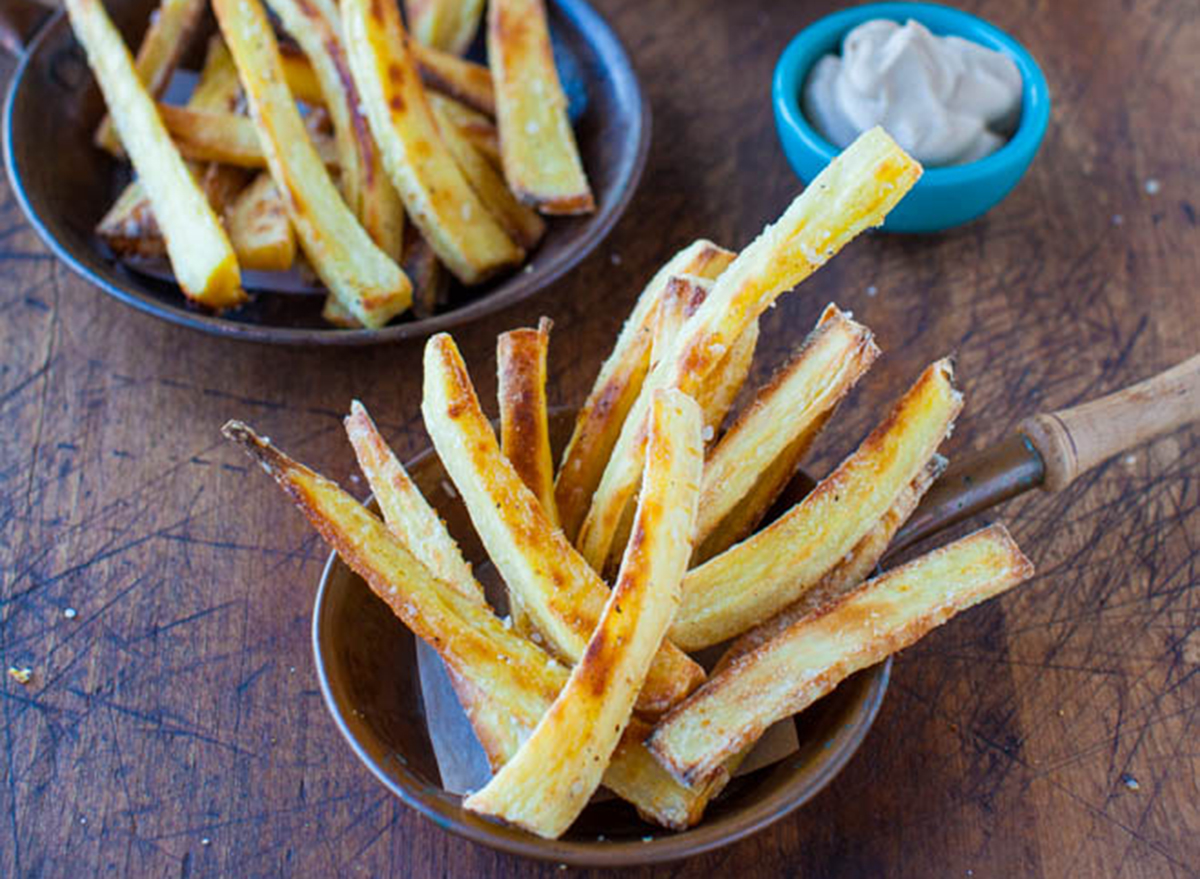 Speaking of French, it's not a party unless fries are invited. Sneak some health benefits onto the tray by swapping potatoes for parsnips, a sweet and creamy root vegetable that deserves a turn in the spotlight.
Get the recipe from Averie Cooks.
Vegan Pretzel Bites with Spicy Mustard
By turning pretzels into puffy one-bite wonders, you save yourself the extra step of folding them into the traditional pretzel shape and make it easier to pop them into your mouth while anxiously watching a playoff game. You can customize the spicy mustard to your liking by adding dill, other spices, or even more hot sauce.
Get the recipe from Vegan Richa.
Abby Reisner
Abby is a food writer, editor, cook, and digital strategist living in Brooklyn.
Read more about Abby