Pears are the perfect combo of sweet, subtle, and satisfying.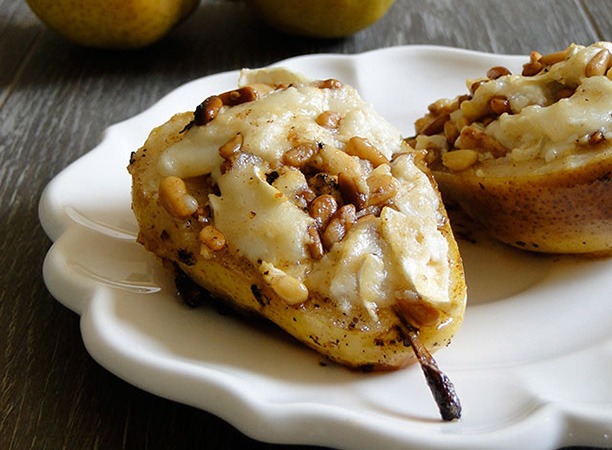 At just 100 calories, the hourglass fruit known as a pear is sweet enough to kick sugar cravings while still helping you ditch your love handles. Plus, one medium pear provides 6 grams of belly-shrinking, gut-healthy fiber. According to Jennifer Glockner, RDN, and author of the Smartee Plate series, it's the hunger-fighting soluble fiber called pectin that attracts water and turns to gel, slowing digestion. Score! Devour the list below and get ready, because pear season is approaching with no chill. Find your new favorite below, and then don't miss these 20 Most Filling Fruits and Veggies—Ranked!
PEAR GINGER SMOOTHIE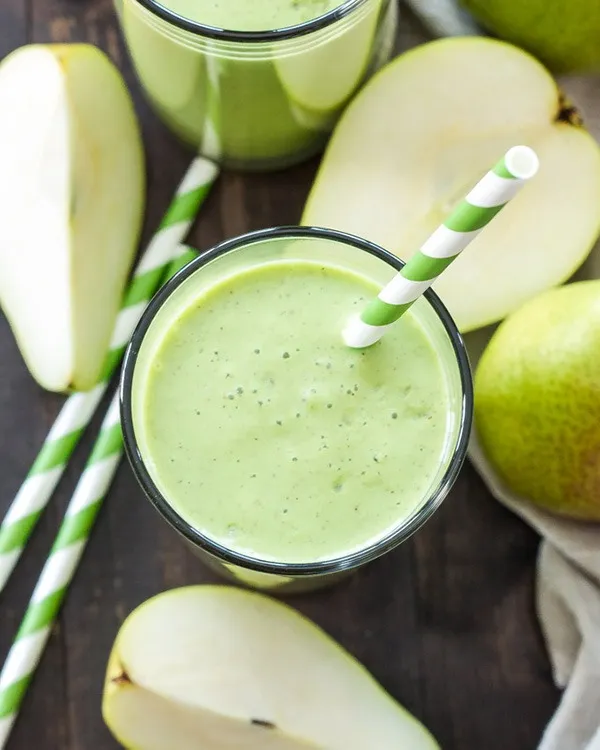 Nutrition (per 1 cup serving): 141 calories, 6 g fat (1 g saturated), 16.6 g carbs, 3.1 g fiber, 10.3 g sugar, 5.4 g protein
Whether your tummy is feeling a little off or you just hobbled out of Crossfit, blend this. For thousands of years, the Chinese have treated digestive issues with ginger, but more recent research credits the spice as a powerful muscle relaxant. In fact, ginger can help reduce post-workout soreness by as much as 25 percent, thanks to anti-inflammatory compounds.
Get the recipe from The Recipe Runner.
PEAR SORBET
Nutrition (per ½ cup serving ): 68 calories, 0 g fat (0 g saturated), 2 mg sodium, 17.7 g carbs, 3.3 g fiber, 11.9 g sugar, .5 g protein (calculated without sugar)
Your late night ice cream addiction is just one of those not so innocent things making you fatter, but not to worry—this pear sorbet can seamlessly fill its place. However, we do suggest omitting the added sugar (although real) in the recipe. It's naturally sweet enough.
Get the recipe from Butter With a Side of Bread.
PEAR BUTTER
Nutrition (per 2 tbsp serving): 22 calories, 0 g fat (0 g saturated), 2 mg sodium, 5.8 g carbs, 1 g fiber, 4.1 g sugar, 0 g protein
When grape jelly just is not cutting it, pear butter will. And at 22 calories per two-tablespoon serving, it's an innocent way to spice up your morning toast. Just don't forget to also consume protein or you'll be ravished in an hour. For protein 101, check out How To Eat Protein For Weight Loss.
Get the recipe from Gimme Some Oven.
ASIAN PEAR SLAW WITH GINGER AND LIME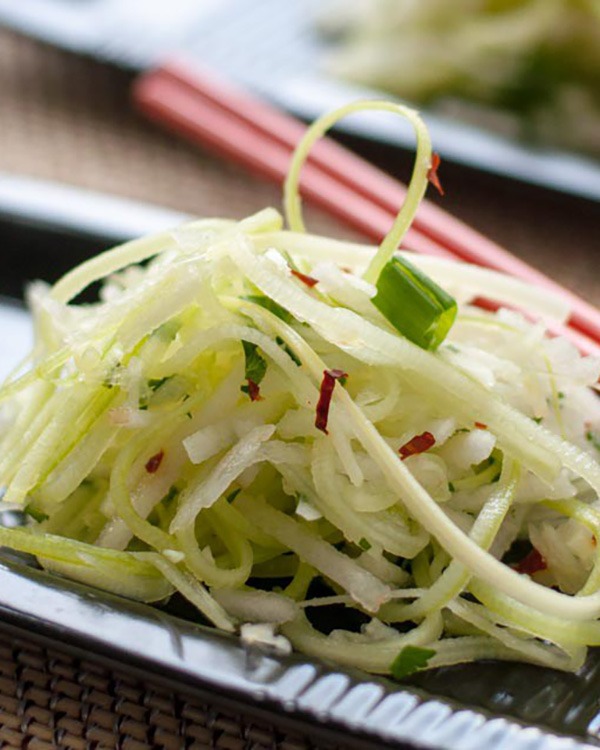 Nutrition (per 1 cup serving ): 132 calories, 0 g fat (0 g saturated), 19 mg sodium, 31.9 g carbs, 6.8 g fiber, 20 g sugar, 1.1 g protein
Coleslaw has one huge flaw: it's often made with flabby mayonnaise—but not this time. Natural sugar from ripe pear is combined with crunchy celery, tummy calming ginger, cellulite-diminishing cilantro and immunity-boosting lime. If you're feeling particularly cultural, try using chopsticks. It forces you to slow down and consume less, which is key for rapid weight loss.
Get the recipe from Flavour and Savour.
PEAR AND GOAT CHEESE GRILLED CHEESE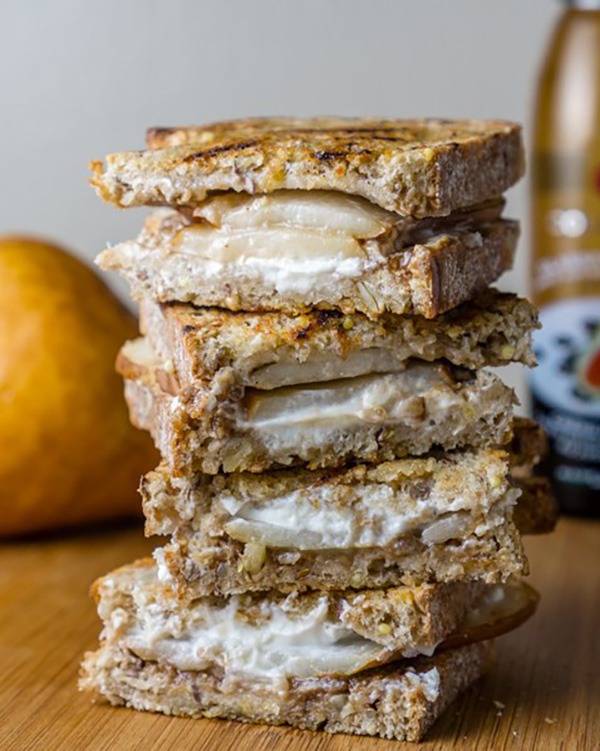 Nutrition (per sandwich): 350 calories, 17.8 g fat (11.1 g saturated), 204 mg sodium, 31.6 g carbs, 5 g fiber, 9.4 g sugar, 16.1 g protein
Goat cheese is like that blunt friend whom people always have a strong opinion about—you either love it or hate it. But when it comes to the world of cheese, it's lower in both calories and fat than cow varieties. Plus, goat cheese doesn't come "fat-free," so when you opt for it, you'll be more satisfied and likely to pass on the handful of greasy potato chips.
Get the recipe from Babaganosh.
ROASTED PEARS WITH GOAT CHEESE AND PINE NUTS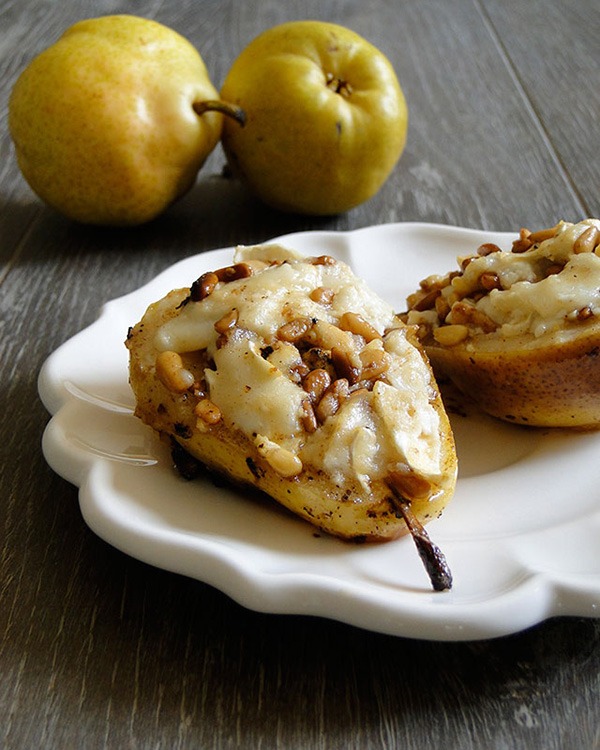 Nutrition (per ½ pear serving): 179 calories, 12.1 g fat (5.7 g saturated), 67 mg sodium, 16.8 g carbs, 3.4 g carbs, 10.5 g sugar, 3.3 g protein (calculated with 1 oz goat cheese)
Life without dessert isn't much a life at all, which forces us health foodies to think outside of the box. This recipe is a result of that intrepid dieter's mind. And guess what? It just might help you inch closer to your weight loss goals. In fact, according to a study presented at the American Chemical Society in 2006, pinolenic acid (or the unsaturated fatty acid solely derived from pine nuts) suppressed the appetite of overweight women, enabling them to reduce overall food intake by a whopping 37 percent!
Get the recipe from Taste of Wonderland.
PEAR OATMEAL BARS
Nutrition (per bar, yields 16): 109 calories, 4.6 g fat (1 g saturated), 112 mg sodium, 15.1 g carbs, 3 g fiber, 6.3 g sugar, 3.1 g protein
Despite their iffy rep (thanks to food processing), steel cut oats are one of the most heart-healthy, belly-shrinking, immunity-boosting, and blood-sugar stabilizing grains. Whether you're looking for a healthful snack to throw into your child's lunch box or an afternoon pick-me-up to get you through five o'clock traffic, these bars are just the thing.
Get the recipe from Happy Healthy Mama.
APPLE PISTACHIO QUINOA SALAD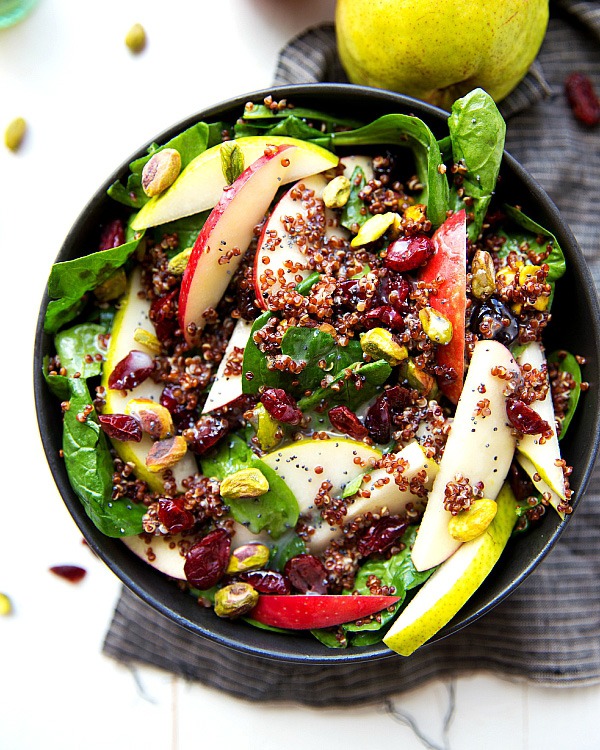 Nutrition (per 1 cup serving): 307 calories, 22.8 g fat (4 g saturated), 236 mg sodium, 26.1 g carbs, 4.8 g fiber, 18.3 g sugar, 4.1 g protein
Don't let the fat count here scare you—it derives from two nutritional superstars: quinoa and pistachio. The gluten-free grain is the only grain to contain all nine essential amino acids, making it a complete protein. And not only are pistachios the lowest calorie nut, but they contain more potassium and vitamin K than any of their relatives. Each one ounce serving contains six grams of protein and three grams of fiber for just 160 calories. Add cherries, pears, apples, and dried cranberries to the mix and you've got one cancer-fighting bowl.
Get the recipe from Chelsea's Messy Apron.
PEAR CRISPS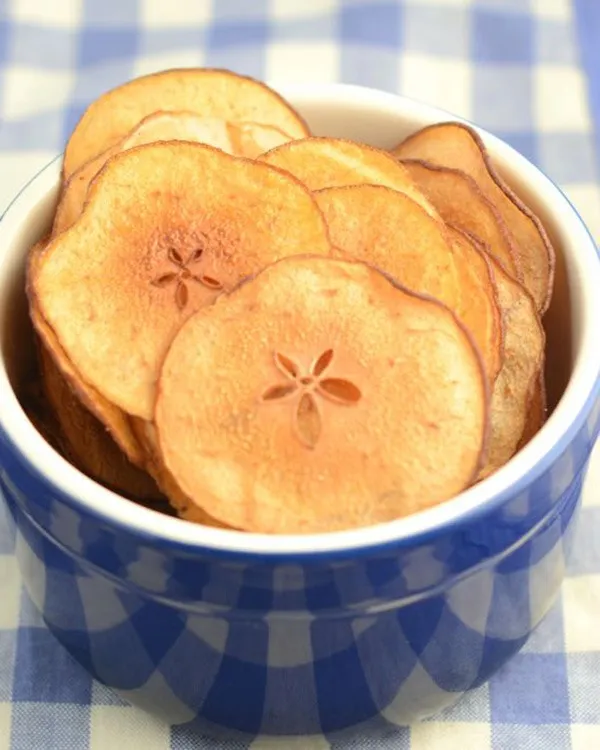 Nutrition (per 3 oz serving): 41 calories, 0 g fat (0 g saturated), 0 mg sodium, 10.7 g carbs, 2.2 g fiber, 7.1 g sugar, <1 g protein
Quit your potato chip habit and try these crisps instead. This recipe is made with two pears, a baking sheet, and an oven. No oil, no sugars, and no mess!
Get the recipe from Charlotte's Lively Kitchen.
ROASTED CHICKEN WITH HONEY BACON PEARS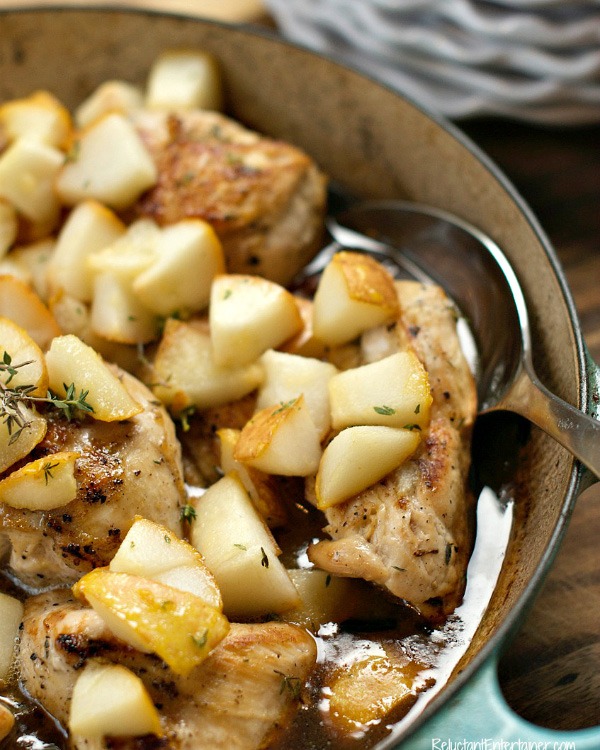 Nutrition (per 1 cup serving ): 448 calories, 17.7 g fat (5 g saturated), 322 mg sodium, 18.9 g carbs, 1.6 g fiber, 15.4 g sugar, 48.4 g protein
If you're like us, you look forward to cheat meals all damn week. But they can also be kind of scary to navigate. If that sounds familiar, this recipe is our gift to you. Bordering between wholesome and indulgent, it's the perfect meal to satisfy a savory craving without the post-meal guilt.
Get the recipe from Reluctant Entertainer.
CREAMY SPINACH AND PEAR SOUP WITH PANCETTA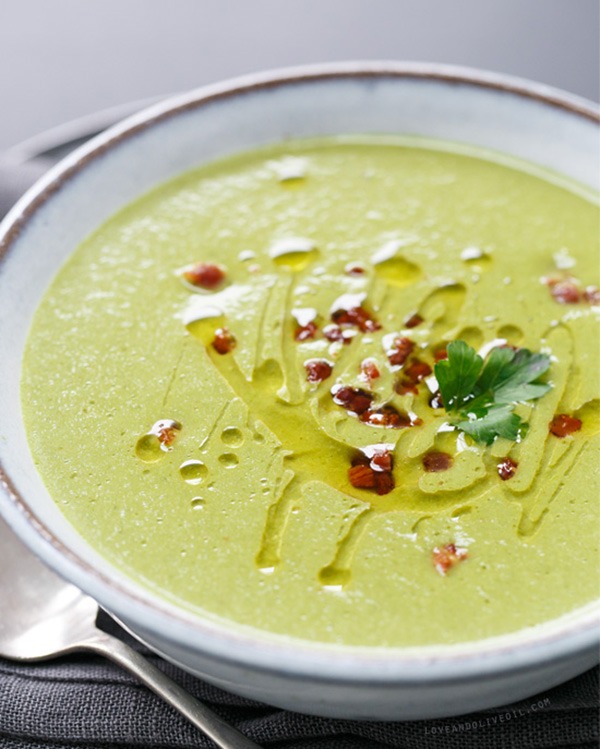 Nutrition (per 1 cup serving): 155 calories, 8.5 g fat (2.1 g saturated), 430 mg sodium, 14.4 g carbs, 2.9 g fiber, 7 g sugar, 7 g protein (calculated with 2 cups of low sodium chicken broth and 2 cups of water)
Despite the recent heat wave, fall is creeping up on us. What better way to welcome it than with this steaming bowl of festive soup? Although Popeye was the first to boast about the green, it does more than make your biceps pop. Spinach also helps to protect skin, improve eyesight, promote bone health, lower blood pressure, banish belly-bloat and more.
Get the recipe from Love and Olive Oil.
MAPLE VANILLA BAKED PEARS
Nutrition (per 1 cup serving ): 115 calories, 0 g fat (0 g saturated), 3 mg sodium, 29.7 g carbs, 3.3 g fiber, 22.3 g sugar, 0 g protein
Our favorite thing about this recipe: "It's virtually impossible to mess up." Simply cut ripe pears in half, add toppings and bake for 25 minutes. Then once they are done, place a dollop of appetite squashing Greek yogurt for the rich creamy texture of whipped cream, without the excess calories, fat or hydrogenated oils.
Get the recipe from Sally's Baking Addiction.
APPLE PEAR WALNUT CRISP
Nutrition (per ½ cup serving): 267 calories, 13.8 g fat (7.2 g saturated), 85 mg sodium, 35.4 g carbs, 3 g fiber, 21.8 g sugar, 2.6 g sugar
As ah-mazing as apple crisp is, a little pear-ty never hurt nobody. Try this delish treat.
Get the recipe from Great Grub Delicious Treats.
BANANA PEAR MUFFINS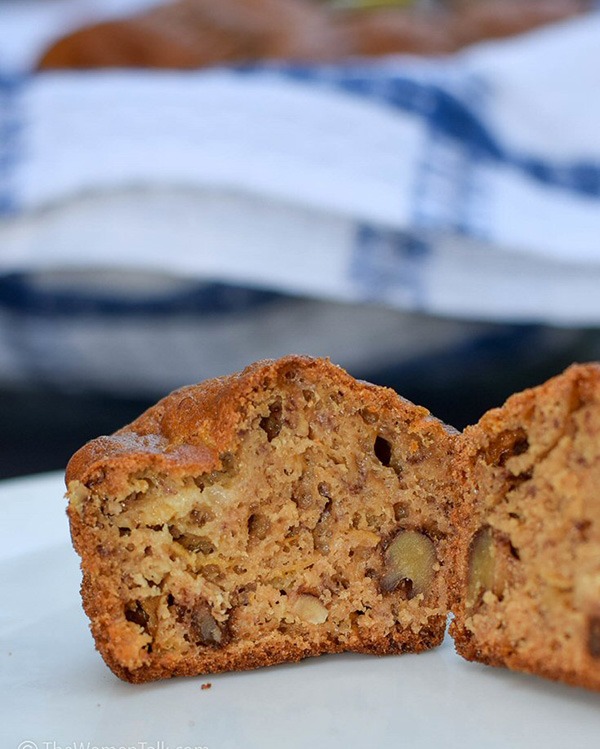 Nutrition (per muffin, yields 8): 276 calories, 9.6 g fat (1.2 g saturated), 175 mg sodium, 40.2 g carbs, 2.7 g fiber, 11.6 g sugar, 7 g protein (calculated with stevia baking blend in place of white sugar)
Opt for underripe bananas for the best results here. We know—you're supposed to use overripe, but those aren't going to help you achieve your body goals any quicker. On the contrary, underripe bananas are rich in resistant starch, which as the name implies resists digestion. Not only does it keep you fuller longer, but one study found that replacing just 5 percent of the day's carb count with a source of resistant starch can boost post-meal fat burn by up to 30 percent!
Get the recipe from This Girl's Recipes.
GINGER PEAR CINNAMON VANILLA BEAN INFUSED WATER
Nutrition (1-2 cups): n/a
So here is the deal with infused water AKA homemade vitamin water: assuming you don't consume the actual fruit, the nutrients and antioxidants leak directly into your water without the extra fructose and calories. We love the sound of that, especially when tummy-calming ginger vanilla and the superspice cinnamon are both involved. According to the U.S. National Library of Medicine, it can be used to help treat muscle spasms, obesity, illness, loss of appetite, and even erectile dysfunction (ED).
Get the recipe from Tasty Yummies.
CHOCOLATE DIPPED PEAR POPSICLES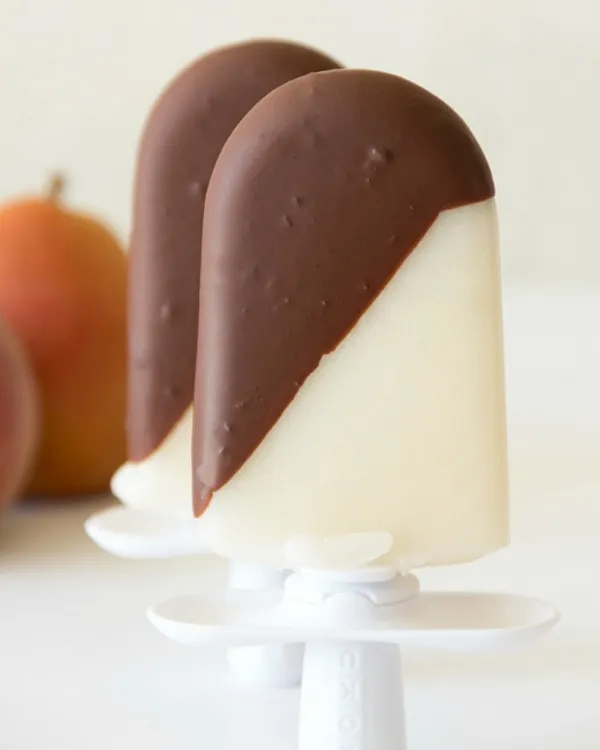 Nutrition (per popsicle, yields 6): 190 calories, 10 g fat (7.3 g saturated), 3 mg sodium, 28.4 g carbs, 2.2 g fiber, 21.4 g sugar, 1.6 g protein
Not that you need much convincing here, but these popsicles are a flab blasting godsend. Here's why: They're made with coconut oil, which is rich in the medium-chain saturated fat, lauric acid, that converts into energy more easily than other types of fat, aiding weight loss. And a study published in the Journal of Toxicology and Environmental Health back in 1985 proved that a single injection of capric acid (which abounds in coconut oil) resulted in "initially rapid, then a gradual decrease in food consumption and a parallel loss of body weight" in male rats. But the benefits of coconut oil don't just stop there. The fat also aids muscle gains, keeps hunger in check, kills bacteria, and can even be used to heat things up in the bedroom!
Get the recipe from Around My Family Table.
PEAR FETA WALNUT CROSTINI
Nutrition (per 100 gram serving): 244 calories, 17 g fat (8.2 g saturated), 363 mg sodium, 17.7 g carbs, 2.4 g fiber, 6.4 g sugar, 7.5 g protein
If you're stressed—and who isn't these days?—you might want to consider making yourself a slice or two of these walnut crostinis after work. According to research, walnut and walnut oil consumption lowered both resting blood pressure and blood pressure responses to stress. And that's not all they do—the tree nuts also boost cognitive function, knock-out cancer, help you get more shut-eye, and protect your heart (which is ironically their shape)!
Get the recipe from Scrummy Lane.
CROCKPOT PEAR GINGER APPLESAUCE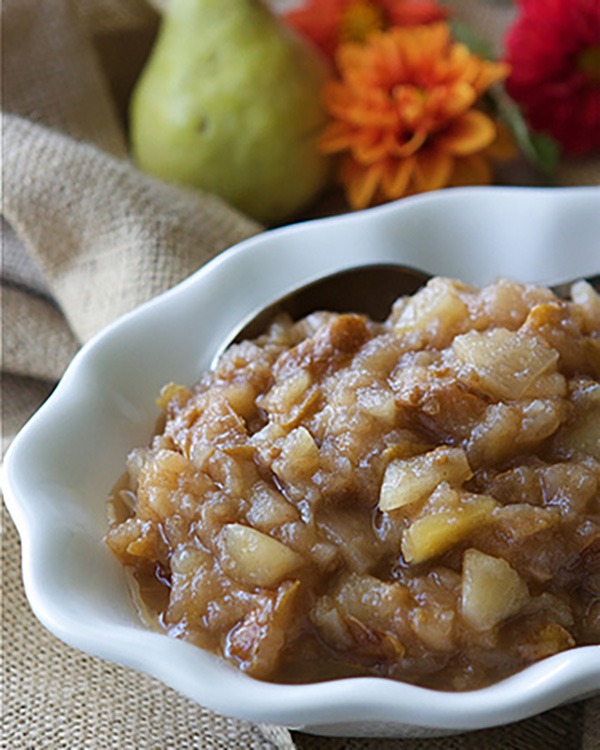 6254a4d1642c605c54bf1cab17d50f1e
Nutrition (per 1/2 cup serving): 72 calories, 0 g fat (0 g saturated), 1.5 mg sodium, 19 g carbs, 3.3 g fiber, 13.7 g sugar, <1 g protein
With fall comes a surplus of healthy crock pot recipes like this one. And while you may be loyal to Motts, we encourage you to step out of your comfort zone, break out your slow cooker, and whip up this fat-free seasonal dessert. Five simple ingredients, no artificial sweeteners and 72 calories per serving, this sauce blows up M's spot.
Get the recipe from Cookin Canuck.
PEAR GINGER DOUGHNUTS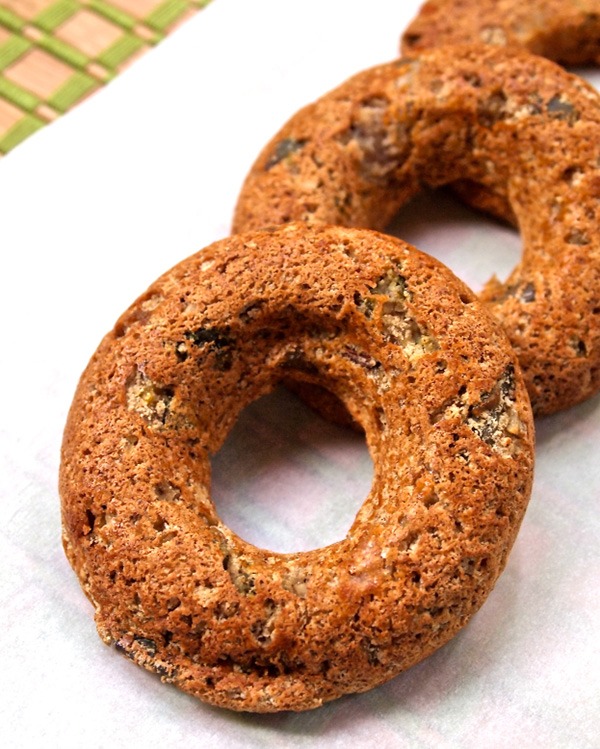 Nutrition (per doughnut, yields 6): 51 calories, 1.2 g fat (0 g saturated), 68 mg sodium, 9 g carbs, 1.1 g fiber, 1.3 g sugar, 1.2 g protein
These low-fat donuts are vegan, gluten-free and just 51 calories a piece. They're also portioned so that one or two can sneak into your diet without leaving disaster in their wake.
Get the recipe from Healthy Helper Blog.
CUCUMBER PEAR SUSHI ROLLS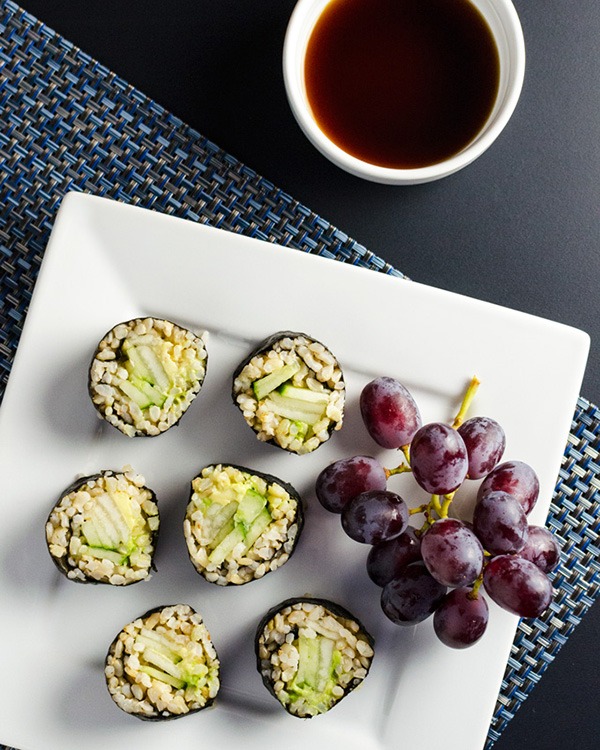 Nutrition (per roll, yields 5 ): 209 calories, 5 g fat (1 g saturated), 0 mg sodium, 38.1 g carbs, 4 g fiber, 5.4 g sugar, 3.4 g protein
Sushi is one of those "healthy foods" that isn't always so healthy. From the shrimp tempura roll to the eel and avocado roll, the Japanese favorite can pack in up to 21 grams of fat and 64 grams of carbs a piece. Fortunately, this roll actually holds its rep and puts a naturally sweet spin on the usual veggie roll. To help navigate your way through the next sushi order, check out The Best and Worst Sushi Rolls For Weight Loss.
Get the recipe from Veggie Primer.