These cinnamon- and nutmeg-spiced muffins are the perfect morning treat.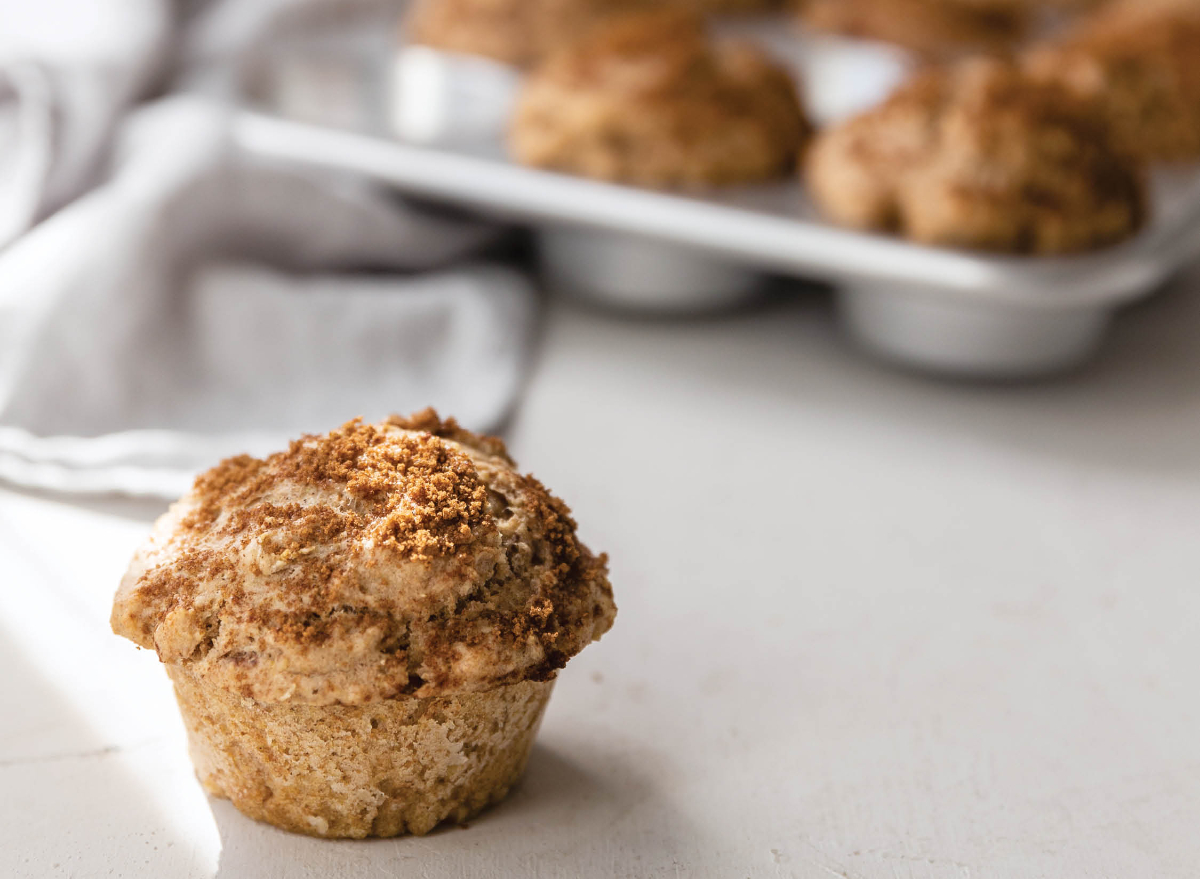 This recipe is excerpted from Diabetes Create Your Plate Meal Prep Cookbook by Toby Amidor, MS, RD, CDN, FAND. Photographs by Alison Lima. Used with permission of Robert Rose Books. All rights reserved.
Your entire home will smell so delicious when you're baking these muffins. It's the cinnamon and nutmeg that will have your neighbors knocking on your door.
You'll Need
11 ⁄4 cups (300 mL) unbleached all-purpose flour
1 cup (250 mL) 100% whole wheat flour 1 ⁄4 cup (60 mL) toasted wheat germ
2 tsp (10 mL) baking powder
1 tsp (5 mL) ground cinnamon
1 ⁄2 tsp (2 mL) baking soda
1 ⁄2 tsp (2 mL) salt
1 ⁄8 tsp (0.5 mL) ground nutmeg
1 ⁄2 cup (125 mL) nonfat plain Greek yogurt
1 ⁄2 cup (125 mL) nonfat milk
1 ⁄2 cup (125 mL) water
1 ⁄4 cup (60 mL) stevia brown sugar blend (such as Truvia or Splenda)
3 tbsp (45 mL) canola oil
2 tbsp (30 mL) unsalted butter, melted
1 large egg, beaten
1 tsp (5 mL) vanilla extract
1 ⁄2 cup (125 mL) raw pecans, coarsely chopped
TOPPING:
1 tbsp (15 mL) stevia brown sugar blend (such as Truvia or Splenda)
1 ⁄2 tsp (2 mL) ground cinnamon
How to Make It
Preheat the oven to 350°F (180°C)
In a medium bowl, sift together the all-purpose flour, whole wheat flour, wheat germ, baking powder, cinnamon, baking soda, salt and nutmeg.
In a separate medium bowl, whisk together the yogurt, milk, water, brown sugar blend, oil, butter, egg and vanilla.
Gently fold the dry mixture into the wet mixture. Mix together with as few strokes as possible until the dry ingredients are moistened. Do not overmix. Add the pecans and fold until just combined.
TO MAKE THE TOPPING: In a small bowl, combine the brown sugar blend and cinnamon.
TO BAKE:
Divide the batter evenly among the 12 prepared muffin cups. Tap the muffin tin on the counter several times to get rid of any air bubbles. Evenly sprinkle the topping mixture over the batter.
Bake in the center of the oven until a tester inserted into one or two muffins comes out clean, 18 to 20 minutes. Remove from the oven and let cool in the pan for 2 to 3 minutes. Remove the muffins to a wire rack and let cool completely.
TO STORE: Place one muffin into each of twelve sealable freezer-friendly bags or containers. Store five at room temperature or in the refrigerator and freeze the remaining muffins for up to 2 months
Toby Amidor, MS, RD, CDN
Toby Amidor is an award winning dietitian and
Wall Street Journal
best-selling cookbook author who believes healthy and wholesome can also be appetizing and delicious.
Read more about Toby