The First-Ever Turkey Nugget Just Officially Launched
But hurry, there will only be 100 bags for sale!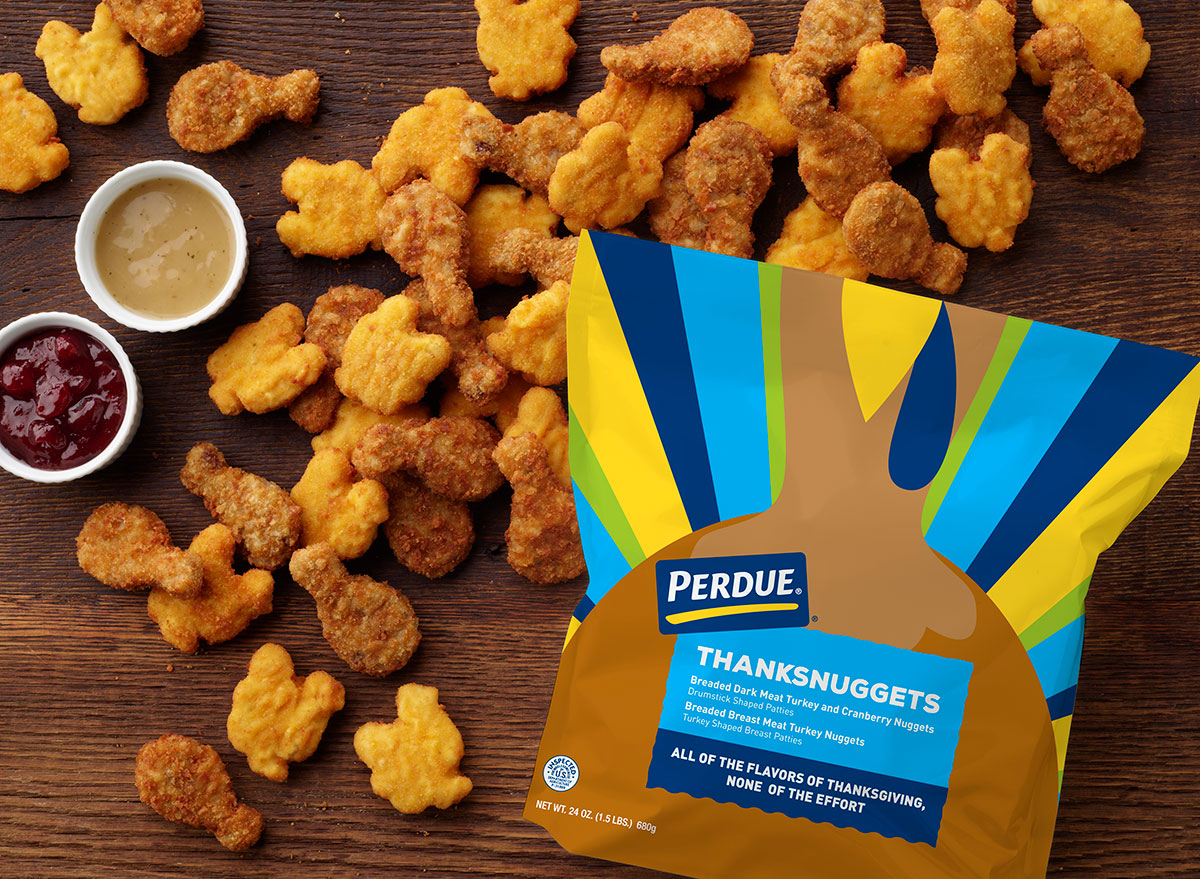 While the myth of eating turkey causing sleepiness due to its high concentration of tryptophan has been more or less debunked, there's one opinion about turkey that many are apt to agree upon—the bird can take a very long time to cook. Sure, eating the dish may not cause fatigue, but the preparation of it certainly can, between the endless brining, meticulous stuffing, and frequent internal-temperature checks. If only there was another way to eat turkey on the holiday that required less intensive preparations.
The team at Perdue has done just that. Introducing the ThanksNugget which, essentially, is the main course of a Thanksgiving meal condensed into the size of a breaded nugget. And, whether you prefer light or dark turkey meat, there's a nugget for that. ThanksNuggets come in two flavors: light-meat turkey-shaped nuggets infused with a sweet-potato flavor and a dark-meat drumstick version with accents of stuffing and cranberry sauce. (Related: 21 Best Healthy Cooking Hacks of All Time.)
"It wouldn't be Thanksgiving without gravy, which works great with both the white and dark meat and really completes the traditional nugget dipping sauce experience," Tracy Hostetler, VP of Marketing of Premium Prepared Foods, tells Eat This, Not That! "You can also double down on cranberry sauce to further bring out that great sweet yet tart holiday flavor. We even tried the white meat nugget with a blend of ketchup and cranberry sauce and that was a big hit!
Perdue will launch this exciting, limited-edition product on Friday, Nov. 13 at noon EST with the sale of 100 bags of ThanksNuggets on its website, each priced at $19.20. In tandem with this launch, Perdue will also be donating protein to 500 Junior Enlisted Members and their families of the 82nd Airborne Division at Fort Bragg, N.C. to use for their Thanksgiving meals.
The 100-bag launch of ThanksNuggets this Friday also pays tribute to Perdue Farms history, as it celebrates its 100th anniversary this year. A long-running poultry and meat company, Perdue's success, aside from producing quality meat products, may be attributable to its consistency in paying attention to consumers' needs and changing trends. The ThanksNugget, for example, is a great solution to the emerging U.S. phenomenon known as "cooking fatigue," as Hostetler points out.6254a4d1642c605c54bf1cab17d50f1e
Many of us thoroughly enjoyed reclaiming cooking from scratch at the beginning of quarantine, however, cooking burnout is beginning to hit and people are craving convenience again. Moreover, as most Americans will likely be reducing the size of their Thanksgiving festivities this year out of respect to the CDC's social-distancing recommendations, the ThanksNugget offers a simple, scaled-down approach to the traditional Thanksgiving meal. Not to mention, it's also perfect for those celebrating Thanksgiving solo this year, a practice Perdue has aptly dubbed, "LazyGiving."
The ThanksNugget is here, as Hostetler puts it, to help you "still enjoy your favorite holiday flavors without all the effort." This year, consider saving yourself a minimum of four hours worth of sweat (and maybe tears?) and give ThanksNuggets a go. Just make sure to head to Perdue's website tomorrow and take advantage of the deal while supplies last. Oh, and you can thank us for the recommendation later.
To stay abreast of all product launches, be sure to sign up for our newsletter.
Owen Duff
Owen Duff is a freelance journalist based in Vermont, home of Ben & Jerry's.
Read more about Owen