20 Pineapple Recipes You'll Fall in Love With
Pineapples may come in second place (to bananas!) when it comes to popularity, but they were once the juicy treat enjoyed by kings.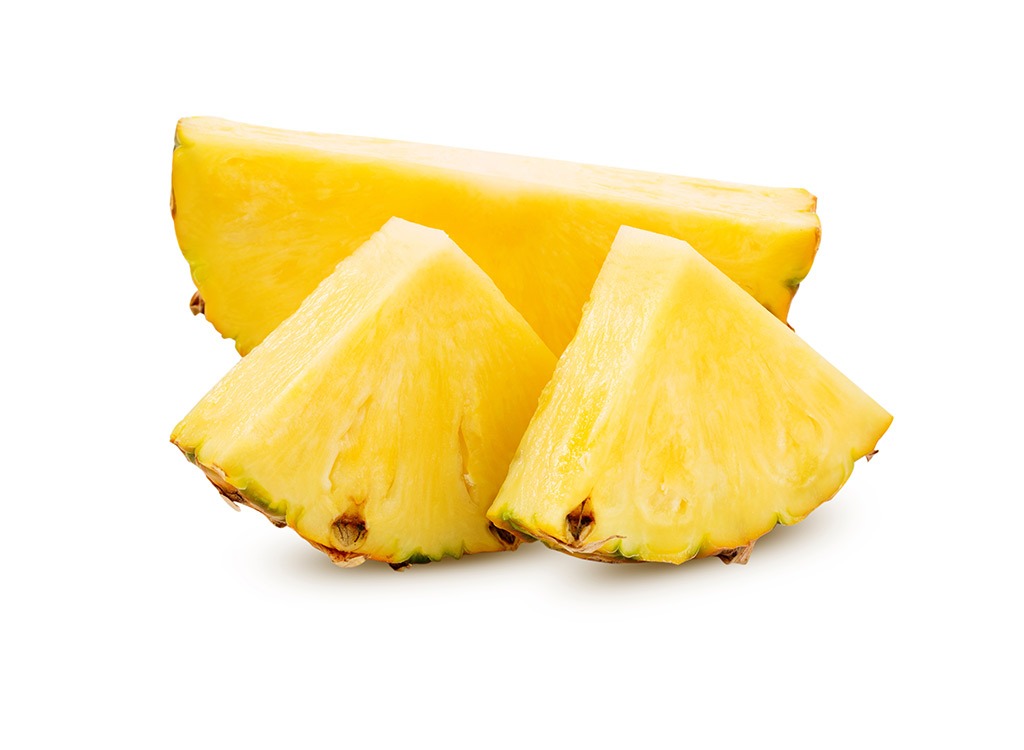 Not only is pineapple arguably nature's best candy, it also contains nearly a day's worth of energy-producing manganese—giving you the sugar rush without the crash. Plus, its acid content detoxifies our bodies and eliminates body odor, which is super beneficial with temps on the rise. What's more? The fruit contains the enzyme bromelain, which acts like a natural anti-inflammatory. For these reasons, we curated this list of recipes for every craving and meal plan, from sunrise to sunset. Make the most of this summer favorite and then discover the other 20 Anti-Inflammatory Foods for Weight Loss!
CARROT PINEAPPLE PALEO MUFFINS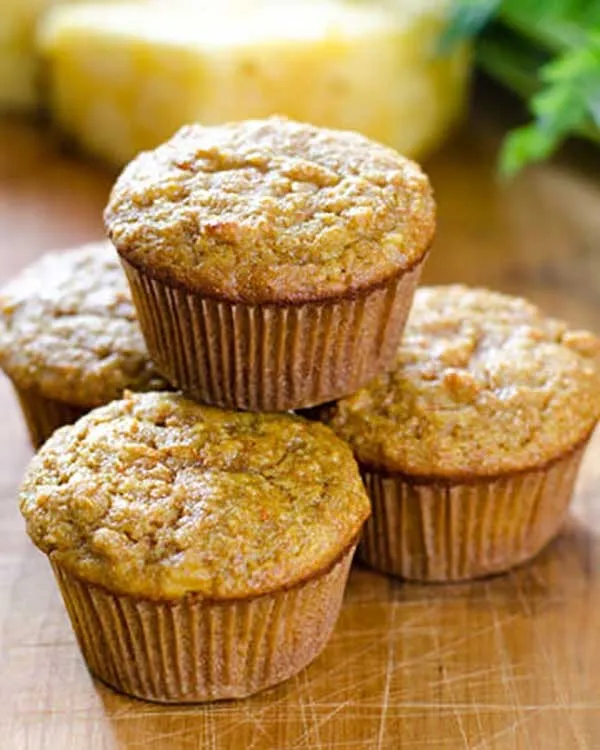 Nutrition: 242 calories, 6.8 g fat (3.4 g saturated), 146 mg sodium, 39 g carbs, 1.5 g fiber, 12.7 g sugar, 6.4 g protein
The Paleo diet (AKA the caveman diet) is based on foods presumed to be available to Paleolithic humans—who sorta looked like Olympic athletes. We're talking humans who roamed the Earth roughly 2.6 million years ago and only ate from nature's bounty. Luckily, we've gotten a bit creative in our time, so we've got it even better than them. So, whether you're trying to nix tummy troubles or look shredded, these Paleo muffins may be the first step. And if you have a sweet tooth but are following the Paleo lifestyle, then don't miss these 20 Paleo Desserts That Look Insanely Good!
Get the recipe from Cook Eat Paleo.
PINEAPPLE UPSIDE DOWN CUPCAKES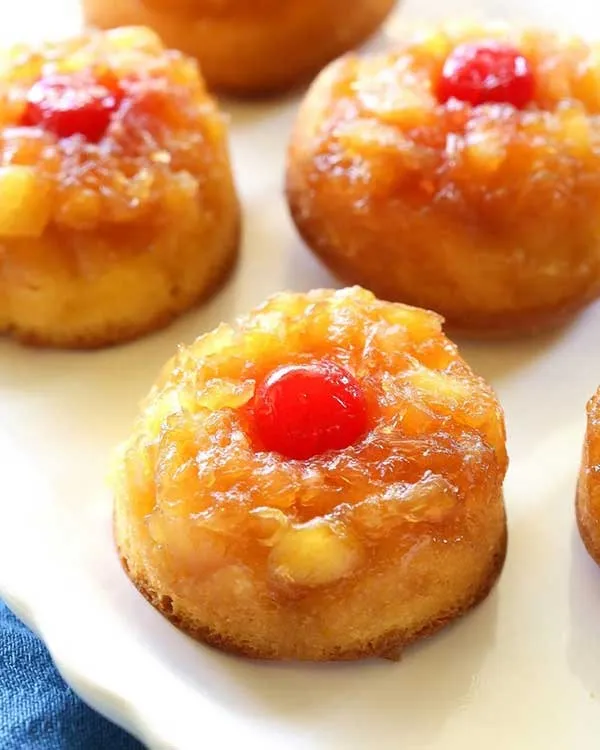 Nutrition: 177 calories, 6.2 g fat (2.8 g saturated), 173 mg sodium, 30.2 g carbs, 0.5 g fiber, 23.9 g sugar, 1.2 g protein
Upside down cakes made their debut in America around the same time canned pineapple hit the shelves—around a century ago. While it's hard to find much that's appealing about canned fruit these days, upside down cake is still very much a thing. We love this pre-portioned cupcake version because—let's face it—the ingredient list isn't very nutritious. But for under 200 calories, we can enjoy an American summer sugary staple, worry-free.
Get the recipe from The Girl Who Ate Everything.
HAWAIIAN HAM AND PINEAPPLE SKEWERS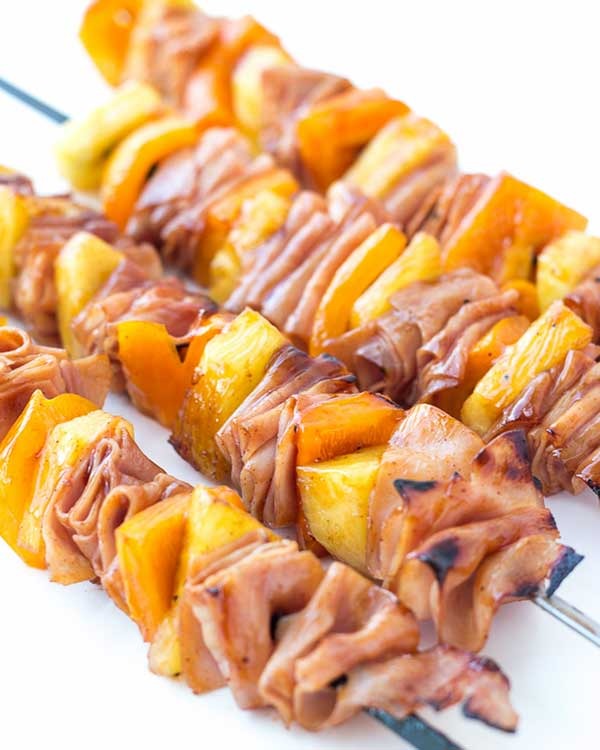 Nutrition: 291 calories, 11 g fat (3.7 g saturated), 578 mg sodium, 21.1 g carbs, 2 g fiber, 15.5 g sugar, 21.4 g protein
All clucked out? We get it. Try out these ham skewers instead. Just be sure to opt for no salt added deli meat. A vast majority of deli meats include sodium nitrate as a preservative. Recent studies have found a link between the sodium nitrate in lunch meat to heart disease. Nitrates have also been shown to interfere with the body's natural means of processing sugar, leading to an increased risk of diabetes.
Get the recipe from The Recipe Rebel.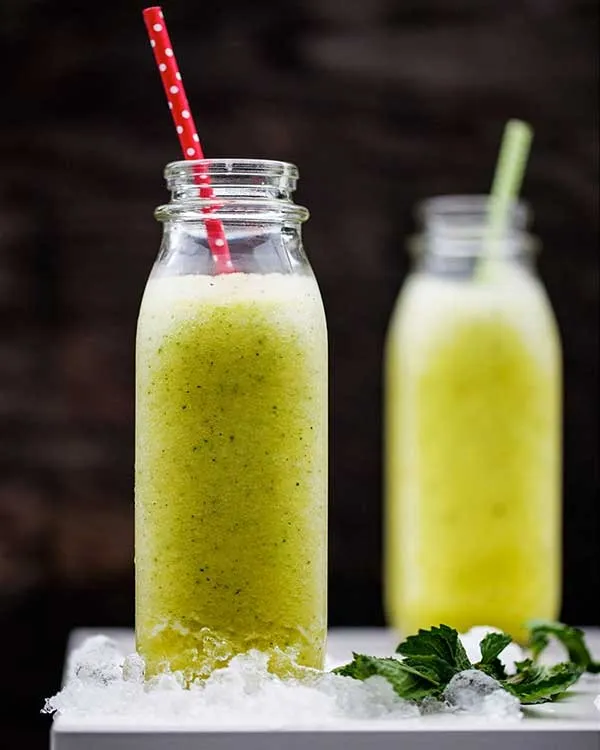 Nutrition: 64 calories, 0 g fat (0 g saturated), 7 mg sodium, 16.7 g carbs, 2.1 g fiber, 12.2 g sugar, 1 g protein
Need a boost in your morning brain power? A recent study that looked at chewing gum's effect on alertness and found that people who frequently use mint-based chewing gum had higher levels of memory retention and mental alertness than those who did not. While you won't be chewing this one, the minty flavor just might be what you need to make you alert and fire up those brain cells. To tap into your visionary side, check out these 10 Foods That Get Your Creative Juices Flowing.
Get the recipe from Natural Girl, Modern World.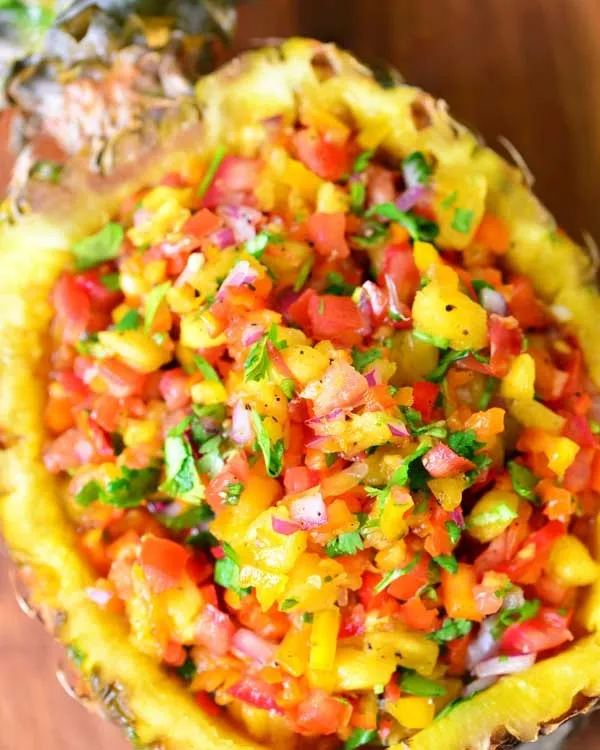 Nutrition: 64 calories, 0 g fat (0 g saturated), 5 mg sodium, 17 g carbs, 3.3 g fiber, 9.2 g sugar, 1.3 g protein
Diced pineapple, tomato, red onion, cilantro come together and are spritzed with lime juice and a pinch of salt and pepper to create a guiltless, flavorful salsa. Dip, mix, top away!
Get the recipe from The Gunny Sack.
CARROT RAISIN PINEAPPLE SALAD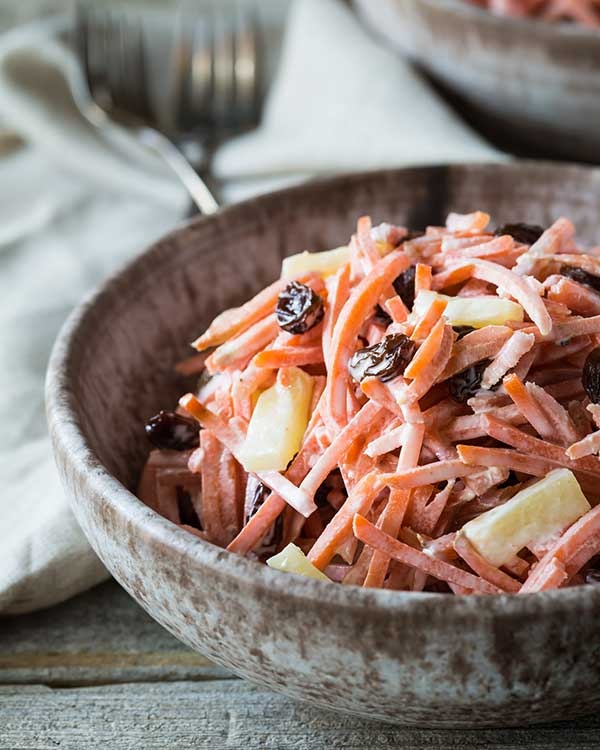 Nutrition: 143 calories, 2.6 g fat (0 g saturated), 133 mg sodium, 31 g carbs, 4 g fiber, 19.5 g sugar, 1.7 g protein (calculated without honey)
You probably know them for their vision-protecting reputation, but carrots have a lot more to offer. The (usually) orange vegetable boosts immunity, promotes vibrant skin, reduces cholesterol, boosts oral health, protects the heart, improves digestion, increases cardiovascular health, and detoxifies the body, thanks to a plethora of vitamins and minerals. If your diet is a little slim on carrots—or even void of 'em—it's time to reconsider this underrated root veggie and whip up this wholesome salad.
Get the recipe from Noshtastic.
PINEAPPLE COCONUT BAKED OATMEAL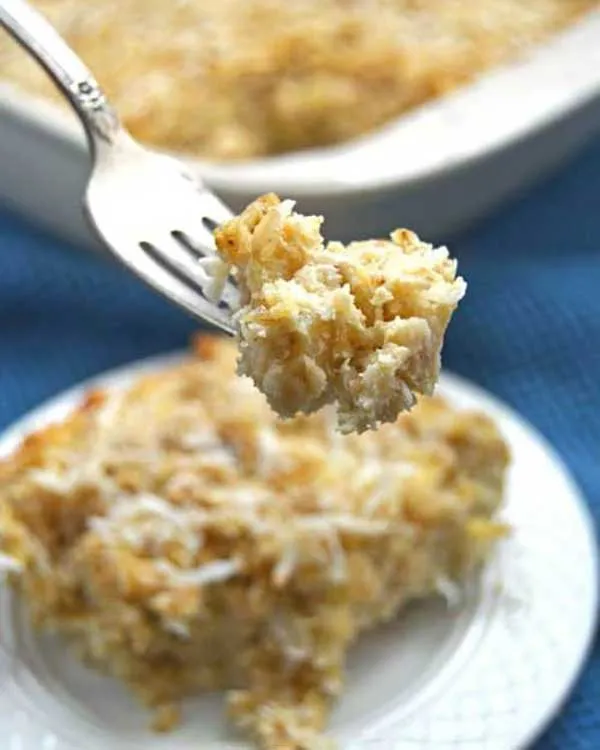 Nutrition: 220 calories, 10.5 g fat (3 mg saturated), 81 mg sodium, 25 g carbs, 3.5 g fiber, 6.5 g sugar, 7 g protein
Bored with the same old bowl of oats? You'll love this baked version. Not only is the texture different, but it's easy to make ahead of time and nuke on the run. Try baking the oats at the beginning of the week and portioning them out. In the morning, just warm them up in the microwave, or even eat them cold for a wholesome, filling start to your day. For more oatmeal inspiration, check out these 15 Baked Oatmeal Recipes for a Flat Belly.
Get the recipe from Kate Moving Forward.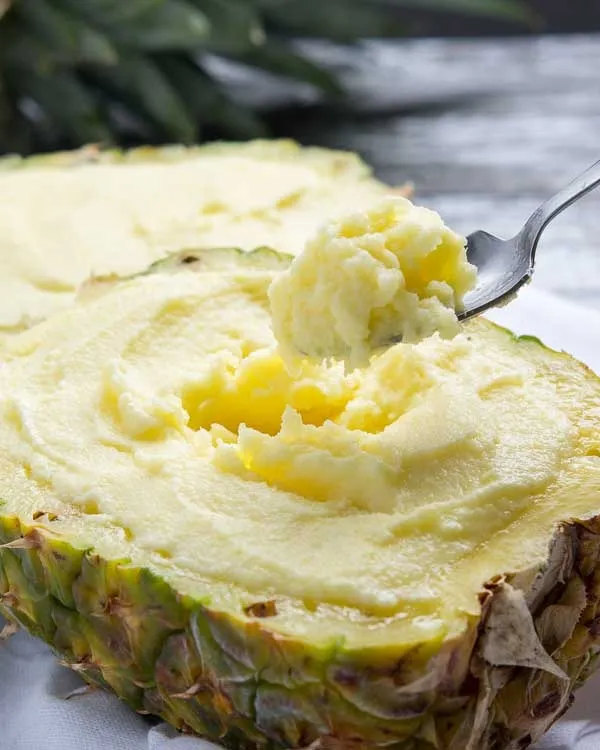 Nutrition: 131 calories, 2.4 g fat (1.5 g saturated), 4 mg sodium, 29.1 g carbs, 1.2 g fiber, 26.2 g sugar, 1 g protein
Unlike your average pint of Ben and Jerry's, this recipe isn't loaded with saturated fat and calories. Not to mention it contains just five simple ingredients, one of which is good old H2O. Spoon your way to summery bliss.
Get the recipe from I Wash, You Dry.6254a4d1642c605c54bf1cab17d50f1e
CROCK POT PINEAPPLE CHICKEN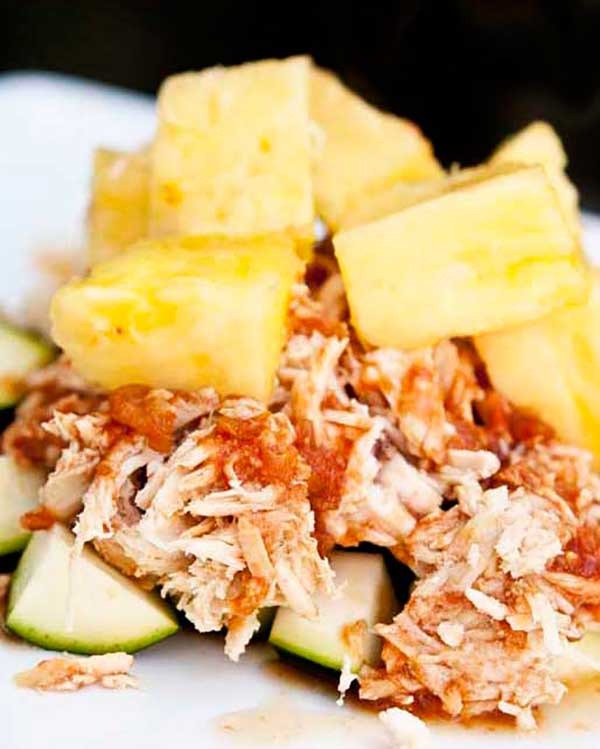 Nutrition: 131 calories, 3.8 g fat (1 g saturated), 319 mg sodium, 9.8 g carbs, 2.2 g fiber, 5.8 g sugar, 15.6 g protein
On the quest to create wholesome, flavorful meals, there's often one serious hurdle: time. Fortunately, crock pot's got you covered. Plus, it lowers the risk of burning food…so even the not-so-culinary-blessed can partake—and there is nothing worse than burnt, dry chicken. Whip up this recipe and see what juicy, tender meat is supposed to taste like. For more foolproof meals, check out these 35 Healthy Crock Pot Recipes.
Get the recipe from The Gracious Pantry.
GRILLED PINEAPPLE WITH CINNAMON HONEY DRIZZLE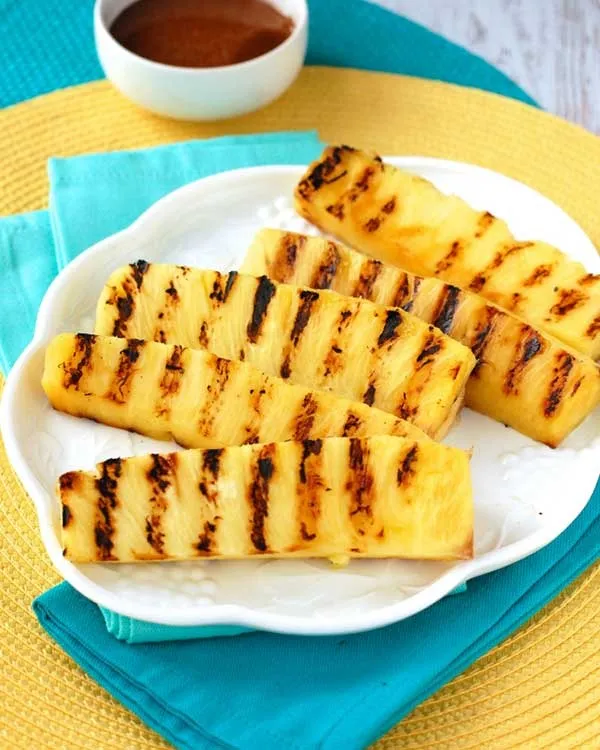 Nutrition: 141 calories, 0 g fat (0 g saturated), 3 mg sodium, 38 g carbs, 2 g fiber, 34 g sugar, 1 g protein
Sprinkling cinnamon into your oatmeal or, in this case, over your fruit, can shrink your waist, fight cravings and give you more appetite control—and takes just 10 seconds! A series of studies printed in the American Journal of Clinical Nutrition found that adding a heaping teaspoon cinnamon to a starchy meal may help stabilize blood sugar and ward off insulin spikes, keeping you away from the snack drawer hours longer.
Get the recipe from Wine and Glue.
SMOKY AVOCADO BURGER WITH PINEAPPLE PEPPER RELISH
Nutrition: 375 calories, 15.9 g fat (4.7 g saturated), 175 mg sodium, 12.5 g carbs, 2.7 g fiber, 2.7 g sugar, 43.9 g protein (calculated with whole wheat buns)
Aside from being totally addicting, avocados fry belly fat, help lower blood pressure, banish bloat, and keep you fuller longer. They're one of the few foods that can aid rapid weight loss efforts and there is no shortage of ways to use them—hello burger toppers!
Get the recipe from Joyful Healthy Eats.
CHOCOLATE DIPPED PINEAPPLE SLICES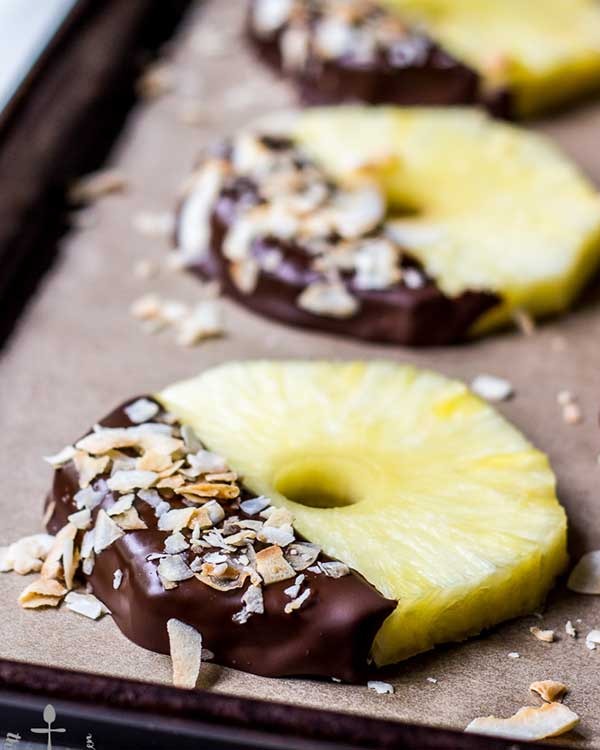 Nutrition: 203 calories, 10.7 g fat (7.9 g saturated, 24 mg sodium, 25.1 g carbs, 2.3 g fiber, 20.4 g sugar, 2.7 g protein
Dark chocolate and pineapple? We're sold. Especially considering, the mocha stuff is your stress-nixing, waist-shrinking savior. While you probably know it's got mad antioxidants, that's just the frosting on the cake. According to the American Chemical Society's Journal of Agricultural and Food Chemistry, it also helps lower blood sugar and decreases body fat. Not to mention a tiny indulgence fights cravings and controls appetite. Just don't go crazy or the benefits completely unravel.
Get the recipe from The Beach House Kitchen.
COCONUT PINEAPPLE CASHEW RICE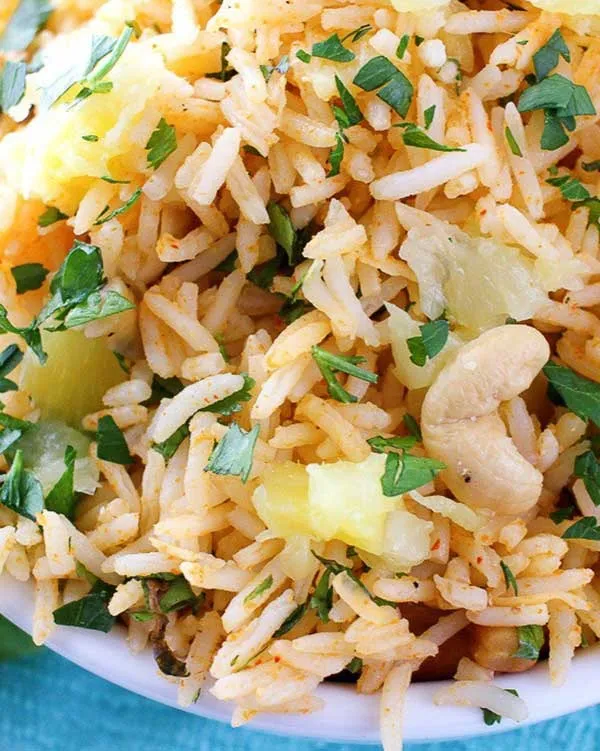 Nutrition: 231 calories, 10.3 g fat (8.7 g saturated), 86 mg sodium, 32.7 g carbs, 2.2 g fiber, 7.1 g sugar, 3.3 g protein
Aside from being a taste bud pleaser, this recipe just might shrink your waist thanks to the slimming benefits of coconut oil. In a short-term study, varying amounts of medium and long chain triglycerides were fed to 6 healthy men. The men eating the most MCTs ate 256 fewer calories per day, on average. After a month that's 7,680 fewer calories—talk about effortless weight loss!
Get the recipe from The Chunky Chef.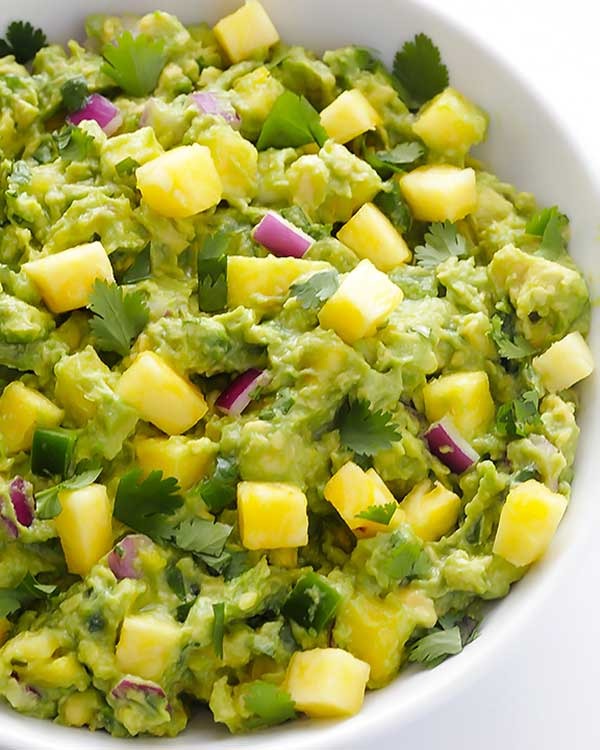 Nutrition: 115 calories, 10 g fat (1 g saturated), 2 mg sodium, 7.5 g carbs, 3.7 g fiber, 1.2 g sugar, 1 g protein
At ETNT, we always ask for extra guac. And when the weight loss superfruit and detoxifying pineapple are both involved, we're all over it. Enjoy this pretty, tasty twist on a classic favorite!
Get the recipe from Gimme Some Oven.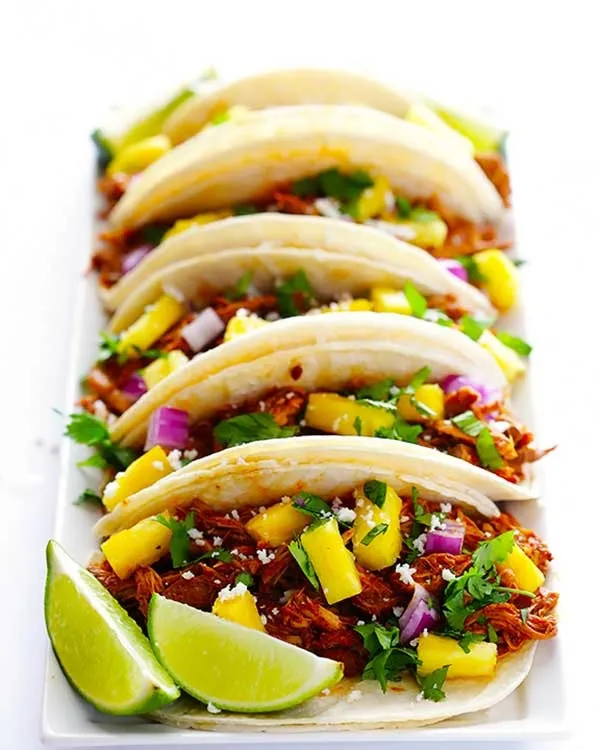 Nutrition: 279 calories, 5.8 g fat (1.8 g saturated), 105 mg sodium, 15.4 g carbs, 2.3 g fiber, 4.5 g sugar, 38.7 g protein
Move over Old El Paso and beef, these fresh pork tacos are all that and a jar of salsa. Pork might not steal the slimming protein spotlight the way chicken does, but it's definitely a step up from questionable beef. As long as your opt for a lean cut of the meat, pork chops can be low in fat and sky high in protein (check out the 38.7 grams in this recipe!), aiding in weight loss and speeding up workout recovery.
Get the recipe from Gimme Some Oven.
PINEAPPLE TERIYAKI CHICKEN WRAPS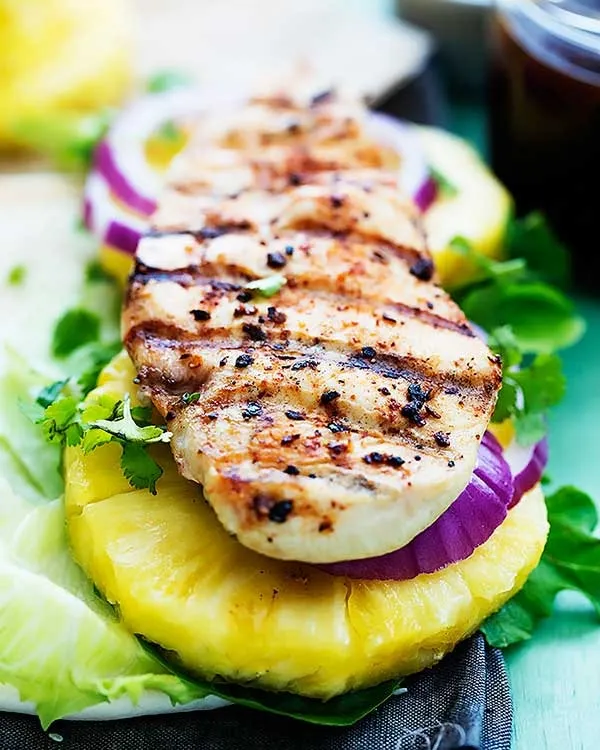 Nutrition: 288 calories, 8.4 g fat (2 g saturated), 610 mg sodium, 26.2 g carbs, 2 g fiber, 15.7 g sugar, 26 g protein (calculated with low sodium soy sauce and no mayo)
Whether you're looking for a summery meal or just something to compliment your palette without undoing your workout, this recipe is it. Seasoned chicken breasts are lightly covered with teriyaki sauce and sesame seeds, combined with lettuce, tomato, and pineapple and wrapped in a whole wheat pita. Just make sure to opt for low sodium soy sauce and hydrate to counteract the sodium count.
Get the recipe from Le Creme de la Crumb.
LIGHT PINEAPPLE CHICKEN BACON PIZZA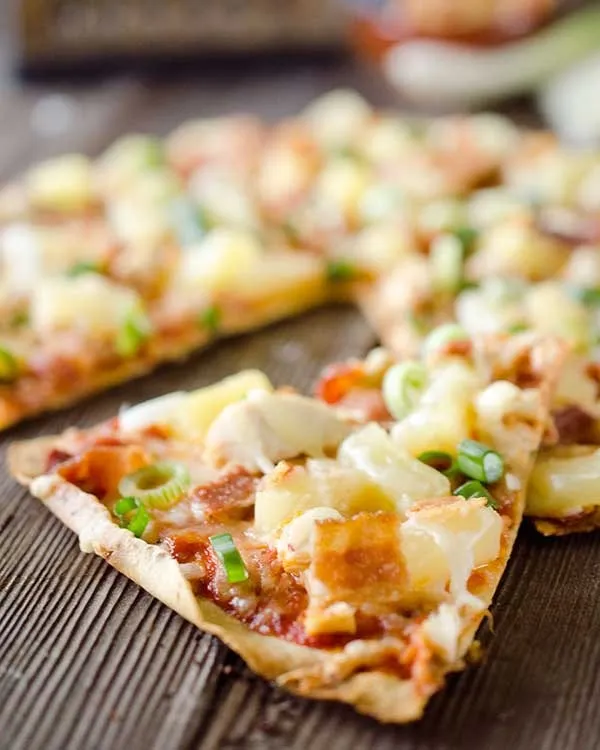 Nutrition: 312 calories, 14 g fat (6 g saturated), 417 mg sodium, 18 g carbs, 5 g fiber, 9 g sugar, 23 g protein
Pizza is that universal belly pleaser that we all indulge in and immediately feel guilty about after. One slice turns into three, and with each bite, we kiss our body goals goodbye—which is why when we found this recipe, we couldn't turn away. Aside from being topped with the foodie heaven trio of chicken, bacon, and pineapple, you can consume half the pizza for just 312 calories and 18 grams of carbs. Not to mention, there's a whopping 23 grams of satiating protein! This is far from your average pie. For more weight loss friendly pizza recipes, check out these 12 Flourless Ways To Make Pizza.
Get the recipe from The Creative Bite.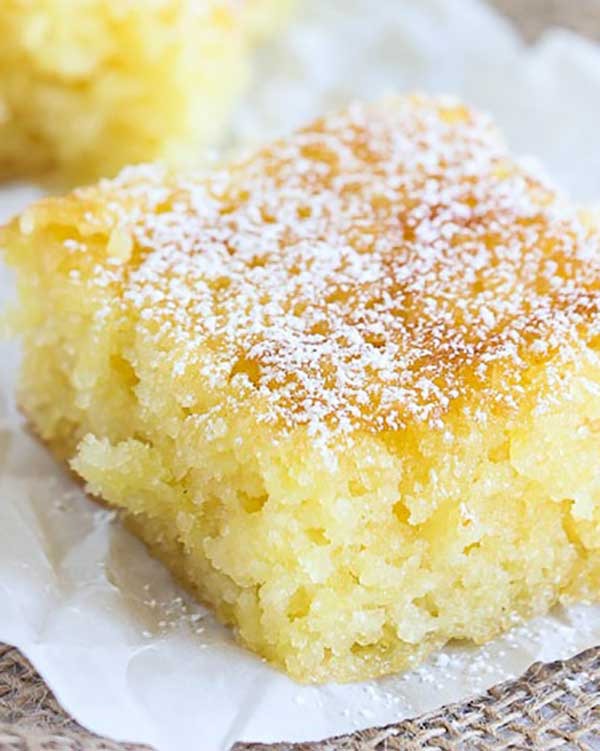 Nutrition: 213 calories, 10.2 g fat (6.1 g saturated), 169 mg sodium, 20 g carbs, <1 g fiber, 22 g sugar, 2.3 g protein
Looking for a dessert you can throw together on the fly? These super moist bars are made with 7 simple ingredients and come together in just 30 minutes. Not to mention, your mouth will love the pineapple chunks in every bite.
Get the recipe from Pretty Providence.
GRILLED COCONUT AND PINEAPPLE SWEET CHILI SHRIMP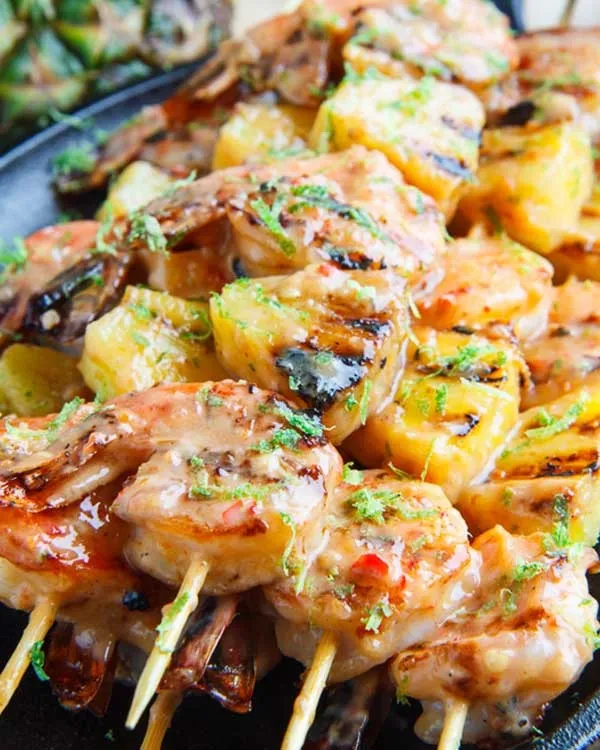 Nutrition: 188 calories, 4 g fat (3 g saturated), 340 mg sodium, 14 g carbs, 2 g fiber, 9 g sugar, 23 g protein
Get your sweet and salty fix on with these tropical shrimp skewers. While many superfoods have an understudy eagerly waiting to fill any nutritional voids, coconut does not. The nutrient powerhouse does everything from shrink your waist and curb your appetite to protect your organs and prevent Alzheimer's. Not to mention it's paired with anti-inflammatory pineapple and flat-belly shrimp.
Get the recipe from Closet Cooking.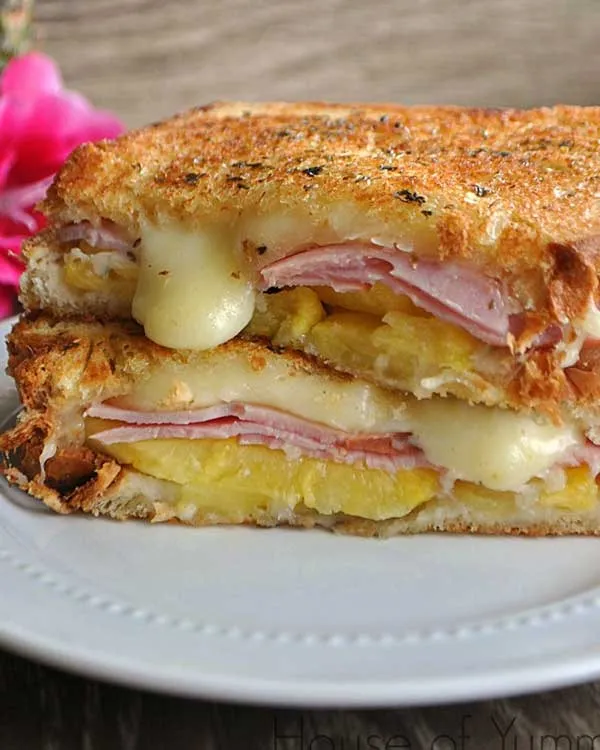 Nutrition: 215 calories, 13.4 g fat (7.3 g saturated), 381 mg sodium, 10.8 g carbs, 1 g fiber, 4.5 g sugar, 13.3 g protein
In a relationship rut? Grilled cheese could be the answer. According to Skout, a dating and social networking site, 32 percent of the sandwich lovers have sex at least six times a month, while only 27 percent of those who don't love the cheesy classic can claim the same. It's worth a shot. And while you're at it, check out these 30 Best Proteins for Your Penis.
Get the recipe from House of Yumm.