5 Baked Oats Recipes That Support Weight Loss & Taste Like Cake
Maybe Marie Antoinette got it wrong—let them eat baked oats!
When you think about weight loss, in terms of changing your diet, the first few things that probably come to mind are likely related to all the foods you'll need to avoid in order to hit your weight loss goal. ("Well, so long cakes and cookies—we had a nice run for a while, but I need to get beach-bod ready for my upcoming vacation.") Likewise, you may also start thinking about incorporating more nutritious foods into your daily diet that, although you enjoy them well enough, are not your usual go-to meal staples. ("Hello, quinoa, leafy greens, and egg whites.")
Making adjustments to your lifestyle that can encourage weight loss, especially with respect to your approach to diet and exercise, tends to be par for the course. However, this does not mean you have to limit yourself to all things bland and basic—you don't even have to totally give up sweets! The trick is to find healthy recipe ideas that can cater to your palate while simultaneously promoting the fat-burning, appetite-controlling effects you seek. For those with a sweet tooth looking for healthy alternatives that won't leave you famished and daydreaming about cupcakes, baked oats are a sweet, yummy way to potentially suppress these cravings.
There are plenty of benefits of baked oats (which we'll get to below), so it's no surprise that the #BakedOats recipe trend has gone viral across social media. That's why we've decided to round up some of the best baked oats recipes currently circulating the web. But these aren't just any ordinary baked oats recipe ideas. Rather, they are healthy recipe ideas you can enjoy for breakfast, as a snack, or even as dessert—because they taste so much like cake.
In addition to being nutritious and delicious, these recipes are so fast and easy that inexperienced bakers need not be intimidated by the prospect of giving these healthy recipes a try. Keep reading to find out how you can make baked oats that taste like cake—and for more healthy recipe ideas that can support your weight loss goals, be sure to check out 57 Healthy Weight Loss Dinner Recipes for Super Busy Weeknights.
Why baked oats?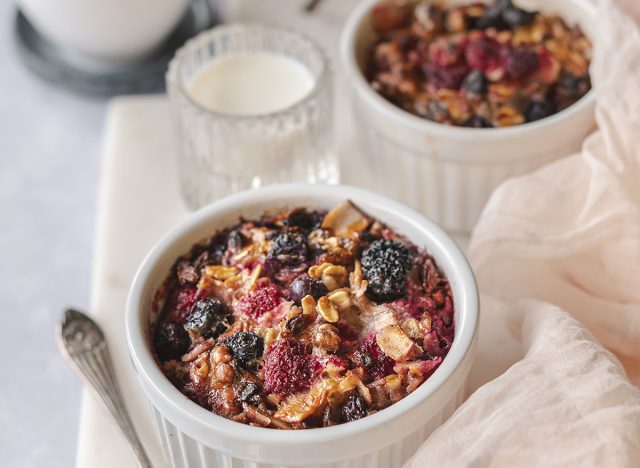 Baked oats can be a great vehicle for weight loss for a few reasons.6254a4d1642c605c54bf1cab17d50f1e
Oats are high-fiber foods, which promote satiety and prevent overeating.
First and foremost, as a whole grain, oats are incredibly high in fiber. This means you're more likely to stay fuller for longer, lower your LDL (or "bad") cholesterol levels, regulate your blood sugar, improve your cardiovascular health, and even lower your risk for heart disease. In fact, one cup of raw oats, contains a little over 8 grams of fiber, equalling about 30% of your overall Daily Value for dietary fiber in a given day.
Oats are a good source of prebiotic fiber that supports gut health, which is linked to weight regulation.
Also, as a food containing soluble fiber, oats have the potential to positively affect digestion and even diversify your gut microbiota, which studies suggest can potentially translate to weight loss, too.
Baked oat recipes allow you to add more weight loss-promoting ingredients to your meal.
On their own, oats may supply a wealth of health advantages, but without additional ingredients and flavoring components, we all know a bowl of plain oatmeal can taste a bit "blah," to say the least. It's easy to assume that your options for jazzing up a "blah" bowl or ramekin of oats might be few and far between when trying to be mindful of things like added sugars and unhealthy fats. However, this couldn't be further from the truth—not when you're whipping up a baked oats recipe.
Using this versatile whole grain as a foundation, baked oats can provide a blank canvas for flavors, which you can work to your advantage by including a combination other macronutrient-dense ingredients known to drive weight loss. With the right combo of ingredients, you can increase the opportunity to capitalize on their ability to fuel your metabolism and manage your appetite, leaving feeling full, satisfied, and energized as opposed to starved.
Ready to get inspired? Check out these five delicious baked oat recipes!
Chocolate Baked Oats
Who could've guessed that oats, cacao, banana, almond milk, and a little time in the microwave could amount to 248 calories of deliciousness? The fiber contained in the bananas also adds to the satiating power of this baked oats recipe, and combined with this fruit's high potassium content, this chocolate delight is also great for your heart health and blood pressure.
Red Velvet
Unlike a traditional slice of red velvet cake, this recipe contains a combination of fiber- and protein-rich ingredients that will not only fill you up but also support your energy levels. In fact, research has illustrated the benefits of combining protein and fiber for weight loss despite following a non-restrictive diet.
This red velvet baked oats recipe is packed with 23 grams of protein, assuming you choose to not include the toppings. (If you do, we recommend opting for @bites.by.bean's suggestion to use yogurt instead of going the frosting route to keep you on track with your weight loss journey.) Furthermore, this recipe uses 40 grams of oat flour made from rolled oats, which means this teeny ramekin contains over 3 grams of filling fiber.
Carrot Cake
This baked oats homage to carrot cake not only contains 24 grams of protein and 284 calories, and when you combine a 1/2 cup of carrots with 40 grams of whole oats, it also adds almost 8 grams of fiber overall. That's about eight times more fiber than what you'd get from eating a carrot cupcake or even a carrot muffin!
Strawberry Cheesecake
If you're a cheesecake person and you love berries, this baked oats recipe is perfect for you! This combination of oats, protein powder, light cream cheese, and strawberries amounts to a decadent, dessert-adjacent treat that is far more conducive to weight loss than the classic slice that you'll likely no longer crave upon trying this dish.
Vanilla Funfetti
Honestly, who doesn't love a good vanilla funfetti cake? And you would think that if weight loss was your primary objective that a decadent dessert of this variety would be completely off the menu. But when it comes to sampling this sweet treat, baked oats and vanilla protein powder provide a convenient dieting loophole that lets you enjoy these flavors while keeping you on course to shed those pounds.
Sources referenced in this article