20 Post-Workout Recovery Recipes
Exercise without proper nutrition is like solving an equation and then erasing your work. If you don't give your body the fuel it needs to recover from intense fitness efforts, you undo all of your gains. Even worse, you could get injured.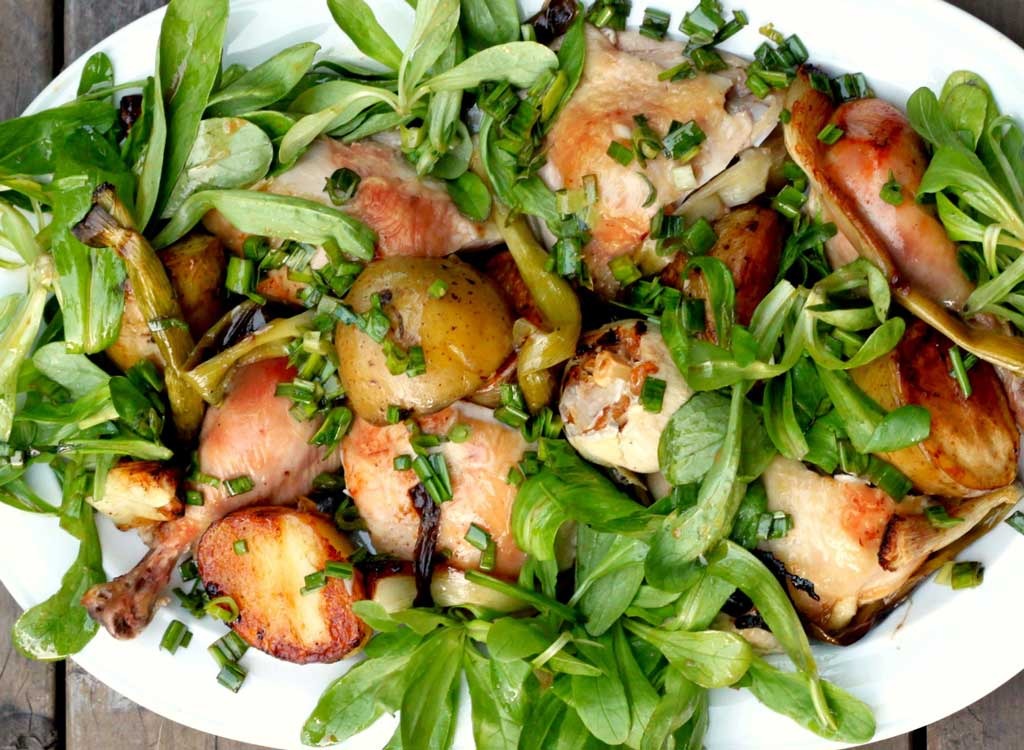 Being an athlete—whether you do Crossfit, take spin class, run marathons, or dance in pointe shoes—means being committed and informed. You don't reach your fitness goals without completely understanding your body inside and out, and part of that understanding is fueling it with the proper nutrients it needs to perform optimally.
For this reason, we spent a lot of time searching for recipes that fit into various athletic training nutritional profiles. An endurance runner, for example, needs a meal that is rich in carbohydrates and sodium because they have depleted both of those stores in their body throughout their run. A Crossfit athlete, however, needs a high-protein, low-carb, and moderate-sodium nutritional profile because they are doing most anaerobic exercise. So, be mindful of where you fit in but get a good jump start on intelligent refueling with these delicious and healthy recipes curated from around the web! And if you're also a protein powder pro, don't miss these 15 Genius Ways to Add Protein Powder to Foods!
PASSION FRUIT POMEGRANATE BARK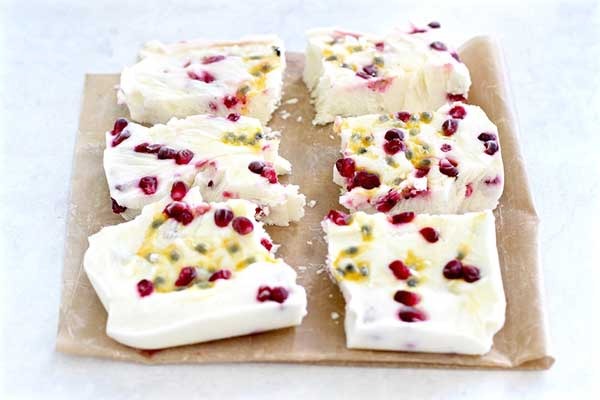 Nutrition: 47 calories, 0 g fat (0 g saturated), 32 mg sodium, 5.1 g carbs, 0 g fiber, <1 g sugar, 7 g protein
Looking for a post workout reward that won't completely sabotage your efforts? This pomegranate bark is fat-free, low carb and rich in muscle-building protein. And the more protein you have on your body, the speedier your metabolism and the trimmer your figure! For the ideal PWO meal, aim for three pieces.
Get the recipe from The Fit Foodie.
BROWN RICE SUMMER ROLLS
Nutrition: 264 calories, 12.3 g fat (2.6 g saturated), 253 mg sodium, 20.7 g carbs, 3.5 g fiber, 3 g sugar, 17.3 g protein
While this may not seem like a traditional post-workout food, its nutritional profile begs to differ. It's got enough carbohydrate, sodium and fat to replenish depleted stores, and protein to aid in muscle recovery. Hello, sixpack! Plus, it's light and refreshing, after an intense sweat sesh. For flat belly foods to avoid, check out these 25 Worst Foods for Your Abs!
Get the recipe from A Beautiful Plate.
PEANUT BUTTER JELLY MUFFINS
Nutrition: 256 calories, 15.3 g fat, 222 mg sodium, 24.6 g carbs, 2 g fiber, 16.2 g sugar, 7 g protein
Peanut butter and jelly may be a childhood stable, but with satiating peanut butter and simple sugar jelly, it deserves a spot in your post-workout recipe file. It's ingredients are easy to break down for energy and won't leave you rummaging through your cabinets. And did we mention these are muffins and they're both dairy and grain free?
Get the recipe from BLOG.
BERRY YOGURT POPSICLES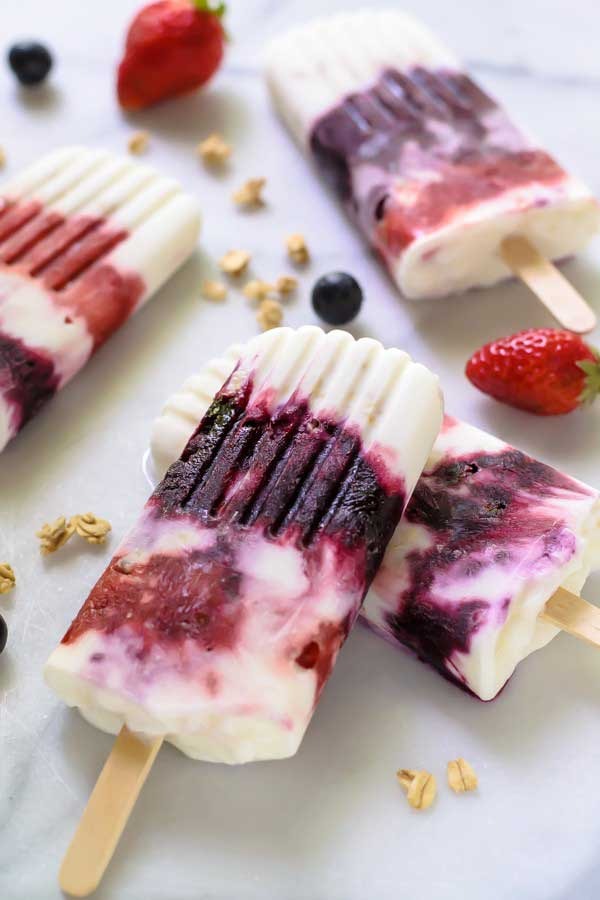 Nutrition: 89 calories, 6.7 g carbs (1.1 g carbs), 53 mg sodium, 25.3 g carbs, 4.6 g fiber, 13.5 g sugars, 8 g protein
With temperatures rising and people more active than ever in an effort to obtain their summer body goals, these yogurt popsicles couldn't be more clutch. Cool off, refuel, and keep at it.
Get the recipe from Well Plated.
GOAT CHEESE STUFFED PLANTAIN RICE BALLS
Nutrition: 201 calories, 3 g fat (1.3 g saturated), 100 mg sodium, 42.2 g carbs, 3.6 g fiber, 18.2 g sugar, 6.2 g protein
If you're an endurance athlete, this one's for you. It's got 42.2 grams of energy restoring carbohydrate and it'll replace your electrolytes, like sodium, magnesium and calcium, that affect muscle functioning. For more fit foods, check out these 25 Best Foods for a Toned Body!
Get the recipe from Inspiralized.
SWEET AND SALTY ENERGY BITES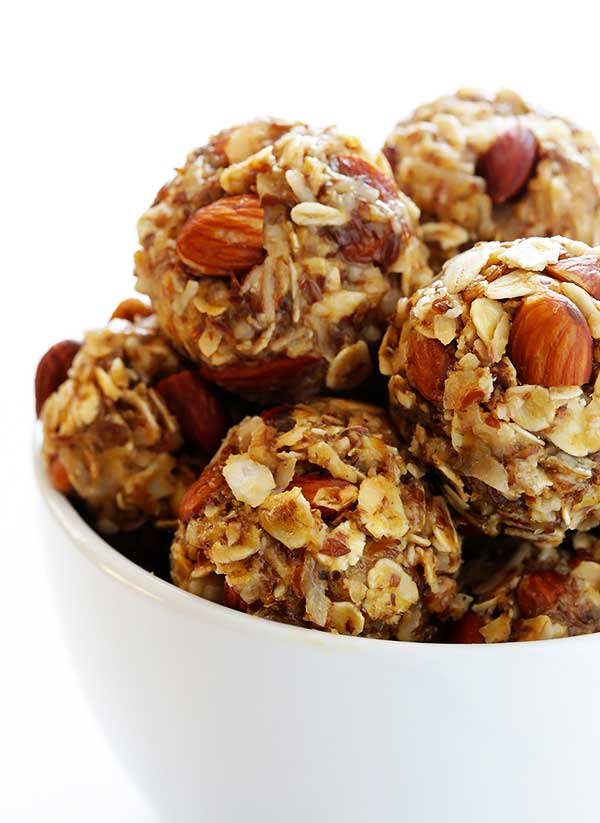 Nutrition: 229 calories, 14.3 g fat (2.8 g saturated), 50 mg sodium, 20 g carbs, 4 g fiber, 9.3 g sugar, 6.3 g protein
These craving crushing energy bites come together in just minutes and contain some serious health boosting ingredients. Flaxseed, for example, fights cancer and disease, boosts your mood and lowers your blood pressure. While almond butter, on the other hand, whittles your waist. Make them before bed, portion them out, throw them in the fridge and grab them on your way out the door.
Get the recipe from Gimmie Some Oven.
SUPERFOOD SALAD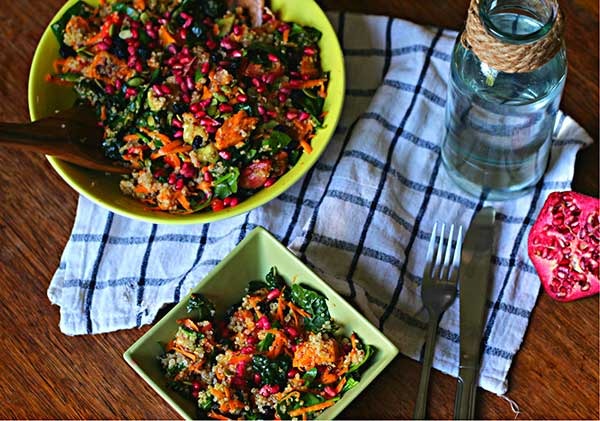 Nutrition: 244 calories, 12.7 g fat (2.1 g saturated), 47 mg sodium, 28.7 g carbs, 7.1 g fiber, 5.9 g sugar, 8 g protein
From quinoa, pumpkin, avocado and kale to spinach, walnuts, and berries, this recipe is literally overflowing with nutrients. If you're looking for a lighter fare, this salad will deliver all the post-workout essentials and then some.
Get the recipe from To Her Core.
SPAGHETTI SQUASH HASH BROWNS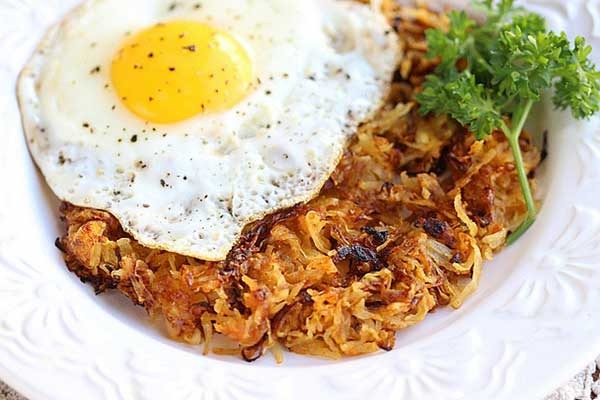 6254a4d1642c605c54bf1cab17d50f1e
Nutrition: 237 calories, 19.1 g fat (3.5 g saturated), 112 mg sodium, 8.6 g carbs, 0 g fiber, <1 g sugar, 10 g protein (calculated with 1 egg and 1 egg white)
Sunday gym-goers are the real MVPs and deserve to be rewarded with a kick a** brunch. Eggs and hash browns got a makeover and it involves spaghetti squash—one of the most versatile low carb, low-cal veggies. We factored one egg and one egg white into the nutritional profile for this one. You're welcome.
Get the recipe from Oatmeal With a Fork.
HEALTHY SWEET POTATO SKINS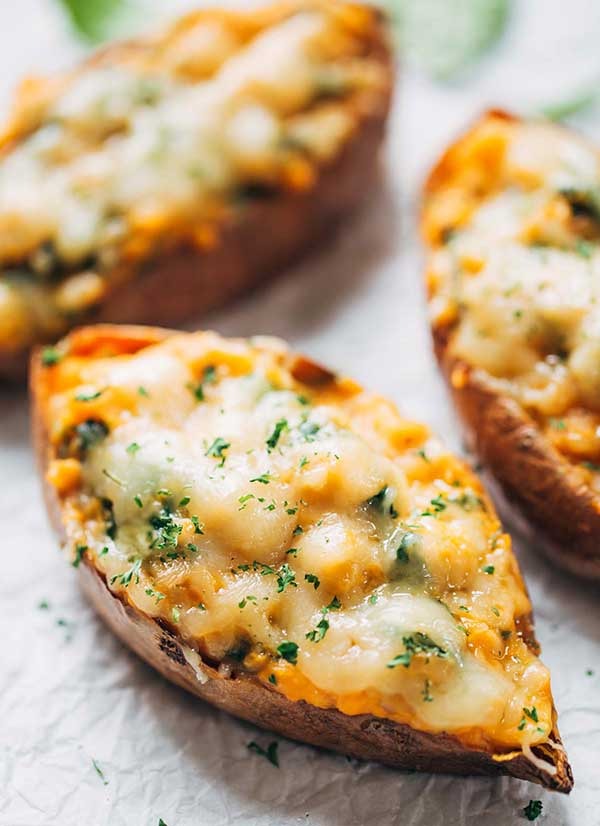 Nutrition: 235 calories, 8.5 g fat (4.4 g saturated), 100 mg sodium, 32.8 g carbs, 7.4 g fiber, 3.1 g sugar, 8.5 g protein
Don't worry, this recipe won't undo every rep, sprint or squat you completed. It will, however, restore low sodium and carbohydrate levels, while providing just enough fat, fiber and protein to keep you satisfied long after consumption. If you don't already, we high suggest you start incorporating sweet potato recipes into you weekly meal plan!
Get the recipe from Pinch of Yum.
PASSION FRUIT GREEK YOGURT WITH CASHEWS AND HONEY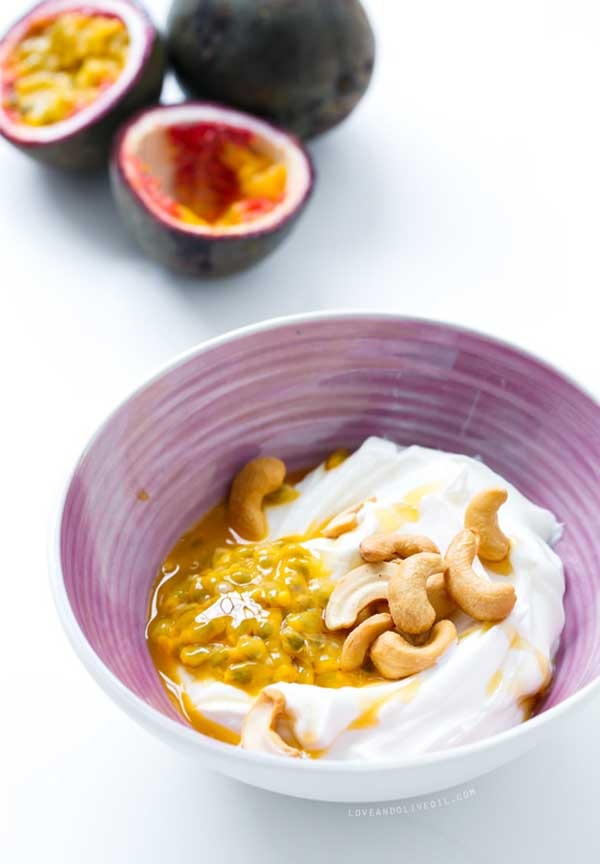 Nutrition: 360 calories, 15.9 g fat (3.1 g saturated), 66 mg sodium, 37.4 g carbs, 2 g fiber, 26 g sugar, 22.5 g protein
Greek yogurt has some serious flat belly, muscle-building benefits. Combined with immunity-boosting passion fruit, satiating cashews and energy-bursting honey, this is one parfait that'll have both your taste buds and your body humming.
Get the recipe from Love and Olive Oil.
CAULIFLOWER TOTS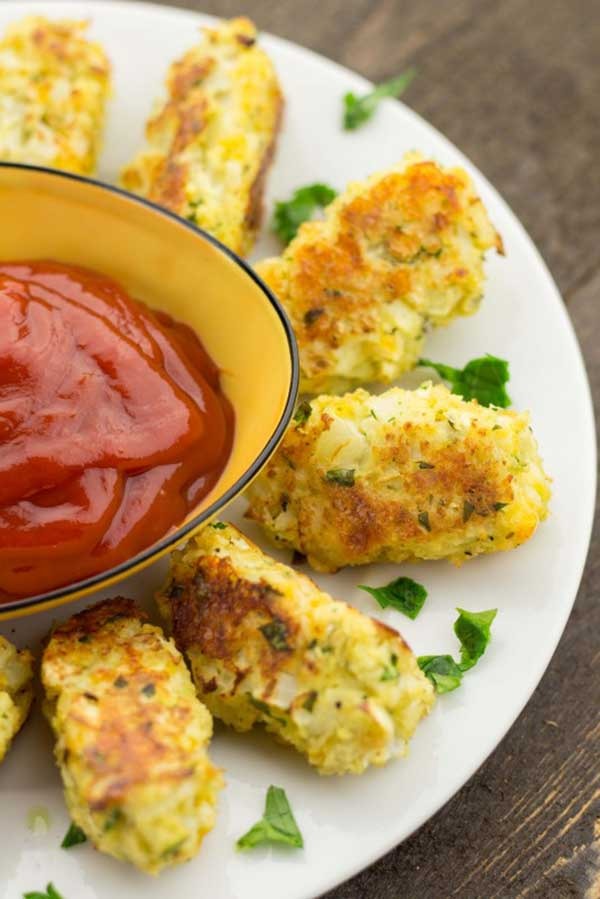 Nutrition: 207 calories, 10 g fat (4.5 g saturated), 415 mg sodium, 18.9 g carbs, 3.3 g fiber, 3 g sugar, 11.3 g protein
While we don't recommend you start munching on tater tots after a tough workout, we do suggest whipping up this cauliflower version. With half the carbs and one-third less fat, they're an ingenious way to sneak more veggies into your diet without undoing all your entire sweat session. To start losing weight today, check out these 10 Genius Tips to Lose 10 Pounds!
Get the recipe from That Oven Feeling.
COFFEE PROTEIN SHAKE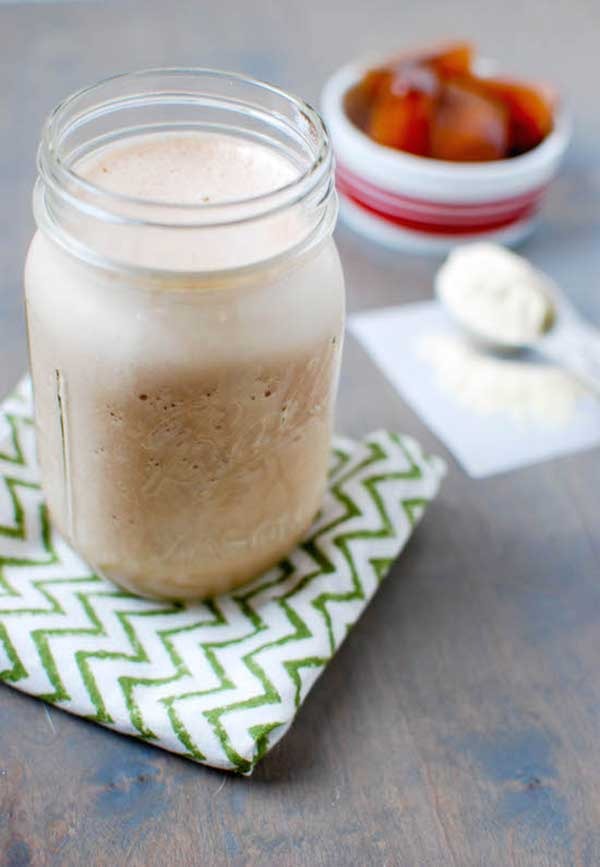 Nutrition: 158 calories, 5.1 g fat (1.2 g saturated), 222 mg sodium, 5.5 g carbs, 1 g fiber, 1 g sugar, 23.2 g protein
If you're team rise and sweat, you'll love this post-workout coffee protein shake. With just three simple ingredients and a flawless nutritional profile, this on-the-go caffeinated meal is the answer to your morning prayers.
Get the recipe from Blissfull Basil.
FARMERS MARKET ROASTED CHICKEN DINNER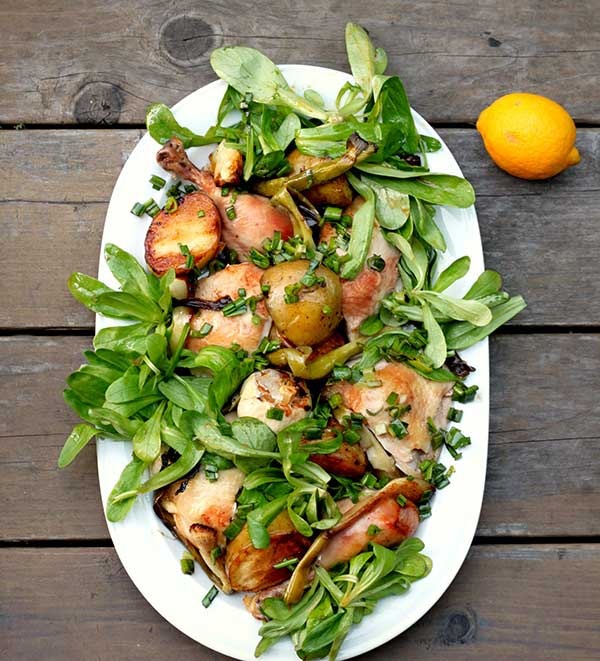 Nutrition: 279 calories, 9.7 g fat (2.5 g saturated), 140 mg sodium, 12.1 g carbs, 1.4 g fiber, 1 g sugar, 34.7 g protein
Squeeze in a sweat sesh before you pick up the munchkins from daycare? No problem. This Roasted Chicken Dinner recipe is not only low calorie and sky high in lean muscle-building protein, but it's a wholesome dinner the entire family can enjoy.
Get the recipe from Taste Food Blog.
CRANBERRY WHIPPED FETA PINWHEELS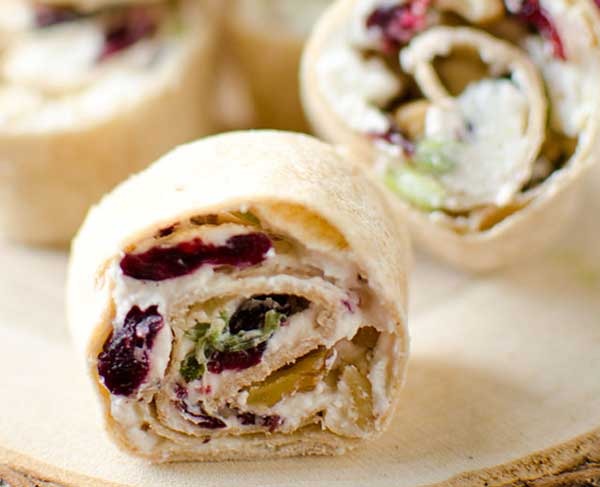 Nutrition: 229 calories, 14.2 g fat (3.5 g saturated), 418 mg sodium, 13.7 g carbs, 6 g fiber, 2.2 g sugar, 14.8 g protein (calculated with whole wheat tortillas and no salt)
Whipped cream cheese and feta, dried cranberries, green onions, and walnuts are rolled up inside a tortilla to create a complexity of texture and flavor. Easy, wholesome and perfect to consume after barre class.
Get the recipe from The Creative Bite.
DOUBLE CRUNCH SWEET POTATO FRIES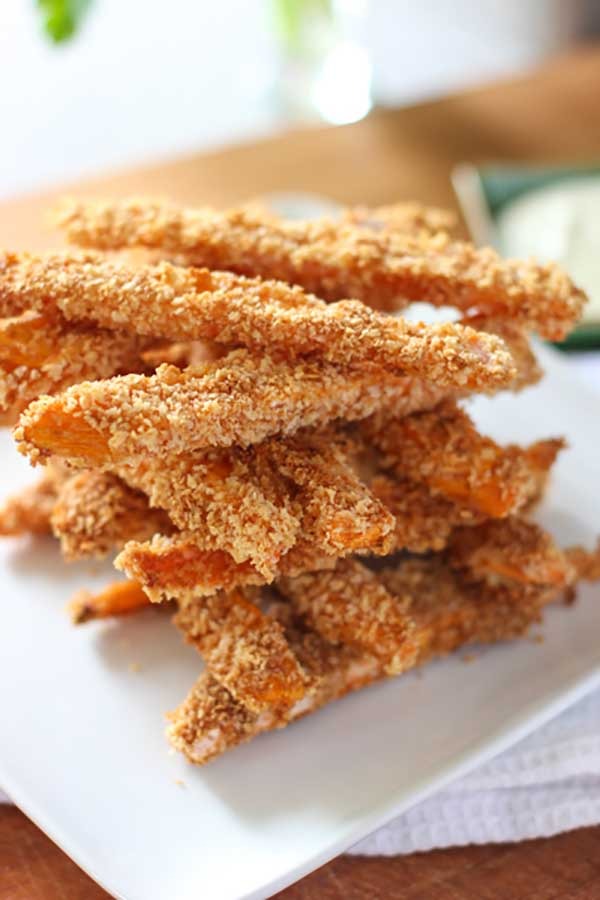 Nutrition: 350 calories, 5.6 g fat (1.4 g saturated), 120 mg sodium, 64.2 g carbs, 7.2 g fiber, 2.1 g sugar, 11 g protein
Sweet potatoes are one of the most well known superfoods. However, they're also a nutrient God in the exercise world. They rich is energy-boosting complex carbohydrates and satiating fiber, with minimal caloric costs. This recipe is a little higher in calories and carbs because we gave a hefty portion, but you'll need it when you're on an empty tank. Plus it's got 120 milligrams of sodium to restore the salt your body excreted during that intense aerobic workout.
Get the recipe from Laughing Spatula.
MAPLE BANANA PANCAKE BITES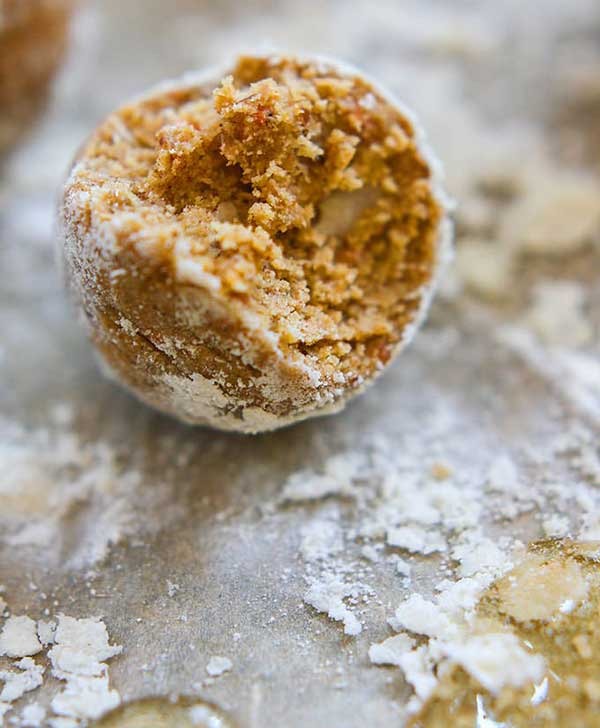 Nutrition: 275 calories, 16.1 g fat (1 g saturated), 23.3 g carbs, 1.3 g fiber, 12 g sugar, 11.6 g protein
We get it. Your schedule is hectic. You don't have time to make an elaborate meal when you're running from spin class to work. However, there is a thing called meal prep and not only are these pancake bites to die for, but they're also easy to make, store and bring with you.
Get the recipe from Cotter Crunch.
BAKED EGGS TOMATO CUPS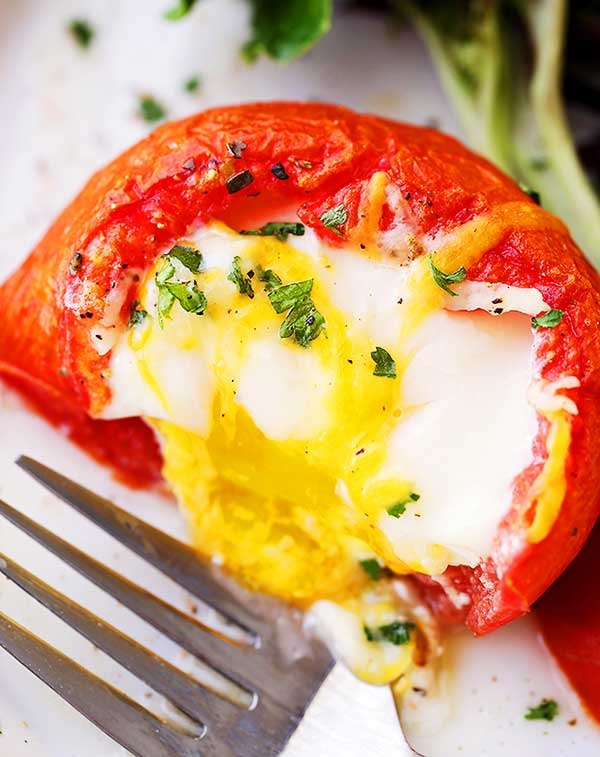 Nutrition: 145 calories, 9 g fat (4 g saturated), 293 mg sodium, 4 g carbs, 1 g carbs, 2 g sugar, 13 g protein
While you may be doing your sit ups in an effort to lose belly fat, if you don't eat the right foods, you won't see any results. Start your day with a two mile run, do your crunches and refuel with these baked eggs in tomato cups. They're super low in carbs, and bursting with satiating protein. And before you even think about ditching the yolk, they boast a fat-fighting nutrient called choline, so opting for whole eggs can actually help you trim down.
Get the recipe from Diet Hood.
APPLE PIE PANINI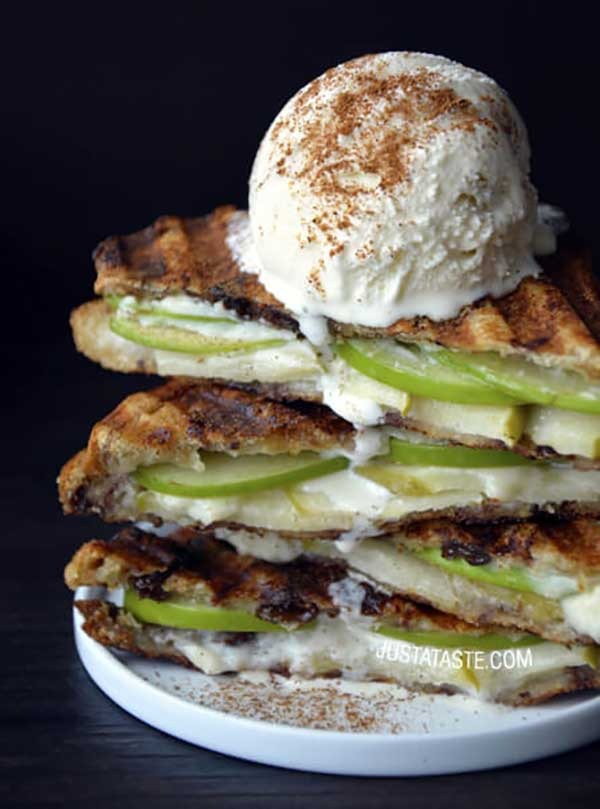 Nutrition: 313 calories, 12.8 g fat (6.2 g saturated), 288 mg sodium, 43.7 g carbs, 2.3 g fiber, 19.6 g sugar, 8 g protein (calculated without ice cream)
If you're a long distance runner, this Apple Pie Panini is a great post-workout meal option for three reasons: it's rich in carbohydrates that your body is void of and simple sugars, which can be easily broken down and used for fuel. More importantly, however, once the body depletes glycogen stores, it will start breaking down fat for energy. Thus, long distance runners need to also need to consume fat after their workout. Just skip the ice cream!
Get the recipe from Just a Taste.
BELL PEPPER NACHO BOATS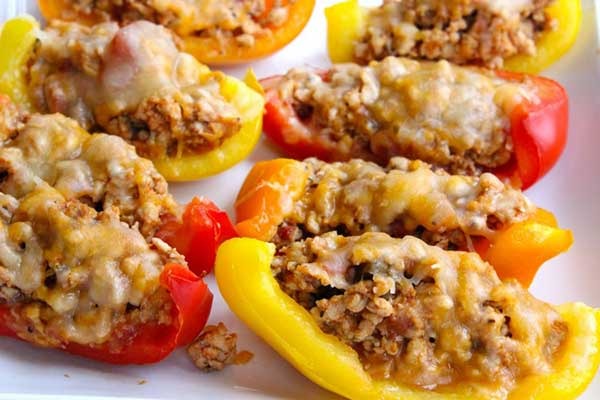 Nutrition: 169 calories, 10.1 g fat (3.4 g saturated), 168 mg sodium, 8.2 g carbs, 2.4 g fiber, 5.4 g sugar, 13 g protein
With just 8.2 grams of carbs and 13 grams of protein, these "nachos" fit perfectly into your post-jog, express circuit training, or any sweat session that's 30 minutes or less. Since you haven't depleted glycogen stores, you don't need a high carb meal. You've undoubtedly used muscle fibers who need fuel. For more protein-rich foods, check out The 20 Best Proteins For a Flat Belly.
Get the recipe from Skinny Ms..
LOADED HUMMUS
Nutrition: 234 calories, 8.7 g fat (1.5 g saturated), 57 mg sodium, 30.4 g carbs, 8.7 g fiber, 5.5 g sugar, 11 g protein
Dress up your hummus with cancer-fighting red onion, muscle-building feta, antioxidant-boasting pomegranate, and belly-slimming chickpeas. Beans, like the can garbanzo beans in this loaded hummus, are rich in a special form of fiber called "resistant starch." This type takes longer to digest than other fibers, preventing blood sugar spikes and keeping you fuller longer.Pair it with hydrating cucumber to further aid in recovery.
Get the recipe from What's Gaby Cooking.