20 Quick Recipes Made with Frozen Foods
The next time you're tempted to order takeout, look no further than your freezer for cooking inspiration.
From veggies and fruits to fish, soy and brown rice bowls, the frozen food aisle of your grocery is filled with dozens of healthy choices. Frozen foods make it super convenient to throw a wholesome weeknight meal because they're washed and chopped so you just have to thaw them. The bonus is that frozen veggies and fruits don't spoil quickly and retain more important nutrients and vitamins than their fresh counterparts.
A study in the Journal of Food Consumption and Analysis found that frozen fruits and vegetables are, in many cases, more nutritious because fresh produce loses vitamins overtime. New to the frozen food game? We rounded up 20 quick and easy recipes that feature at least one frozen ingredient. Best of all, you can prepare them in 40 minutes or less. For additional recipe ideas, check out these 30 Quinoa Recipes for Weight Loss!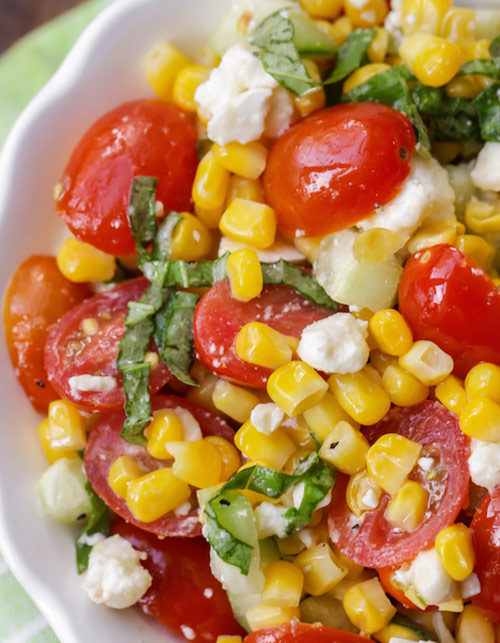 With summer around the corner, you're going to be less inclined to spend hours cooking in a hot kitchen, so it's a good thing this corn salad takes less than 15 minutes to prep. This refreshing salad features frozen corn (that's thawed and cooked lightly), basil, cucumber, feta, tomatoes and a zesty lime juice dressing. Have some peas in the freezer? Toss 'em in and serve this veggie-filled salad at your Memorial Day barbecue.
Get the recipe from Lil Luna.
Thai Peanut Chicken, Edamame, And Quinoa Stir Fry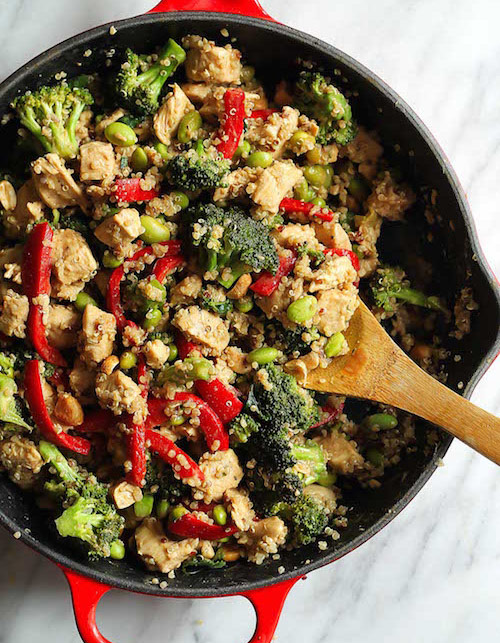 If you're craving some Thai takeout and are tempted to pull up your Seamless app, consider this Thai peanut chicken stir-fry instead. Ready in 40 minutes, you can prepare this dish easily before delivery arrives. Packed with lean chicken breast, quinoa, broccoli, red pepper and edamame, this dish is just as satisfying as it is delicious. The secret frozen ingredient? Edamame. Just one cup of the nutritious soybean has eight grams of satiating fiber and 16 grams of protein. Moreover, the savory peanut sauce features cayenne pepper, which has some metabolism-boosting properties thanks to capsaicin.
Get the recipe from Ambitious Kitchen.
Wild Blueberry Pomegranate Smoothie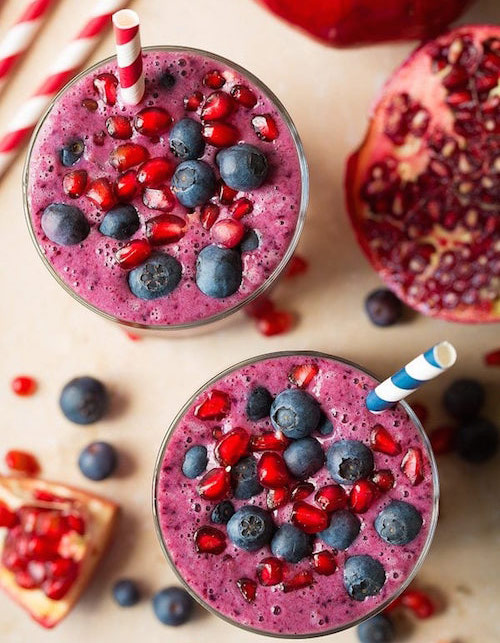 Frozen wild blueberries infuse this delicious morning smoothie with creaminess and a big dose of antioxidants. Simply throw some into a blender with pomegranate juice, Greek yogurt, water and a banana, and you have the perfect portable breakfast or post-workout smoothie. If you want to boost it with some hunger-curbing fiber, toss in some rolled oats or cauliflower. It thickens and adds texture to the beverage.
Get the recipe from Cooking Classy. 
Guacamole With Frozen Peas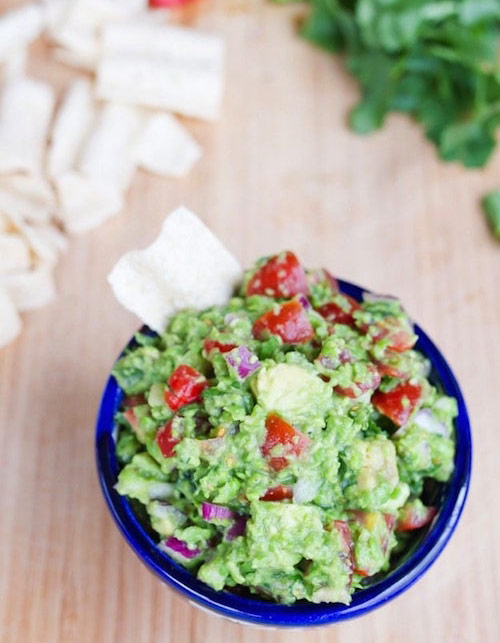 We promise we won't tell anyone we snuck in some peas in this guacamole if you don't. This recipe calls for the usual ingredients, including avocado, lime juice, tomatoes, red onions, jalapenos, garlic, and cilantro. But it's the peas that add brightness to the green in this dish and provide 100 percent of your daily value of vitamin C. Enjoy it with tortilla chips, tacos, or dare we say, toast.
Get the recipe from Eating Bird Food.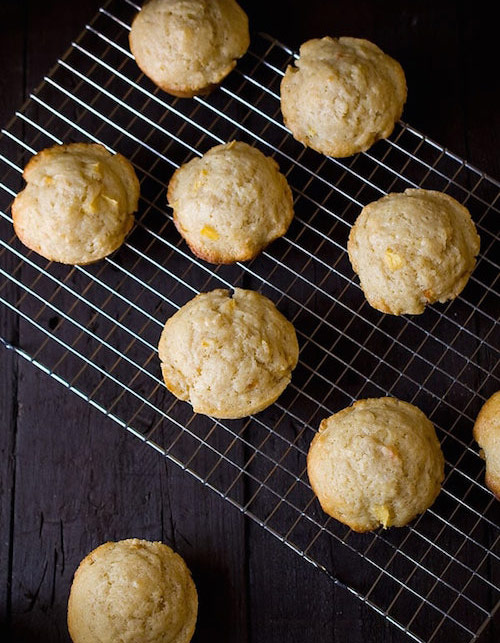 Muffins are probably the last thing that comes to mind when you think of healthy breakfast foods, but these sweet treats are a different story. In this recipe, coconut oil swaps in for butter, and Greek yogurt substitutes sour cream. Instead of white, all-purpose flour, use whole wheat or another whole-grain variety. Frozen peaches lend some natural sweetness, so you don't need a lot of sugar.
According to Texas A&M University researchers, peaches are loaded with phenolic compounds that ward off obesity, high cholesterol, inflammation, diabetes and even breast cancer. Plus, they have 10 different vitamins, including vitamins A, C, E and K, which promote healthy vision, immunity, and weight loss.
Get the recipe from Savory Simple.
This delicious shrimp stir-fry goes from pan to plate in just 20 minutes. Each serving of this tasty entrée is just 280 calories and has over 33 grams of muscle-building protein, making it a great meal to add to your weeknight repertoire. For an extra boost of protein and fiber, serve the tasty shrimp over a helping of amaranth. The little-known grain is versatile and packed with manganese, iron, and selenium, which keeps your thyroid in check and your skin smooth.
Get the recipe from The Seasoned Mom.
Sesame Mango Chicken Teriyaki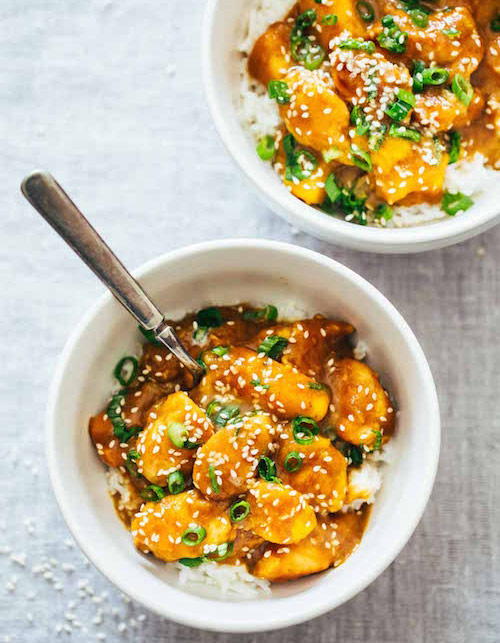 You'll impress your family or dinner guests when you prepare this 30-minute restaurant-quality dish. Frozen mangoes lend a natural sweetness and vibrant flavor to this chicken teriyaki entrée. And unlike pre-made teriyaki sauces, which are littered with refined sugars, cornstarch, and other processed ingredients, this one calls for Medjool dates, reduced-sodium soy sauce, rice vinegar, garlic, ginger and chicken broth.
Get the recipe from Pinch of Yum.
Tart Cherry Ginger Muesli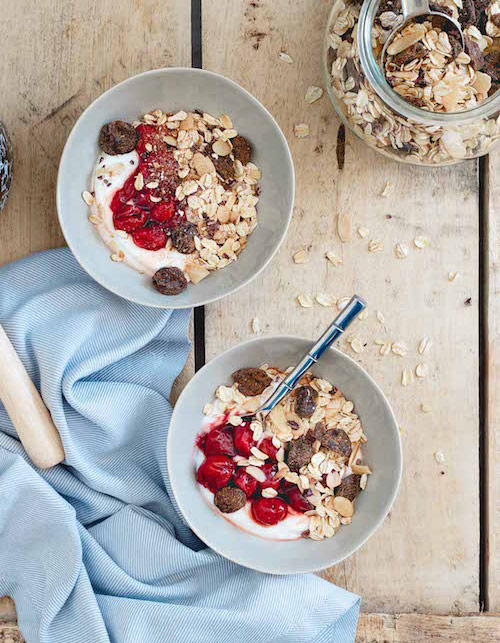 There's nothing sweeter than waking up to a comforting bowl of this cherry ginger muesli. If you love cherries, you're in luck because this recipe calls for half a cup of frozen Montmorency cherries for the warm sauce and an additional half cup of dried cherries in the muesli. Fiber-rich oats and digestion-aiding ginger also make this superfood bowl a deliciously balanced meal. Enjoy this muesli with some Greek yogurt or on its own over cold milk.
Get the recipe from Running to the Kitchen.6254a4d1642c605c54bf1cab17d50f1e
Taco Cauliflower Rice Skillet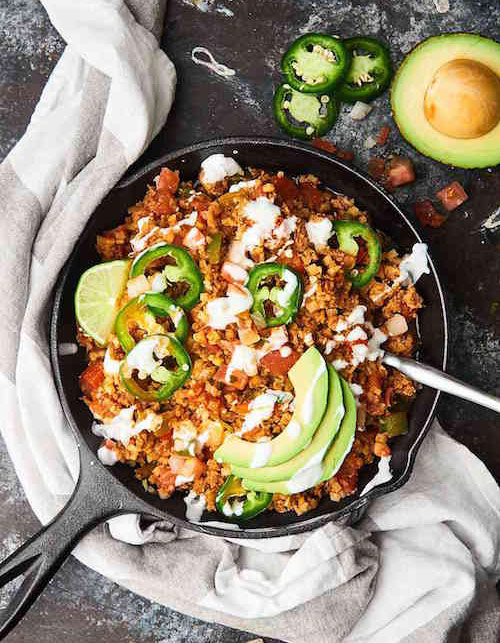 This taco cauliflower rice skillet recipe is quick, low carb, and absolutely delicious! Loaded with ground turkey (or chicken, if you prefer), veggies, and frozen cauliflower rice, this dish is as filling and flavorful as it gets. Best of all, it can go from stovetop to tabletop in 30 minutes. This dish has an impressive 24 grams of protein and is only 255 calories per serving.
Get the recipe from Show Me The Yummy.
Sugar Snap Pea And Fennel Salad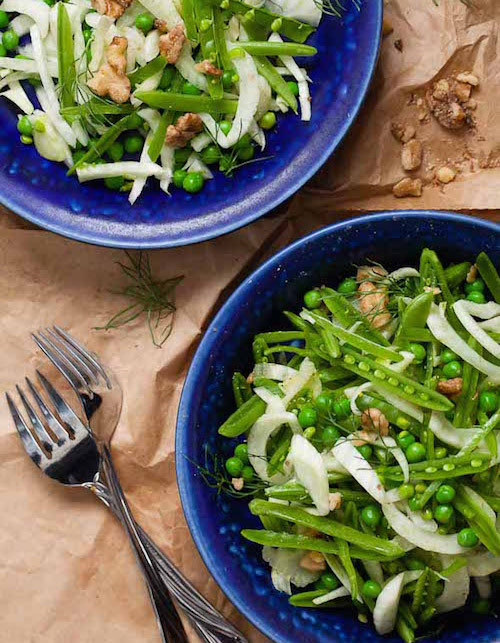 If you aren't getting enough greens, whip up this 15-minute sugar snap pea and fennel salad. Frozen peas, shallots, walnuts and fennel make this veggie-filled salad filling and delicious. The apple cider vinegar dressing also has some health-boosting benefits. Studies have shown that apple cider vinegar can help regulate hunger, lower bad cholesterol, improve fertility and help prevent the onset of type 2 diabetes.
Get the recipe from Gourmande in the Kitchen.
Everyone has heard of fried rice, but what about fried quinoa? This taste-tempting recipe uses the plant protein-rich grain in place of rice, and it makes the dish that much more filling. While white rice has virtually been stripped of all of its nutritional value, quinoa is a great source of fiber to promote weight loss and improve health. This one-pan dish also includes frozen peas and an array of other veggies, such as bell peppers and carrots.
Get the Recipe from The Slice of Life.
Brussels sprouts make an excellent side to virtually any main dish because of their versatile flavor. In this 20-minute recipe, Brussels sprouts are sauteed with coconut oil, lime juice, garlic, red pepper, salt. And since Brussels sprouts have a high-volume of water content, the tasty green veggies will help keep you super full and satisfied.
Get the recipe from Simple Green Moms.
Blackberry Lemon Ice Cream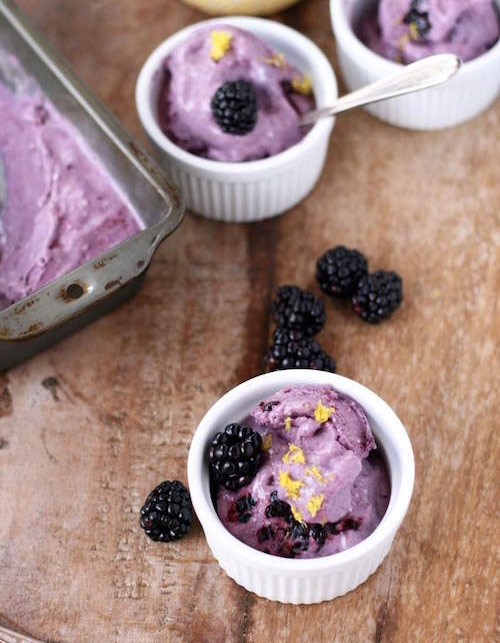 If you're after something sweet, this blackberry lemon ice cream recipe is just what you need. And because the delicious dessert calls for blending frozen bananas with blackberries, coconut milk, and lemon zest, there's no need to stick this treat in the freezer for several hours before you eat it. Grab a spoon!
Get the recipe from Vegukate.
Soba And Carrot Noodles With Watermelon Radish And Edamame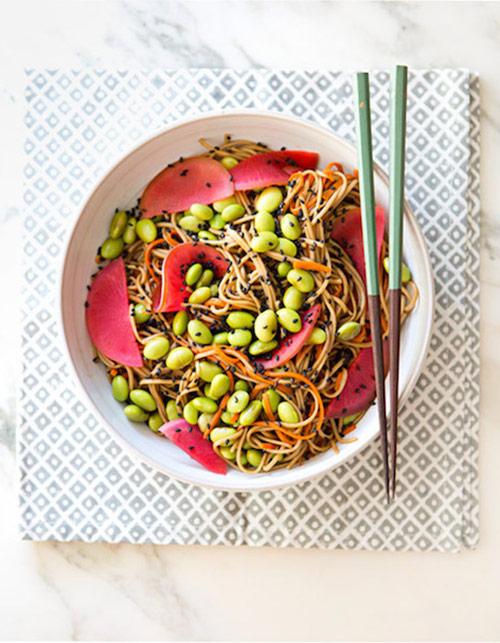 Yes, you can have your bowl of pasta and eat it, too. Instead of using regular white pasta, this dish calls for buckwheat-based soba noodles, which are a low-calorie, high-fiber alternative to the pantry staple. You can cook the noodles with a variety of vegetables, but this recipe uses watermelon radish, frozen edamame, and carrots for pops of color. Although this meal only takes about 25 minutes to throw together, you'll need to factor in some additional time if you want it to be served cold as it's intended.
Get the recipe from A House in The Hills.
Southwest Grilled Salmon With Blueberry Corn Salsa
You'll love this hearty grilled salmon dish, which also includes a delicious blueberry corn salsa. A flavorful mix of chili powder, ground cumin, salt, and coriander infuse the salmon with heartwarming Southwestern flavor. The refreshing salsa features blueberries, frozen corn, and cilantro. Ready in under 30 minutes, this meal is chock-full of omega-3 fatty acids and antioxidants.
Get the recipe from Recipe Runner.
Minty Green Salad With Cranberry Vinaigrette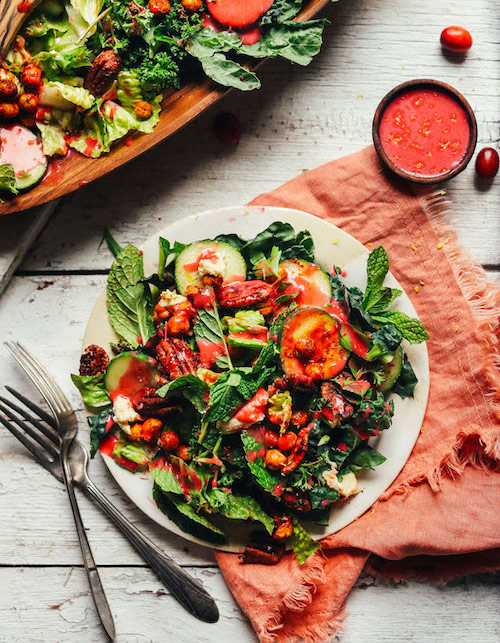 This salad recipe from Minimalist Baker uses traditional greens such as romaine and kale, but it also gets a flavorful upgrade from herbs, like parsley and mint, which has been shown to boost metabolism and memory. But the real heart of the salad comes from the cranberry compote that uses frozen cranberries. If you would like to add more protein and fiber, throw in some tasty baked chickpeas. Even with all those components, you can make this dish in 30 minutes or less.
Get the recipe from Minimalist Baker.
Raw Zucchini Pasta with Carrot-Cashew Creme Sauce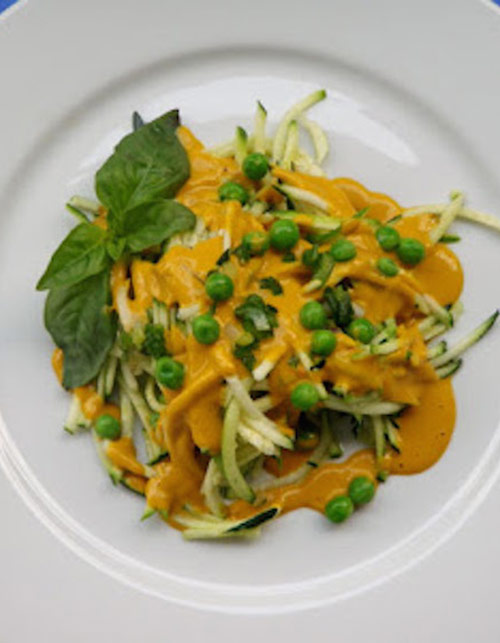 Zoodles are a gluten-free alternative to wheat pasta, and it's higher in fiber so you stay fuller longer. In this no-cook recipe, carrots, cashews, sun-dried tomatoes, and fresh tomatoes are blended together to make a deliciously creamy pasta sauce. Top with some frozen peas, and you have food on the table in just 10 minutes.
Get the recipe from In Sonnet's Kitchen.
Pineapple Ginger Chicken Stir Fry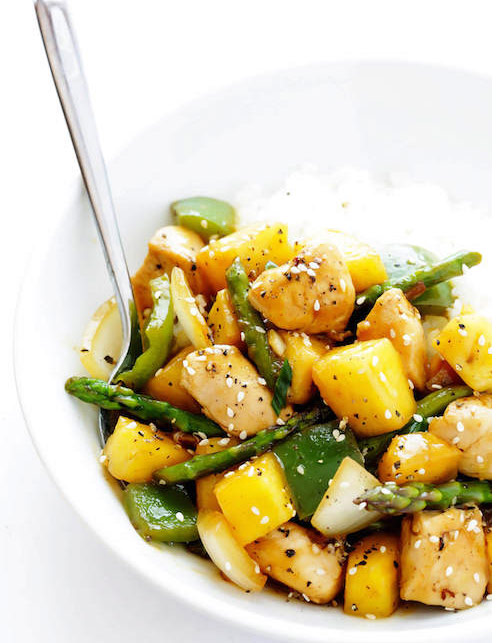 This recipe is easier to put together than it sounds and takes just 20 minutes. All you have to do is saute the chicken breasts with green bell peppers, onions, asparagus, fresh ginger, garlic and some frozen pineapple. The pineapple balances out the flavors and lends a sweetness to the black pepper, soy sauce, and rice vinegar. To make this dish even heartier, pair it with some brown rice or quinoa.
Get the recipe from Gimmie Some Oven.
Berry Salad with Raspberry Vinaigrette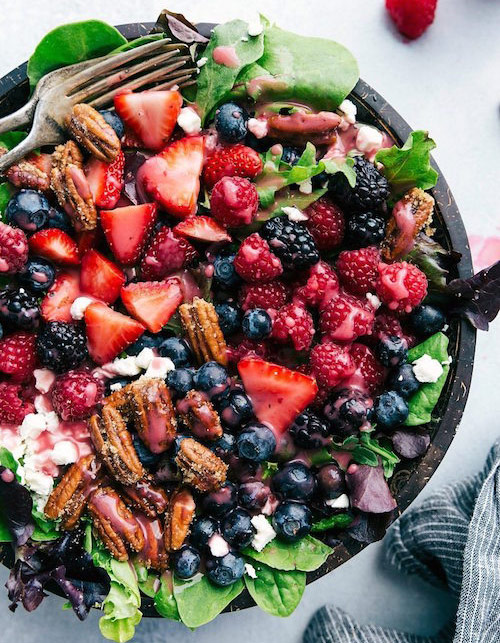 We promise this refreshing summer fruit salad is berry good. Although the salad itself calls for a mix of fresh strawberries, blueberries, raspberries, and blackberries, you use frozen fruit to prepare the vinaigrette. Red wine vinegar, olive oil, salt, Dijon mustard, and frozen raspberries make up the deliciously tart dressing. The recipe for the dressing also features sugar, but we recommend omitting it because of the fruit. Then, top with feta and pecans for some creaminess and crunch.
Get the recipe from Chelsea's Messy Apron.
Sweet Potato Power Smoothie
With the weather getting warmer you might be more inclined to sip on a nutritious smoothie as opposed to spooning some hot soup.  And this creamy and filling smoothie is your ticket. You simply blend frozen bananas and cauliflower with sweet potato purée, almond milk, dates, almond butter, and a dash of cinnamon. Thanks to its superfood ingredients, this smoothie packs a punch of immunity-boosting vitamins and minerals. For more healthy smoothie inspiration, check out these 56 Smoothies for Weight Loss!
Get the recipe from Blissful Basil.