15 Menu Typos That'll Have You Second-Guessing Your Order
A roundup of chuckle-worthy consequences of when Google Translate goes wrong.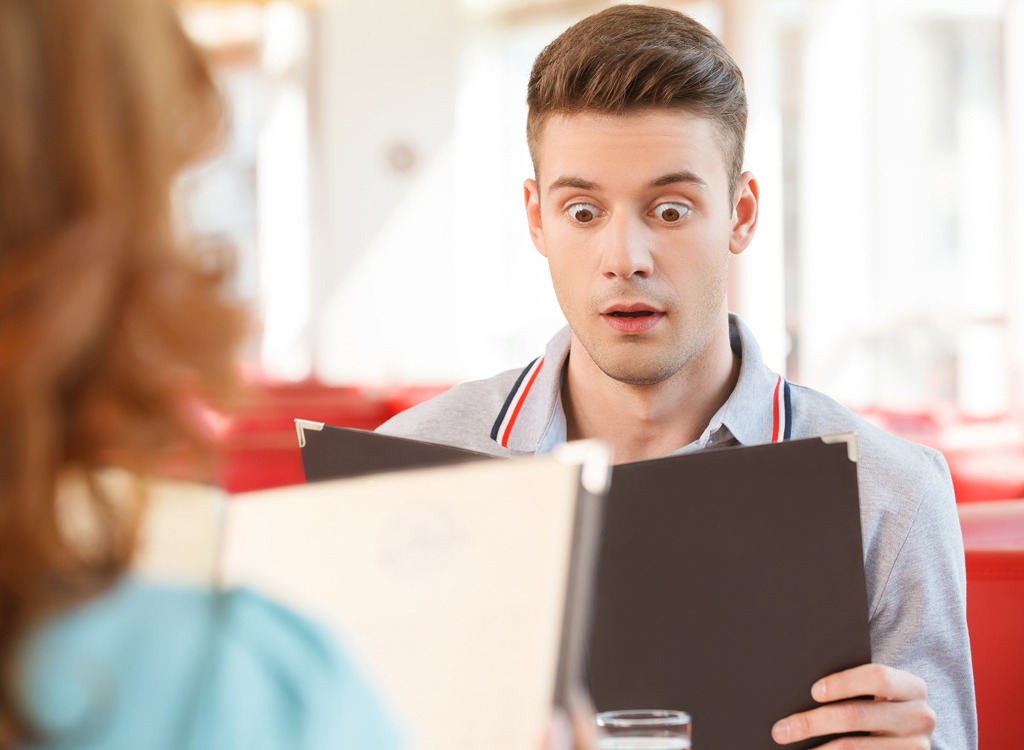 Trying a new cultural cuisine is exciting in enough, but in these instances, the menus are even more piquing. Whether the restaurant's manager forgot to run spell check or relied on Google's wonky translations, these 15 menu fails will make it super hard to keep your supper down.
Just make sure you're not forking into a "loose nut" or an "iron lamb" before you take a gander at some of these blunders. And if you want healthy recipes, supermarket shopping guides, and essential nutrition tips at your fingertips, subscribe to the new Eat This, Not That! magazine now! For a limited time, you can save 50 percent off the cover price—click here!
Mumbo sauce—a sweet and sticky meat marinade—exists, but we're not too sure about Mumber sauce.
Nothing sucks the appetite right out of you like leech fritters.
Is it considered cannibalism if you're ordering the garlic, olive oil, and oregano Bronzino?
How many vegetarians do you think ordered the so-called vegetarian pizza without bacon?
We're not exactly sure what's worse, the "Pure Belly Clearance" or "The Fish Mother." But we're definitely curious as can be about the "Pure Speculation Meat."
Is there any chance that this suspicious menu item also doubles as one of our 50 Best Foods for Your Penis? Asking for a friend.
This restaurant's antipathy for antipasti is real.
Seems like this brunch spot's staff is still pretty boozed up from last night.
Let's just disregard the incorrect usage of the verb "sell" and focus on what this shop is actually selling.
If you fill up on the egg "mayonaise," you won't have much room for the "muchroom" soup.
The Uncomfortable Procedure
This restaurant in Beijing has the best menu (sorry for blurry pics, my hands shake) from r/engrish

This fried enema dish should get things moving along…
The takeout menu from a local Chinese restaurant. from r/engrish
We can just imagine the typist angrily slamming his fingers onto the keyboard.
Just two entrees in, and you'll find yourself wondering what went down during this menu tasting.
We're going to need Wikipedia's help to demystify this one.
I wish I took a picture of the entire menu well I was in Paris from r/engrish
The catch of the day must be more tentative than we thought.
April Benshosan
April is a born-and-raised Brooklynite who has a passion for all things health, wellness, and tastebud-related.
Read more about April