True to Its Design, the Origin of the Reuben Sandwich Is Messy, Too
Two states claim to have created the Reuben—we'll let you decide who really got there first.
A good Reuben sandwich is a messy, mile-high affair made up of salty corned beef, tangy sauerkraut, melted Swiss cheese, and a glug of Russian dressing pressed between two slices of rye bread. Arguably one of the great culinary inventions of the twentieth century, it's an unlikely combination that's been a big hit for nearly 100 years. But who is the mysterious mastermind Reuben, well, behind the beloved Reuben sandwich's origin story anyway? Naturally, the answer is far from simple, as there is more than one person credited to bringing this sandwich to the masses.
New York Deli vs. Omaha Hotel
As a modern staple of New York Jewish delis, it seems natural that this is where the Reuben sandwich originated. Many claim that Arnold Reuben, proprietor of Reuben's Restaurant and Deli on E. 58th Street, invented it in 1914. As his daughter tells the story, an actress named Annette Seelos (known for her starring roles in Charlie Chaplin films) came into the restaurant late one night and was just famished. She asked Reuben to make her a huge sandwich, so he took ham, turkey, Swiss, coleslaw, and Russian dressing and served it on rye bread. It was a hit, and he called it the Reuben Special.
Observant readers will note, however, that there are some key differences between that sandwich and the Reuben that we know and love today.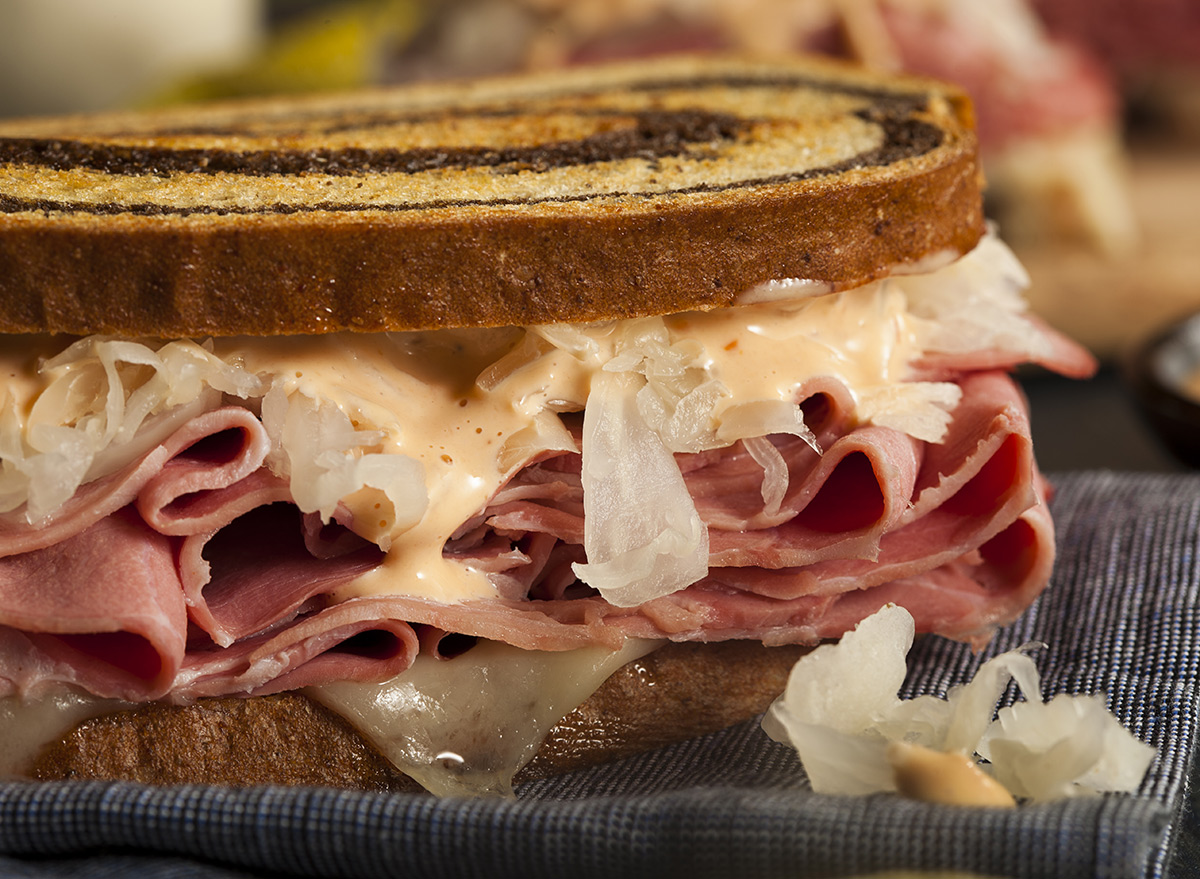 6254a4d1642c605c54bf1cab17d50f1e
Which then brings us to Omaha, Nebraska, where others swear the Reuben sandwich was first concocted in the 1920s. It was there that Bernard Schimmel ran the kitchen at the Blackstone Hotel, which his father owned and where he would also enjoy a weekly poker game with friends. As this legend goes, one of the players—local grocery store owner Reuben Kulafofsky—requested a sandwich with corned beef and sauerkraut. Schimmel, who was a European-trained chef, put his own spin on it by draining the sauerkraut, mixing it with Thousand Island dressing, then layering it with Swiss and homemade corned beef on dark rye bread. His crowning addition, though, was to grill it.
The earliest reference to a Reuben sandwich on a restaurant menu appears to be from the Blackstone's main dining room in 1934, when the sandwich cost just 40 cents. This appears to settle the debate, at least to a certain extent.
A winning recipe
One thing is for sure: the Reuben sandwich gained national acclaim after winning the National Sandwich Idea Contest (yes, that was really a thing) in 1956 after it was entered by a chef at one of the other hotels owned by Schimmel's father. He'd added it to all the menus by then. The judges called it a "hearty man-sized sandwich" and declared it "the nation's top hotel and restaurant sandwich" out of 600 or so entries. From there, its popularity took off, and today, it's now available coast to coast—and certainly in Omaha, NE.
Katherine Martinelli
Katherine Martinelli is a recipe developer and award-winning journalist who spends her days dreaming and writing about food.
Read more about Katherine