Low-Calorie Ricotta Cheesecake With Warm Blueberries Recipe
You can eat a slice (or two) without worrying about doing damage to your waistline!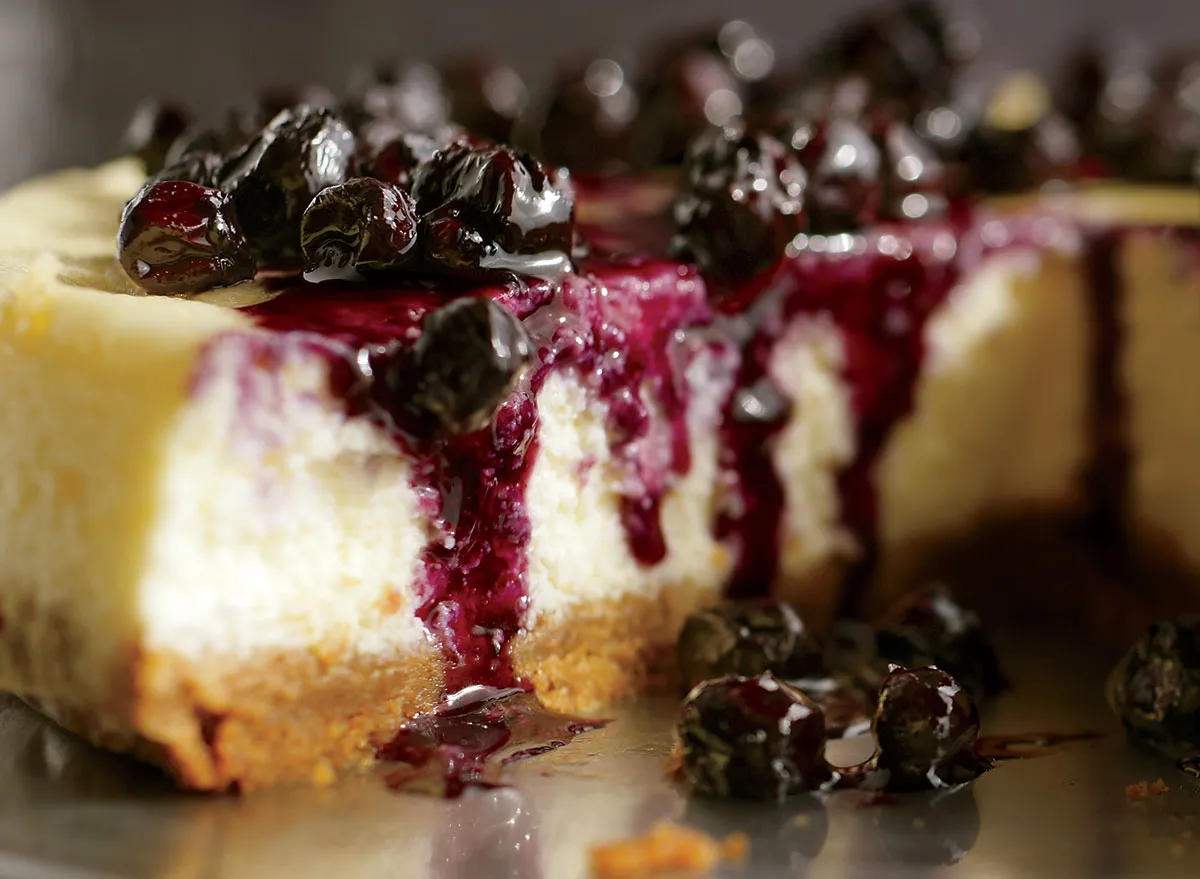 The name says it all: a sugary, fat-laden slice of cake made almost entirely of cheese that we just can't get enough of. Go figure. This version is cut with ricotta for a light, creamy texture, and the warm blueberries lend a delicious dose of brain-boosting anthocyanins. It's the only ricotta cheesecake recipe you'll ever turn to!
Nutrition: 360 calories, 19 g fat (8 g saturated), 40 g carbohydrates
Makes 10 Servings
You'll Need
8 oz graham crackers
6 Tbsp (3⁄4 stick) butter, melted
1 container (12 oz) part-skim ricotta, drained
2 packages (8 oz each) light cream cheese, softened
3⁄4 cup + 2 Tbsp sugar
Grated zest and juice of 1 lemon
3 eggs
1 bag (16 oz) frozen blueberries
How to Make It
Preheat the oven to 350°F. Cover the outside of a 9" springform pan with a layer of aluminum foil.
Grind the graham crackers in a food processor (or by hand in a plastic bag).
Add the melted butter and whiz again for a few seconds.
Pour the crumb mixture over the bottom (not the sides) of the pan and use a measuring cup to press them firmly into the pan.
Bake for about 15 minutes, until the crust is a deep brown shade.
Blend the ricotta, cream cheese, 3⁄4 cup sugar, and lemon zest in the (clean) food processor until smooth, stopping occasionally to scrape down the sides of the bowl.
Add the eggs and pulse just until blended.
Pour the cheese mixture over the crust in the pan.
Place the springform pan in a baking dish. Pour enough hot water into the dish to come halfway up the sides of the springform pan.
Bake until the cheesecake is golden and the center of the cake moves slightly when the pan is gently shaken, about 1 hour.
Cool for an hour on the counter, then refrigerate until the cheesecake is cold, at least 4 hours.
When the cheesecake is ready to be cut, combine the blueberries, lemon juice, and 2 tablespoons sugar in a saucepan.
Simmer 5 to 7 minutes, until the blueberries begin to pop and become syrupy. Cut the cake into wedges and serve with a generous scoop of the blueberries over the top.
Eat This Tip
The juice inside lemons, limes, and oranges isn't the fruits' only prized possession. The fragrant rind is home to the most intense citrus flavor of all and works great when stirred into everything from borscht to brownies. The best way to scrap it off the fruit is with a microplane, but the fine side of a cheese grater also works. Just be sure to stop as soon as you see the white pith emerge—its bitter notes can sink an otherwise tasty dish.6254a4d1642c605c54bf1cab17d50f1e