Low-Calorie Roast Beef and Cheddar Sandwich Recipe
Yes, a healthy version of this classic sandwich does exist.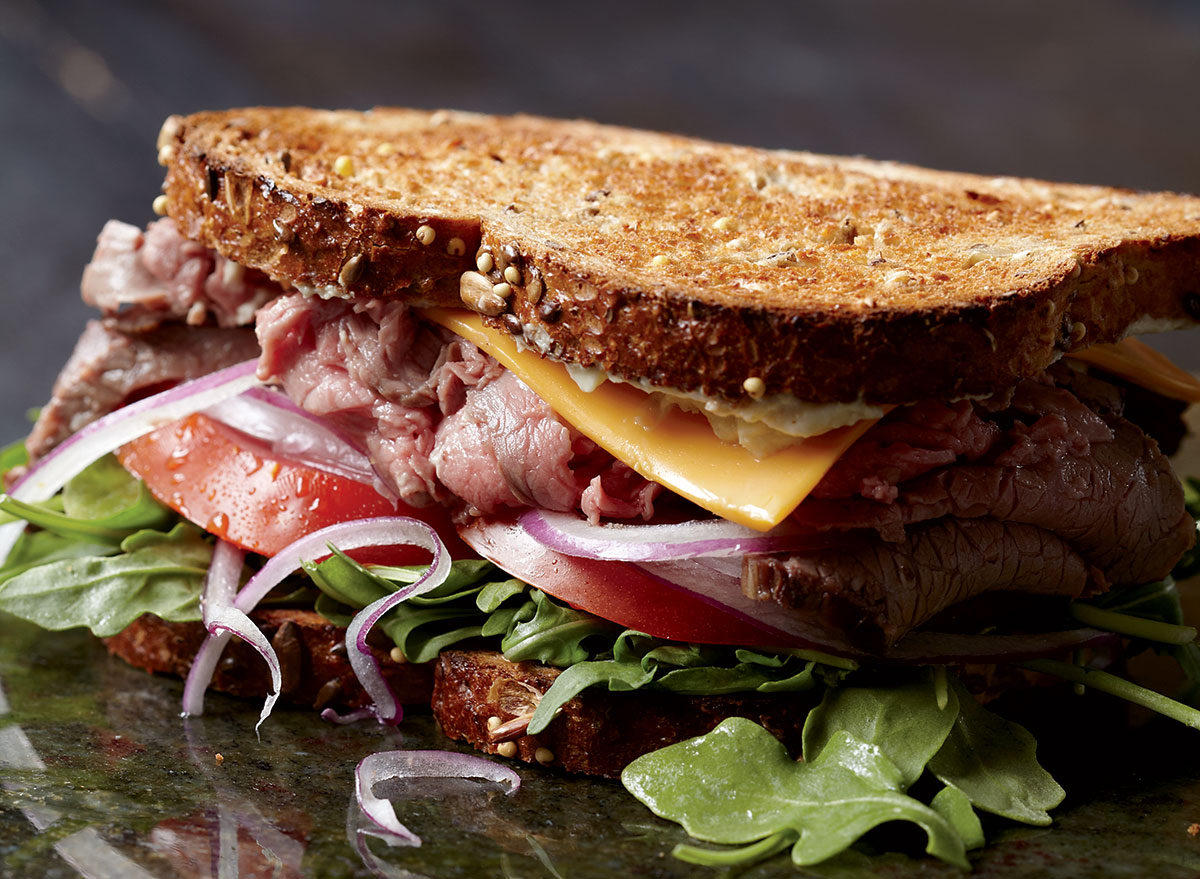 The journey to sandwich enlightenment is long and hard and requires careful provisioning: fresh bread, high-quality produce, and the best meat you can get your hands on. Unfortunately, where your hands are located at the current moment may limit the kind of quality ingredients you can get a hold of. Most of the prepackaged deli cuts you can find in your super market are overloaded with sodium, nitrites, and other unsavory additives. We prefer to use leftover roasted or grilled meats—steak, chicken, pork chops—or failing that, buy meats from a supermarket deli department that does the roasting themselves. In the best possible world, the filling for this spicy sandwich would come from the garlic-rosemary roast beef. Or, check out our Eat This Tip! for a few delis to pick up some amazing freshly made roast beef.
Nutrition: 400 calories, 20 g fat (7 g saturated), 780 mg sodium
Serves 4
You'll Need
2 Tbsp olive oil mayonnaise
2 Tbsp Greek yogurt
2 Tbsp prepared horseradish
1 Tbsp Dijon mustard
1 clove garlic, finely minced
2 cups arugula
8 slices multi grain bread, lightly toasted
1 large tomato, sliced
1⁄2 red onion, very thinly sliced
1 lb leftover garlic-rosemary roast beef, thinly sliced, or high-quality store-bought roast beef
4 slices sharp Cheddar
How to Make It
Combine the mayo, yogurt, horseradish, Dijon, and garlic in a mixing bowl.
Divide the arugula among 4 pieces of bread.
Top with the tomato slices (seasoned with a pinch of salt), onion slices, roast beef, and Cheddar.
Spread the top pieces of bread with a thick layer of the horseradish mayo and complete the sandwiches.
Eat This Tip
Seeking Quality Meats:
There are many famously amazing delis out there where you can grab some freshly made cuts of meat (we'll get into listing those later), but if you don't happen to be located near any of those options, your best bet will be to try to stick with brands like Applegate Organics and straying from ones like Hillshire Farm and you'll avoid some artificial flavors. If you happen to be in New York, or even California, here are a few amazing delis to try: 2nd Avenue Deli, Katz' Delicatessen Russ and Daughters, and Nat n' Al's.6254a4d1642c605c54bf1cab17d50f1e
This recipe (and hundreds more!) came from one of our Cook This, Not That! books. For more easy cooking ideas, you can also buy the book!