90-Minute Roasted Turkey With Orange-Cranberry Relish Recipe
You don't have to spend hours in the kitchen in order to make a perfectly browned, yet moist turkey.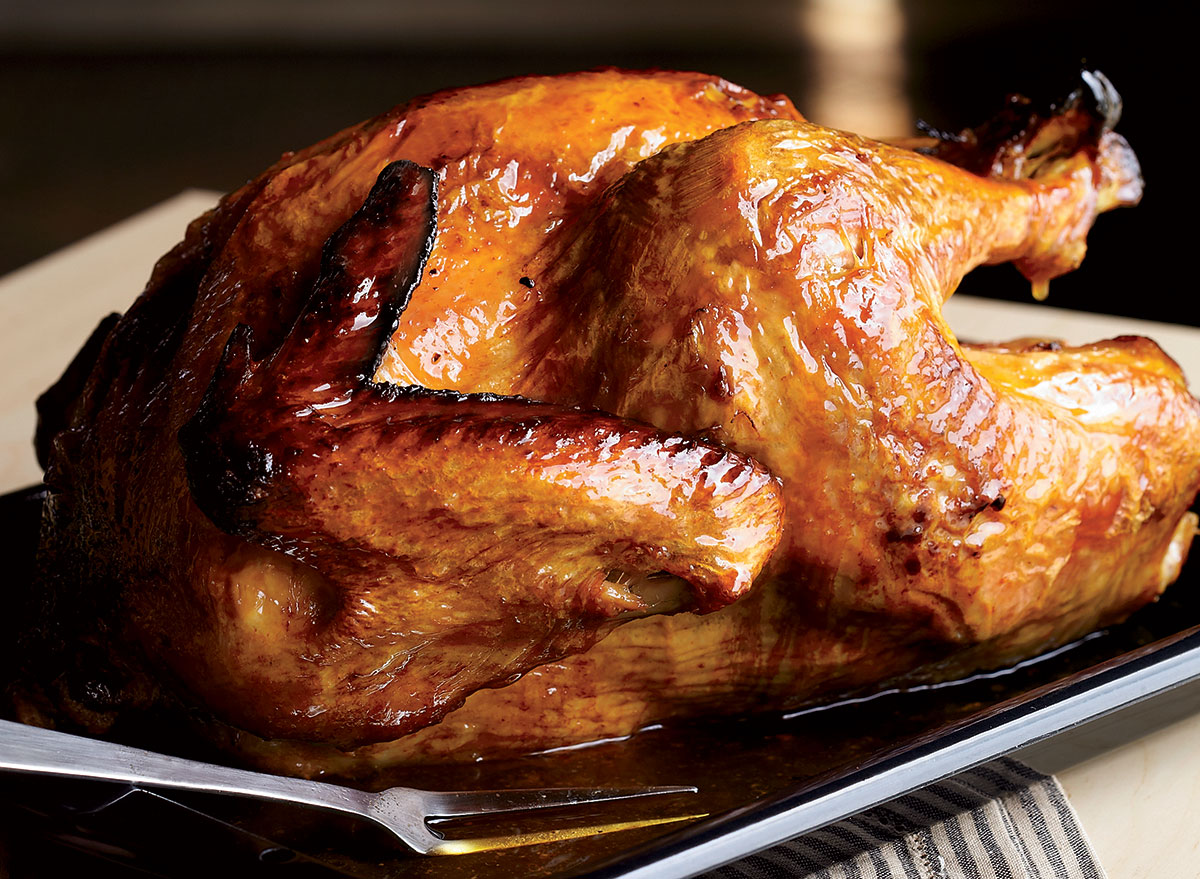 This magical roasted turkey came about out of sheer necessity. It was Matt's senior year in college and a spontaneous Thanksgiving feast had materialized around him. The only problem? It was 7 p.m. and there was no turkey in the oven. He remembered an old recipe espousing the joys of a turkey blasted at 500°F, effectively searing the skin a beautiful brown and leaving the meat moist inside. By 9 p.m., one of the greatest Thanksgiving spreads on record was laid before a group of 20 hungry students. This bird was the centerpiece.
Nutrition: 260 calories, 6 g fat (2.5 g saturated), 240 mg sodium
Serves 15
You'll Need
1 (12–14lb) turkey (It's important that the turkey be this size. Larger turkeys will burn on the surface before being cooked all the way through.)
1 Tbsp kosher salt
Orange-cranberry relish
How to Make It
The morning before you plan to cook the turkey, season the bird all over with the salt.
Ninety minutes before cooking the turkey, remove it from the fridge so it can come up to room temperature.
Thirty minutes before cooking, drape a sealable plastic bag filled with ice over the breasts. (Sounds crazy, but the ice will cool the breasts and help prevent them from overcooking while the dark meat cooks through.)
Preheat the oven to 500°F.
Place the turkey on a roasting rack set in a large roasting pan.
Roast the turkey on the bottom rack of the oven until the skin is deeply bronzed and an instant-read thermometer inserted into the deepest part of a thigh registers 160°F. (If the wing tips or ends of the drumsticks begin to burn, you can cover them with foil.)
This will take anywhere between 75 and 100 minutes, depending on the size of your turkey and the heat of your oven.
Eat This Tip
Because of the high heat used to cook this turkey, you may get a bit of smoke in your oven. The best way to curtail the smoke, of course, is to have a clean oven. Beyond that, cover the wing tips and the drumstick ends mid-way through the cooking, as they may char when exposed to high heat for so long. If this sounds like a pain in the butt, remember that you'll be cooking one of the best turkeys of your life in just 90 minutes.6254a4d1642c605c54bf1cab17d50f1e
This recipe (and hundreds more!) came from one of our Cook This, Not That! books. For more easy cooking ideas, you can also buy the book!