13 Coziest Coffee Shops in San Francisco
Love working from coffee shops? We've got you covered.
"How do you take your coffee?" People automatically assume that question is in reference to details like creamer or soy, or whether you want two sugars or Stevia. But when you're trying to figure out a place to grab a coffee, especially in a city like San Francisco, it's less about the milk and sweeteners and more about the ambiance of the cafe you're buying from.
It all comes down to preference: There are hipster hot-spots, modern hubs with spacious seating arrangements, and to-go counters if you're in a hurry. But some of the best scenes are cozy coffee shops in San Francisco that offer a great cup o' joe with a side of a homey atmosphere.
Below, we've categorized the coziest coffee shops in San Francisco by neighborhood. Whether you're a local looking for a quiet corner to study or you're a tourist passing through, pop into any of these mellow spots to get your caffeine fix and chill for a while.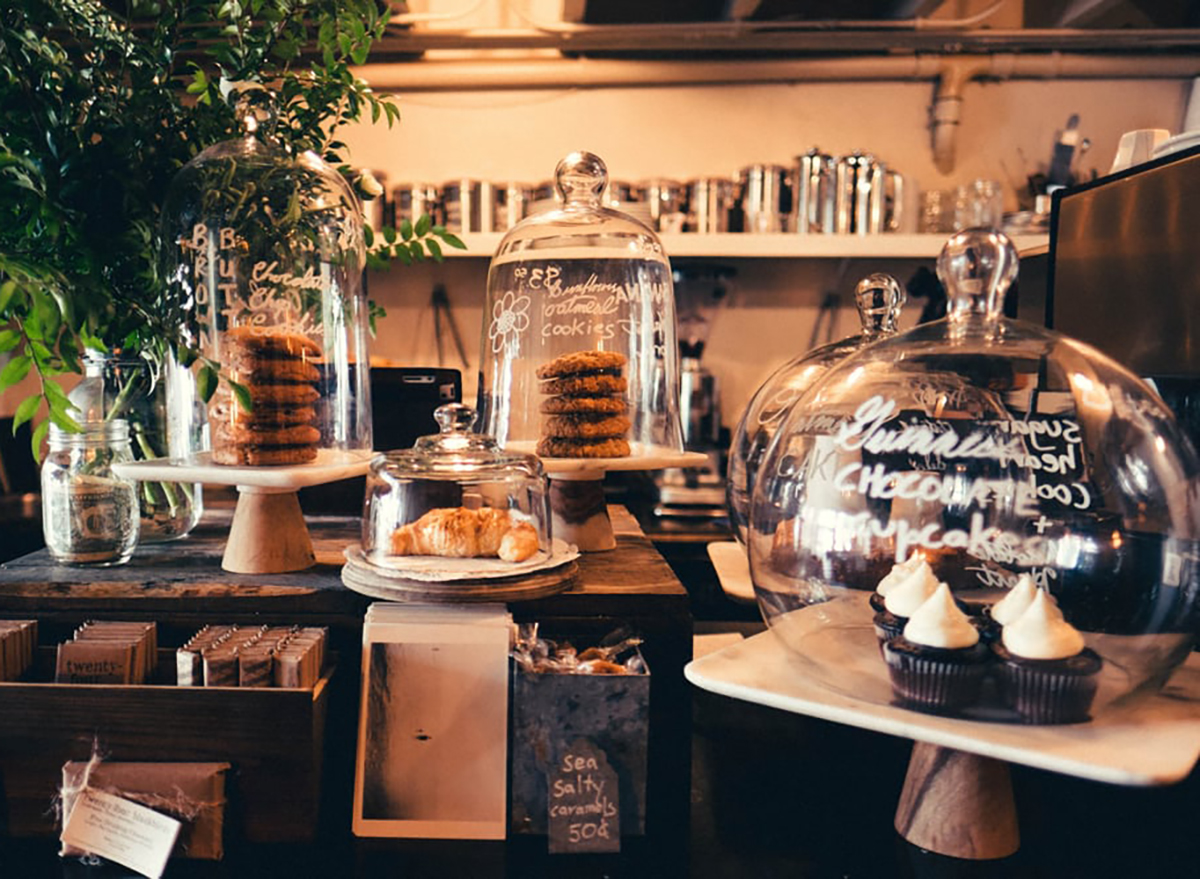 1435 Irving Street, San Francisco, CA 94122
Hollow is a quaint, hole-in-the-wall cafe in the Sunset District you don't want to miss. Locals and tourists pop in for an artisan latte or mocha and stay for the homey, rustic decor. Seating is limited but worth taking advantage of if a spot opens up.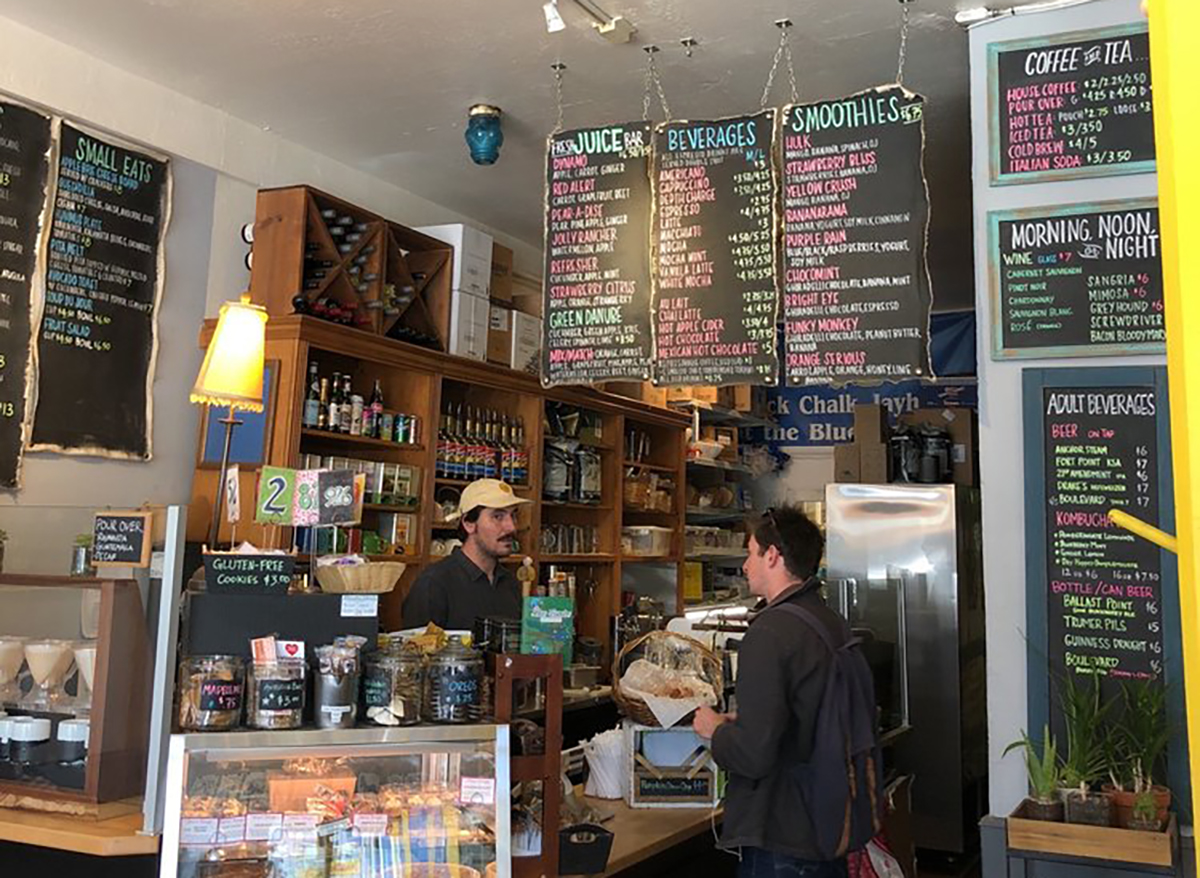 306 Clement Street, San Francisco, CA 94118
Locals and travelers alike appreciate Blue Danube Coffee House in the Richmond District for its excellent service, friendly staff, fantastic menu, and eclectic style. Chandelier light fixtures, a grandiose vanity mirror, a turquoise ladder bookshelf, and the funky art donning the walls and wooden tabletops give the place a homey feel in the literal sense.
Plus, the menu features everything you could want from a breakfast/brunch/lunch spot, from coffee to smoothies to bagels with cream cheese and lox.
Hideaway Cafe x Rinse Laundromat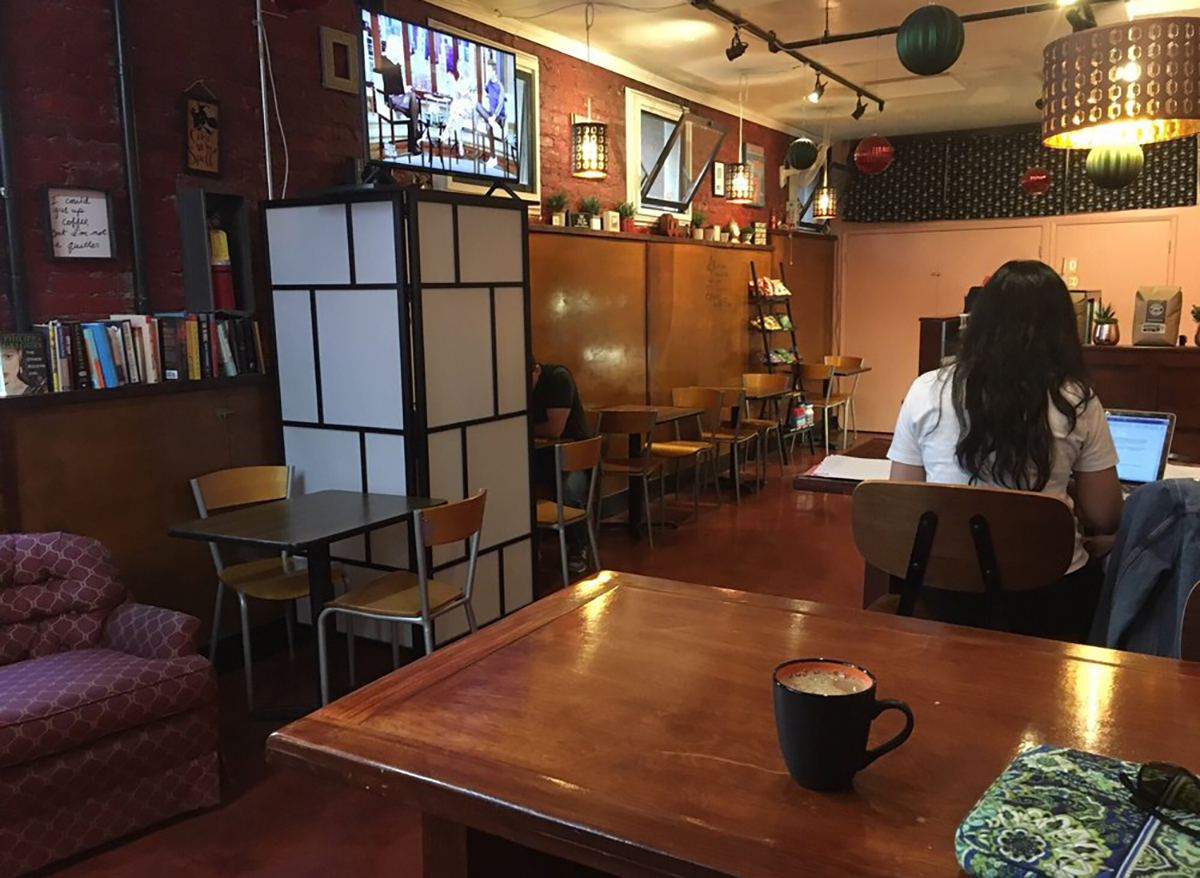 850 Jones Street, San Francisco, CA 94109
One of, if not the coolest cafes in San Francisco we've come across, Hideaway Cafe in Lower Knob Hill is one part coffee house, one part laundromat. Sip on something warm while you wait for your load to finish, or set up shop with your laptop and a personal homemade pizza.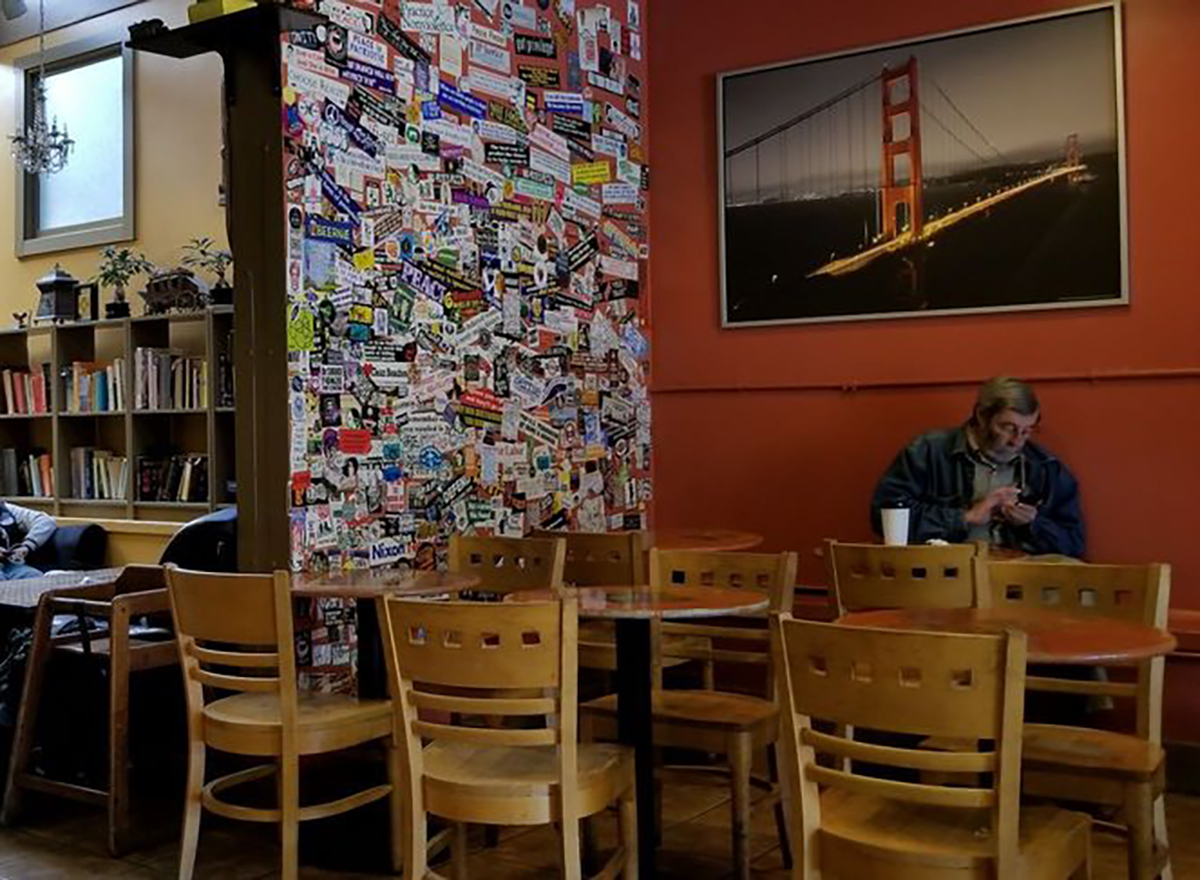 1206 Masonic Avenue, San Francisco, CA 941176254a4d1642c605c54bf1cab17d50f1e
Customers rave about Coffee to the People in Haight-Ashbury for its ample seating options (from wooden tables to spacious couches), free wifi, board games, and an entire bulletin board dedicated to bumper stickers. There are also signature drinks to try, like Flower Power, Mint Matcha, and Chocolate to the People, plus dairy-free milk for plant-based alternatives.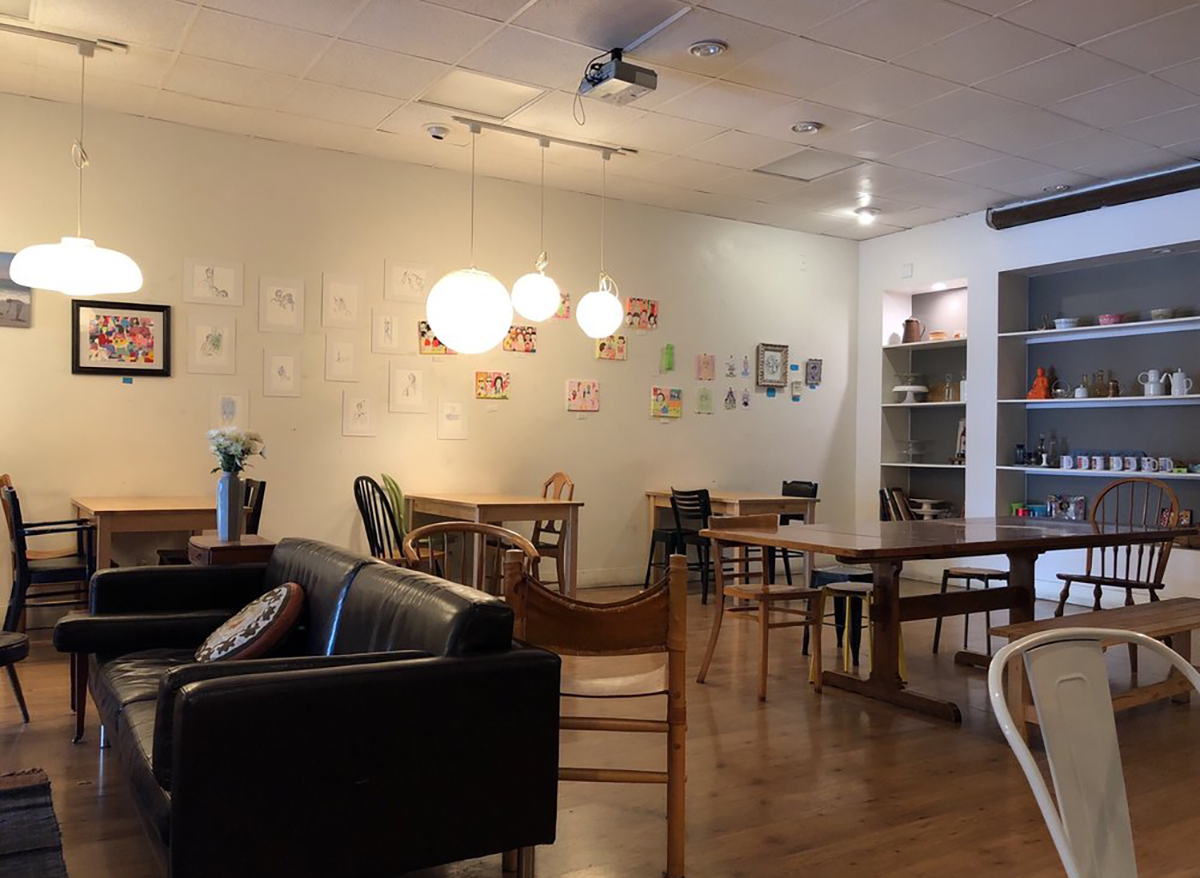 1640 Post Street, Floor 2, San Francisco, CA 94115
Traditionally, open spaces don't scream "cozy," but for YakiniQ Cafe in Japantown, the description fits. Small wooden tables lining the wall make for the perfect work or study setup, while groups can sit back and relax at long tables or the centralized couch. The menu features Japanese-inspired delicacies, like matcha pound cake, and drinks ranging from hazelnut and lavender lattes to ice ginger teas and root beer floats.
Multiple Locations
Every Philz Coffee location boasts its own flair, but we're especially digging the DogPatch locale, which features plenty of seating options, including both sleek wooden tables and comfy couches, and adorable potted flowers. Special menu items include an iced Mint Mojito blend, the Philtered Soul (hazelnut and chocolate-flavored coffee), and the New Manhattan (notes of citrus, cherry, and floral).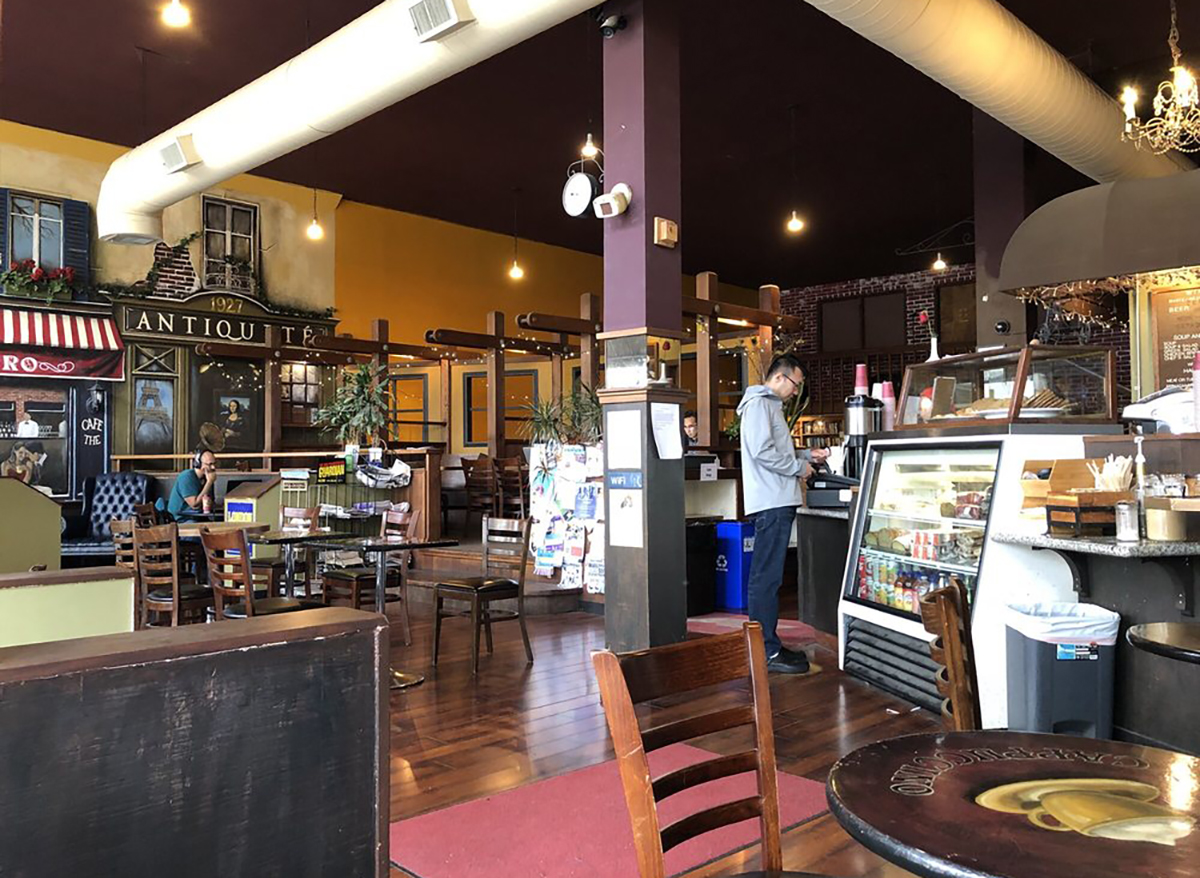 3643 Balboa St San Francisco, CA 94121
This neighborhood cafe and eatery is cozy on a larger scale than our previous picks, but in this particular instance, size really doesn't matter.
There's no denying the easy ambiance at La Promenade Café in the Outer Richmond District, with its wall-length bookshelf and mural paintings reminiscent of the French cafes that inspired its charm. And its drink menu is impressive, from your classic Americano to blended Chai Tea with banana. If you like a side of entertainment with your meal, the place is always hosting a variety of events.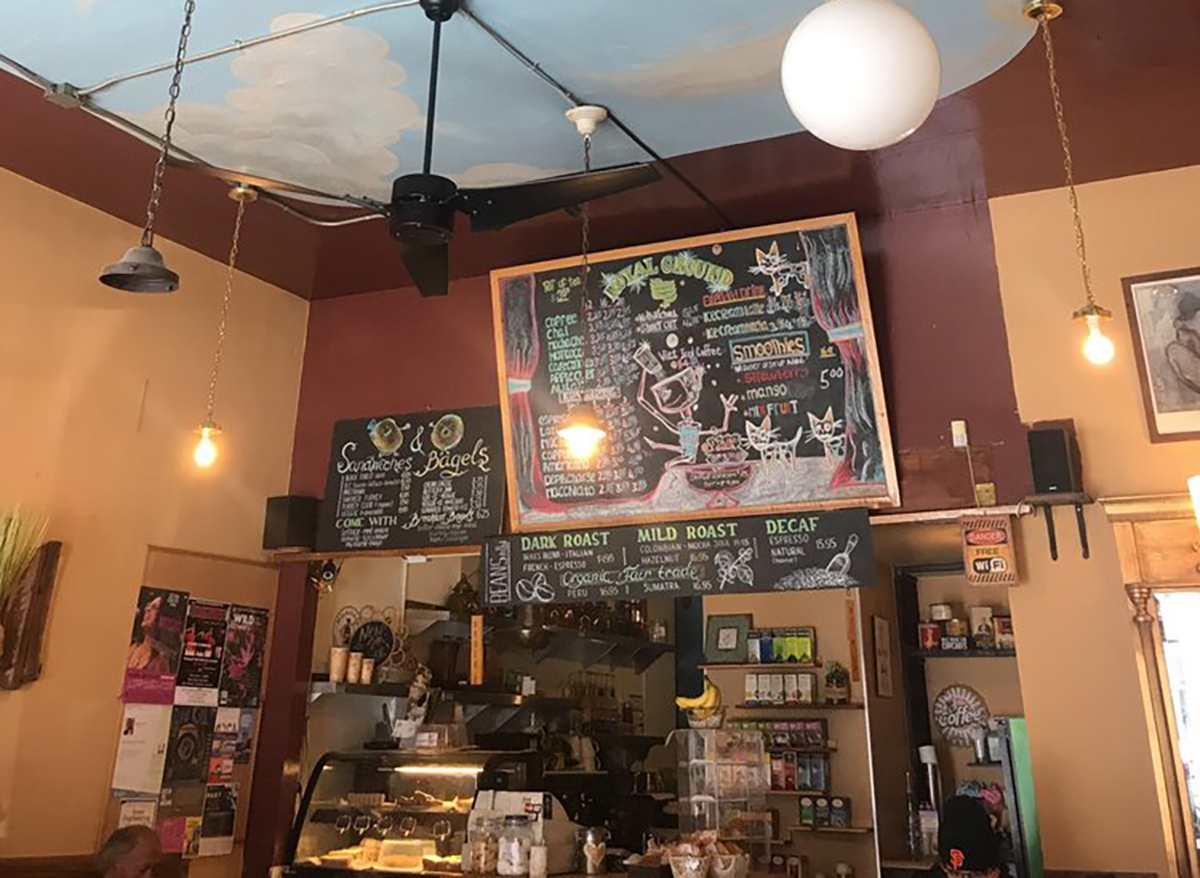 2216 Polk Street, San Francisco, CA 94109
Royal Ground Coffee is located in San Francisco's Bay Area and features all the caffeinated (and non-caffeinated) sips from a coffee espresso bar delicacy, to un-coffee (i.e. tea, hot cider, hot cocoa) sips, bean coffees (from your classic French Roast to organic Viennese), and iced drinks. Also note the super homey decor with cushioned seats outside for people-watching, and hardwood tables inside for setting up shop on your laptop.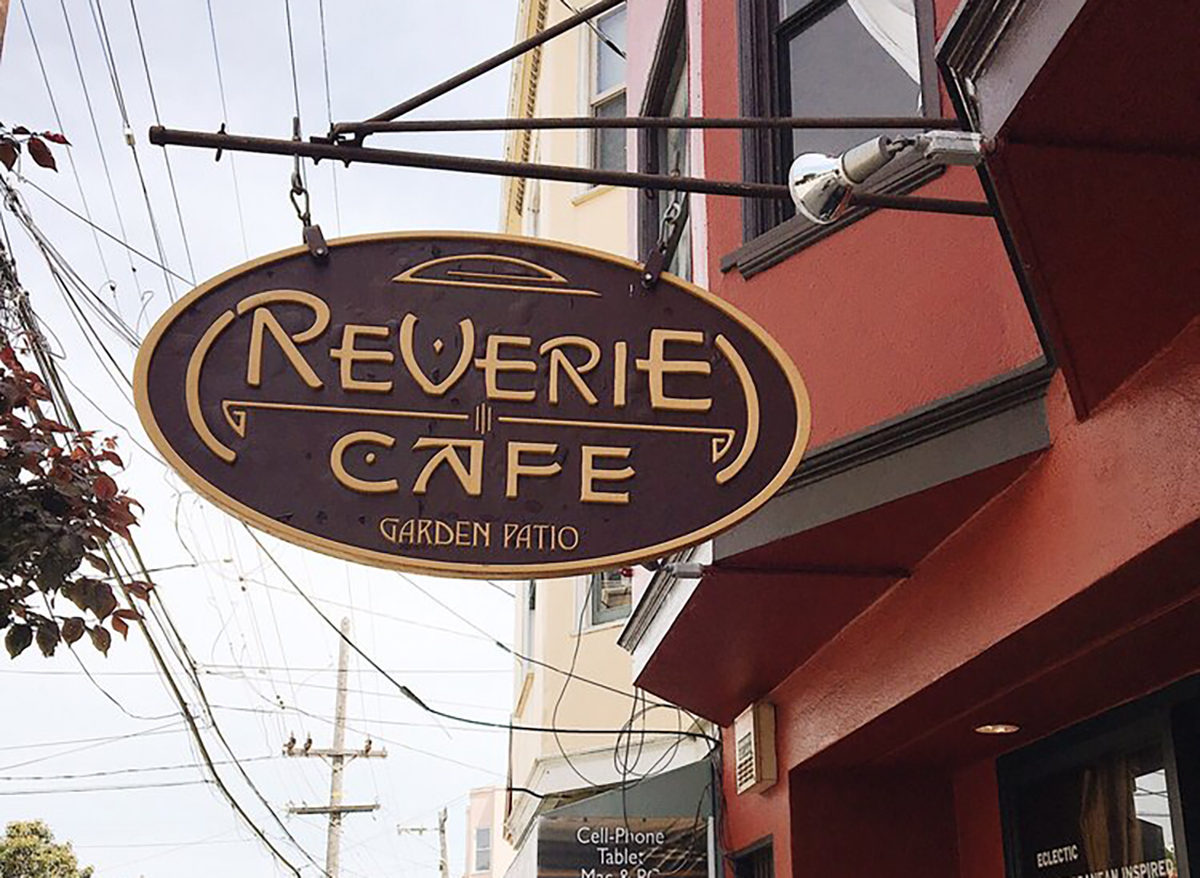 848 Cole Street, San Francisco, CA 94117
Cafe Reverie in Cole Valley is cozy in a kind of Secret Garden sense. Pass through the brick and mortar to order coffee or wine (or both) paired with a pastry or brunch dish before making your way out back to its darling patio. There's greenery all around, plus free wifi for those looking to take their work or studies outdoors.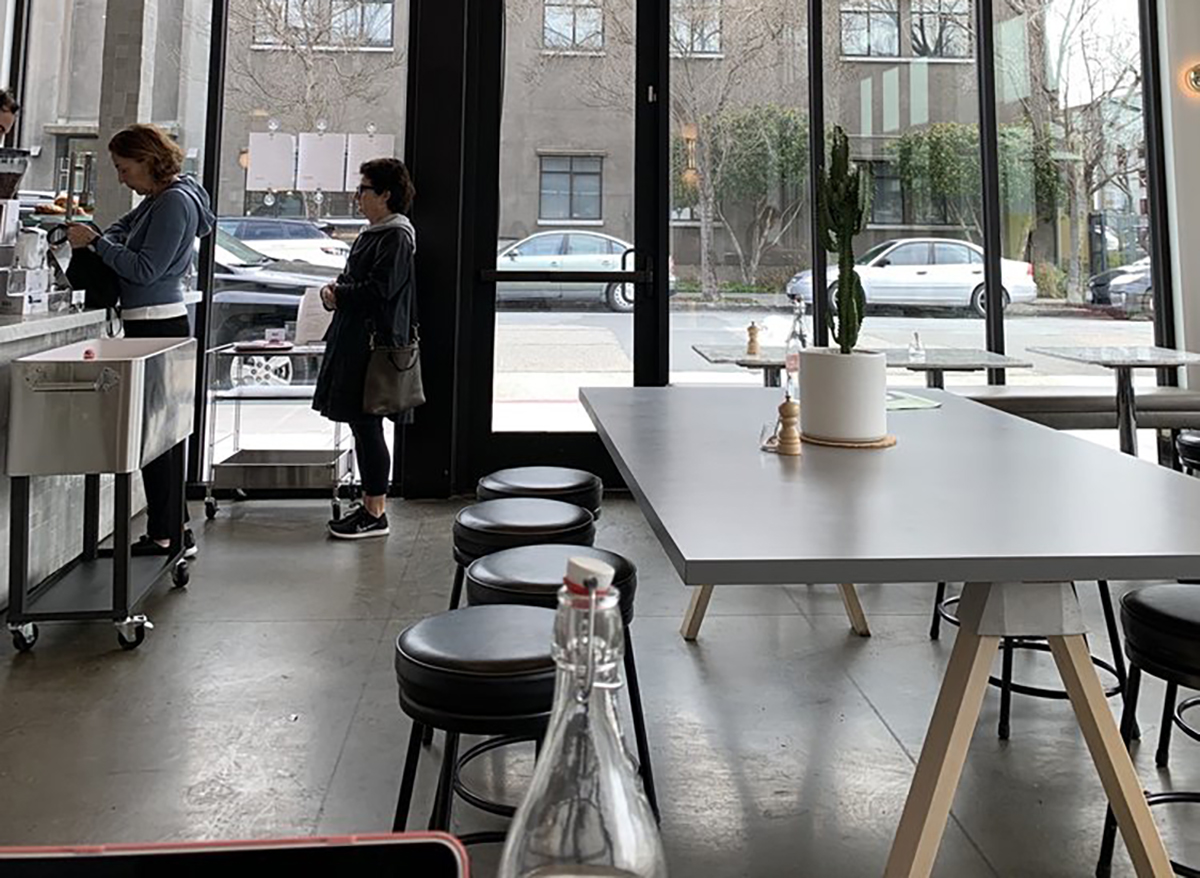 760 Hearst Avenue, Berkeley, CA 94710
Cafe Reveille in Berkeley is cozy by millennial standards: It features a crisp, white color palette with splashes of pink and black, indoor greenery, bar stools, and low-to-just-barely-the-tabletop light fixtures. Potted and hanging plants definitely give this place that homey-apartment charm.
And if you think the decor is Insta-worthy, wait until you become better acquainted with the menu, which includes coffee, acai bowls, breakfast sandwiches, and coconut chia pudding, among other delicious options.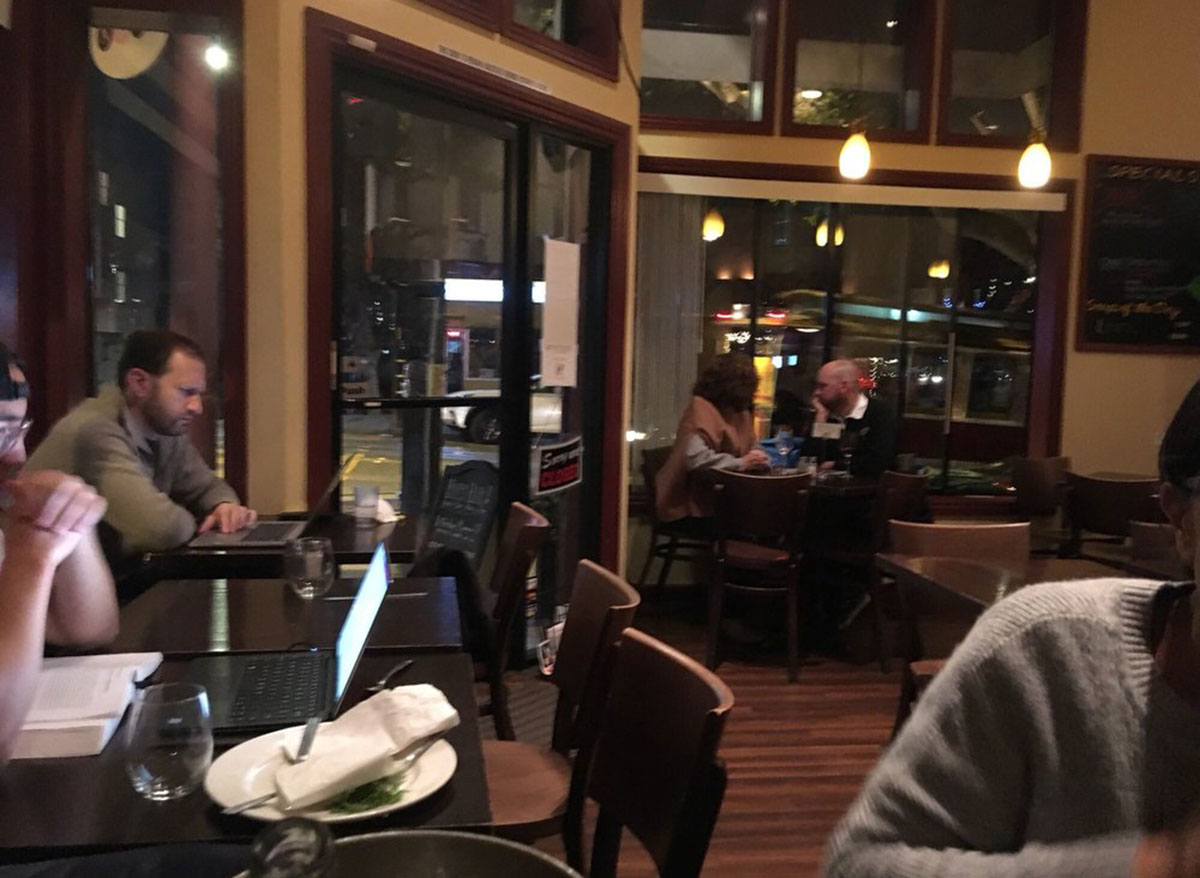 500 Hyde Street, San Francisco, CA 94109
The initial cozy factor of Nook in Nob Hill is in its name, but step inside and you'll see for yourself just how true it rings. Its high windows offer plenty of natural lighting during the day, and the place transforms into the perfect spot to wine and dine at night.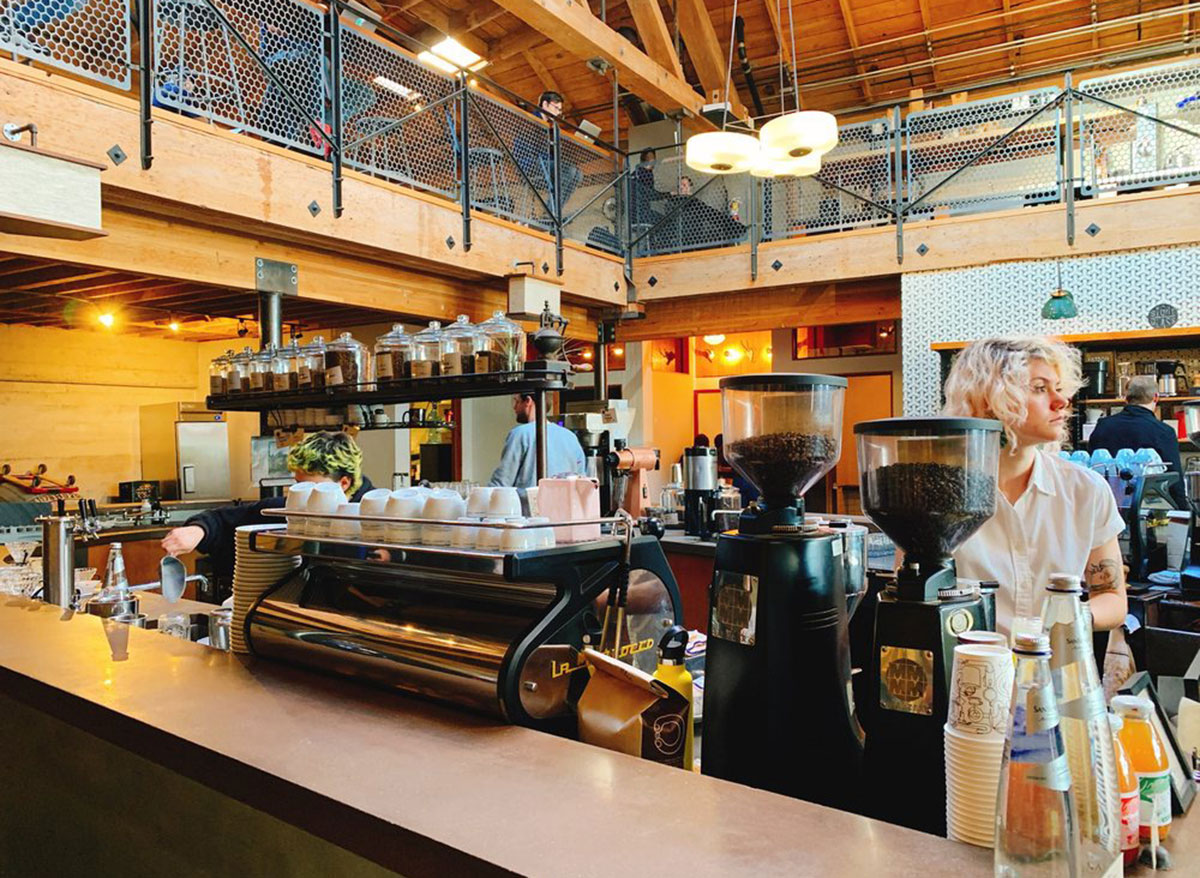 270 Seventh Street, San Francisco, CA 94103
What makes Sightglass Coffee in the Mission District worth experiencing is the curated ambiance. Everything from the types of coffee served (sourced from all over the world), to the redwood sapwood ceiling has been carefully crafted to not only enhance your experience but also to make it a unique coffee shop experience.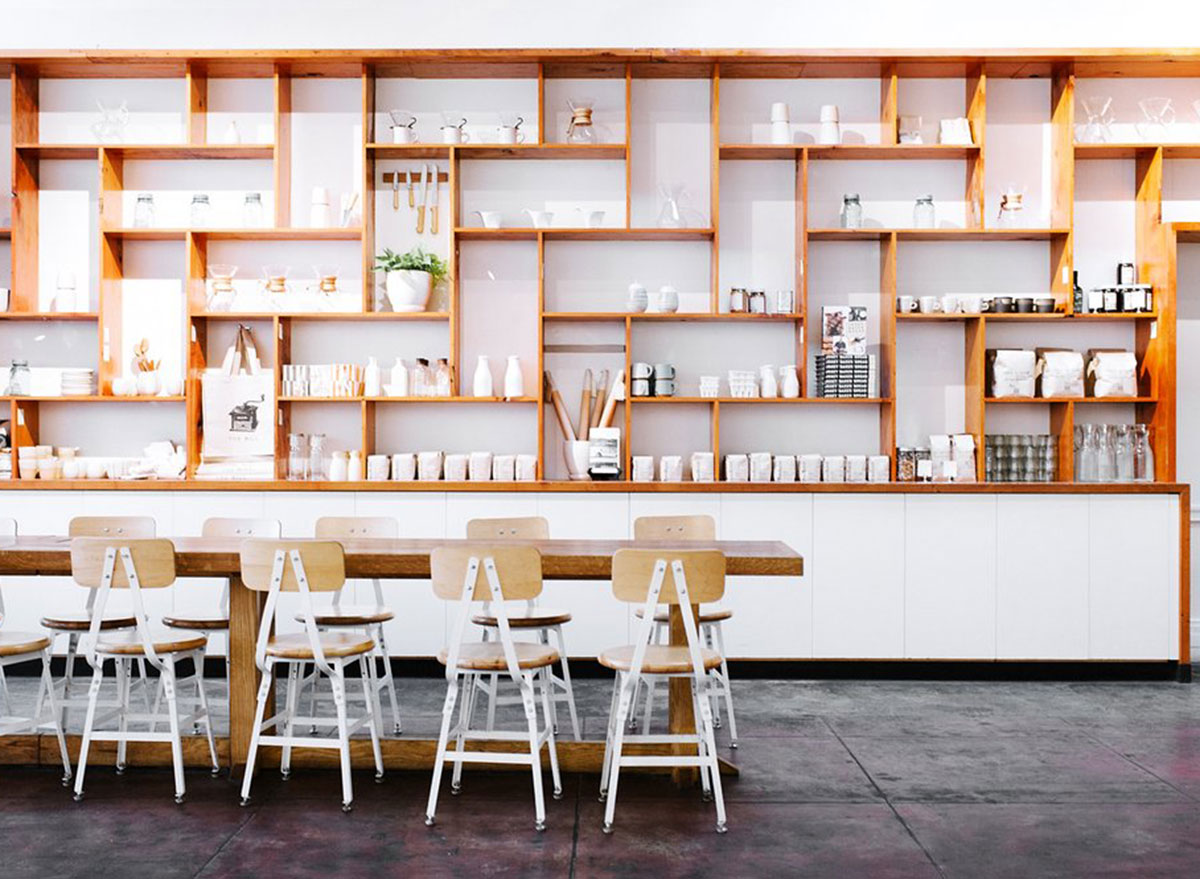 736 Divisadero Street, San Francisco, CA 94117
Nothing says "cozy" like freshly baked bread and brewed coffee. Unfortunately, this hub doesn't offer wifi or outlets, but that sort of disconnect from the world adds to the simplistic charm of The Mill in Alamo Square. This spot is all about toasting (drinks and actual slices of artisan toast) and enjoying a cup of coffee however you prefer, paired with delicious pastries and fresh-out-of-the-oven pizza. Come for the sustenance, stay for the comfort.