We Tried Shake Shack's New Breakfast Menu—Here's the Verdict
The beloved burger and shake joint is upping the breakfast game with its line of sandwiches and pastries.
If the long line wrapped around Madison Square Park in New York City is any indication, people absolutely love Shake Shack's burgers, fries, chicken sandwiches, and of course milkshakes. Enough to wait hours in line and brave the freezing (or scorching!) temps just to get their hands on a ShackBurger and brownie batter milkshake.
But the original Shake Shack is upping its fan-favorite menu by getting into the breakfast game, offering up a new line of breakfast sandwiches, pastries, and morning beverages including cold brew coffee and orange juice. These breakfasts have been available in select transit locations: JFK airport, Grand Central terminal, Fulton Center, and Penn Station in New York, Union Station in Washington, D.C., and the Dubai Airport since 2014, but will now be available at the Madison Square Park location starting on May 22. We Eat This, Not That! staffers got our hands on these new breakfast items — and they give McDonald's and Dunkin' Donuts a run for their money.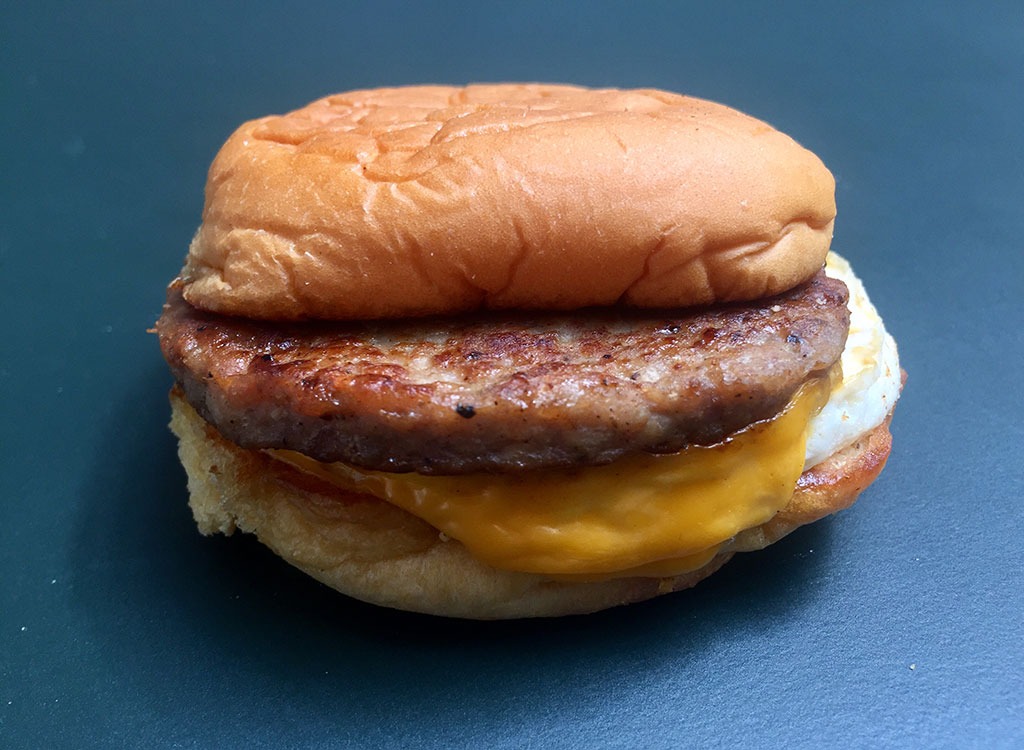 Per sandwich: 480 calories, 29 g of fat (12 g saturated), 1440 mg sodium, 28 g carbs (3 g fiber, 7 g sugar), 28 g protein
Each breakfast sandwich from Shake Shack is served on a toasted non-GMO potato bun, the same bun used for its signature burgers. Right away, it gives the sandwiches a fluffier texture, unlike some of the soggier sandwiches other fast food giants serve up for breakfast.
The sausage patty is pretty thick and well seasoned, giving the sandwich more flavor. The egg also looks like a real egg, compared to some of the other fast food breakfast eggs that look… questionable. Overall, the sandwich seems to have better quality ingredients and that reflects in the taste. But at 480 calories and 29 grams of fat a pop, it's definitely a splurge.
Per sandwich: 370 calories, 18 g fat (8 g saturated), 1050 mg sodium, 26 g carbs (3 g fiber, 5 g sugar), 24 g protein
Right away, we noticed the savory aroma emitted from the sandwich. "It smells good. It smells like breakfast," Daniel, our Social Media Manager/professional taste tester said. So far, off to a good start.
The potato bun on the Bacon, Egg N' Cheese stays soft, giving it a nice texture. It also makes the sandwich taste sweeter compared to a biscuit or English muffin. Shake Shack says they use "all-natural applewood smoked bacon," which looks are good, thick slices, not the thin, fatty slices some fast food joints try to pass off as bacon.
They also use cage-free eggs, which have consistency; not overcooked or undercooked, which makes a huge difference in the overall taste of the sandwich. And at just 370 calories and 24 grams of protein, it is definitely a better-for-you option than other bacon, egg, and cheese sandwiches on the market. To see how it stacks up against other fast food breakfasts, check out Every Fast Food Breakfast Item — Ranked.6254a4d1642c605c54bf1cab17d50f1e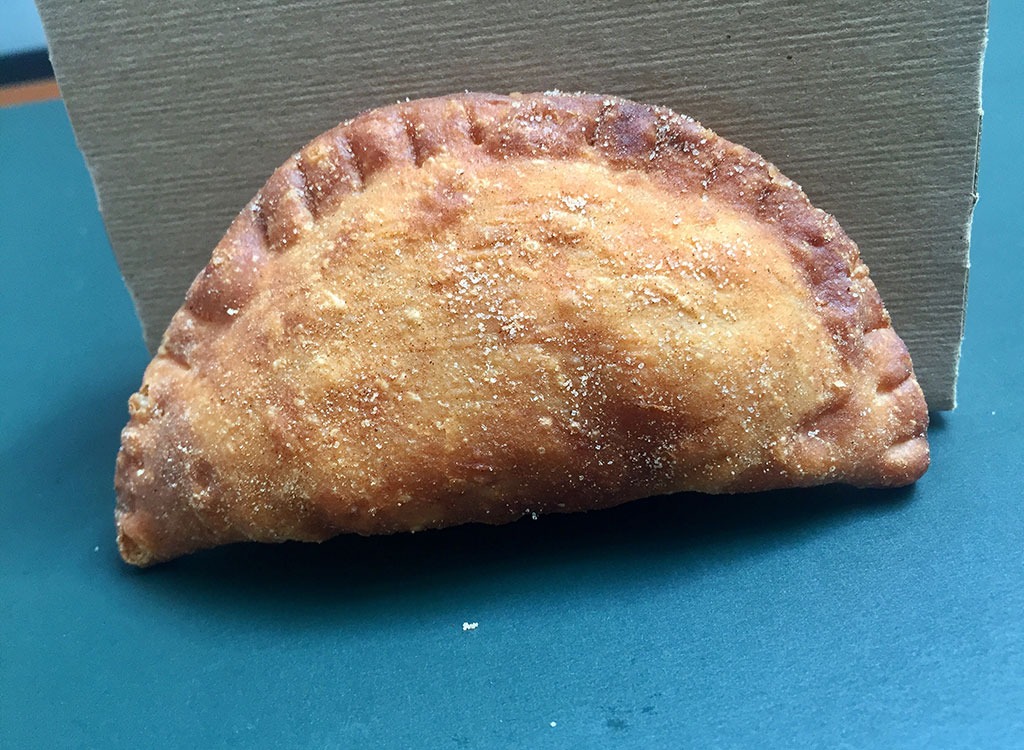 Per turnover: 325 calories, 15 g fat (5 g saturated), 443 mg sodium, 46 g carbs (3 g fiber, 10 g sugar), 4 g protein
The apple turnover looks comparable to a McDonald's apple pie, except thicker and a little bigger. It's made with a thick yet flaky dough, and one of our staffers said that dough was more on the savory side. Overall, the filling isn't too sweet and doesn't leave much of a mess — perfect if you're enjoying your breakfast pastry on the go.
But with 46 grams of carbs and only 3 grams of fiber and 4 grams of protein, this is sure to spike your blood sugar only to come crashing down later — not a good idea if you're looking to avoid a mid-morning slump.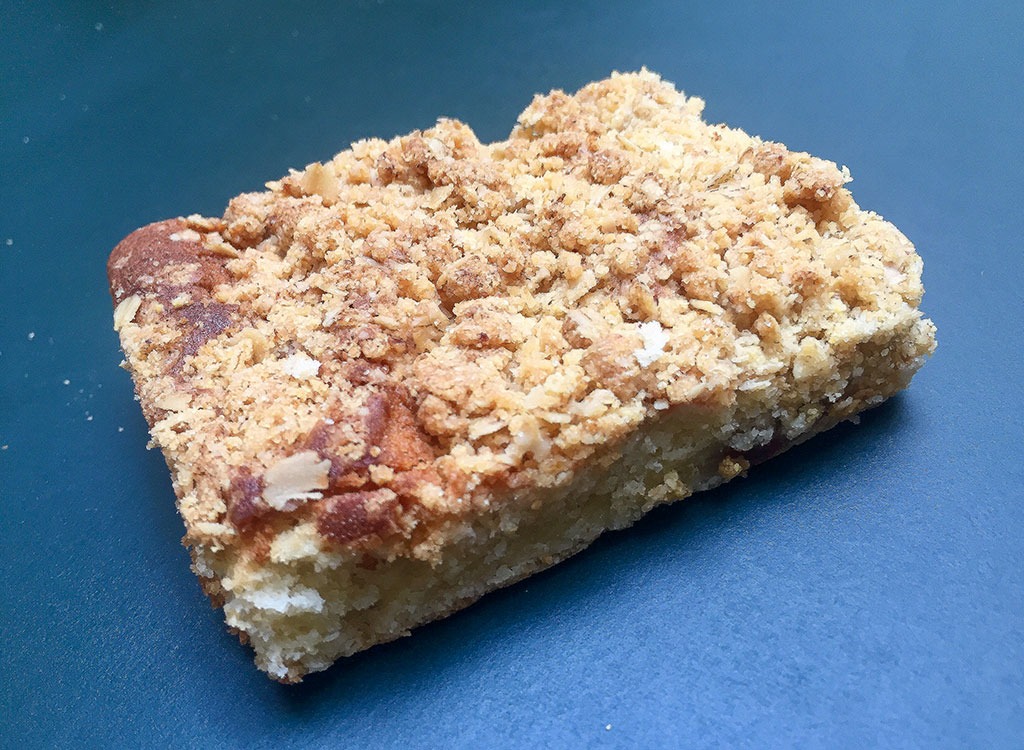 Nutrition information not available
The Madison Square Park location will serve up pastries from Daily Provisions, a local bakery from the same owner of Shake Shack: Restaurateur and CEO of the Union Square Hospitality Group, Danny Meyer. The pastries are seasonal and delivered every morning from the bakery, ensuring you get the freshest and tastiest sweets available each day.
According to our taste tester, the strawberry coffee cake had a nice texture and was very moist. The cake itself was on the sweeter side while the crumble had a nice mix of sweet and salty. It definitely tasted freshly baked, especially compared to other preservative-laden pastries you find at other fast food joints or in the grocery store. That's why some baked goods are on our list of the 150 Worst Packaged Foods in America.