The Best & Worst Items at Shoney's
The place that promises "fresh, never-frozen, All-American food" has plenty of options you shouldn't order.
Founded in West Virginia in 1947, Shoney's is an American diner-style restaurant chain that spans 17 midwestern and southern states. It offers all the classics you'd expect: burgers, omelets, chicken strips, and country-fried steaks. But Shoney's has also recently put more of a focus on "fresh, never-frozen, All-American food," meaning you can also find healthier picks such as salmon, steamed veggies, and fresh fruit. So what should you actually order when you're dining here?
To help navigate the large variety of options—which can widely range in their nutritional benefits—we spoke with Nan Allison MS, RD, LDN, owner of Allison Nutrition Consultants, a 30+-year nutrition consulting firm in Nashville, and author of Full and Fulfilled.
Here are some of the best menu items at Shoney's if you are looking for a healthy bite to eat, as well as some of the more indulgent choices that you're better off staying away from.
Starters
The starters at Shoney's are all quite similar in nutritional content, Allison found. They are high in fats and carbs while also being low in protein.
"You have to look at [starters] on many menus as a whole different role," Allison says. "What role is food playing at this point? If you are trying to be healthy, I don't see this as having that role. If you are hungry and want to be entertained, then great! These choices are more for entertainment."
If you spy an appetizer you'd love to have but are watching your intake of sodium, fats, or carbs, go ahead and split it with everyone at the table. That's what appetizers are for, after all.
Worst: Hand-Breaded Chicken Strips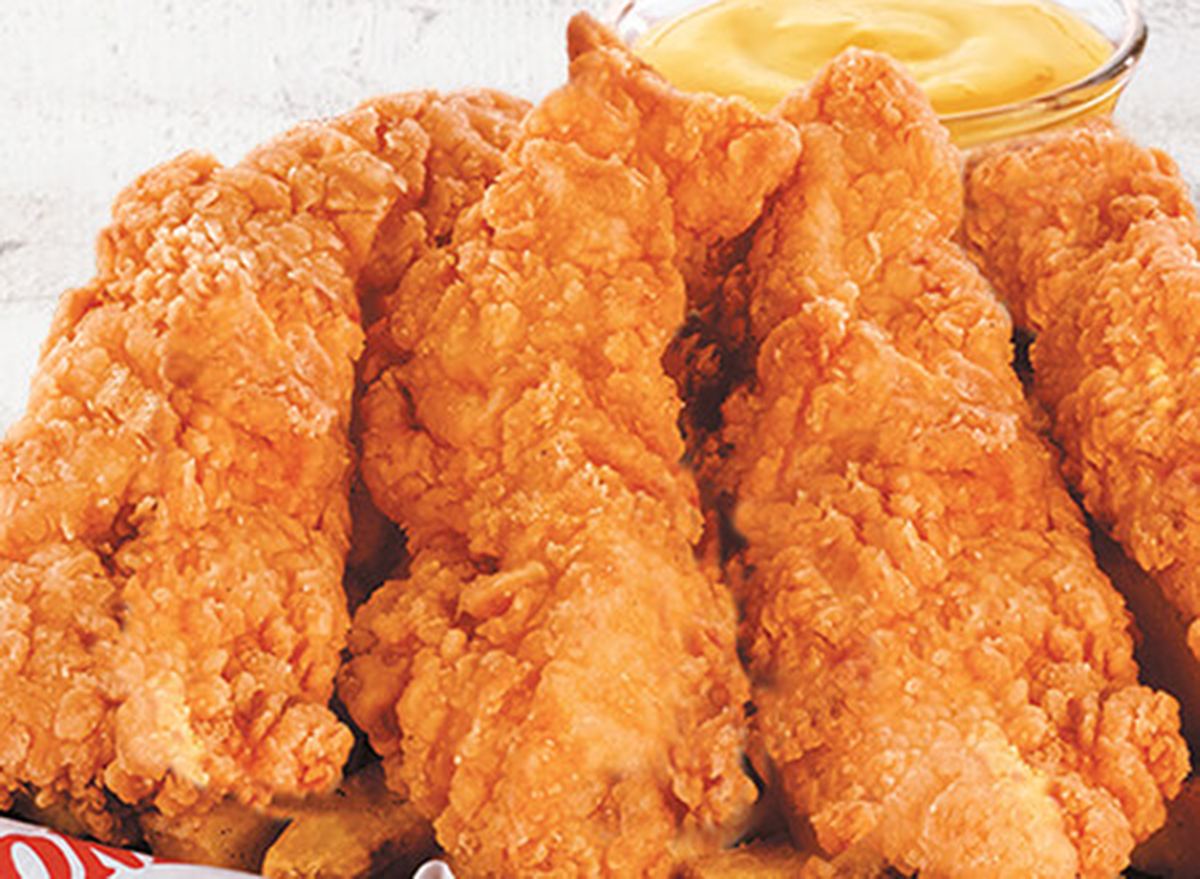 1,130 calories, 63 g fat (11 g saturated fat, 1.5 g trans fat), 2,230 mg sodium, 85 g carbs (1 g fiber, 2 g sugar), 22 g protein
Although many of the appetizers are similarly low in nutritional value, Allison found the chicken strips to be the worst of the bunch.
"The breaded chicken strips are absolutely the worst because of the bigger portions, but not because there is anything inherently wrong with chicken," Allison says. "This is just a much bigger portion."
Salads
520 calories, 35 g fat (16 g saturated fat, 0 g trans fat), 1,080 mg sodium, 20 g carbs (5 g fiber, 8 g sugar), 33 g protein
Shoney's has a handful of salads on its menu, but Allison noticed the Cobb Salad was truly the only entree-sized option in this category. Still, it is large enough to divide into two portions. Allison liked the amount of protein and even recommended adding grilled shrimp or salmon. Split it with your fellow diner or save half for another meal, and you'll get a healthy amount of protein, carbs, and vegetables.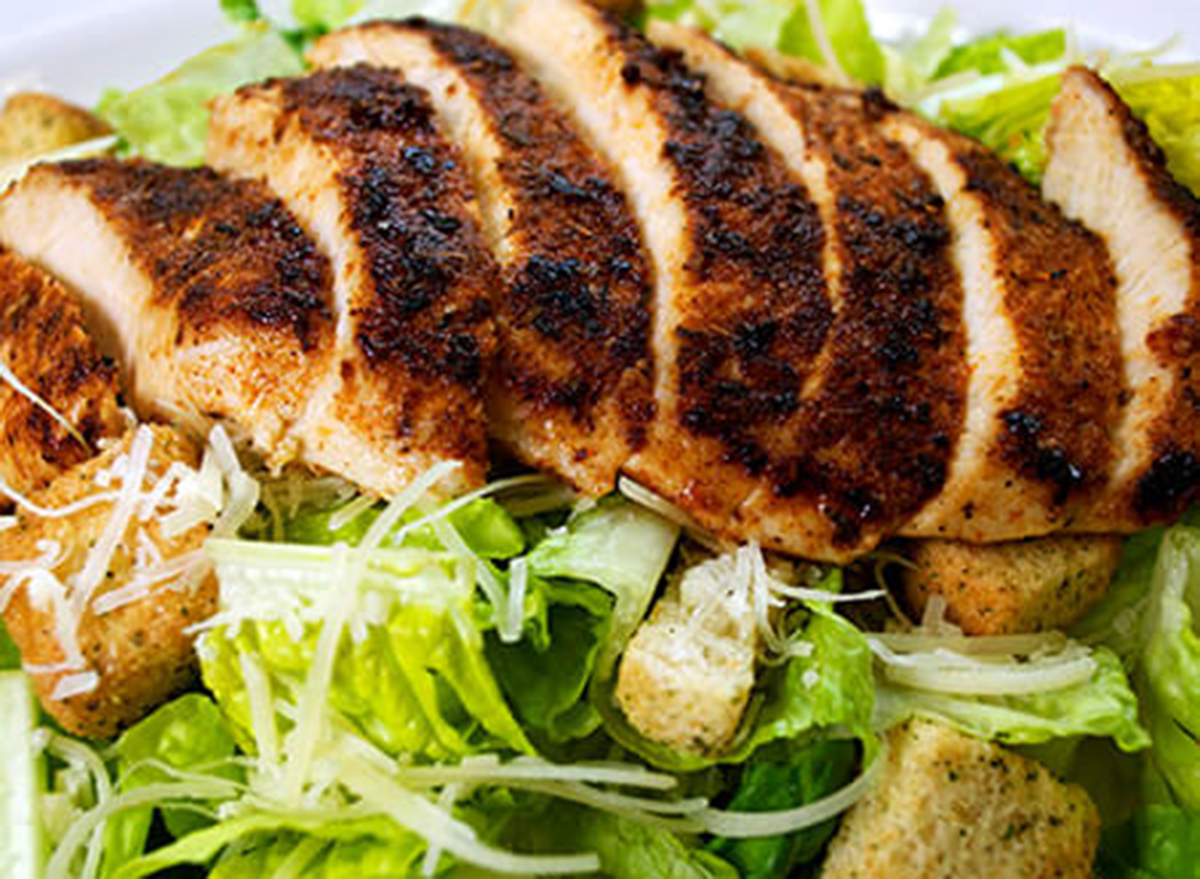 310 calories, 19 g fat (4 g saturated fat, 0 g trans fat), 1180 mg sodium, 34 g carbs (4 g fiber, 4 g sugar), 10 g protein
The Caesar and Garden Salads are smaller than the Cobb, but they offer less in terms of nutritional value. But if you prefer these salads, Allison recommends adding salmon, grilled shrimp, grilled chicken or steak and asking for half the amount of dressing to turn these salads into better-for-you options.
Sides
Best: Fresh Mixed Vegetables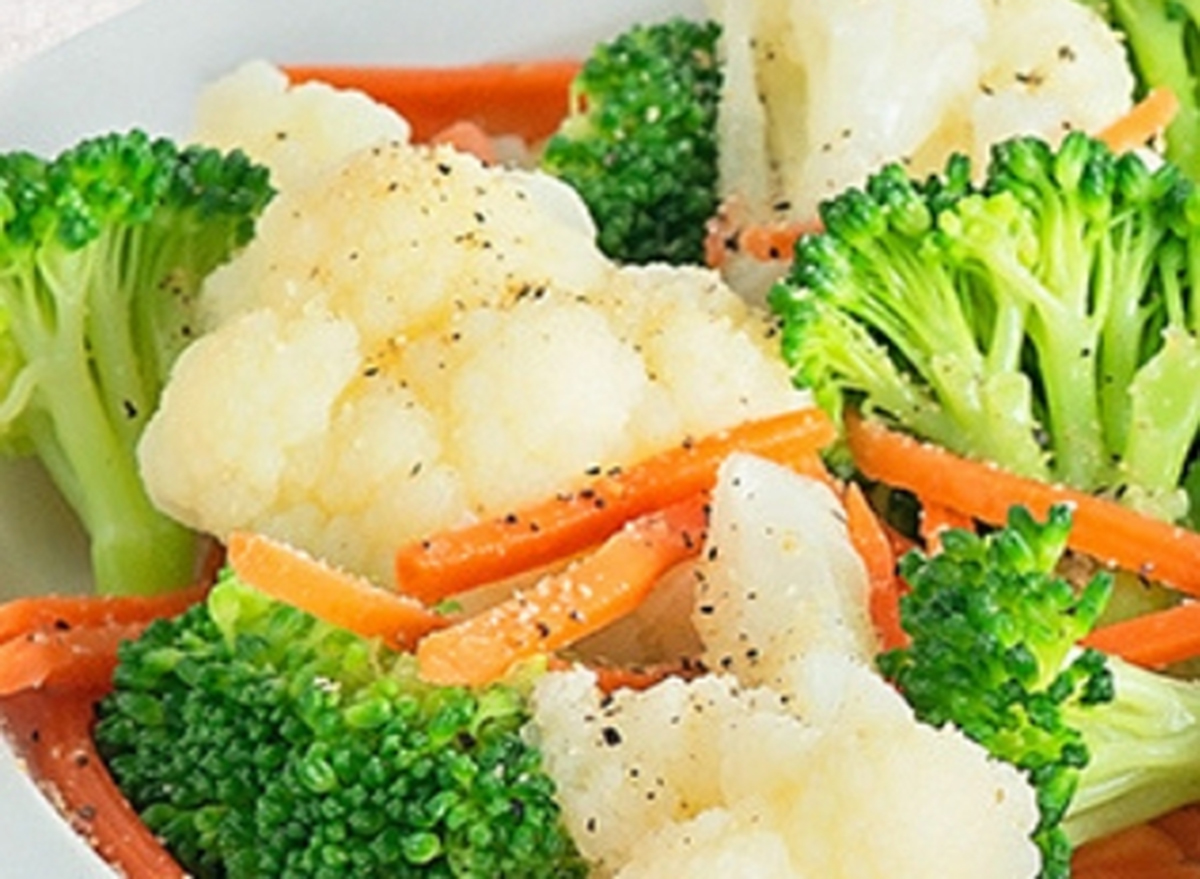 320 calories, 3 g fat (3.5 g saturated fat, 0 g trans fat), 1,350 mg sodium, 64 g carbs (24 g fiber, 22 g sugar), 23 g protein
Fresh mixed vegetables will nearly always take the crown for nutritional value! Allison was quite impressed with the healthy side choices at Shoney's and also mentioned there were many similarly great options at the buffet for diners who choose to go that route.
"There are a number of really good sides," Allison says. "If you need a starch, go for the baked potato. If you want vegetables, there [are] mixed vegetables, slaw, or green beans."
550 calories, 42 g fat (7 g saturated fat, 0.5 g trans fat), 1,690 mg sodium, 40 g carbs (2 g fiber, 0 g sugar), 4 g protein
It shouldn't be a big surprise that something as fried and crispy as potato chips is not best for your health. Allison found the chips and the French fries to be at the bottom of the sides category. It's also important to note that this side dish includes 0.5 grams of trans fat, which are linked to increased risks of heart disease, stroke, and type 2 diabetes.6254a4d1642c605c54bf1cab17d50f1e
Entrees
620 calories, 18 g fat (2.5 g saturated fat, 0 g trans fat), 1,650 mg sodium, 82 g carbs (2 g fiber, 2 g sugar), 31 g protein
The grilled salmon and grilled white fish are Allison's top picks for entrees. These lean protein options offer omega-3 fatty acids, essential fats that help maintain a healthy heart. Paired with those healthier side dishes like mixed vegetables or a plain baked potato, this becomes a balanced meal. Still, it is important to note the high amounts of sodium, even in this healthier entree.
Worst: Fish and Chips Platter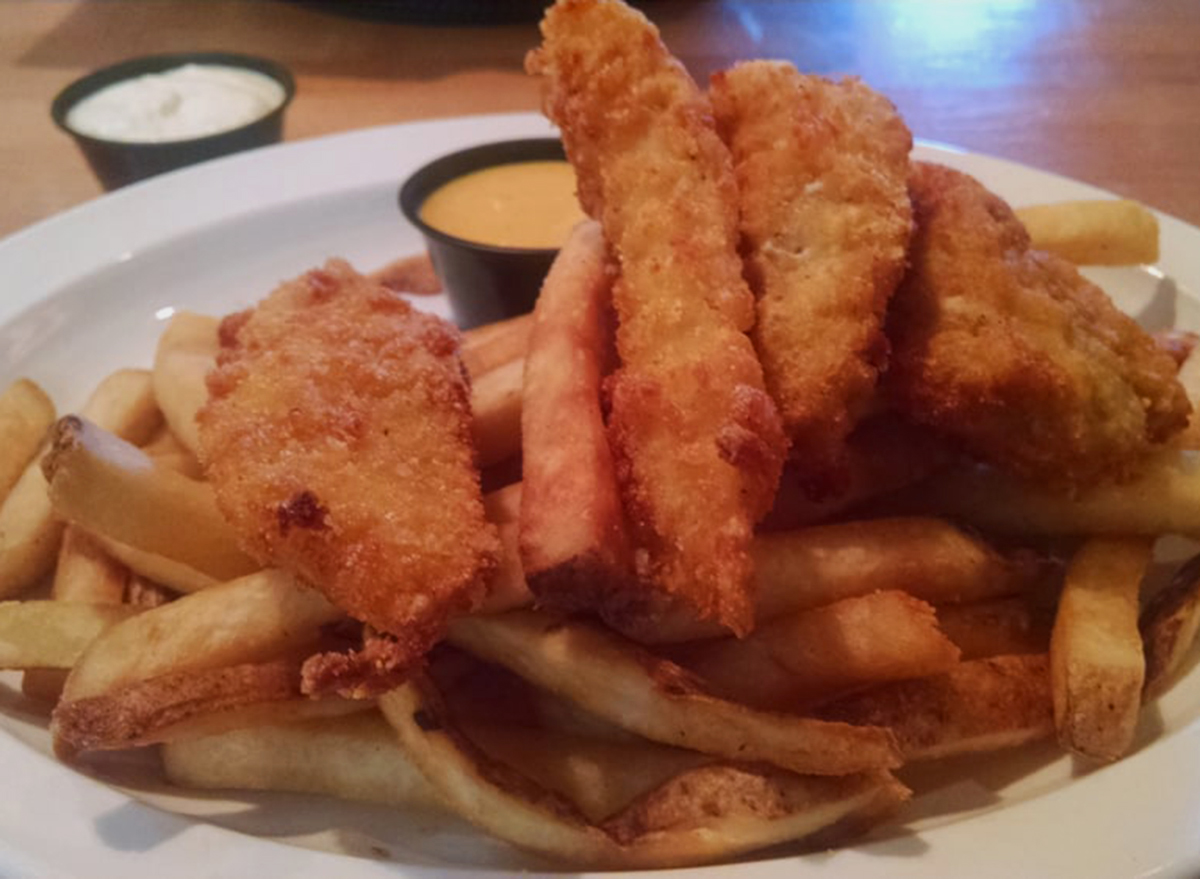 1,720 calories, 110 g fat (19 g saturated fat, 2 g trans fat), 4,460 mg sodium, 136 g carbs (15 g fiber, 11 g sugar), 46 g protein
Remember those pesky trans fats? They happen to be in full force in the fish and chips platter, along with the same amount of sodium you'd find in eating nearly 60 pretzels. If you are craving fried foods, pair the chips or fries and a veggie side with the grilled fish options instead.
Burgers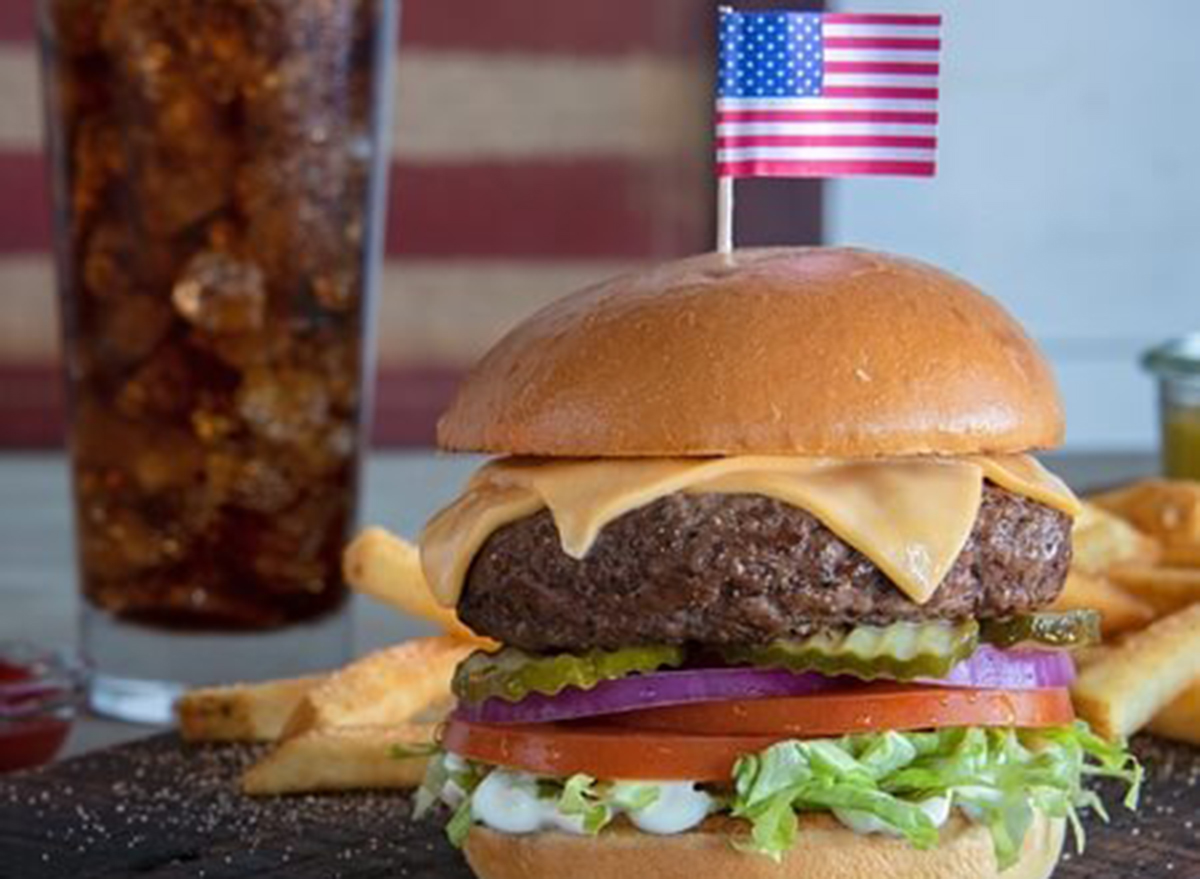 730 calories, 42 g fat (15 g saturated fat, 1 g trans fat), 2,240 mg sodium, 46 g carbs (3 g fiber, 10 g sugar), 40 g protein
Allison makes it clear that there aren't really any great options in the burger section of the menu. Still, she found the All-American to be at the top of the list and recommended enjoying half this burger with a salad or mixed vegetables for a more balanced meal.
1,140 calories, 69 g fat (29 g saturated fat, 2.5 g trans fat), 4,130 mg sodium, 43 g carbs (1 g fiber, 9 g sugar), 81 g protein
The Double Decker is by far the worst of the burgers. In addition to its high amounts of calories, fat (including trans fats) and sodium, this burger has way more protein than the recommended daily amount of 46-56 grams for the average person. Too much protein can put stress on the kidneys, not to mention the health problems associated with these high amounts of trans fats and sodium.
Sandwiches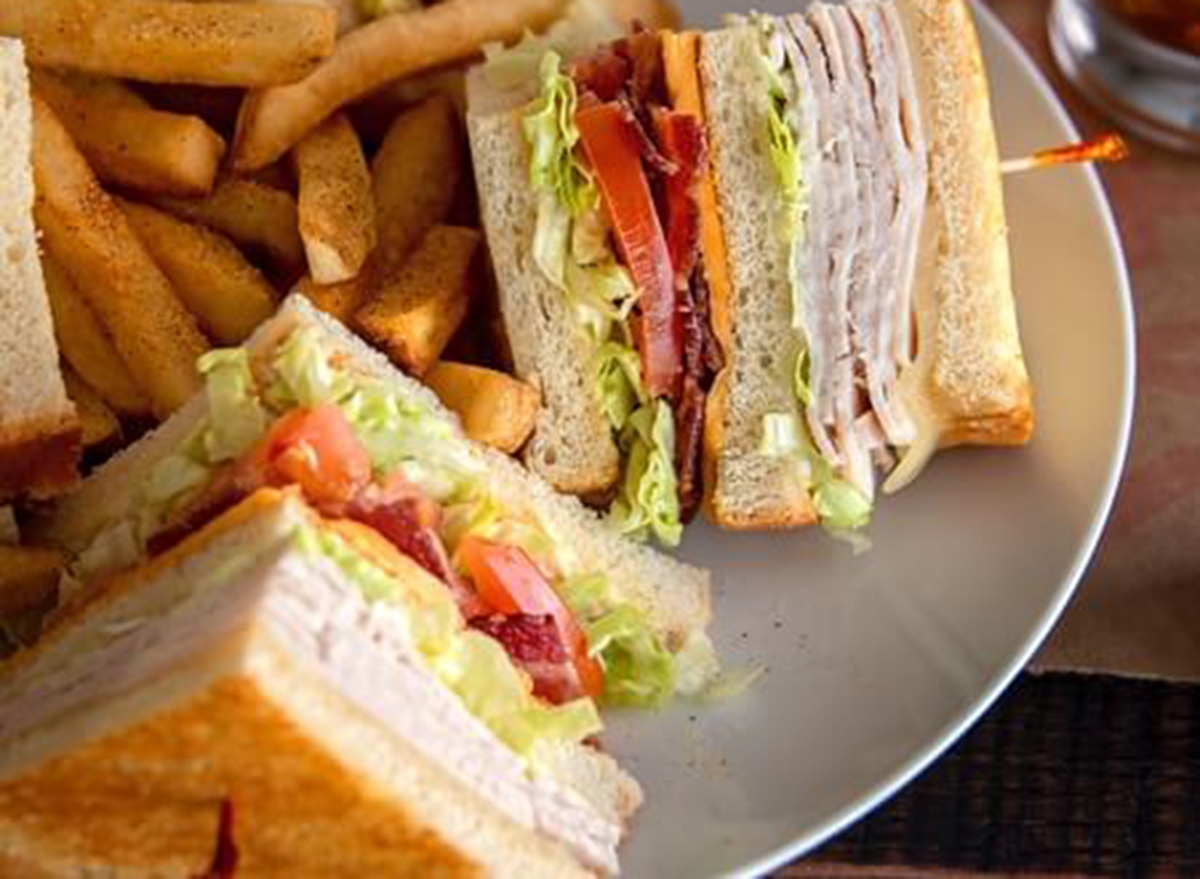 1,070 calories, 55 g fat (17 g saturated fat, 0 g trans fat), 3,460 mg sodium, 80 g carbs (0 g fiber, 9 g sugar), 67 g protein
Again, Allison wasn't thoroughly impressed with any of the sandwich options in terms of nutritional value. But she did believe that half the turkey club paired with a side salad and maybe some mixed vegetables or fruit would be a healthier meal at Shoney's. The full sandwich portion is just too large, according to Allison. And it's yet another sodium bomb, too!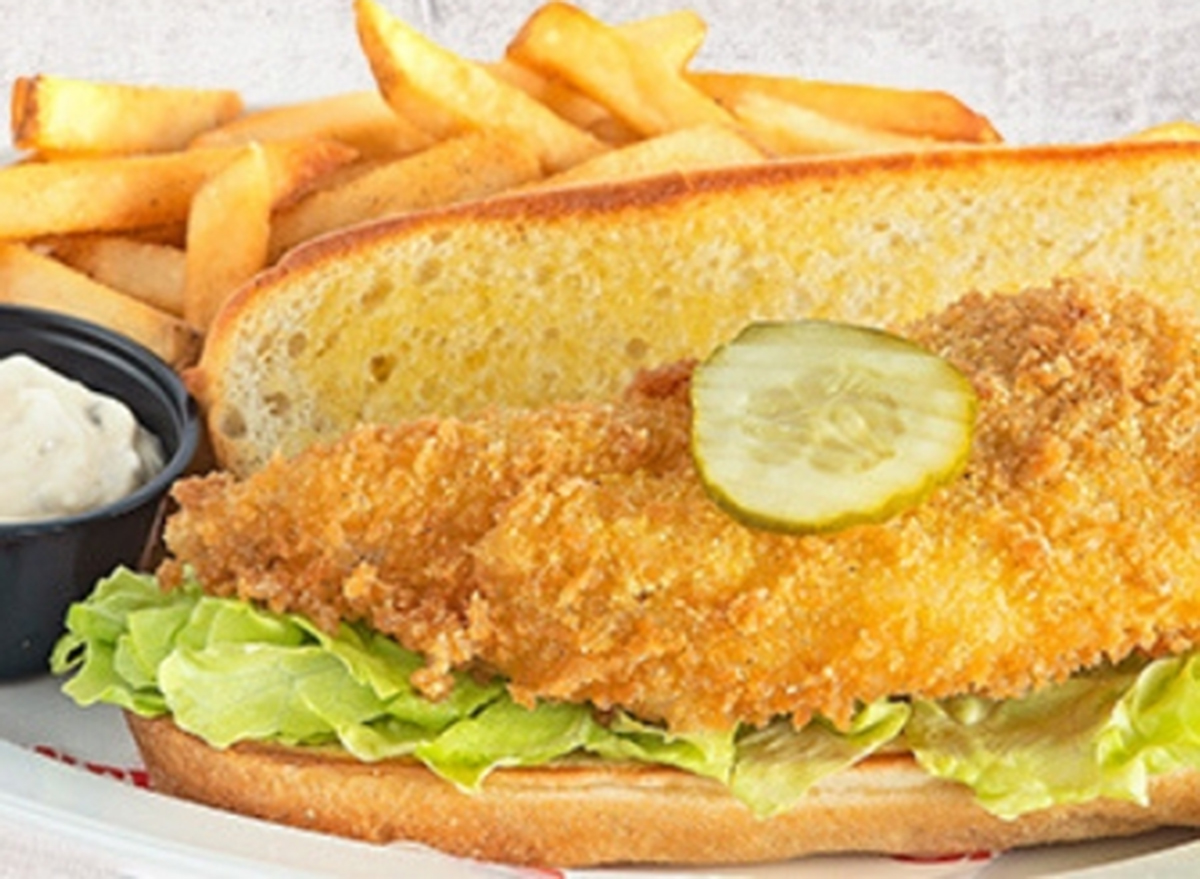 1,230 calories, 64 g fat (10 g saturated fat, 1 g trans fat), 2,990 mg sodium, 120 g carbs (12 g fiber, 6 g sugar), 42 g protein
There are two sandwiches Allison suggests you should stay away from—the patty melt and the fish sandwich. But the fish comes out on top as the one to truly avoid.
"The worst would be equally the fish sandwich and the patty melt," Allison says. "I think it is the portion; that is just huge! 64 grams of fat is more fat than most people would need in a day." In the fish sandwich, Allison says the number of carbs was equal to that found in about eight slices of bread, and the numbers are similar for the patty melt. Unless these sandwiches are the only things on the menu you like, she found it hard to justify ordering these options—ever.
Breakfasts
Best: A la Carte—2 Eggs, Toast, and Fruit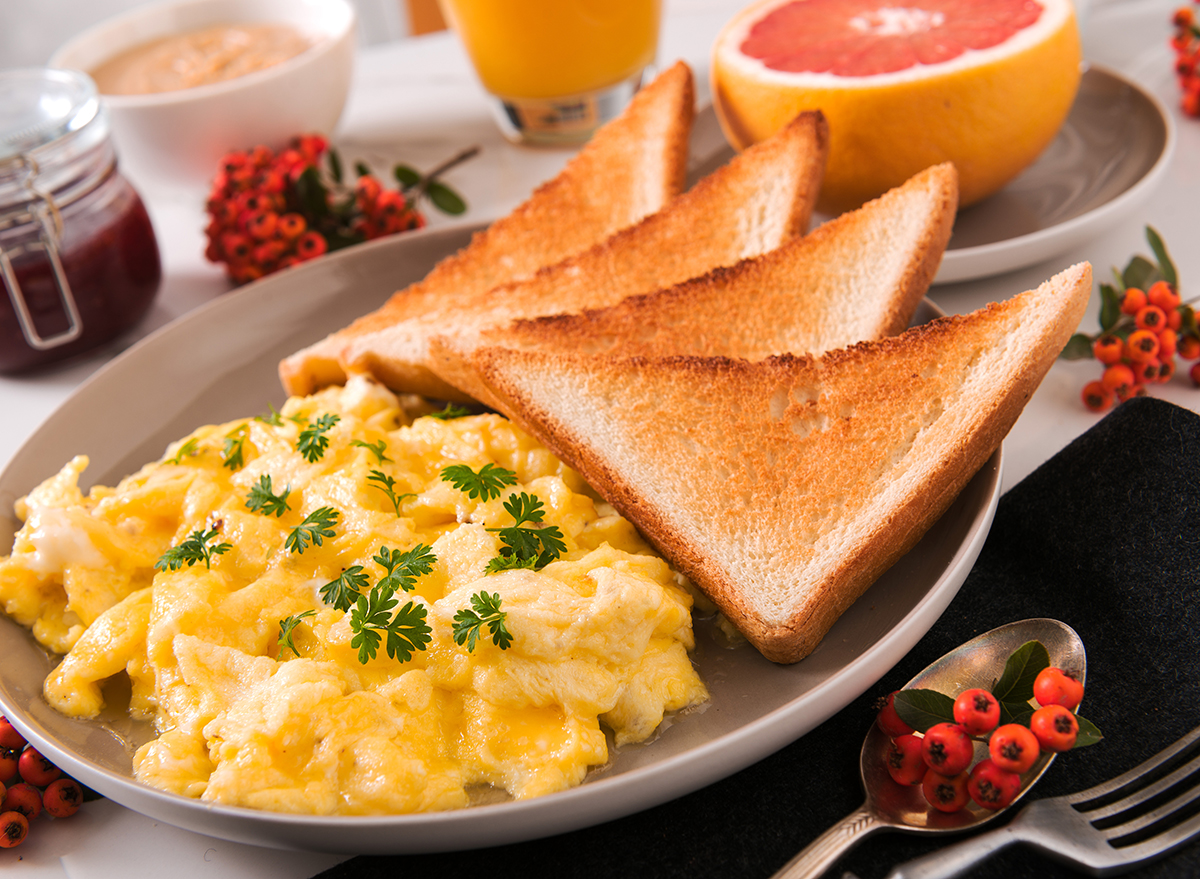 428 calories, 17 g fat (5 g saturated fat, 0 g trans fat), 384 mg sodium, 49 g carbs (6 g fiber, 23 g sugar), 21 g protein
Aside from the omelets, Allison didn't see any breakfast entrees she loved. Instead, she recommends going a la carte: "two eggs, any way you prefer, plus toast and a side of some fruit or tomatoes."
Worst: Country-Fried Steak Breakfast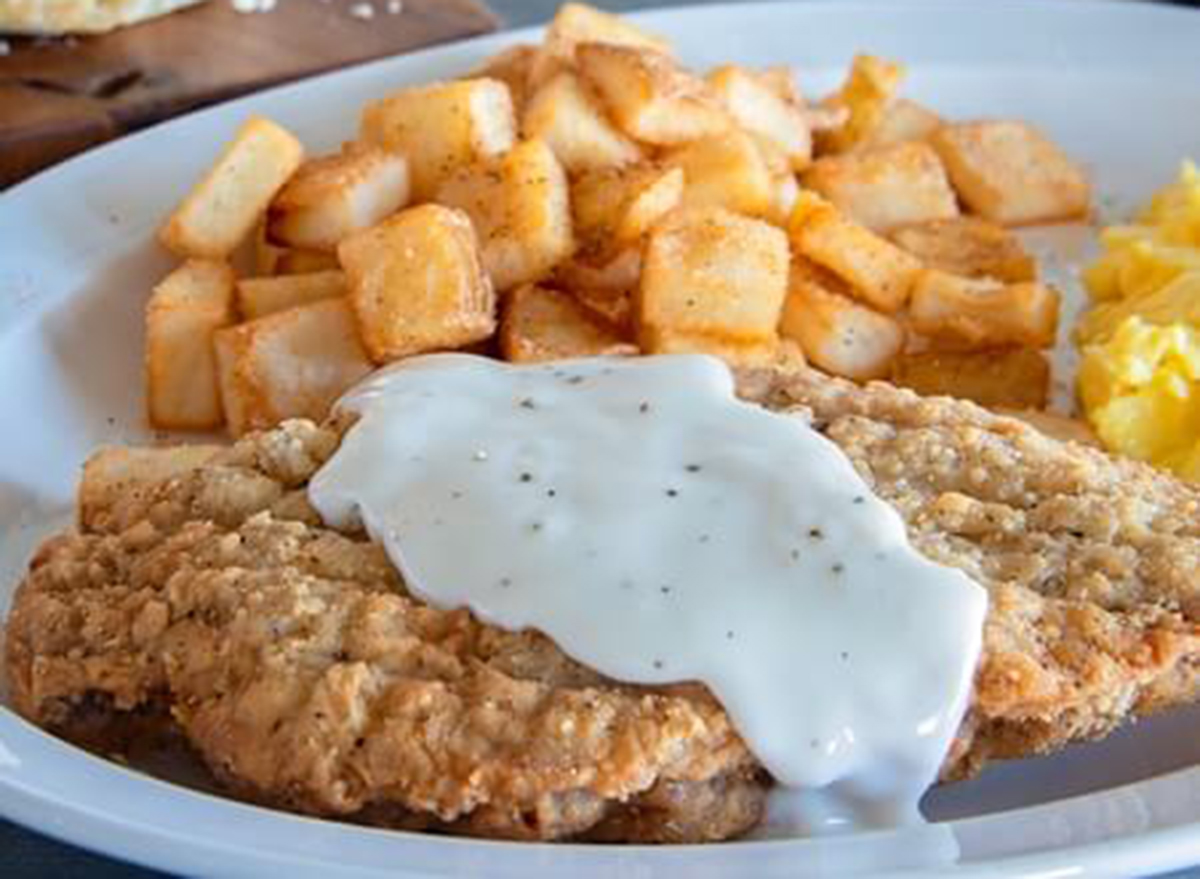 1,110 calories, 76 g fat (22 g saturated fat, 10 g trans fat), 2,610 mg sodium, 81 g carbs (3 g fiber, 7 g sugar), 24 g protein
The first thing that really stands out in the breakfast section of the menu is the 10 grams of trans fat in the country-fried steak. To visualize, one stick of butter has about 3.7 g of trans fat.
"The portions are just huge and laden with fats and carbs," Allison says. "The country-fried steak has 76 grams of fat—well over most people's intake for the day. I'm not even sure how to reduce that, because it is baked into the biscuit and into the steak. You can't just say 'no butter' when the trans fats are already in the food."
So this is why it's best to just not order this meal!
Omelets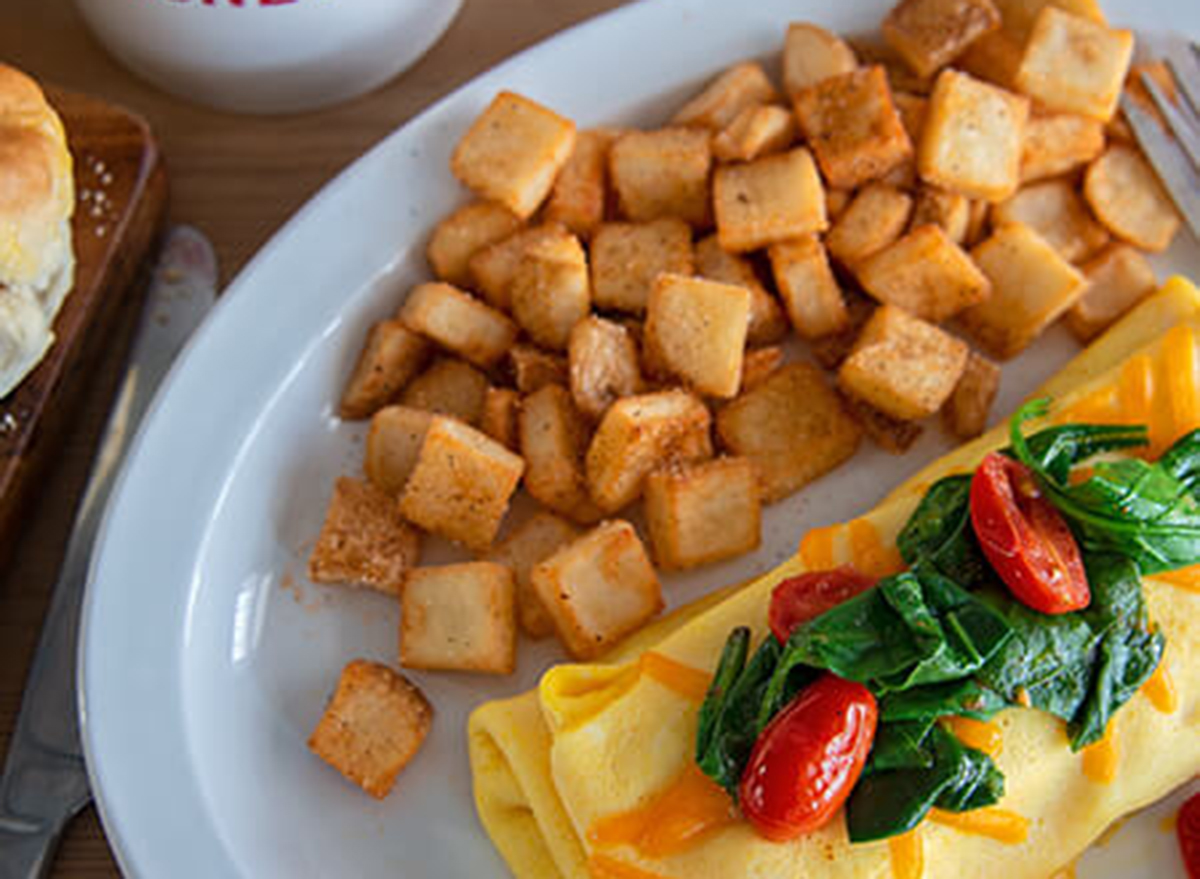 440 calories, 36 g fat (11 g saturated fat, 0 g trans fat), 450 mg sodium, 5 g carbs (0 g fiber, 3 g sugar), 25 g protein
If you're looking for a healthy meal, the veggie omelet has a lot going for it. It is lower in calories, sodium, and carbs than many other menu items. Plus, you'll get protein from eggs, which also raise "good" cholesterol, aka HDL cholesterol, and you'll get the nutrients from the vegetables.
Worst: Philly Steak & Cheese Omelet
590 calories, 47 g fat (15 g saturated fat, 0 g trans fat), 2,110 mg sodium, 2 g carbs (0 g fiber, 1 g sugar), 42 g protein
Omelets can often be a healthy dish for breakfast, but the Philly steak and cheese option at Shoney's adds quite a bit of sodium and fat to an otherwise healthy meal.
"Even if the omelets had portions, this one is heavy on fat," Allison says.
Desserts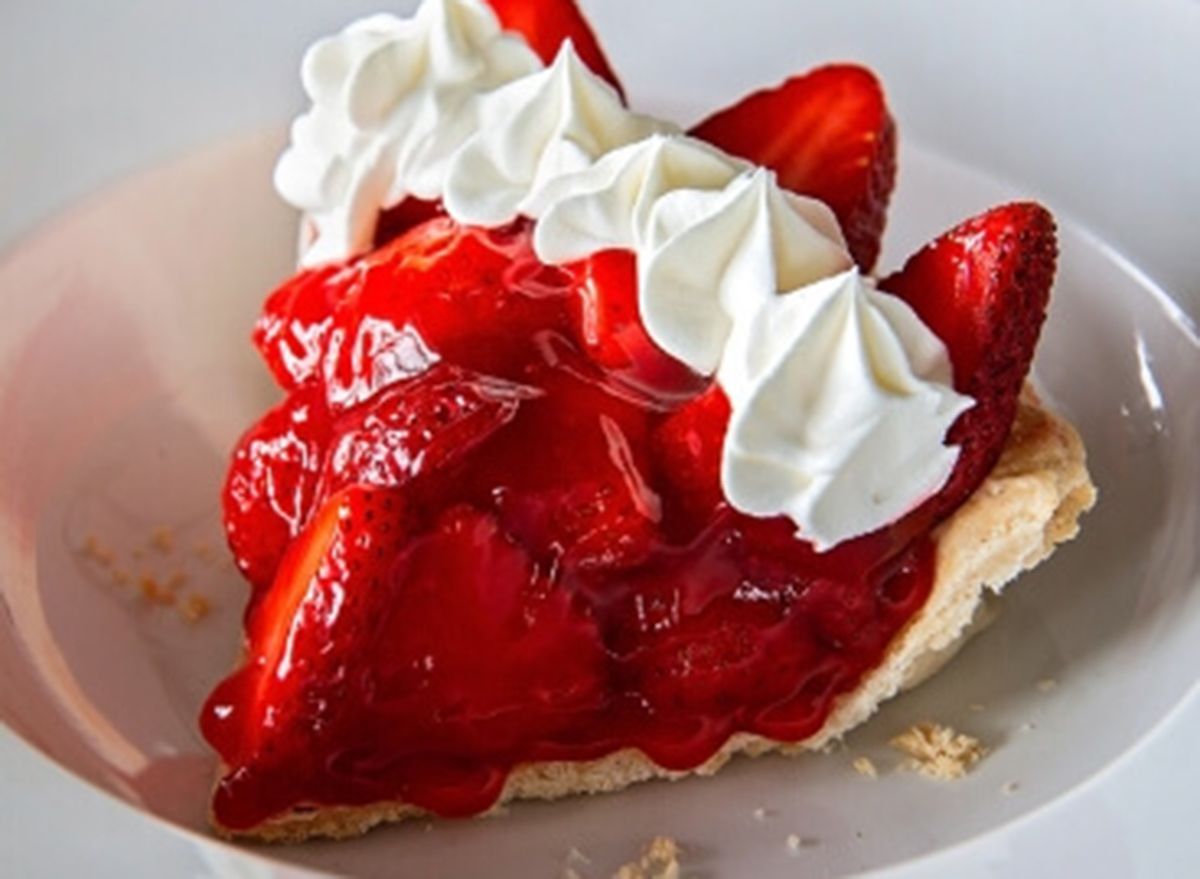 280 calories, 11 g fat (5 g saturated fat, 0 g trans fat), 170 mg sodium, 42 g carbs (2 g fiber, 24 g sugar), 2 g protein
The strawberry pie at Shoney's overall impressed Allison.
"A slice of strawberry pie is a really good option, especially as far as desserts go in restaurants," she says. "It is a moderate potion, and you get some fresh fruit and fiber. It is also not high in fat."
Worst: Iron Skillet Cookie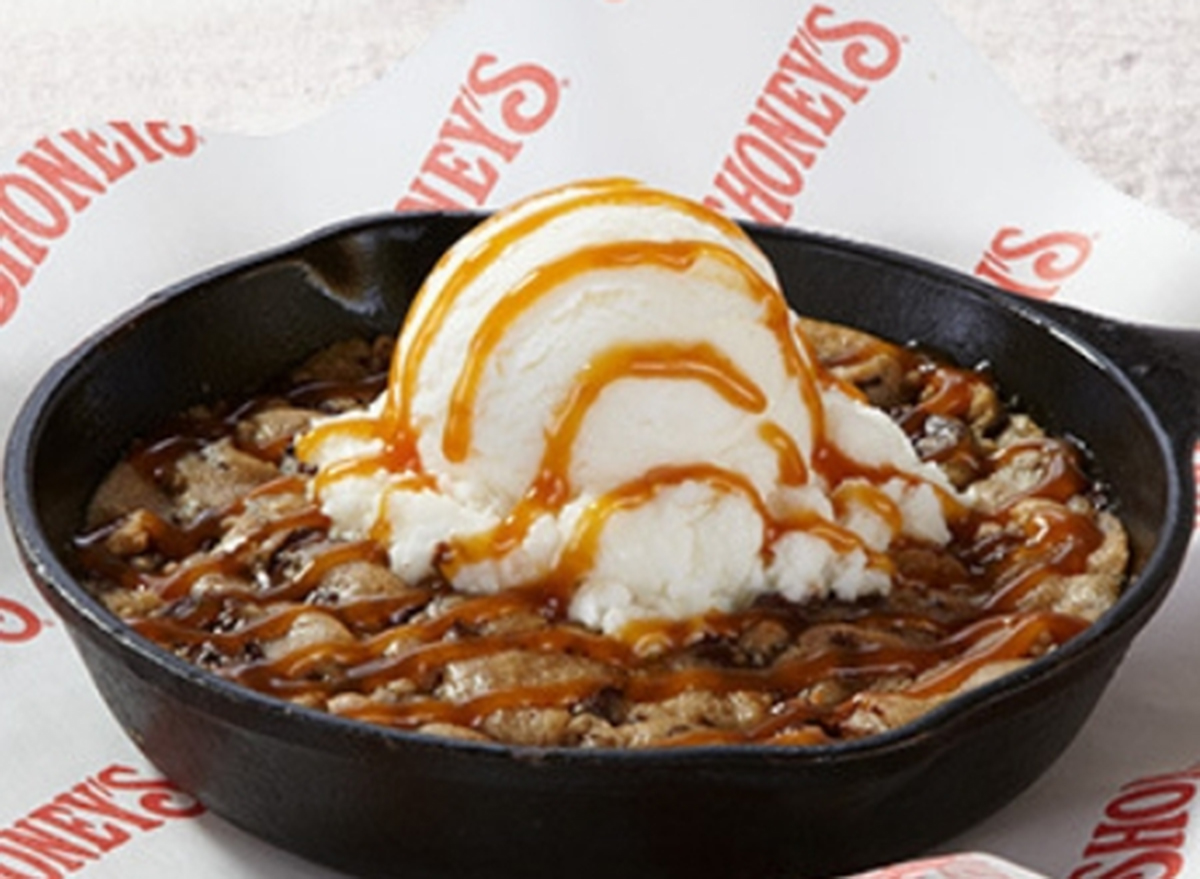 810 calories, 39 g fat (20 g saturated fat, 0 g trans fat), 540 mg sodium, 109 g carbs (3 g fiber, 70 g sugar), 10 g protein
Not all of the desserts were quite as a knock-out as the strawberry pie, though. Allison pointed out that the iron skillet cookie was primarily a portion issue. "It should be served to about four people rather than just one person," she says.
Luckily, Allison is by no means suggesting to skip dessert.
"Even the worst desserts could be made better just by portioning them out," she says. "Share them with other people!"
Except for the strawberry pie—feel free to enjoy the entire slice to yourself!
Paige Bennett
Paige is a Los Angeles-based editor and freelance writer. In addition to writing for Eat This, Not That!, she works as the content editor for Inhabitat.
Read more about Paige