The Perfect Melty Spaghetti Squash Spinach Lasagna Recipe
Give the spaghetti squash some lovin' with this cozy lasagna recipe!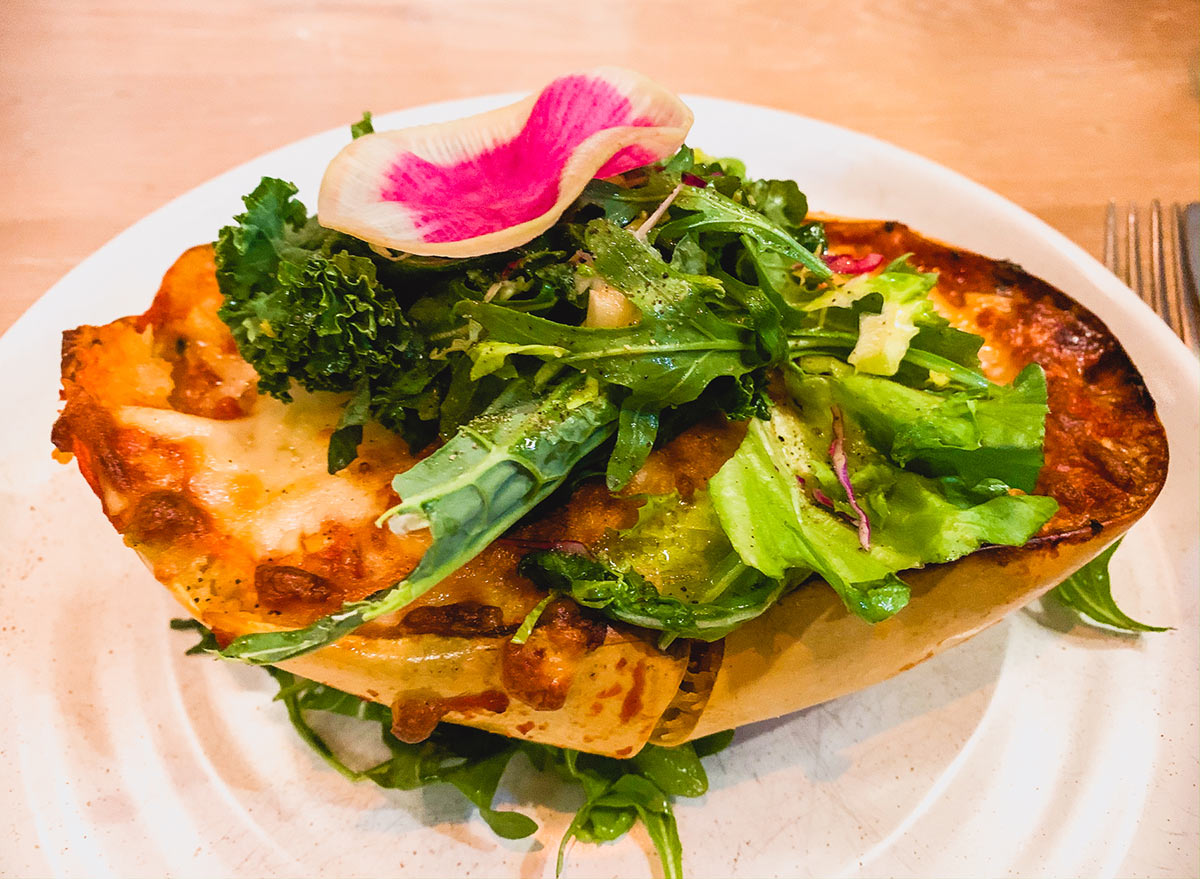 The fall harvest brings in an abundance of produce including the many varieties of seasonal squash. I pretty much adore all types of squash and that's because of the comforting and versatile flavor as well as their excellent nutritional value. Delicata, kabocha, butternut, and acorn are all fabulous for slicing, dicing, and roasting. They also make great toppings on pizzas and flatbreads as well as being ideal for soups and stews.
But spaghetti squash is often overlooked because people don't always know what to do with it. However, I've found that this beloved little squash has a lot of untapped qualities that make it so much fun to cook with.
Spaghetti squash is in its own special category because of its unique ability to turn into thin "noodle" like strands. Long before zoodles were a thing, spaghetti squash was stepping in as a good swap for wheat-based noodles dishes for those looking to lower their carb intake or who suffered from gluten intolerance.
But rather than think of it as a substitute which can sometimes make you feel cheated, think of it as the star of the dish and give it some lasagna lovin'.
Tips for making the perfect spaghetti squash lasagna
One of my newest favorite recipes is spaghetti squash "lasagna" and instead of using pasta, I roast the squash with plenty of herbs and spices until the squash is tender and the strands of squash begin to pull away. Then I top it with a rich tomato sauce and layer it with multiple kinds of cheese and bake it until the cheese is ooey, gooey, brown, and bubbly.6254a4d1642c605c54bf1cab17d50f1e
Once it comes out of the oven, I like to top with plenty of freshly grated parmesan and a handful of fresh basil, then let it rest for a few minutes and top it with tender salad greens like a tricolor blend, or mesclun greens.
Honestly, it's one of my favorite dinners and super simple to throw together. You can even shortcut it with a store-bought sauce to make it easier. You can also add meat to the sauce if you want something even heartier. I love this recipe because I adore lasagna and this recipe gives me all the creamy deliciousness of lasagna but so much lighter and nutritious.
Makes 2 servings
Ingredients
1 medium spaghetti squash
2 large drizzles of extra virgin olive oil, about 2 Tbsp
Kosher salt and freshly ground black pepper
1 clove garlic minced
3 cups fresh baby spinach
1 (24-ounce) jar of good-quality tomato pasta sauce
Pinch of crushed red pepper flakes
1/2 cup part-skim ricotta cheese
1/4 cup grated Parmesan cheese, plus more for serving
1 1/2 cup shredded mozzarella
1 1/2 cups mesclun salad greens or baby arugula
5-6 fresh basil leaves, roughly chopped or torn
2 tsp balsamic vinegar
How to Make It
Place a rack in the upper and lower thirds of your oven and preheat the oven to 400 degrees F. Line a large, rimmed baking sheet with parchment paper. Using a large and sharp chef's knife, cut the squash horizontally, trim off the stem and base end. Scoop out the seeds and stringy insides. You can discard the seeds or save them to roast later. Drizzle the cut sides of the squash with olive oil each and season the cut sides with salt and pepper.
Place the squash cut-side down on the prepared baking sheet.
Bake for 35 to 40 minutes, until the squash is just fork-tender on the inside, lightly browned on the outside, and the skin gives a little when pressed on the outside (be careful, it is hot!). If your squash is very large, cook for another 10 minutes or so, but don't let the squash overcook or your strands will be soggy.
While the squash is baking, heat a large drizzle of olive oil in a large skillet over medium-high. Add the spinach and garlic and a pinch of pepper flakes. Cook, stirring until the spinach just wilts, about 2 minutes.
Place the spinach in a medium mixing bowl along with the ricotta and half of the grated parmesan and season with salt and pepper. Stir with the fork to combine. Evenly divide the spinach and ricotta mixture between each half.
Return the squash halves to the baking sheet, cut sides up.
Top with tomato sauce, and shredded mozzarella, and Parmesan. Return to the oven and bake until the cheese is brown and bubbly—about 10 to 15 minutes.
Remove from the oven and sprinkle with a little extra parmesan cheese and fresh basil.
Let rest while you toss the salad. Meanwhile, place the mesclun greens in a bowl and drizzle lightly with olive oil, balsamic vinegar, and a pinch of salt and pepper. Mound the salad greens evenly over the top of each.
Chef Tips
Make it meaty: If you want to make this with meat, brown ½ pound of sausage, ground beef or turkey and stir it into the tomato sauce.
Make it pesto: Stir 1 to 2 tablespoons of pesto into the spinach and ricotta mixture.
To store it: Place cooked and cooled spaghetti squash lasagna in an airtight storage container in the refrigerator for up to 3 days.
To reheat it: Gently rewarm leftovers in the oven at 350 degrees F until heated through. You can also reheat leftovers on a microwave-safe plate in the microwave until warm.
Claudia Sidoti
Claudia Sidoti's deep connection with food began in her grandmother's kitchen and landed her in the kitchens of Food Network as the Test Kitchen Director.
Read more about Claudia