Is the Starbucks Protein Box Healthy? An RD Weighs In
Some of the options are a lot healthier than others.
The Starbucks protein boxes are an easy hunger fix, filled with delicious food combinations that hit the spot. After all, there's no denying it's simple to grab a premade lunch box when you're in a rush or forgot to make your own. But are the Starbucks protein boxes actually good for you?
We spoke to Sydney Greene, Registered Dietitian & Owner of Greene Health LLC, who ranked these boxes from least to most healthy and shared copycat recipes on how to make healthier versions at home.
"In general, I think Starbucks has wonderful options for people that are on the go and need something that is not only quick and easy but will keep them fueled until their next meal," says Greene. "When looking at the options, I zero in on minimal sugar and sodium, high fiber and protein, and as few ingredients as possible. When picking a protein box, the goal is to grab something that will fuel you without any uncomfortable GI symptoms. These boxes are meant to be a solid 'in a pinch' option."
Here are Greene's picks from the Starbucks protein boxes, ranked from best to worst.
Eggs & Cheese Protein Box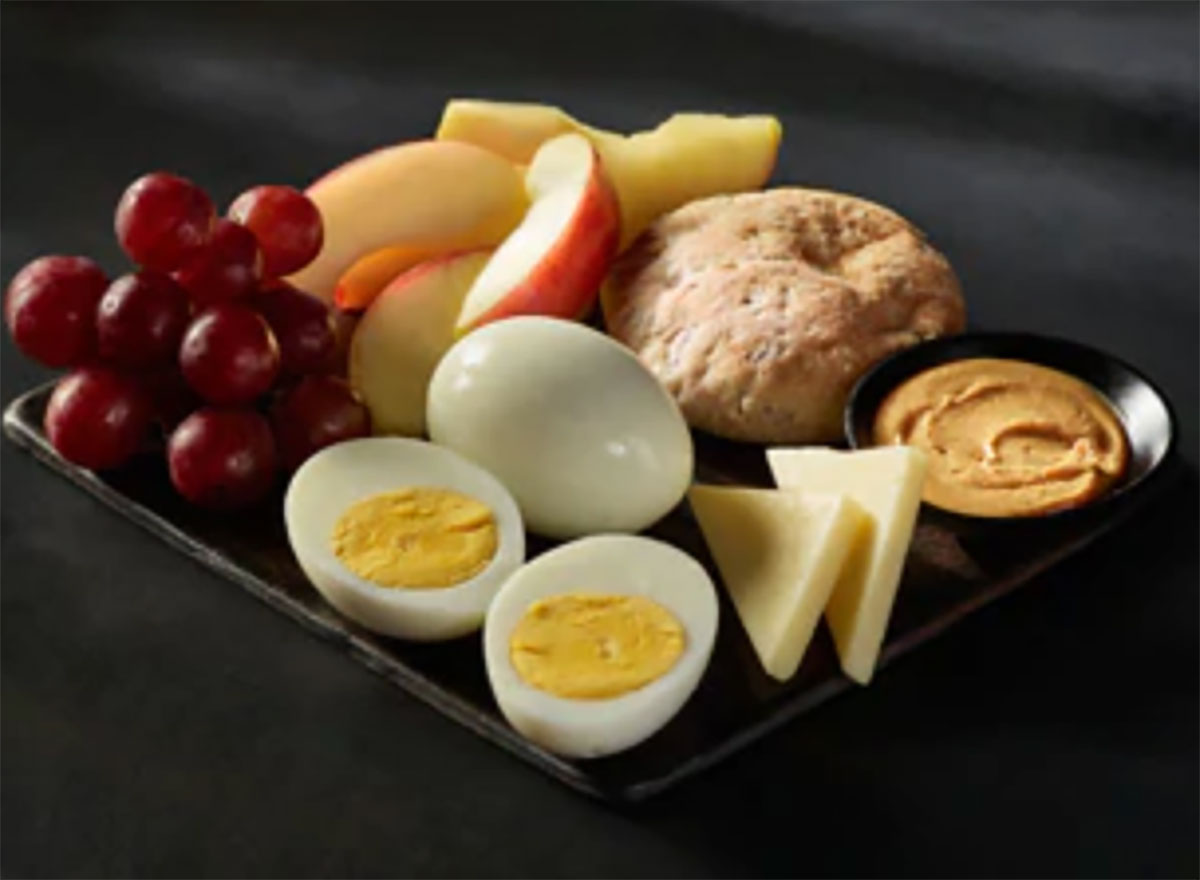 Per box
: 470 calories, 25 g fat (7 g saturated fat, 0 g trans fat), 540 mg sodium, 40 g carbs (5 g fiber, 21 g sugar), 23 g protein
"This box has the fewest ingredients and is the closest to containing 100 percent whole foods, which is ideal for preventing uncomfortable GI issues such as bloating, cramping, or gas," says Greene. "This box is also easily modifiable for someone who avoids gluten or dairy."
What does it include?
The eggs and cheese box features two cage-free hard-boiled eggs (from chickens raised without antibiotics), apple slices, grapes, and white cheddar cheese. There's also multigrain muesli bread and honey peanut butter in this protein lover's dream.
Cheese & Fruit Protein Box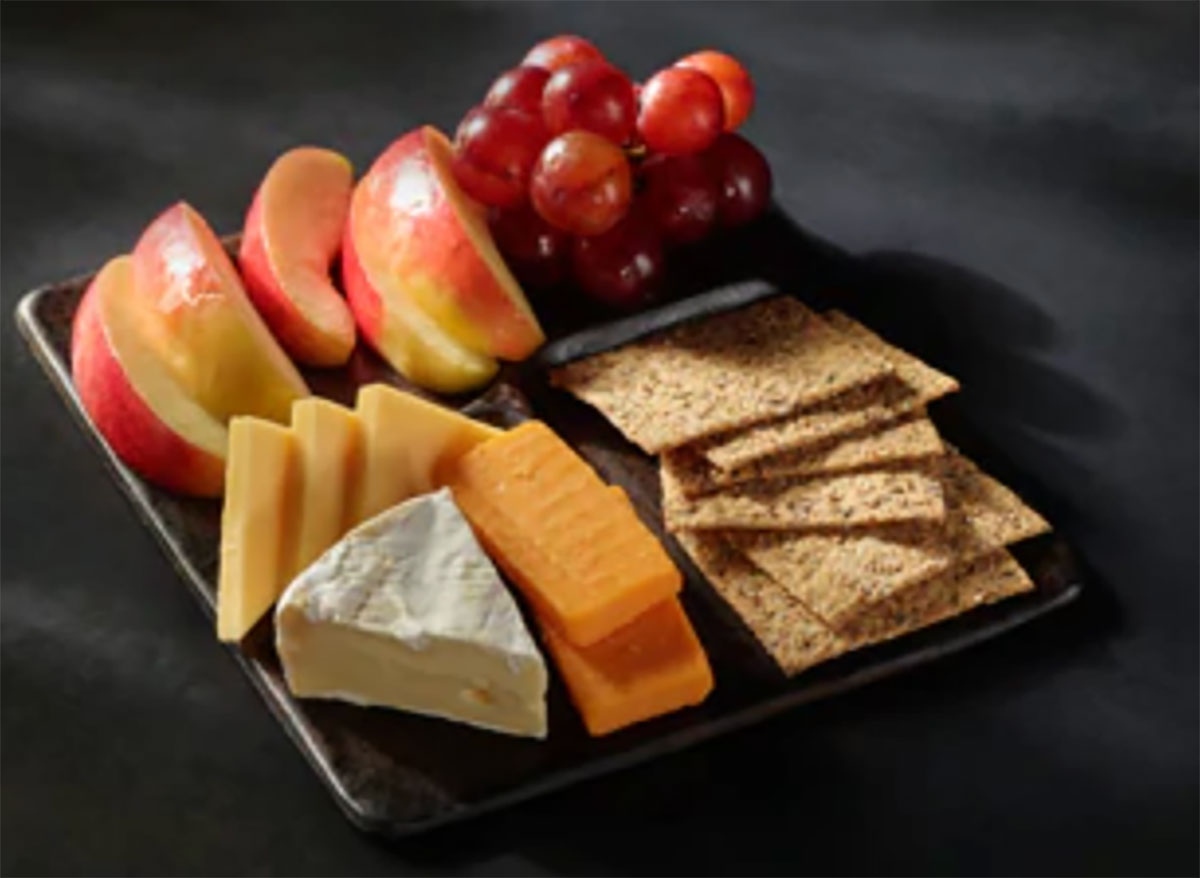 Per box
: 450 calories, 27 g fat (13 g saturated fat, 0.5 g trans fat), 620 mg sodium, 34 g carbs (4 g fiber, 15 g sugar), 20 g protein
"Similar to the eggs and cheese box, this box is relatively simple, meaning the foods are closest to their most natural form. Cheese is cheese. Fruit is fruit," Greene says. "This is an excellent 'larger' snack option for the traveler or person in back to back meetings who will be going 6+ hours between meals."
What does it include?
This box is great for any time of the day, with an assortment of brie, gouda, two-year aged cheddar cheeses, nine-grain crackers, apples, and grapes.
To increase the fiber content, Greene recommends swapping grapes for blueberries, raspberries, or strawberries. And if you can, aim for a high fiber cracker such as Flackers, Mary's Gone Crackers, or Simple Mills to go along with this box.
Smoked Turkey Protein Box
Per box
: 570 calories, 23 g fat (10 g saturated fat, 0.5 g trans fat), 1,620 mg sodium, 54 g carbs (7 g fiber, 20 g sugar), 35 g protein
"Although it's high in protein and easily modifiable (you can remove the bread or avoid the dip for dietary restrictions), this box contains 1600+ mg of sodium, which is a day's worth of sodium in one sitting, because an ideal intake for sodium is 1500 to 2000 mg per day," advises Greene.
What does it include?
Turkey (raised without antibiotics), Swiss cheese, pickled peppers, tangy cream-cheese spread, and lettuce on flatbread. This box also features crisp apples, carrots, and Greek-yogurt ranch dip.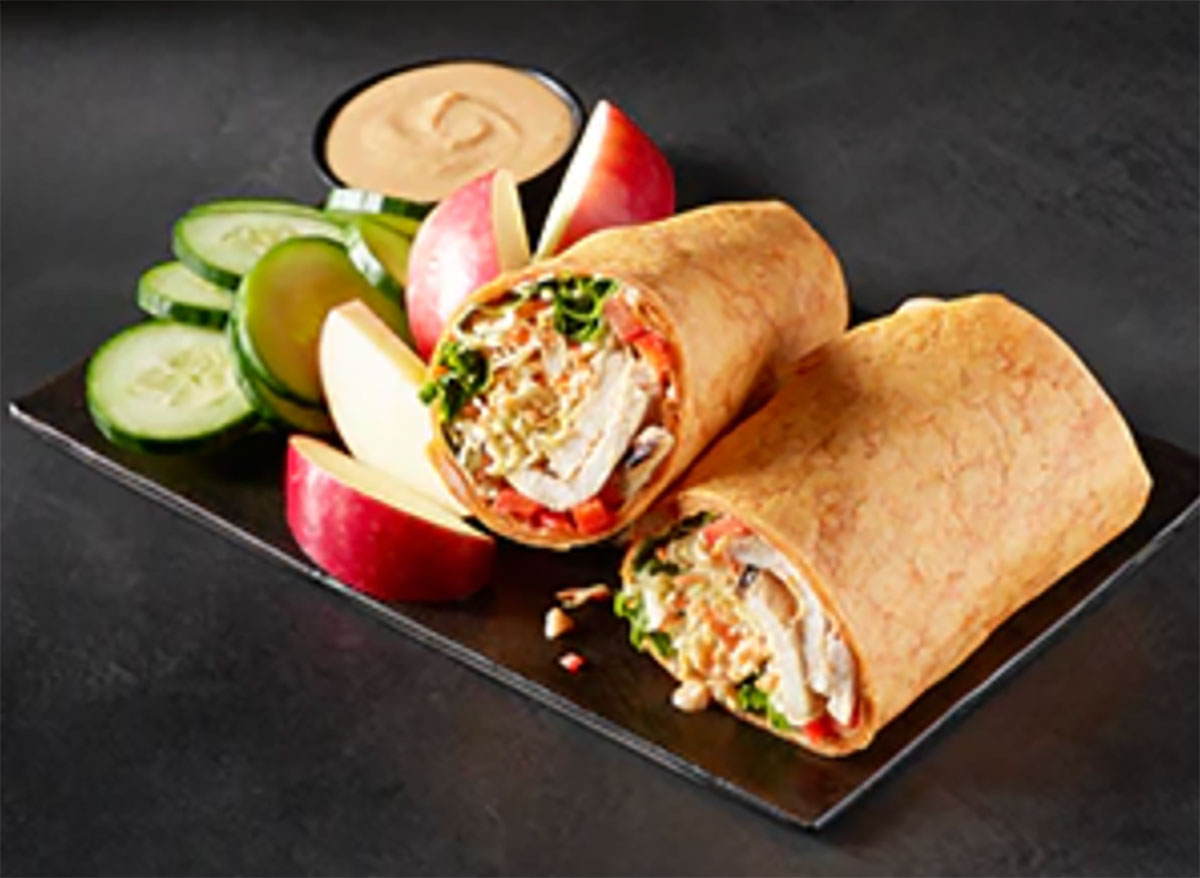 Per box
: 690 calories, 31 g fat (10 g saturated fat, 0 g trans fat), 1,000 mg sodium, 77 g carbs (6 g fiber, 0 g sugar), 30 g protein
There's no sugar in this box, which makes it a good option.
What does it include?
This protein-packed wrap features grilled chicken, a peanut-coconut sauce, chile-lime slaw, and a ginger cream cheese in a chile tortilla.
Greene says you can make your own version of this and cut the sodium in half. Use premade grilled chicken and wrap it in a collard green leaf to make it gluten-free. You can even make your own peanut sauce by combining peanut butter, ground ginger, soy sauce or coconut aminos, and garlic.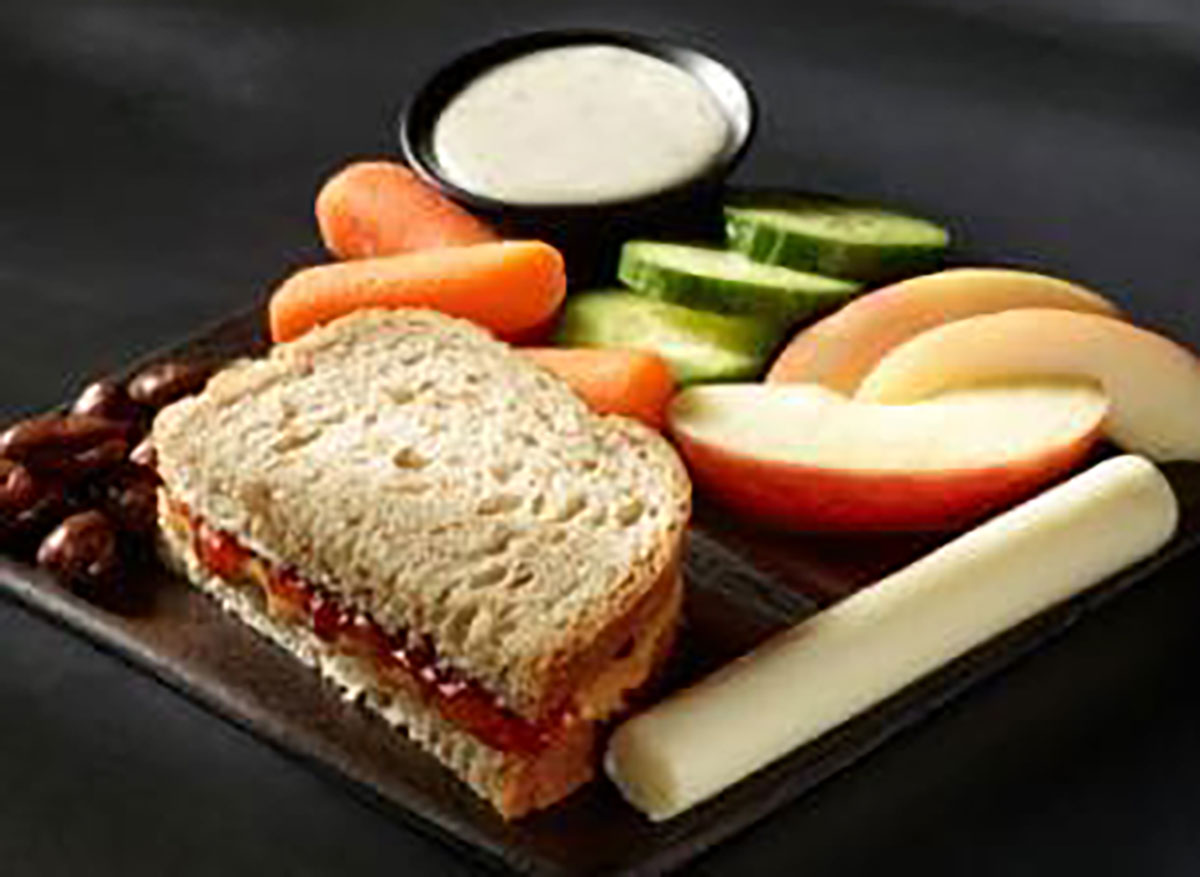 [/media-credit]6254a4d1642c605c54bf1cab17d50f1e
Per box
: 520 calories, 26 g fat (7 g saturated fat, 0 g trans fat), 570 mg sodium, 54 g carbs (4 g fiber, 30 g sugar), 20 g protein
This box has more sugar than protein, which makes it the least healthy of the bunch. In terms of dietary restrictions, this box does not lend itself to be modifiable and still fight off hunger until the consumer's next meal.
"The PB&J contains peanuts, wheat, and soy. And if any of those ingredients are not well tolerated, then the items that are left are more of a snack than a meal," Greene says.
What does it include?
There's the PB&J half sandwich, made with natural peanut butter, as well as string cheese, apple slices, raisins, carrots, and cucumbers, along with the chain's Greek yogurt ranch dip.
Fortunately, this is one box that's pretty easy to replicate at home. Cut the sugar by swapping the jelly for fresh fruit, one slice of Ezekiel bread, and two tablespoons of nut butter. Adding mashed berries or bananas is a great way to keep the sweetness without making the meal a total sugar blast.
If you're a fan of the Starbucks protein boxes, consider making homemade versions for a healthier and cleaner lunch. And if you do pick one up the next time you're at the chain, now you know which versions are the healthiest options.