Here's Everything Coming to the Starbucks Menu This Summer
Your favorite Barista just dropped quite the list of new additions to their summer menu. Curious as to which are Eat This-approved? We've got you covered.
Our favorite coffee roasters just made our days even better — and it isn't because they brew our daily cup of joe. Earlier this week, Starbucks released their new summer menu offering all new and innovative recipes. But unlike the Unicorn Frap, these are here to stay for longer than a week.
Both sweet and savory, drinks and eats, the new items differ from espresso drinks made with coconut milk to new Teavana iced teas to new lunch items. No matter what time of day, or what your craving — these menu additions will leave everyone happy. But it's important to remember that happy doesn't always equate to healthy.
And that's where Eat This, Not That! comes in. We gathered up all the nutritional profile of these new items to let you know which foods are worthy of your fancy. Read on to see which items should be your new summer snacks, and which you should leave in the store. And while we're on the subject of warm-weather-friendly eats, you'll also want to avoid these 30 Worst Summer Foods For Your Belly.
Seared Steak, Egg and Tomatillo Wrap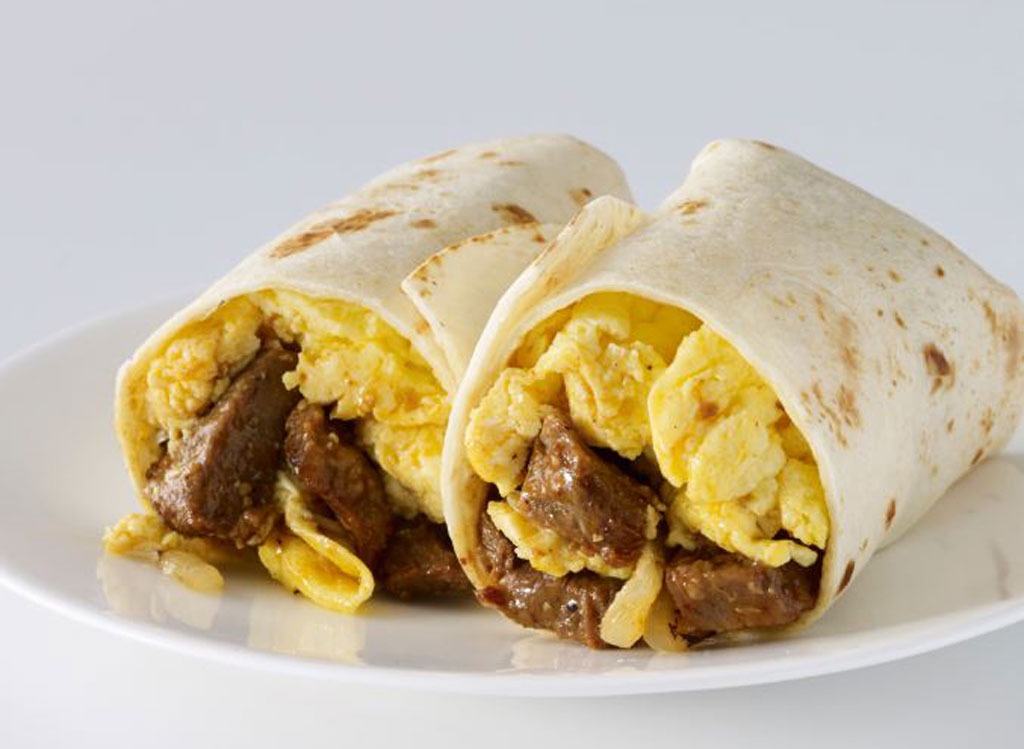 Try This
Per wrap: 410 calories, 18 g fat (5 g saturated fat), 780 mg sodium, 43 g carbs (2 g fiber, 4 g sugar), 21 g protein
Made with seared steak, cage-free scrambled eggs, caramelized onions, and tomatillo salsa, this new tortilla wrap is the stuff of breakfast dreams. Here's what we know: the cage-free eggs are a huge bonus, not to mention that this wrap serves you a whopping 21 grams of protein. For breakfast, lunch, or even dinner you'll definitely stay full. But we do have a few questions: is this beef organic? And we would've ditched the white tortilla for high fiber foods like a whole-grain wrap. We'd give it a pass if you want to try, and if you want to make your own at home, you'll definitely want to start with one of these 15 Best Steak Marinade Recipes on the Planet.
Chicken & Quinoa Protein Bowl with Black Beans and Greens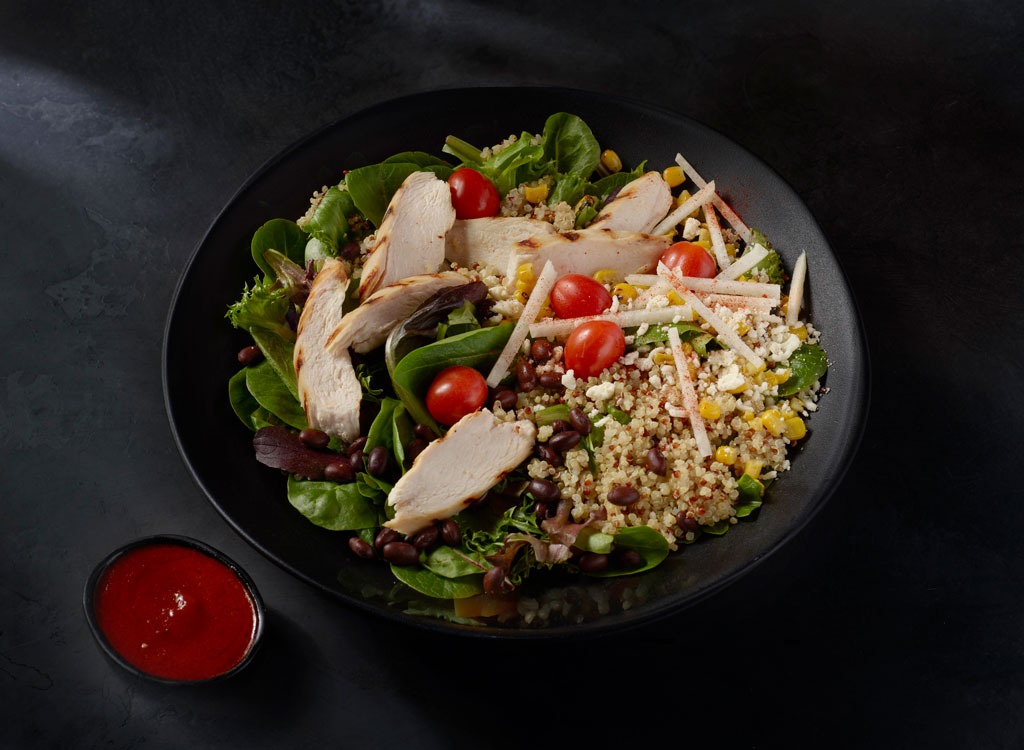 Try This
Per bowl: 420 calories, 17 g fat (3 g saturated fat), 1,030 mg sodium, 42 g carbs (9 g fiber, 11 g sugar), 27 g protein
We give Starbucks major kudos for using grilled chicken that's raised without antibiotics. It's then served over quinoa with the addition of fresh greens, tomatoes, roasted corn, black beans, jicama, paprika, and feta. All together tossed with a medium-spiced chile vinaigrette. With 27 grams of protein and more than one cup of fruits and veggies, this dish sounds awesome, right.
Sorry bowl lovers, think again. This bowl brings on a whopping 1,030 milligrams of sodium. That's nearly than 50 percent of your recommended daily value. If you want to try this, just make sure to pair it with a drink; preferably a water.
New Vegan Lentils & Vegetables Protein Bowl with Brown Rice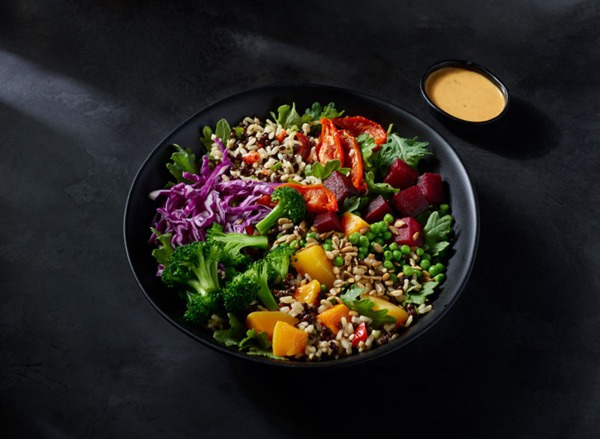 Eat This!
Per Bowl: 650 calories, 29 g fat (4 g saturated fat), 670 mg sodium, 80 g carbs (21 g fiber, 10 g sugar), 23 g protein
Starbucks now offers a bowl that's a certified vegan food. As fresh as out of a garden, this bowl is made with hearty brown rice, butternut squash, roasted tomatoes, sunflower seeds and served with lemon-tahini dressing. It offers you 23 grams of appetite-suppressing, muscle-toning protein and will be sure to keep you full thanks to all that earthy 21 grams of fiber!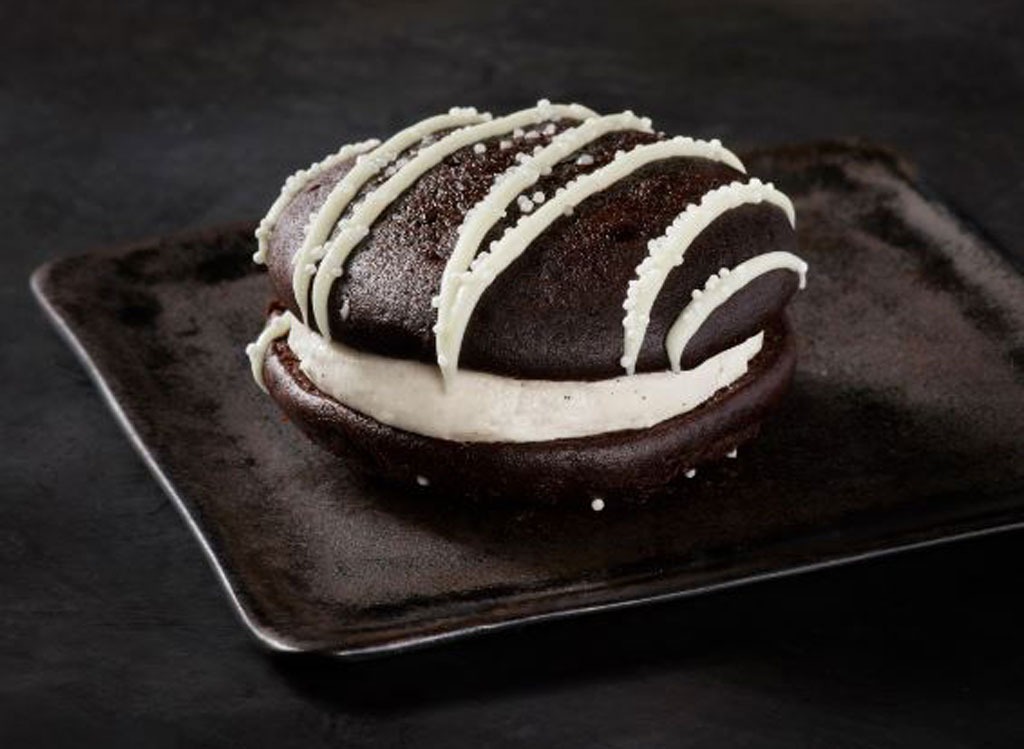 Not That!
Per Pie: 370 calories, 18 g fat (6 g saturated fat), 230 mg sodium, 44 g carbs (1 g fiber, 30 g sugar), 4 g protein
This one is as easy as pie: carrying 30 grams of sugar and 370 calories just for a sweet dessert we think not. They may be a nostalgic treat, but they're also throw your afternoon off whack with a sugar high and crashing energy levels. Starbucks is now offering plenty of drinks — soon to come below — with a low sugar count, grab one of those to settle your sweet tooth instead.
Not That!
Per Pop: 180 calories, 9 g fat (4.5 g saturated fat), 23 g carbs (0 g fiber, 18 g sugar), 2 g protein
Starbucks is making our rating a piece of cake! (Sorry, we had to.) In just one bite: 180 calories, 9 grams of fat, and 18 grams of sugar. And with no fiber or protein to slow digestion or fill up your tummy, you'll be left hungry after that one bite. No thanks.
Iced Coconut Milk Mocha Macchiato
Not That!
Per Grande, 16 oz: 210 calories, 9 g fat (8 g saturated fat), 160 mg sodium, 30 g carbs (0 g fiber, 27 g sugar), 2 g protein
Mix espresso and chilled coconut milk with white chocolate mocha sauce, and you have yourself a too-sweet snack! Guzzling down half a day's worth of added sugars in mere minutes isn't something we can get behind. This drink is like eating a candy bar: fattening and filled with sugar. In fact, when compared to your typical Hershey's chocolate bar it's not far off at all. It may be 10 calories fewer, but this drink holds just as much saturated fat and even more sugar than the milk chocolate bar itself!
Iced Cascara Coconut Milk Latte
Drink This!
Per Grande, 16 oz: 150 calories, 4.5 g fat (4.5 g saturated fat), 0 mg sodium, 26 g carbs (0 g fiber, 23 g sugar), 1 g protein
If you want to try one of Starbucks' new coconut beverages, make it this one. Lower in fat, saturated fat, calories, and sugar that the offering above, it'll be a bit kinder to your waistline. And as for if you were wondering what the heck cascara is, let us enlighten you: Cascara is the Spanish word for "husk." The ingredient is extracted from coffee cherries into a syrup, making a sweetener for espresso beverages. Starbucks goes a bit overboard with this sweetener, so if you want to make this drink your go-to, we'd recommend ordering a Tall in a Grande cup and watering it down.
Teavana Shaken Iced Tea Infusions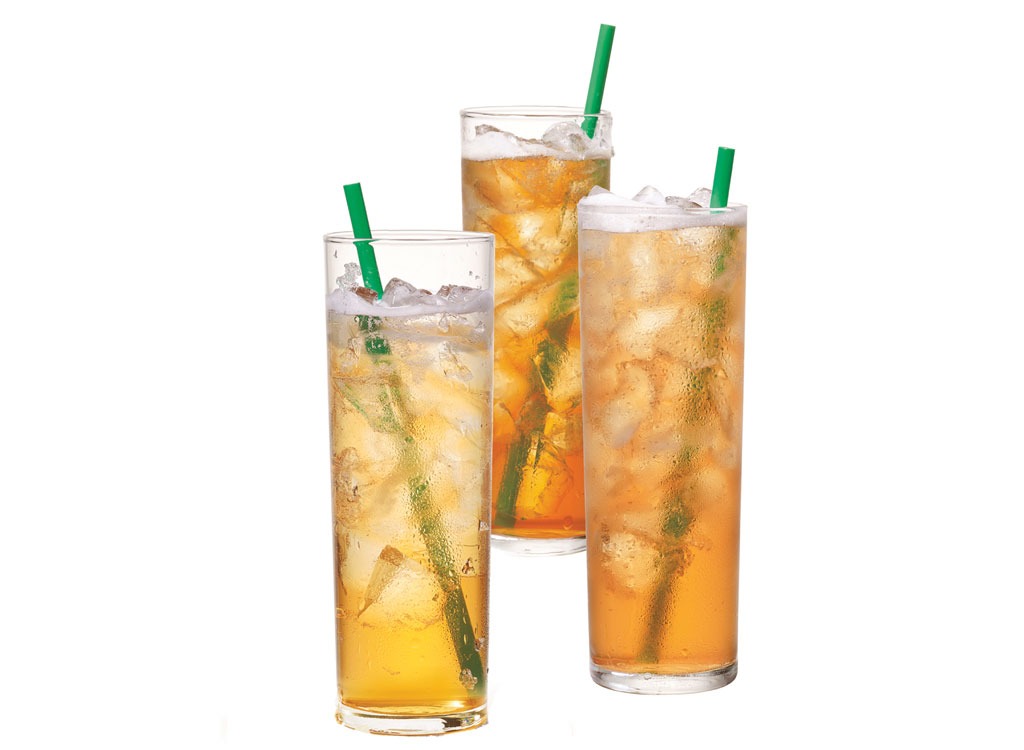 6254a4d1642c605c54bf1cab17d50f1e
Drink This!
Starbucks is really shaking things up with their new iced-tea collaboration with Teavana. Offering three new flavors of pineapple black tea, strawberry green tea, and peach citrus white tea, all three are under 50 calories and only have 11 grams of sugar in a standard 16-ounce Grande! So if you're needing an afternoon pick-me-up to boost your energy and settle that sweet tooth, try any of these as an Eat This-approved option. Did you know that tea is one of the 37 Best Breakfast Foods for Weight Loss?