The Best & Worst Menu Items at Steak 'n Shake
Here's exactly what you should and shouldn't order, according to registered dietitians.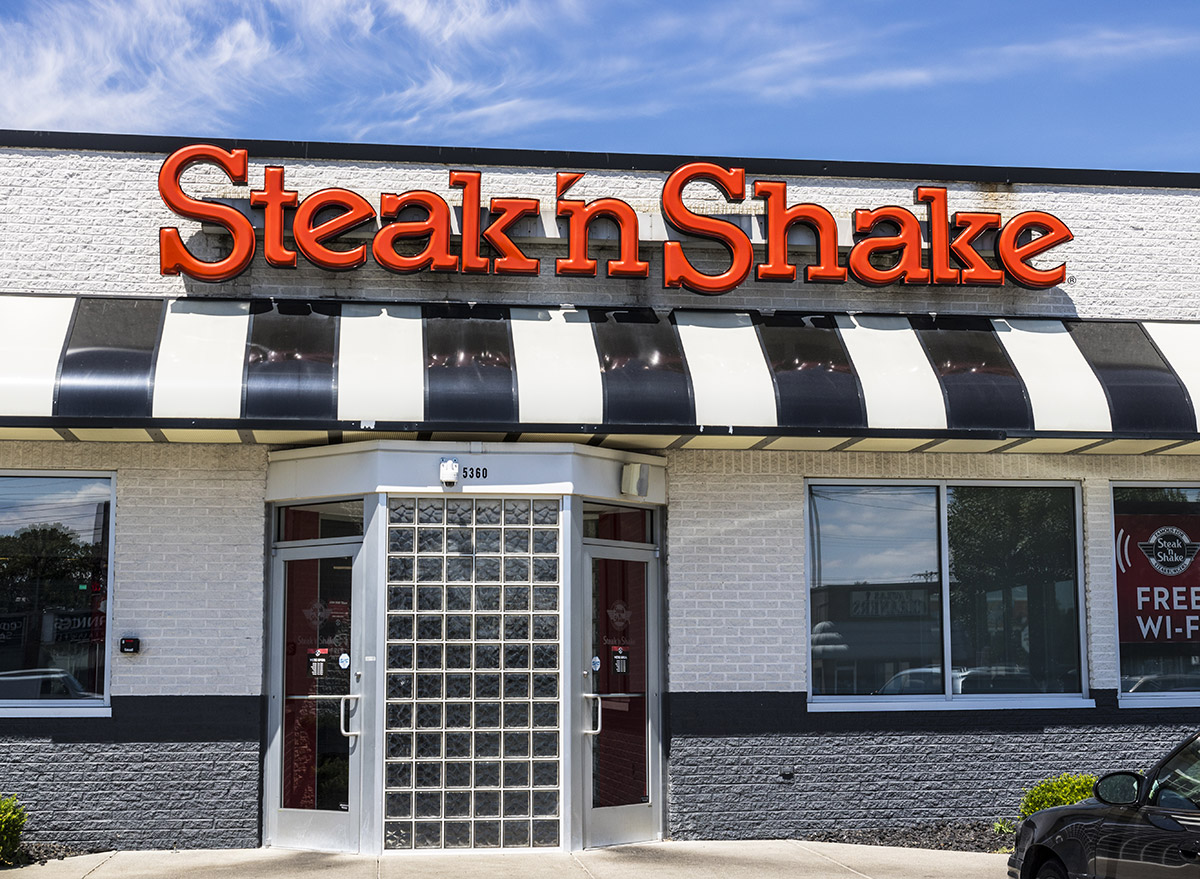 Steak 'n Shake is a classic diner loved for its fresh, juicy steakburgers and cold, creamy milkshakes. Founded in 1934 in Illinois, the chain has remained a staple across the United States and whether you are running through the drive-thru for a quick dinner or stopping in for celebratory burgers and shakes, there are plenty of delicious options on the menu. While most of these Steak 'n Shake menu items are best reserved as treats (we're looking at you, Oreo milkshake), there are still plenty of options that even registered dietitians find to be nutritious.
We spoke with Mascha Davis, MPH, RDN, private practice registered dietitian nutritionist and author of Eat Your Vitamins and Lindsey Pine, MS, RDN, CSSD, CLT for insight into the healthiest and least-nutritious Steak 'n Shake menu options.
Steakburgers
Best: Single Without Cheese
320 calories, 14 g fat (5 g saturated fat, 1 g trans fat), 820 mg sodium, 32 g carbs (3 g fiber, 6 g sugar), 15 g protein
Both dietitians agreed that if you want to go for a burger, your best bet is the single without cheese. Davis pointed out that the fiber and protein in this option will keep you fuller for longer, especially compared to the other menu items that are lower in fiber.
Why do they recommend nixing the cheese?
"If you need to add cheese, just know that it will add an additional 70 calories, which isn't bad, but it will bring your sodium level from 820 mg to 1,160 milligrams," Pine says. "That is about half of what you should have for an entire day."
Worst: 7×7
1660 calories, 128 g fat (62 g saturated fat, 6 g trans fat), 3,800 mg sodium, 29 g carbs (0 g fiber, 4 g sugar), 95 g protein
It's fine to enjoy a good burger every now and then, but the 7×7 shocked the dietitians.
"This burger actually sounds like a health hazard," Davis said. "It has 1,660 calories—close to a whole day of eating in one meal. 1,100 calories come from fat alone, and the dietary cholesterol is at 355 milligrams. Cholesterol should be kept as low as possible and not exceed 300 grams per day." Davis also noted that excessive cholesterol is linked to an increased risk of heart disease.
Pine was alarmed by the high levels of sodium in the 7×7, noting that 3,800 milligrams is far more than the recommended daily amount for the average individual. The trans fat count also sounds the alarm.
"For folks without health issues like hypertension, the recommendation for sodium per day is no more than 2,300 milligrams," Pine said. "Besides the whopping 1,660 calories it contains, this burger has 6 grams of trans fat. You should aim for 0 grams of trans fat and this burger has 6! Trans fat can raise LDL (bad) cholesterol, lower HDL (good) cholesterol and increase your risk for heart disease." So it's easy to see why this burger just shouldn't be eaten by one person, in one sitting.
Sandwiches and Melts
Best: Grilled Chicken Sandwich
6254a4d1642c605c54bf1cab17d50f1e
360 calories, 7 g fat (1 g saturated fat, 0 g trans fat), 1,380 mg sodium, 98 g carbs (13 g fiber, 10 g sugar), 31 g protein
As one might expect, the grilled chicken takes the crown for the healthiest pick in the sandwich category, as it is high in protein and low in saturated fat. To make this option even better for you, Pine recommends swapping the bread for a lettuce wrap to lower the sodium.
Another great option recommended by Davis is the Veggie Melt With Portobellosm too. Although it is in higher in calories coming in at 620, whether you follow a plant-based diet or not, this melt still has the gooey, cheesy goodness you might be craving, but it is also packed with vegetables. It clocks in at 11 grams of fiber, too.
"The high fiber content combined with 16 grams of protein makes a great meal," Davis said. "However, the sodium is still on the higher end (1000 mg), so make sure to only have this meal once in a while."
Worst: Frisco Melt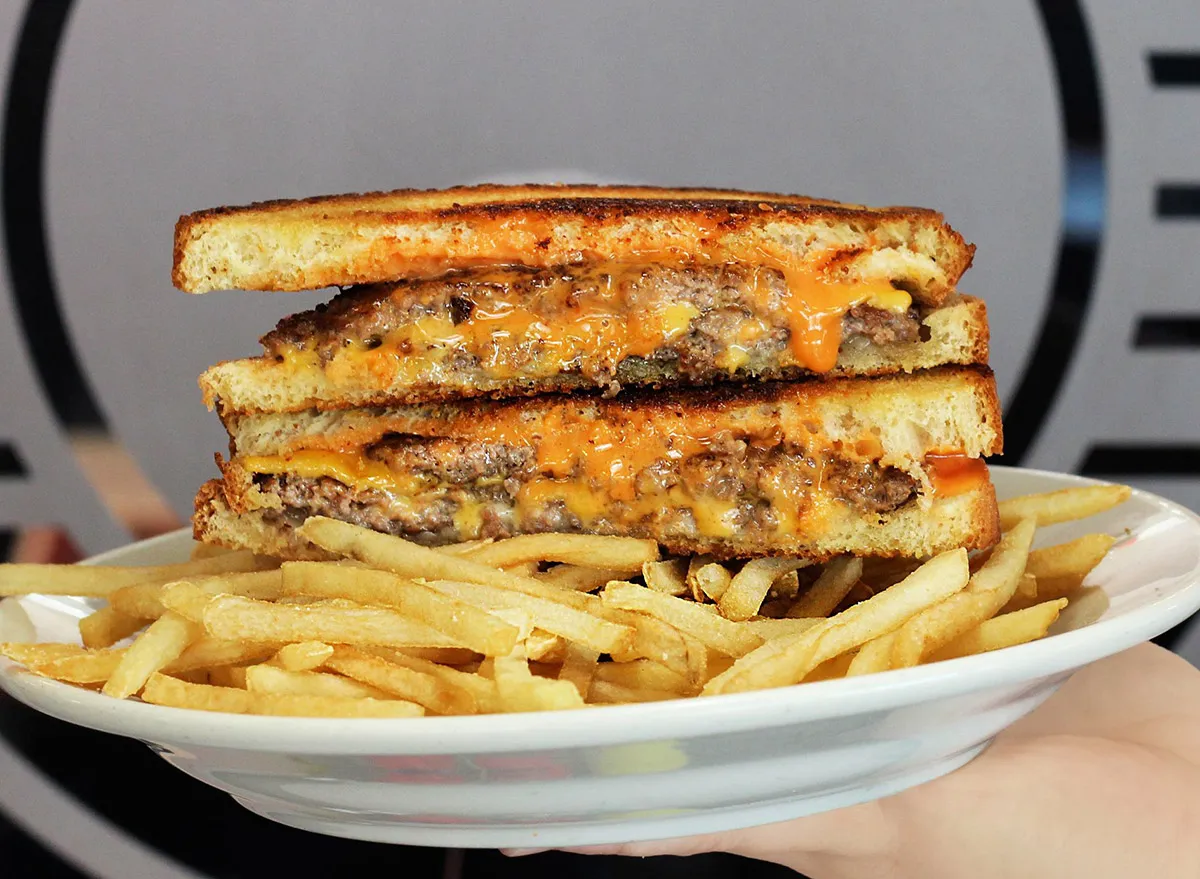 960 calories, 66 g fat (21 g saturated fat, 1.5 g trans fat), 1,440 mg sodium, 51 g carbs (2 g fiber, 12 g sugar), 34 g protein
The Frisco Melt is one of the most popular items on the Steak 'n Shake menu, but it is also one of the least nutritious. It contains 21 grams of saturated fat, which Pine noted is an entire day's worth of saturated fat for the average adult.
Davis also found that the Frisco Melt "has 115 milligrams of dietary cholesterol and 12 grams of sugar—about 3 sugar cubes." And that is just in one sandwich!
Chili and Steak Franks and Footlongs
Best: Bowl of Genuine Chili
550 calories, 20 g fat (9 g saturated fat, 1 g trans fat), 1,270 mg sodium, 65 g carbs (13 g fiber, 3 g sugar), 29 g protein
If you are looking for some hearty comfort food with less guilt, Steak 'n Shake has you covered with its genuine chili.
"There's nothing more comforting than a steaming bowl of chili, and I like this option as a main entrée," Pine said. "This chili contains beans, which contribute to the whopping 13 grams of fiber. Most folks should get between 25 and 38 grams of fiber per day, and this chili can make a big dent in that daily goal."
Pine does note, however, that this option is high in sodium, contributing to about half of the recommended daily value, so it's important to keep that in mind.
Worst: Chili Mac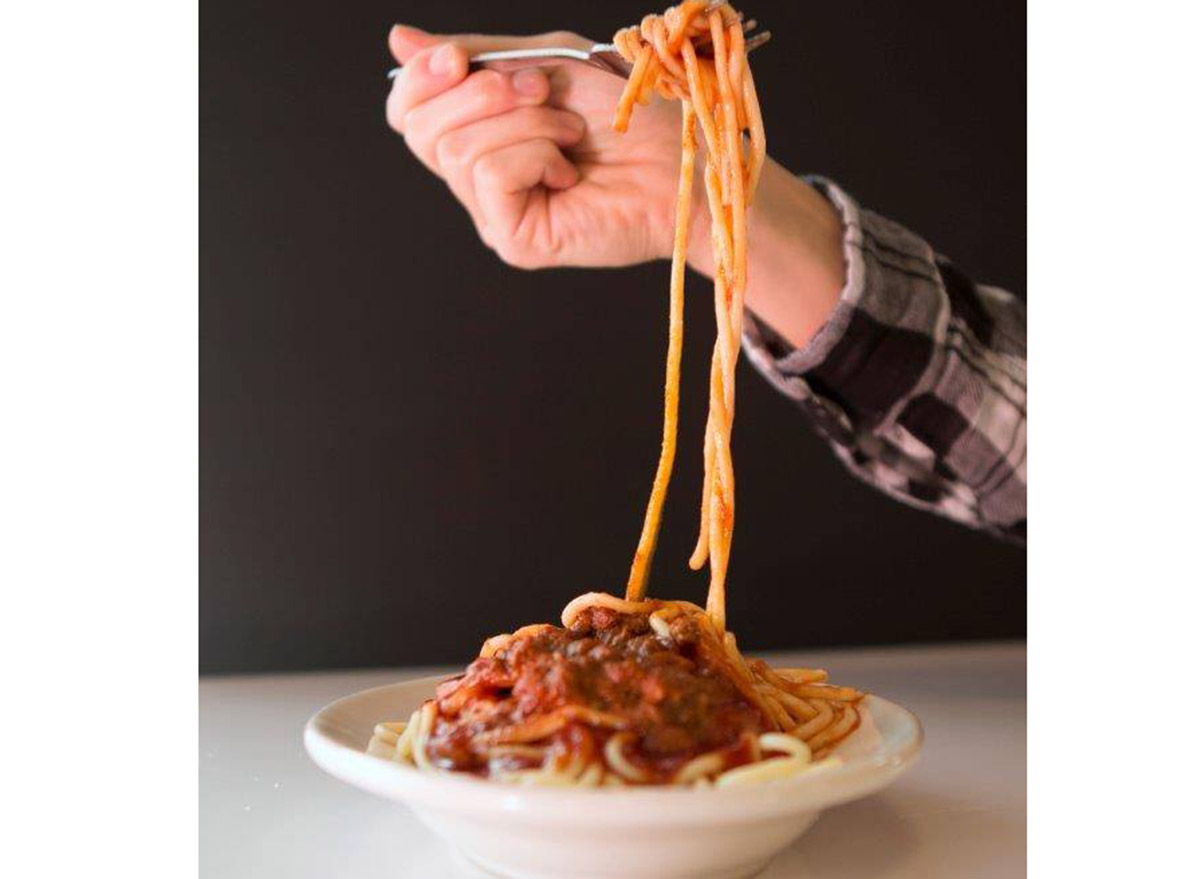 1200 calories, 61 g fat (26 g saturated fat, 3.5 g trans fat), 2,710 mg sodium, 112 g carbs (9 g fiber, 16 g sugar), 46 g protein
The chili mac is one of the worst offenders in the chili category, with high numbers in calories, sodium, and sugar.
"This chili has 1,200 calories in one serving—a little more than two McDonald's Big Macs," Davis said. "It also has 16 grams of saturated fat and 2,710 milligrams of sodium. Excessive sodium intake is a risk factor for many chronic diseases, such as hypertension. On top of that, it has 16 grams of sugar, so it is definitely not a healthy option."
Sides and Fries
Best: Small Garden Salad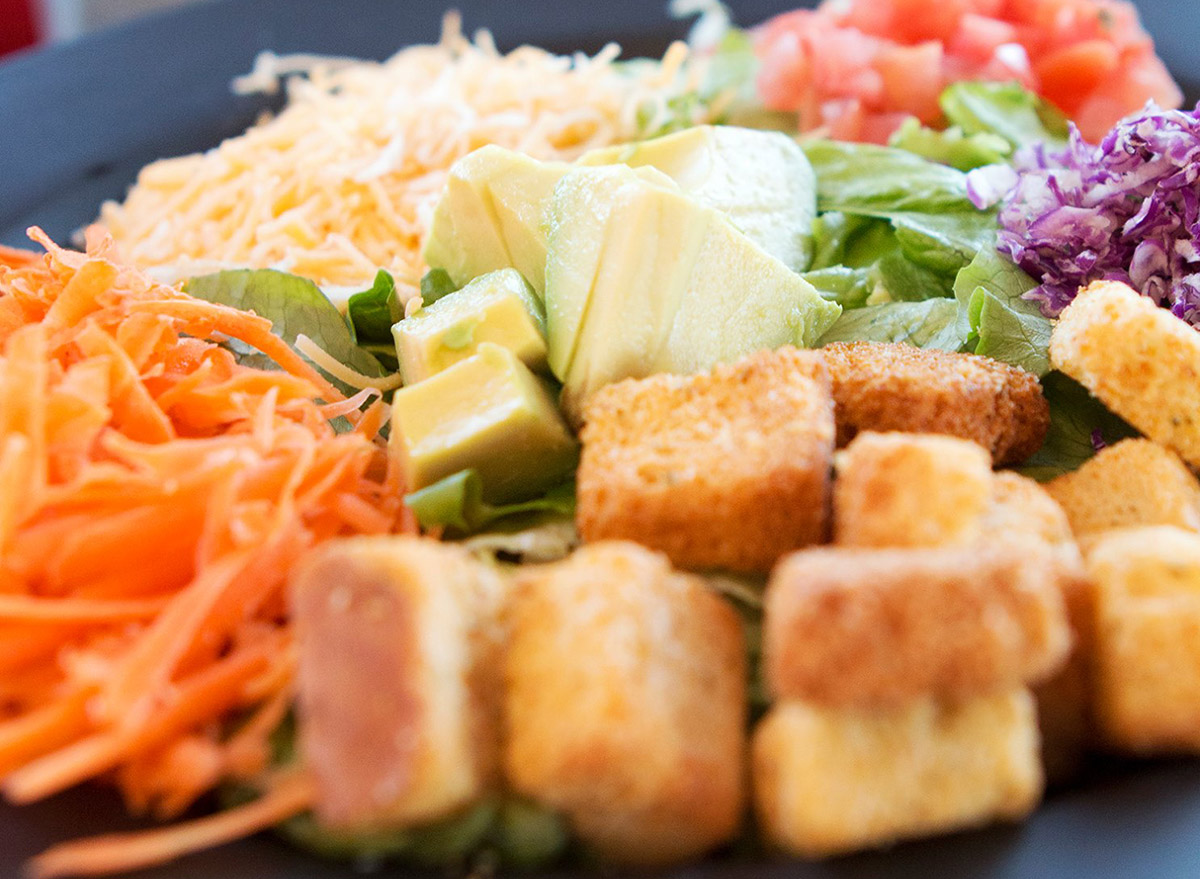 60 calories, 1 g fat (0 g saturated fat, 0 g trans fat), 110 mg sodium, 10 g carbs (3 g fiber, 3 g sugar), 2 g protein
The small garden salad is a great option for a side dish and can help balance out a burger or melt. Pine recommends the side salad, because "at only 60 calories and 3 grams of fiber, it's a great, fresh option to go with your burger."
But if you are looking for more vegetable variety, the veggie cup which clocks in at 70 calories is also a good option.
"The veggies will add nutrients to your diet," Davis said. "Most vegetables are high in potassium, which can help balance out the sodium in your body after a salty meal."
Worst: Large Chili Cheese Fries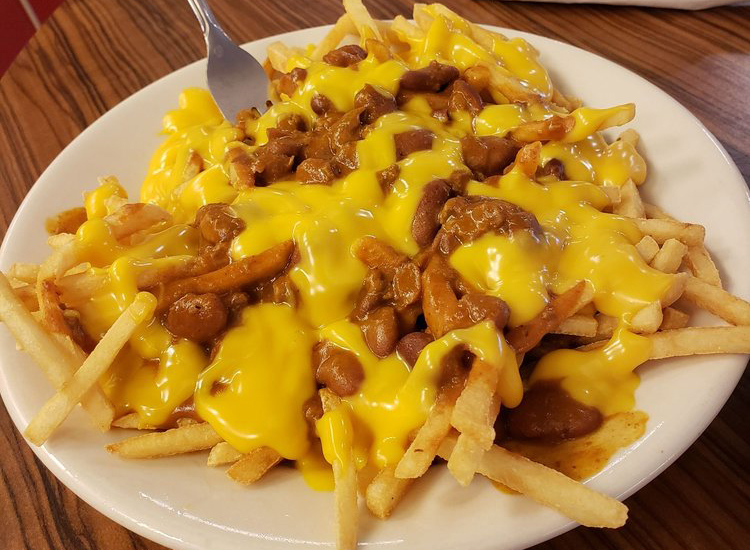 1070 calories, 53 g fat (14 g saturated fat, 1 g trans fat), 2,990 mg sodium, 120 g carbs (14 g fiber, 4 g sugar), 26 g protein
Although the genuine chili is a better-for-you menu item, it becomes less so when layered with French fries and cheese. The large chili cheese fries have greater amounts of calories, saturated fat, and sodium than the steakburgers.
"The amount of sodium at 2,990 milligrams is appalling!" Pine said. "That's the equivalent of eating 17 servings of Lay's, or about 255 potato chips!"
Salads
Best: Garden Fresh Salad With Added Grilled Chicken
430 calories, 21.5 g fat (12.5 g saturated fat, 0 g trans fat), 1,050 mg sodium, 21 g carbs (5 g fiber, 6 g sugar), 39 g protein
There are, of course, healthy options in the salad section. For a well-rounded meal, Pine recommends adding grilled chicken to the garden fresh salad for extra protein.
Pine also suggests to "order without the cheese and/or croutons to lessen the amount of saturated fat, which is a bit high at 12 grams. If using dressing, go for the Lite Italian or Zesty Italian."
Worst: Taco Salad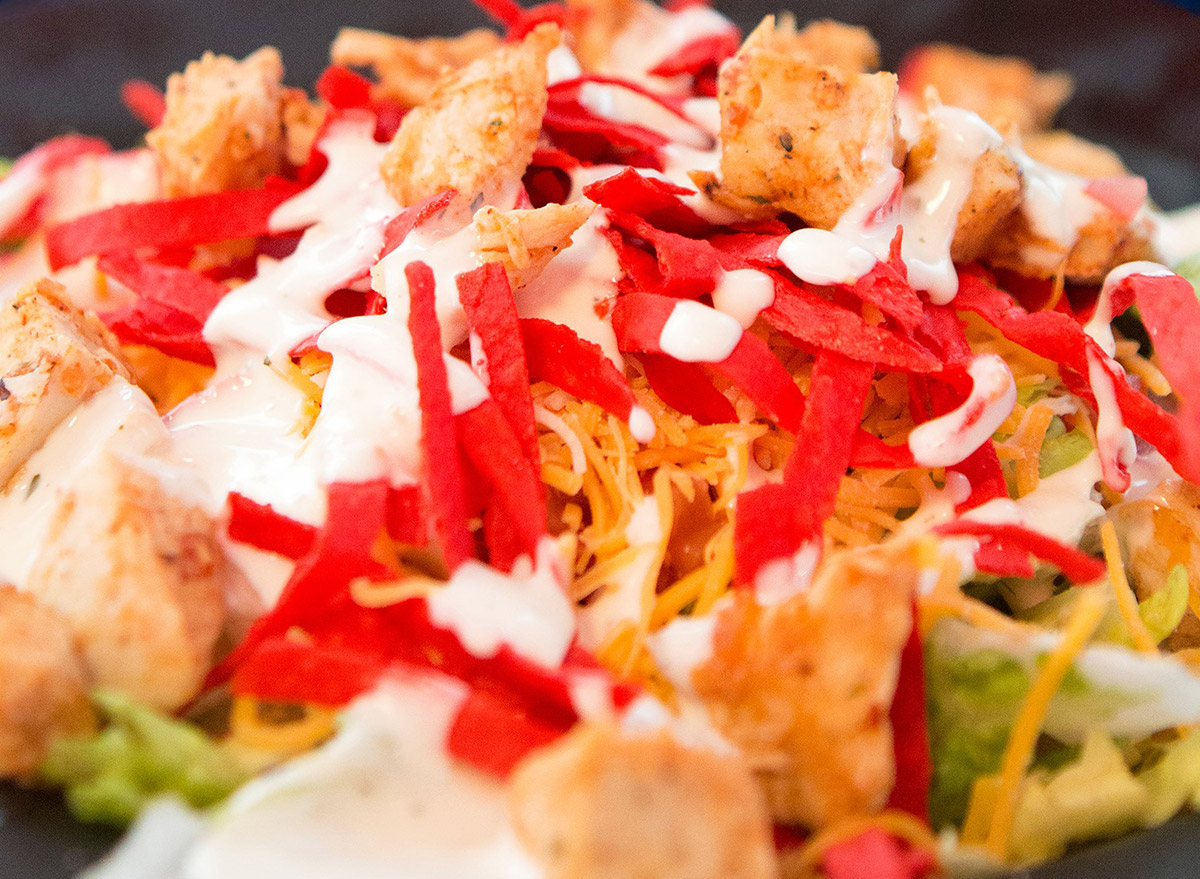 880 calories, 77 g fat (25 g saturated fat, 0.5 g trans fat), 1,400 mg sodium, 22 g carbs (3 g fiber, 5 g sugar), 29 g protein
When someone wants to choose healthier options at a restaurant, they are likely to flip straight to the salads. But sometimes, salads can be sneaky and full of calories, sodium and even fat!
"If you think you're being healthy by ordering this salad, think again," Pine warned. "It actually has more calories than most of the steakburgers on the menu, and that's even without the dressing!"
Desserts
Best: Chocolate Chip Cookie
130 calories, 6 g fat (3 g saturated fat, 0 g trans fat), 100 mg sodium, 17 g carbs (0 g fiber, 10 g sugar), 1 g protein
If you are looking for just a little something to satisfy your sweet tooth, dietitians recommend ordering a chocolate chip cookie. It's just enough to quiet those sugar cravings, but it won't leave you feeling sluggish, even if you just enjoyed a burger.
Davis noted the cookie has 10 grams of sugar, which means "it is within the daily allowance of 25 (women) to 36 men) grams per day." Just make sure you stick to one!
Worst: Hot Fudge Sundae
460 calories, 22 g fat (16 g saturated fat, 0 g trans fat), 140 mg sodium, 62 g carbs (1 g fiber, 46 g sugar), 12 g protein
Desserts aren't necessarily meant to be healthy—they are supposed to be a treat! Even still, a calorie- and sugar-laden dessert following a sodium-rich meal can make you feel bloated and lethargic. If you want a healthier dessert, the dietitians recommend steering clear of the hot fudge sundae
"At 460 calories and 46 grams of sugar, the hot fudge sundae bottoms out the dessert list," Pine said. "That's like eating 11 and a half cubes of sugar! If you're really in the mood for ice cream, ask for the ice cream alone or order the kids' hot fudge sundae, which is about half the size of the regular version, meaning half the amount of calories, fat, and sugar."
And if you think subbing in something sweet as your drink option is better, not so fast, as Davis recommends avoiding the root beer float, too. It comes in at 280 calories and 47 grams of sugar.
"Most of the sugar will come in liquid form, so it is absorbed faster and will not make you feel like you just ate double your sugar allowance," Davis warned. "Try to avoid sweetened beverages and choose water instead."
Paige Bennett
Paige is a Los Angeles-based editor and freelance writer. In addition to writing for Eat This, Not That!, she works as the content editor for Inhabitat.
Read more about Paige