The Best and Worst Drive-Thru Meals to Get When You're on the Road
Hint: You shouldn't order anything with double or triple in the name.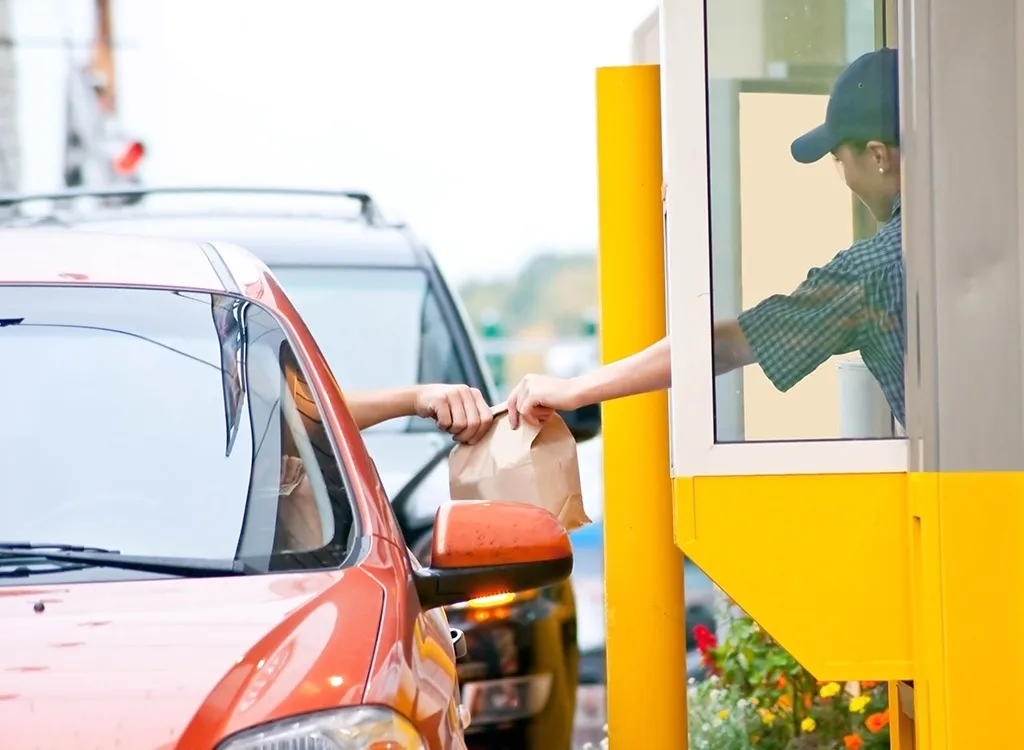 With one destination on your mind and miles ahead of you, a quick pit stop at the nearest fast food drive-thru provides not only relief from hours of monotonous driving but fuel for the journey. Drive-thru access also makes it that much easier to grab a meal if you just want to hit the road. But beware: If you're not careful, driving in the express lane can cause you to order a meal upwards of 2,000 calories, not to mention sky-high amounts of sodium, sugar, and saturated fat. The good news is that it's easy to choose a healthy meal, as long as you know what to look for on the menu.
Healthy Drive-Thru Ordering Tips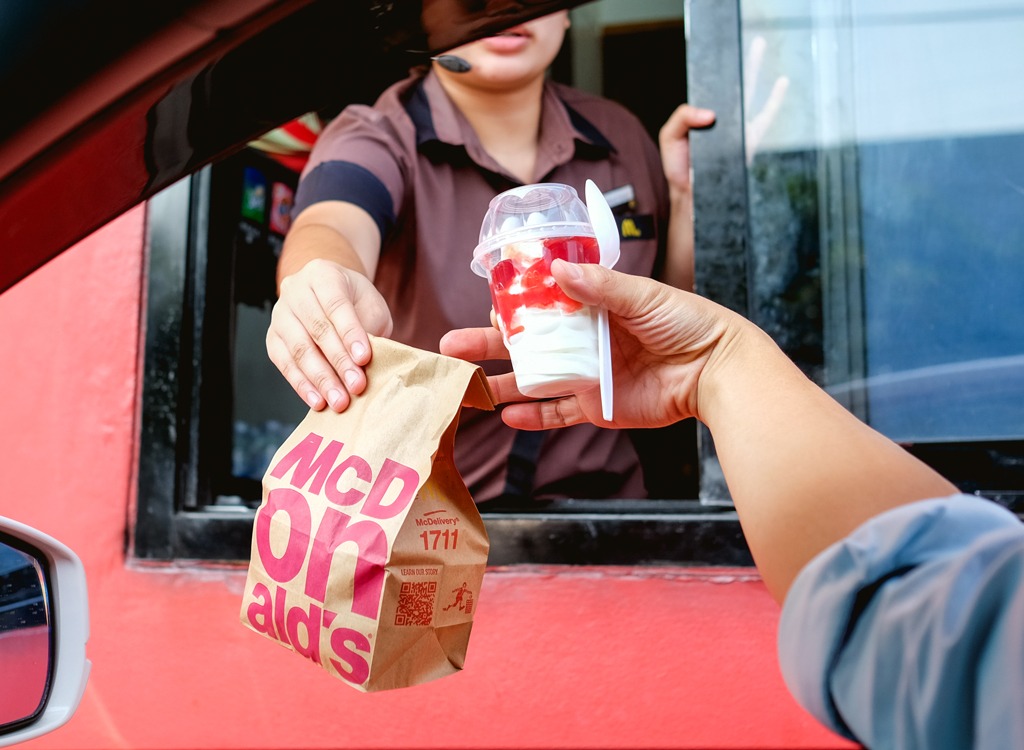 A few things to keep in mind when choosing your dish: "Try to focus your meal on lean protein options such as chicken, fish, or beans that are baked or grilled," says Kristen Smith, RD, spokesperson for the Academy of Nutrition and Dietetics and bariatric surgery coordinator at Piedmont Healthcare. "Many fast food chains are now offering fruit as a side instead of French fries. If you choose to go with French fries, try to stick with a small size or share with someone else."
Also, not all items that sound healthy actually are (say, yogurt parfaits or turkey burgers). The same goes for frozen beverages, which often have a ton of calories and sneaky sugar bombs, Smith says. To help you make a smarter choice on the road, we rounded up the best and worst meal at popular drive-thru spots across the country. So dig in, without veering off the healthy path. And while you're at it, check out 25 Ways to Slim Down Any Fast Food Order.
Best & Worst at Taco Bell
Eat This: Soft Chicken Taco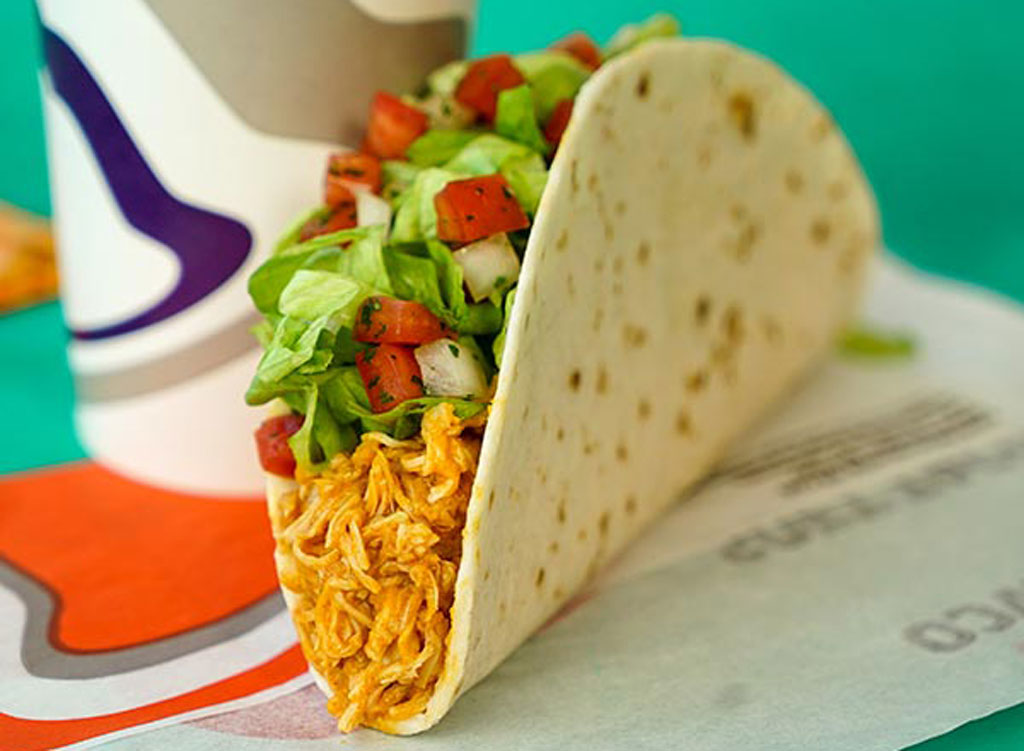 170 calories, 8 g fat (3 g saturated fat, 0 g trans fat), 450 mg sodium, 16 g carbohydrates (1 g fiber, 1 g sugar), 10 g protein
For less than 200 calories, soft chicken tacos are a much healthier alternative to the XXL burritos and Doritos locos tacos. This better-for-you bite provides filling protein with a whole lot less fat, sodium, and carbs. Make it fresco by loading it up with guac and pico de gallo, and you've got a well-balanced meal.
Not That!: XXL Beef Grilled Stuft Burrito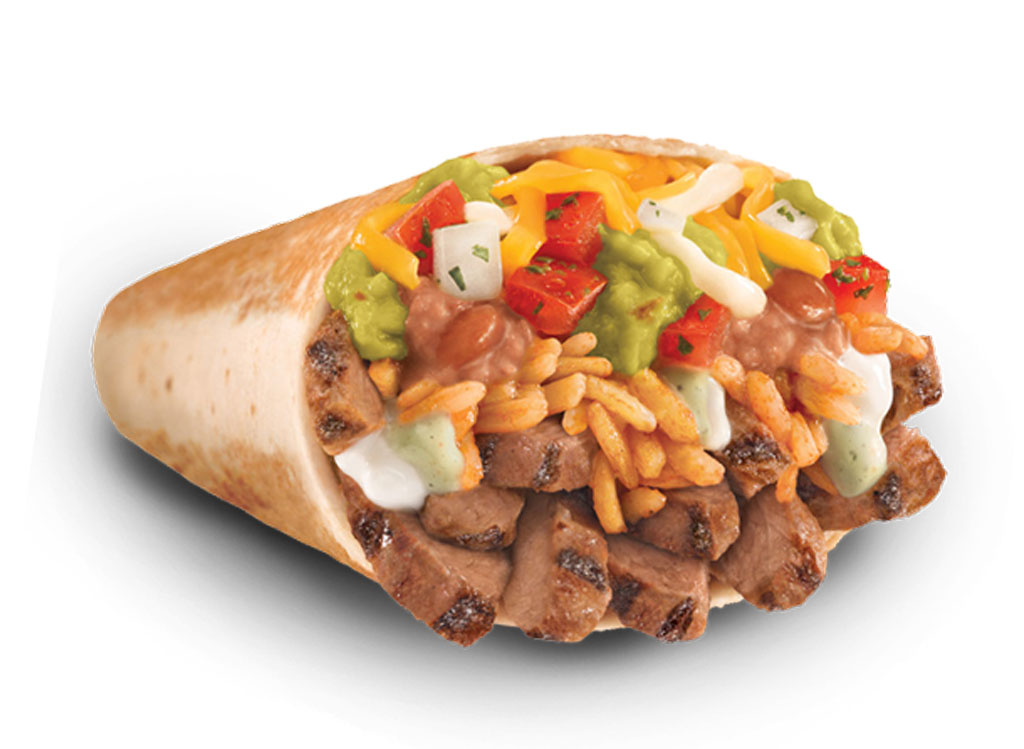 870 calories 40 g fat (14 g saturated fat, 1 g trans fat), 2,140 mg sodium, 97 g carbohydrates (13 g fiber, 6 g sugar), 32 g protein
Don't be fooled by "grilled" in the name! This super-sized burrito packs seasoned beef, a three-cheese blend, rice, beans, an avocado ranch sauce, some guac, and reduced-fat sour cream. Sure, you'll get filling fiber and protein, but the sodium and calories? Not worth it. Not to mention, it stuffs a lot of saturated fat and a gram of trans fats.
Best & Worst at Wendy's
Eat This: Grilled Chicken Wrap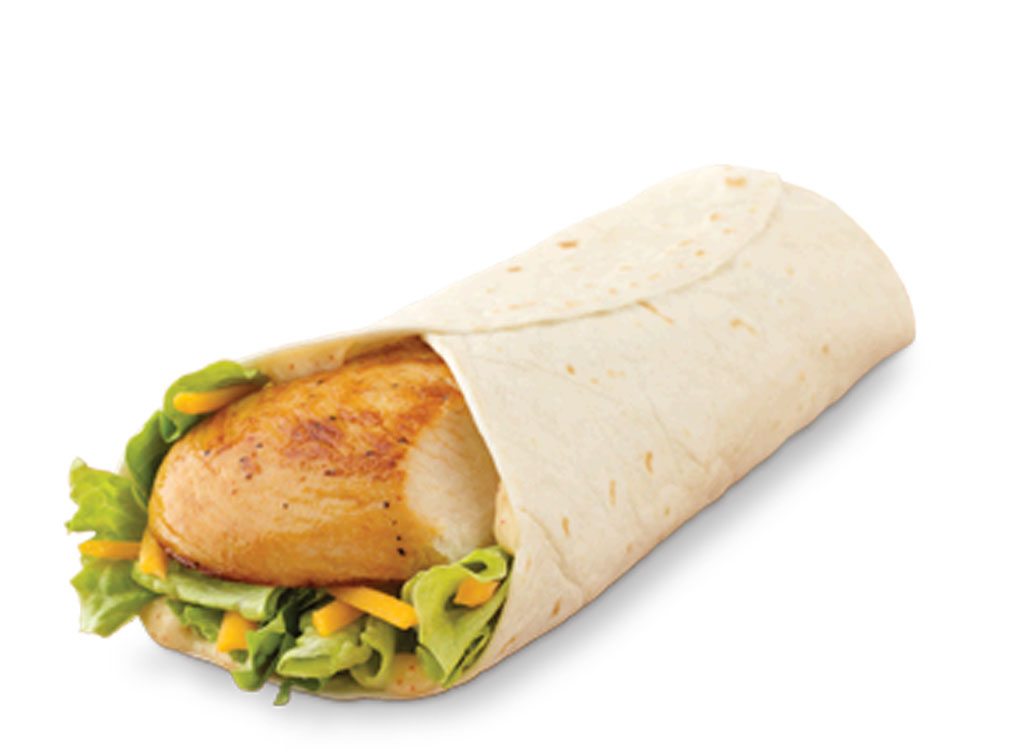 270 calories, 10 g fat (3.5 g saturated fat, 0 g trans fat), 640 mg sodium, 24 g carbohydrates (2 g fiber, 3 g sugar), 20 g protein
Crisp lettuce, cheddar cheese, and grilled chicken breast will help you get your fill of muscle-building protein, minus the high fat and carb count. You'll consume almost a fourth of the calories with the wrap compared to the burger, too.
6254a4d1642c605c54bf1cab17d50f1e
1,090 calories, 72 g fat (30 g saturated fat, 4 g trans fat), 1,650 mg sodium, 43 g carbs (3 g fiber, 9 g sugar), 71 g protein
Three times the beef patties mean three times your pant size at the end of the day. So if you want to avoid tripling your waistline, be sure to avoid this calorie and sodium bomb. Studies have also shown that a high-protein diet can increase the risk of cardiovascular failure.
Best & Worst at McDonald's
Eat This: Southwest Grilled Chicken Salad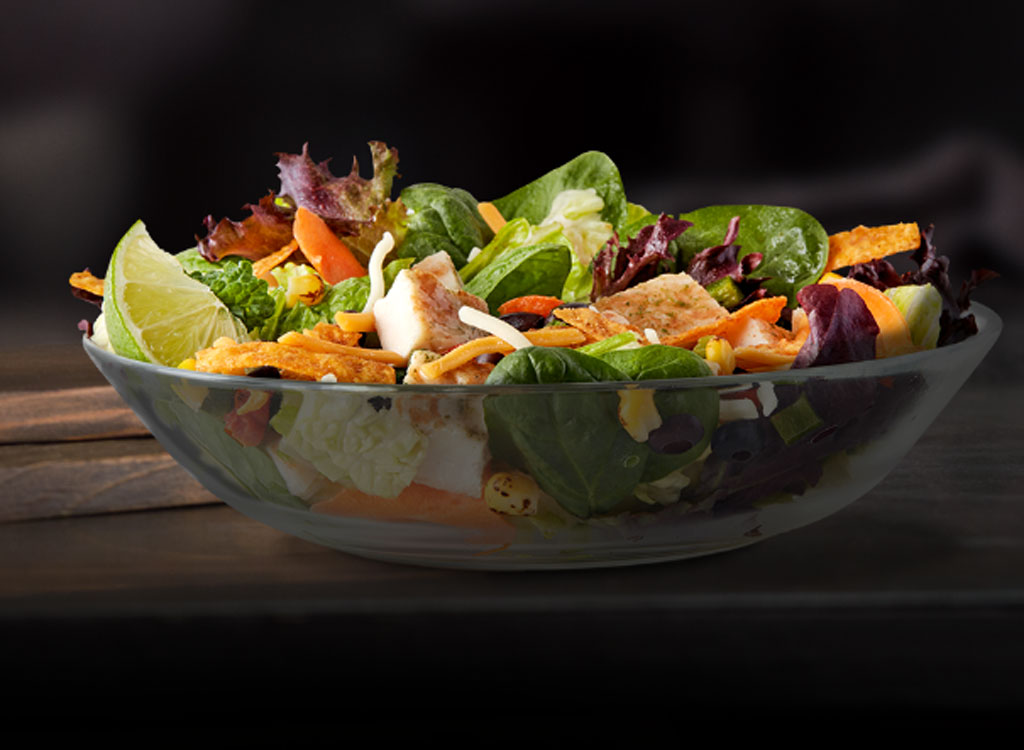 350 calories, 11 g fat (4.5 g saturated fat), 1,070 mg sodium, 27 g carbs (6 g fiber, 9 g sugar), 37 g protein
Instead of a burger, bite into a bowl of glorious greens. This Southwestern salad packs a blend of Romaine lettuce, baby spinach, and kale, along with a hefty serving of corn, beans, roasted tomatoes, and poblano peppers. If you're looking to cut back on high fructose corn syrup, consider using the cilantro lime dressing sparingly. The relatively low-sugar dressing (4 grams per serving) infuses a zesty flair, but, next to water, it's mostly corn syrup solids and high fructose corn syrup.
Not That!: Double Quarter Pounder with Cheese
770 calories, 45 g fat (21 g saturated fat, 2.5 g trans fat), 1,290 mg sodium, 42 g carbohydrates (3 g fiber, 10 g sugar), 51 g protein
This behemoth of a burger features not one but two quarter-pound beef patties and two slices of melted cheese, slivered onions, and pickles on a sesame bun. You don't need to blow all of your macros from one meal, and you especially don't need that much sugar from a burger.
Best & Worst at Arby's
Eat This: Roast Turkey Chopped Farmhouse Salad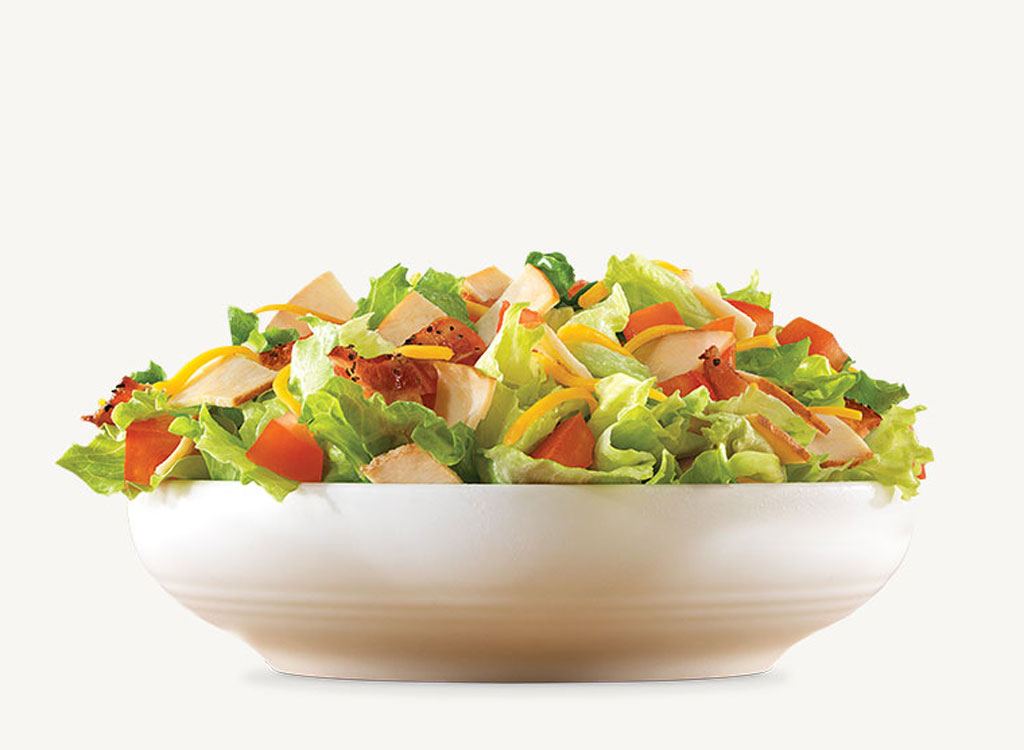 230 calories, 13 g fat (7 g saturated fat), 870 mg sodium, 8 g carbs (2 g fiber, 5 g sugar), 22 g protein
Shredded iceberg lettuce, chopped tomatoes, bacon bits, mixed greens, roast turkey, and shredded cheddar cheese give you something new to taste in every bite. It also increases your daily vitamin and antioxidant intake.
Not That!: Half Pound French Dip & Swiss
740 calories, 35 g fat (16 g saturated fat), 3,400 mg sodium, 52 g carbohydrates (2 g fiber, 3 g sugar), 55 g protein
Thick layers of roast beef on a hearty Italian roll, plus French au jus sauce, can feel like two meals in one, and that's because it can be. With 3,400 mg of sodium in one serving, you already way past the daily recommended sodium limit of 1,500 mg per day, according to the American Heart Association.
Best & Worst at Burger King
Eat This: Morningstar Veggie Burger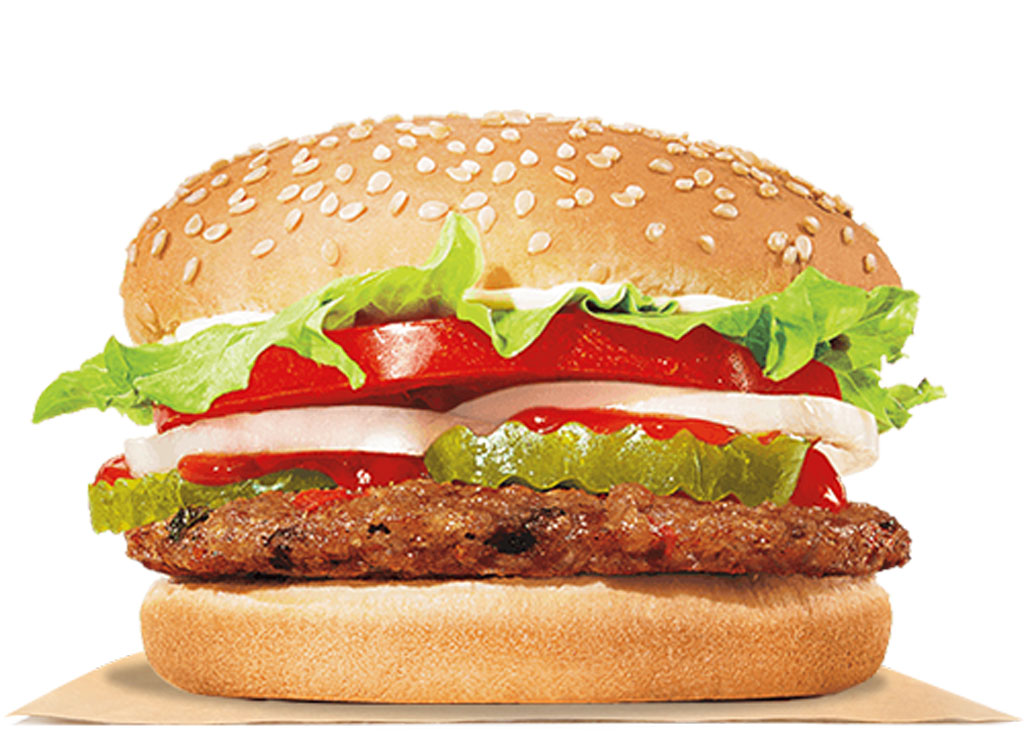 390 calories, 17 g fat (2.5 g saturated fat, 0 g trans fat), 980 mg sodium, 41 g carbohydrates (5 g fiber, 9 g sugar), 21 g protein
You don't have to be vegetarian or vegan to appreciate a plant-based patty, especially if it saves you about 1,000 calories (compared to the breakfast platter). You'll still get a high protein count, plus lots of fiber to keep you full. For other healthy options at Whopper central, check out Every Burger King Menu Item—Ranked!
Not That!: BK Ultimate Breakfast Platter
1,230 calories, 70 g fat (23 g saturated fat, 0.5 g trans fat), 2,550 mg sodium, 122 g carbs (5 g fiber, 33 g sugar), 29 g protein
There's nothing more convenient than breakfast on the road, but the whopping calorie count of this morning platter is worth almost four Whopper Jr. sandwiches. With piles of sausage, hash browns, biscuits, pancakes, and eggs, the better choice is to always share.
Best & Worst at Sonic
Eat This: Jumbo Popcorn Chicken, Medium Size
490 calories, 28 g fat (5 g saturated fat, 0 g trans fat), 1,640 mg sodium, 36 g carbohydrates (4 g fiber, 1 g sugar), 23 g protein
Aside from their decadent burgers and milkshakes, Sonic is best known for their meaty jumbo popcorn chicken. Just be sure to skip the dipping sauces, which pack a lot of sugar.
Not That!: SuperSONIC Bacon Double Cheeseburger with Mayo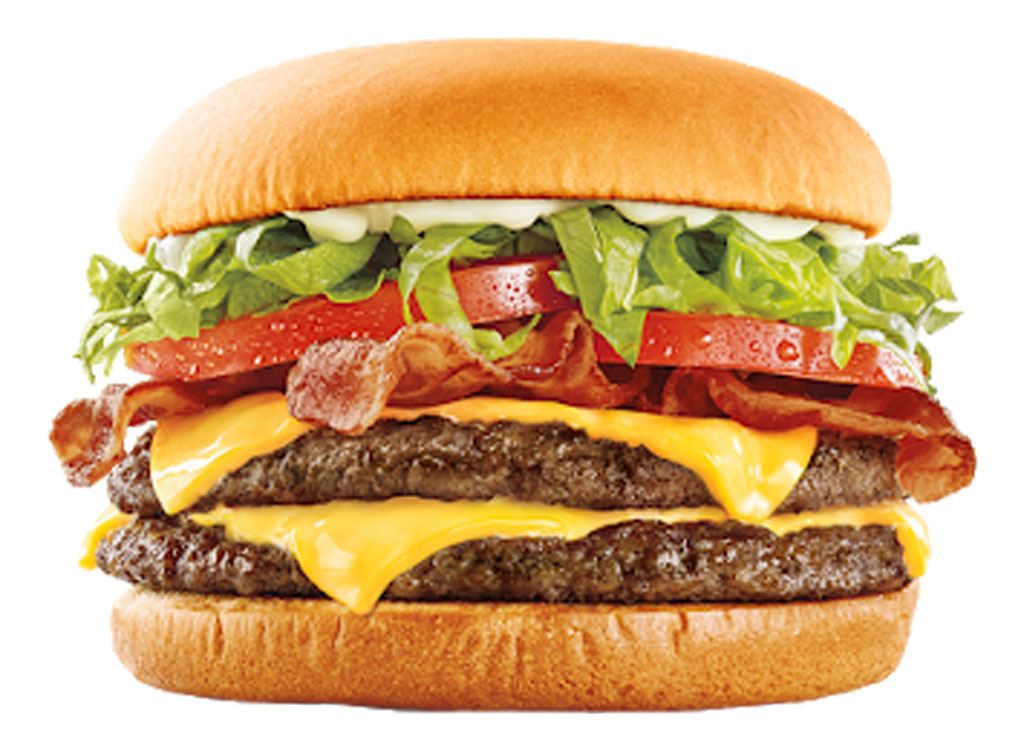 1,030 calories, 65 g fat (23 g saturated fat, 2 g trans fat), 1,880 mg sodium, 54 g carbohydrates (3 g fiber, 12 g sugar), 58 g protein
Double cheeseburgers (right along with triples) should be off limits at all fast-food spots. This one packs bacon strips, too, as if the astronomical fat and sodium levels from the patties aren't enough.
Best & Worst at White Castle
Eat This: The Original Slider
140 calories, 6 g fat (2.5 g saturated, 0.5 g trans fats), 360 mg sodium, 13 g carbs (1 g fiber, 1 g sugar), 7 g protein
Keep portions in check with this mini burger that still feels indulgent and satisfying, but with a size that provides reasonable nutrient counts. Want more healthy fast food picks? Subscribe to the Eat This, Not That! magazine today to learn other healthy fast food alternatives, delicious and healthy recipes, and much more!
540 calories, 38 g fat (11 g saturated fat, 1 g trans fat), 990 mg sodium, 27 g carbohydrates (2 g fiber, 2 g sugar), 22 g protein
Calorie-wise, these numbers don't look terrible, but the fat, sodium and carb content could easily add up if you have more than one slider.