44 Healthy Desserts Nutrition Experts Swear By
If you're a dessert devotee who's trying to lose weight, we've got your back!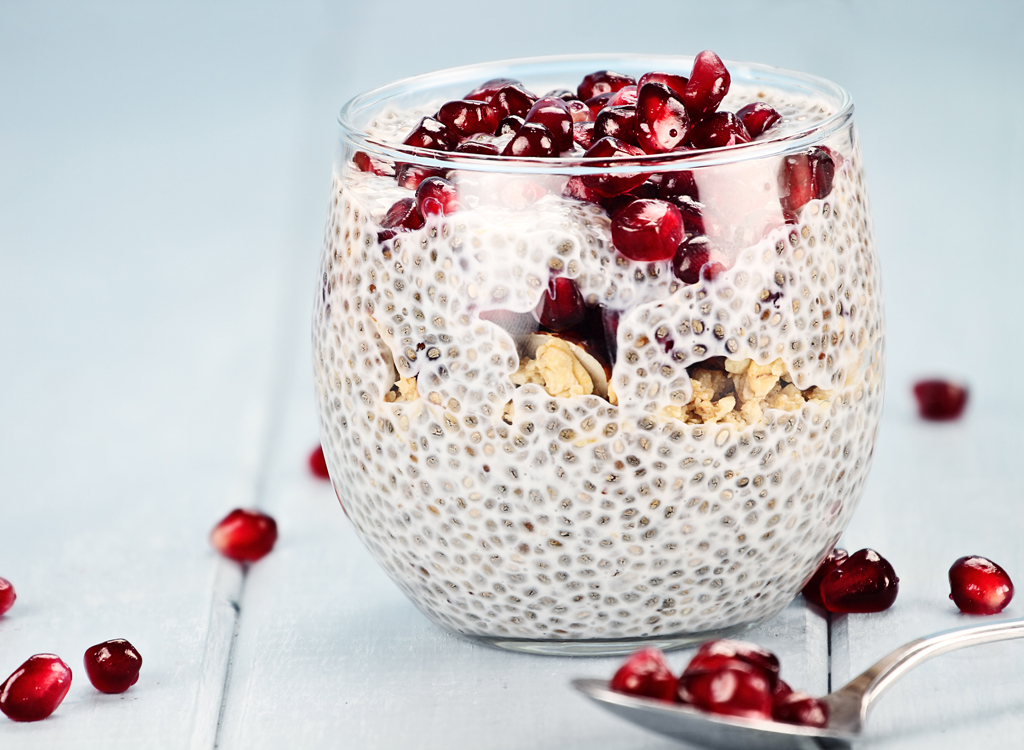 You had oatmeal for breakfast, a grilled chicken salad for lunch, a veggie quinoa bowl for dinner, and healthy snacks throughout the day. In short, you were the picture of health, abiding by all the clean-eating commandments. Then, disaster struck! A craving for chocolate came on so strong that you couldn't help but raid your kids' snack stash. Sound familiar?
For many dieters, their sweet tooth is their Achilles' heel—a force that overpowers all of their good intentions—but it doesn't have to be that way. Believe it or not, it's possible to satisfy your sweet tooth without going overboard or throwing your weight loss progress down the drain. To prove it's possible, we checked in with the nation's top nutrition experts and asked them how they keep their cravings in line. (Yes, even diet professionals and nutritionists confess to cravings!) Here, they've revealed their go-to healthy desserts that are sure to please your taste buds and whittle your waistline!
Dark Chocolate Hummus
"While chocolate hummus may sound like a strange combination, it actually is magical. Still made from chickpeas, the nutrient content is nearly identical to regular hummus. Two tablespoons pack in 3 grams of fiber, 1 gram of protein, and only 80 calories. And the best part is that you still get your chocolate fix! Similar to chocolate mousse, you can eat dark chocolate hummus alone or pair it with your favorite fruit."
— Jennifer Kanikula, RD, CD
So Delicious Dairy Free Frozen Mousse
"The So Delicious Dairy Free Frozen Mousse is one of my favorite desserts—it's 330 calories or less per pint (or 110 or less per serving), and it's a delicious alternative to traditional ice cream. My personal favorite, Salted Caramel Swirl, is made with a ribbon of delicious salted caramel swirled throughout and has a smooth, mousse-like texture. What's more? The new line of frozen desserts offers seven unique flavors, is Non-GMO Project Verified, certified gluten-free and vegan, and made with thoughtful, dairy-free ingredients."
— Amanda Blechman, RD
Full-Fat Ice Cream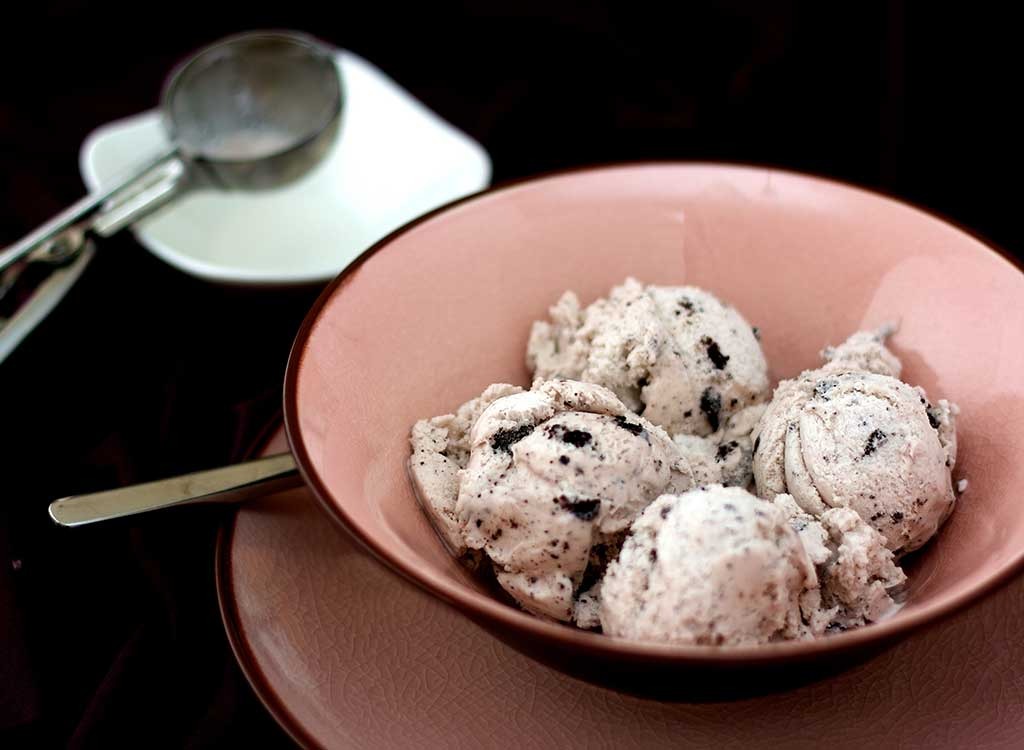 "It's easy to fear the sugar and saturated fat content of real ice cream. However, allowing yourself to enjoy the real deal enables you to naturally portion yourself. At the end of the day, a moderate amount of REAL ingredients like cream and cane sugar (versus consumption of alternative sweeteners and fat substitutes that lack the long-term scientific data to support no health risk) is the safest bet! Not to mention, ice cream is a solid source of calcium and protein!"
— Rachel Fine, MS, RD, CSSD, CDN
Dark Chocolate With Almonds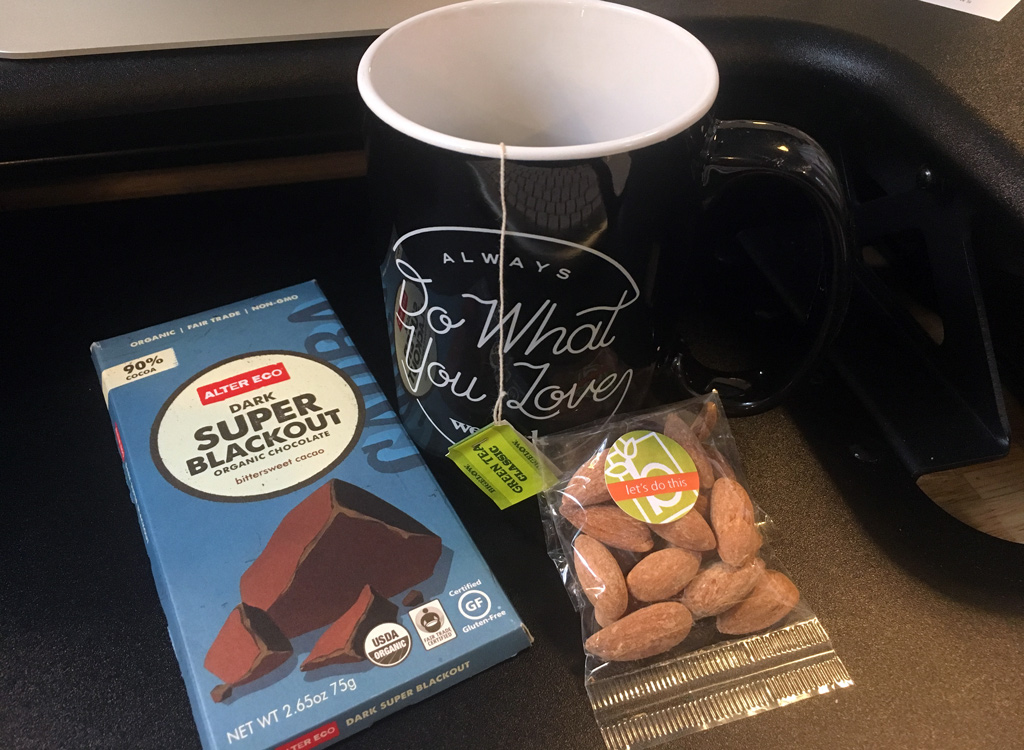 "Not only does dark chocolate taste delicious—it's loaded with fiber, vitamins, minerals, flavonoids, and powerful antioxidants that help to fight infection and boost the immune system while potentially lowering blood pressure and bad cholesterol, too. Talk about a superfood! Add in a handful of almonds, and you have a true power couple. Almonds not only contain vitamin E, which nourishes the skin, they're also rich in protein and magnesium as well. A serving a day can help lower blood pressure and cholesterol, thereby reducing your risk of heart disease, the number-one cause of death in the U.S."
— Dr. Nesheiwat, Medical Director at CityMD
Fruit Puree Popsicles
"If you have kids, getting a popsicle that is lower in sugar and contains real pureed fruit is a wonderful alternative to ice cream or a high-sugar dessert in the evening. We love the brand DeeBee's Organics because they contain only 6 grams of sugar per serving, and are made with pure fruit and hibiscus tea."
— Mirna Sharafeddine, RHN and Jenni Bourque, RHN of Naughty Nutrition 
Kefir Parfait
"My favorite dessert is a parfait with fruit, kefir, and nuts. It's made with 3 tablespoons of kefir, a cup of fresh fruit (such as pomegranate, banana, apple, and pear) and 4 walnuts, topped with a tablespoon of coconut flakes. This dessert not only combines delicious flavors, but it's also rich in protein, probiotics (from the kefir), vitamins, minerals, fiber (from the fruit), and healthy omega-6 and omega-3 fats (from the nuts and coconut flakes). It makes for a better option than other commercial desserts because it's packed with nutrients, it's quick to make using whole foods, and it doesn't have any processed ingredients or additives."
— Anne Guillot, DN
Rice Cake With Nut Butter and Honey
"A rice cake with peanut butter or almond butter and a drizzle of honey is my go-to healthy dessert when at work because it is packed with fiber, good fats, protein, and sweetness! The best part is that I can keep all of these ingredients in my locker as they are nonperishable."
— Maja Mirković, MPH, RDN, CDN, CDE, BC-ADM 
Raw Vegan Cookie Dough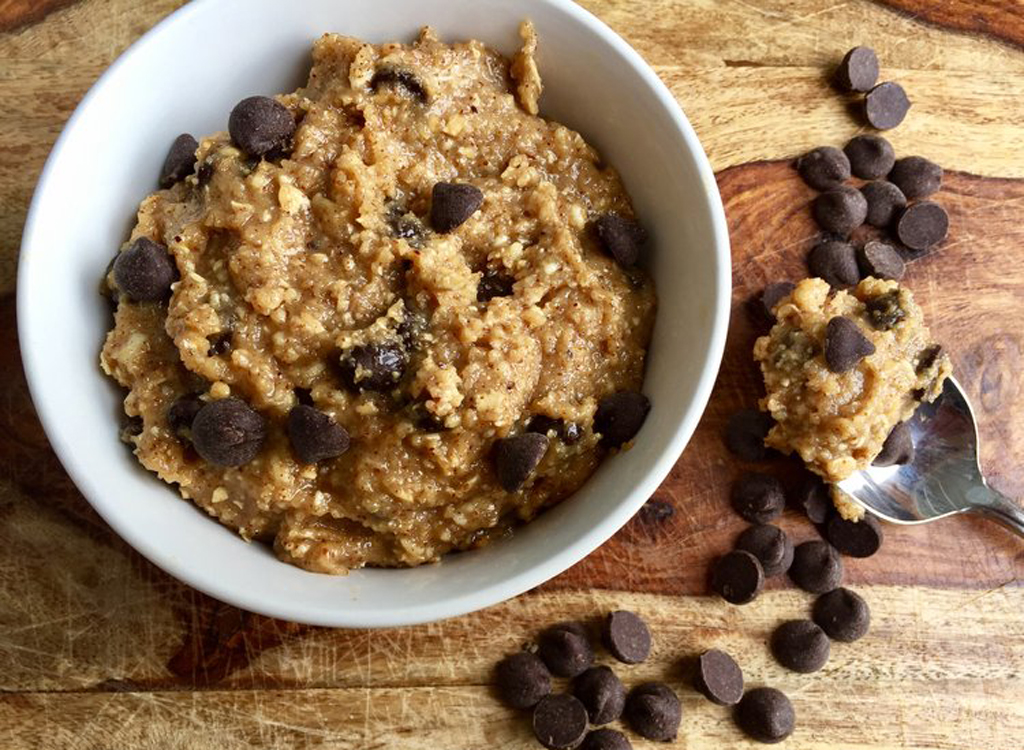 "This raw cookie dough recipe is healthier because there's no raw flour or eggs, so you won't risk getting salmonella! And you're eating wholesome ingredients that are rich in healthy fats, protein, and iron like nuts and oats rather than the refined flours, sugar, and butter found in traditional cookie dough."
— Angie Asche, MS, RD, LMNT
Berries And Dark Chocolate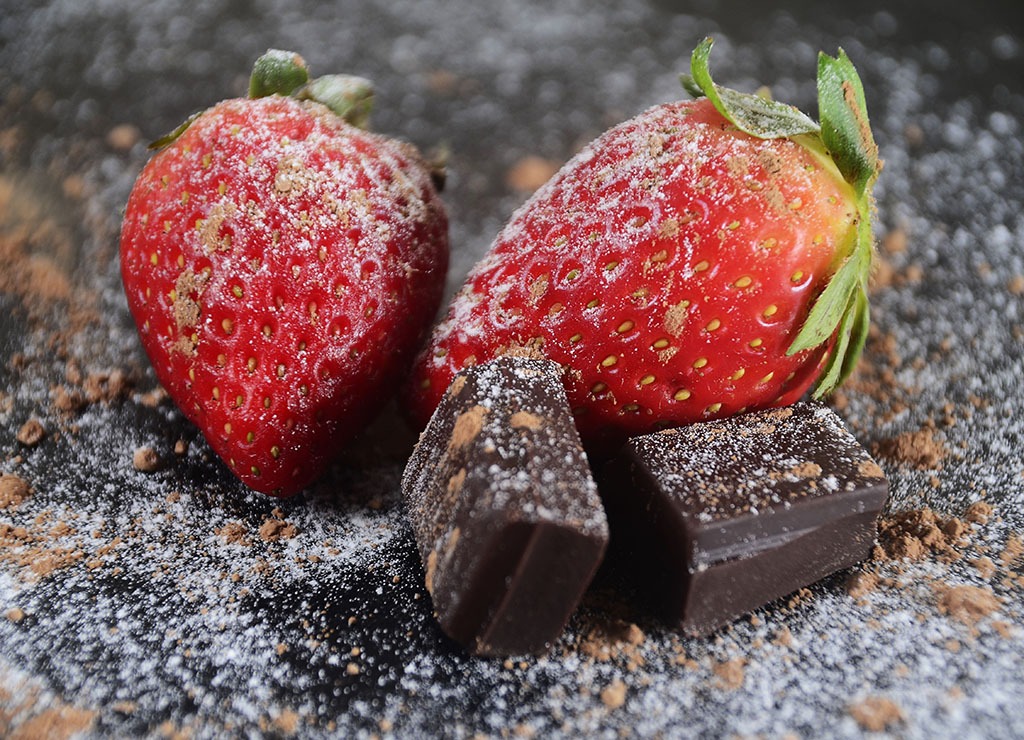 "My favorite healthy dessert is fruit (preferably berries). Strawberries and raspberries are both rich in vitamin C and fiber. Sometimes, I will enjoy these either with a small square of dark chocolate or sprinkled with a little dark chocolate cocoa powder. Both dark chocolate and dark chocolate cocoa powder contain polyphenols and iron. This dessert beats many commercial desserts because of the nutrient content, as well as because it contains little (or no) added sugar. Plus, it is delicious!"
— Summer Yule, MS, RDN
Koia Shake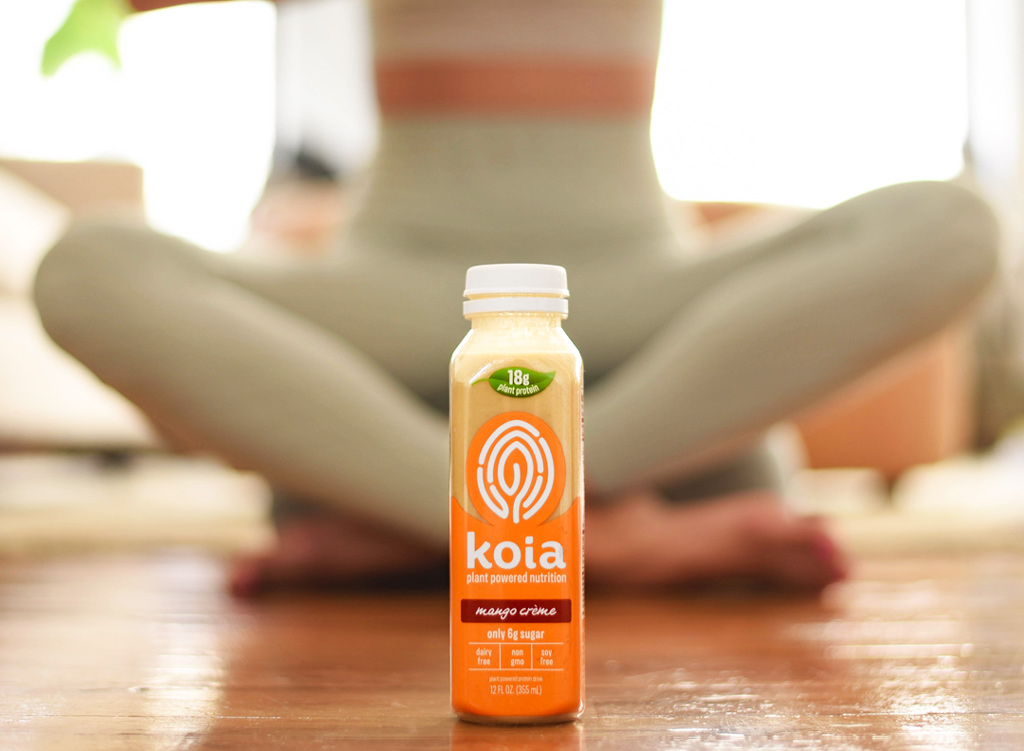 "Koia smoothies have the ideal balance of protein, fiber, and healthy fats, which equals the perfect nutrition trifecta for giving our bodies stable, long-lasting energy, any time of the day. Regardless of the lifestyle or type of diet you follow, plant-based proteins, like Koia's, offer several nutrition advantages and health benefits for everyone. Plant proteins are easier to digest and include fiber to support healthy digestion, are low in saturated fats and cholesterol, and are dairy- and gluten-allergen-friendly."
— May Zhu, RDN
Baked Spiced Apple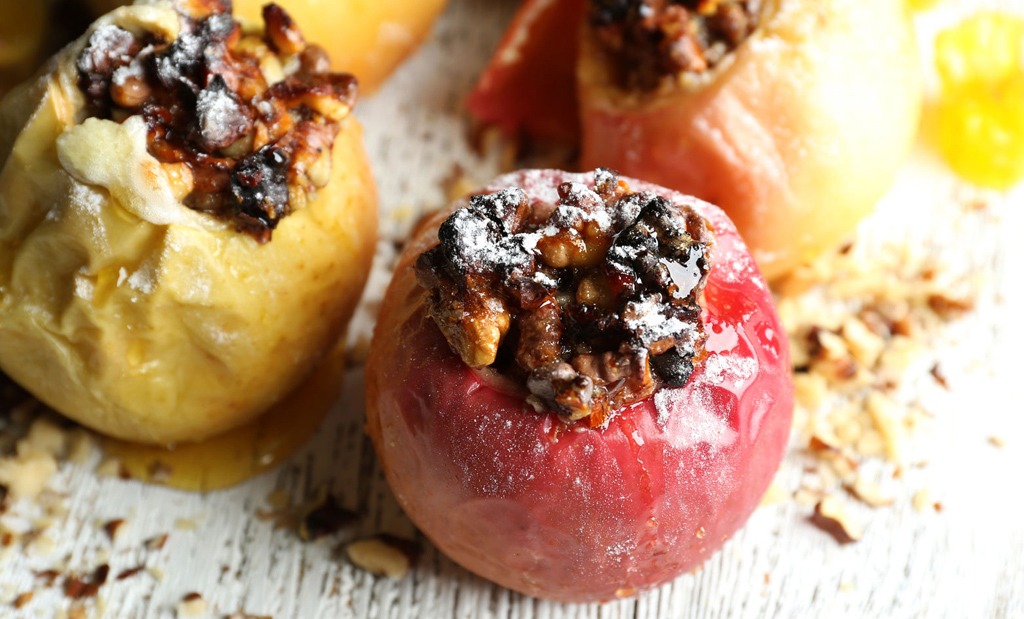 "Simply slice an apple and lay it on a cookie sheet [before spraying it] with some coconut oil and sprinkling lots of cinnamon (pumpkin pie spice works well here, too!). Then, bake it in the oven at 350 for about 25 minutes. It tastes like the inside of an apple pie, minus all the calories and fat! Missing the crust? Top it with one tablespoon of a low-sugar granola (I love Purely Elizabeth) or some dark chocolate chips for additional crunch!"
— Marissa Meshulam, RD
Homemade Frozen Yogurt
I love getting yogurts from the store and popping them in the freezer. It gives me that sweet and ice-cream-like feeling of a dessert. The yogurt keeps me satisfied in the evening and is low in calories, as well as provides me with protein, calcium, and probiotics. Plus, you can always add some fruit, peanut butter, or granola to change it up!"
— Joelle Malinowski, RD, CDE, CDN
Upgraded Brownies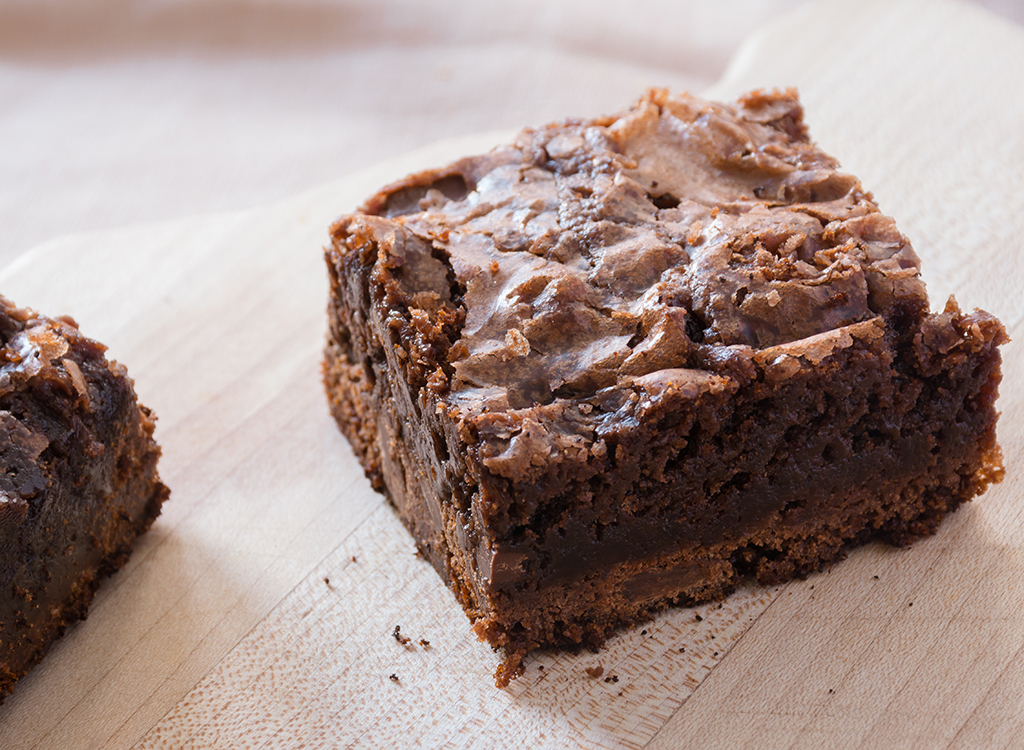 "Love brownies,but would rather avoid excess sugar and unhealthy fat? My Whole-Wheat Avocado Brownies … use heart-healthy avocados in place of butter. This simple ingredient change [can save you about] 154 calories. Avocados have only 50 calories per two tablespoons, compared to 204 calories in the same amount of butter."
— Cheryl Mussatto, MS, RD, LD
Warm Fruit Compote and Coconut Butter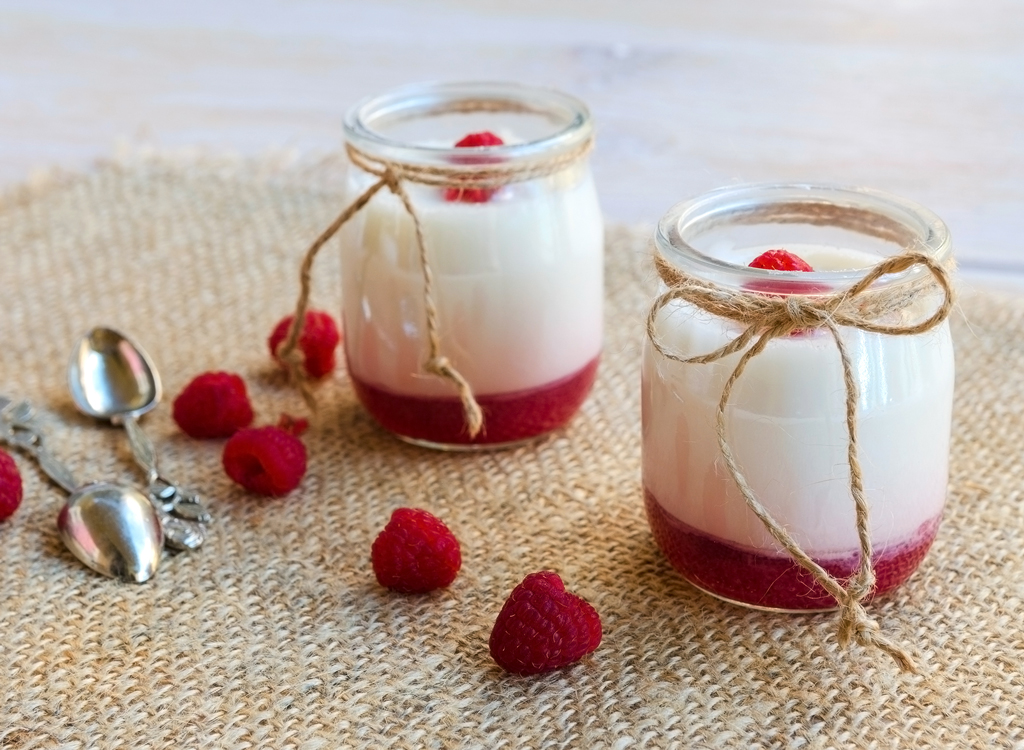 "Warm organic blueberries, cherries, strawberries, peaches, or apples over the stove until they cook down into a concentrated compote (4-5 minutes). Then, transfer the fruit into glasses and, while still warm, scoop out 1-2 tablespoons of organic coconut butter (my favorite is Artisana coconut butter) and dollop on top of the fruit. The coconut butter melts nicely to give [the dessert] a creamy, fudgy mouthfeel with no added sugar!"
—Alicia Galvin, MEd, RD, LD, CLT, IFNCP
Banana Slices With Melted Chococlate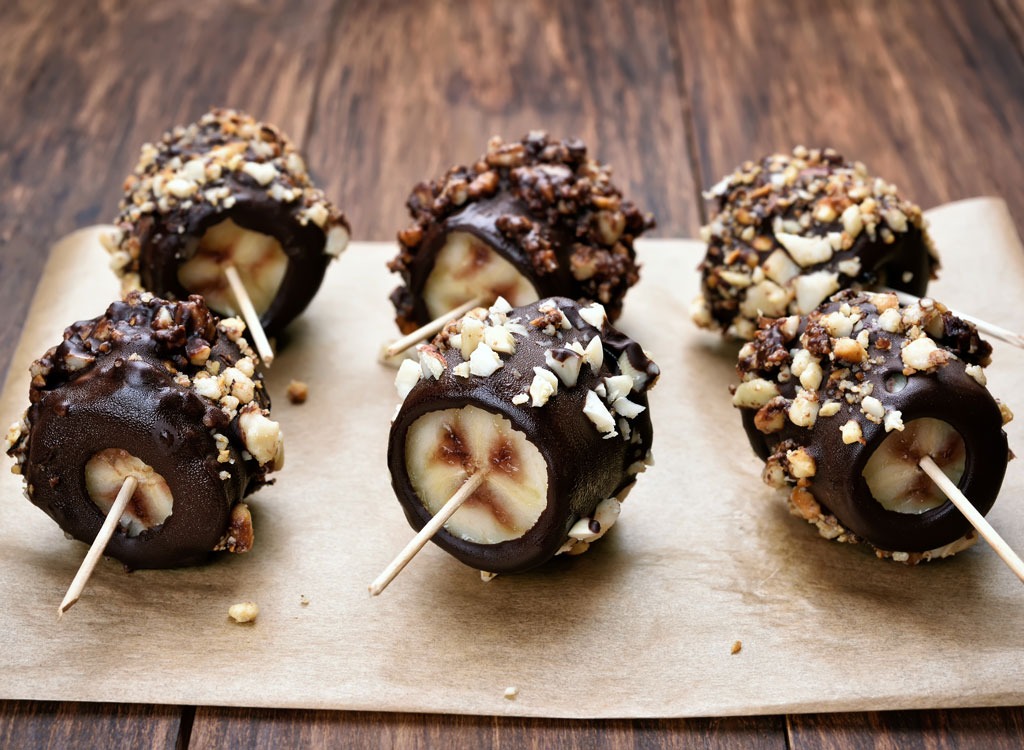 "When I'm in the mood for a sweet treat, there's nothing I love more than the flavor combo of banana and chocolate. In less than five minutes, you can slice a banana, melt some chocolate, and drizzle the chocolate on the banana slices, giving you a simple yet decadent dessert in no time. I love this dessert because it's packed with fiber and potassium from the banana and antioxidants from the dark chocolate. it's healthy AND delicious!"
— Alena Kharlamenko, MS, RD, CDN
Homemade Coconut Almond Butter Bark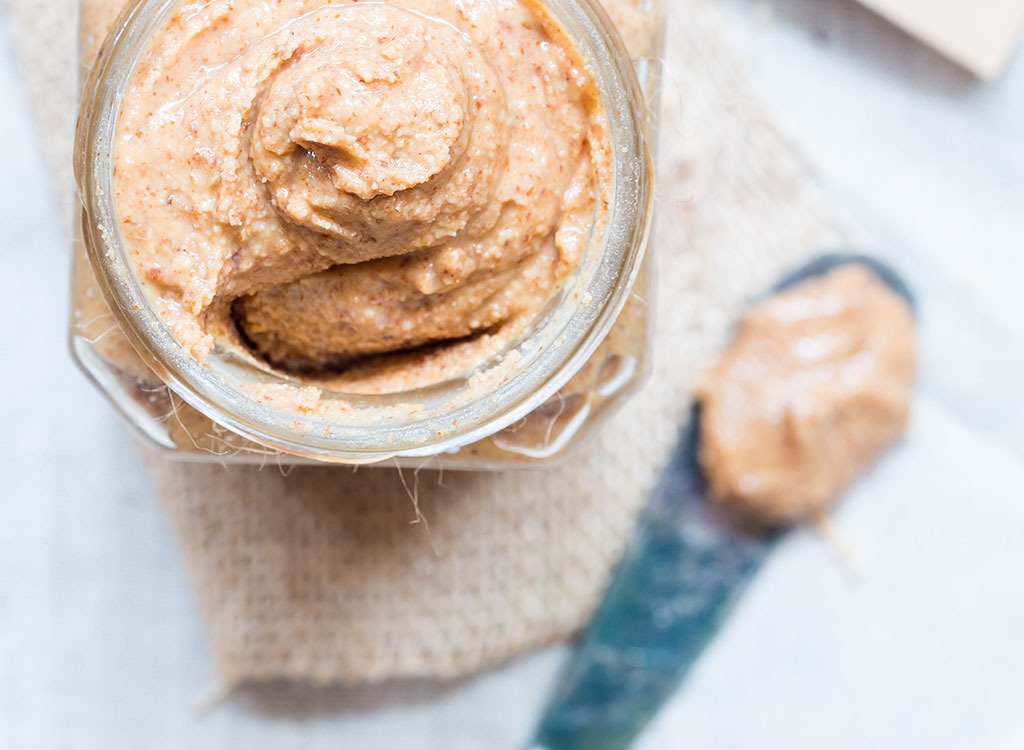 "My all-time favorite healthy dessert recipe is my homemade coconut almond butter bark. It is creamy, sweet, salty, and super decadent, but without the guilt. Coconut oil has phenomenal anti-microbial and anti-fungal properties, helps with weight loss by managing appetite and increasing fat burning, and also helps with blood sugar control. Crunchy almond butter is a great source of protein and fiber, making this dessert full of nutritive value.
To make it, mix 3/4 cup virgin unrefined coconut oil and 3/4 cup almond butter in a bowl, adding a half teaspoon of vanilla extract and 2 packets of Stevia. Blend until combined, and pour onto a parchment-lined sheet pan. Spread to desired thickness, and top with cracked sea salt. Freeze 15 minutes, and break into pieces! Store in the freezer.
While most desserts are full of sugar and do not contribute, in the long run, to health, this homemade [dessert] helps manage cravings and encourage satiety."
— Ginny Leavitt, Certified Health Coach and Weight Management Specialist and Founder of Ginny Leavitt Health Consulting
Vanilla Yogurt With Coconut
"Mix a low-calorie vanilla yogurt with low-fat powdered peanut butter. Top with coconut flakes (if the diet allows). This is my go-to dessert because it tastes like ice cream and the mixture expands and creates enough volume to make you feel [satiated]. The [sweetness] satisfies the taste buds and the brain, giving you the fulfillment of eating."
— Dr. Frank Benedetto, Certified Precision Nutrition Coach, a double board-certified Doctor of Physical Therapy, and Certified Strength and Conditioning Specialist
Wild Blueberry Lemon-Thyme Granita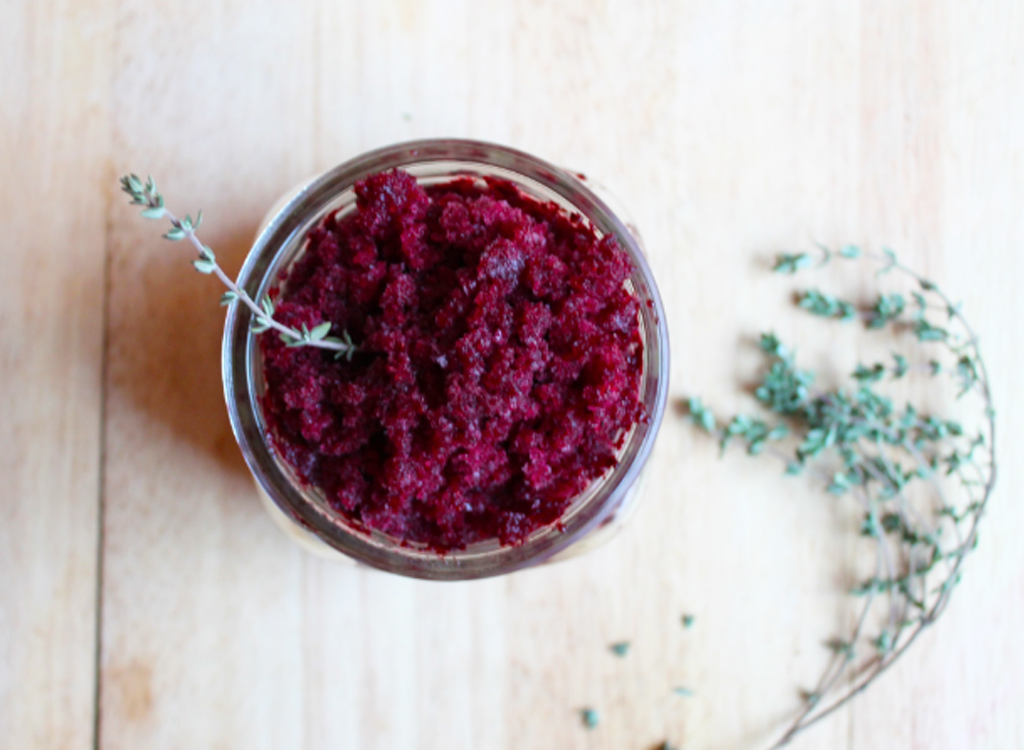 "My favorite healthy dessert is my Wild Blueberry Lemon-Thyme Granita because it's light and refreshing and full of flavor, thanks to the sweetness from the wild blueberries, brightness from the lemon, and piney taste from the thyme. It's also packed with antioxidants, thanks to the wild blueberries, which contain two times the antioxidants of regular, cultivated blueberries."
— Kara Lydon, RD, LDN, RYT, Blogger at The Foodie Dietitian
Banana Almond Butter Cinnamon Ice Cream
"This dessert is creamy and sweet without any added sugar. Simply peel two ripened bananas and put in the freezer for several hours. When ready, combine bananas, a dash of cinnamon, a spoonful of almond butter, and about 1/4 cup almond milk into a Nutrabullet or Vitamix and blend until smooth and creamy. Serve immediately. This is a fabulous substitute for ice cream, especially for those who don't want added sugar or who are lactose intolerant. Bananas are a great source of B6, magnesium, and potassium."
— Caryn O'Sullivan, Certified Integrative Nutrition and Health Coach and Founder of Appetites for Life
Baked Pears With Cinnamon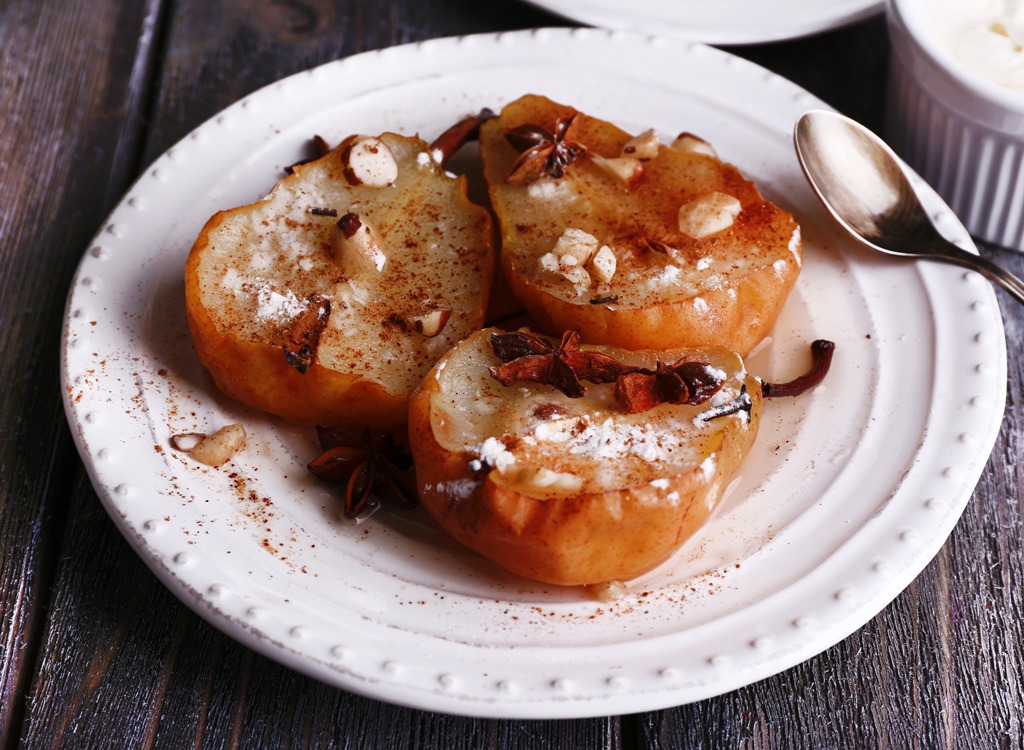 "When pears are baked, their natural sugars are released and caramelize on the surface of the pear. The cinnamon brings a nice warmth to the dish and helps to lower blood sugar levels. Cravings are often a result of unstable blood sugar levels."
— Alison Roessler, Strength & Conditioning Specialist, CEO/Founder of Truve
Chia Pudding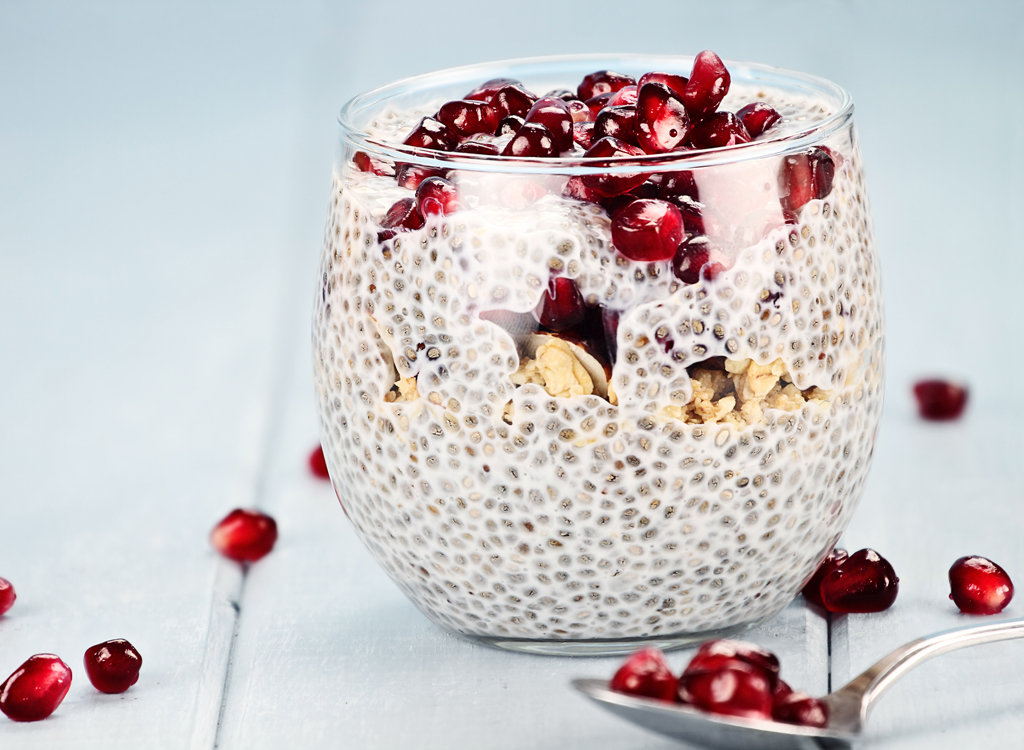 "Chia pudding will satisfy your sweet tooth, but is healthy and filling enough to have for both an easy [dessert and] breakfast. To make, just stir approximately two tablespoons of chia seeds into the milk of your choice. Sweeten with a dash of honey, maple syrup, flavored protein powder, or maple syrup. For optimal consistency, allow your chia pudding to set in the refrigerator for at least two hours before serving."
— Dr. Candice Seti, PsyD, CPT, CNC
Coconut Whipped Cream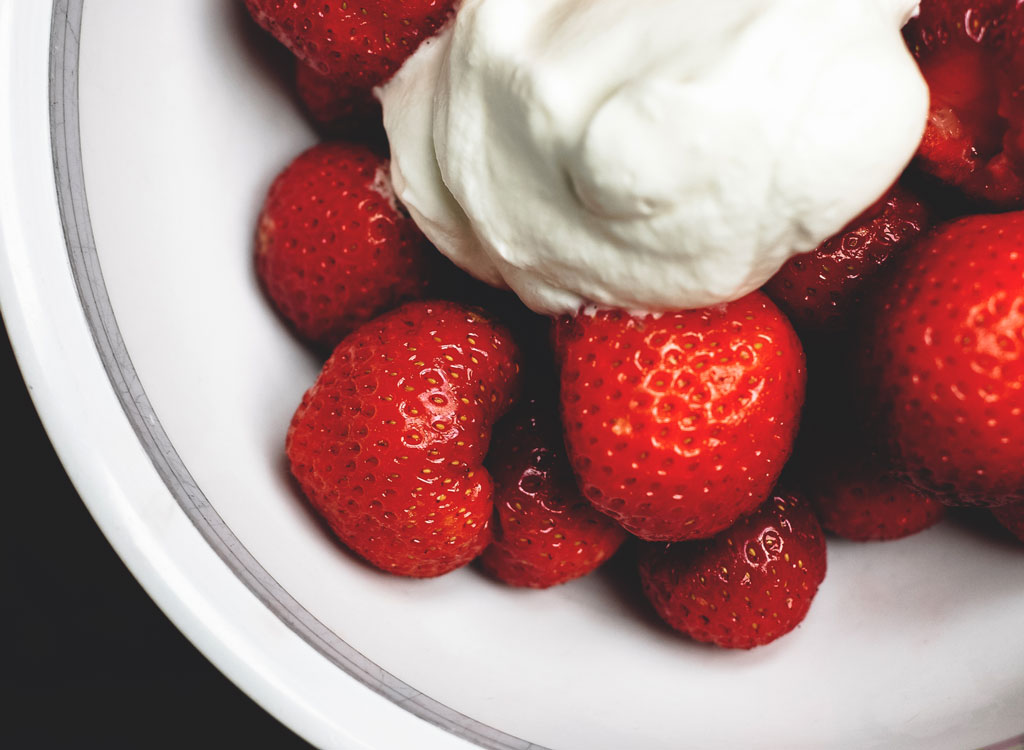 "Whether you make it yourself with a can of full-fat coconut cream or you buy it pre-made, coconut whipped cream is a minimal-ingredient, gluten-free, and dairy-free dessert option that always surprises people with its amazing taste and texture. It's great on fresh fruit or just in a bowl with some cocoa powder. Not to mention, it's loaded with iron, magnesium, calcium, and vitamins B, C, E, and K. Try layering it with fresh fruit to make a beautiful and healthy parfait."
— Melinda Arcara, Certified Health Coach
Greek Yogurt Mousse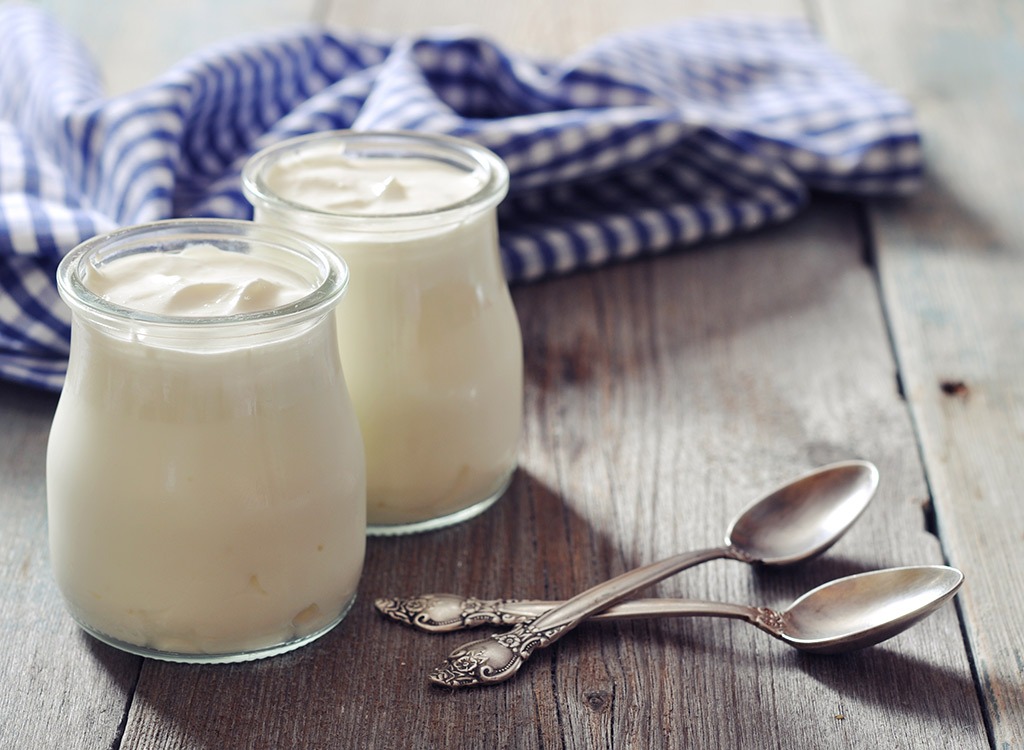 "My favorite go-to dessert is plain Greek yogurt. It's packed with protein and very versatile. Protein satiates you and wards off cravings. I can add berries, such as blueberries and raspberries for extra vitamins, potassium, and fiber. I also add a scoop of chocolate protein powder and a Splenda packet for a healthy chocolate mousse. Pistachios are my favorite add-in for a vitamin B6 boost and additional fiber. At around 100 calories per 6-ounce serving, it always satisfies my taste buds no matter what I add to it!"
— Dr. Luiza Petre, Board-Certified cardiologist
Probiotic Drink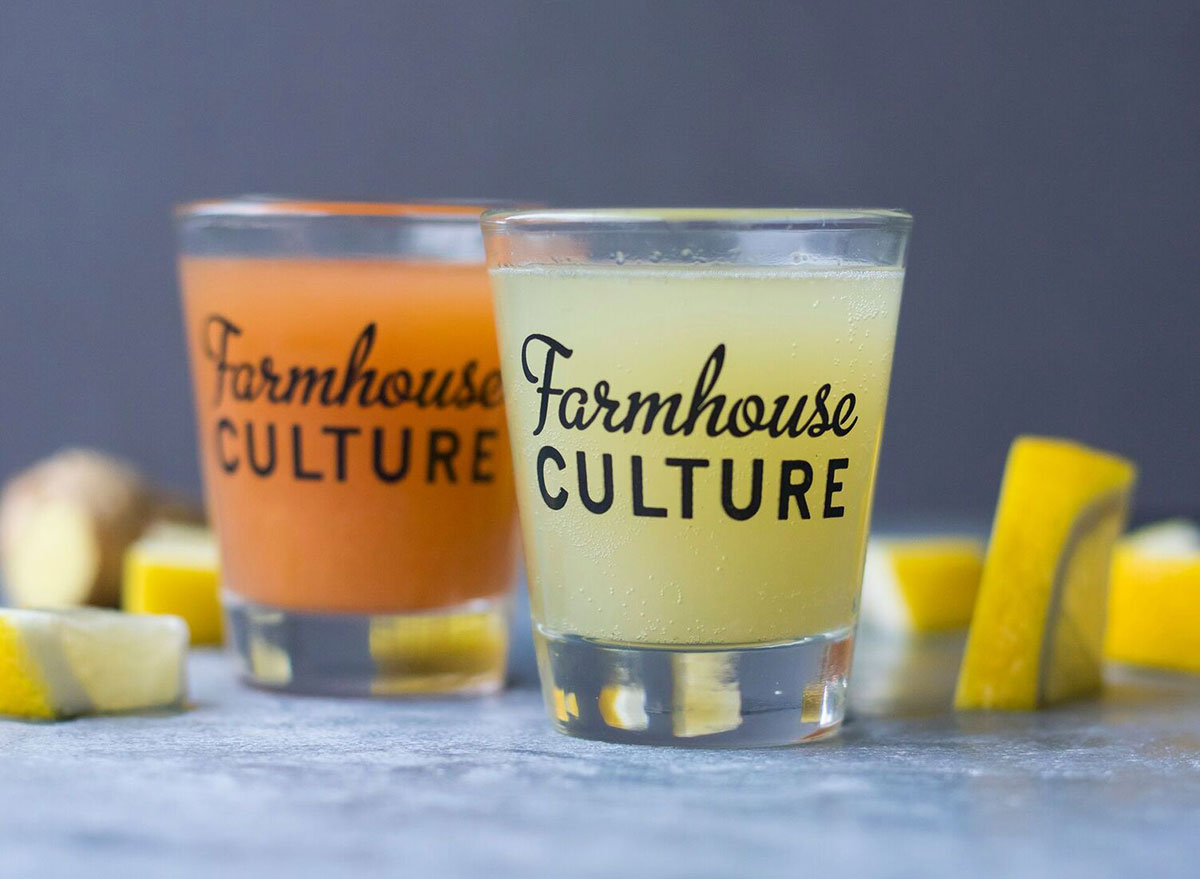 "One of my favorite tricks for curbing sweet cravings is to shock my palate with a robust, savory flavor. My current obsession is Farmhouse Culture's Gut Shot, a probiotic-rich kraut juice that is zingy and really satisfying. I have found that one swig can really balance my cravings. Plus, it is packed with good-for-you nutrients."
— Katie Cavuto, RD
Prunes
6254a4d1642c605c54bf1cab17d50f1e
"I admit it. I have a sweet tooth—a strong one, in fact. It hits right around 3:00 pm, and when it does, I'll often reach for a handful of prunes, also known as dried plums. They're naturally sweet, and a serving of six carries just 100 calories. I keep the single-serve packet of Sunkist in my car's glove box, but you can save money by purchasing them in a lidded container."
— Christine Palumbo, RD
Spiced Hibiscus Tea
"When I'm craving a sweetened beverage, I brew some hibiscus tea with orange segments and cinnamon sticks," says Cavuto. "Hibiscus is naturally sweet, and it's delicious hot or cold." Registered dietitian Isabel Smith relies on dessert-inspired teas when her sweet tooth strikes. "Chocolate teas are definitely a favorite of mine when I'm in the mood for something sweet. They're delicious and a good source of antioxidants and nutrients." (Yes, there are even teas that taste like dessert.) Amy Shapiro, RD, CDN, also recommends tea, but typically turns to the dandelion or licorice root varieties. "Both teas are naturally sweet and take the edge off. Plus, they give you something to do with your hands and mouth, and they have volume, so they fill you up," she explains.
Homemade Chai Latte
When she's not in the mood for plain tea, Shapiro will whip up a homemade low-calorie latte. Here's her recommended recipe: Steep a chai tea bag in a cup of unsweetened almond milk. Heat the liquid slowly over low heat in a pan with a cinnamon stick and a few cardamom pods. Right before it boils, pour into a mug and enjoy. Add stevia as needed for sweetness.
Berries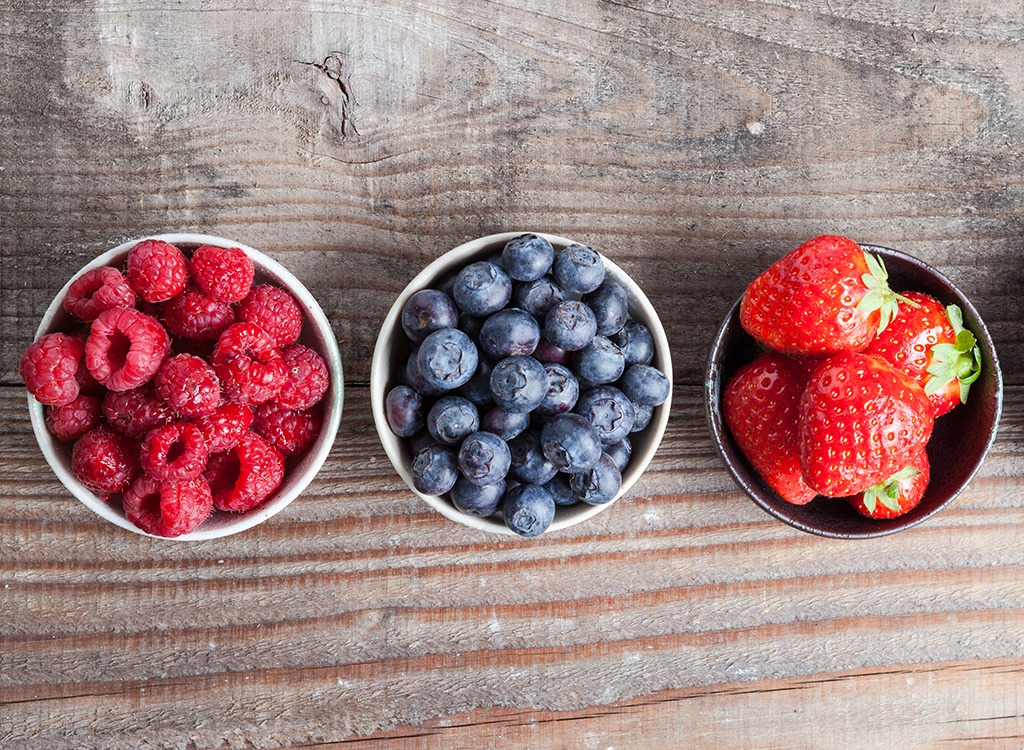 "I love berries," says Palumbo. "They're sweet, and there's a bit of an indulgence factor, too. Interestingly, a recent small study in the journal Appetite found that young women who ate a cup (65 calories) of mixed berries consumed about 20 percent fewer calories an hour later than women who ate the same number of calories in candy." Translation: "Eating berries (which just so happen to be one of the best breakfast foods for weight loss) won't just quell your cravings, they'll ward off overeating, too."
Sweet Veggies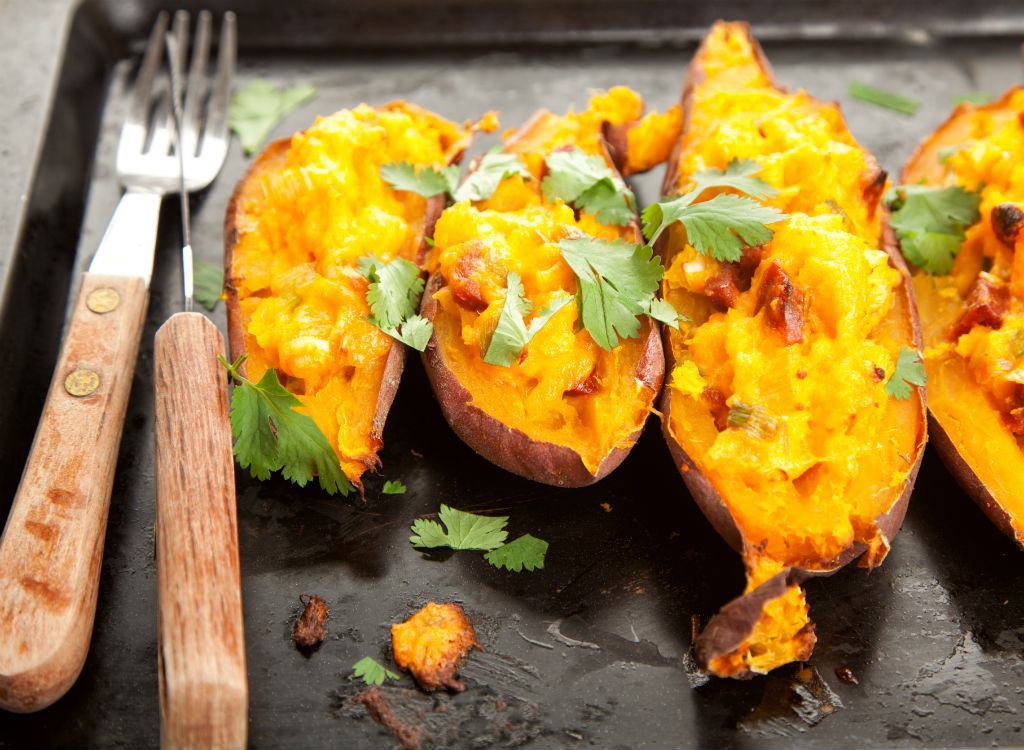 They may not be the first things that come to mind when you want candy or cookies, but Cavuto says that sweet-tasting vegetables like sweet potatoes, butternut squash, and carrots are a great choice when you are craving something sugary. "Their natural sweetness, which is concentrated if you roast them, paired with their nutrient density and high fiber content makes them a great choice to curb sweet cravings," she says.
Nice Cream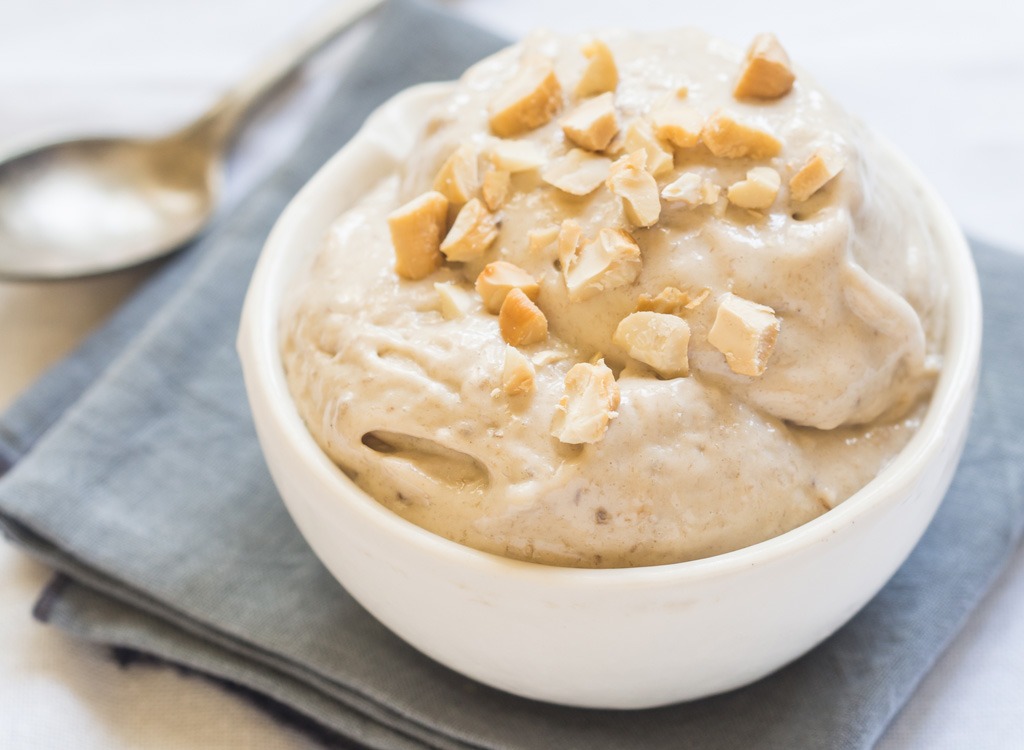 "One of my favorite healthy desserts is making 'ice cream' with frozen bananas as the main base, making it lower in fat and sugar compared to traditional ice cream. I like to take frozen bananas, add peanut butter, and a splash of unsweetened vanilla almond milk or 1% milk. Mash with all ingredients with a fork (or use a food processor) until it has a creamy, ice cream consistency, and eat immediately. You can change flavors by adding unsweetened cocoa powder for chocolate, or add a tablespoon of chocolate chips for added crunch."
— Alison Barkman, MS, RD, CDN
Chocolate With Fruit
"I'm a nutritionist with a serious sweet tooth," Smith tells us. "To indulge without going off the deep end, I'll often melt one or two squares of 70 to 80 percent dark chocolate and drizzle it over berries. This provides the sweetness I crave, along with antioxidants and filling nutrients like fiber." Registered dietitian, Libby Smith, has a similar go-to snack when she craves something sweet. "I melt chocolate made with 70 percent cocoa and dip banana slices in it. Then, I'll top off the bites with unsalted chopped peanuts or unsweetened coconut flakes and pop them in the fridge to harden up a bit. It's the perfect summer treat, and it's filled with flavonoids." If you want an even easier idea, simply mix some chocolate PB2 with some water and spread the mixture on a medium banana. "PB2 is a delicious alternative to high-calorie spreads like Nutella. Pairing it with fruit makes for a sweet, yet satiating dessert," Leah Kaufman CDN, MS, RD tells us.
Protein Balls
"I keep a few healthy desserts in my fridge at all times to combat sweet cravings. I make these great peanut butter protein balls that are packed with protein and healthy fats. They're a great naturally-sweet snack that I can take on the go. One or two is the perfect portion size." Here's how to make them: Mix 1/2 cup peanut butter, 2/3 cup protein powder, and 3 tablespoons honey in a bowl. Roll the mixture into 1-inch balls. Toss them in unsweetened coconut or flax seeds, or add a few dark chocolate chips. Lay them on a plate, cover with foil and place in the fridge to harden.
— Stephanie Brookshier, RDN
Hot Cocoa
"Consider making a cup of homemade hot cocoa to quell your sweet tooth. All you need is unsweetened cocoa powder, a sugar or sugar alternative of choice, milk, and a splash of vanilla for flavor. Making homemade hot chocolate allows you to control the sweetness and calories, while still getting the health benefits found in the other ingredients. Cocoa powder is particularly high in flavonoids, and the milk contributes to your daily protein, vitamin D, and calcium needs. Plus, the liquid will boost feelings of satiety."
— Heather Mangieri, RDN, CSSD, LDN
Raw Coconut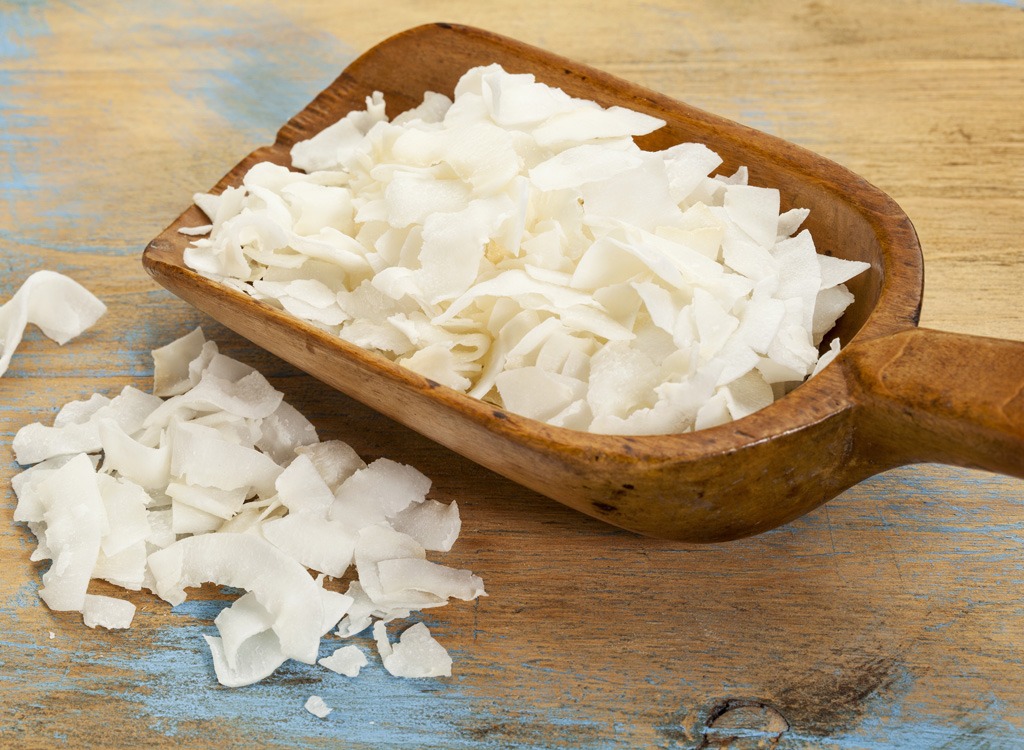 "Coconut is rich in satiating fats, and it has a naturally sweet flavor. Try munching and crunching on unsweetened coconut chips or shreds, or add coconut milk to oatmeal or coffee."
— Cavuto
Grilled Pineapple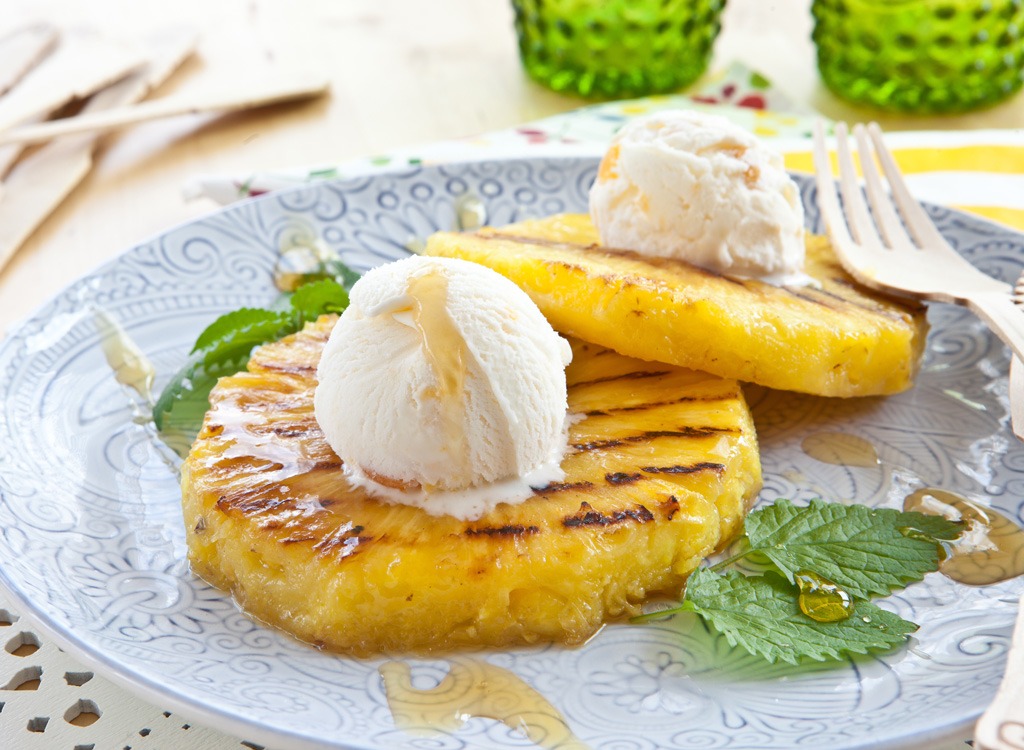 "It's never too early to start grilling! I love grilled pineapple wedges that have been sprinkled with cinnamon and cloves. Serve them warm or chilled with a dollop of low-fat vanilla Greek yogurt and some lime zest. Not only is this treat refreshing and sweet, but the protein also helps staves off cravings."
— Libby Mills, RD
Yasso Greek Yogurt Pops
"My clients love Yasso Greek Yogurt pops because they are individually portioned, have some filling protein, and just the right amount of sweetness. Plus, they only have 80 to 100 calories each. These are definitely worth trying as a healthier dessert alternative."
— Shapiro
Quest Bar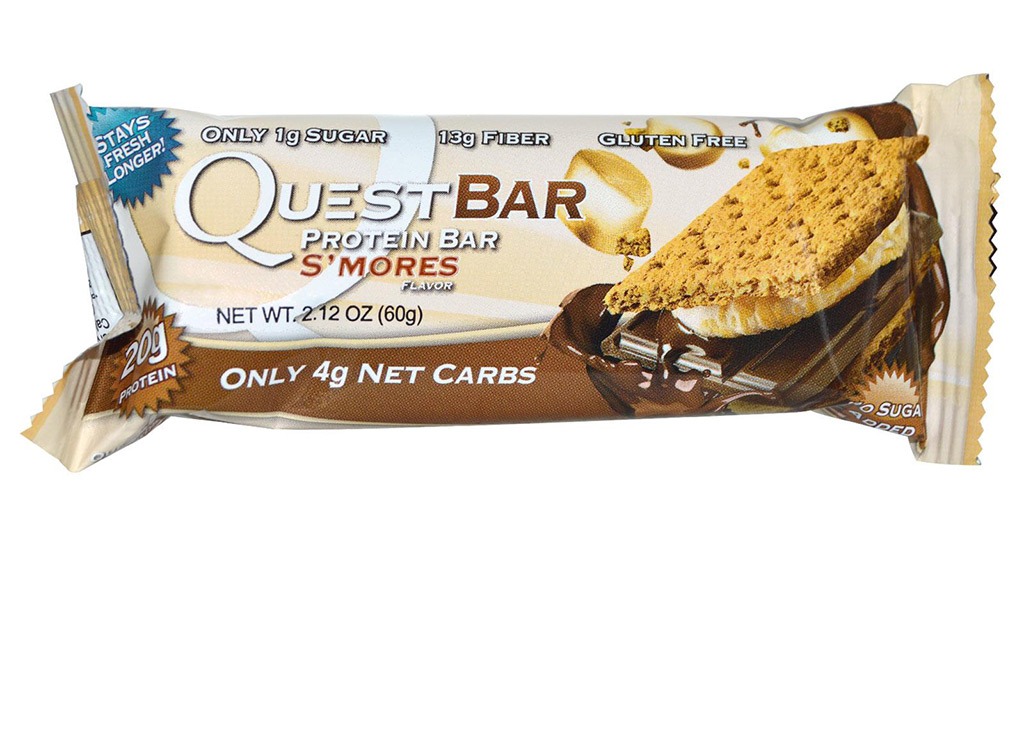 "I love Quest Bars because they're low in sugar and calories, but high in protein and fiber. With delicious flavors like Cookies and Cream and Chocolate Chip Cookie, they also satisfy my sweet tooth."
– Lauren Minchen, RD
Kind Bars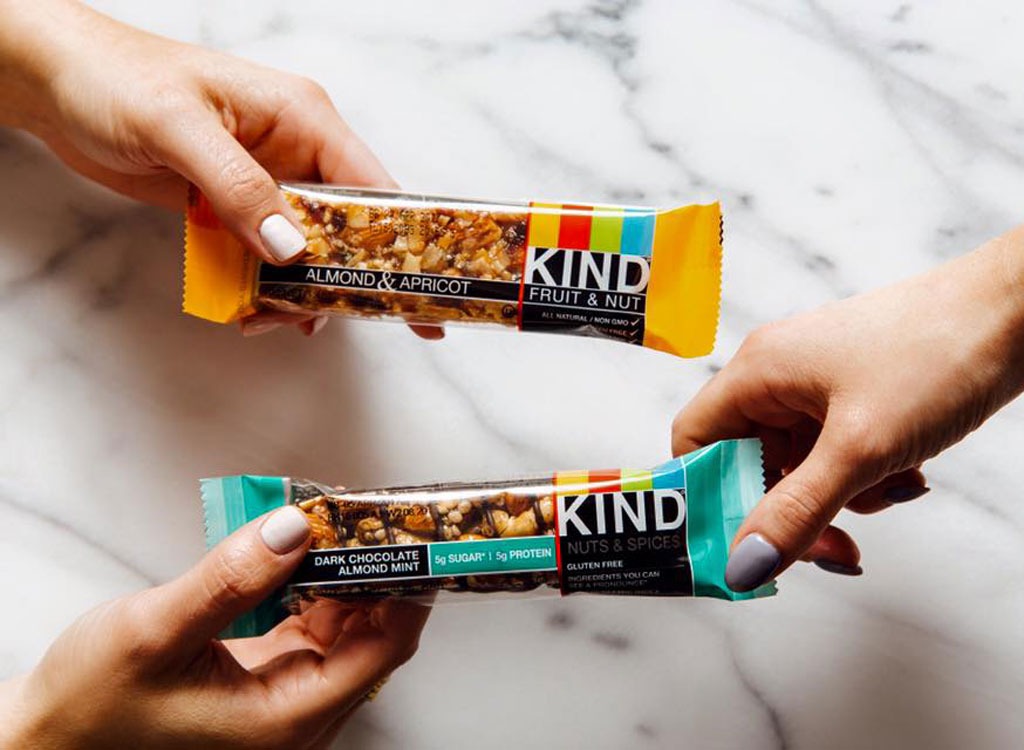 "KIND bars are absolutely delicious, filled with healthy fats, fiber, and a bit of protein. The Dark Chocolate, Nuts, & Sea Salt flavor always kills my cravings. It's salty and sweet, so it takes care of both cravings while still providing your body with nourishment. When shopping for KIND bars, always look for varieties with 5 grams of sugar or less."
— Kaufman
Bean Brownie
"Dense like a brownie, the chocolaty goodness of a slice of garbanzo bean cake never disappoints. To make it, simply process 1 cup of semi-sweet chocolate chips, 4 eggs, ¾ cup of sugar, and a 19-ounce can of garbanzo beans, and bake on 350°F in a 9-inch round cake. "I like to cut the cake into pre-portioned slices, individually wrap them, and keep them in a sealable plastic freezer bag."
— Mills
Frozen Grapes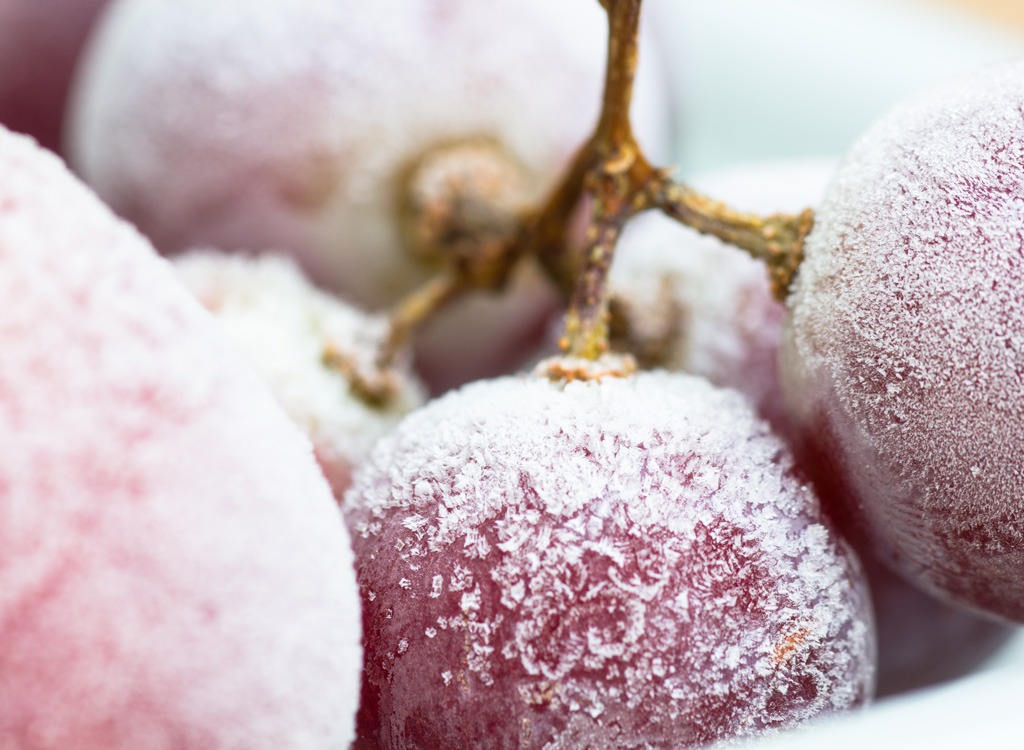 "Freeze grapes and savor a handful for a long-lasting sweet snack. It's like a handful of mini fruit sorbets. Plus, this sweet snack is a natural source of antioxidants and other polyphenols that can contribute to heart health."
— Marisa Moore, RDN, Owner of Marisa Moore Nutrition
Fruit Slushie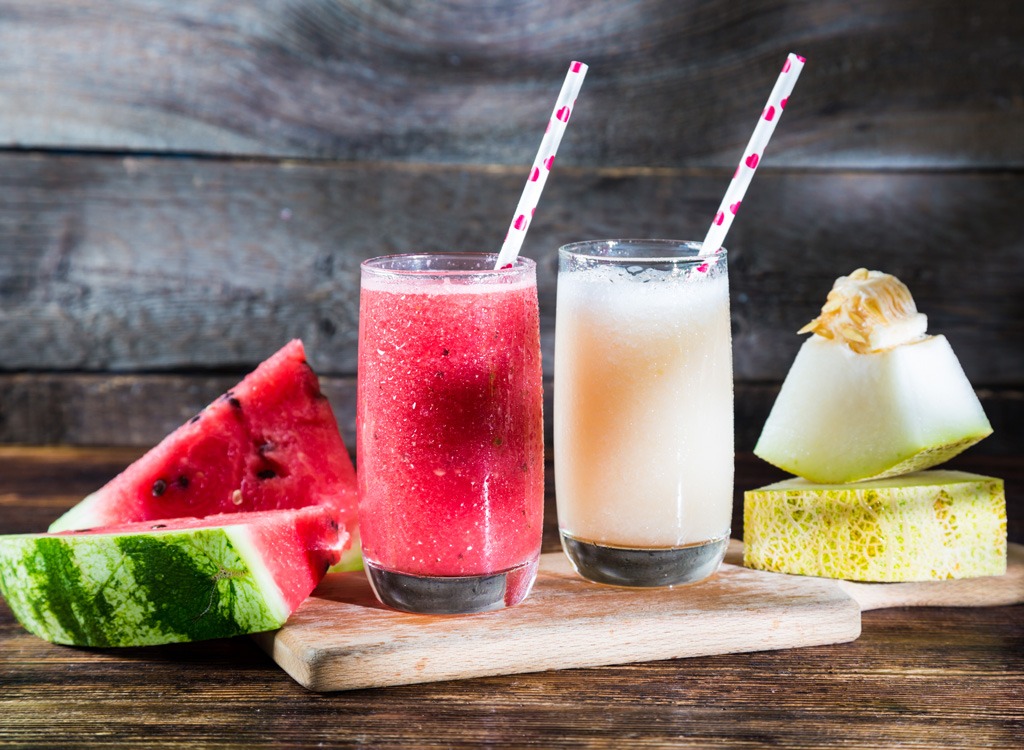 Another frozen concoction Moore loves? Fresh fruit slushies. (And no, these are nothing like the kinds you find in 7-11.) To whip up this craving-crushing sip, "freeze, then blend cantaloupe or watermelon chunks into a sweet and satisfying slushy," Moore explains. "When these melons are sweet, there's no need to add any sugar."
Cold-Pressed Juice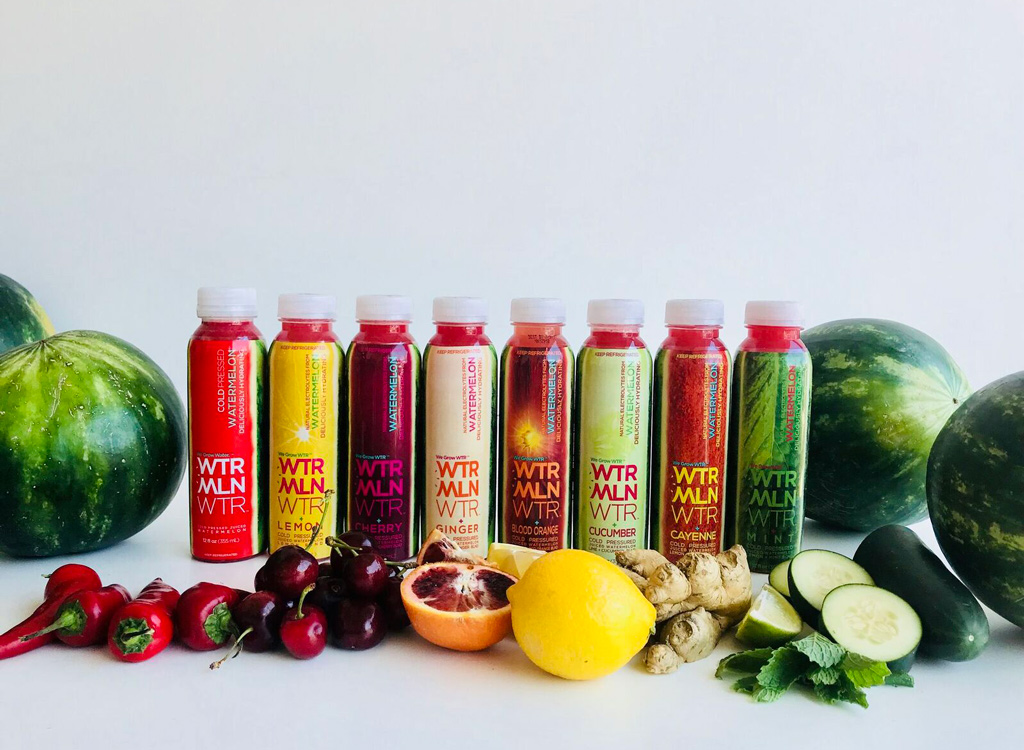 "When I'm craving something sweet, I'll grab a cold-pressed watermelon juice. There's something about the cool, refreshing, and sweet fruit flavor that tends to do the trick."
— Toby Amidor, MS, RD
Nuts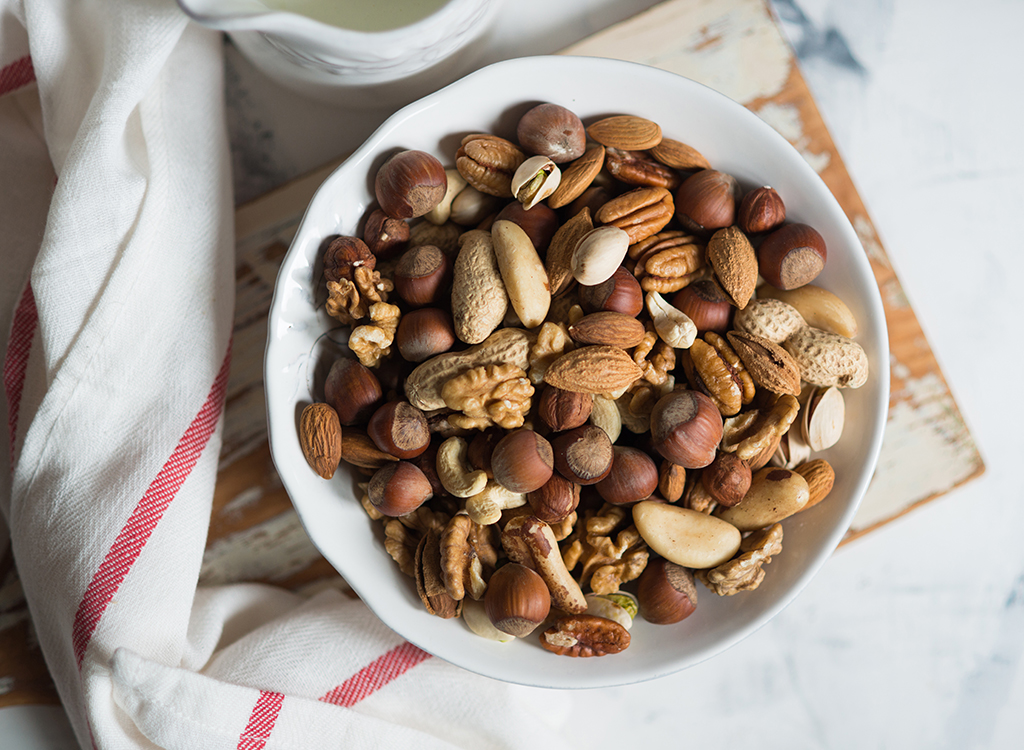 "Cocoa-dusted nuts are a nice crunchy way to quell a craving for something sweet or chocolatey."
— Moore
Coconut Banana Chips
"Lately, I've been obsessing over Fluffy Vegans' Coconut Banana Chips for my go-to dessert. Made with just bananas and coconut, its natural sweetness will be enough to satisfy any sweet tooth. I always tell clients to pick branded products with the shortest list of ingredients. The fewer ingredients, the better!"
— Rebecca Stib, MS, RDN
April Benshosan
April is a born-and-raised Brooklynite who has a passion for all things health, wellness, and tastebud-related.
Read more about April