8 Steakhouse Chains Where You Can Try the Most Unique Cuts of Steak
You won't find your average filet mignon or NY Strip in this roundup.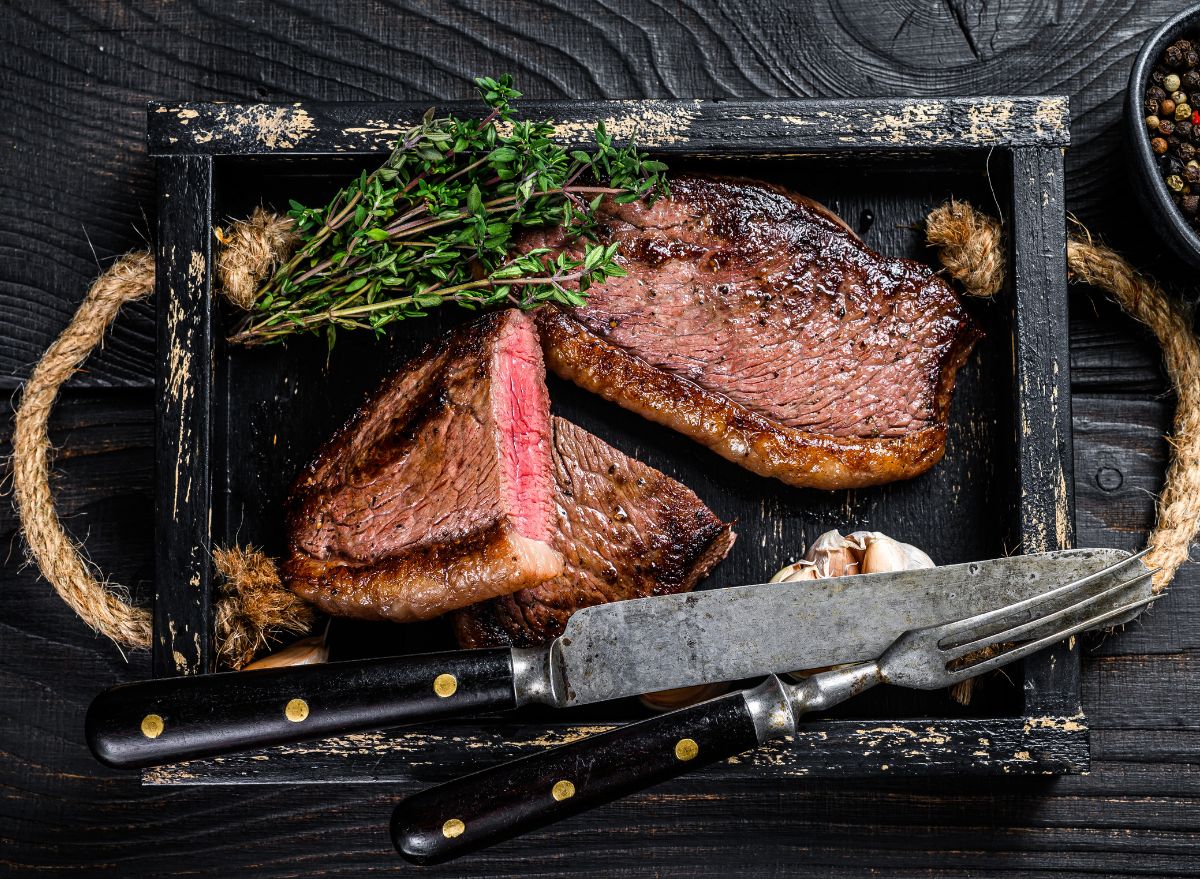 Whether it's for lavish dinners out, anniversaries, graduations, or birthday fiestas, steak is a go-to celebratory meal. Plus, there are so many different cuts of steak, each with its unique flavor and texture, that you could never get bored. And while you probably gravitate to one type, you could be missing out on a world of flavor by not trying a unique cut when it's offered.
The cut of steak can affect the flavor, texture, and cooking method of the meat. Because different cuts come from different parts of the animal, each cut has its own characteristics that make it ideal for certain cooking methods. Daniel Barclay, Silver Fern Farms' Butchery expert said,"flavor, tenderness, texture, and value are all important when selecting a cut and there's nothing like the satisfaction you get from selecting the right cut for the right occasion."
A tenderloin steak, for example, is a very lean cut that is best cooked quickly over high heat, such as on a grill or in a hot skillet. Most people are familiar with this one, but have you ever heard of a Baseball Sirloin? This cut of meat is a special part of the tenderloin, that, surprise, looks round like a baseball. The picanha is also a part of the sirloin, but with a fat cap that adds extra flavor.
The cut of steak you choose can have a significant impact on the final result, so consider the cooking method, desired level of tenderness, and overall flavor profile when selecting a cut of steak. And, if you're ready to branch out into some less well-known cuts, here are the steakhouse chains that carry these little gems of deliciousness.
Fogo de Chao – Picanha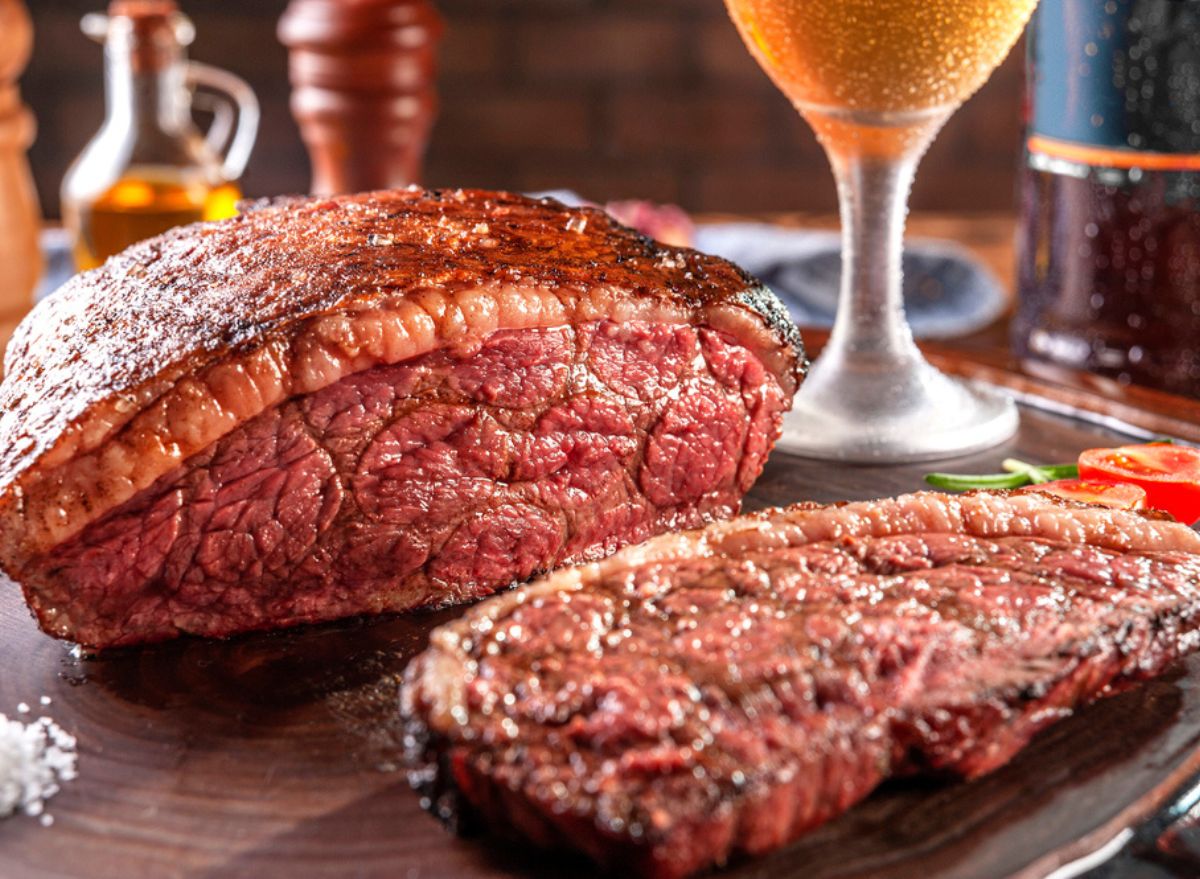 Brazilian steakhouse Fogo de Chao is known for fire-roasted high-quality meats and has been around since 1979. The chain employs the centuries-old Southern Brazilian cooking technique of churrasco—and offers a few different cuts of steak, including its signature picanha, filet mignon, sirloin, and ribeye. The chain most recently opened a new location in Coral Gables, Florida.
Picanha is the prime part of the top sirloin. This cut of meat is highly flavorful cut and is often relatively affordable compared to other options. "Picanha steaks are a flavorful cut of beef because of their fat cap," Michael Haas, pitmaster and founder of Angry BBQ, said. "It is located at the rear of the beef and is considered part of the rump cap or sirloin cap muscle." Haas shares that these cuts are ideal for grilling.
Steak 48 – Bone-In Filet & Australian Wagyu Filet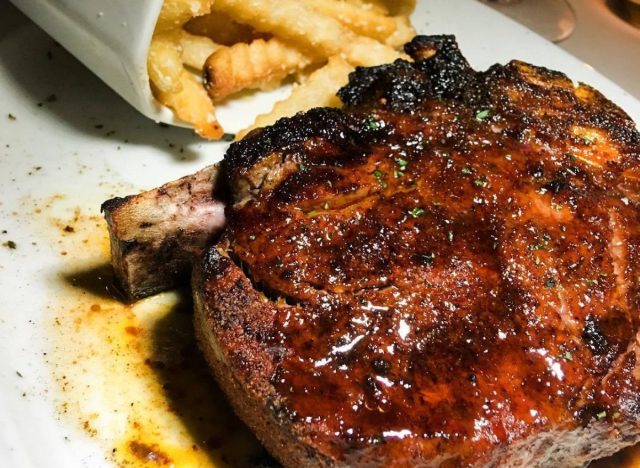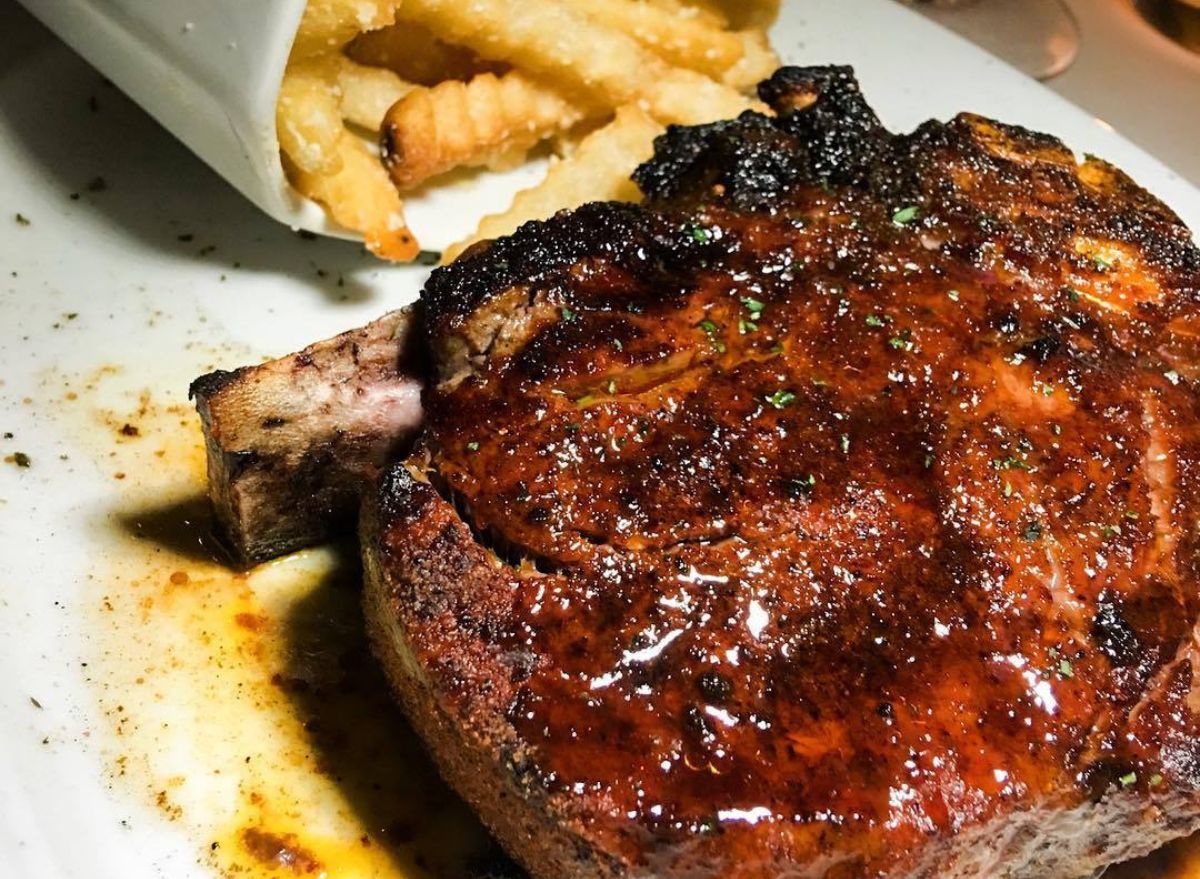 Steak 48 is a contemporary, high-end American steakhouse chain that originated in Houston, Texas, and has since expanded to several other locations across the U.S. The restaurant offers a luxurious dining experience with a focus on quality steaks and other premium meats. Per FSR Steak 48's sales have been up and the chain has appointed both a new GM and a new executive chef.
Also known as a bone-in filet mignon, this is a cut of beef that is taken from the tenderloin area. The bone-in filet is essentially a filet mignon steak that has a portion of the bone still attached. This bone adds extra flavor and tenderness to the meat as it cooks—and also helps to keep the steak moist and juicy. Bone-in filets are typically thicker than their boneless counterparts and may require a slightly longer cooking time to reach the desired level of doneness. They're often served as a premium steak option at high-end steakhouses and restaurants.
Australian Wagyu Filet, also known as Australian Wagyu Beef Tenderloin, is a premium cut of beef that comes from the Wagyu breed of cattle raised in Australia. This steak cut is sought after by chefs and foodies because of its tenderness, marbling, and flavor. Wagyu cattle are known for their genetic predisposition to produce meat with high levels of intramuscular fat or marbling, which gives the meat a buttery texture and rich flavor. Australian Wagyu Filet is cut from the tenderloin muscle, which is located along the spine of the cow and is known for its tenderness. Australian Wagyu Filet is often graded as six or higher on a scale of one to nine, nine being the highest grade. This makes it one of the most highly prized and expensive cuts of beef available.
Urban Farmer – NY Steak Tasting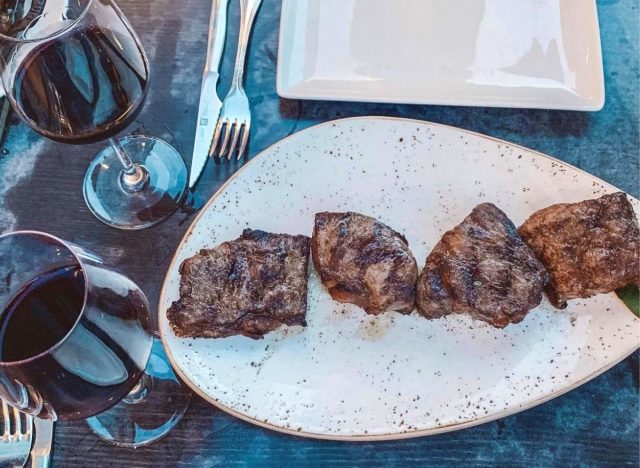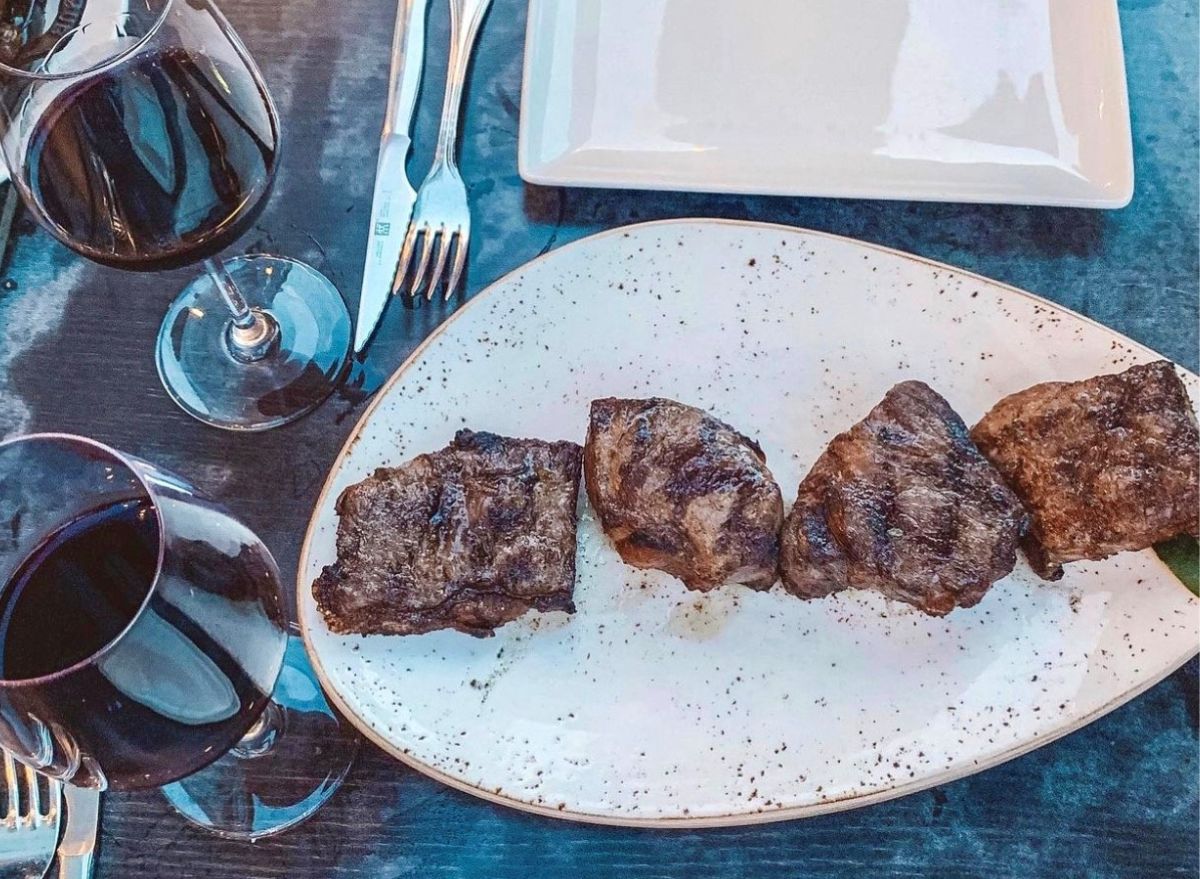 Located in Philadelphia, Urban Farmer is a restaurant that specializes in modern American cuisine featuring locally-sourced, sustainable ingredients. Known for its farm-to-table approach, Urban Farmer incorporates fresh, seasonal ingredients from local farmers and purveyors.
On the Urban Farmer menu is the truly unique New York Steak tasting, which includes 6 ounces each of Joyce Farms grass-fed, Creekstone Natural Prime, and 1855 Beef 21-Day Dry Aged New York strip steak. You can also upgrade your tasting with a six-ounce 7x Wagyu.
Charlie Palmer Steak – Flat Iron Steak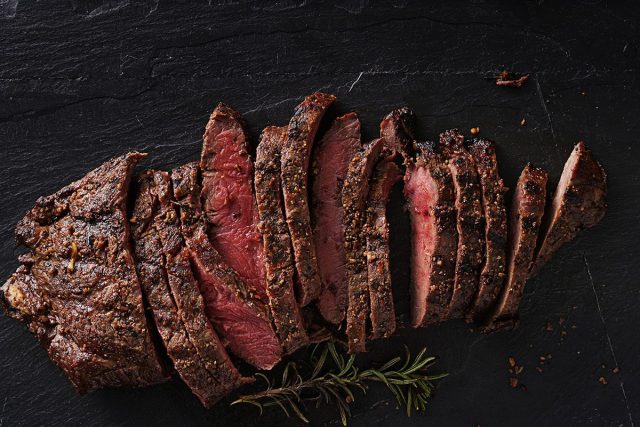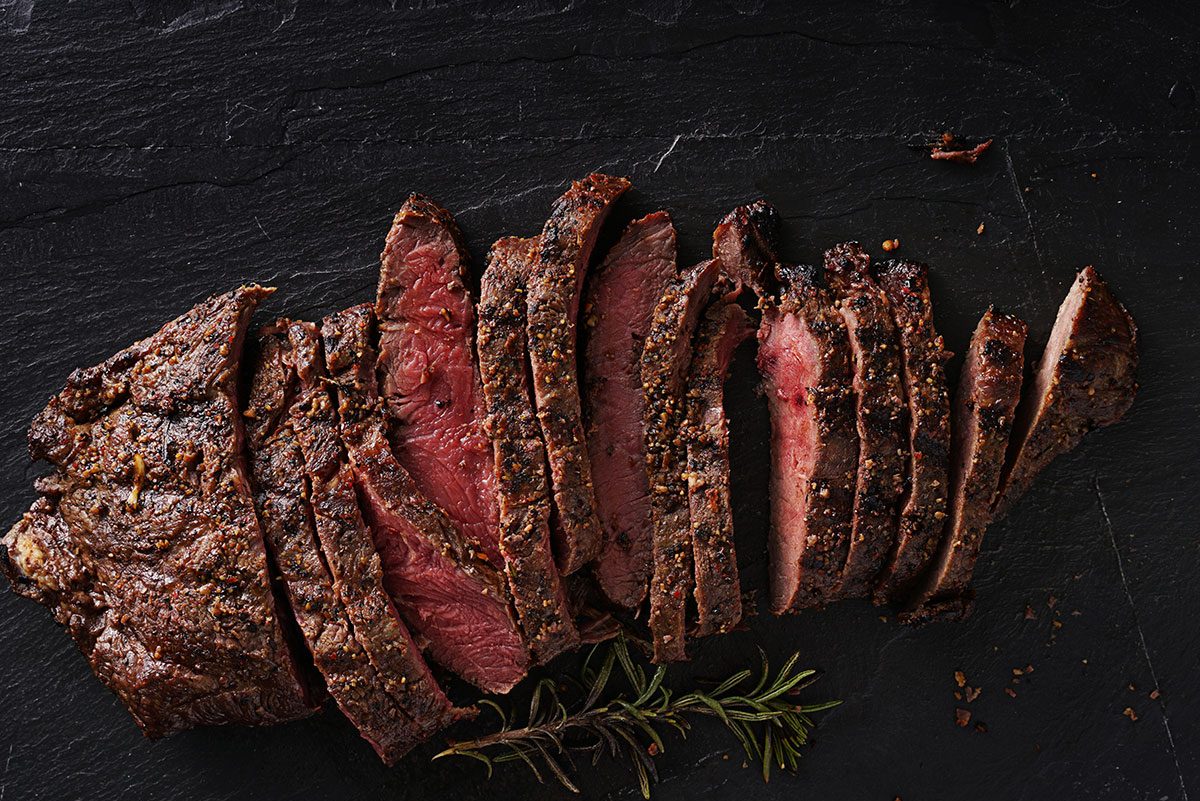 Renowned American chef and restaurateur Charlie Palmer has established several successful restaurants across the United States, including, of course, Charlie Palmer Steak. Known for his innovative approach to cooking, his focus is on using fresh, seasonal ingredients to create flavorful and unique dishes.
Charlie Palmer Steak is known for its flat iron steak, which is a lean, flavorful cut of steak that comes from the shoulder of the cow. It's often prepared in dishes like steak salad or stir-fry and is best cooked quickly over high heat.
Stoney River – Coffee-Cured Filet Mignon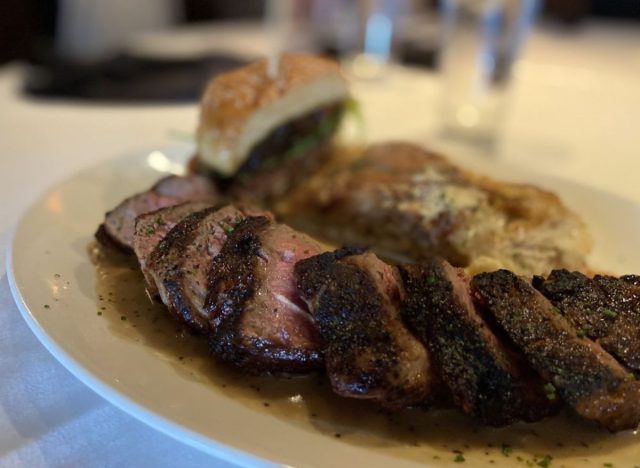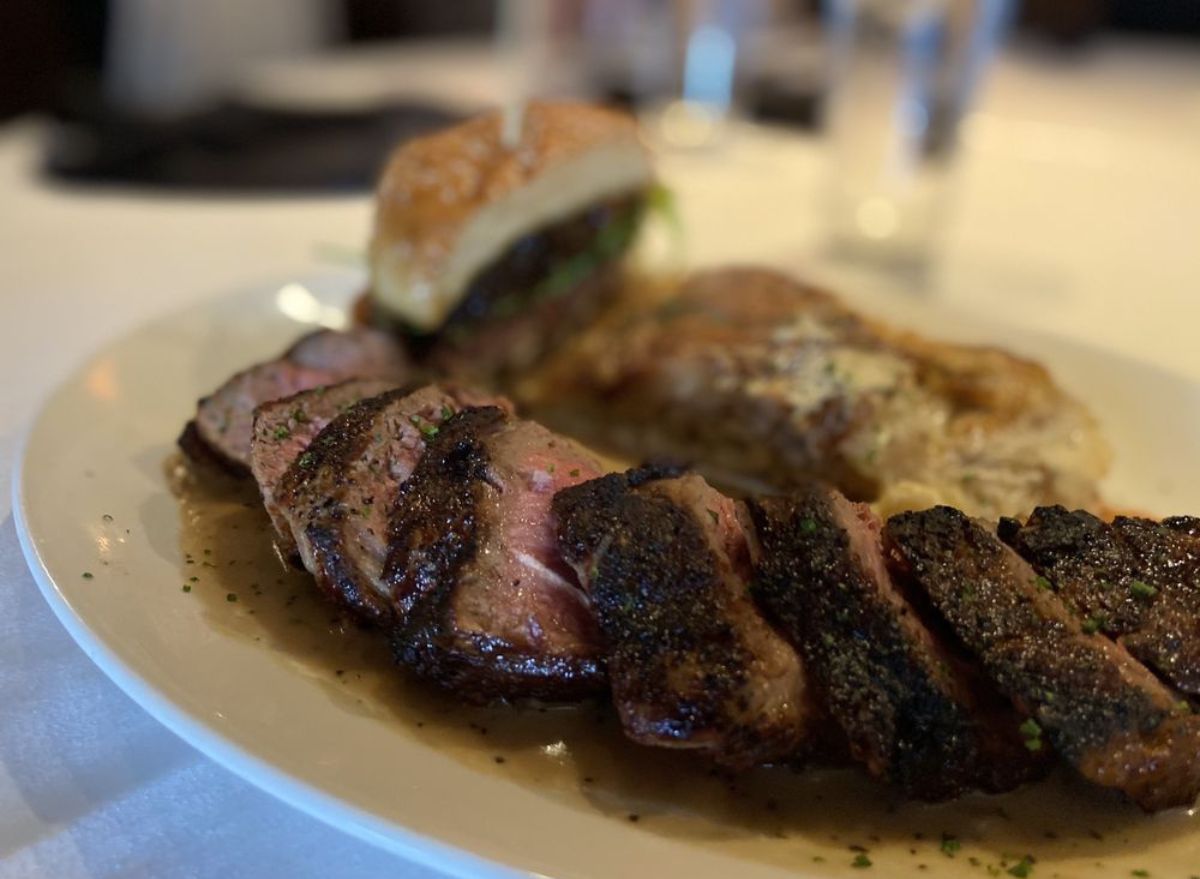 Stoney River is a restaurant chain specializing in high-quality steaks, seafood, and other American cuisine. The restaurant offers a sophisticated and upscale dining experience with a warm and inviting atmosphere and offers locations in Georgia, Illinois, Kentucky, Maryland, North Carolina, Michigan, and Tennessee.
One of the most popular cuts at Stoney River coffee-cured filet mignon involves coating a filet mignon steak in a mixture of coffee grounds, spices, and brown sugar. The coffee grounds infuse the steak with a complex flavor that complements the natural sweetness and tenderness of the meat.
To prepare coffee-cured filet mignon, the steak is first coated in the coffee rub mixture. The steak is then allowed to marinate in the rub for several hours, allowing the flavors to penetrate the meat. It is then grilled or pan-seared to create a caramelized crust on the outside while keeping the inside juicy and tender. The result is a steak that has a slightly sweet and smoky flavor from the coffee rub, with a rich and tender texture.
The Keg – Baseball Top Sirloin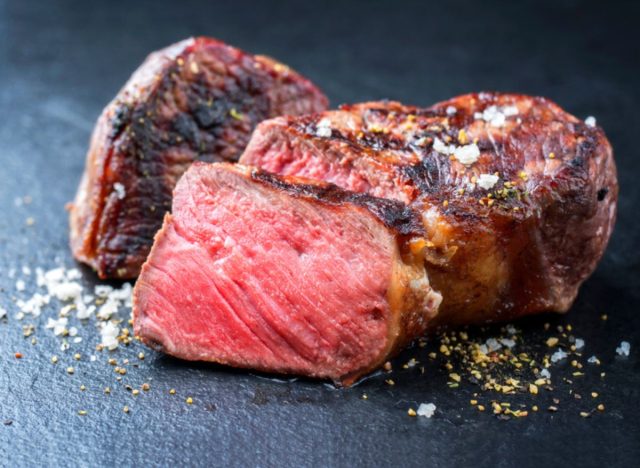 The Keg Steakhouse + Bar is a chain that offers upscale casual dining. It was founded in 1971 in North Vancouver, British Columbia, Canada, and has since expanded to over 160 locations throughout North America, including Canada, the United States, and Mexico. The Keg serves its high-quality beef, which is aged for a minimum of 28 days and is hand-cut on-site by expert butchers.
The Keg is known for its Baseball Top Sirloin, a cut that earned its name from its rounded shape. This steak is cut from the center of the top sirloin. It's lean, thick, and flavorful—similar to filet mignon, at a more wallet-friendly price.
Mastro's – True A5 Kobe Beef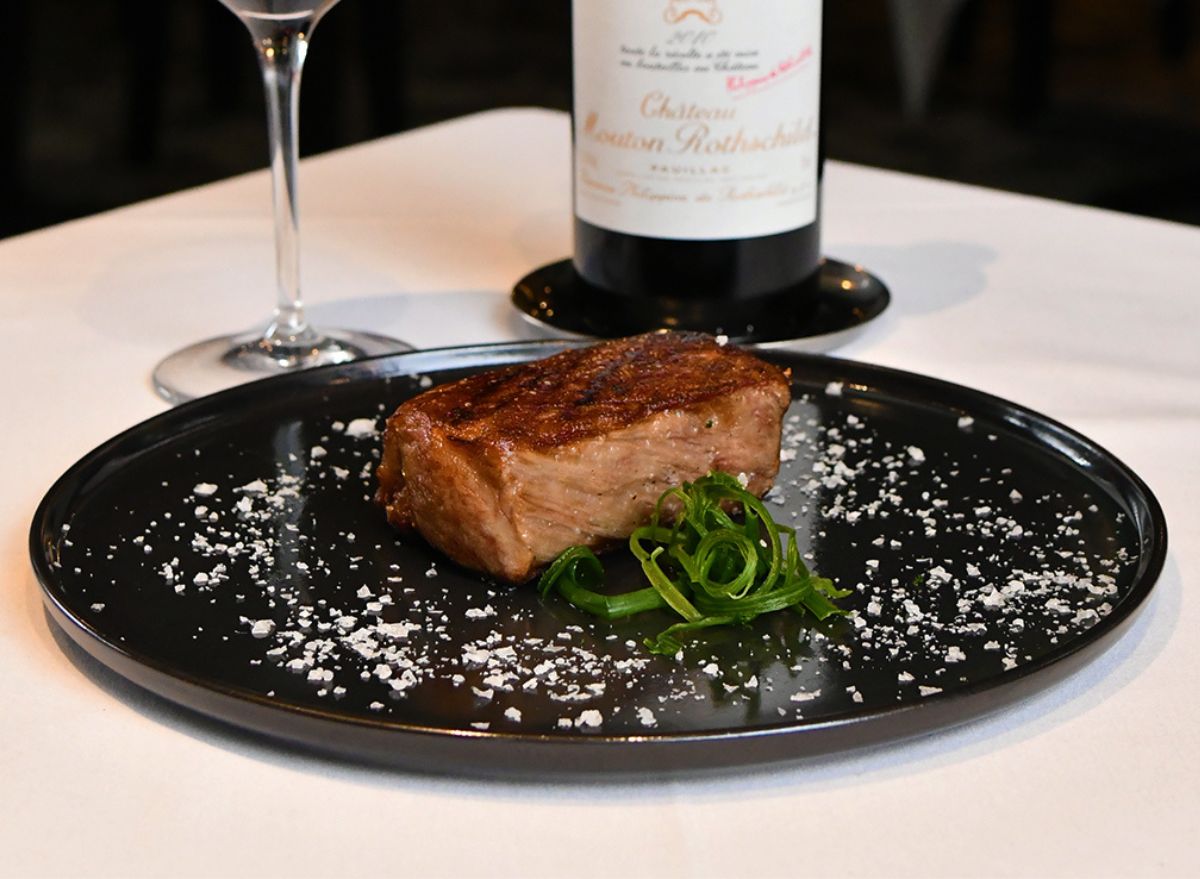 Mastro's is a steakhouse chain with just under two dozen locations and is acclaimed for its "masterful, high-end" experience. The first Mastro's Steakhouse opened in Scottsdale, Arizona in 1999, and the chain has since expanded to multiple locations across the United States. It's regularly labeled as one of the "top 10 steakhouses in the world" and continually a celebrity favorite. "Mastro's steakhouse is always a winner in my book," said Chef Ryan Rondeno, from Rondeno Culinary.6254a4d1642c605c54bf1cab17d50f1e
Known for its True A5 Kobe Beef, Mastro's hails this cut the most exclusive beef in the world. A5 is the highest possible quality rating awarded by the Japanese government in terms of beef classification. The letters (A, B, or C) refer to "yield."
The Palm Restaurant – Kansas City Strip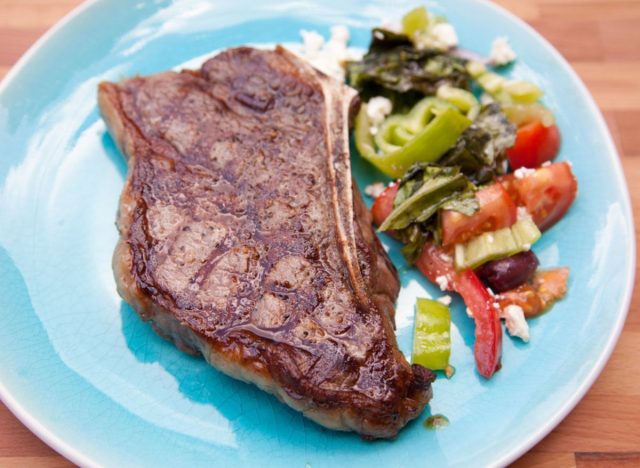 The Palm Restaurant is a chain of high-end steakhouses founded in 1926 by two Italian immigrants, Pio Bozzi and John Ganzi. The original restaurant was located in New York City's Theater District and over the years, the chain expanded to include locations across the United States and internationally. The restaurant is also known for its unique decor, which includes caricatures of famous guests and regulars on the walls of each location.
At The Palm, you'll want to try the Kansas City strip steak, which has many aliases—New York strip steak, strip steak, Ambassador steak, and Delmonico steak. It is a cut of beef from the short loin of a cow and is known for its tenderness and juiciness. The Kansas City strip steak is cut from the strip loin section of the short loin, which is located on the back of the cow, just behind the rib section.
This lean cut of beef is typically marbled with small pockets of fat, which help to keep the meat moist and flavorful during cooking. The Kansas City strip steak is often grilled or pan-seared to achieve a caramelized crust on the outside, while keeping the inside juicy and tender. It is a versatile cut of steak that can be cooked to varying degrees of doneness, from rare to well-done. Kansas City strip steak is named after the city in which it gained popularity, but it's available at steakhouses and butcher shops across the country.