4 Steakhouse Chains Where Chefs Actually Eat
When they don't feel like firing up their own grills, here are the steaks chefs love to order when they're dining out.
There's something elegant about a night out at a steakhouse. The drinks, the buttery rolls, the savory sides, and of course, that juicy cut of steak. Whether it's a smaller filet mignon or a larger New York strip, enjoying a quality steak without having to do all the work of cooking it yourself at home sounds like reason enough to hit the local chophouse or one of the national chains. And chefs couldn't agree more.
While there are plenty of divine ways to cook up a steak at home—whether it be in a cast iron skillet or on the grill—sometimes it's nice to just let someone cook it for you, and there are certainly many steakhouse chains to choose from. But which chains would be considered the best of the best—even from a chef's perspective? We asked chefs and cooking experts which steakhouse chains they prefer to go to when they're craving a juicy steak without having to put in all the work. Here are their favorite spots.
Yes, the largest steakhouse chain is considered a chef's favorite—and no, it's not just because of the legendary Bloomin' Onion. Outback steaks seem to speak for themselves in terms of taste and quality.
"Personally I've made and tried thousands of steaks during my career, but one particularly stands out. I went to Outback, in Tampa Bay and it was amazing," says Chef Jenna Moran of Whimsy and Spice. "I tried the Chargrilled Melbourne Porterhouse and it was sublime. A porterhouse is traditionally one of the cuts that are harder to get just right." Spoiler alert, we also scored Outback high in our exclusive taste test.
Although Wes Wright, cook and founder of CookOut News, is constantly grill testing for the perfect steak, he admits that going to Capital Grille is an easy go-to when he wants a quality cut of meat for dinner.
"They've been consistent with the quality of their beef and they dry age it," says Wright. "I currently don't have a dry-aging operation, so I feel like I'm getting something extra by going there. They can also get a great crust with the high temps they use to cook a steak. Beyond that, it's hard to pass up their brûlée style cheesecake."
Not sure what grade of meat is considered the best? Here are The Surprising Secrets Behind Steak Grades, According to a Butcher.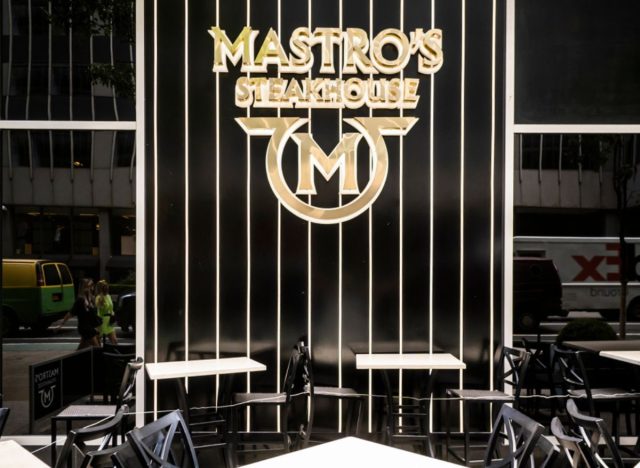 Although Mastro's is a smaller steakhouse chain with just under two dozen locations, it is critically acclaimed for its "masterful, high-end" experience, continually labeled as one of the "top 10 steakhouses in the world" and continually a celebrity favorite.
"Mastro's steakhouse is always a winner in my book," says Chef Ryan Rondeno, from Rondeno Culinary. "Always order the bone-in ribeye. It's very tender and flavorful. If you want to keep it simple, the shrimp cocktail is always a great starter. Make sure you finish with the butter cake!"6254a4d1642c605c54bf1cab17d50f1e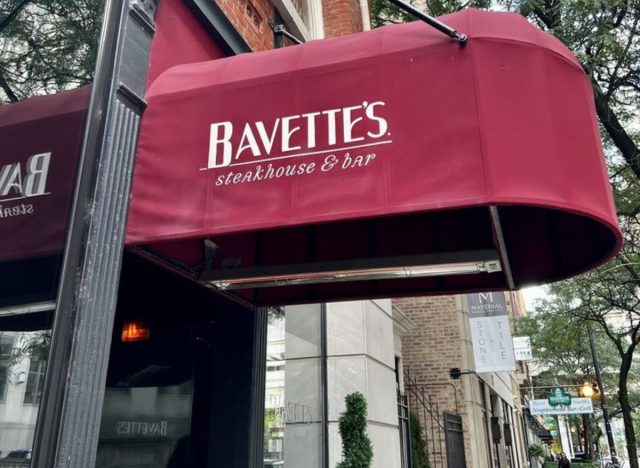 Compared to Outback, which has hundreds of locations across the globe, Bavette's is a smaller chain with just two humble locations to choose from: Chicago and Las Vegas. However, this chain is small but mighty, and continually a go-to favorite for many culinary aficionados.
"I am a big fan of Bavette's for many reasons," says James Peisker, cook, butcher, co-founder, and COO of Porter Road. "They have 42 dry-aged steaks which really makes them funky and tasty. They do not have a corkage fee for bottles of wine if you share a glass of wine with another table. I love the community aspect. Also, they have seafood towers. I'm a sucker for seafood towers."
More content from
Restaurants