Sushi Burgers Are the Next Internet Food Craze
Yes, you read that right; sushi in the form of a burger is now a thing.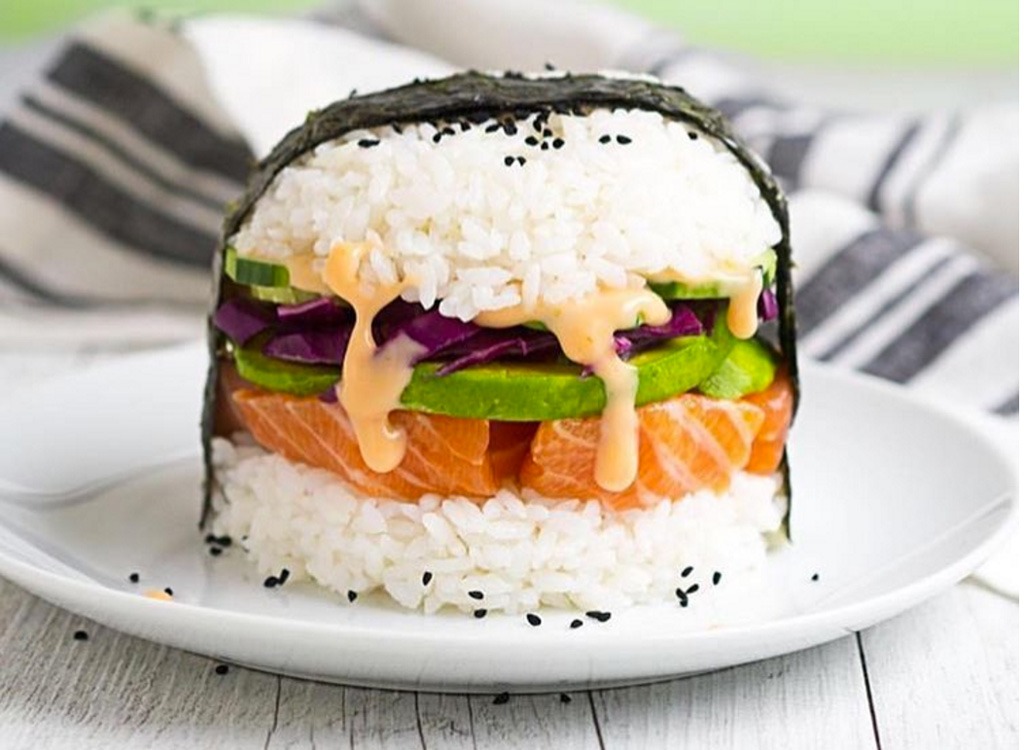 Remember when the classic sushi roll turned into the sushi burrito, sending social media users into a liking and sharing frenzy? Well, the master Japanese shapeshifter has recently taken the form the all-American burger, and the Internet is having a cow! (Get it? Cow!) Intrigued? We were too! The dish is a genius cross between two cultures and comes in a ton of different variations. Generally speaking though, sushi burgers consist of two buns molded out of sushi rice, which are either seared or deep-fried (we prefer the former), and then packed with fillings like raw fish, veggies, avocado, and even meat. You can take on the challenge of eating it with your hands like a normal burger—might be a little messy though!—or simply using a fork and knife.
People all over the world have been recreating the dish, crafting endless varieties of the novelty meal and posting them online, making our mouths water. If you're ready to try the latest trending Frankenfood, you might be in luck! Sushi burgers or "rice burgers" have also been popping up in restaurants everywhere from Australia to NYC. Can't find one near you? We've got you covered! Here's how to make an easy, delicious and waist-friendly version of the latest trending foodie obsession using good-for-you ingredients like antioxidant-loaded sesame oil and fiber-packed brown rice. (Interested trying out more viral foods? Check out these 15 Top Flat-Belly Foodie Trends for 2016!)
ETNT's Best-ever Sushi Burger
Serves: 2
Nutrition: 576 calories, 15 g fat, 2 g saturated fat, 361 mg sodium, 55 g carbs, 6 g fiber, 2 g sugar, 62 g protein6254a4d1642c605c54bf1cab17d50f1e
WHAT YOU'LL NEED for The…
Buns
-1½ cups short grain brown rice
-1 teaspoon rice wine vinegar
-1 teaspoon sesame seeds
-Additional sesame oil for cooking
Patty
-1 pound fresh sushi-grade ahi tuna or wild salmon, chopped
-1 tablespoon reduced-sodium soy sauce
-1½ tablespoon sesame oil
-1 teaspoon ginger, chopped
-1 teaspoon chives, chopped
Toppings
-2 pieces red leaf lettuce
-1 carrot, julienned
-1 small cucumber julienned
-½ avocado
HOW TO MAKE IT
STEP 1: BUNS
Cook rice according to package directions. Once the water has been drained, mix in the vinegar and sesame seeds. Using wet hands, mold the rice into four equally sized buns while the rice is still warm. Brush some oil in a small non-stick pan and sear each side for about 2 ½ minutes. Set aside and keep covered.
STEP 2: SUSHI PATTY
In a food processor pulse your sushi-grade fish of choice with soy sauce, sesame oil, ginger, and chives. Using your hands, shape into patties.
STEP 3: ASSEMBLE
Assemble the dish by placing the patty on a rice bun and topping it with avocado, one red lettuce leaf, carrots, and cucumber. Place the second bun on top to form a burger.
Image courtesy of @beguemba