Starbucks Is Making Billions From Your Extra Pump of Syrup
A little of this and a little of that is adding up big for the coffee giant.
Starbucks has found the secret sauce to a booming business in a tight economy. And it's literally just that: the syrups and sauces that customers add to their beverages. The chain reported record sales in its most recent quarter thanks to these add-ons, as well as higher sales of food items, slightly higher prices, and customers returning in droves.
But it's the little extras that are adding up big for the company, executives revealed. They credited "modifiers"—like pumps of syrups and sauces—for $1 billion a year revenue increases, double what these "modifiers" were pulling in in 2019.
Customers are returning to Starbucks as well. Although there was only a 1% growth in transactions last quarter, the daily store traffic climbed to 95% of pre-pandemic levels. Plus, check averages grew by 10% in the same time period.
The increase has largely been fueled by Starbucks fans buying more cold beverages, with cold brew and iced coffee now representing 76% of all beverage sales. Additionally, the cold drinks are more likely to be customized, with over half getting some kind of customization.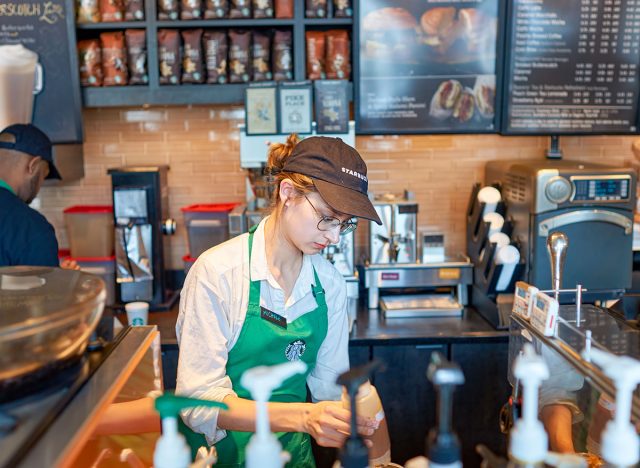 Even Starbucks is shocked by the major shift to cold drinks. "Cold has certainly surprised us all at Starbucks," interim CEO Howard Shultz said on the call. And he credits younger customers with boosting that side of the company's business. Brady Brewer, Starbucks' chief marketing officer, echoed this, "The younger you go, the colder the beverage."6254a4d1642c605c54bf1cab17d50f1e
Apparently, the younger Starbucks fans are also okay with paying more to customize their beverages. And as far as modifiers, Starbucks has plenty of them. If you try to order a simple cold brew on the Starbucks site or app, you'll be met with the option to add 14 syrups, six sauces, eight toppings, three drizzles, and six foams.
"There is no other coffee company anywhere in the world that has our ability to respond instantaneously to a customer's request about customization," Schultz told investors. "Nor is there a coffee company that has our ability behind the counter in terms of flavors, syrups, modifiers, foam, et cetera, to provide the customer what they want."
The positive news sent the stock soaring today, and will likely fuel the holiday season. The company is also celebrating 25 years of its special holiday cups and just released its menu for the holiday season  The Irish Cream Cold Brew and Iced Sugar Cookie Almondmilk Latte are sure to be popular, with extra syrup of course!