Tandoori Chicken Skewers With Spicy Cucumber Raita Recipe
Spice up your usual dinner with these delicious tandoori chicken skewers, served with a spicy cucumber raita!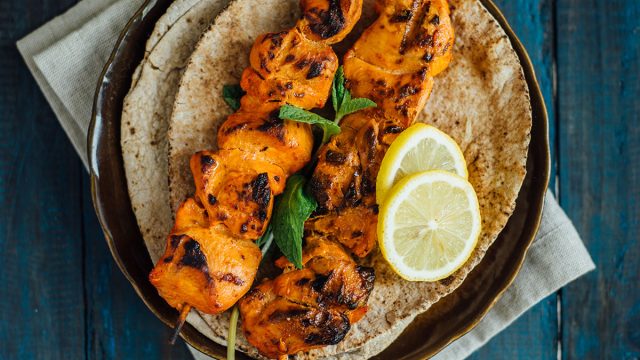 Looking for recipes to make on the grill that aren't hamburgers and hot dogs? You're in luck! This delicious tandoori chicken skewer recipe is about to be your favorite new food to grill. Served with a spicy cucumber raita sauce, these tandoori chicken skewers are great on their own or served inside a warm pita.
Nutrition: 238 calories, 3.9 g fat (0.5 g saturated), 649 mg sodium, 0.5 g fiber, 5 g sugar, 40 g protein
Makes 6 servings
Ingredients
Tandoori Chicken Skewers
18 chicken tenderloins, each cut into 3 pieces
1 cup plain fat-free yogurt (not Greek)
Juice of 1 lemon
1 small onion, finely chopped
6 cloves garlic, finely chopped
1 3-inch piece fresh ginger, finely chopped
1 tbsp. garam masala
2 tsp. ground cumin
2 tsp. ground coriander
1 tsp. ground turmeric
1 tsp. kosher salt
1/2 tsp. Kashmiri chili powder (or cayenne pepper)
18 bamboo skewers, soaked at least 2 hours or overnight
Neutral oil like canola for oiling grill grates
Spicy Cucumber Raita
1 large English cucumber (don't peel), grated
1/2 tsp. kosher salt
1 1/2 cups plain 2% Greek yogurt
Juice of 1/2 lemon
3 cloves garlic, finely chopped
1 tbsp. extra virgin olive oil
1/2 tsp. ground cumin
1/4 tsp. Kashmiri chili powder (or cayenne pepper)
1/4 tsp. sugar
How to Make It
For Spicy Cucumber Raita, toss grated cucumber in a fine-mesh strainer with the salt. Let it drain into a bowl 15 minutes. Press cucumber down with hands to get rid of as much liquid as possible (or squeeze dry in a tea towel). Discard the liquid.
While cucumber drains, in a medium bowl stir together yogurt, lemon juice, garlic, olive oil, cumin, Kashmiri chili powder, sugar, and black pepper. Add drained cucumber to the yogurt mixture and refrigerate at least 1 hour or overnight.
When ready to serve, add mint leaves and season with additional salt, if needed.
For Tandoori Chicken Skewers, in a large bowl mix yogurt, lemon juice, onion, garlic, ginger, garam masala, cumin, coriander, turmeric, salt, and Kashmiri chili powder. Add chicken pieces to the bowl and allow to marinate at least 2 hours or overnight. Thread 3 chicken pieces into every skewer and allow to rest at room temperature 30 minutes.
Preheat grill to high. When grill grates are very hot, generously oil clean grill grates with a paper towel dipped in canola oil and held with tongs.
Grill skewers 4 to 5 minutes on each side or until deep golden grill marks appear. Remove from grill and let rest 2 minutes. Serve with Spicy Cucumber Raita.
RELATED: Easy, healthy, 350-calorie recipe ideas you can make at home.
Inspired by
The New York Times
best-selling book series,
Eat This, Not That!
is a brand that's comprised of an award-winning team of journalists and board-certified experts, doctors, nutritionists, chefs, personal trainers, and dietitians who work together to bring you accurate, timely, informative, and actionable content on food, nutrition, dieting, weight loss, health, wellness, and more.
Read more