How to Know Exactly What Size Turkey to Buy
So you don't under- or over-serve your guests this Thanksgiving Day dinner, here's how to determine the best size bird for your feast.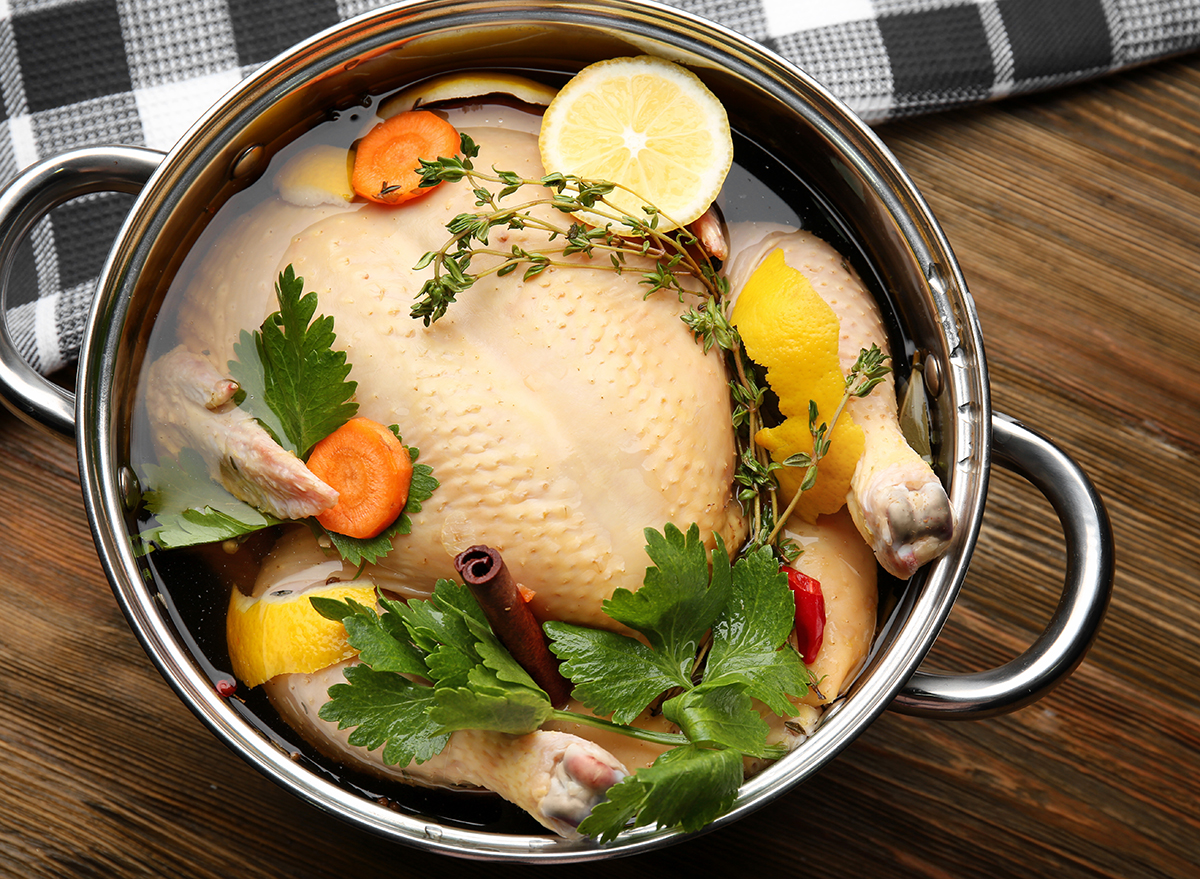 Imagine having your entire Thanksgiving Day dinner prepared, with all of the sides and desserts included, just to find out that you didn't make enough turkey for the whole table to nosh on. To avoid such a nightmare, we called on Claudia Sidoti, principal chef at HelloFresh, to lend insight on how you can easily determine what size turkey to purchase based on the number of anticipated guests coming to your Thanksgiving feast.
And along with her tips, she even included a turkey recipe for you to test out on Thanksgiving Day, too. Now, here's all you need to know about exactly what turkey size you should buy for your holiday table.
How much turkey should you buy if you're hosting 10+ people? How about if you are feeding five or less?
"When it comes to figuring out how much turkey to buy, you should usually anticipate having plenty for seconds and leftovers," Sidoti says. "For a turkey smaller than 16 pounds, usually estimate about 1 pound per serving. For a larger turkey, you can anticipate a little less."
Now if you want to make sure you have plenty of leftovers, you should aim to have about 1.5 pounds of turkey per person.
In short, if you're entertaining 10 people, you should opt for a 15-pound turkey, and for five guests and under, opt for a seven- to eight-pound bird. The chef adds that these weight measurements account for the bones inside, too.
When in doubt, follow the rule of thumb of 1.5 pounds of turkey per person at your table. Then, you'll never get left with no leftovers or underserved guests.
A Thanksgiving turkey recipe
Here is Sidoti's recipe, as well as detailed instructions for how to make Roast Turkey with a Garlic Herb Butter Rub.
Ingredients:
14-16 lb pre-brined honeysuckle white turkey
1/2 lemon, 1 shallot
4 cloves garlic
2 sprigs thyme
2 oz garlic herb butter
What you'll need: Baking sheet, paper towels, roasting pan, instant-read thermometer, aluminum foil, turkey lifters (optional), fat separator (optional), carving knife (optional), kosher salt, black pepper
Instructions:
Preparation.
Line a baking sheet with paper towels. Using kitchen shears, remove and discard outer packaging from turkey; place turkey on prepared sheet.
Remove and discard giblets and neck from inside the cavity. Do not rinse the turkey. Do not remove the oven-safe leg clamp (it's needed to keep the legs together).
Pat turkey very dry, including inside the cavity, with paper towels. (This ensures that the turkey skin will get nice and crispy when roasted.) Let stand at room temperature for 1 hour.
Season.
Adjust racks to middle and bottom positions; preheat oven to 425 degrees. Wash and dry all produce. Halve and peel shallot. Peel four garlic cloves. Halve lemon, if you have not already done so.
Once turkey has stood for 1 hour at room temperature, season all over, including inside the cavity, with plenty of salt and pepper.
Place shallot, garlic cloves, one lemon half, and two thyme sprigs inside turkey cavity. Rub garlic herb butter all over outer side of turkey skin.
Roast.
Place seasoned turkey, breast side up, in a large roasting pan; tuck wing tips underneath the body. Roast on middle rack until cooked through, about 2 hours and 15 minutes total (follow our Game Plan to stay on track while the turkey roasts!).
Turkey is fully cooked when internal temperature reaches 180 degrees in the thigh and 165 degrees in the breast. Check for doneness after 1 hour 45 minutes by inserting an instant-read thermometer into the thickest part of the thigh. If not yet cooked through, loosely tent turkey with aluminum foil and return to oven 15 to 30 minutes more.
Remove from oven. Resist the urge to peek in on your bird—opening the oven will cause the temperature to drop, thus slowing down the cooking process. Instead, turn on the oven light and check on it through the glass!
Rest.6254a4d1642c605c54bf1cab17d50f1e
Let turkey rest in roasting pan for 15 minutes, then transfer to a cutting board to rest 15 minutes more. Carefully pour pan drippings into a fat separator or a large measuring cup. Set aside to cool.
Finish.
Carve turkey and serve with gravy and sides.
Any other way to make the turkey perfect?
Sidoti has a great way to elevate the presentation of your Thanksgiving turkey.
"Slice up a few pieces of citrus, gather some whole herbs, and arrange them around your bird right before serving," says Sidoti. How elegant!