This Is the New Unhealthiest Chain Restaurant in America
Unfortunately dishes at this favorite have a ton of calories, sodium, fat, and carbs.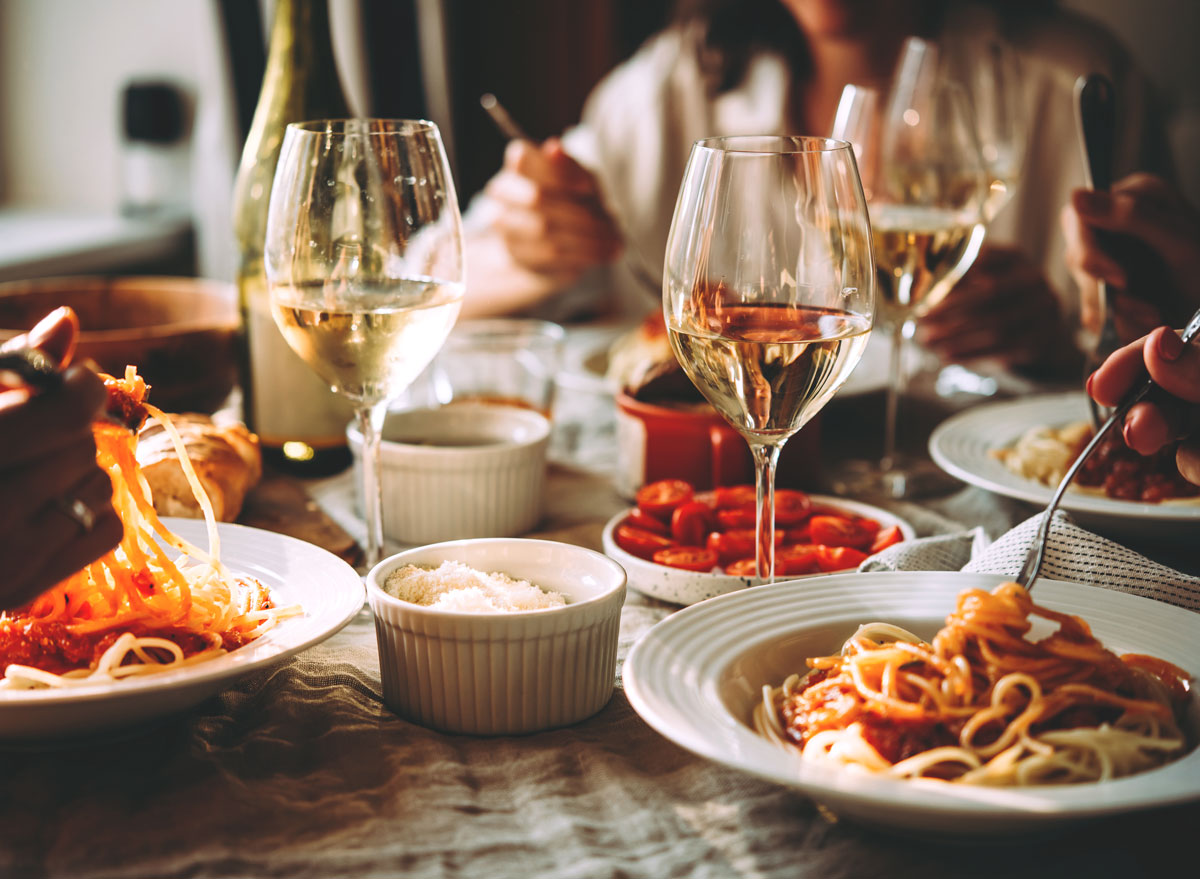 There are healthy and unhealthy options at most fast-food and casual restaurant chains. But some are more on the unhealthier side than others. Consumer Reports (CR) just dished on which ones are the worst. Of these, the Cheesecake Factory is the unhealthiest chain restaurant. It lacks whole grains, has large portions, and one dish with twice as much sodium as the daily recommendation.
The Cheesecake Factory, along with Subway, Olive Garden, Applebee's, McDonald's, and Domino's are all at the bottom of CR's list of restaurants with nutritious options. Sweetgreen, Chopt, True Food Kitchen, and CoreLife Eatery are on the top. (For more on healthy eating, here are the 21 Best Healthy Cooking Hacks of All Time.)
To create the list, CR rated the restaurants based on how easy it is to make a healthy menu choice. Analysis of how many whole grains, fruits, vegetables, and protein sources is in there as well. They also looked at other things available on the menu like drinks.6254a4d1642c605c54bf1cab17d50f1e
The unhealthiest chain restaurant, The Cheesecake Factory, has a massive menu. If you stick to only the SkinnyLicious options, overall you will eat a cleaner and healthier meal. However, CR reports that the chain doesn't score very well in any of the five categories they look at and gets a Fair ranking overall.
Cheesecake Factory scored a good 4 in the amount of fruit and vegetable options offered. They also scored decently well in the beverage category with a 3. But getting down to saturated fat, they scored a 2. In the whole grains and sodium categories, they scored only 1. There is not an option for dessert, so the iconic cheesecake offerings are not mentioned in this ranking.
"The regular menu also has a wide variety of vegetable options," CR says about its ruling. "But two-thirds of the dishes have over 2,300 mg of sodium (the daily limit) or more, and saturated fat averages 30 grams."
It notes that if they ranked the SkinnyLicious menu, it would have been "Good." But one thing is for sure — there is one dish that outranks all the others as the worst menu item.
The Pasta Napoletana has a whopping 2,480 calories, 221 g of fat, 5,150 mg of sodium, 155 g of carbs, and 65 g of protein. In order to make a meal like this healthier, CR says consider splitting it (with one or two more people). Remember that you don't have to finish it all. Also, with all the sodium, this dish (and most of the others at Cheesecake Factory) doesn't need extra salt.
For more info on what you should and shouldn't order at this chain, read The Best and Worst Menu Items at The Cheesecake Factory.
Amanda McDonald
Amanda has a master's degree in journalism from Northwestern University and a bachelor's degree in digital journalism from Loyola University Chicago.
Read more about Amanda