17 Unique Tea Accessories You Didn't Know You Needed
From strainers and canisters to kettles and tea cups, these are a few of my favorite things!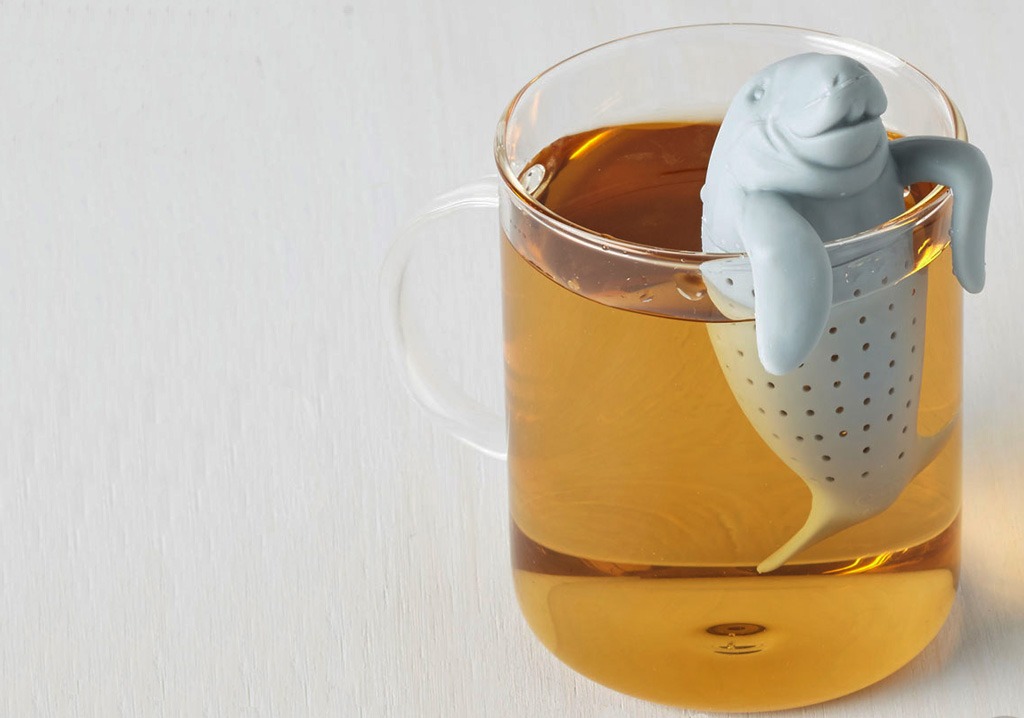 In places like Morocco, you'll never enter a home without being offered tea—it's considered rude not to do so! And from England to India, people plan their travel and work schedules around tea, and we're pretty obsessed with it at Eat This, Not That! Whether it's a private ritual (like sipping a tea before bedtime) or a social event (like catching up with a close girlfriend), tea does more than mend the soul; research has shown that different types of tea possess different micronutrients that boost metabolism and block the formation of new fat cells, making it an effortless strategy to drop pounds quickly.
Doesn't this sound like an elixir that deserves more than a few square inches of your kitchen space? I think so, which is why the ETNT team and I have curated some awesome accessories that make sipping tea all that much more enjoyable. And while you've got the magical elixir on your mind, why not get the most from your brew with the help of my book, The 7-Day Flat-Belly Tea Cleanse? Not only is it packed with must-know tea info, but test panelists lost up to 10 pounds in one week by following the plan!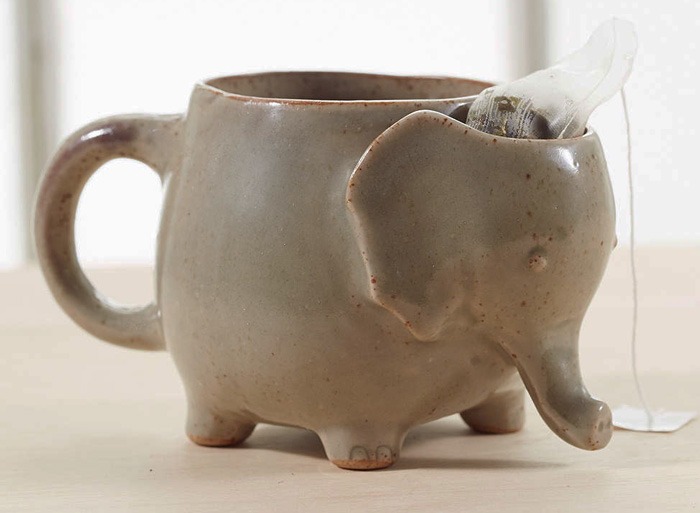 Price: $16, urbanoutfitters.com
This may just be the cutest stinkin' mug of all time. Hand-sculpted into the shape of a baby elephant, this ceramic cup comes complete with a small compartment to place your tea bag after it's done steeping. To learn how to prepare your tea properly—and ensure you're reaping all of it's flat belly benefits, check out our exclusive report, How to Prepare Every Kind of Tea for Weight Loss.
Price: $6.50, amazon.com
This brightly colored, silicone helper holds onto your tea bag while it steeps and simultaneously trapping in the heat. Once you're ready to enjoy your cup, the Tea Bag Buddy can be flipped over and used as a tea bag holder. This little gadget is perfect for enjoying tea at work or anywhere else you may not have access to a small plate or a tea bag rest. And speaking of the workplace, check out these 7 Easy Ways to Lose Serious Weight at Work to stay on a path toward weight loss success around the clock!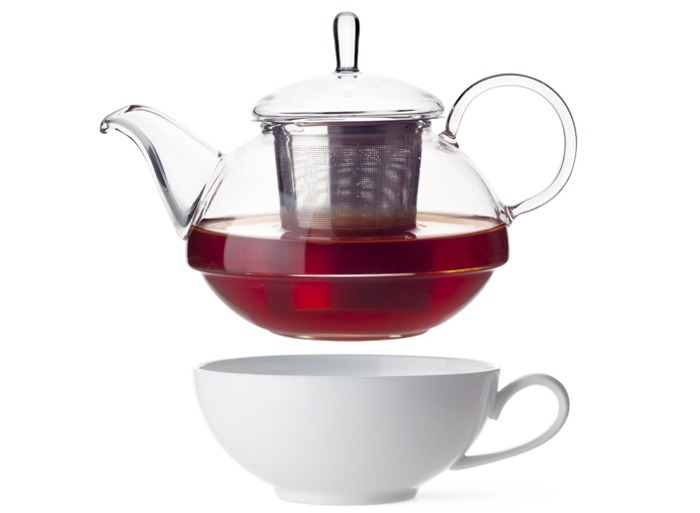 Price: $25, (no longer available)
Why should you only set the table for a festive tea party when you're expecting guests? Make solo sipping sessions feel just as special with the help of this cute little teapot, cup and steel infuser set. Looking for the perfect light nibble to enjoy with your brew? Check out these 50 Snacks With 50 Calories or Less.
Price: $5.89, amazon.com
Ditch your boring mesh infuser, and pick up one of these cute little manatees instead. It's made of silicone which allows it to latch onto the rim of any sized cup.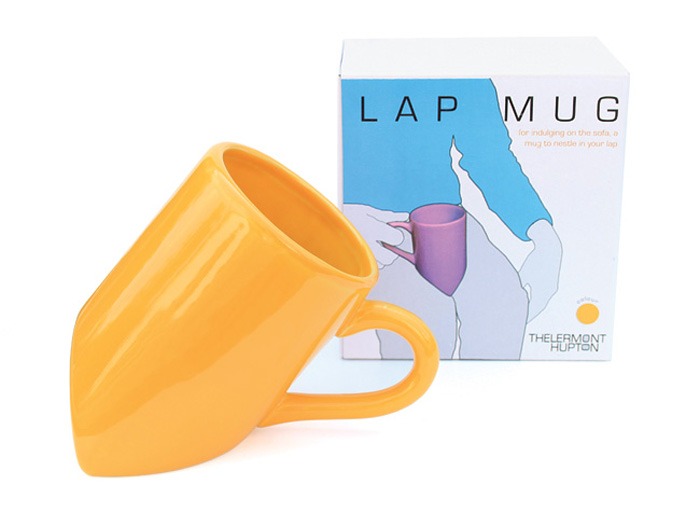 Price: $14, thelermonthupton.com
There's nothing better than cuddling up on the couch with a hot cup of weight loss tea. And now, thanks to this creative "lap mug", sipping on the couch has never been more comfy. See ya later, coffee table. We don't need you anymore.
Shake-and-Sip Matcha Maker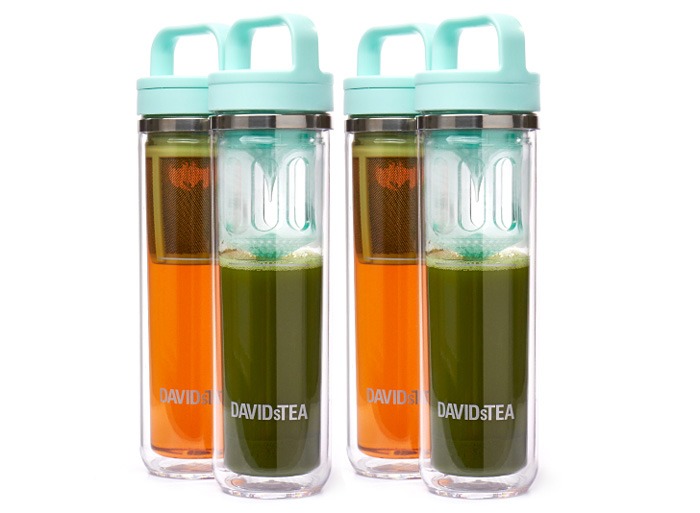 Price: $35, davidstea.com
In Japan, there's an entire formal ceremony built around the preparation of matcha, a potent form of green tea. But let's be honest, most of us don't have the time to devote to something like that! Thankfully for busy tea lovers, you don't need to have a bamboo whisk, Zen master, or a special tea hut to enjoy the flavor and health benefits of tea. Thanks to this BPA-free shake-and-sip matcha maker by David's Tea—which comes complete with a frother, matcha lovers can now make their favorite drink on the go. The best part? It also comes with a mesh infuser so the bottle can also be used to brew your favorite loose leaf tea. Talk about a two-for-one!
Teapot with Infuser & Warming Base
Price: $79, nordstrom.com
This Nambé porcelain teapot—complete with infuser and warming base—is so sleek and pretty, you won't ever want to want to put it away. This is countertop art that your guests are sure to "ooh" and "ahh" over.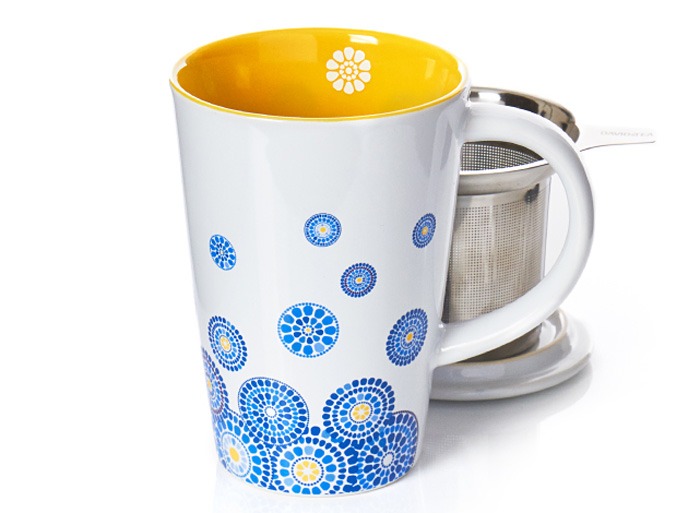 Price: $23, (no longer available)
Sip away your belly fat with the help of this pretty ceramic mug. It comes with a with a stainless steel infuser that fits right into it and a lid that doubles as a coaster for the infuser.
Infusion Iced Tea Pitcher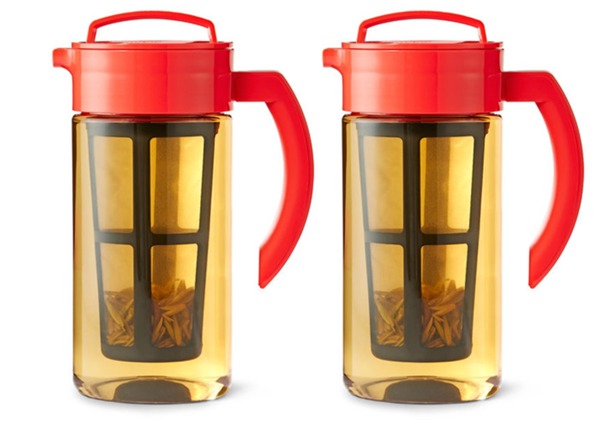 Price: $25, teavana.com
Skip the tea bags and powdered junk and make iced tea with actual tea leaves. With this infuser tea pitcher it's not only possible but couldn't be easier. Bonus: Its airtight lid is so secure that you can even sit on its side in your fridge! Looking for more tasty ways to cool down on hot days? Check out these refreshing detox water ideas.
Price: $20, katespade.com
Can't decide between a pinkies-up tea cup and a big, classic mug? Now, thanks to this artistic Kate Spade design, you don't have to. The back is adorned with the phrase "crème de la crème."
Tea Kettle with Cork Handles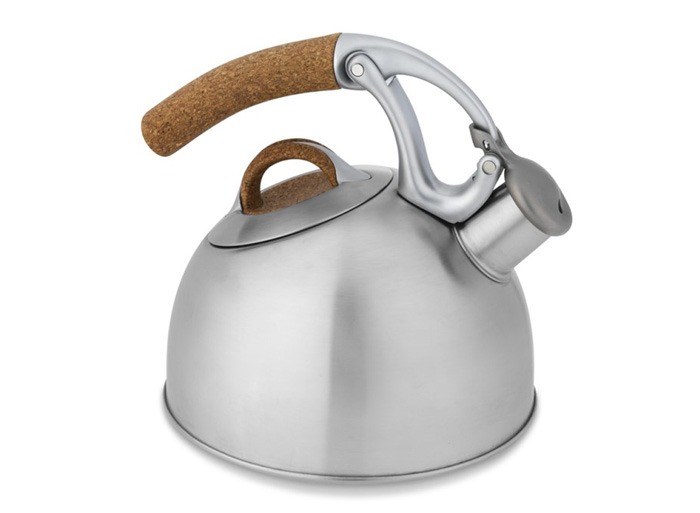 Price: $80, amazon.com
OXO takes something as boring as a stainless steel tea kettle and transforms it into a modern-day, eye-catching kitchen classic. Whether you're brewing up water for a cuppa detox tea or a simple glass of hot water and lemon, make this beautiful kettle your go-to.
Kate Spade Greenwich Grove Tea Set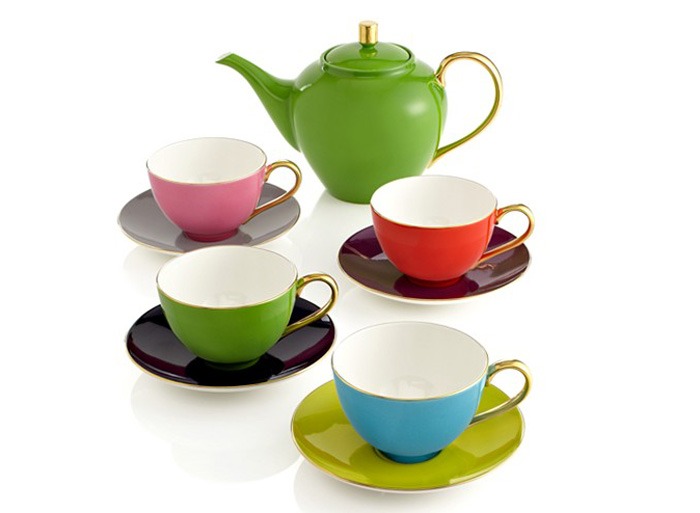 Price: $60 – 150, macys.com
Every hard-core tea lovers needs a complete tea set—it's non-negotiable. This colorful, cheerful take on a classic set is sure to brighten even the darkest of days. For more ways to turn your frown upside down, check out these 16 Instant-Happiness Foods.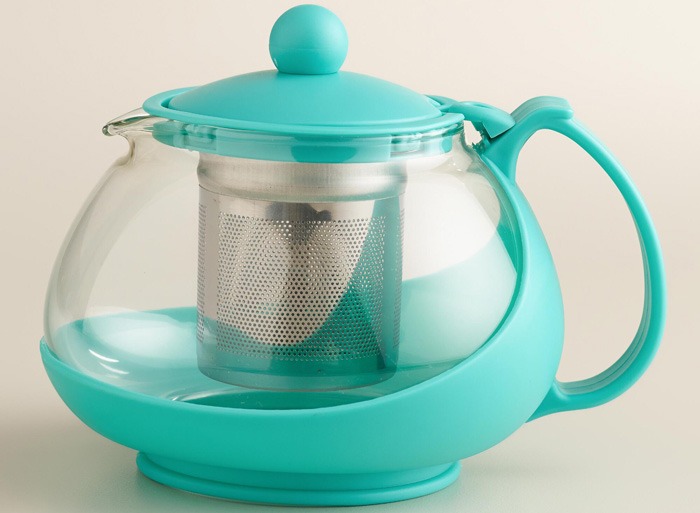 Price: $5, worldmarket.com
Simply pour in hot water and watch tea get made instantly before your eyes. I love the bright pop of color on this ultra-affordable teapot infuser. Stock up on a set of four or six so you're prepared for an impromptu tea party, day or night.
Breville One-Touch Tea Maker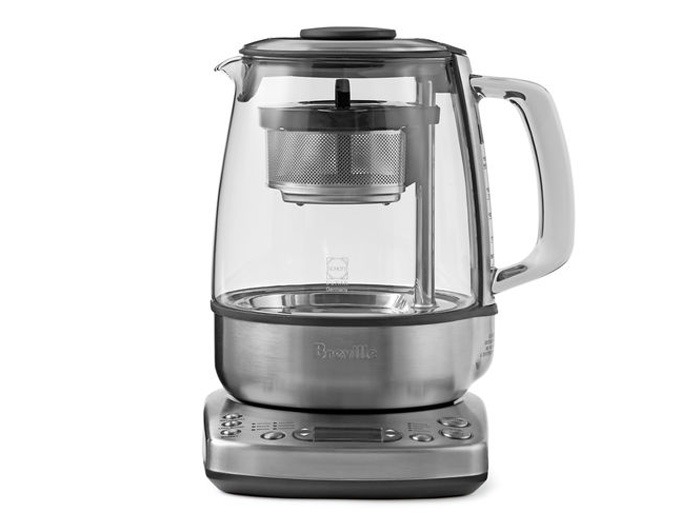 Price: $250, amazon.com
If you're the kind of person who can't function before caffeine, this stainless steel and glass tea maker exactly what you've been searching for. This sleek, modern gadget heats water to the correct temperature for your tea, automatically lowers the tea basket into the water, and once your drink is ready to enjoy, it automatically lifts the basket out of the water to prevent over-steeping. As a bonus, it also keeps tea warm for up to an hour. Pair your brew with one of these 50 Best Overnight Oats Recipes for a delicious and healthy morning meal.6254a4d1642c605c54bf1cab17d50f1e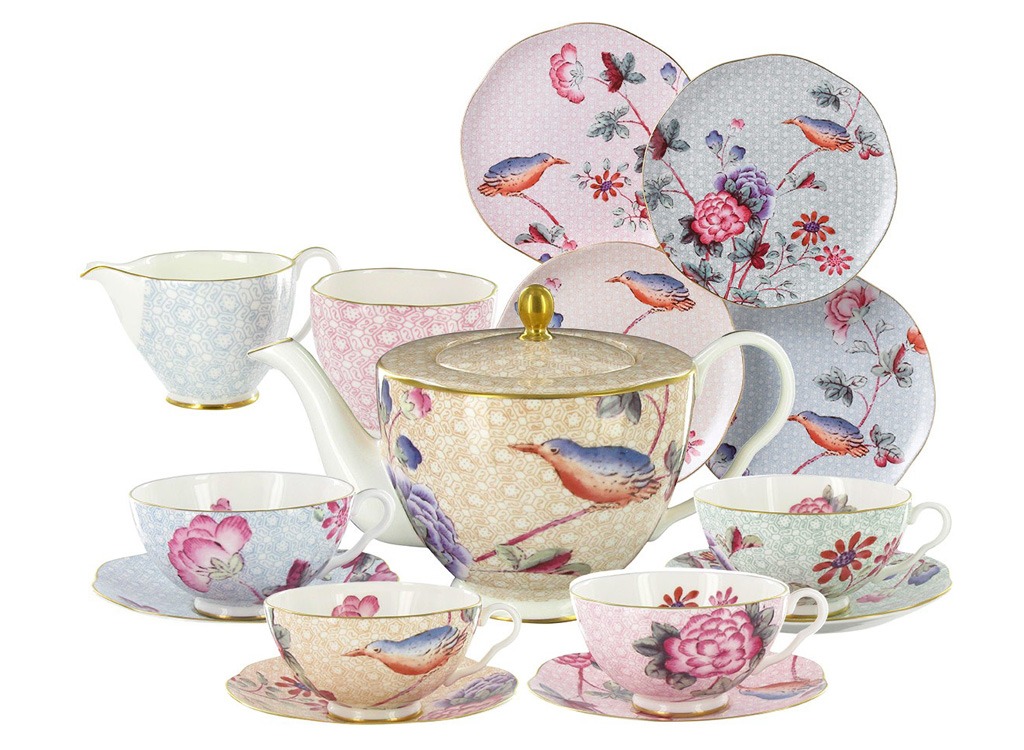 Price: $50 – 125, macys.com
It may look like your nana's antique tea set, but this new-age tea party must-have is totally dishwasher safe. These adorable plates, cups, saucers, and serve-wear, ornately decorated with beautiful flowers and birds, practically beg for tiny sandwiches and chocolate indulgences. Keep calories in check—without depriving your sweettooth—with the help of these 20 Best-Ever Tips and Swaps for Brownies!
White Modern Tea Set With Tray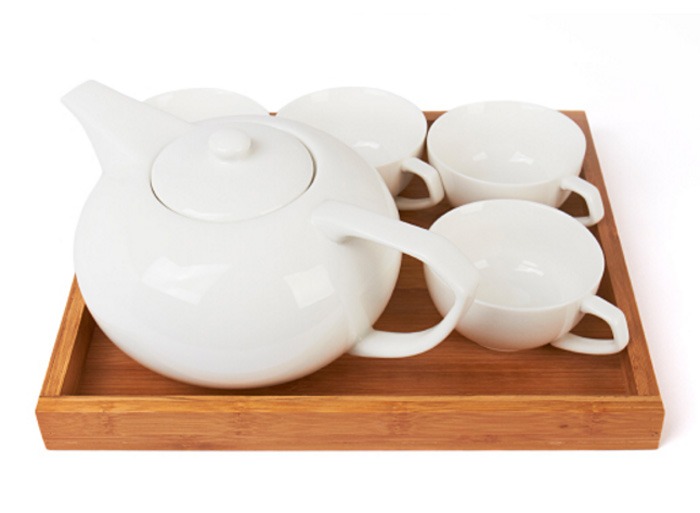 Price: $40, (no longer available)
This sleek ceramic and bamboo tea set is exactly what you need in your life if you're a big fan of Japanese green tea.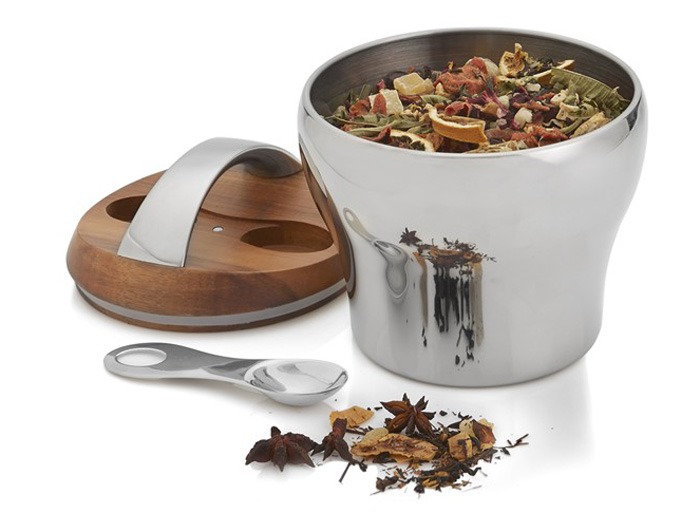 Price: $65, nordstrom.com
The majority of the tea canisters on the market are either bright and colorful or ordained with patterns reminiscent of floral-wallpaper-gone-bad. This sleek, modern canister is neither, and perfect for anyone who aims to maintain their kitchen's modern aesthetic, down to the very last detail. I love how it comes with a built-in scoop, too. it doesn't get any more convenient than that!