You Can Now Buy the Viral Pink Sauce From TikTok at Walmart
Would you try the internet sensation?
The Pepto Bismol-colored condiment that made waves on social media last summer is now available at Walmart.
The vibrant sauce, aptly named "Pink Sauce," made its original debut in June when Chef Pii, a Miami-based private chef and TikTok creator, uploaded a video of herself dipping a chicken tender into the mysterious hot pink concoction. From there, the chef posted several videos of the sauce being paired with various foods such as gyros, tacos, fried shrimp, burgers and fries.
The sauce ultimately went viral on social media, with #pinksauce now drawing in 644 million views on TikTok alone. About seven months after its introduction, Chef Pii partnered with Dave's Gourmet, a food company that sells sauces, to bring the pink product into the mainstream. The sauce will now be sold in more than 4,300 Walmart stores and online until July 2023. Vegan and gluten-free varieties will be available, as well.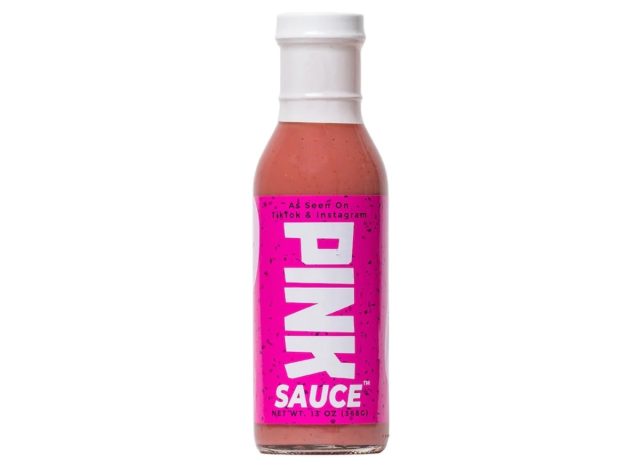 Despite its presence at America's largest retailer, the viral Pink Sauce has not gone without its fair share of backlash. Chef Pii previously attempted to sell the product herself for $20, but received criticism for misprinted nutrition labels, inconsistent product coloring, poor packaging that resulted in leaking bottles, as well as a lack of proper storage instructions despite milk being listed as an ingredient.
As reported by People, Chef Pii also didn't describe the sauce's flavor before shipping bottles to customers. However, she later shared the sauce's ingredients, which included sunflower seed oil, honey, chili, garlic, and dragon fruit, which gives the condiment its distinctive pink hue.
Dave's Gourmet noted in a press release, "…a lack of commercial food production knowledge led to significant obstacles," adding that "production was paused." This resulted in the sauce company joining forces with Chef Pii. As Pink Sauce's exclusive supplier and distributor, Dave's Gourmet is now manufacturing the now-shelf-stable sauce under FDA guidelines.6254a4d1642c605c54bf1cab17d50f1e
The Los Angeles Times reported that Chef Pii's only two requirements for the mass-produced sauce were that "the color remain natural and that the flavor profile—described as a sweet and sour sauce—remain the same."
To ensure that the product was "safe and scalable for mass consumption," Dave's Gourmet tweaked Pink Sauce's recipe and packaging. The sauce now consists of the same dragon fruit base with coconut cream, canola oil, onion powder, ranch flavoring, and other shelf-safe ingredients.
Pink Sauce is now available in 13-ounce bottles for around $8.
Brianna Ruback
Brianna is a staff writer at Eat This, Not That! She attended Ithaca College, where she graduated with a degree in Journalism and a minor in Communication Studies.
Read more about Brianna