12 Watermelon Trends You Have to Try Right Now
Melt those love handles in time for the beach this summer with these trendy, watermelon-inspired drinks and eats!
"Pass me a watermelon," my friend said last weekend, over Memorial Day. I handed her a slice of seedless, but she pointed instead at the cooler. "No," she said, "I meant the beer!"
Watermelon's been "on trend" since your last wet, hot American summer. But this summer, it'll be in everything from cold brews to detox waters, as food marketers try to make it the next Cronut or matcha tea. Eat This, Not That! approves: Not only does watermelon help you stay hydrated during those intense, summer heat spells, it also holds a bevy of vitamins and minerals.
In fact, it's scored the top spot on the list of foods high in lycopene, a phytonutrient that is essential for maintaining good bone and cardiovascular health. And researchers are finding that watermelon holds a significant amount of an amino acid called citrulline. Once absorbed in the body, citrulline has the ability to convert into another amino acid called arginine, which is accountable for improving blood flow, and—bonus—reducing fat cells. Pretty neat!
Just one cup of watermelon records 250 mg of citrulline, so make sure to stock up on these watermelon-based foods to meet your rapid weight loss goals and stay slim!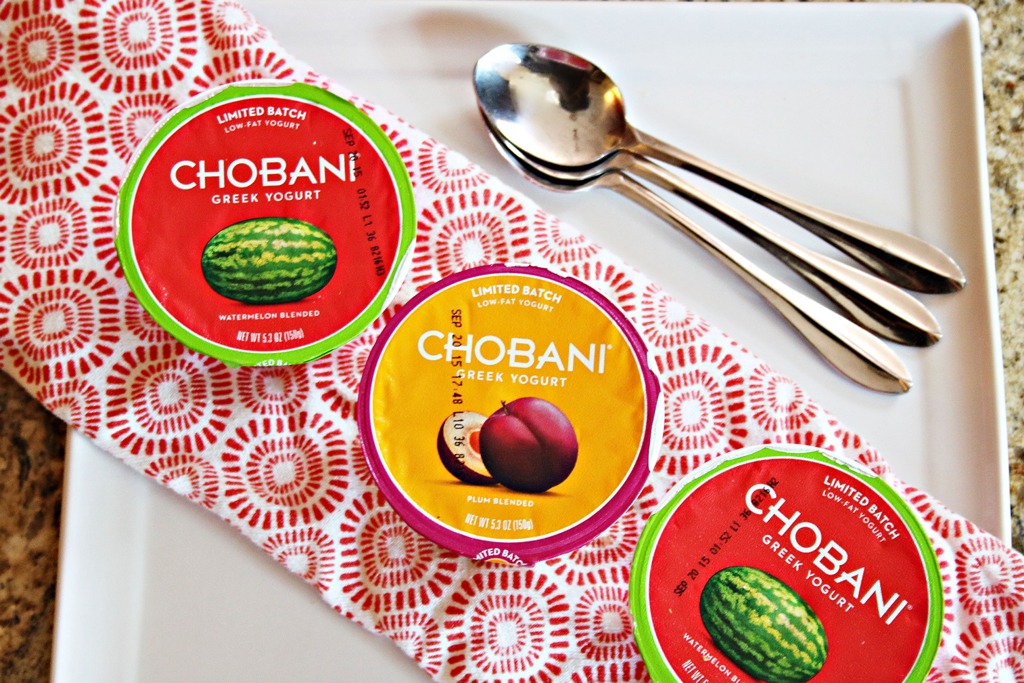 What better way to kickstart your weight loss than to mix fat-blasting watermelon enzymes with a serving of high-protein, calcium-rich yogurt? Chobani has the right idea. Offering 12 grams of protein, this limited batch will help you scorch belly fat in no time. Clocking in at only 140 calories and made with hormone-free milk, the watermelon treat is our new go-to—but you better get there before us. It's only available until the end of summer, in a limited edition!
6254a4d1642c605c54bf1cab17d50f1e
Her album may be called Lemonade, but Beyoncé is promoting another kind of drink, too. Queen B has invested in WTRMLN WTR, a pressed juice with just two ingredients: watermelon and lemon. A 12-ounce bottle provides nearly double the potassium of a single banana—740 mg v. 422 mg—which is vital for heart and kidney functions. Swap out that sugary Country Time for this cleansing detox water, and you'll be "Drunk in Love."
Sprouted Watermelon Seed Bars

Free of GMOs, gluten, nuts, and soy, Sprouted Grow bars are only made from wholesome, real ingredients. In fact, each flavor— dark chocolate, mint chocolate and zesty lemon— only have seven or eight ingredients—all pronounceable! The top two ingredients in each bar are sprouted watermelon seeds and dates, and each has 12 grams of protein. Say good-bye to those granola bars laden in sugar and instead get your energy from an energy bar full of raw plant protein. And stay slim for summer by avoiding these 50 Little Things Making You Fatter and Fatter!
Sprouted Watermelon Seeds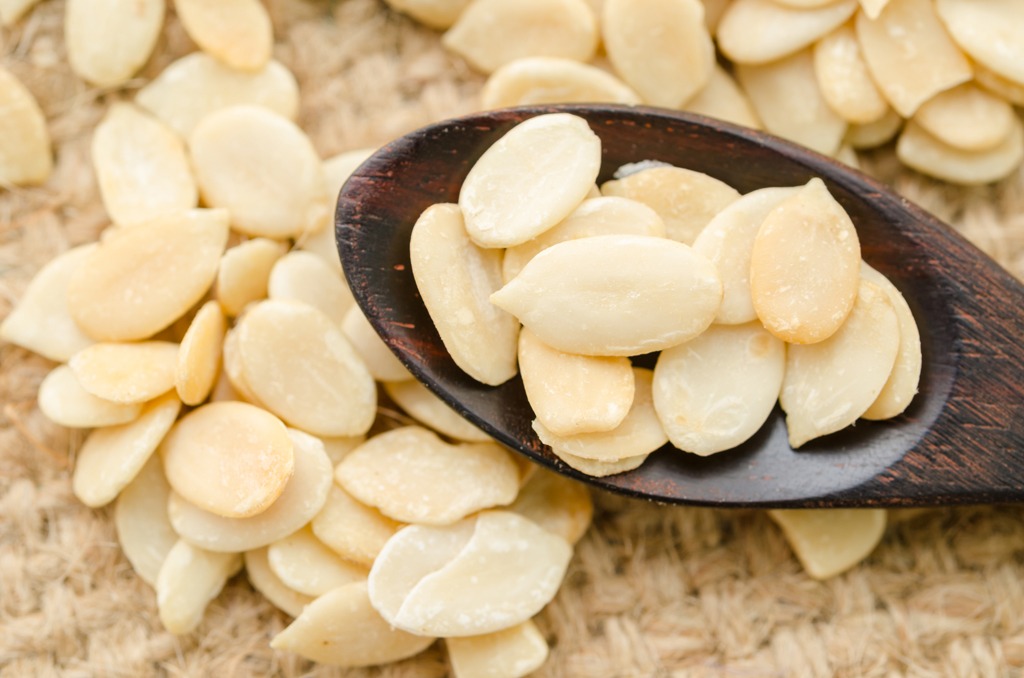 The creators of the Sprouted Watermelon Seed Bars, Go Raw have also taken the seeds out of the bar and plopped them into a 10 ounce bag. Amazingly, just one ounce contains 8 grams of protein! That's equivalent to 2 tablespoons of peanut butter! Sprinkle these bite size, hearty seeds onto a salad or Greek yogurt for an extra boost of protein—and just a dash of salt.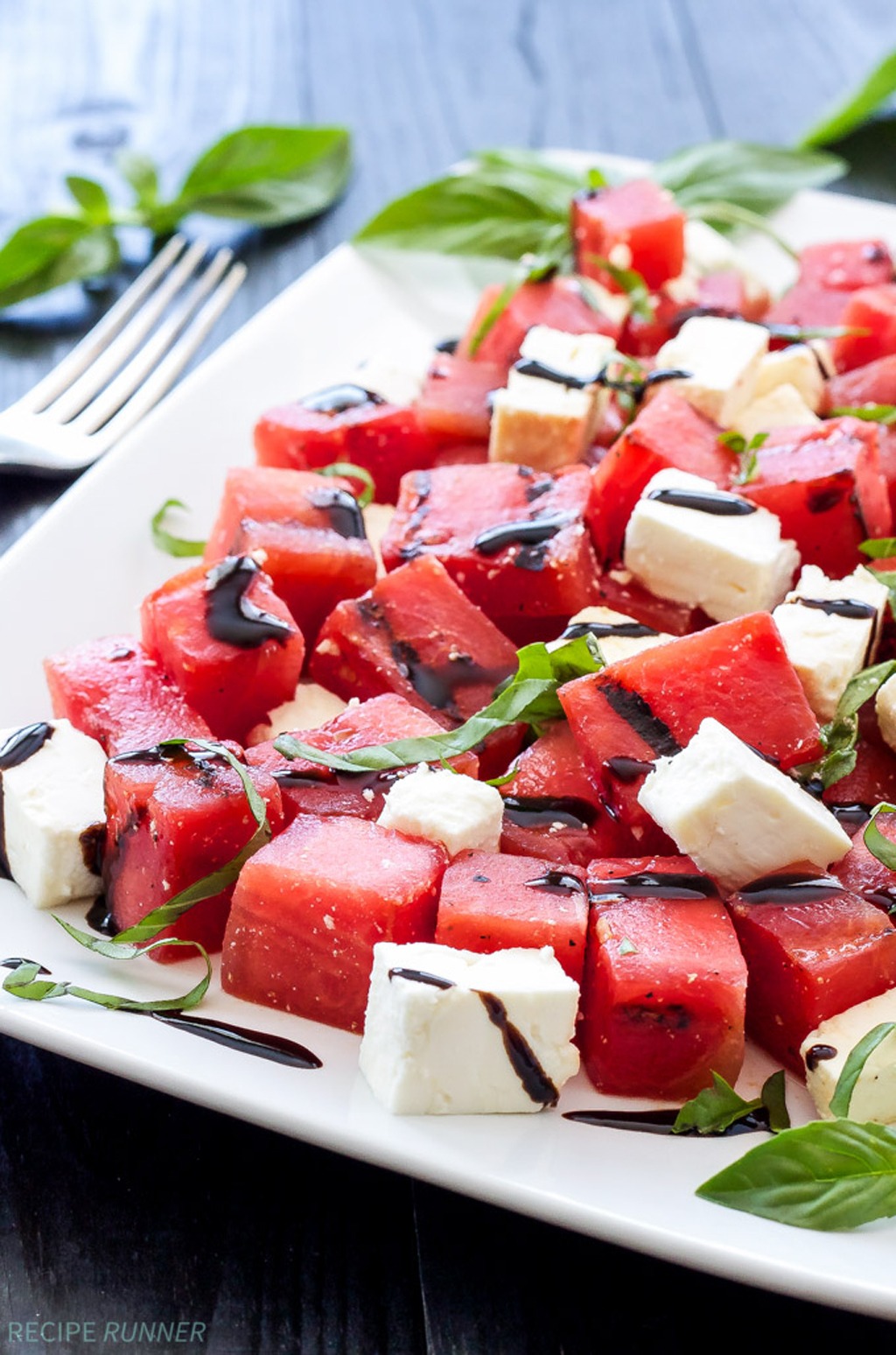 This sweet fruit tastes even better with a savory twist. Boost your metabolism and balance the sweetness by adding a balsamic reduction atop a decadent salad. Balsamic vinegar is rich in antioxidants that revs the activity of pepsin, an enzyme that aids in stomach digestion by secreting, or breaking down, proteins into amino acids which ultimately speed up your metabolism! Whip up this distinctive salad at your next meal.
1 whole baby watermelon
4 ounces of feta cheese
Juice of ½ a lime
2 tablespoons fresh basil
¼ teaspoon kosher salt
Black pepper to taste
Balsamic reduction
STEP 1
Cut the watermelon into one inch slabs, brush with olive oil and then place onto a heated grill. Grill each side for about 2-3 minutes per side.
STEP 2
Remove from the grill, cut off the grind and then cut into 1 inch cubes. Toss with basil, salt, pepper and lime juice.
STEP 3
Cube the feta and gently place it in between the cubes of watermelon. Drizzle with balsamic reduction and serve.
Get the recipe from Recipe Runner.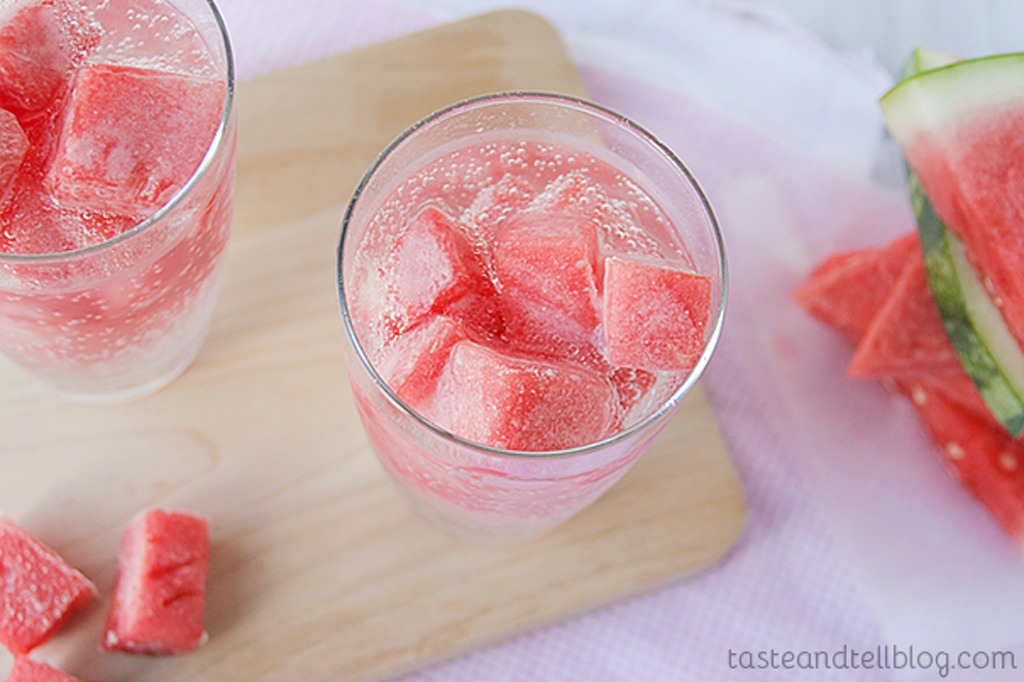 Ditch the artificial sweeteners and jazz up your water with an…ice…cube? Inspired by Rachael Ray, the author of a blog "Taste and Tell" tried out this recipe for herself. And it's really as easy as it looks to make. Simply cut the flesh of the watermelon into small chunks and pop into the freezer for an hour or two. Voila! You have yourself a drink abundant in vitamins, especially beta-carotene and Vitamin C. Nurse a cup or two of this throughout the entire day for both a pleasant pick-me-up and detox!
A long, stressful day at work (or a long, relaxing day at the beach) may just wipe you out, when it's hot outside. Thankfully, our Watermelon Mojito will help you rejuvenate just enough to cruise through the rest of the evening, while the rum preps you for an upcomin, good night's rest. If you thought the watermelon was refreshing, wait till you try it with the splash of mint leaves. Nestled between the gobs of watermelon, this fresh herb truly makes this a revitalizing drink. It only takes three minutes to make/prepare!
2 teaspoons superfine sugar
2 tablespoons fresh lime juice
1-2 bite size watermelon cubes, plus extra for garnish
6-8 mint leaves
2 ounces of white rum
1 ounce of club soda
STEP 1
Stir lime juice and sugar together until dissolved.
STEP 2
Toss the mint leaves and watermelon chunks into the mixture.
STEP 3
Finish off by throwing in ice, followed by rum and then club soda.
Watermelon Strawberry Smoothie
This smoothie sure is pretty in pink. With both strawberries and watermelon, it's packed with vitamin C. In addition, it acts as a restorative mechanism for your muscles! A Spanish study in the Journal of Agricultural and Food Chemistry found that drinking watermelon juice can help relieve your aching muscles after a strenuous workout. Or prevent the pain and slurp one down an hour before your workout, because this study also showed that athletes who drank 16 ounces before exercise had less muscle soreness. Not to mention a decreased heart rate, as well. For other delicious smoothie ideas this summer, check out weight loss smoothies!
1 tablespoon lime juice
2 cups watermelon chunks
1 cup strawberries
4 teaspoons chia seeds
1 inch of fresh ginger
1.4 teaspoons of maple syrup
STEP 1
Blend all of the ingredients together in a blender.
STEP 2
Serve overtop ice.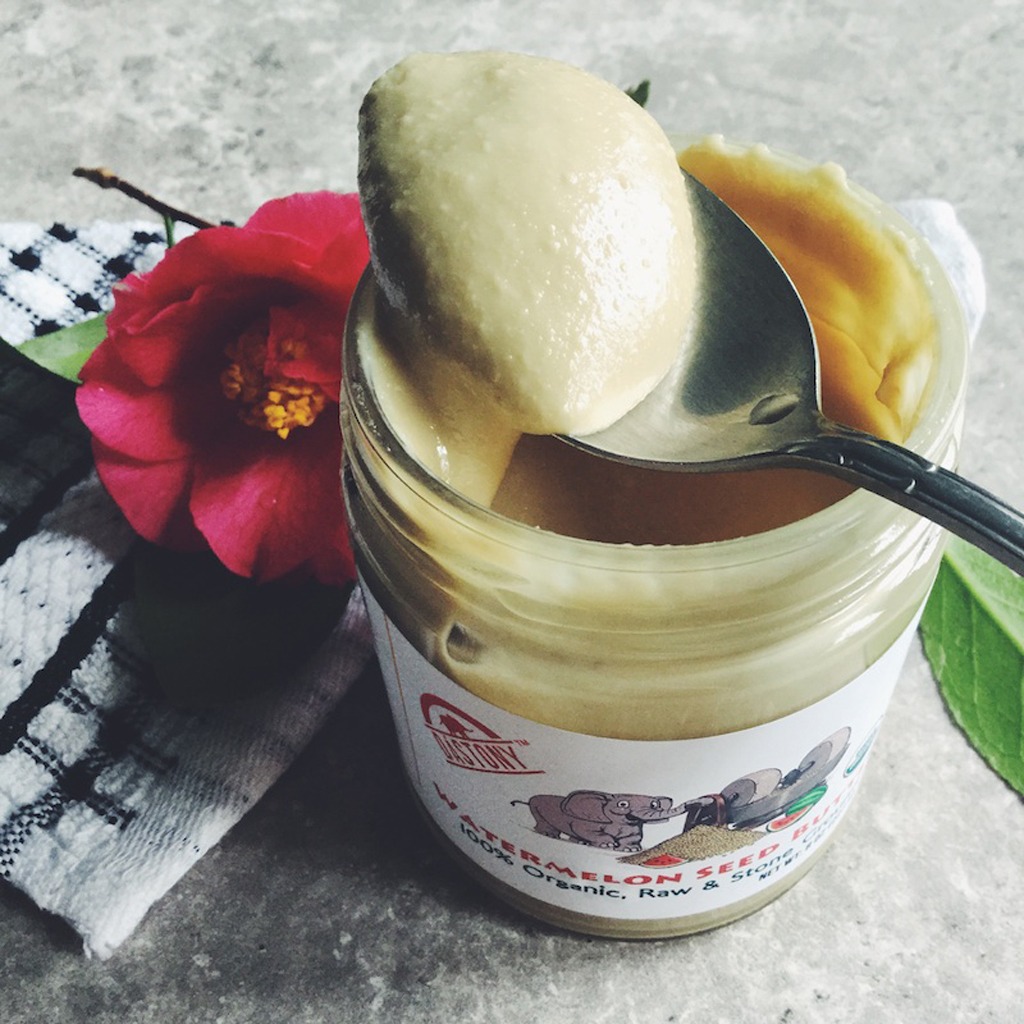 Like many other favorable nuts and seeds, there is also a spreadable—or for some, scoopable—butter version. If you prefer a smooth, creamy texture over a crunchy one but still want to reap the benefits of watermelon seeds, opt for Dastony's Stone Ground 100% Organic Raw Watermelon Seed Butter. It's exceptionally smooth because of the method in which it is produced: stone-grinding. Granite wheels apply powerful pressure to the seeds, which eventually transforms them into a thick, silky butter-like concoction. Each batch takes 24-48 hours to make, and 100 grams of seeds provides an astounding 139 percent of your daily magnesium needs (good for digestion). Time for a WS&J sandwich! And for more essential ways to reduce inflammation and boost fat-burning, don't miss these 50 Best Weight Loss Tips!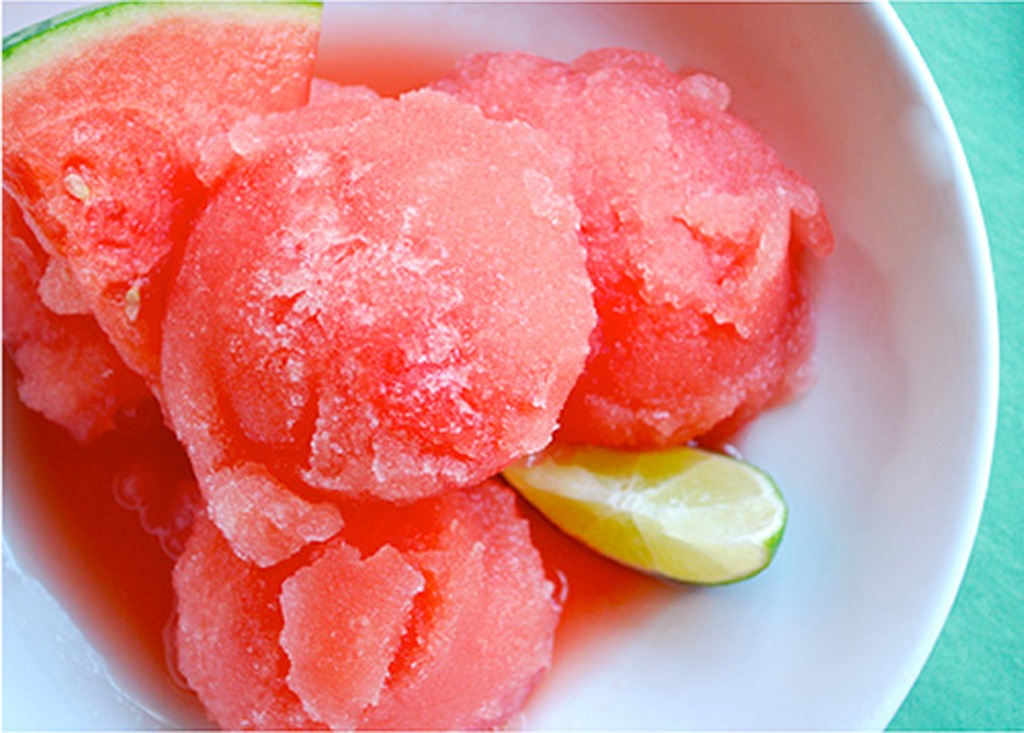 You know how the song goes: "I scream, you scream, we all scream for ice cream!" Well for those trying to lose 10 pounds, ice cream may send you screaming. Instead, make some homemade sorbet to quench those sugary cravings and combat heat stroke. Yes, heat stroke. Watermelon is effective in reducing both your internal body temperature and even your blood pressure! That's why people living in tropical regions near the equator live on it. Because the fruit comprises 91.5 percent water— stated by the USDA—it stimulates the release of excess perspiration, which allows your body to cool off and steer clear of overheating to an exponential degree.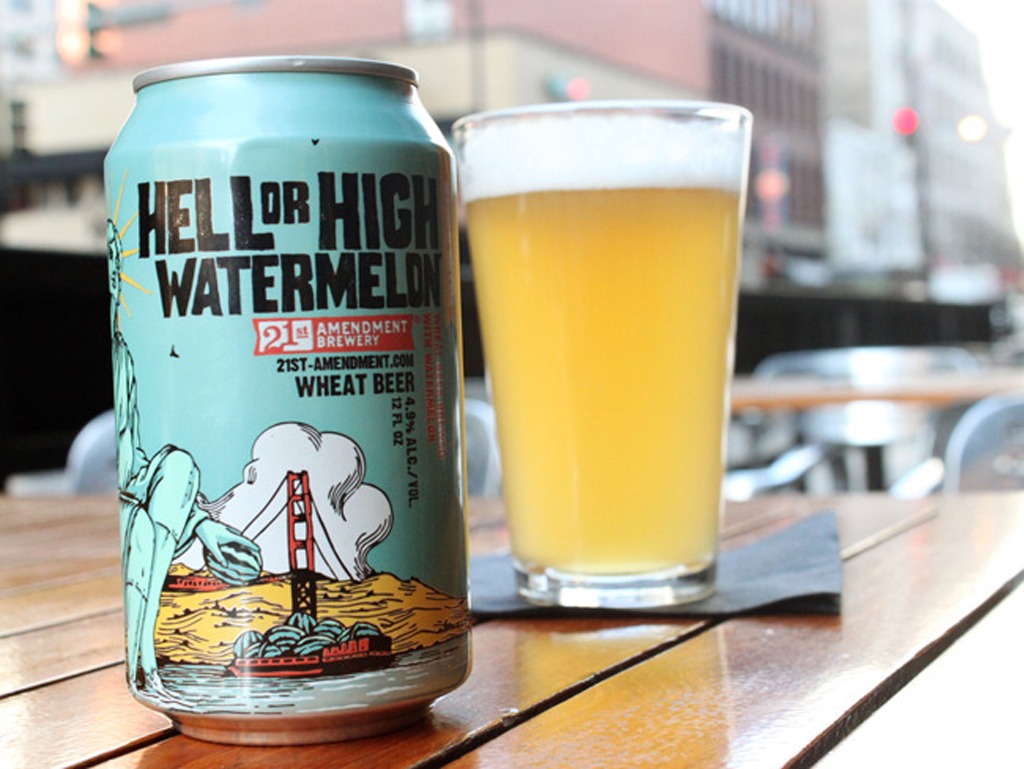 Members of 21st Amendment Brewery proudly proclaim that there isn't a fruit too gigantic to integrate into an innovative beer flavor. And boy do they stick to their word, because they have successfully manipulated the watermelon flavor—brewed with 100 percent real watermelon—into one of their craft beers. Pair this classic American wheat beer with your next cheat meal to fully enjoy its crisp yet dry and refreshing flavor.
Beers and mojitos are fabulous, but kids should be able to partake in the watermelon trend, too! Heather McDowell, founder of Tickle Water, created this chic sparkling water in order to make her son more interested in staying hydrated. The verdict? It was a hit! Swap out that sugar-infused juice box or soda for one of these bubbly beverages.